If you're frequent traveller, buying bottled water can become an expensive endeavour. We take a look at SteriPEN, the best water purifier for travel we've used
We've stayed in some pretty basic places during the course of our trip so far. There was the Fijian camping site in Taveuni with rather sketchy commode, the Samoan beach fale in Savaii which didn't have walls, and the Colombian campsite in San Agustin with drinking water that ran a brownish yellow.
In all these places, we've been able to drink the tap water (hose water in one case) because we've been able to purify water on the go.
In our past travels to India, Bangladesh, Tanzania, Cambodia and the like, we've tried purifying filters, tablets, iodine, chlorine and good old-fashioned boiling, but these have either been ineffectual, impractical or just tasted awful.
For this reason, we researched the best water purifier for travel and found the SteriPEN Ultra is the best water purifier for travel. Here are seven reasons why it's the best on the market. (And, no, they're not paying us for this!)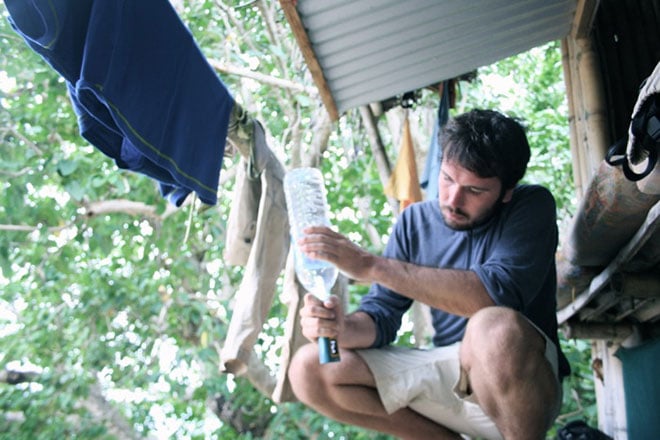 It kills nearly everything harmful
Unlike water filters, the SteriPEN kills over 99.9% of bacteria, viruses and protozoa that cause water-borne illness. It uses UV light to zap the nasty stuff, leaving your water clean and safe (even when coloured a brownish yellow).
It's super quick
Unlike boiling water (and water filters), the SteriPEN is quick. It takes a mere 90 seconds to sterilise one litre of water and 50 seconds for half a litre.
It's portable
At a mere 140g, the SteriPEN weighs less than a bottle of water. It fits down the side of a backpack, in a wash bag or even a handbag.
IT CAN BE CHARGED BY USB
The bane of any backpacker travelling with gadgets is the numerous different chargers. The SteriPEN can be charged by USB meaning you just need to carry a cable to charge it off mains, a solar charger or a laptop. One full charge lasts 50 uses. (Bearing in mind the purpose it's serving, it's basically science fiction.)
It has no effect on taste
Unlike chlorine and iodine, the SteriPEN has no effect on taste, meaning delicious water will remain delicious and, unfortunately, awful water will taste awful. Perhaps if they introduced a strawberry infusion, it'd be perfect.
It's value for money
So, what's the catch? Well, at £95, it's not easy on the pocket. If you're a frequent or long-term traveller, however, it will cost you less in the long-term than buying bottled water all the time. For us, the comparison is £95 versus about £365 worth of bottled water over the course of a year. The SteriPEN lasts 8,000 uses – a lot cheaper than 8,000 bottles of water!
It makes you feel like a Jedi
Well, this is what it looks like in the dark…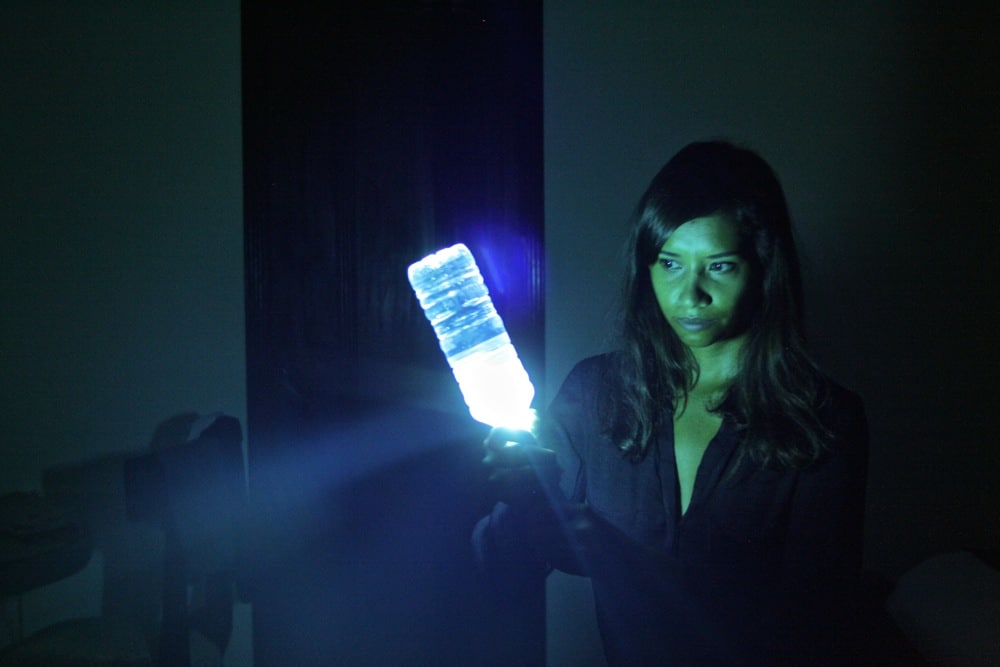 Check it out on Amazon and safe travels!