We take a look at the biggest buildings in the world, from airplane factories to royal palaces
Modern architecture has made relentless and remarkable progress over the past century, and with construction of the world's tallest and first one 1km high building beginning this week in Saudi Arabia, it doesn't look to be slowing any time soon.
The biggest buildings in the world continue to grow and not just higher into the sky. On the ground they are expanding in all directions too.
Architects continue to overcome structural hurdles and make history with innovative and groundbreaking designs. Here are some of their biggest and grandest: the biggest buildings in the world.
Boeing Everett Factory
Largest usable space by volume
Location: Washington, USA
Floor space: 398,000 m2 (4.3 million sq ft)
Volume: 13.3 million m3 (472 million cu ft)
Year built: 1966
This building claims to be the outright biggest of the world's biggest buildings due to its mammoth volume. Some of the greatest planes ever built are assembled here, such as the wide-body Boeing 747, 767s, 777s, and the new 787 Dreamliner.
The facility opened for operation in 1967 to produce the first 747 jumbo jets. The factory is open for public tours seven days a week and houses six coffee stands, a bank and several cafés.
Aalsmeer Flower Auction
Largest footprint on the ground
Location: Aalsmeer, Holland
Floor space: 518,000 m2 (5.6 million sq ft)
Year built: 1972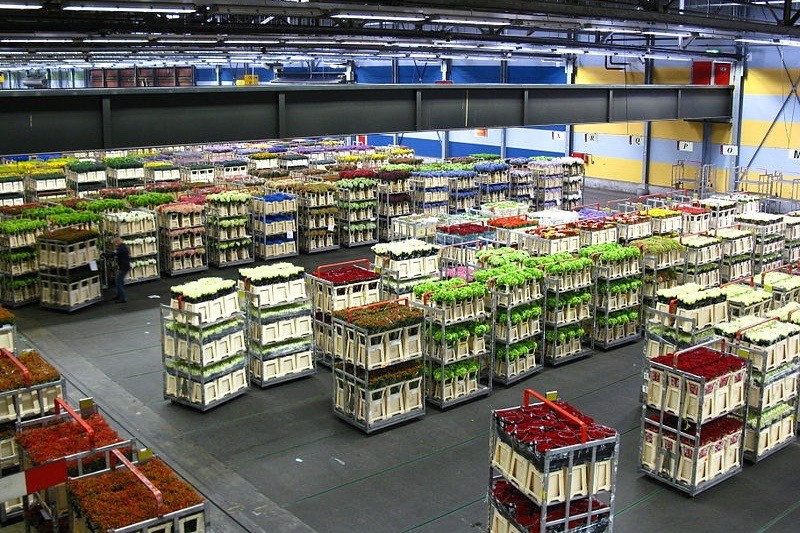 Flowers, really? Yes, really. Considering Holland is so small you wouldn't expect there to be room for such a big building. Here the employees journey the facility using over 270,000 trolleys.
The building contains 13 auction rooms and 40 auction clocks. Just as well considering around 20 million flowers are sold here daily.
New Century Global Center
Largest building by amount of floor area
Location: Chengdu, China
Floor space: 1,760,000 m2 (18,900,000 sq ft)
Volume: appr. 7.4 million m3 (260 million cu ft)
Year built: 2013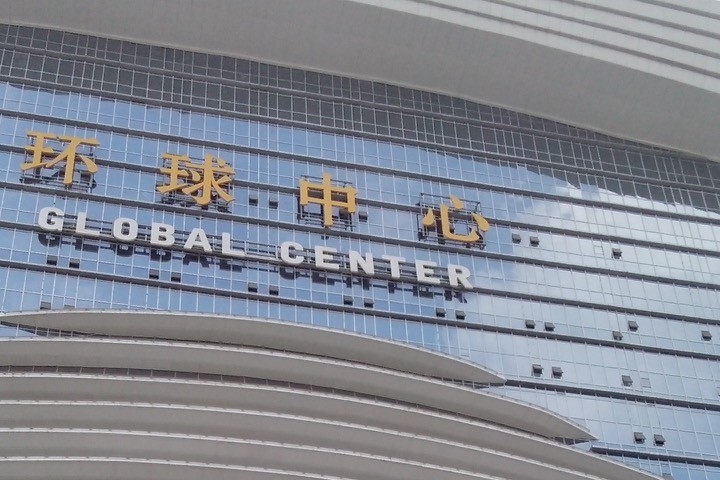 Despite not having the largest footprint on the ground (i.e. largest space at ground level), this building in China has the largest total floor space once you count up all the floors.
This multi-purpose building narrowly pips Dubai's International Airport Terminal 3 building to the title. However, unlike Dubai's terminal, this building is marred in controversy.
Just before opening, the owner was arrested on corruption charges, followed by the arrest of over 50 local government officials on similar charges. Big building, big corruption.
Burj Khalifa
Tallest skyscraper
Location: Dubai, United Arab Emirates
Height: 829.8m (2,722ft)
Year built: 2010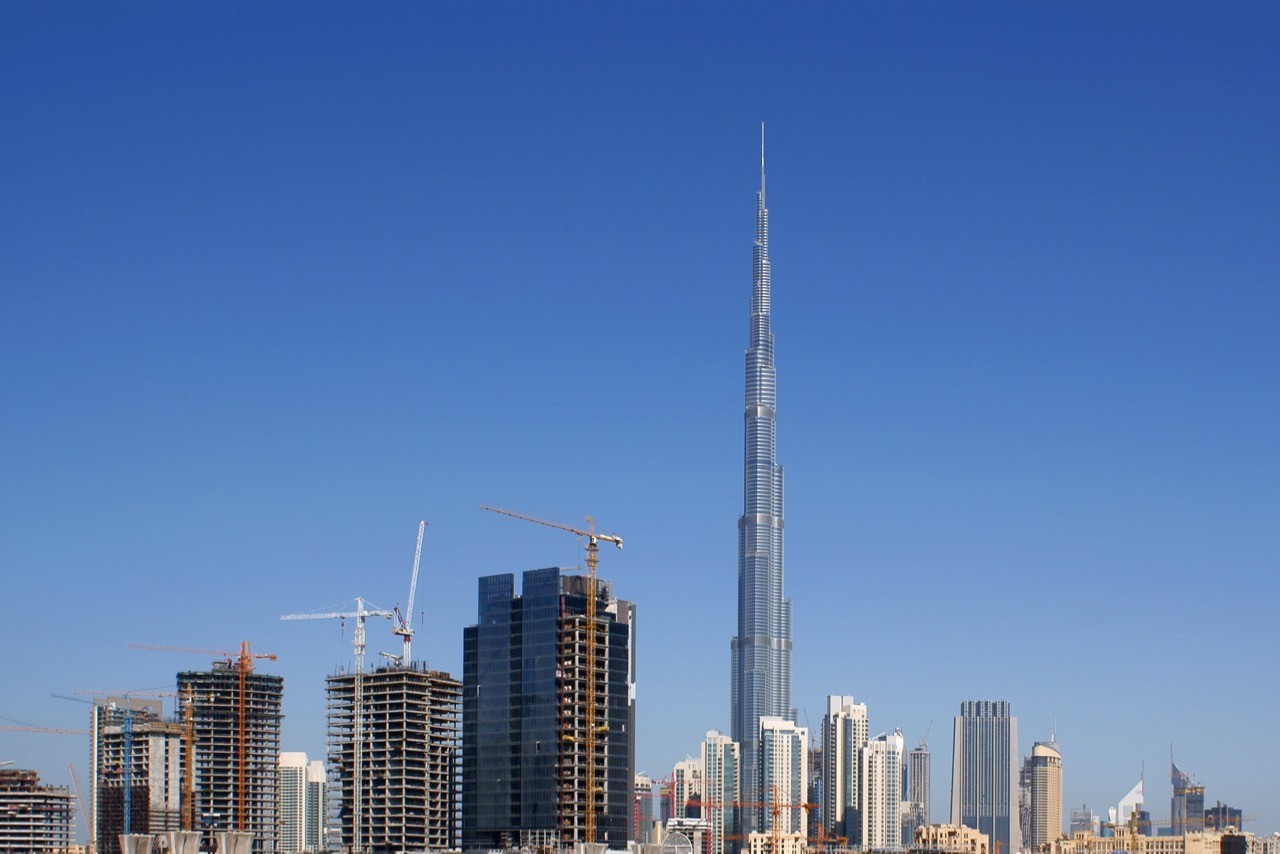 What to say about the tallest 'megatall' building in the world? Well, it stretches nearly a kilometer into the sky for starters. There are 211 floors and 58 elevators, it has a floor area of 309,473 m2 (3,331,100 sq ft) and it broke over 17 height-related records including the world's highest nightclub and restaurant.
Unfortunately, it's only got the world's second-highest swimming pool. At a cost of $1.5 billion, really you'd expect the highest swimming pool, right?
Tokyo Skytree
Tallest self-supporting tower
Location: Tokyo, Japan
Height: 634m (2,080ft)
Year built: 2011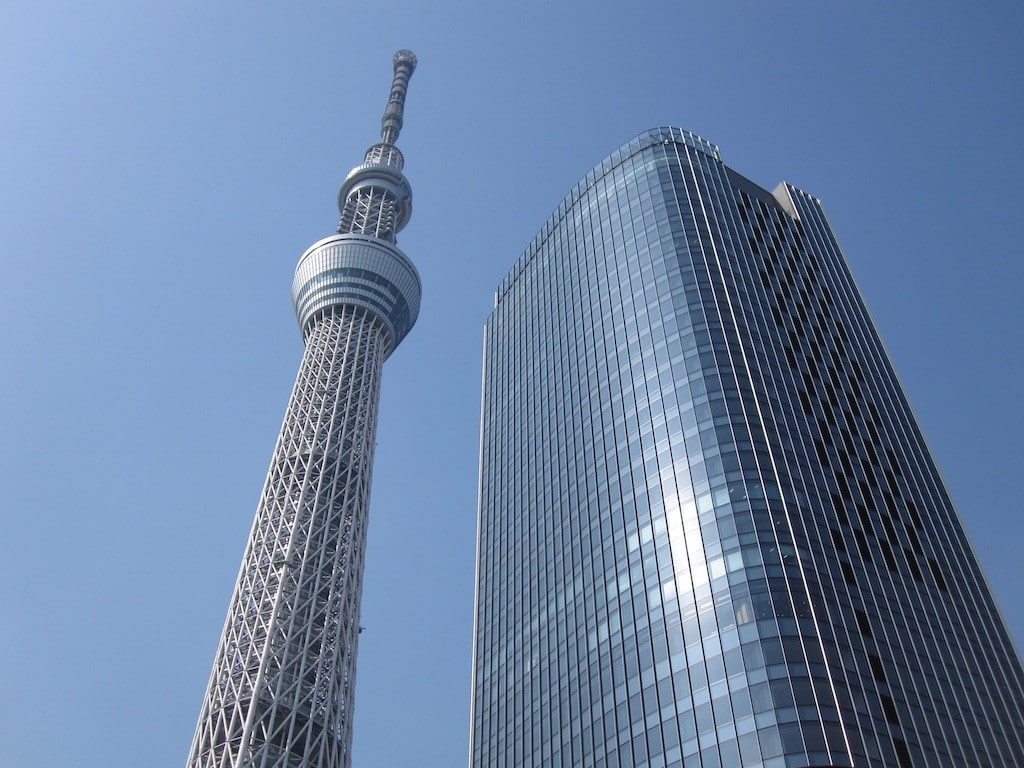 The opening day of Japan's biggest structure drew crowds of tens of thousands. Unfortunately, the rainy conditions blocked the view from the tower's observation deck.
Strong winds also forced two elevators to be shut down, leaving some visitors stranded on the observation deck. Despite this, 1.6 million people visited Skytree in its first week.
The height of 634m (2,080ft) was chosen so it could be easily memorised. The figures 6 (mu), 3 (sa), 4 (shi) stand for "Musashi", an old name of the region where the Tokyo Skytree now stands.
Shinsegae Centum City
Largest department store
Location: Busan, South Korea
Floor space: 509,810 m2 (5,487,500 sq ft)
Year built: 2009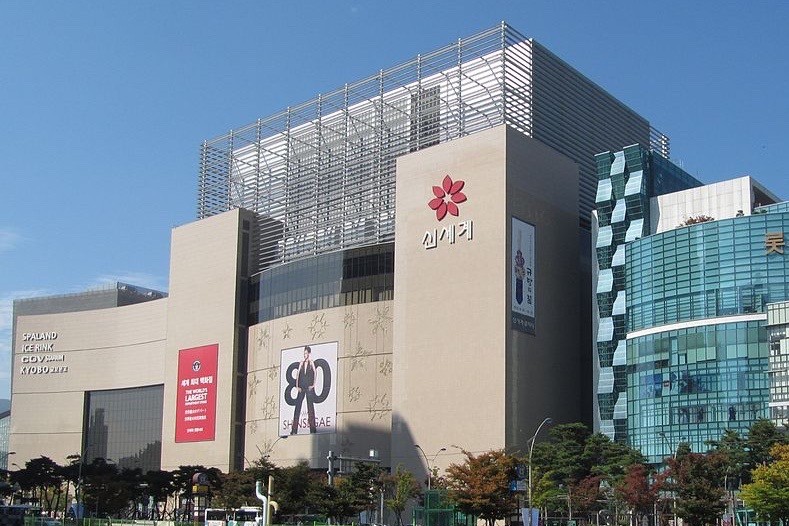 This is what my nightmares are made of. The world's largest department store (even bigger than Macy's in New York) must send shivers down the spines of South Korea's husbands and boyfriends.
The name, Shinsegae, literally means "New World" in Korean. The building's floor space is bigger than the international airport in Seoul. Terrifying.
Palace of the Parliament
Largest parliament building
Location: Bucharest, Romania
Floor space: 330,000 m2 (3.55 million sq ft)
Year built: 1997
The totalitarian Romanian dictator Nicolae Ceaușescu bulldozed huge areas of his country's capital city in order to make room for his madcap grand designs. One of the few buildings actually finished was the Palatul Parlamentului, a multi-purpose building containing both chambers of the Romanian Parliament.
The building has at least 1,100 rooms making it the world's second largest civilian building with an administrative function (after the Pentagon in the USA).
Royal Palace of Madrid
Largest royal palace
Location: Madrid, Spain
Floor space: 135,000 m2 (1,450,000 sq ft)
Year built: 1755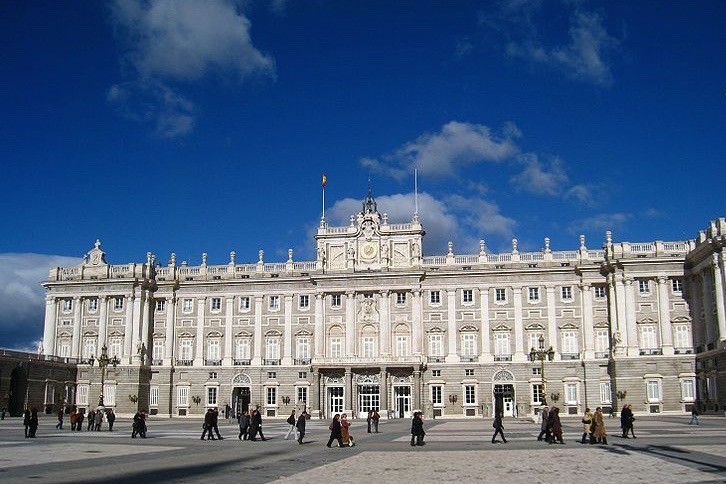 The palace is the official residence of the Spanish Royal Family but is only used for state ceremonies. King Felipe VI and the Royal Family choose instead to stay at their more modest palace on the outskirts of Madrid. It must be nice to have a choice of palaces.
The palace has 135,000 square metres (1,450,000 sq ft) of floor space and contains 3,418 rooms. Sometimes I choose to stay in my more modest second home. It's my parents' house in Sussex and they have a garage. So there.
Abraj Al Bait Towers
Tallest clock tower
Location: Mecca, Saudi Arabia
Height: 601m (1,972ft)
Year built: 2011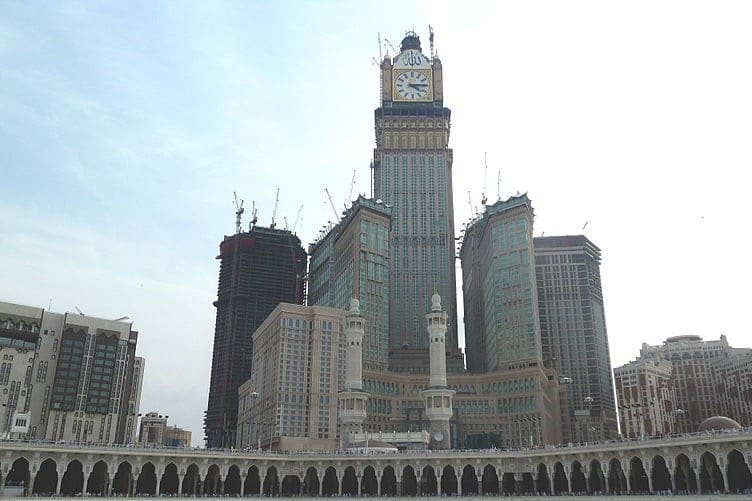 At 601 meters this is a very tall building. In fact, it's the third tallest building and fourth tallest freestanding structure in the world. Put four clocks on it and it becomes the tallest clock tower in the world as well.
The building is part of the King Abdulaziz Endowment Project, a government-owned megatall building complex, which is just metres away from the world's second largest mosque and Islam's most sacred site, the Kaaba, where Muslims undertake the Hajj pilgrimage.
Louvre Museum (Musée du Louvre)
Largest museum
Location: Paris, France
Floor space: 210,000 m2 (2,260,421 sq ft)
Year built: late 12th century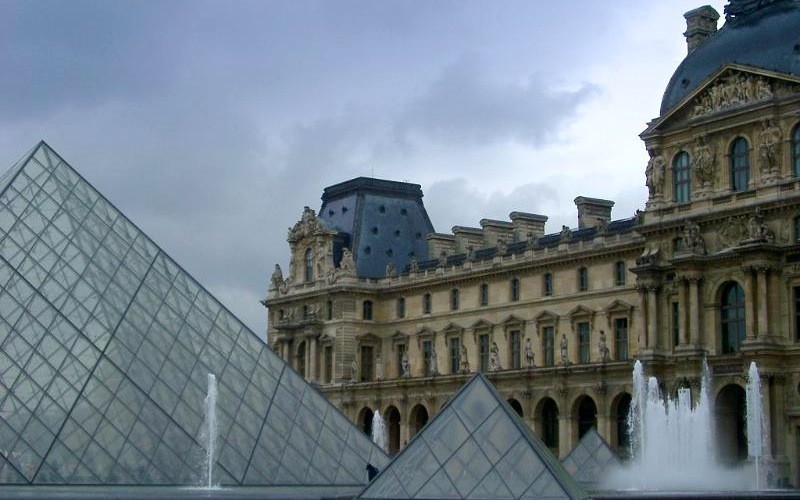 Nearly 35,000 objects from prehistory up to the 21st century are exhibited over an area of 60,600 m2 (652,300 sq ft) in the iconic Louvre building on the bank of the River Seine in Paris.
The Louvre is the world's most visited museum, receiving over 9.7 million visitors in 2012. Originally built in the 12th century as a fortress, it was established as a museum in 1792. Under Napoléon the museum was renamed Musée Napoléon, but luckily the name didn't stick.
Angkor Wat
Largest religious structure in the world
Location: Siem Reap Province, Cambodia
Floor space: 1.6 million m2 (17.5 million sq ft)
Year built: 12th century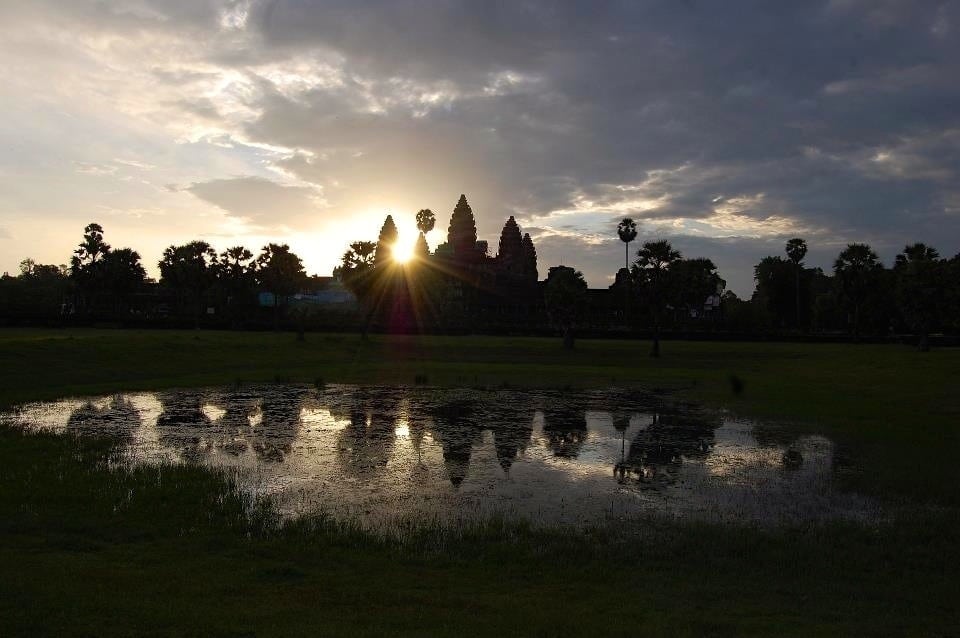 The Khmer King Suryavarman II commissioned this multi-building complex to honour the Hindu god Vishnu in the capital of the Khmer Empire. It also served as his state temple and eventual mausoleum.
Its perimeter wall measures 1,280m (4,200ft), and its population, before it was abandoned in 1432, was over 80,000. Although it's not a singular building, this epic construction (spanning at least 37 years) at least deserved a mention in this list.
Istanbul Çağlayan Justice Palace
Largest courthouse
Location: Istanbul, Turkey
Floor space: 300,000 m2 (3.0 million sq ft)
Year built: 2011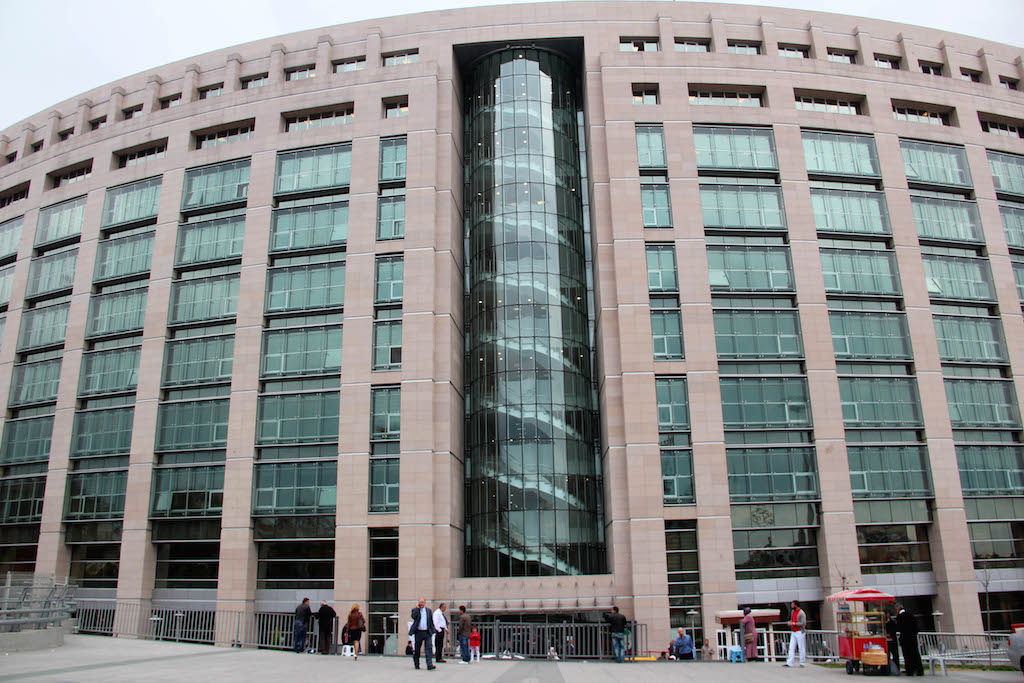 Unfortunately, this grand construction built as a symbol of hope and justice made the headlines just a few weeks ago because of a tragic hostage situation in its Justice Palace.
Two gunmen took a leading prosecutor hostage for several hours before the police stormed the building killing both the gunmen. The prosecutor was sadly caught in the fray and later died of his injuries.
Ericsson Globe
Largest hemispherical building
Location: Stockholm, Sweden
Volume: 600,000 m3 (21 million cu ft)
Year built: 1989
This building is not only a national arena, it also represents the sun in the Sweden Solar System, making it the world's largest hemispherical building and part of the world's largest scale model of the solar system. The other elements of the solar system are represented by various structures dotted around Sweden.
The inner planets can also be found in Stockholm but the outer planets are situated northward in other cities along the Baltic Sea coast. The system is on the scale of 1:20 million in case you want to make a bigger one.
---
Now, bigger than ever, this long-awaited revised edition of Judith Dupré's best-selling Skyscrapers is a giant celebration of today's most significant superstructures. It features an all-new design with full-color photographs, 10 new buildings, and informative updates throughout.
Lead image: Fredrik Posse/Creative Commons