Climbing Galdhøpiggen, the highest mountain in Norway, Scandinavia and Northern Europe
I set out on a hiking trip to Jotunheimen National Park in Norway intent on climbing Galdhøpiggen, the highest mountain in Norway, Scandinavia and northern Europe.
Before we started Atlas & Boots, I used to take a hiking trip every summer from our base in the UK. Usually, I would grab a couple of shorter trips on home soil throughout the year and then head off in the summer to find more challenging terrain.
Sometimes, it was an exotic destination like Mount Kilimanjaro in Tanzania and other times it was closer to home in Europe. In one of my many trips to Scandinavia, I set my sights on Norway.
As I've mentioned before, I fell in love the with country's obsession with the outdoors and its freedom-to-roam laws known as Allemannsretten.
I decided to go for glory: a hiking trip in Jotunheimen National Park including Galdhøpiggen, the highest mountain in Norway and Scandinavia at 2,469m (8,100ft).
Jotunheimen National Park
Despite being Norway's most popular national park, Jotunheimen is a largely undisturbed mountain area located to the northeast of Oslo. Covering an area of roughly 3,500 sq km, Jotunheimen has northern Europe's highest concentration of mountains higher than 2,000 metres as well as waterfalls, rivers, lakes, glaciers and valleys.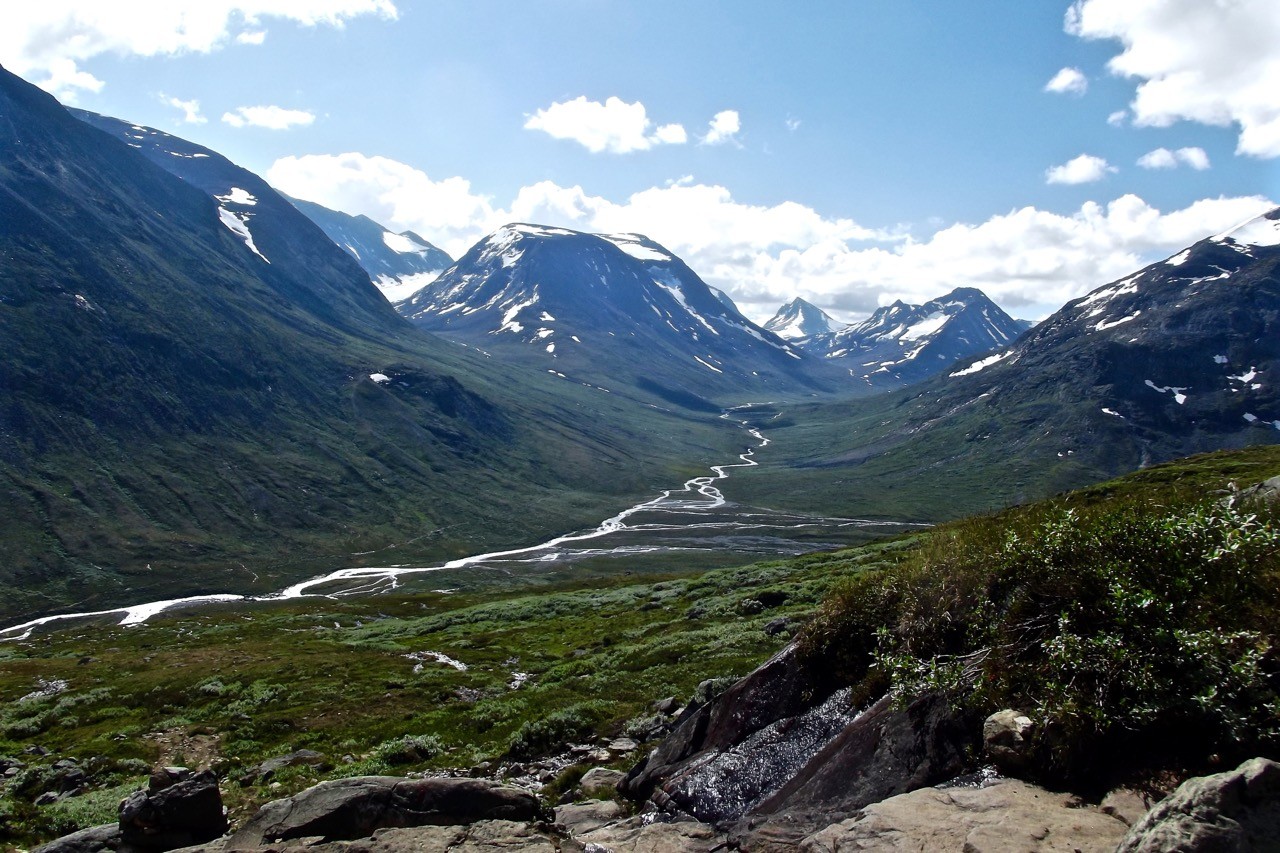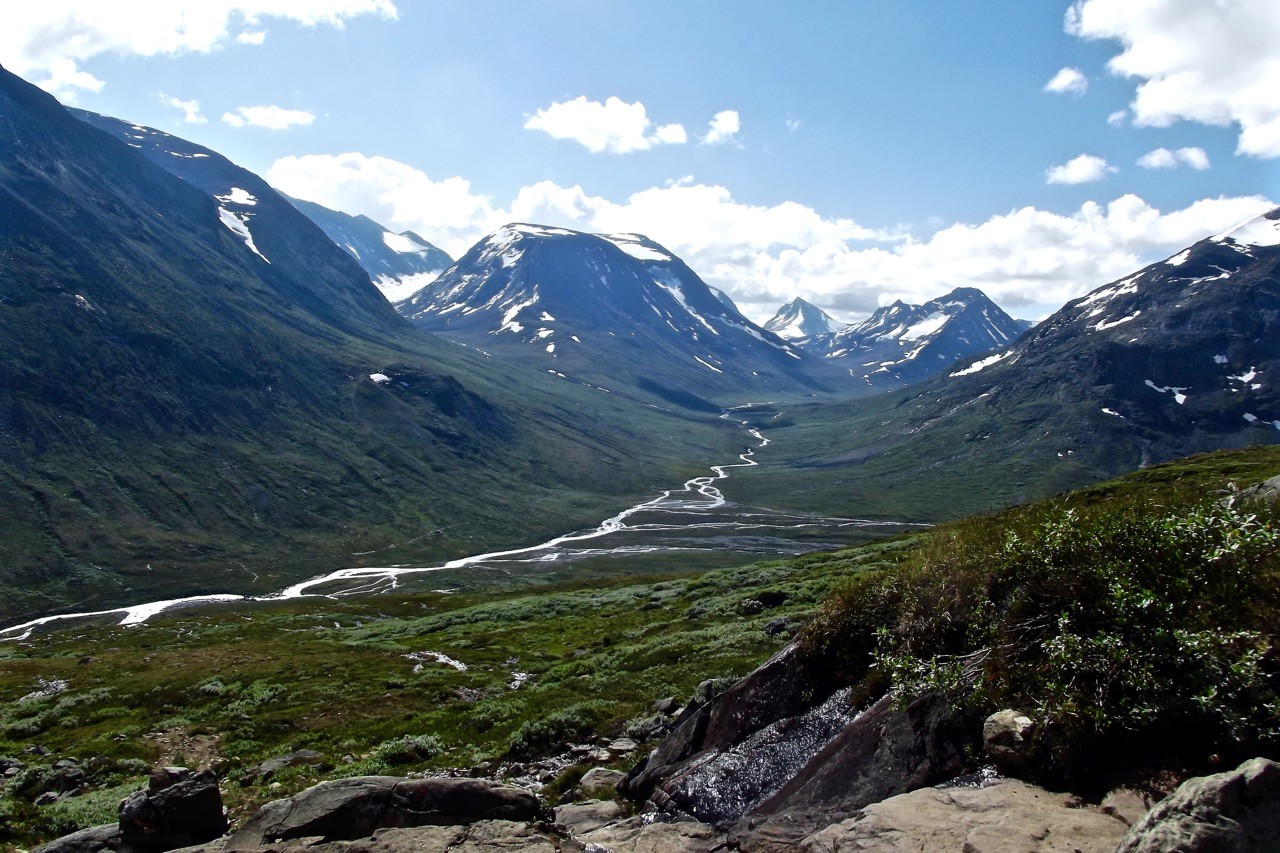 Despite being Norway's most popular national park, Jotunheimen is largely undisturbed
From short strolls to multi-day hut-to-hut hikes, Jotunheimen has some of the continent's most spectacular hiking. It is also the land of the Jotuns – mountain trolls – although I didn't spot any on my trip.
Hiking to Spiterstulen
I arrived at Jotunheimen early afternoon after taking a bus from Oslo in the morning. I started my hike at the Gjendesheim cabins next to the Gjende Lake. From there I hiked over the ridge and dropped down into the adjacent valley where reindeer roam and the Bessvatnet and Russvatnet lakes lie.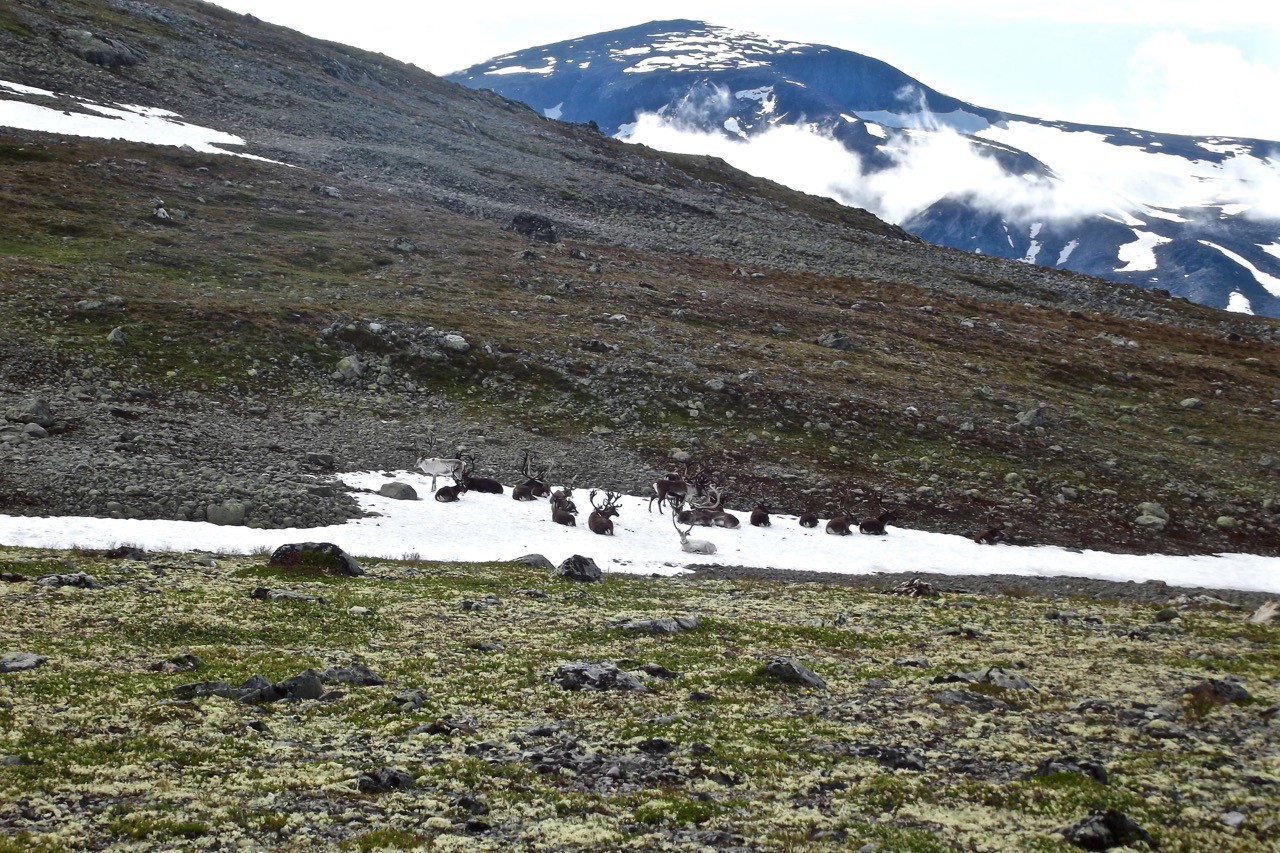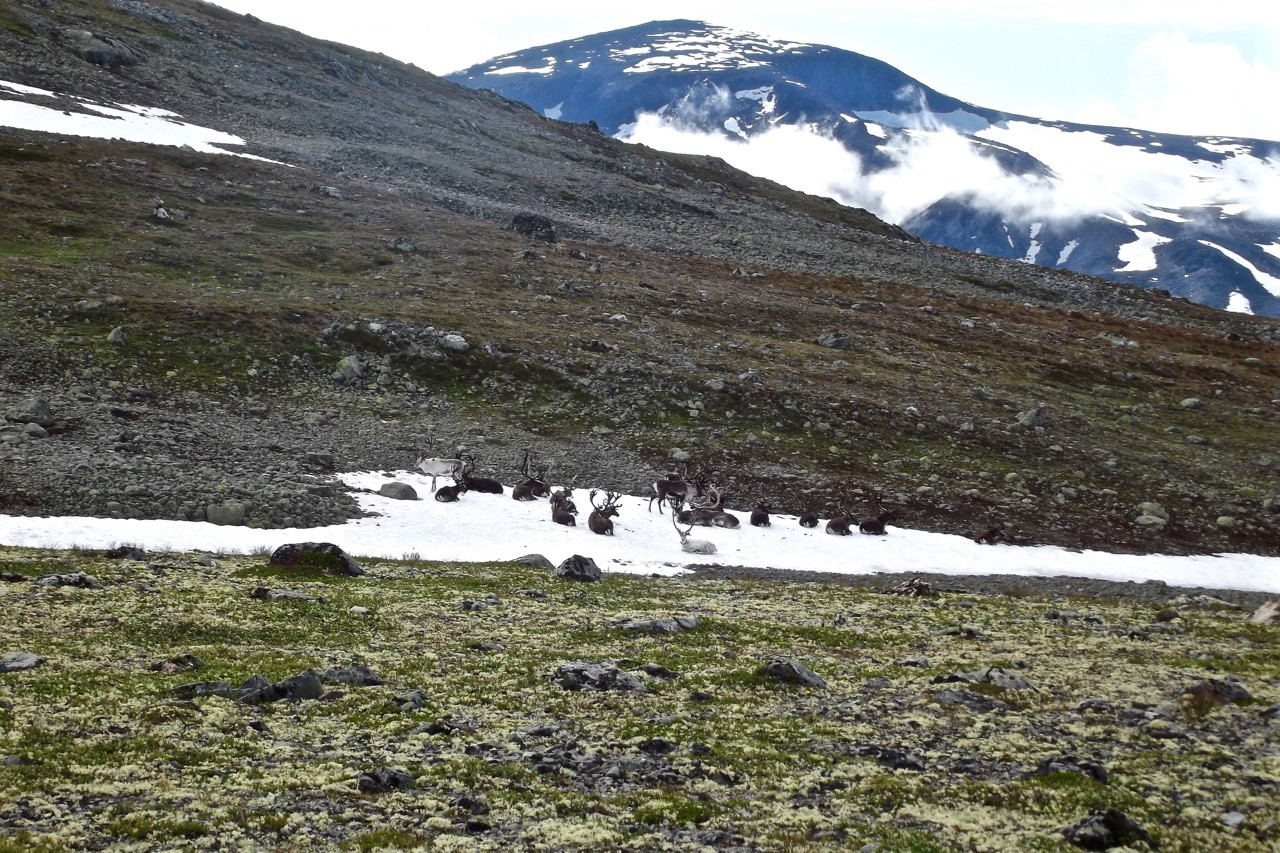 Reindeer roam in the Bessvatnet and Russvatnet valleys
The glacial lakes are emerald green, created by meltwater trapped between the mountain walls and the glaciers at the end of the valley. Their characteristic green colour comes from the rock flour that runs off the mountains as the ice melts. Whatever the cause, it makes for a stunning scene and the perfect campsite for the night.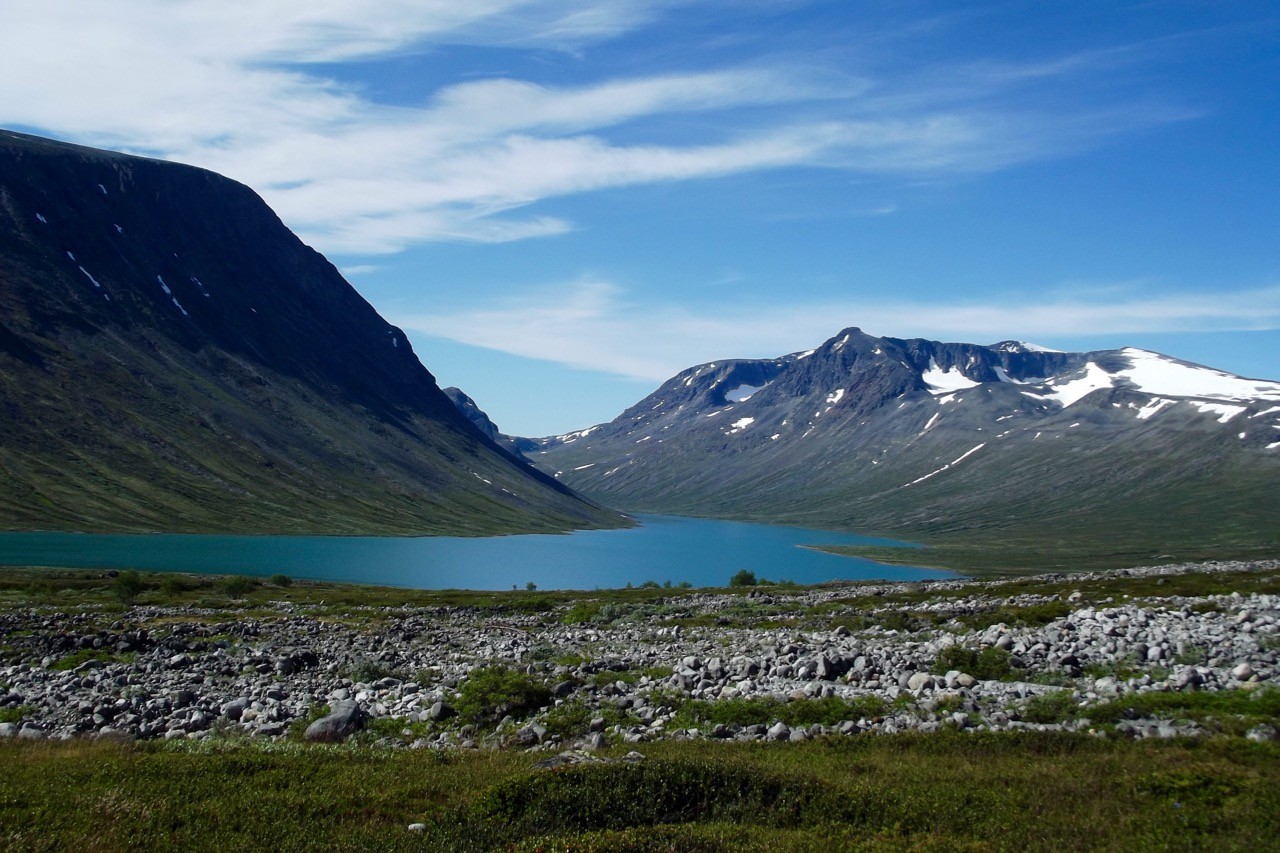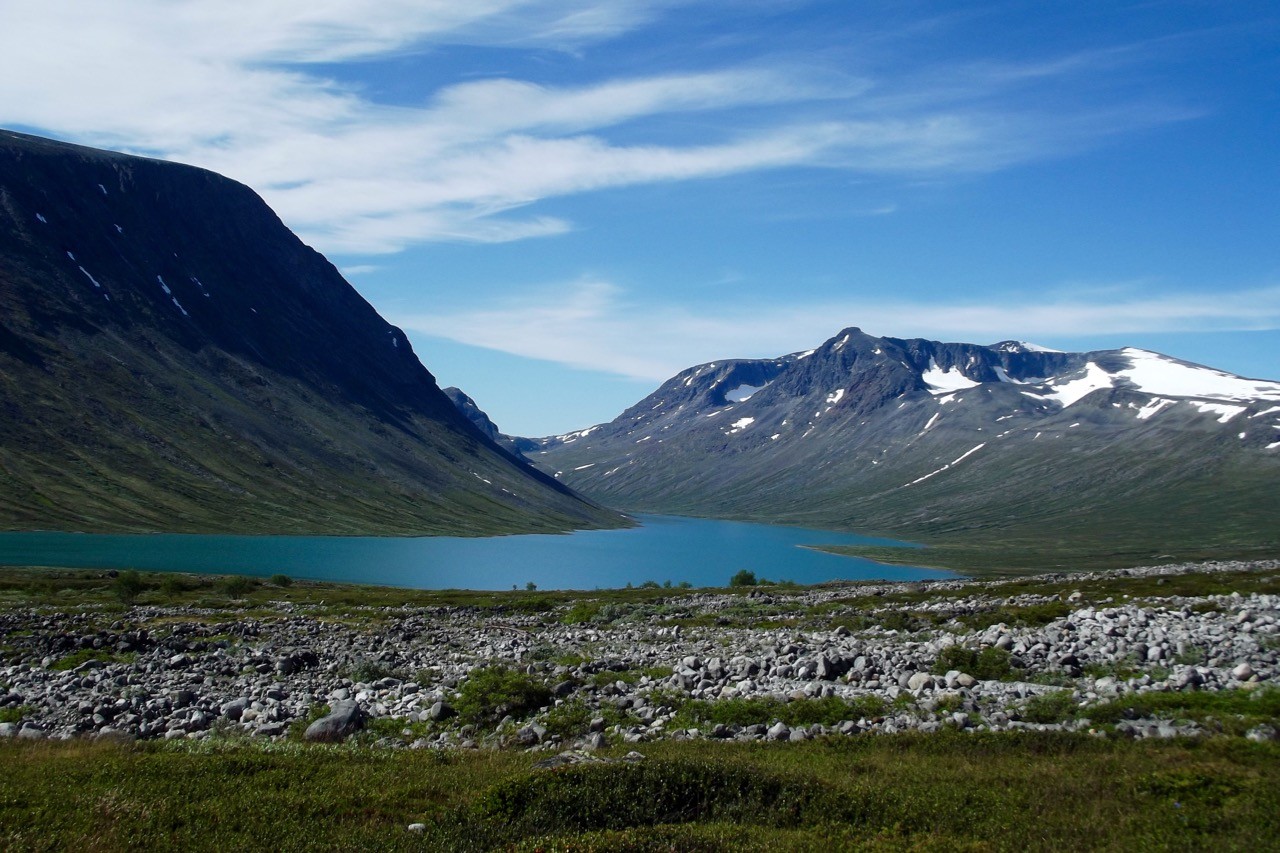 The perfect campsite for the night
From there I spent the next two days hiking along the well-marked trails to the refuge and campsite at Spiterstulen at the base of Galdhøpiggen. I wild camped along the way until I arrived at Spiterstulen where I stayed at the campground for a night before climbing Galdhøpiggen.
My route to Spiterstulen and Galdhøpiggen can viewed in more detail on the UT.no website but is roughly as follows:
Day 1: Gjendesheim – Russvatnet Lake, 11km (7mi)
Day 2: Russvatnet Lake – Steinbuvatnet (near Glitterheim), 19km (12mi)
Day 3: Steinbuvatnet – Spiterstulen, 12km (7.5mi)
Day: 4 Spiterstulen – Galdhøpiggen – Spiterstulen, 11km (7mi)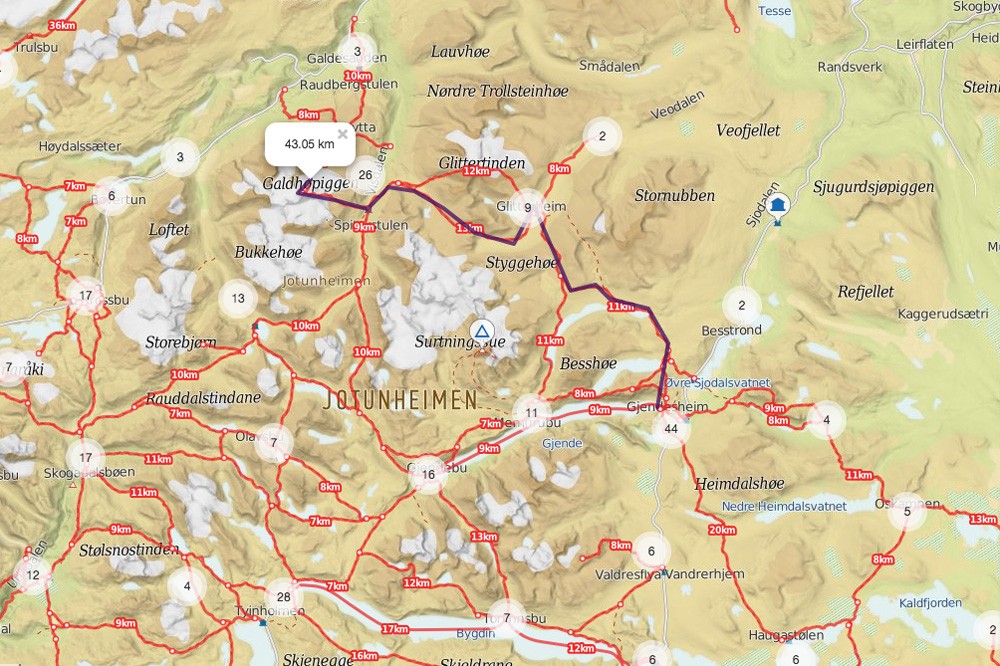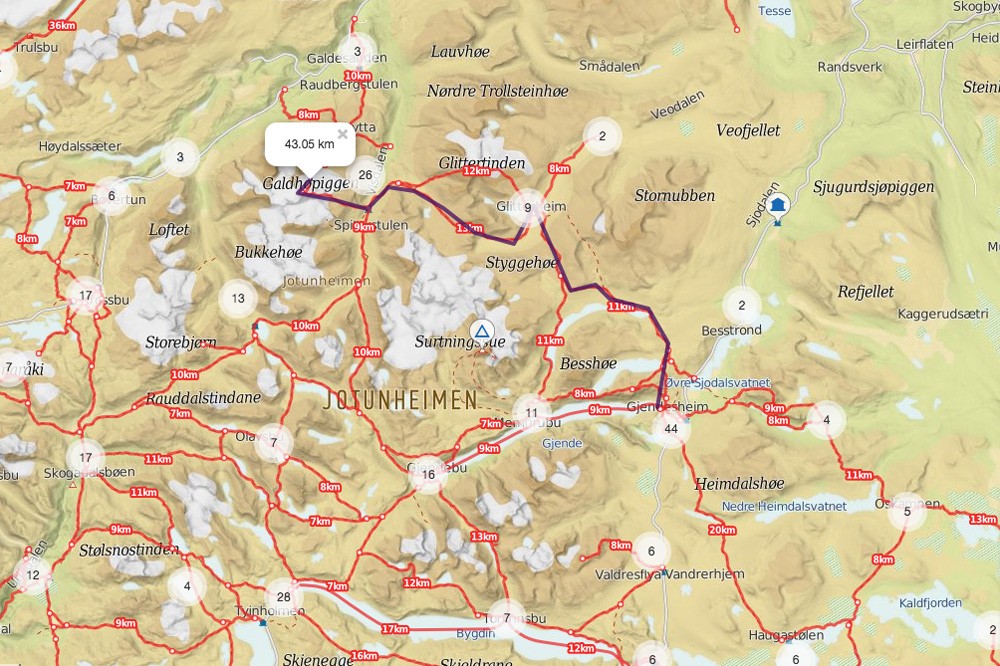 The route showcases a great cross-section of Jotunheimen National Park with glacial lakes, magnificent valleys, rocketing waterfalls and rocky plateaus all in the shadow of endless snow-capped mountains towering 2,000m above.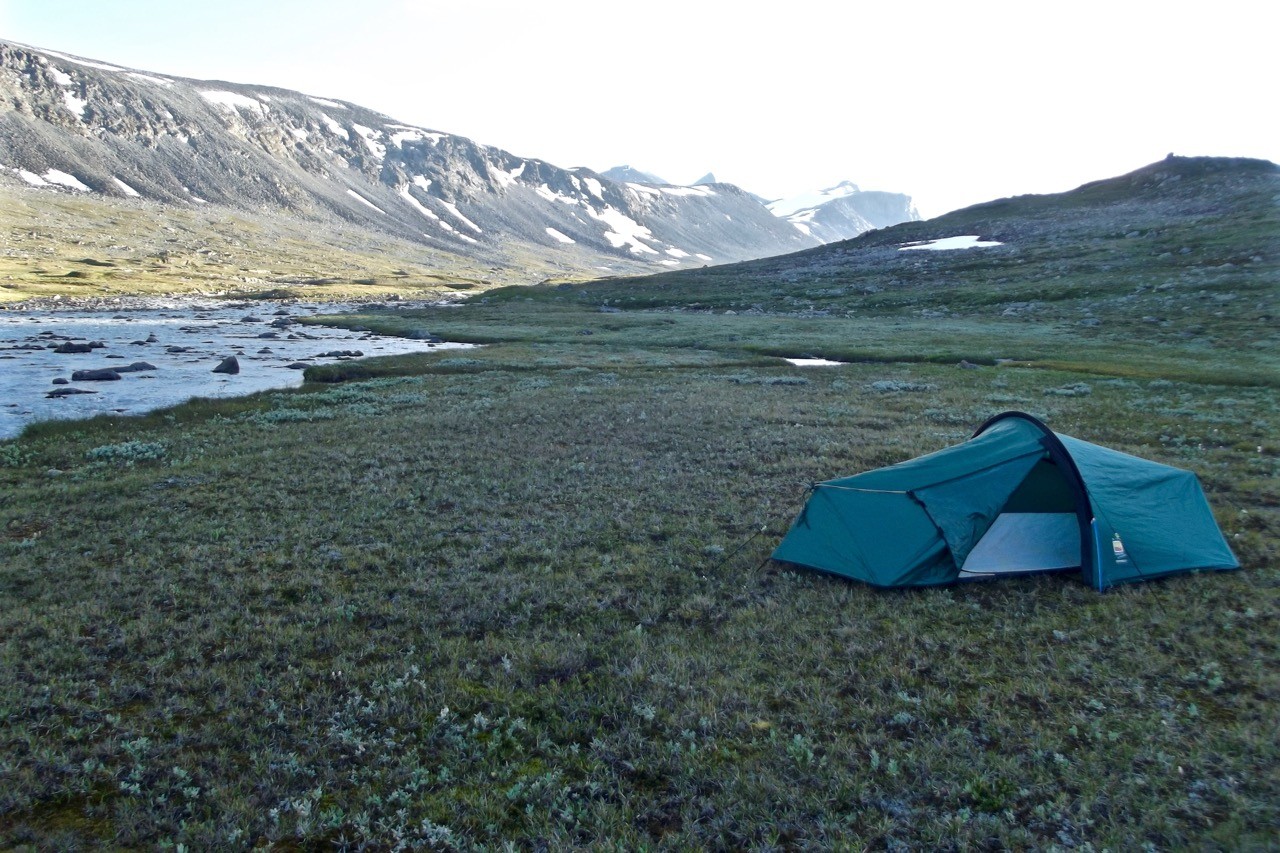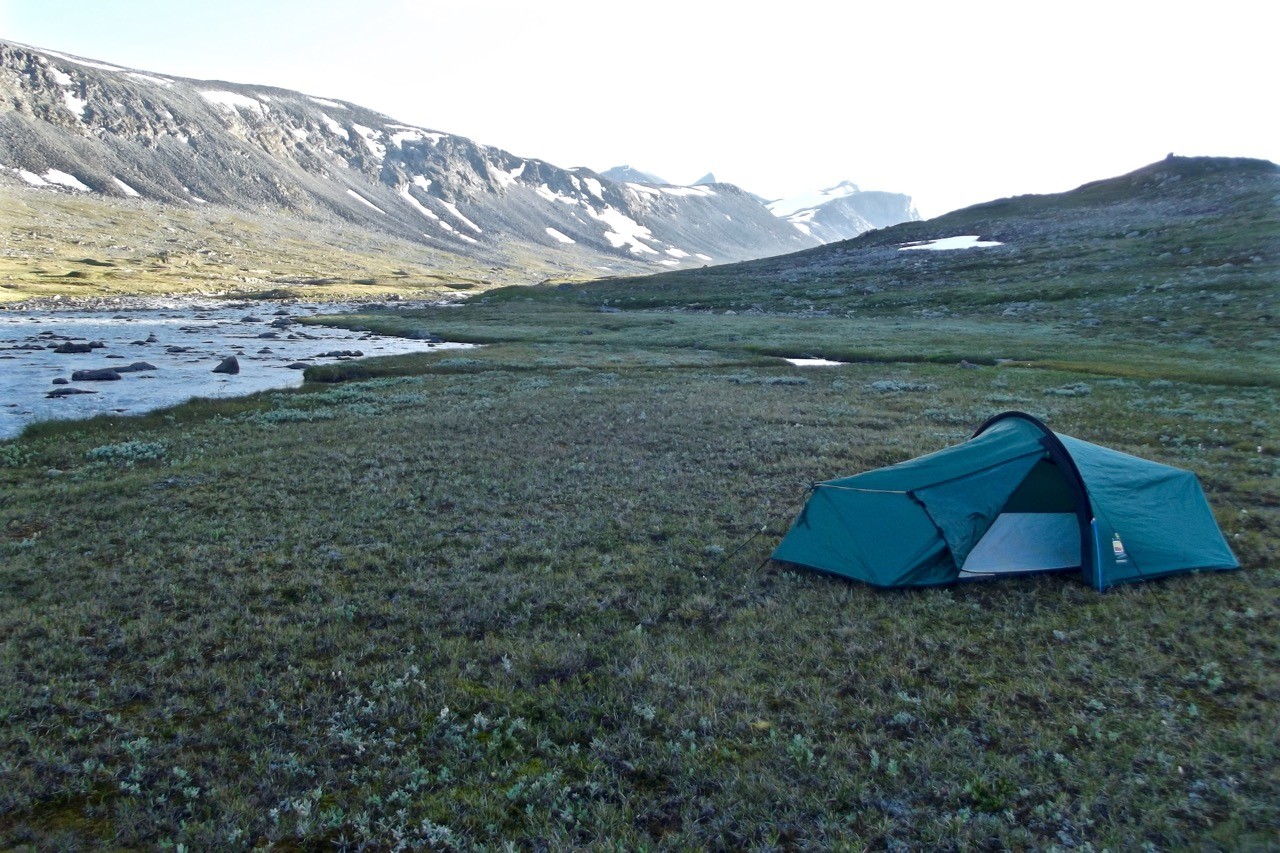 Camping just beyond Glitterheim
Although the trails are well marked and mostly well trodden, the going is far from easy. There are areas where you have to break trail and go cross-country, traverse snowy combes and steep valley walls. By the time I reached Spiterstulen I was exhausted but satisfied.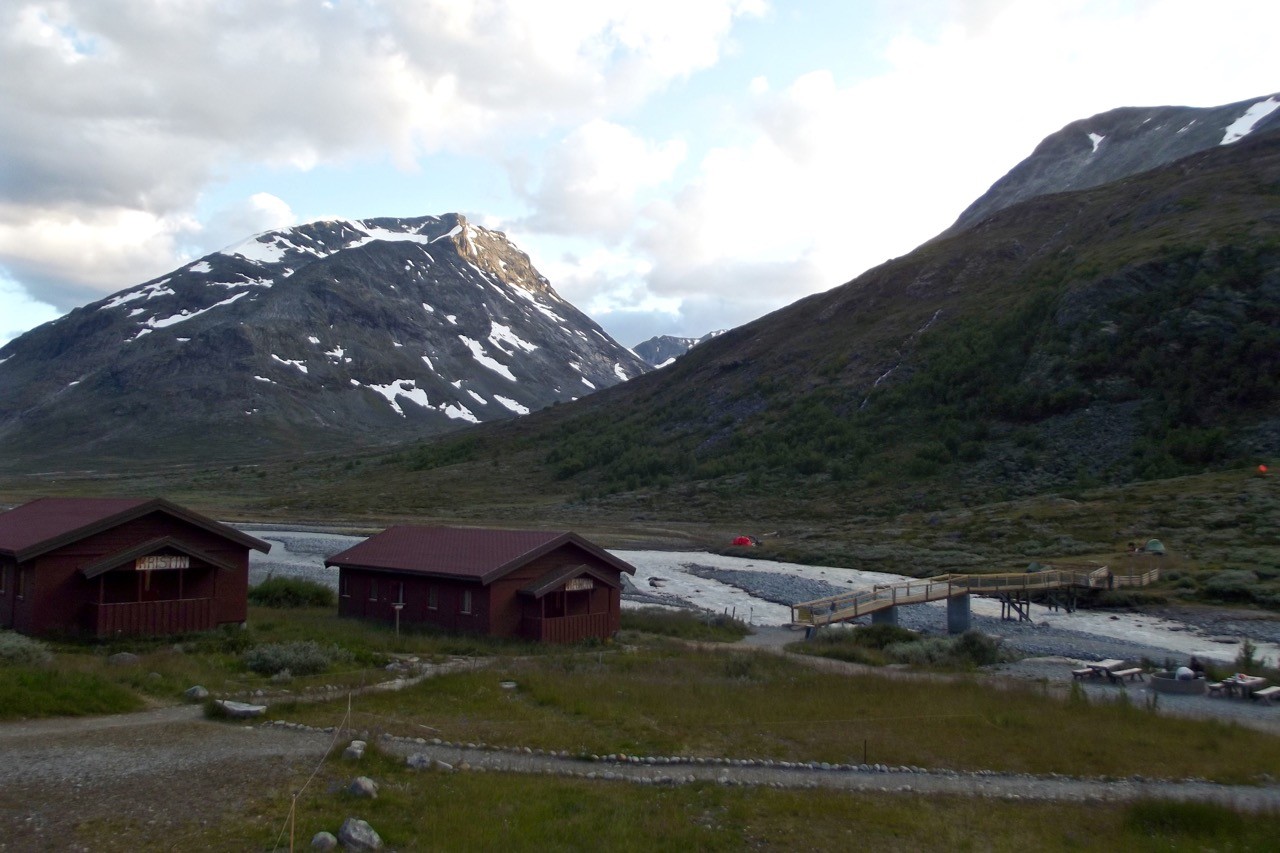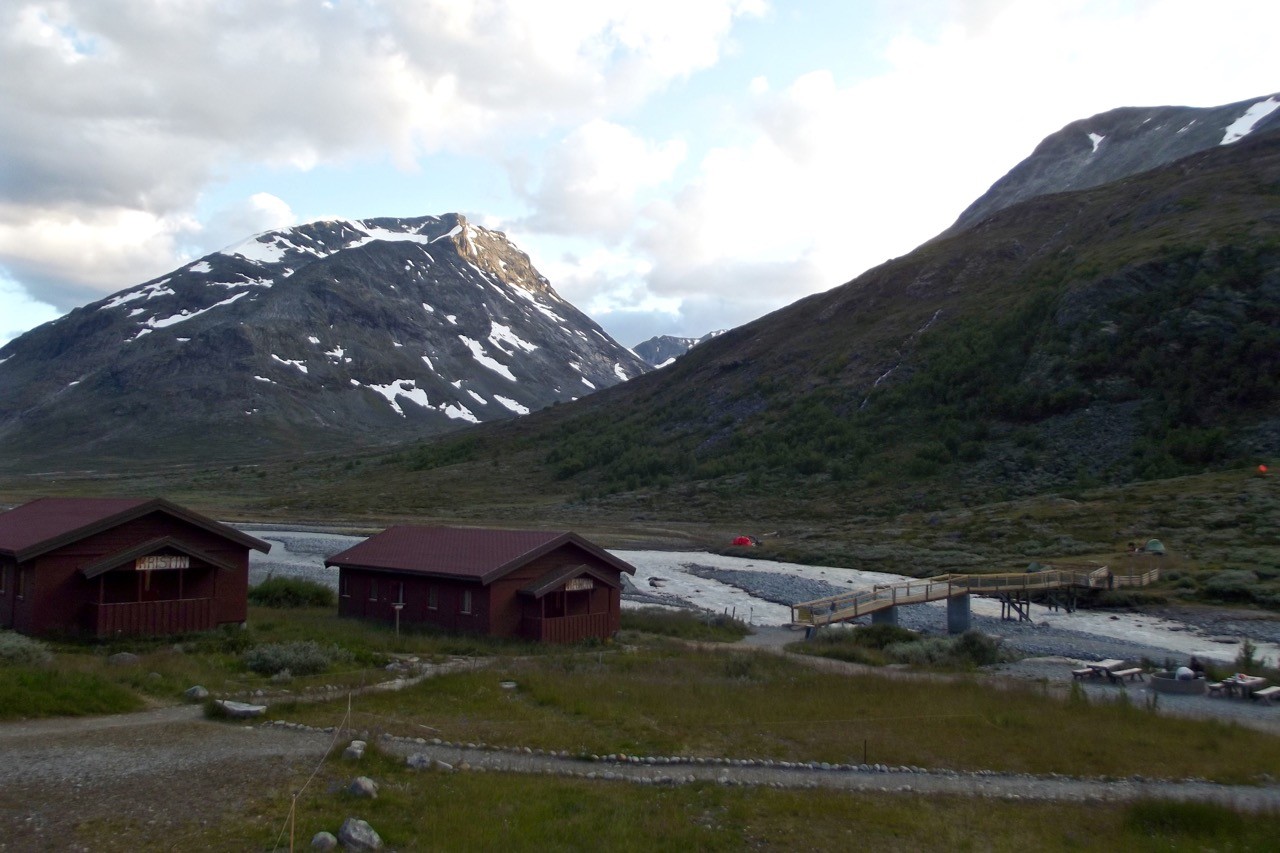 Spiterstulen at the base of Galdhøpiggen
CLIMBING GALDHØPIGGEN
I should have really taken a rest day at Spiterstulen before climbing Galdhøpiggen, but hindsight is a wonderful thing! Instead, I woke up stiff and aching after three days' heavy trekking and chose to sweat my way up the side of the mountain under a strong summer sun.
At 2,469m (8,100ft), Galdhøpiggen is no small feat. The terrain from Spiterstulen rises quickly and before long you're scrambling up the steep mountainside. Spiterstulen lies at around 1,100m meaning there is still a sizeable chunk of mountain to climb.
Approaching the peak of Keilhaus topp 750m from the summit of Galdhøpiggen
It took me around 4-5 hours to climb Galdhøpiggen which included more than the usual number of rest and rehydration stops! The weather was beautiful but also very hot, making climbing all that more draining. On the route to the summit you pass a smaller summit called Keilhaus topp as well as Svellnos glacier.
The views at the summit were just reward for my trials. Stretching as far as the eye can see were rows of snowcapped summits and jagged peaks. It felt like the top of the world. There is a stone hut at the summit which offers some shelter on a bad day as well as hot and cold drinks when the hut is manned (throughout the summer).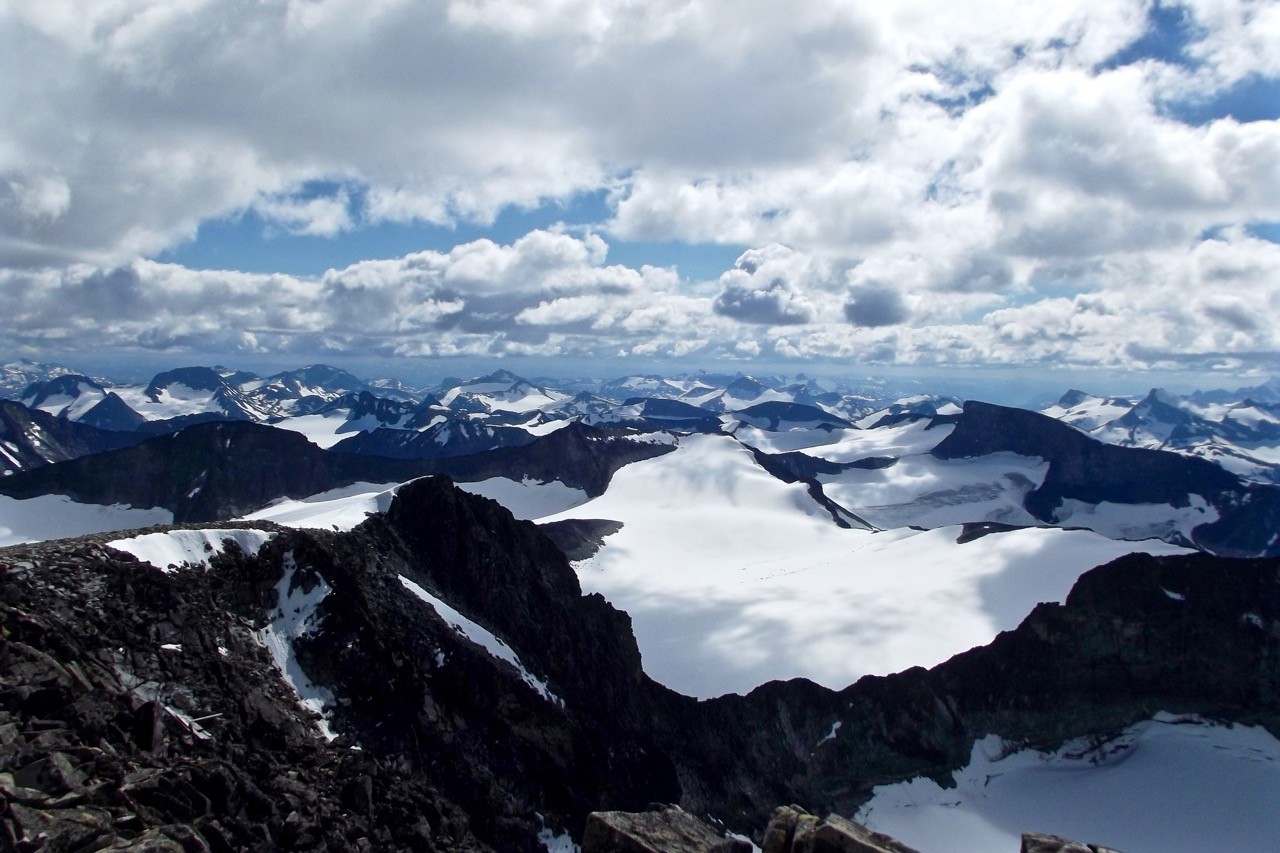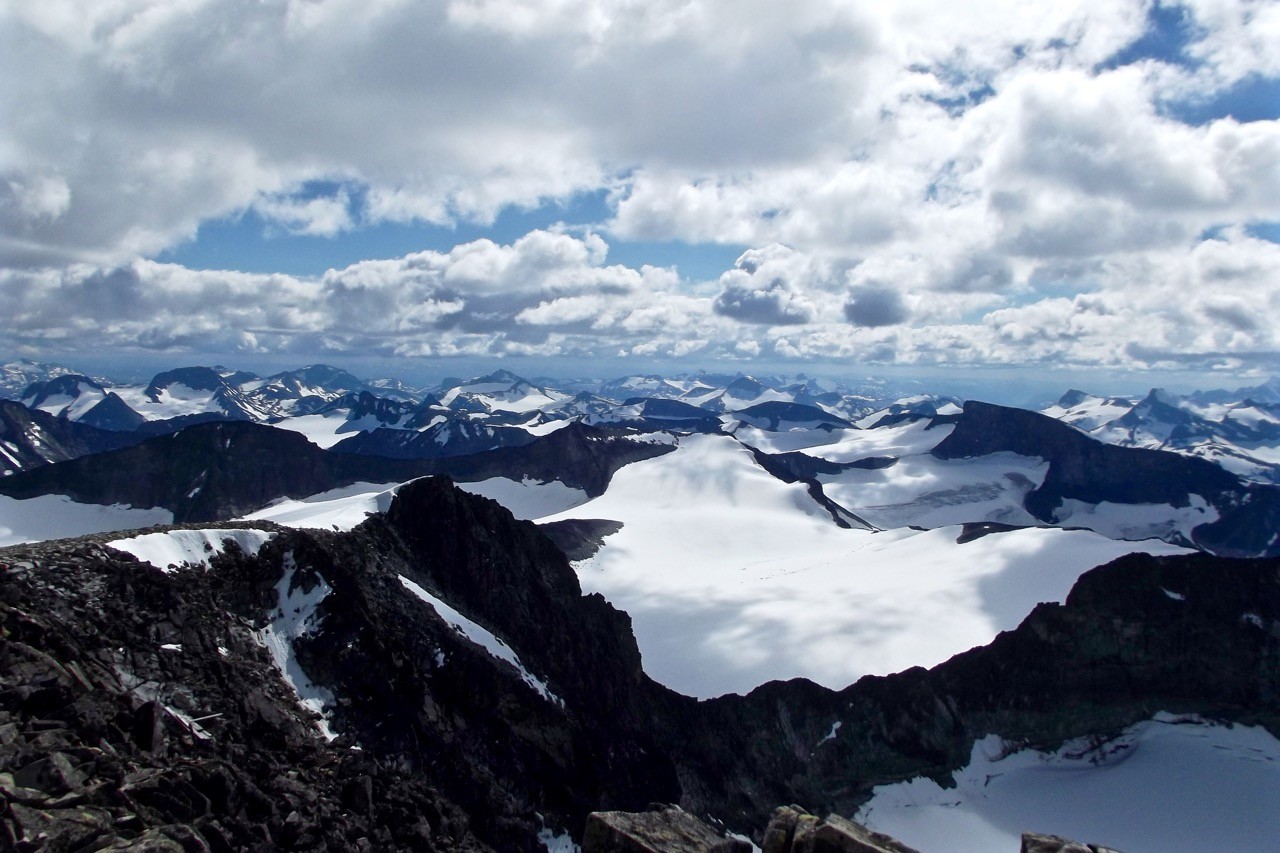 A sea of snowcapped mountains
Luckily, the trip down was much quicker and far less taxing on the legs. I was relieved to crawl into my tent that night!
The following day rewarded my decision to climb a day earlier as the weather was miserable. The views from atop of Galdhøpiggen would have been gloomy at best.
Who needs hindsight after all?
Climbing Galdhøpiggen: the essentials
What: Climbing Galdhøpiggen in Jotunheimen National Park, Norway.
Where: In Oslo, I camped at Ekeberg Camp, a short bus ride from the city centre. In Jotunheimen National Park, I wild camped while hiking and then camped at the Spiterstulen cabins near Galdhøpiggen for 50 NOK ($6 USD) a night.
When: The summer season from around mid-June until the first week in the October is the best time for hiking trips in Norway.
Norway is one of the wettest countries in Europe, so despite it being the summer season, be prepared for rain. Likewise, as Jotunheimen is a mountainous area, be prepared for everything that comes with changeable montane conditions: plummeting temperatures, strong winds, snowstorms, and even more rain!
The winter season in Norway is ideal for cross-country skiing and usually runs from around mid-February to the end of April.
How: Hiking trails in Norway are meticulously maintained by the excellent Norway Trekking Association (DNT). Their crowdsourced route-planning sister site UT.no is also a great online resource full of hiking ideas, tips and maps.
I took the bus #160 from Oslo to Gjendesheim in Jotunheimen National Park. The Valdresekspressen runs daily throughout the year from Oslo Bus Terminal in the city centre. There is also a night bus available. The journey takes around six hours and costs 250 NOK ($30 USD).
To get back to Oslo I took a train from Otta. The journey takes 4-5 hours and costs around 600 NOK ($70 USD) depending when you book. You can book tickets and access timetables through the NSB website.
I flew from London to Oslo via a budget airline. Book via Skyscanner for the best prices.
Oslo is served by three airports: Gardermoen, Torp Sandefjord and Rygge. We recommend using Gardermoen if possible as the other two are further out and require a longer and more expensive transfer.
All airports are served by trains and buses. More information can be found on the Visit Oslo website.
---
Enjoyed this post? pin it for later…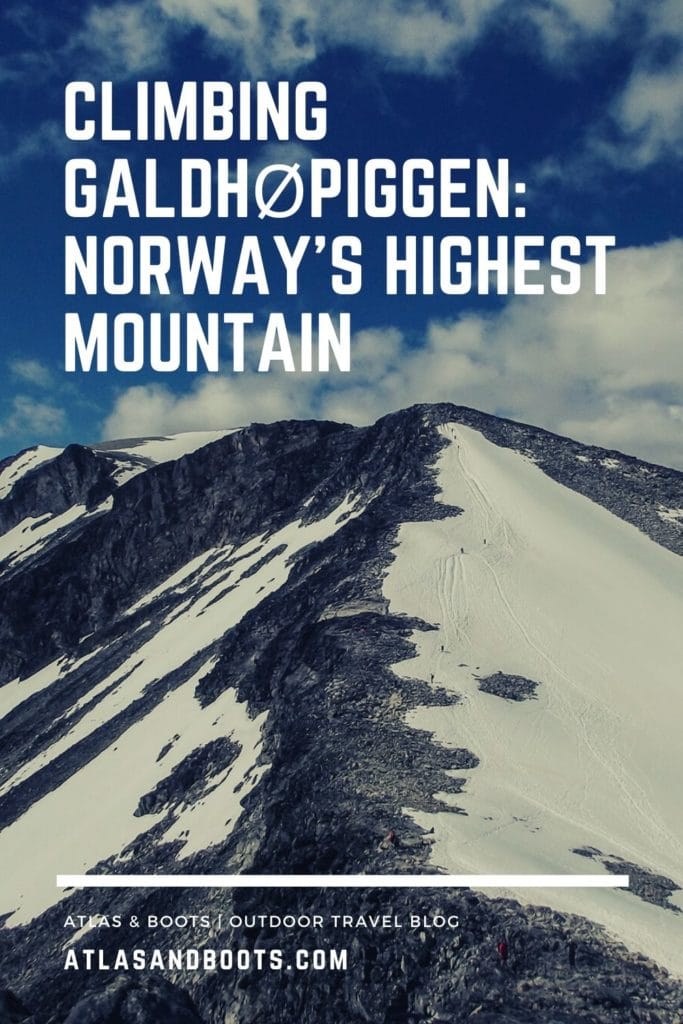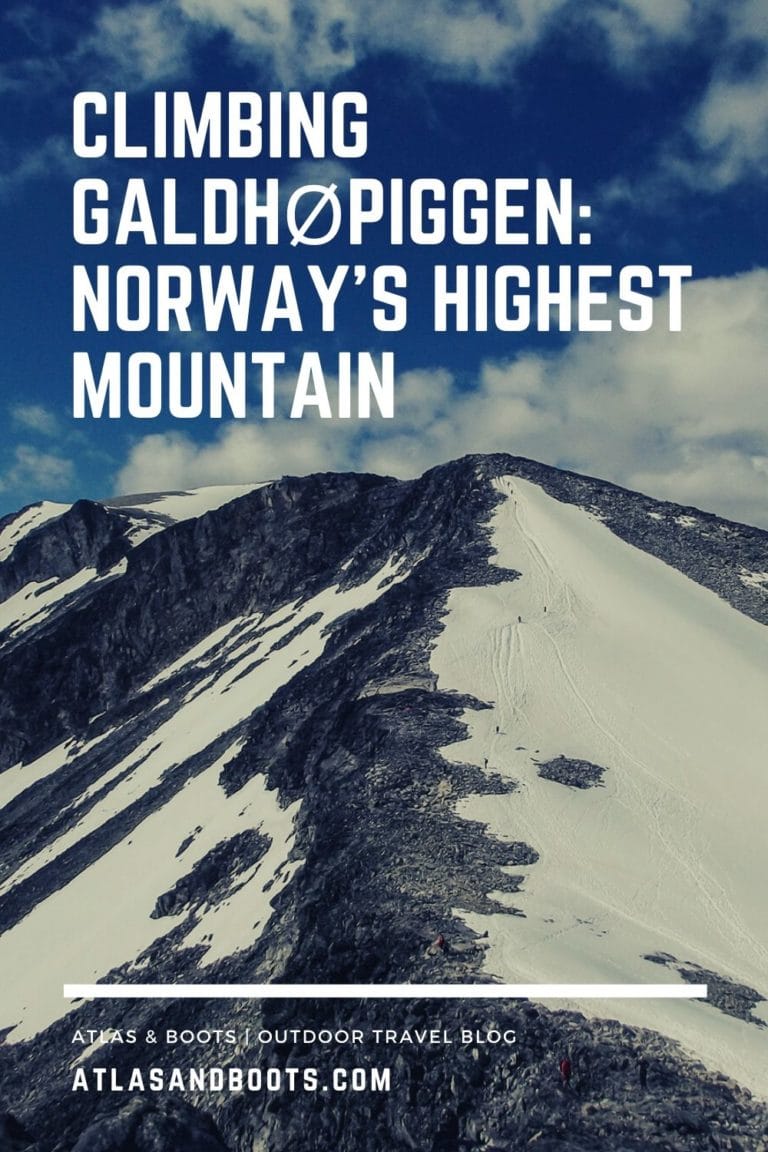 ---
For more things to do in Norway get the Lonely Planet Guide to Norway.