Our comprehensive Elbrus kit list includes everything you'll need to conquer Mount Elbrus, the highest mountain in Europe.
Mount Elbrus in Russia, at 5,642m (18,510ft), is Europe's highest mountain and a member of the seven summits, the highest point on every continent. Having just returned from climbing Mount Elbrus with specialists 7 Summits Club, I thought it would be useful to share my entire Elbrus kit list as a point of reference for future climbers.
I had most of the gear beforehand but a few trips to Ellis Brigham and Salomon to pick up some last-minute items were needed. I treated myself to a few new items such as a waterproof jacket, softshell, down jacket and sleeping bag, but much of what I already had was sufficient. It is possible to rent gear in the area, but I prefer to invest in gear I know I'll use again and again.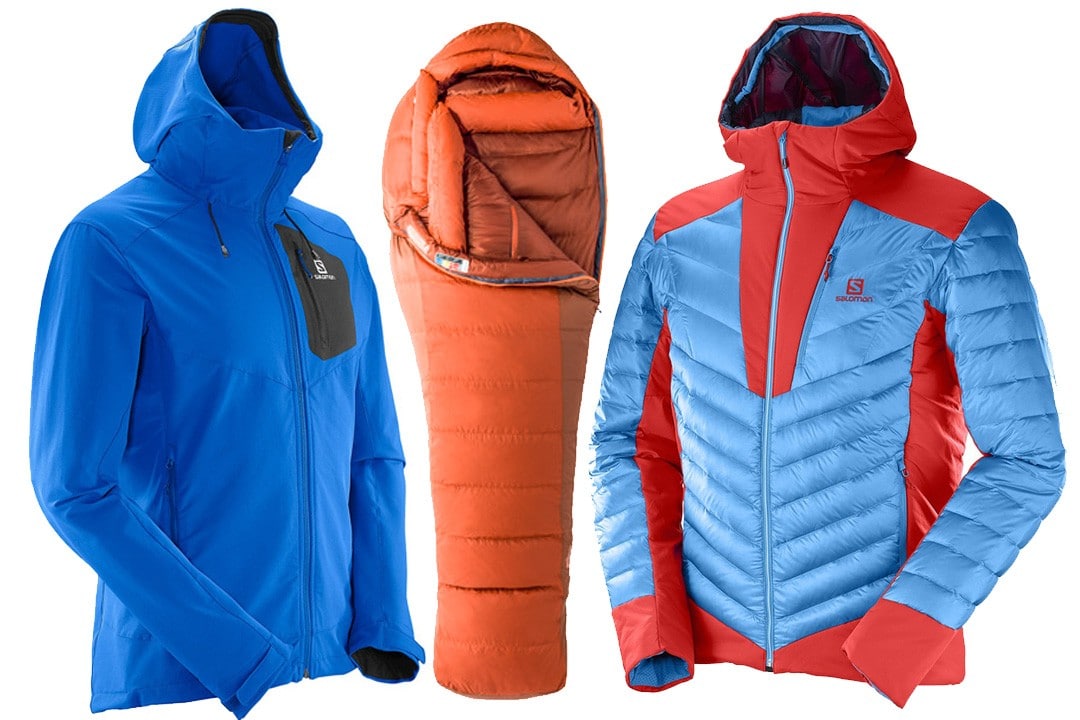 Elbrus kit list
The Elbrus kit list below includes everything I used, including basic trekking clothing worn on acclimatisation hikes to mountaineering equipment and cold weather clothing worn on the mountain.
4x
Breathable underwear
Some quick-drying lightweight sports underwear is ideal.
2x
Base layer pants
I wore these beneath my hiking or softshell trousers the entire time I was on the mountain.
3x
Liner socks
Great for helping to keep blisters at bay as well as adding an extra layer of insulation.
5x
Heavy hiking socks
Ideally double-layered to help avoid blisters.
3x
Base layers
I prefer short-sleeved base layers but you may prefer long sleeves.
2x
Hiking shirts
I wore these on acclimatisation hikes in the valley and around the hotel.
3x
Mid layers
I took two short-sleeve mid layers to wear on top of my base layer and one long-sleeve mid layer with a neck zipper.
1x
Fleece
My trusty Mountain Equipment fleece has been everywhere with me and will continue to do so!
1x
Softshell
My favourite new piece of kit! This is very versatile and very useful – usually worn below my outer (waterproof) jacket.
1x
Down jacket
A new piece of kit I got specifically for this trip. It was only needed on the summit morning but is essential.
1x
Waterproof jacket
A crucial piece of kit; probably the most worn piece of outerwear I packed. The weather is always changing so the jacket was never far from reach.
2x
Zip-off hiking trousers
I wore these on acclimatisation hikes in the valley and around the hotels.
1x
Alpine trousers
I practically lived in these reinforced and stretchy hiking pants at our refuge. I wore them beneath waterproof trousers on all but the summit day.
1x
Softshell trousers
I only wore these on summit day, but was pleased I did. I wore them over my base layer and under my waterproof trousers.
1x
Waterproof trousers
Another essential piece of kit worn every day on the mountain. Mine are slightly insulated and you need at least 3/4 length side zips to fit over crampons and boots easily.
1x
Hiking boots
I travelled in my hiking boots and wore them for acclimatisation hikes in the valley. I could have taken more lightweight boots or approach shoes.
1x
Mountaineering boots
My Scarpa Cumbre have been discontinued but a B3 or C3 mountain boot is really required for a mountain like Elbrus.
1x
Crampons
I stepped up to 12-point crampons for this trip and enjoyed the greater stability on steep terrain they provide.
1x
Gaiters
Gaiters with Gore-Tex provide the most breathability and comfort. They should be full-sized and fit over your waterproof and mountaineering trousers.
1x
Sunglasses
Sunglasses should have polarised lenses that offer UV protection.
1x
Ski goggles
The goggles were essential on summit day and in difficult weather.
1x
Buff
I never leave for a trip without my trusty buff!
1x
Fleece neck col
Not essential, but I like to have the option.
1x
Balaclava
For the complete all-weather lockout!
1x
Beanie
Must be able to fit underneath a helmet; avoid anything with bobbles.
1x
Cap or sunhat
Should be adjustable, quick-drying, breathable and, ideally, waterproof.
2x
Liner gloves
I wore these as base layers beneath my mountaineering gloves and mittens or independently when the temperature was a bit milder.
2x
Mountaineering gloves
No matter what they claim, gloves never stay waterproof, so at least two pairs are a must.
1x
Mittens
On summit day I wore my liner gloves, mountaineering gloves and mittens – and was very grateful for them.
1x
Ice axe
A general mountaineering ice axe will suffice. Size and style will depend on your height and personal preference.
1x
Ski/trekking poles
Either ski or trekking poles are fine as long as they're collapsible and have snow baskets. The three-sectioned variety is ideal.
1x
Sleeping bag
I got this Marmot Never Summer sleeping bag for the trip. It is without doubt the best sleeping bag I've ever owned. I'll never be cold again!
1x
Inflatable pillow
Not essential, but made the bunk beds a bit more comfortable.
1x
Harness
This must fit over all bulky clothing and feature gear loops, adjustable leg loops and a waist belt. Ideally, it should also have a belay loop.
1x
9-11mm rope
Two to three meters is enough for self belaying on the fixed ropes.
1x
Nylon sling
Not essential but I like to have one to use as a waist leash for my ice axe.
3x
Screwgate karabiners
These must be auto-locking and easily clip into a harness. I also took three non-locking, lightweight wiregate carabiners for use with my ice axe waist leash.
1x
Thermos
Your water may freeze on summit day, so your hot tea may be your only source of hydration.
2x
Water bottle
I drank much more water than my teammates and found I suffered less from the effects of altitude. Altitude sickness is a bit of a lottery, but I'd rather over-hydrate than under.
1x
Head torch
A must-have on summit day. Ideally take one that is waterproof.
1x
First aid kit
Hopefully, it will never be opened but you can probably expect to suffer some minor blisters at best.
1x
Lip balm
Lip balm should have at least SPF 30+ and it may be worth taking a backup as they're easily lost.
1x
Sunscreen
You should pack SPF 40+ and have it on all the time. Even when the temperature is freezing, the sun is incredibly strong. Several members of our team came down with interesting sunburn lines to say the least!
1x
Penknife
I didn't use my penknife but I always feel better knowing it's with me.
1x
Wash bag + toiletries
Largely personal, but worth packing a few rolls of toilet paper, antibacterial hand sanitiser and wet wipes.
1x
Towel
Worth taking a lightweight microfibre although there's not much opportunity to wash on the mountain!
1x
GoPro Hero7 and spare batteries
1x
Backpack (50l+) – read our guide on how to choose a backpack
1x
70+ litre holdall
A 70-litre holdall or backpack will likely suffice for all the above kit.
I climbed Elbrus with 7 Summits Club, an experienced Russian-based guiding operator focused on climbing the highest mountains on every continent (hence the name). I joined their 8-day classic route program priced at $1,360 USD which includes all accommodation, meals, internal transfers, guides and ski passes for the chair lifts.
*NB – The above Elbrus kit list assumes you're joining a guided climb and not camping or cooking for yourself. 
---
Enjoyed this post? pin it for later…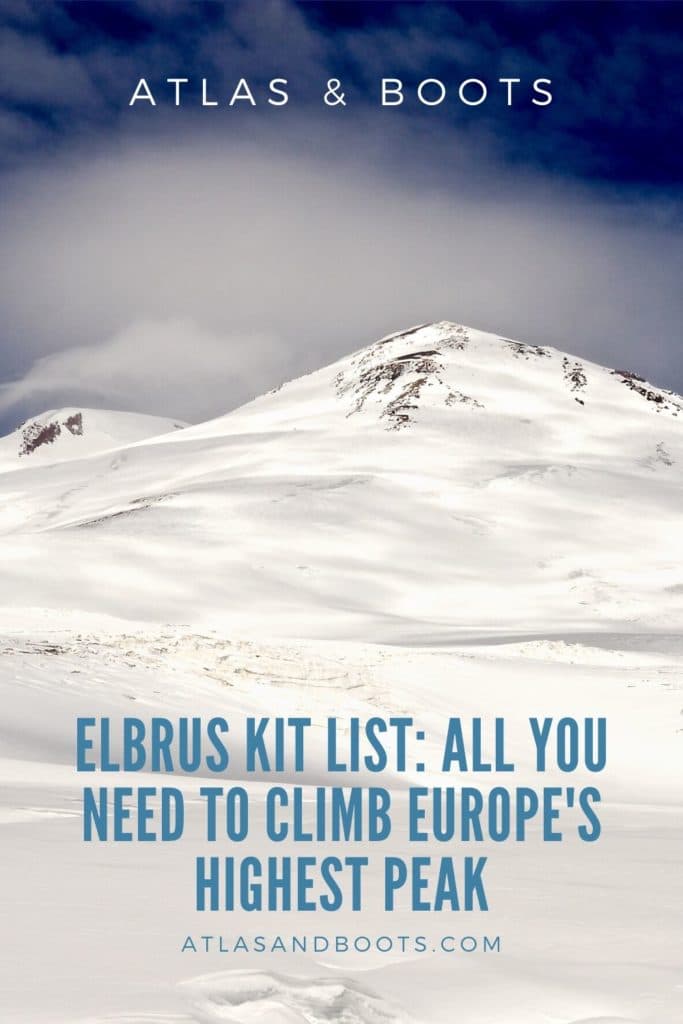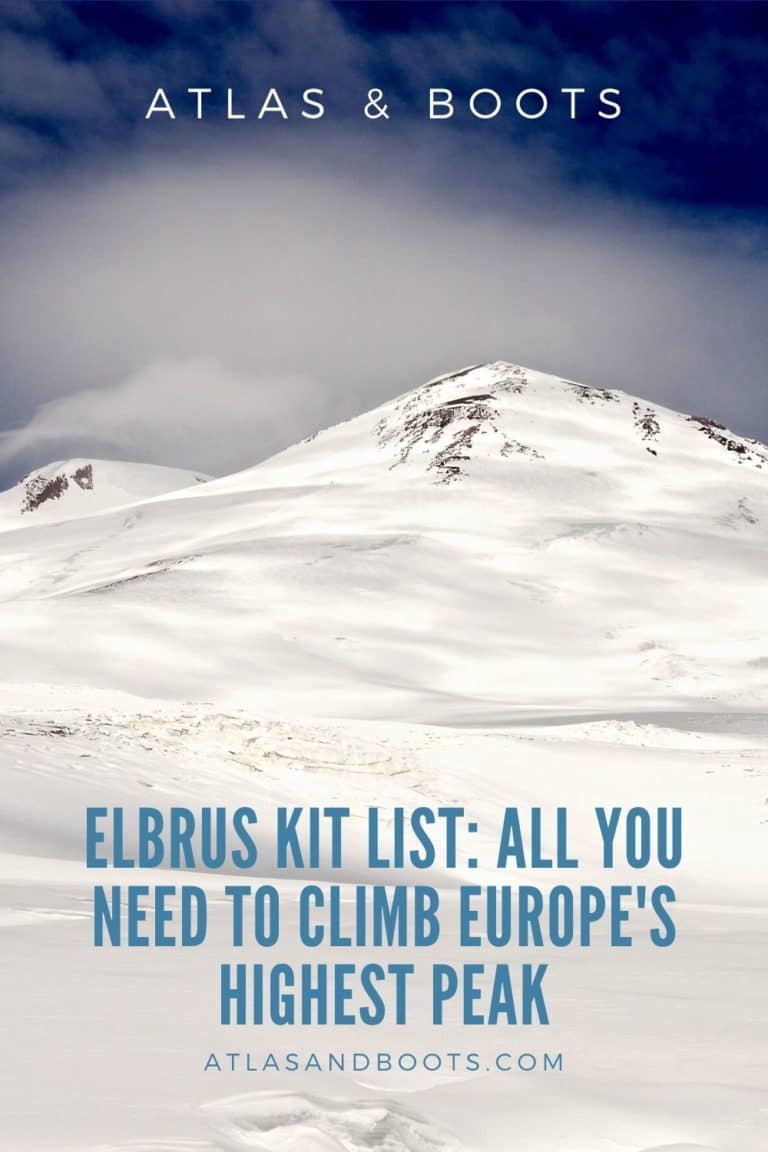 ---
Lead image: Atlas & Boots