Our Q&A-style guide to hiking the Highlander Velebit covers everything you need to know to get the most out of your first Highlander adventure
I just returned from trekking the Highlander Velebit in Croatia, an invigorating journey through a lesser-known region of Europe. The event proved to be a new way of hiking for me and has the potential to transform the future of hiking holidays.
The Highlander Adventure treks offer a perfect introduction to multi-day trekking, striking a balance between guided trek and self-sufficient expedition. With most of the logistics taken care of, participants can hike their own hike and really focus on enjoying the trail.
Whichever Highlander trek you choose, our Q&A-style guide to hiking the Highlander Velebit covers everything you need to know before you set out.
Related articles:
Trekking the Highlander Velebit in Croatia
Highlander Velebit gear list: what's in my pack
Highlander Adventrue: my first post-lockdown trip
Guide to hiking the Highlander Velebit
How long is the trek?
The Highlander Velebit is 104km (65mi) spread across five days of trekking with four nights of camping.
| Day | Distance | Duration | Ascent/descent | Difficulty | Checkpoint |
| --- | --- | --- | --- | --- | --- |
| 1 | 33.6km | 8-10 hours | 771m/1,329m | Hard | Skorpovac |
| 2 | 14.2km | 4-5 hours | 304m/350m | Easy | Baške Oštarije |
| 3 | 19km | 7-9 hours | 1,114m/852m | Hard | Panos |
| 4 | 16.5km | 6-8 hours | 720m/1,017m | Medium-hard | Veliko Riujno |
| 5 | 15.4km | 4-6 hours | 316m/1,116m | Easy | Starigrad |
How Hard is it?
The Highlander Velebit is no walk in the park and does include some challenging sections. However, there is no time pressure so as long as hikers take their time, drink plenty of water and take a break whenever necessary, it's a perfectly achievable challenge for anyone with a reasonable level of fitness.
The first day on the trail is a long one, but generally follows a clear and consistent footpath without any extended steep ascents. Days three and four are genuinely hard with some tough ascents across tricky terrain.
Do I need previous trekking experience?
The Highlander treks are an ideal introduction into multi-day trekking. The hikers I met during the trek had a wide range of experience and fitness levels. For many of them, the Highlander Velebit was their first multi-day trek.
As long as you have a reasonable level of fitness and have been on some day hikes before, you should be able to complete – and more importantly, enjoy – the trek.
Do I need to do any training?
It's not essential but it's never going to do you any harm. My advice would be to get in as much hiking experience as possible. Get comfortable with hillwalking: spending time in the outdoors and ascending and descending steep slopes while carrying a pack is the best training anyone can do.
If you want to go the extra mile, then any cardio preparation such as running and swimming will come in handy for long days on the trail. Finally, upper body training focusing on core muscles will improve strength for carrying a backpack.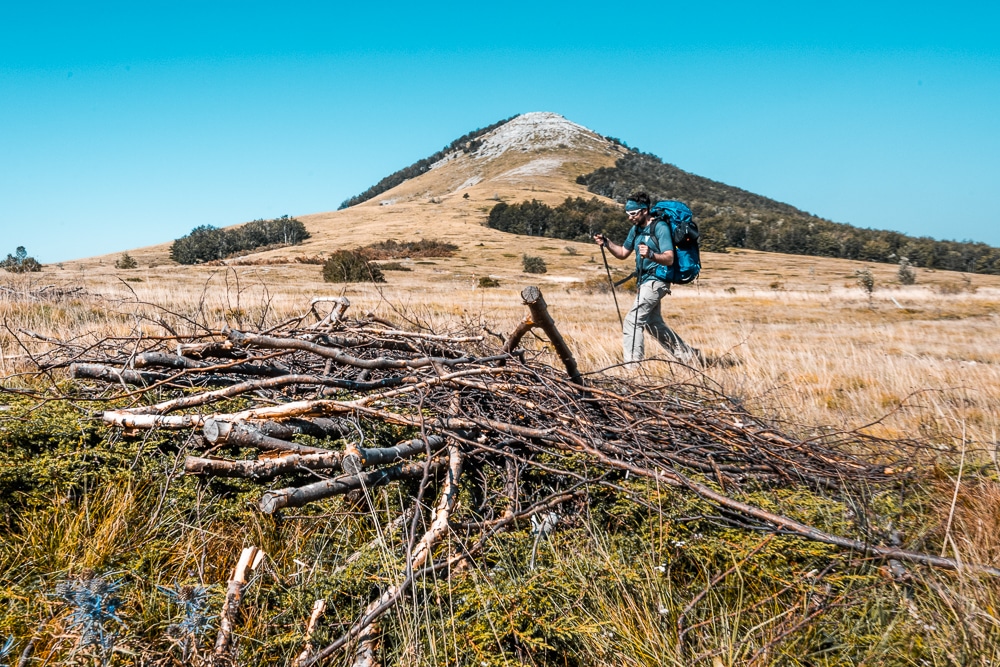 How many checkpoints are there?
There are five checkpoints: four campsites and the finish line.
Is the event competitive?
No, the Highlanders are non-competitive events although participants must pass through all checkpoints to gain a certificate and medal upon completion.
Is there a time limit?
Yes and no. There are no official timings but participants must pass through the checkpoints and reach the finish line within set time windows. These windows are incredibly generous – between 30 hours and 74 hours – so participants can really take their time if they need to.
Do I need to buy maps?
No. At the beginning of the trek, hikers are supplied with a waterproof map case containing custom 1:30,000 topographical maps covering the entire route. The maps include a suggested route, checkpoints, bivouacking sites and water sources.
Hikers are also provided with a Highlander passport which includes lots of information about the event.
Should I take my own GPS?
I would recommend installing a hiking app on your phone or watch, or taking a GPS device. It just makes life so much easier. If you don't have an appropriate app already installed on your device, take a look at our post on the best hiking apps.
Downloadable GPS files are made available via email before the hike. This year's Velebit GPS file is available online or you can save the below Google map to your device or account.
is the trail easy to follow?
In general, the route is clearly identified with regular markings and defined trails. However, there are sections through forested areas which could potentially cause problems. Thick undergrowth, fallen trees and faint paths can all deceive anyone not paying enough attention.
As long as hikers take their time and regularly check their GPS and map, then there shouldn't be any reason to worry.
Can I take alternative routes?
Trekkers are free to hike any route they wish as long as they pass through each checkpoint within the set time frames and collect all the stamps.
I would recommend sticking to the suggested route for your first event. However, if you are confident then there are many alternative trails available which often take in nearby peaks, ridges and beauty spots.
What are the campsites like?
The campsites are all located at the checkpoints and vary in terms of amenities, location and scenery. Panos is the most remote but is also the most beautiful, offering fine montane panoramic views.
At each checkpoint, there are small clearings where most trekkers tend to pitch their tents, but if you're happy to walk for a few minutes then there are plenty of other camping spots available away from the hubbub of the main camp.
| Day | Checkpoint | Type |
| --- | --- | --- |
| 1 | Skorpovac | Mountain hut, basic toilet |
| 2 | Baške Oštarije | Hostel, pub/restaurant, toilets, showers available for $ |
| 3 | Panos | Wilderness campsite, no amenities |
| 4 | Veliko Riujno | Grassland near small hamlet, no amenities |
| 5 | Starigrad | Beachside location with bars, restaurants, toilets |
Do hikers have to camp at the checkpoints?
No. Participants can camp anywhere along the trail. However, the checkpoints are well situated as they have pitches available, water sources and other amenities on site. Food is also dispensed at the checkpoints.
Additionally, the checkpoints are social affairs with campers sat around campfires and getting to know each other. At two of the checkpoints presentations also take place.
At Baške Oštarije there were presentations from Everest summiteer Stipe Božić as well as a Croatian thru-hiker talking about on his experiences in the USA. At Veliko Riujno, there was a seminar by two members of the Croatian Mountain Rescue Service.
Despite being in Croatian, Božić's address included lots of photographs from his many expeditions and was still thoroughly worth attending, while during the Mountain Rescue several members of the audience were happy to translate for the English speakers.
Is there phone reception on the trails?
There is phone reception at the start and finish lines, at Baške Oštarije checkpoint and throughout most of the final day. I also noticed that many hikers managed to pick up a signal at Veliko Riujno and intermittently at various points along the trail.
Can I charge electronics anywhere?
No. I suggest packing a power bank to charge electronics. We use and recommend PowerTraveller Powergorilla multi-voltage charger.
What if I can't finish? Can I bail out?
Yes. Hikers can call it a day at any point along the trail. The checkpoints are located close to road access so hikers can leave the trail. Just bear in mind that it is up to hikers to organise their own withdrawal. They can either hitchhike or organise a transfer at their own cost.
What if I get injured or need emergency evacuation?
In the event of an emergency, hikers can make an emergency call using 112 which will alert the nearest mountain rescue.
What do I do with my trash?
It is a hiker's responsibility to carry all their trash out from the mountain. It's essential that hikers follow the Leave No Trace code of conduct.
There are trash bags available at Baške Oštarije where hikers can leave any trash accrued up until then. After that, hikers must take all waste and litter with them to the end of the trek and bury any human waste en route.
Are there toilets?
Other than at the first two checkpoints, there are no toilets along the trail. Hikers need to be comfortable with doing their business in the wild.
How do I go to the toilet in the wild?
This is a bit of a bugbear of mine. The only litter I saw throughout the trek was the remnants of where trekkers had gone to the toilet, usually around the campgrounds.
There is absolutely no excuse for this. If you can't clear up after yourself, don't go hiking.
Trekkers must be able to do their business in the wild leaving absolutely no trace in the process. It is essential to follow these basic principles:
Walk well away from the trail, campground and any water sources
Dig a hole with your heel or a trekking pole
Cover the waste thoroughly with soil
Place large rocks on top to stop animals from digging it up
For a more thorough explanation, read Kathleen Meyer's How to Shit in the Woods for a 'delightfully shameless discussion of a once-secretive activity'.
Do I need a permit?
No. The entry fees to the Northern Velebit and Paklenica national parks are included in the price.
Do I need specialist insurance?
None of the current Highlander treks are classed as high-altitude so shouldn't require specialist insurance. However, it is quite common for insurance policies to claim to cover 'everywhere', but in reality do not cover remote wilderness areas.
Take the time prior to your trip to contact your insurance provider and specifically inquire about trekking in the region – then double-check the small print.
What should I pack?
I've put together a detailed Highlander Velebit gear list. It contains everything I took with me including camping and trekking gear, clothing, cooking equipment and electronics.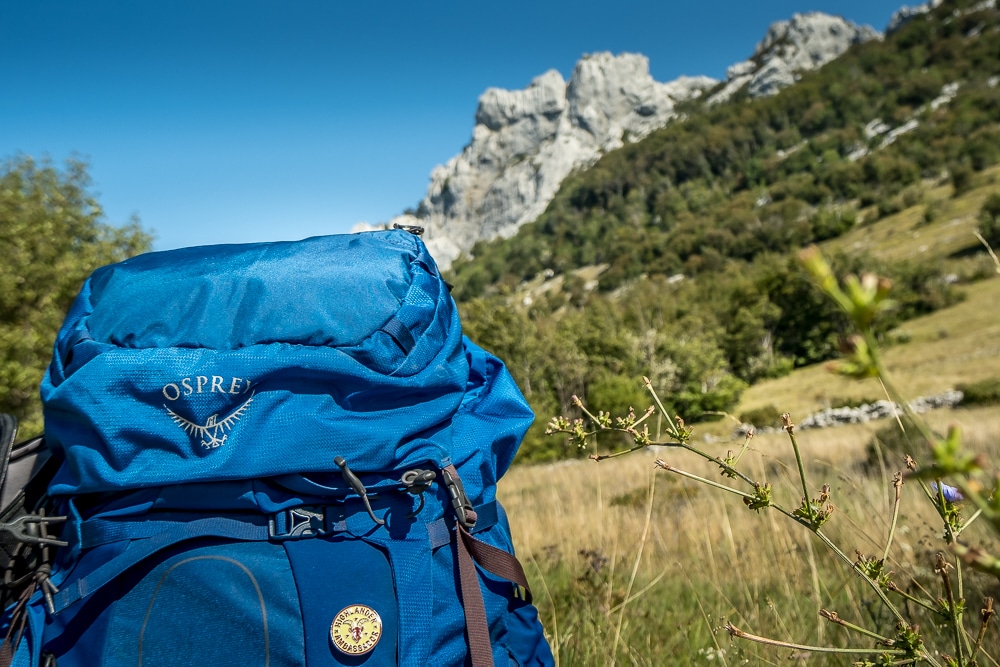 What is the weather like?
I hiked in September while the climate in Croatia was still hot and dry. I didn't use my waterproof gear or my warm clothing. Only during late evening did I put on my light down jacket and it was usually unzipped.
That said, mountain weather is notoriously changeable anywhere in the world, so hikers must prepare for all eventualities. A case in point is the 2017 inaugural Highlander Velebit when it rained throughout the entire five days of the trek.
Where do I get drinking water?
Drinking water is available at all of the checkpoints as well as certain points (usually mountain huts) along the trail. On longer days there was at least one place where hikers could fill up between checkpoints.
The maps distributed at the start point include water sources. Hikers should carry a water system capable of carrying at least two litres of water.
Is all the food provided?
Yes. Trekking food is distributed at the start point and at the Baške Oštarije and Veliko Riujno checkpoints. Likewise, a hot meal is served at both of those checkpoints.
Participants may wish to take some additional snacks, tea bags, instant coffee or any specialist diet items.
What is the food like?
The food was ample and filling, although not particularly light. Generally, hikers would get provisions for two days at a time which consisted of porridge, a bread pack, cheese cubes, some spread and two freeze-dried evening meals.
Below was my daily Highlander menu. The hot meals at the checkpoints were tasty and filling simple stews with some bread on the side.
Breakfast: porridge or oatmeal
Lunch: cheese, bread, spread
Dinner: freeze-dried pasta or noodles, hot meals at two checkpoints
Hikers can request a vegetarian option before the trek.
Atlas & BOots
Our guide to hiking the Highlander Velebit covers food
How much does it cost?
Registration for the Highlander Velebit 2021 is currently priced at €159.00 ($185 USD) for early-bird booking but will rise to €159.00 ($230 USD).
The Highlander website includes information on how to register for any of the treks as well as more details regarding checkpoints, equipment and some basic guidelines for hiking in the region. More information including joining instructions is available following registration.
How do I get to and from the start Line?
The trek begins at Zavižan just inside the Northern Velebit National Park. Buses are provided to take hikers from the coastal town of Senj to the start line at Zavižan. The transfer takes around an hour.
Hikers are responsible for organising their own transport to Senj. Most tended to arrive in Senj the day before the trek begins. There are several buses running from Zagreb to Senj every day. The journey takes about 3.5 hours and costs €17 ($20 USD). Use putovnica.net to find routes and book tickets.
What about at the finish line?
The trek finishes on the beach at Starigrad-Paklenica where there are several buses available to Zagreb, Dubrovnik, Split and Zadar depending on your onward plans. Use putovnica.net to find routes and book tickets.
What about accommodation before and after the trek?
Hikers are responsible for organising their own accommodation before and after the trek.
There are limited accommodation options in Senj while Starigrad-Paklenica has a much wider choice including beachside resorts, hotels and campsites. Use Booking.com to find the best prices.
I got the impression that hikers would be able to find accommodation (at least campsites) fairly easily in Starigrad-Paklenica even if they hadn't booked beforehand. However, in Senj I would definitely recommend booking in advance as there are significantly fewer options.
There are also some accommodation options provided in the hiking passport provided at the start of the trek.
Can I find a hiking partner or join a group?
Yes. Groups of up to four can register. Hikers can also band together to organise transport and car shares, as well as other logistics such as gear-sharing, accommodation and route planning by visiting the Highlander Forum or Facebook group.
Where can I buy gas?
If you're flying into Croatia you won't be able to take gas on the flight so will need to buy it on arrival. Decathlon is one of Croatia's most popular outdoor shops and they have stores in Zagreb, Split and Zadar.
Camping canisters can also be bought in a number of other outdoor shops, supermarkets and petrol stations throughout Croatia. In Senj, which is the closest town to the start line, Super Konzum stocks camping gas.
What other Highlander treks are available?
Currently, there are 15 Highlander treks (listed below) to choose from. Several of the treks are available in reduced 55km three-day versions, known as the Highlander55s, as well as 25k two-day versions known as HighlanderExperiences.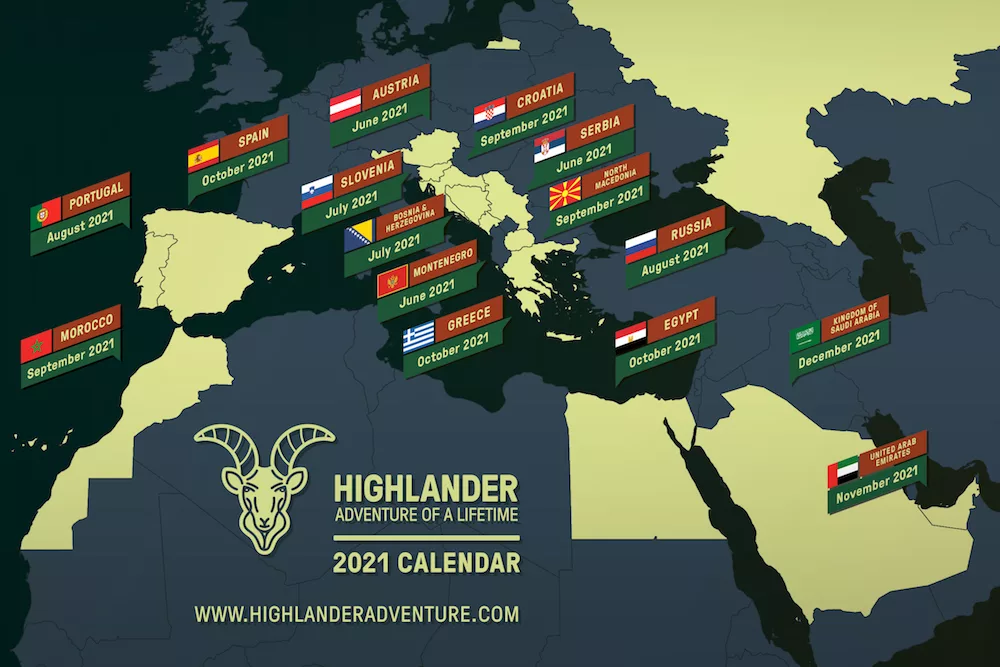 Read our guide on the collection of Highlander Adventure treks and keep an eye on the Highlander calendar for upcoming events and announcements.
---
Enjoyed this post? pin it for later…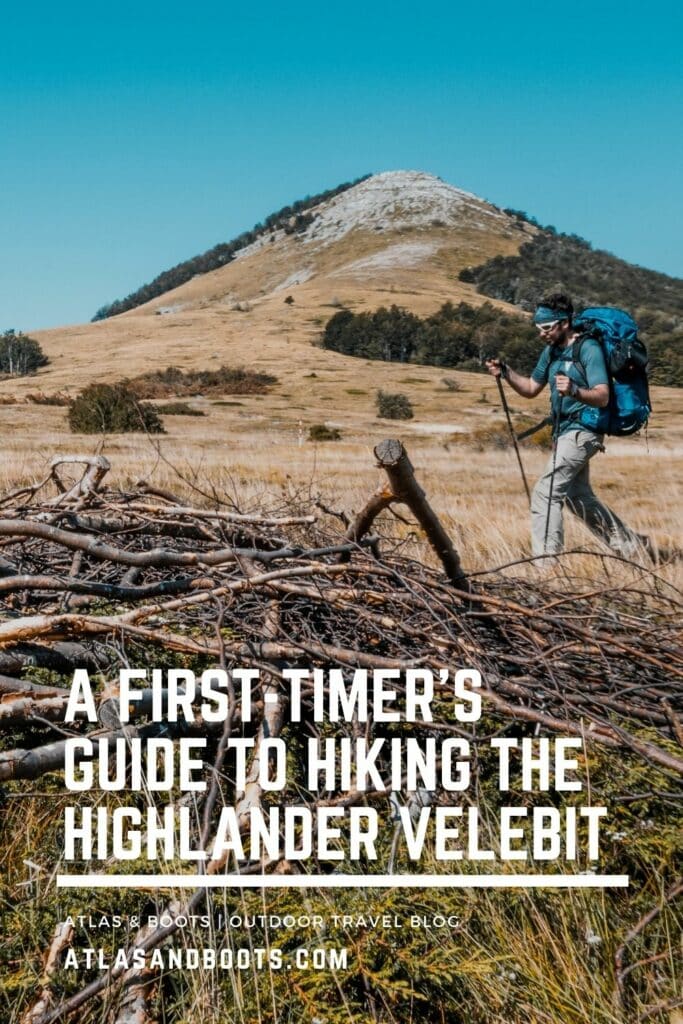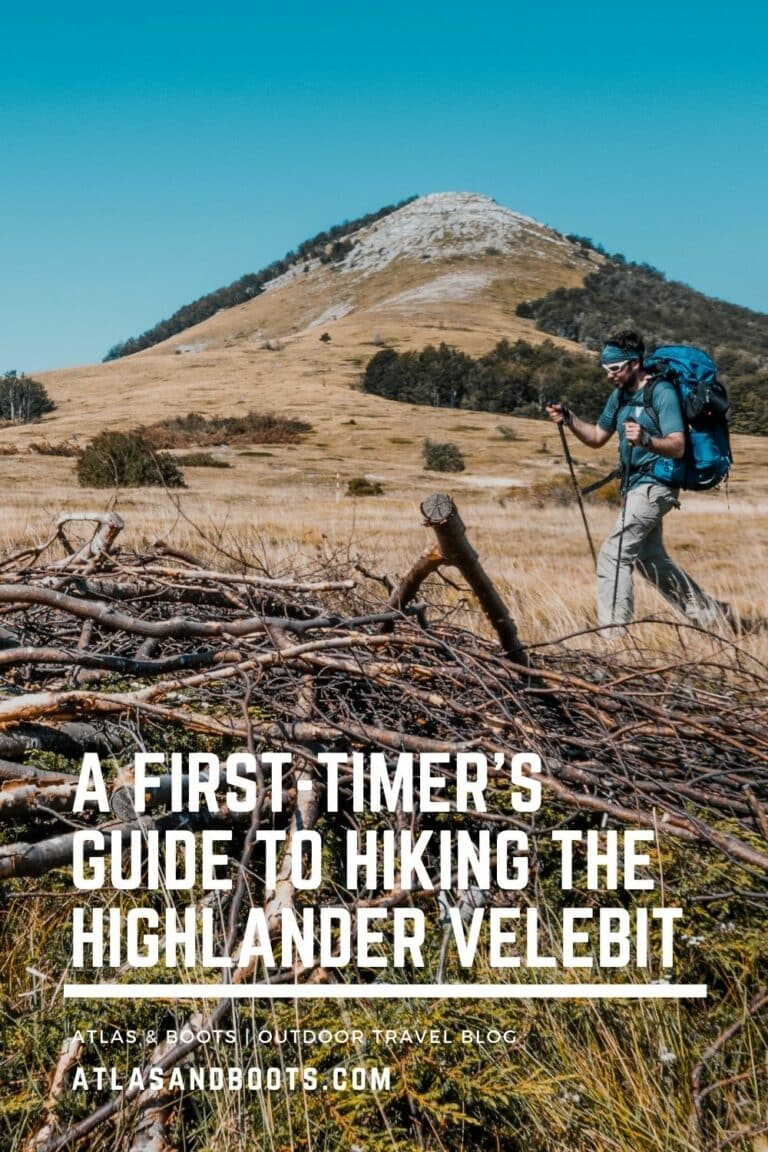 ---
Have we missed anything? If you have any questions or suggestions for our guide to hiking the Highlander Velebit, please get in touch.
Lead Image: PREDRAG VUCKOVIC