We take a look at the best hiking apps currently available and which ones best meet your needs
Hiking apps never used to feature in my outdoor adventures, but times have changed. Now every Ordnance Survey map comes with a digital version available to download onto my smartphone or tablet.
When planning an adventure in the wild, my preparations still begin with spreading out my paper maps across the floor and marking out possible trailheads, routes and campsites.
However, now that I have a smartphone, more consistent access to reliable phone reception and wifi, along with a host of battery packs and solar chargers, I also make use of an array of hiking apps.
Below, I take a look at some of the best hiking apps available for outdoor trip planning, navigation, first aid and survival.

1. Gaia GPS
Platforms: iOS, Android
Price: Basic Free, Member $19.99, Premium $39.99
Gaia GPS is an outdoor navigation app providing access to a rich catalogue of maps including topographical, satellite, road, and the NatGeo Trails Illustrated map series. As well as tracking hikes while measuring pace, distance and elevation as standard, it is also possible to download a range of offline maps for off-grid access. The app and accompanying web-based version allows for printing too.
The interface is intuitive and users can import and synchronise data points and trails from other digital sources. The app is free, but the best of its features are accessed via the Member ($19.99) or Premium levels ($39.99).
2. PeakVisor
Platforms: iOS, Android
Price: $5.99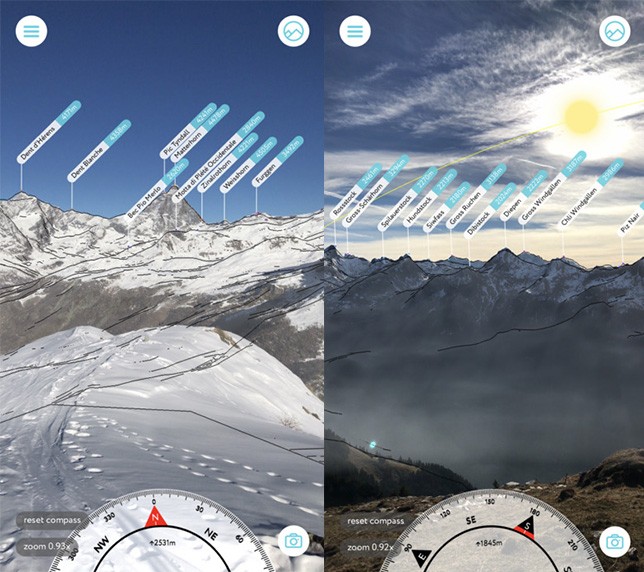 PeakVisor is a seemingly magical app that instantly recognises the name of any mountain peak that comes into view using a combination of your phone's camera, location tracking and a high-precision 3D mountain panorama. It also has a 3D compass and altimeter that accurately measures elevation too.
3. Cairn
Platforms: iOS, Android
Price: Basic Free, Premium $26.99 per year
Cairn has been called "the ultimate hiking safety app" and is an essential part of our safety kit, especially when hiking solo. Cairn crowdsources cell coverage spots and shows you where others have found coverage on the trail, broken down by carrier. This is useful if you need to update your loved ones or indeed make an emergency call.
You can configure the app to send updates to named contacts at the start and end of each trip as well as an 'overdue' notification if you don't check in. Cairn also allows you to download topo maps offline and navigate the trail with stats, making the premium version one of the best hiking apps for hiking solo.
4. Mountain Collector
Platforms: Android
Price: Free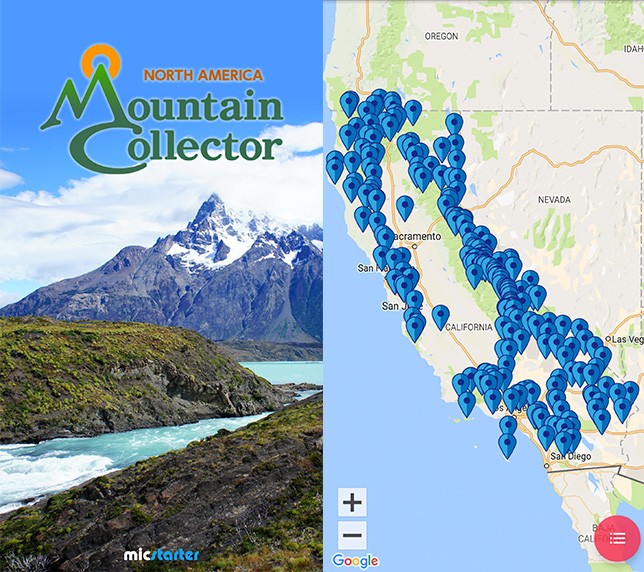 Think Google Maps for peak baggers. This super-simple and easy-to-use hiking app allows mountain climbers and hikers to easily access mountain lists, locations, statistics and routes.
In two taps you can view all the mountains in your chosen area on a single map. From there you can access stats and websites about each mountain and easily import hiking routes (using GPX files) from other smartphone apps. Once you've ticked off a mountain, you can add it to your calendar and/or custom list, so you have a record of every mountain you've bagged.
5. Maps 3D Pro
Platforms: iOS
Price: Basic $3.99, Premium $13.99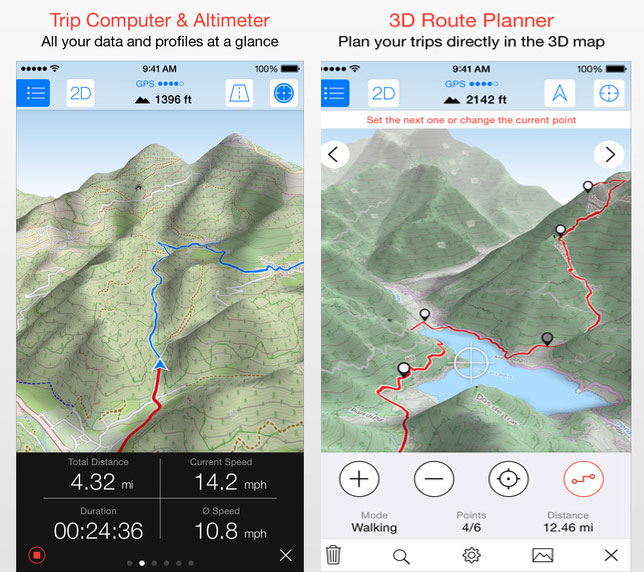 If interpreting contour lines on topographical maps is not your strong point then this 3D mapping app is perfect for you. It allows users to visualise their upcoming hiking or cycling trips and easily interpret terrain features such as hills, ridges, trails and footpaths.
Users can plan, save, and share routes as well as pre-load maps for offline viewing when navigating. Lastly, users can record their trip, complete with exact coordinates and elevation data.
6. MapMyHike GPS Hiking
Platforms: iOS, Android
Price: Basic Free, Premium $29.99 per year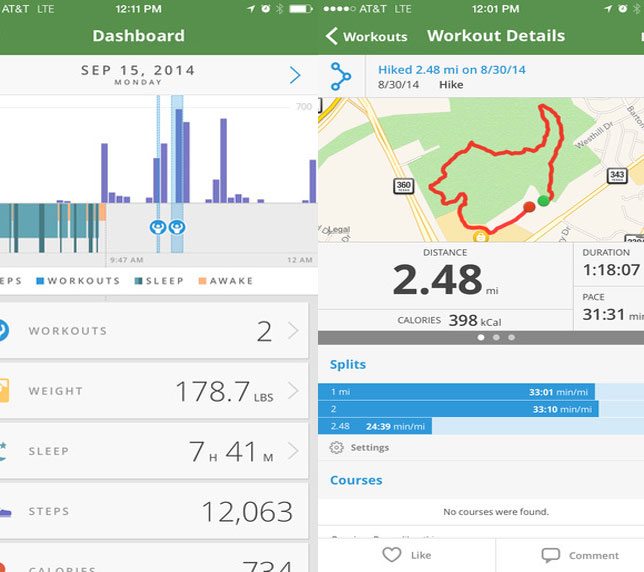 This is a great community-based hiking and fitness app that allows you to record your hikes and log your food intake to track calories and nutritional content. You can also sync the app to a wearable device and connect with friends and other hikers to stay motivated.
The app's Premium level unlocks advance fitness features such as heart rate analysis and personal training plans ($5.99 a month or $29.99 a year) .
7. Spyglass
Platforms: iOS, Android
Price: $7.99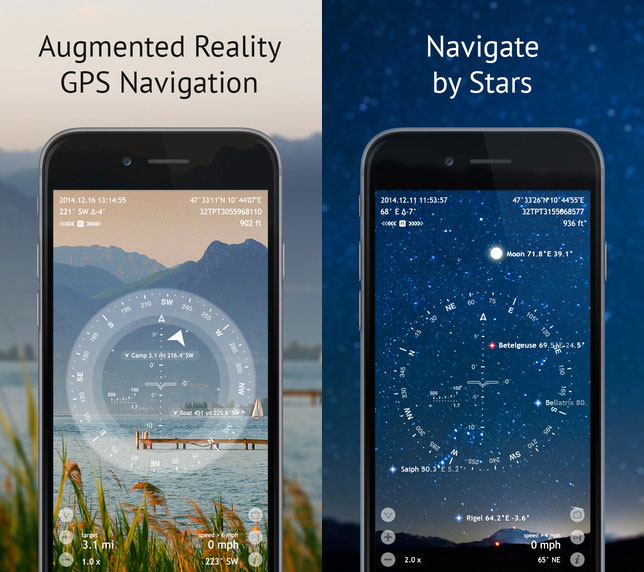 One of the coolest outdoor apps available, Spyglass is also by far the most visually impressive. A complete GPS toolkit is available offering the usual tracking features, combined with a stunning augmented reality view.
The app also incorporates a heads-up display, a high-quality compass with map overlays, a gyrocompass, speedometer, altimeter, astronomical object finder, a sextant, inclinometer, an angular calculator and more.
8. AllTrails
Platforms: iOS, Android
Price: Basic Free, Premium $29.99 per year (lifetime option available)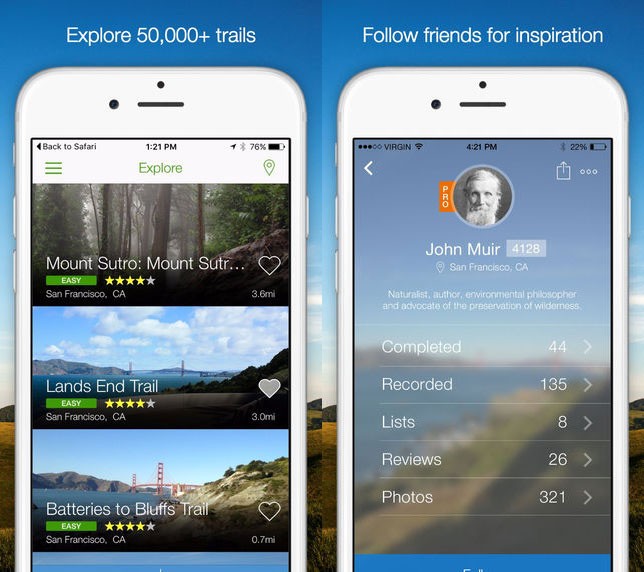 Covering over 50,000 Canadian and US trails and with 3.5 million downloads, AllTrails is one of the most popular hiking apps available. The free version allows you to create your own trails with GPS tracking, photos and text, and save or share them with others.
The annual membership gives you access to the premium version, the advantages of a partnership with National Geographic Maps, and the ability to print and edit maps.
9. Viewranger
Platforms: iOS, Android
Price: Basic Free, Premium varies depending on package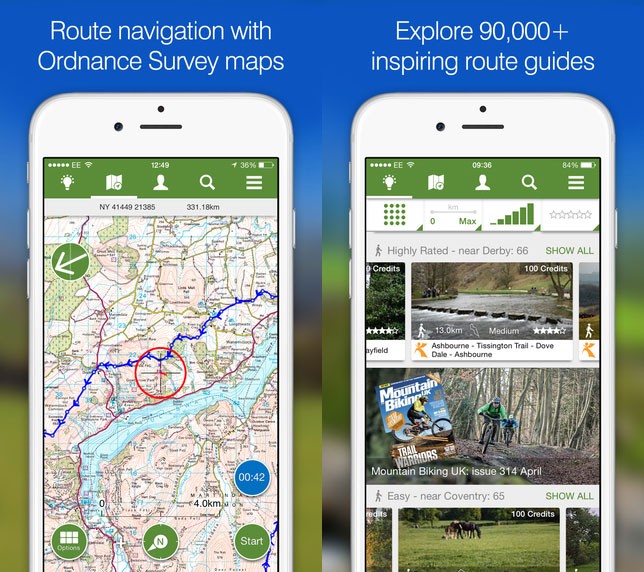 A popular hiking app on both sides of the Atlantic, ViewRanger helps hikers plan, navigate, record and share their outdoor adventures. It's even claimed to be used by a number of search and rescue teams around the world thanks to its advanced GPS navigation system.
In the UK you can buy and download high-resolution Ordnance Survey maps to use as well as a range of other high-quality topographic maps for more than 20 other countries. The maps are stored on your phone and can be used when offline.
10. Weather Live
Platforms: iOS, Android
Price: Basic Free, Premium varies depending on package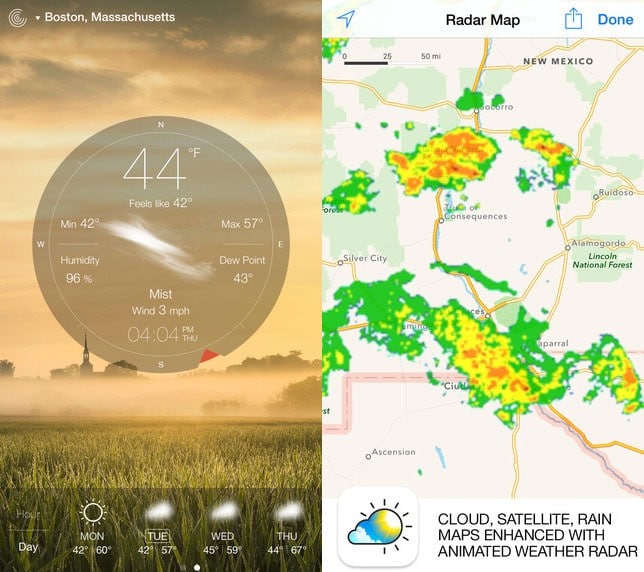 This is probably the best weather app available across both platforms and definitely the best looking. Some of the best features are the live weather scenes that reflect real-world conditions and the fully customisable layout.
There is the standard meteorological data including wind direction and speed, humidity, precipitation, pressure and visibility as well as the very impressive satellite worldwide cloud and rain maps enhanced with animated weather radar (US only) allowing users to quickly see what weather is coming their way.
11. National Parks by Chimani
Platforms: iOS, Android
Price: Free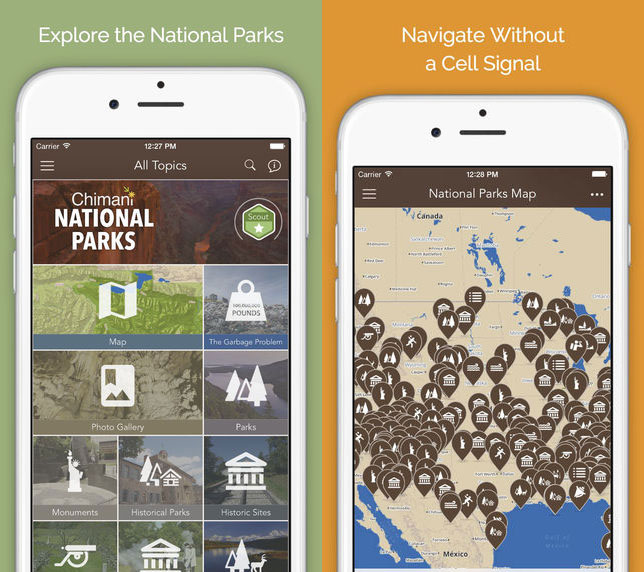 This app is more popular and more highly-reviewed than similar apps from more established names such as National Geographic and REI as well as the official NPS apps.
The app provides details on each of the 400+ units of the US National Park Service, including national parks (naturally), monuments, seashores, historic sites, battlefields, memorials, parkways, scenic trails and more. The app includes a photo gallery with thousands of images and the ability to collect badges and earn points for each of the parks visited.
12. PeakFinder
Platforms: iOS, Android
Price: $4.99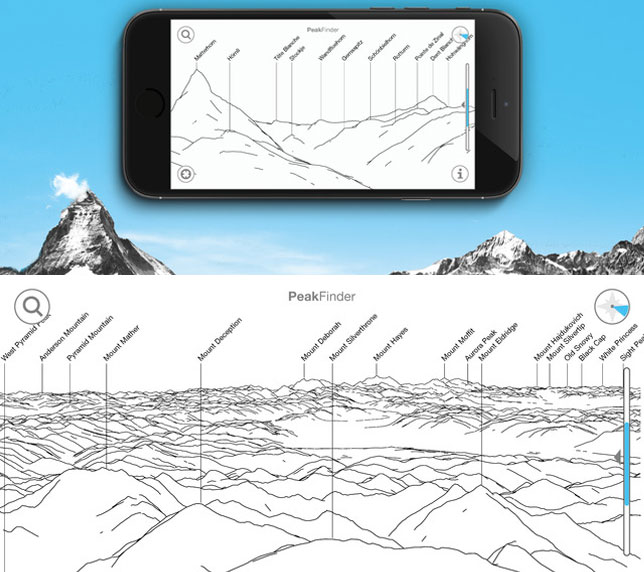 If you're a mountain aficionado like me, you will love PeakFinder. It works in the same way as astronomy apps, allowing you to learn the names of any mountain in view. Just hold your camera up to the world and learn about the landscape. The app functions offline so it works whether you're in the middle of a massif or still at home poring over maps.
13. OS Maps
Platforms: iOS, Android
Price: Free – with purchase of Ordnance Survey Explorer and Landranger paper maps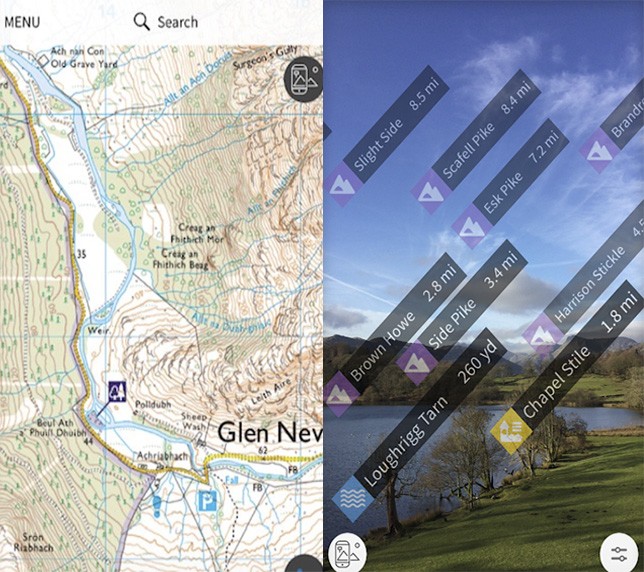 If you live in the UK then you will probably know that Ordnance Survey are the home of British mapping and have been for centuries. Whether you're hiking or cycling, Ordnance Survey produce the UK's most detailed leisure maps. Their accompanying apps are simple to use, feature rich and an excellent addition to the paper maps.
The route-plotting feature is a bit clunky and needs some improvement, but for navigation purposes (i.e locating your position on the UK's most detailed maps) the app is unparalleled.
The newest addition to the app, augmented reality, is particularly exciting. The feature allows users to pan the landscape to see what's nearby, including hills and mountains, forest and woodland, transport, settlements, coast and water.
14. First Aid by Red Cross
Platforms: iOS, Android
Price: Free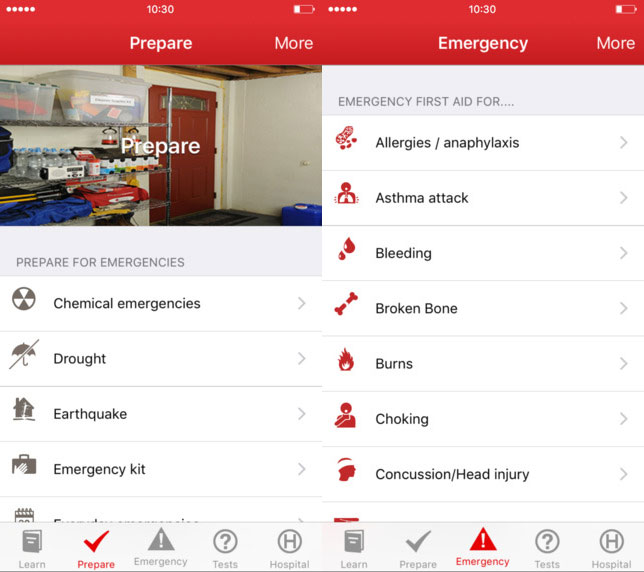 The official Red Cross First Aid app is available worldwide and is tailored to your location (i.e. American, British, Australian Red Cross organisations).
The app provides pre-loaded content providing instant access to all safety information at any time and expert advice for everyday emergencies. There are videos, diagrams, interactive quizzes and simple step-by-step advice to help users deal with and prepare for emergencies.
---