Our self-drive safari through Namibia showed us the finest wildlife and landscapes this arresting country has to offer
I landed in Namibia three days ahead of Kia. She had some book-related business to wrap up in London so I arrived alone to begin a 17-day self-drive safari through Namibia with Wild Dog Safaris.
We've always had mixed feelings when it comes to organised tours. We've often preferred to piece together our trips independently to make sure we see exactly what we want. That said, there are some parts of the world – be it for logistical or security reasons – where an organised tour just makes more sense.
We wouldn't want to have cycled around Myanmar any other way than by organised tour. A later trip to Ethiopia would also have been easier had we joined a tour. That said, we do wish we'd had more flexibility on our tour of New Zealand when bad weather washed out some activities.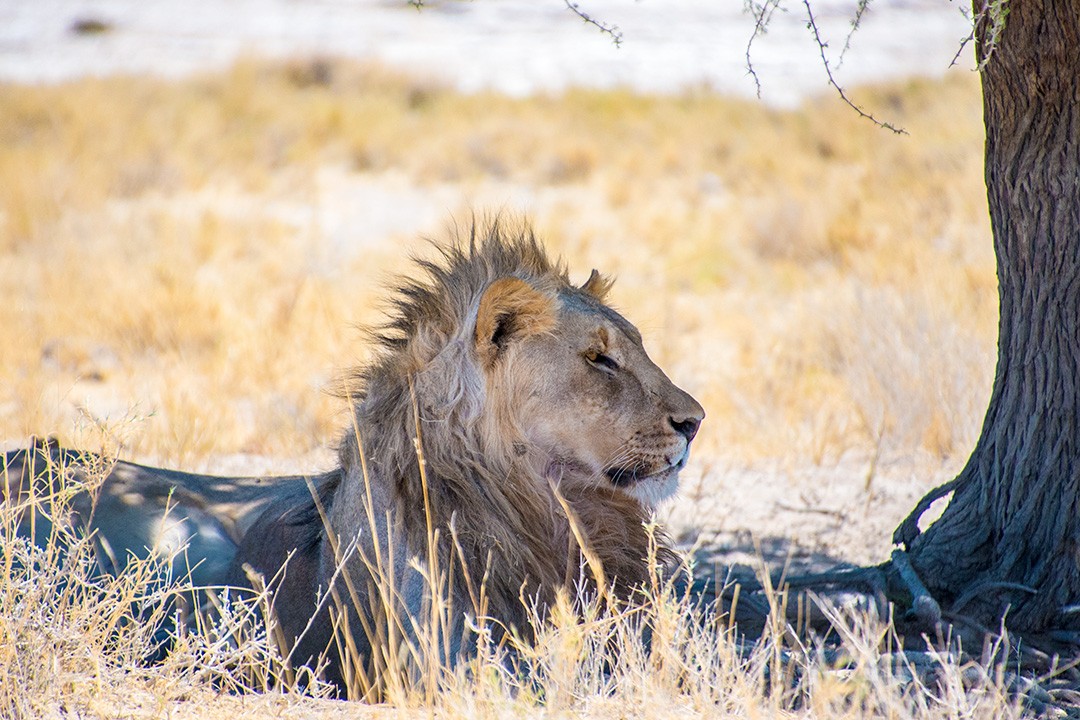 When we decided to visit southern Africa (a trip that had been a long time in planning), a self-drive safari through Namibia seemed to be a great option. It provided the perfect balance of organisation and independence: we didn't have to worry about the logistics and at the same time had access to a car which meant we still had the freedom to mould our itinerary. For example, when our first day in Sossusvlei yielded poor pictures due to billowing sand, we had the freedom to return the next day.
After 4,000km, our self-drive safari through Namibia indeed proved to be the perfect option. It was one of our favourite trips of all time. Countless wildlife encounters, iconic scenery and overwhelming natural wonders combined to create an experience nothing short of sensational. Here's how it all panned out.
Day 1: Arrival in Windhoek
Distance: 46km
Duration: 45 mins
Accommodation: Windhoek Gardens Boutique Hotel
I didn't come to Namibia to see Windhoek. I came to search for animals in Etosha National Park and climb sand dunes in Sossusvlei, not wander the neat streets of the capital city. Most travellers, however, will spend at least one night in Windhoek. I arrived late afternoon on a Sunday and the city was sound asleep – which is exactly what I needed after a long flight.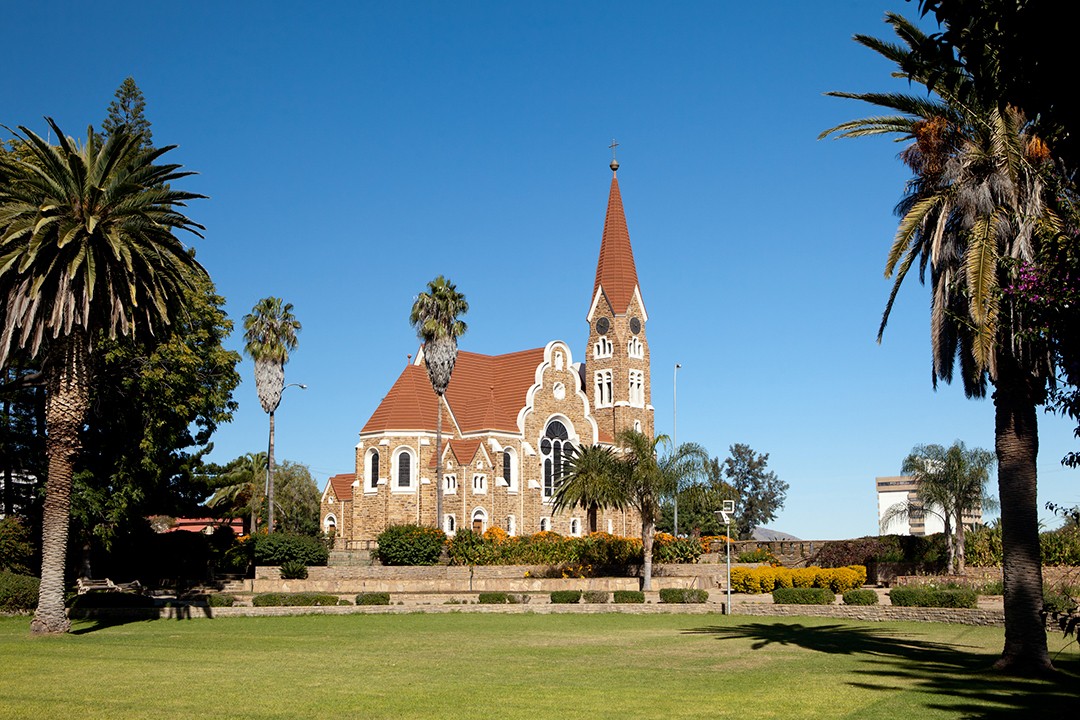 If you do find yourself with time in Windhoek, the city's most-recognised landmark, Christuskirche, is worth a visit, along with the National Museum, Zoo Park, Heinitzburg Castle and the Independence Museum.
Day 2: Kalahari Desert
Distance: 281km
Duration: 3-3.5 hours
Accommodation: Kalahari Anib Lodge
Refreshed and filled with coffee and a hearty breakfast, I met Christine, a representative from Wild Dog Safaris at my hotel. She brought with her all the information I would need for the trip along with a map and wealth of knowledge about the country. Shortly afterwards, my hire car arrived – a 4WD Renault Duster – and I was on my way.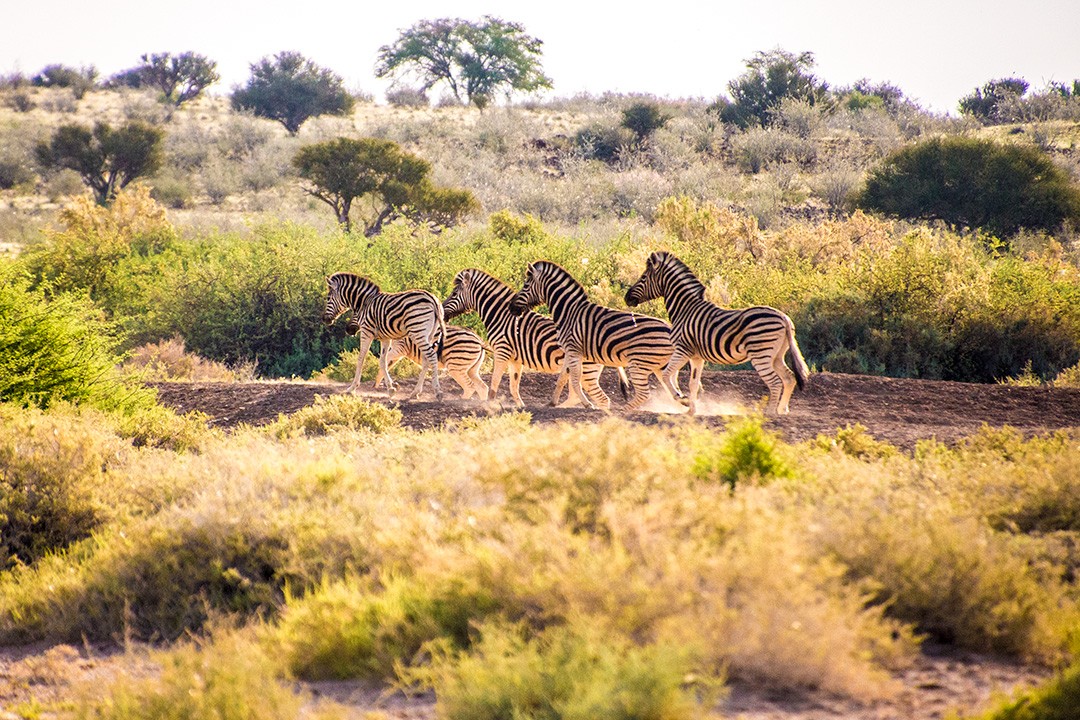 A short drive south out of the city eased me into driving in Namibia. The B1 road to Mariental is paved, straight and empty. The drive to my hotel, on the fringes of the great Kalahari Desert, was easy enough and it wasn't long until I was pulling up to reception.
The Kalahari occupies almost a third of Namibia, but it's not really a desert in the strictest sense of the word – more a savannah. It receives more rainfall than a desert – between 110 to 200mm (4.3 to 7.9in) per year – and supports more animals and plants than a true desert.
That evening, I joined a sundowner game drive at the lodge and was treated to my first wildlife sighting as well as a classic southern African sunset.⠀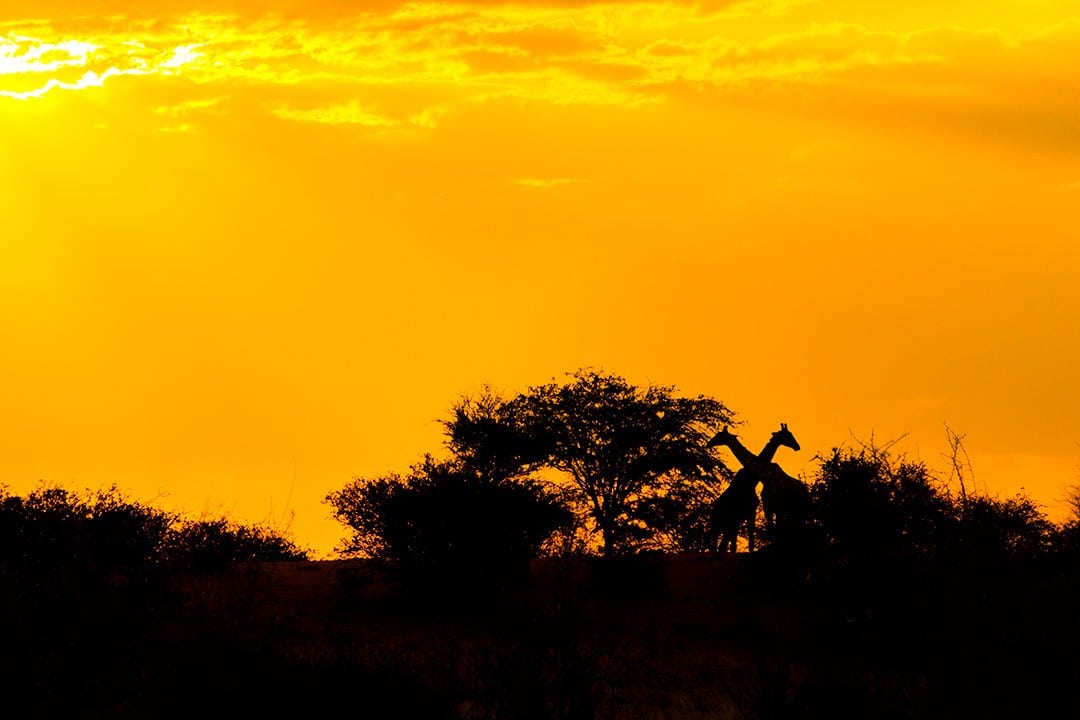 Day 3: Fish River Canyon
Distance: 394km
Duration: 4-5 hours
Accommodation: Gondwana Canyon Lodge
Today was my first taste of Namibian gravel roads. At times, driving on the gravel is fine and it's possible to drive steadily and reasonably quickly, but then you'll suddenly hit a stretch of corrugated surface and the pace will slow to a crawl.
Corrugation – known as washboarding – occurs on dry, granular road surfaces which see a lot of traffic. Nearly all of the roads around Fish River Canyon have suffered from washboarding in varying degrees which makes driving frustrating, slow and uncomfortable.
After an onerous afternoon on the road, I had little time left in the day so I wandered the hotel grounds and enjoyed the arresting scenery followed by another iridescent sunset. The next morning, en route to Aus, I visited the lookouts along the rim of Fish River Canyon.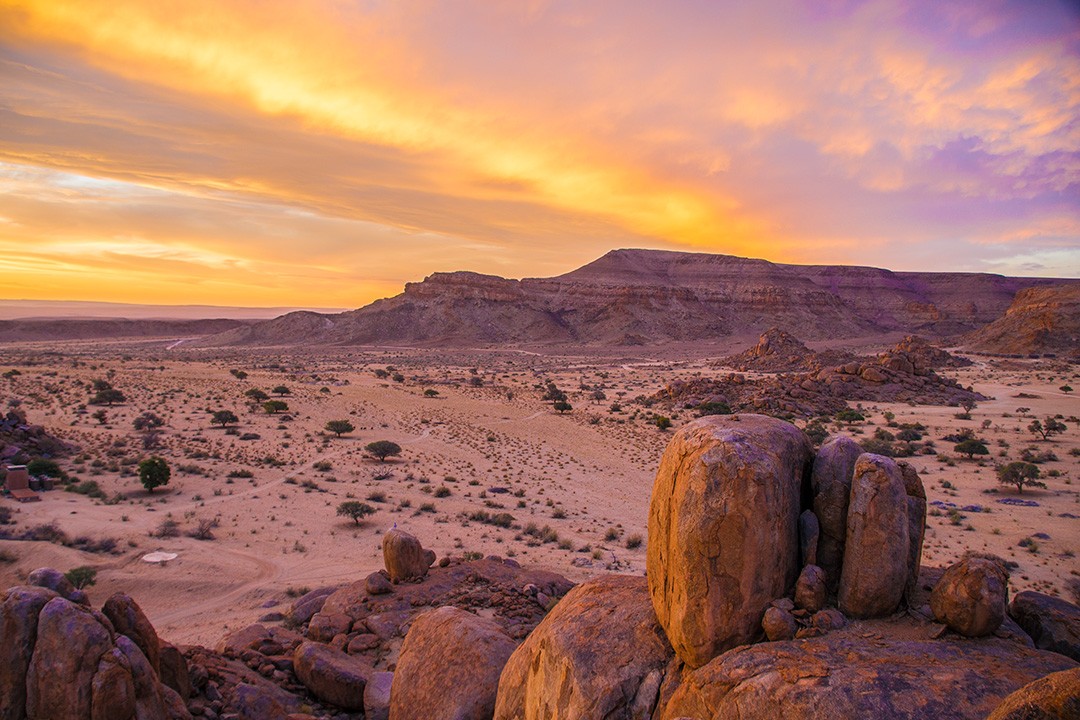 At 160km long, up to 27km wide and 550m (1,804ft) deep, Fish River Canyon is Africa's largest and longest canyon and, after the Grand Canyon in the US, the second largest in the world. The similarities are striking.
Day hiking in its scorching depths is strictly forbidden. If you want to hike, the only option is to join an organised excursion from May to mid-September. The soaring temperatures over the rest of the year make it inaccessible.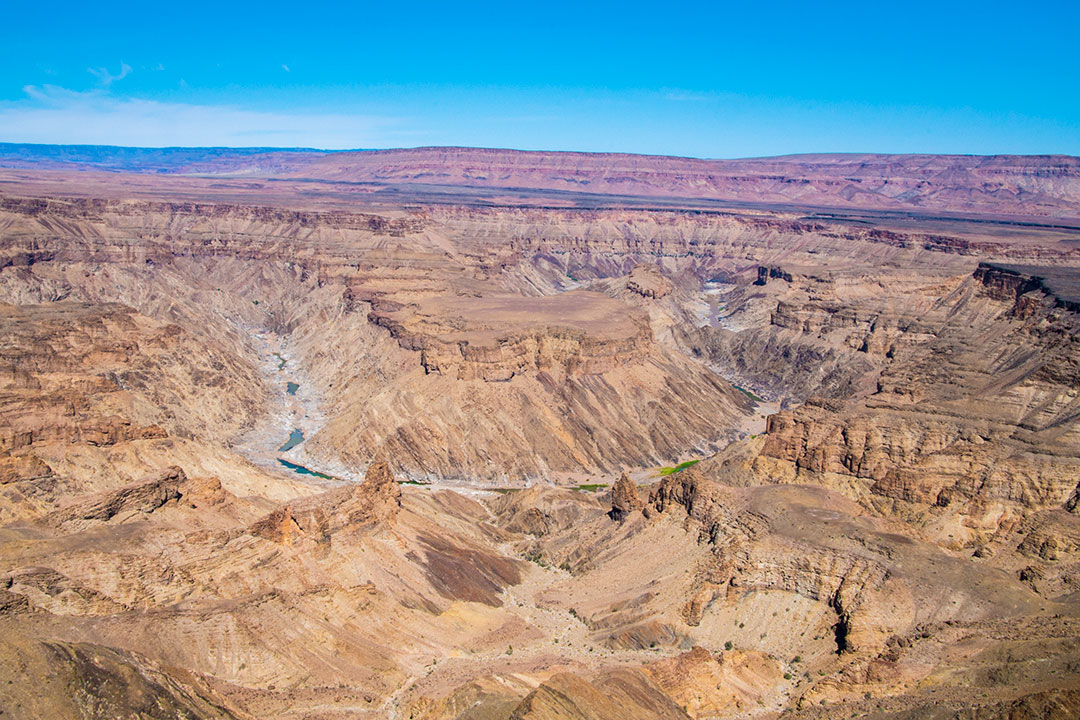 Days 4-5: Aus
Distance: 264km
Duration: 3-4 hours
Accommodation: Klein-Aus Vista Desert Horse Inn
Today, Kia was to meet me at the hotel in Aus, but first was a long drive towards the coast through the rocky Aus Mountains. Once back on the sealed roads, driving was fairly easygoing with plenty of places to pull over and admire the striking scenery.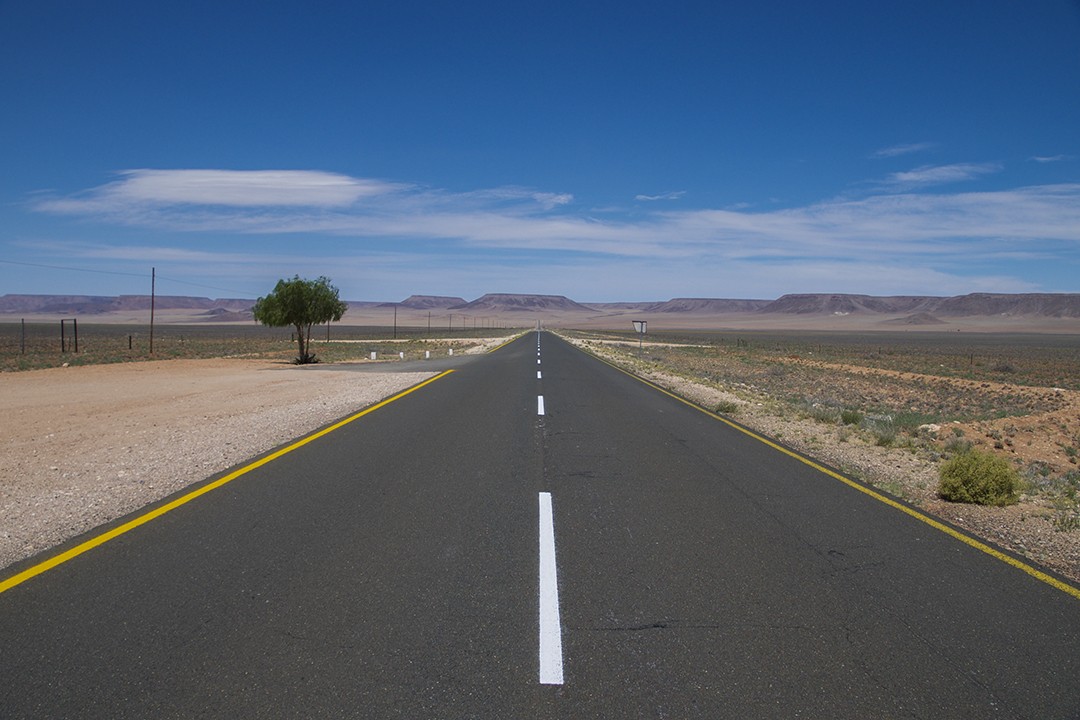 After reuniting at the hotel, we used the following day to visit Kolmanskop, once a booming diamond town now abandoned to the desert. Located 15km east of the harbour town of Lüderitz, Kolmanskop now forms an eerie tableau of once-grand structures indiscriminately swallowed by desert sand.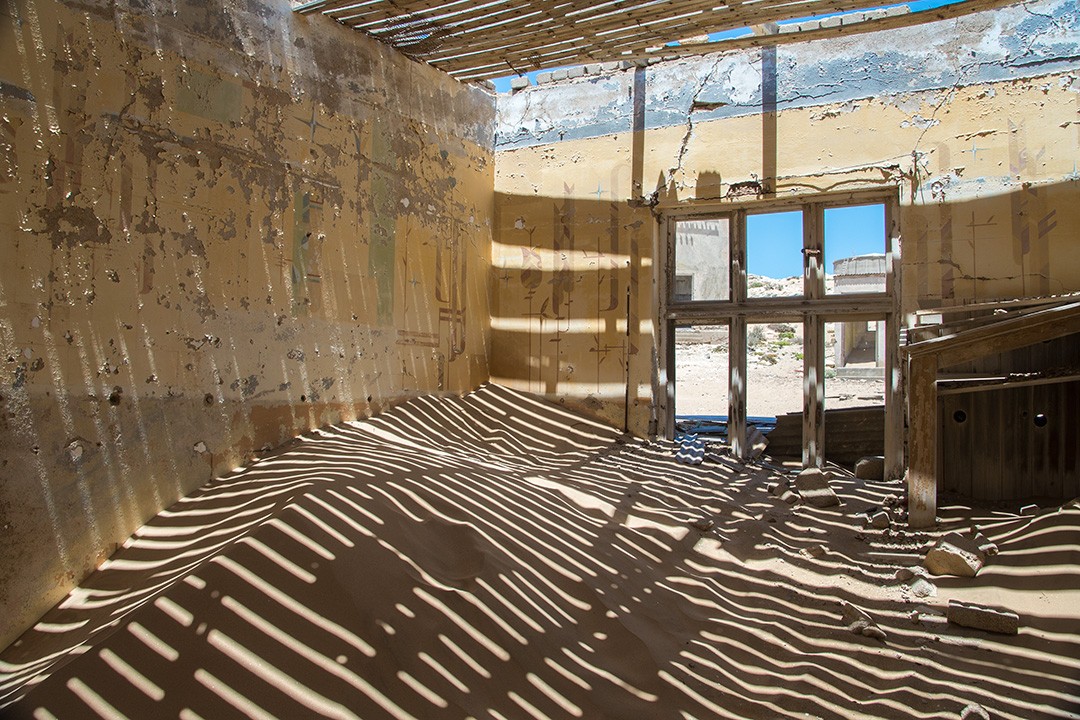 Read more: Visiting Kolmanskop, the ghost town in the Namib Desert

Days 6-7: Sossusvlei
Distance: 379km
Duration: 5-6 hours
Accommodation: Sossusvlei Lodge
It was a long and laborious drive to Sossusvlei the following morning, but it was worth the effort. I've been desperate to photograph this incredible landscape ever since I saw the stark silhouettes of its seemingly petrified trees pitched against a brazen blue sky and vibrant desert dune in a National Geographic photo essay years ago.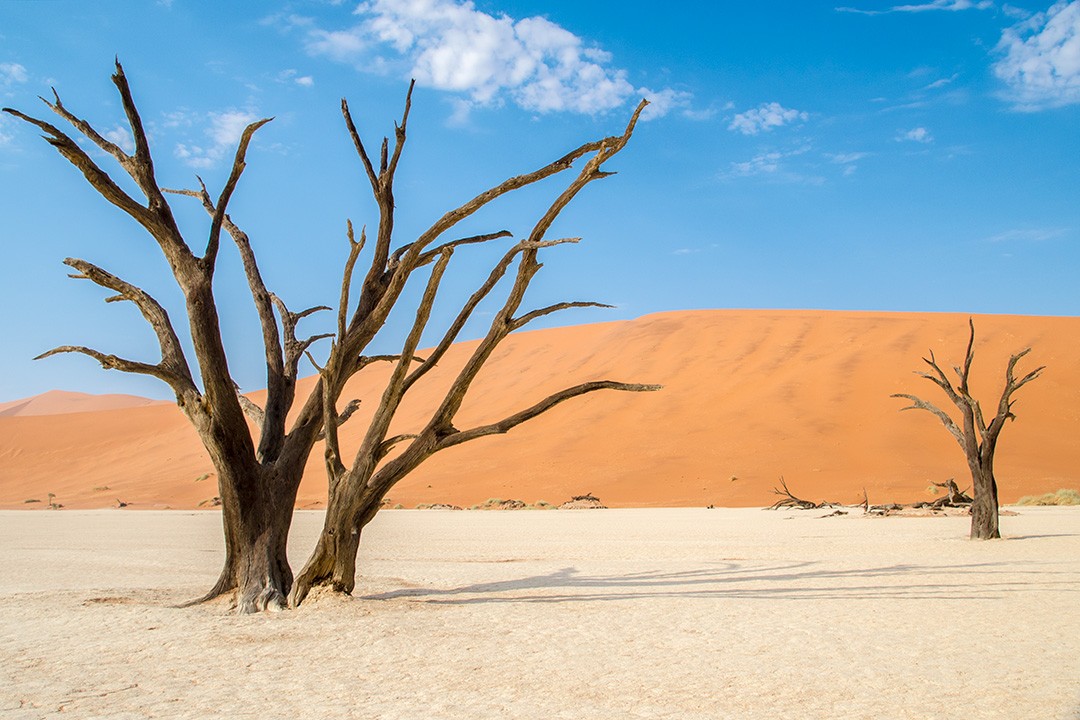 It proved to be one of those destinations that completely lived up to the image I had in mind. Sossusvlei, and its iconic neighbour Deadvlei, were every bit as sensational as I had hoped.
The dunes, which reach as high as 325m, are forever shifting in shape and hue. The wind moulds and remoulds their contours while their colour changes from ochre to burnished orange to fiery red over the course of a day from sunrise to sunset.
We experienced strong winds during our our first morning there, so we returned the following day for a second visit. We wanted to make the most of our time in the region, but it did make for a long day of driving to Swakopmund.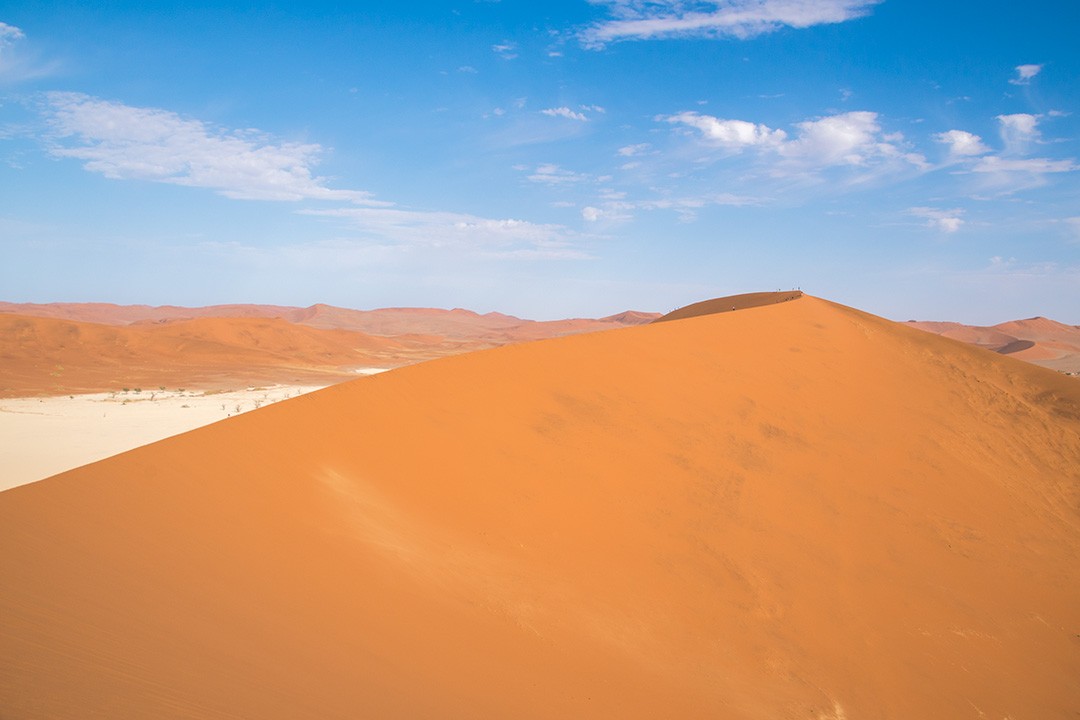 Read more: 23 tips for visiting Sossusvlei in Namibia
Days 8-9: Swakopmund
Distance: 345km
Duration: 4-5 hours
Accommodation: Prost Hotel
Swakopmund heralded a return to civilisation, although it is a strange little city. Known as Namibia's adventure capital, it has a fittingly dramatic setting. On one side, a particularly ferocious Atlantic Ocean thrashes onto shore; on the other, the vast, sparse Namib Desert stretches in deadly threat. In between these startling scenes lies the city itself.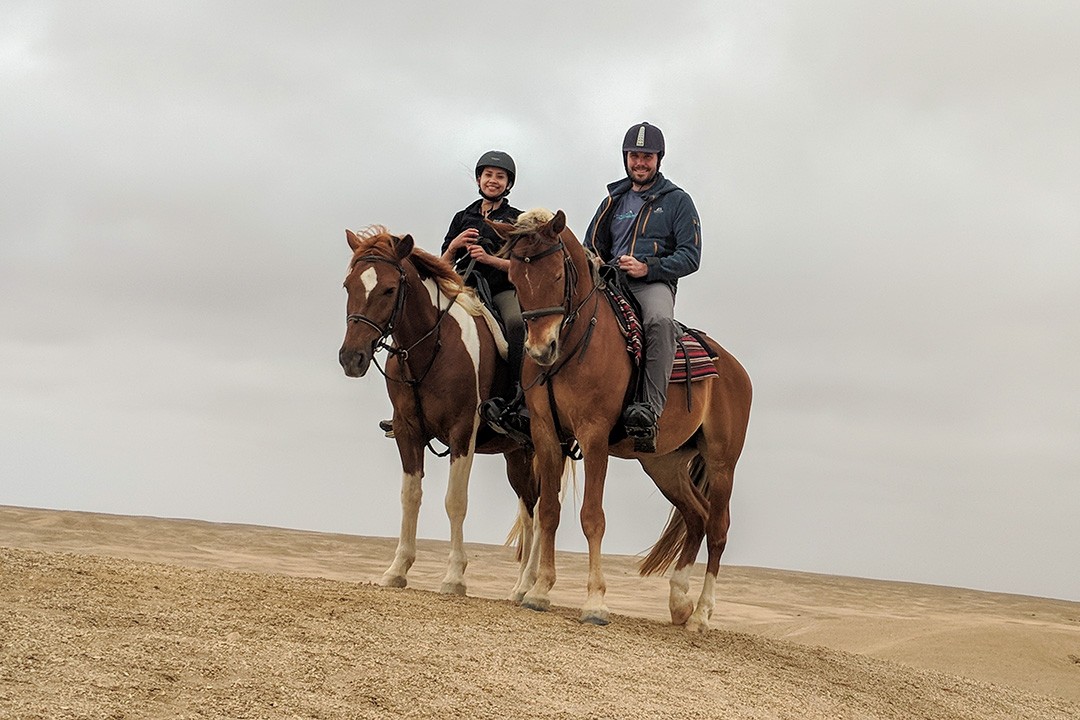 With its tidy streets, half-timbered architecture and distinctly German names, Swakopmund could be a holiday town on Germany's North Sea transported onto African soil. Used as a base for exploring the Skeleton Coast and Namib Desert, Swakopmund has all the tourist mod cons.
We chose to go horse riding at Okakambe Riding Centre and spent the rest of our time wandering the town and enjoying the delights of civilisation again, replete with fresh coffee, good pizza and seaside fish and chips.
Read more: Back in the saddle: horse riding in Swakopmund, Namibia
Days 10-11: Twyfelfontein
Distance: 331km
Duration: 4-5 hours
Accommodation: Twyfelfontein Country Lodge
Back in the car, we headed north along the coast, stopping off at the shipwreck of the Zeila before turning northeast back into Namibia's wilderness.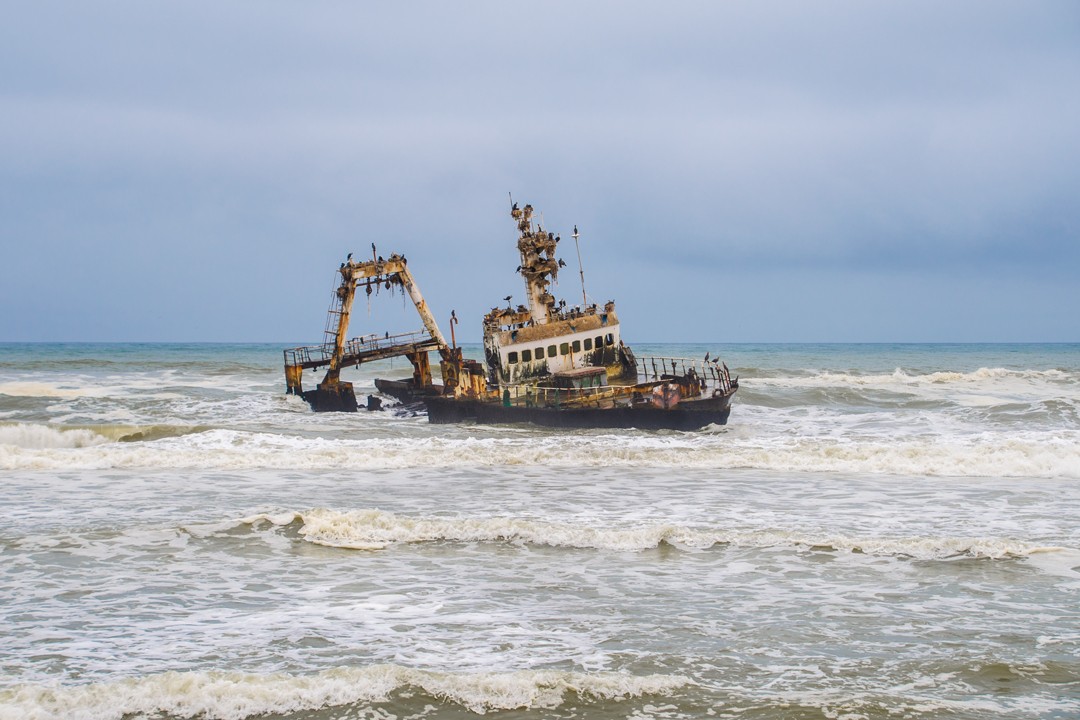 Buried deep in the Kunene Region is Twyfelfontein, Namibia's first UNESCO World Heritage Site which is home to the largest known concentration of engravings in Africa. Over 5,000 individual figures between 2,000 and 6,000 years old have been recorded here.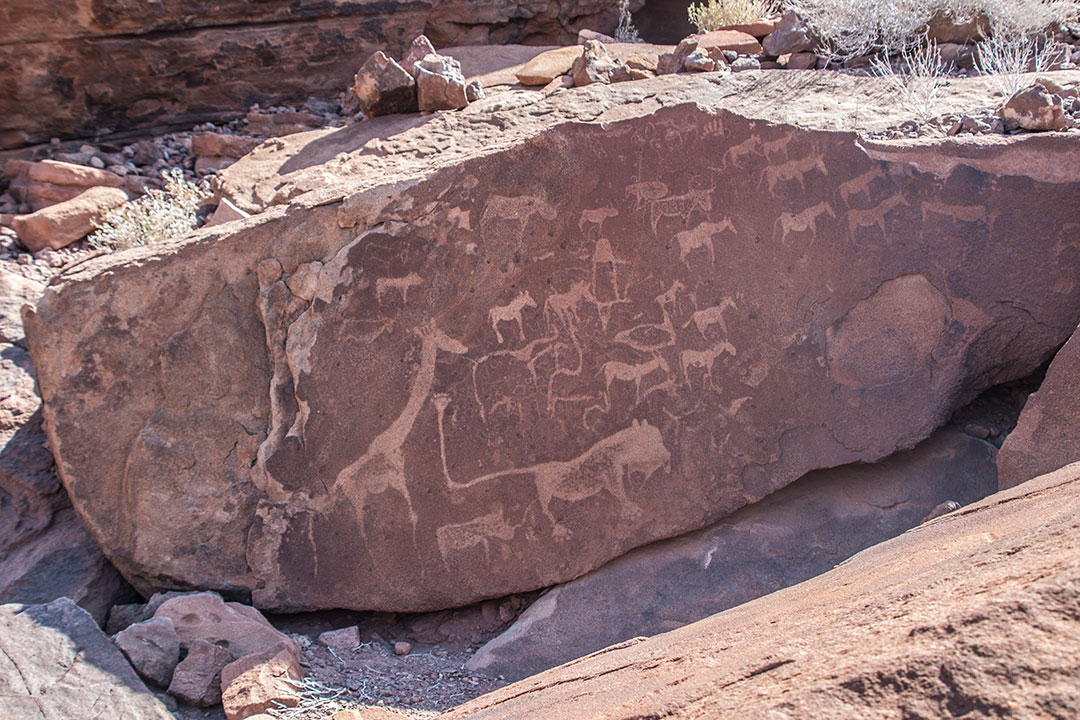 We took a guided walk around the major sights before driving around the area and visiting Burnt Mountain and Organ Pipes, a modest collection of 4m-high dolerite columns. Other sights to visit include the Petrified Forest (an open grassland littered with petrified tree trunks) and the Living Museum of the Damara.
Days 12-13: Etosha National Park
Distance: 314km
Duration: 3-4 hours
Accommodation: Etosha Safari Camp
Today marked the end of gravel road driving. Apart from the roads in Etosha (where we'd want to drive slowly regardless) the rest of the driving would be on sealed roads from the town of Khorixas onwards. We arrived at Etosha Safari Camp with enough time to enjoy lunch, check into our room and then join an evening game drive.
Even if you've had a taste of African wildlife-watching, a safari in Etosha National Park is enthralling. Namibia's premier national park is one of Africa's great safari destinations and teems with wildlife, from big game mammals to tiny colourful birds. Animals here don't come two by two but by the dozen.
We spent two days exploring Etosha before crossing the park to stay in Onguma for two days. Unlike other game parks around the world where you can spend hours – perhaps days – looking for animals, Etosha's USP is its capacity to bring the animals to you. Just park up next to one of its waterholes and wait for the animals to arrive (if they're not already there).
Read more: Safari in Etosha National Park: where the wildlife comes to you

Days 14-15: Etosha National Park / Onguma
Distance: 181km
Duration: 3-4 hours
Accommodation: Onguma Aoba Lodge
We arrived late in the day at Aoba Lodge after spending hours driving across Etosha observing wildlife en route. Onguma Private Game Reserve is situated on the eastern border of the park and offers real tranquillity away from the busier Etosha.
The lodge has a small watering hole which attracts smaller game. During our meals we were joined by zebra, springbok, impala and even a group of honey badgers. During the walk back to our rooms, a pair of bush babies lurched from tree to tree above our heads. It was utterly charming.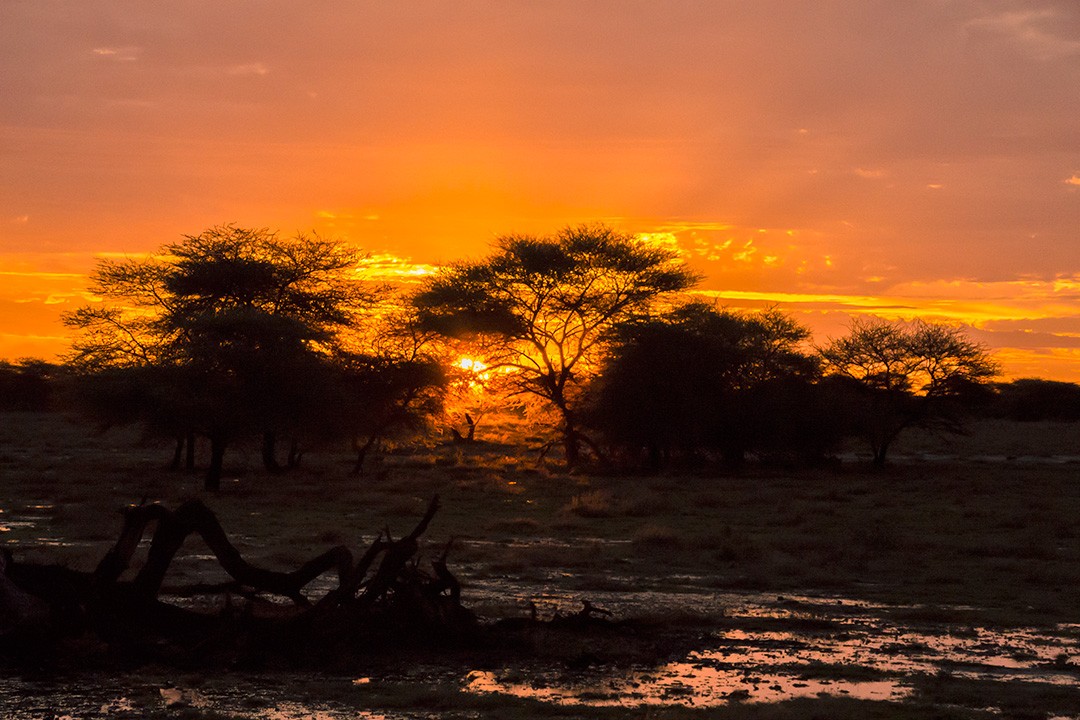 Unfortunately, rains arrived that night meaning our last day in the Etosha area was spent at our hotel. We managed to get one final sundowner game drive in at Onguma where we watched three cheetahs stalking across the plains from a distance before enjoying a glass of wine under a gorgeous sunset.
Day 16: Okonjima Nature Reserve
Distance: 349km
Duration: 4-5 hours
Accommodation: Okonjima Plains Camp
The last stop on our incredible self-drive safari through Namibia took us to Okonjima Nature Reserve, home of the AfriCat Foundation. If we could change one thing about our trip it would be to spend an extra night at Okonjima – something Wild Dog Safaris would be happy to accommodate on request.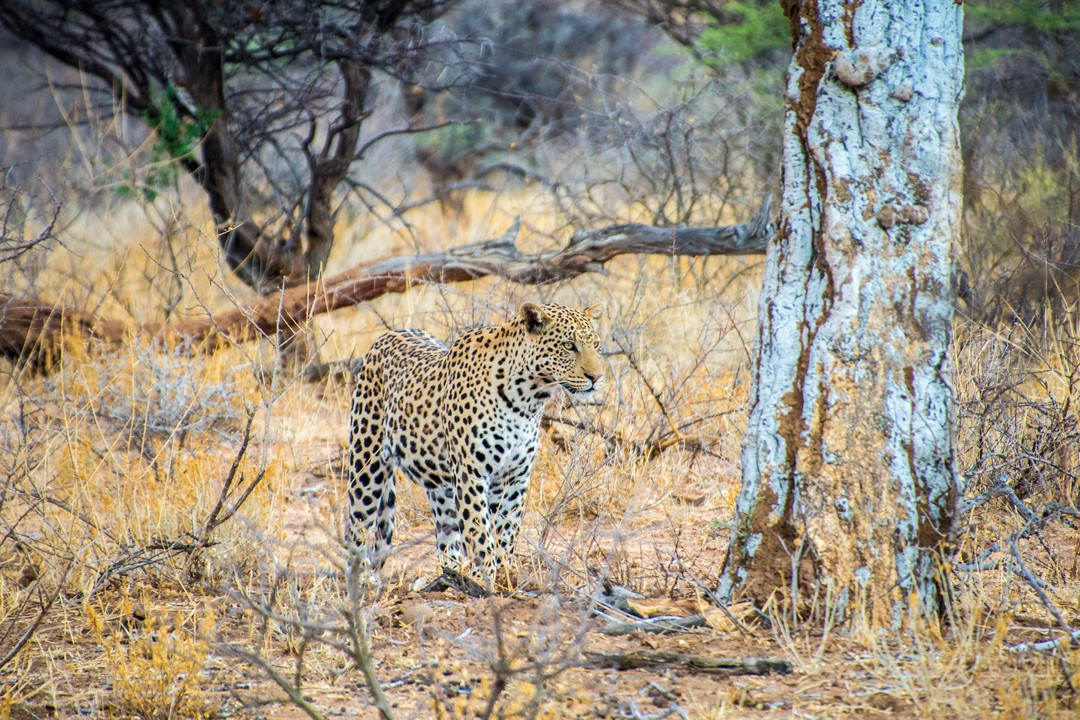 There, we saw two majestic leopards – a mother and a son – and a sibling pair of cheetahs. We learned about the destruction of habitat through aggressive farming and the foundation's efforts to protect big cats. Observing some of its rescued leopards was one of the best experiences of our time in Namibia.
Day 17: Departure
Distance: 267km
Duration: 3-4 hours
After our morning activity at Okonjima (cheetah tracking, what else!) it was time to head back towards Windhoek to catch our onward flight. We drove uneventfully and directly to the airport where we returned our car and checked in for our flight. All of sudden, our Namibian adventure had come to an end.
Namibia is a vast country filled with captivating landscapes, beguiling wildlife and a bewildering array of natural wonders. From desert plains and towering sand dunes to lush wetland and deep winding canyons, Namibia is home to almost every iconic African landscape one can imagine.
To see this differing and dazzling country at its very best, we recommend a self-drive safari through Namibia. It proved a fantastic way to see the country: semi-independently with the perfect blend of adventure, scenery and wildlife – all with just the right touch of luxury at day's end.
Self-drive safari through Namibia: Route map
Self-drive safari through Namibia: the essentials
What: Self-drive safari through Namibia.
Where: Accommodation on the tour includes 16 nights in a range of hotels, lodges and safari camps including Sossusvlei Lodge, Okonjima Plains Camp, Etosha Safari Camp and Aoba Lodge.
The tour can be booked as either accommodated (as we did), camping or a combination of the two. Breakfast and several dinners are included on the accommodated option; camping is largely self-catered.
When: The best time to visit Namibia is May-Oct during the dry season (winter). There is less vegetation and wildlife tends to congregate around watering holes, making it easier to spot. However, this is also high season so it may be necessary to book months in advance.
The shoulder seasons of May and November are good for cheaper accommodation with higher availability. Heavy rainfall can occur in November, although mainly in short, intense bursts.
How: We booked our self-drive safari through Namibia with Wild Dog Safaris who reserve the accommodation, provide a hire car and organise an itinerary for the trip. Unfortunately, Wild Dog Safaris has now ceased trading due to the pandemic.
Driving in Namibia is fairly straightforward and easygoing, although a 4WD is essential. Outside of major towns, traffic is light although road conditions vary considerably. B-roads are sealed and easy to drive, but fairly rare. C- and D-roads are gravel roads, more common and vary greatly in condition.
Expect anything from smooth, comfortable and relatively fast gravel roads to corrugated, uncomfortable and frustratingly slow dust tracks. Make sure you have a spare tyre and know whom to contact in an emergency.
We flew to Namibia via Johannesburg in South Africa with British Airways. Book flights via Skyscanner for the best prices.
---
Enjoyed this post? pin it for later…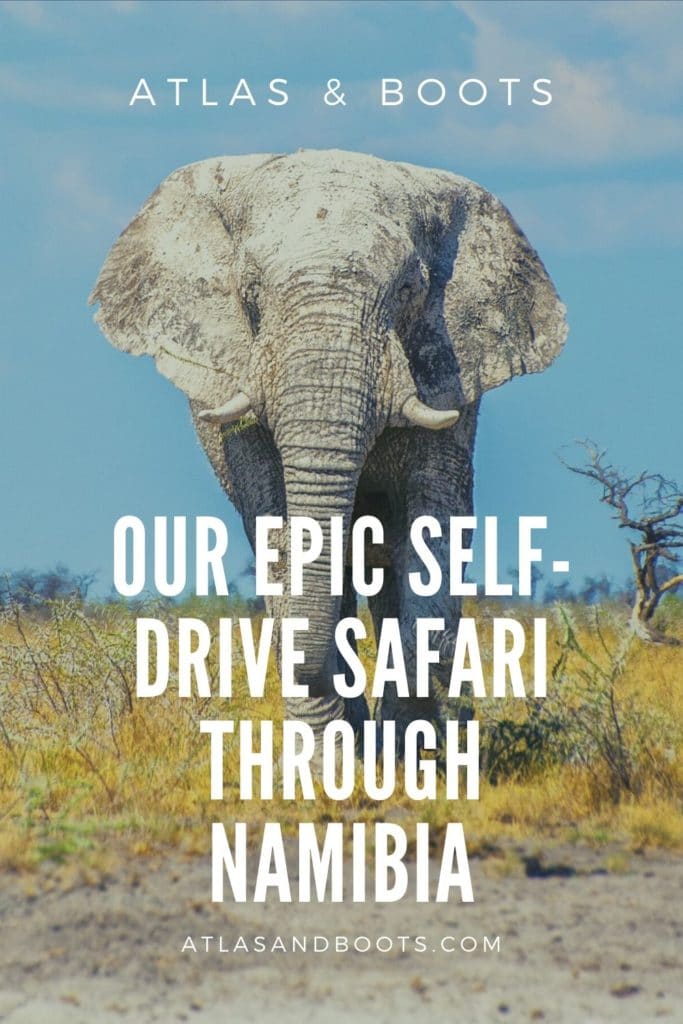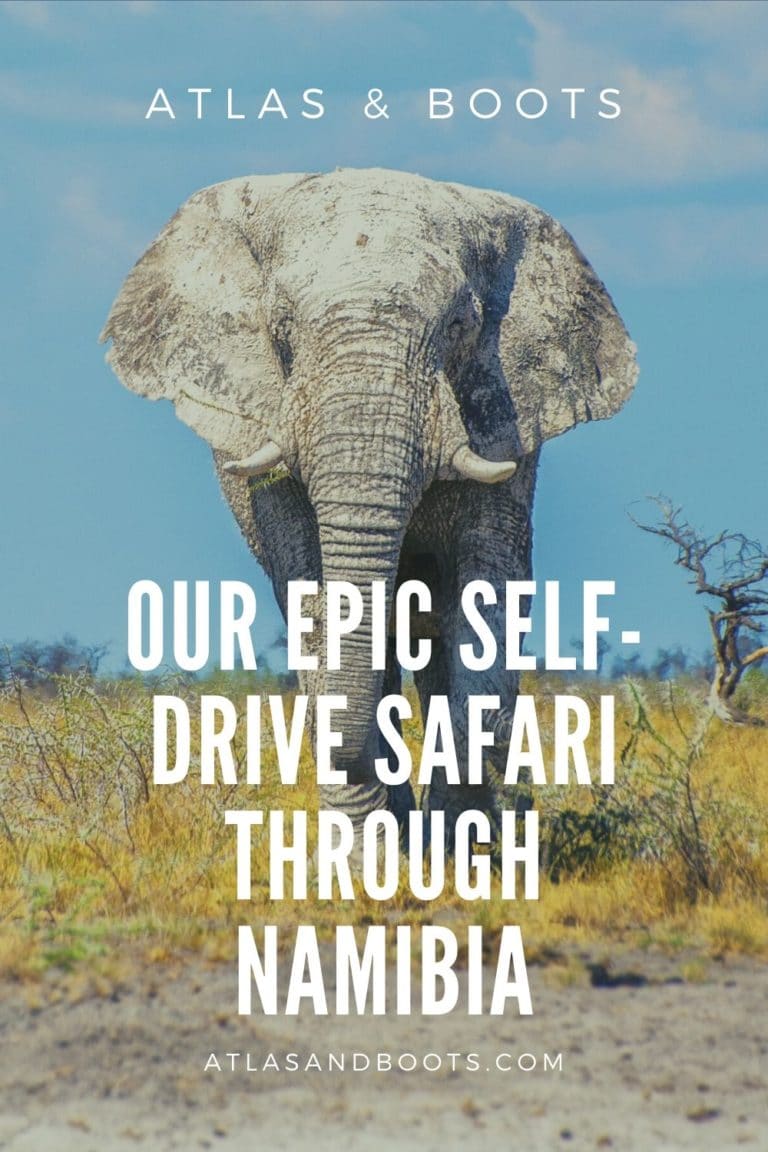 Disclosure: Our self-drive safari through Namibia was supported by Wild Dog Safaris. All publications say this, but we really don't guarantee positive coverage. We say what we think – good and bad – so you can make informed decisions with honest advice.
---
Lonely Planet Botswana & Namibia is a comprehensive guide to Namibia and includes lots of useful information for a self-drive safari through Namibia.
Lead Image: Atlas & Boots