We hiked to Yazakyi Monastery above the Burmese village of Pindaya and found a picturesque settlement straight from the pages of National Geographic
On my last visit to London, I asked my niece to grab a tenner from my wallet for the pizza fund. (We have a family of eight siblings and 21 nieces and nephews, so ordering pizza requires a basic level of crowdfunding.)
She rifled through my wallet, first pulling out some US dollars, then my tattered entrance card to Angkor Wat in Cambodia, then the business card of a tourism official in Malawi. She smiled cheekily and said, "Ada marayreh?".
The Bengali phrase – which loosely translates to 'flouncing about' or 'gallivanting' – is usually used pejoratively by prim auntie-jis to chide young women for venturing outside and being seen in 'improper' situations (e.g. walking with a boy, entering a cinema, going on holiday).
It's this phrase that came to mind as I started a hike up to Yazakyi Monastery in the remote hills of Myanmar. This most certainly qualifies as gallivanting, I thought with a smile.
My group of nine was taking a day's break from the saddle on our cycle tour of Myanmar. On the agenda was a relatively easy 10km (6mi) hike 600m (1,970ft) above the town of Pindaya followed by an overnight stay at Yazakyi Monastery.
We meandered past pretty viewpoints and paused at a local village for a simple but plentiful homemade lunch of rice, egg and vegetables.
After a quick exploration of the village, we continued on to Yazakyi Monastery where the charm of the hike really came into play. The tiny settlement, couched among hills of vivid orange and green, offered a real sense of remoteness. Local Palaung children pattered out to play and their relaxed curiosity was both sweet and amusing. Our guide, Chit, gifted them a new football after a previous visit on which he saw them playing with a deflated one. Naturally, they challenged our group to a kickabout.
Soon, we headed up to the monastery, removing our shoes and socks before entering. The large rectangular room had a Buddhist shrine at one end and a makeshift changing room at the other (a blanket hung across a corner on a string).
We received sleeping mats, pillows and blankets and spread them across the monastery floor. There was no running water, no western commode, no electricity and certainly no wifi at the monastery and as I looked upon the long, dark night, it felt like a cross between summer camp and secret vigil.
The communal arrangements fostered a cozy camaraderie – a little stilted at first but then easy and jovial as we realised there was nothing to do but talk.
At 7pm, we were called for dinner to the lower floor of the monastery. Two round tabletops were erected on the floor and we sat cross legged around them to share a tasty meal of rice, vegetables, fish and chicken, followed by rounds of tea.
Given the low lighting, cooling night and absence of alcohol, I expected the diners to eat and run, but we settled there in the candlelight and swapped regrets and histories with the disinhibiting knowledge that we were talking to strangers who would hold no memory or judgment beyond the length of our journey.
Sated on tea, we headed back up and bedded down in our simple lodgings. I fished out my earplugs and eyemask (always in my emergency travel pack) and burrowed deep in the covering to warm my chilly feet.
I won't lie: it was a fitful night's sleep with people snoring, fussing and rising for the bathroom, but as I warmed in the sun the next morning and readied for breakfast outside, I felt an elusive calm. There were no cars, no phones and barely any sound, except for laughter at our absurd situation: nine western tourists sitting on the floor eating rice for breakfast in the remote hills of Myanmar. It was absurd and wonderful and joyful.
As we geared up and started the hike back down, I smiled a soft smile. Gallivanting indeed.
Yazakyi monastery: the essentials
What: Hiking to Yazakyi Monastery in Myanmar as part of a 13-day cycling tour of Myanmar (Burma).
Where: The tour began in Yangon, the country's largest metropolis, before heading north to Inle Lake, Pindaya and Mandalay, then to central Myanmar with Mount Popa and the Irrawaddy River before finishing at Bagan.
Accommodation included 10 nights in comfortable tourist-class hotels, one night in a guesthouse and one night sleeping in a monastery (classed as a homestay).
When: The best time to visit Myanmar is from Oct-Mar when the monsoons have subsided and the temperatures are agreeable. From Apr-May, the country becomes very hot. The central regions where Bagan and Mandalay are located can see temperatures in excess of 40°C – not ideal for cycling!
Heavy rains arrive in force from May-Sep with the southwest monsoon. During this time, roads can become impassable, particularly from Jul-Sep. From October, the rains subside.
How: We booked G Adventures' 13-day Cycle Myanmar tour, priced from €2,499 ($2,730 USD) per person. The price includes all accommodation, 12 breakfasts, four lunches, one dinner, bike hire (including helmets and water bottles), domestic flights, transport, a fantastic chief experience officer throughout and additional support staff including experienced tour guides, mechanics and drivers. For more information or to book, call 0344 272 2040 or visit gadventures.co.uk.
Note that the prices do not include international flights and there are no direct flights from the UK. However, several airlines offer one-stop flights from London Heathrow via Dubai, Kuala Lumpur, Singapore or Bangkok. Book via skyscanner.net.
If you're considering a cycle tour anywhere, read our five tips for cycling travellers.
---
Enjoyed this post? pin it for later…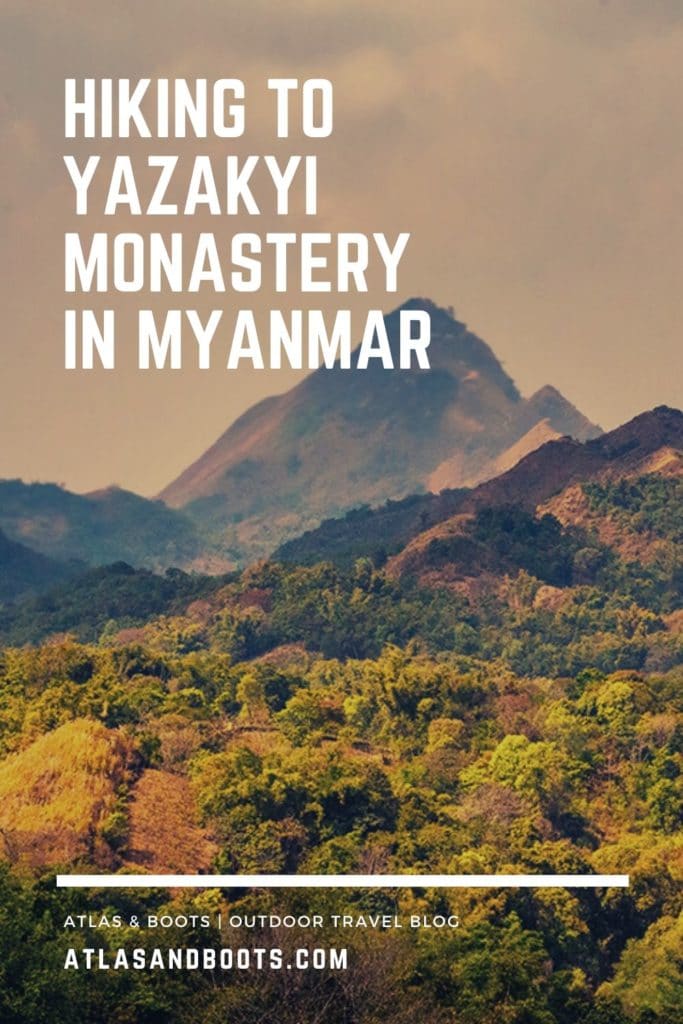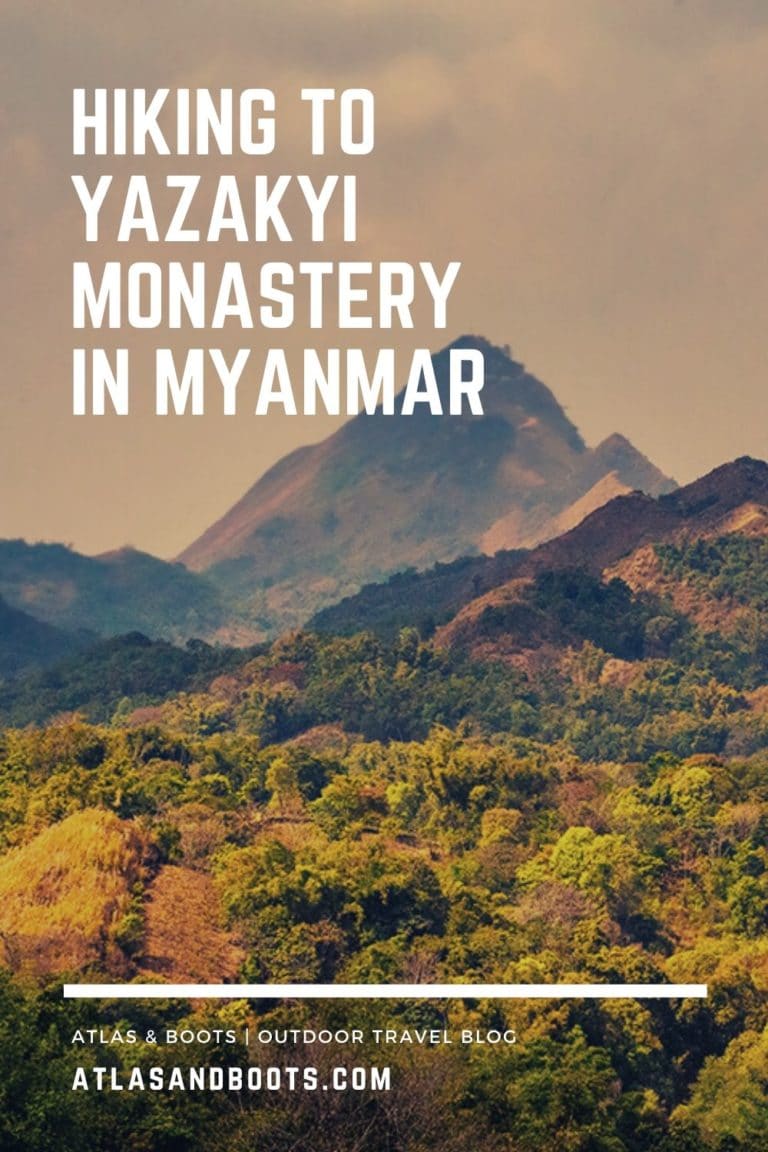 ---
Lonely Planet Myanmar is a comprehensive guide to Myanmar, ideal for those who want to both explore the top sights and take the road less travelled.
Disclosure: We travelled to Myanmar with support from G Adventures. All publications say this, but we really don't guarantee positive coverage. We say what we think – good and bad – so you can make informed decisions with honest advice.
Lead image: Atlas & Boots