We visit Taung Kalat, the surreal Buddhist monastery on Myanmar's Mount Popa
Mount Popa may as well have been Mount Doom. It loomed on our cycle itinerary, taunting me with defeat. As a newbie cyclist (and certainly the weakest in our group), I found the prospect of cycling 83km (52mi) uphill under the baking Burmese sun more than a little daunting.
Thankfully, our support vehicle was always close by, offering both solace ("I'm here if you need me") and seduction ("you can quit right now if you want"). The latter proved too much and soon I relented, swapping two wheels for four while the group struggled on.
By the time we reached the summit, five out of nine cyclists on our G Adventures tour had opted for the bus. Suddenly, I didn't feel so feeble.
We settled into Mount Popa Resort where we caught our first glimpse of Taung Kalat, the surreal Buddhist monastery built atop a volcanic plug on the slopes of Mount Popa.
Bathed on first sight in afternoon sun, the monastery was both wondrous and absurd. The splash of golden stupas surrounded by sheer rock evoked fairytales and fortresses. Here was the perfect symbol of Myanmar: spiritual, remote, dramatic, unknown.
Taung Kalat, the name of the rock formation itself, rises 170m (558ft) above the slope of Mount Popa, the 1,518m (4,980ft) volcano on which it stands. Volcanic plugs like Taung Kalat are formed when magma hardens within a vent of an active volcano. Thankfully, Mount Popa is no longer active; its last eruption was in 442 BC, say experts.
Today, Mount Popa and Taung Kalat are regarded as sacred sites home to 37 venerated 'nats' (spirits). The monastery at the top is reached via 777 steps – not an easy task after cycling Mount Popa!
The stairwell winds past vendors and hawkers and swoops up past clusters of monkeys that will boldly snatch a snack or trinket if given half a chance. En route to the peak, tourists and pilgrims are asked to leave their socks and shoes before proceeding. (Storage boxes are available for a few kyat.) Visitors may wish to bring small change for the sweepers on the stairs who will frequently ask for tips.
At the peak, the motley complex of stupas and temples offers worthy diversion but the real draw is the view. Mount Popa's fertile volcanic soil is blanketed by trees, herbs and prickly bush, and its plunging valleys offer a modest oasis amid Myanmar's dry central zone.
It's said that on a clear day, you can see the iconic site of Bagan 50km (31mi) to the northwest as well as the Irrawaddy River not far beyond. Sadly, the famous Burmese haze cut our view in half.
Many tourists visit the monastery on a day trip from Bagan – lured by vivid images of the fairytale site – and I can see why some leave underwhelmed. It's not the monastery itself nor the view out from Taung Kalat that's the most impressive thing about Mount Popa. Rather, it's the view into Taung Kalat from afar. A quick sojourn to the base and a sprint to the top offers none of the magic of seeing it from afar.
Thankfully, we had a whole night at Mount Popa Resort. With cycle gloves off and cocktails in hand, we settled in to watch the sunset – a well-deserved reward after 83km to reach this enchanting spot!
Mount Popa monastery: the essentials
What: Visiting Mount Popa and Taung Kalat as part of a 13-day cycling tour of Myanmar (Burma).
Where: The tour began in Yangon, the country's largest metropolis, before heading north to Inle Lake, Pindaya and Mandalay, then to central Myanmar with Mount Popa and the Irrawaddy River before finishing at Bagan.
Accommodation included 10 nights in comfortable tourist-class hotels, one night in a guesthouse and one night sleeping in a monastery (classed as a homestay).
When: The best time to visit Myanmar is from Oct-Mar when the monsoons have subsided and the temperatures are agreeable. From Apr-May, the country becomes very hot. The central regions where Bagan and Mandalay are located can see temperatures in excess of 40°C – not ideal for cycling!
Heavy rains arrive in force from May-Sep with the southwest monsoon. During this time, roads can become impassable, particularly from Jul-Sep. From October, the rains subside.
How: We booked G Adventures' 13-day Cycle Myanmar tour, priced from €2,499 ($2,730 USD) per person.
The price includes all accommodation, 12 breakfasts, four lunches, one dinner, bike hire (including helmets and water bottles), domestic flights, transport, a fantastic chief experience officer throughout and additional support staff including experienced tour guides, mechanics and drivers.
For more information or to book, call 0344 272 2040 or visit gadventures.co.uk.
Note that the prices do not include international flights and there are no direct flights from the UK. However, several airlines offer one-stop flights from London Heathrow via Dubai, Kuala Lumpur, Singapore or Bangkok. Book via skyscanner.net.
If you're considering a cycle tour anywhere, read our five tips for cycling travellers.
---
Enjoyed this post? pin it for later…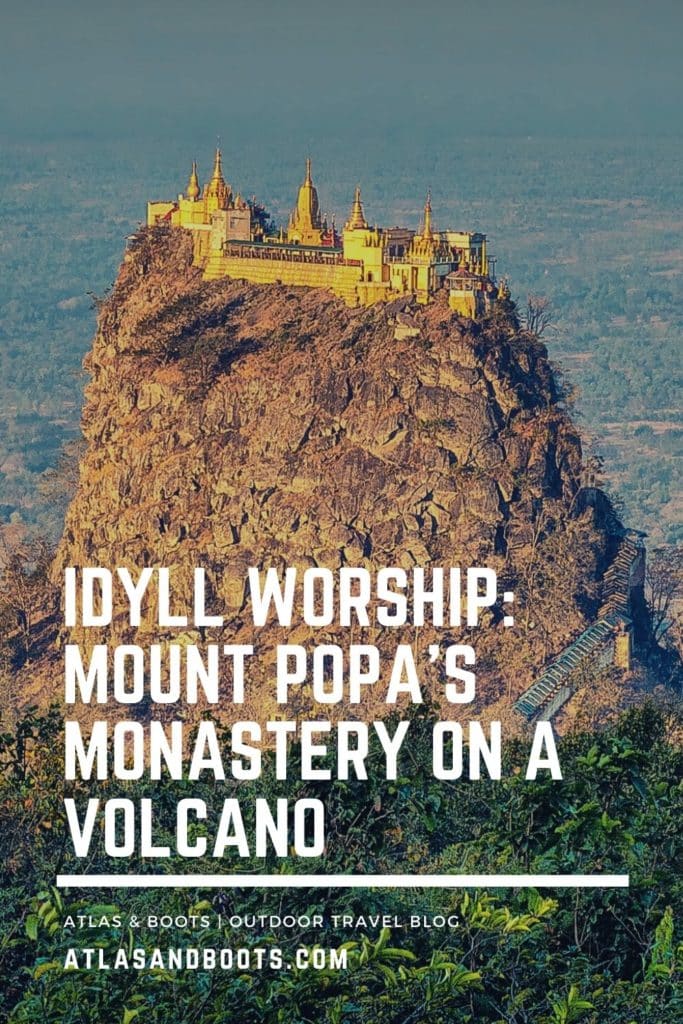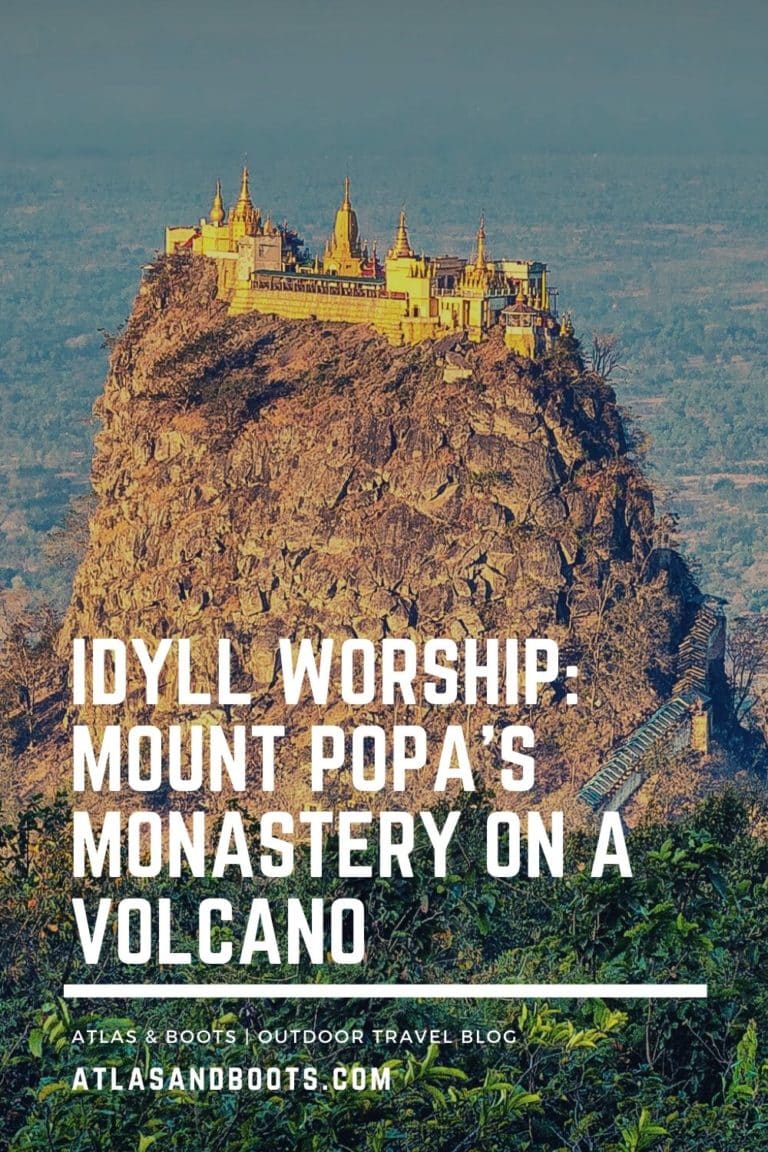 ---
Lonely Planet Myanmar is a comprehensive guide to Myanmar, ideal for those who want to both explore the top sights and take the road less travelled.
Disclosure: We travelled to Myanmar with support from G Adventures. All publications say this, but we really don't guarantee positive coverage. We say what we think – good and bad – so you can make informed decisions with honest advice.
Lead image: Atlas & Boots