We visited Pindaya Caves – or the Shwe U Min Natural Cave Pagoda of Pindaya – one of the most bizarre experiences of our trip to Myanmar
After a long, hot morning in the saddle in Myanmar, our group of nine cyclists arrived in the town of Pindaya. We'd covered around 40km (25mi) through Myanmar's Shan State and were looking forward to some respite from the intense sun.
I knew nothing of the Pindaya Caves or the Shwe U Min Natural Cave Pagoda as it's officially called. But, the idea of descending below ground and escaping the devilish heat sounded very appealing.
Descending isn't quite the right word as the winding network of natural caves and tunnels that make up the Shwe U Min Natural Cave Pagoda is actually set high on a limestone ridge above the town of Pindaya and Pone Taloke Lake.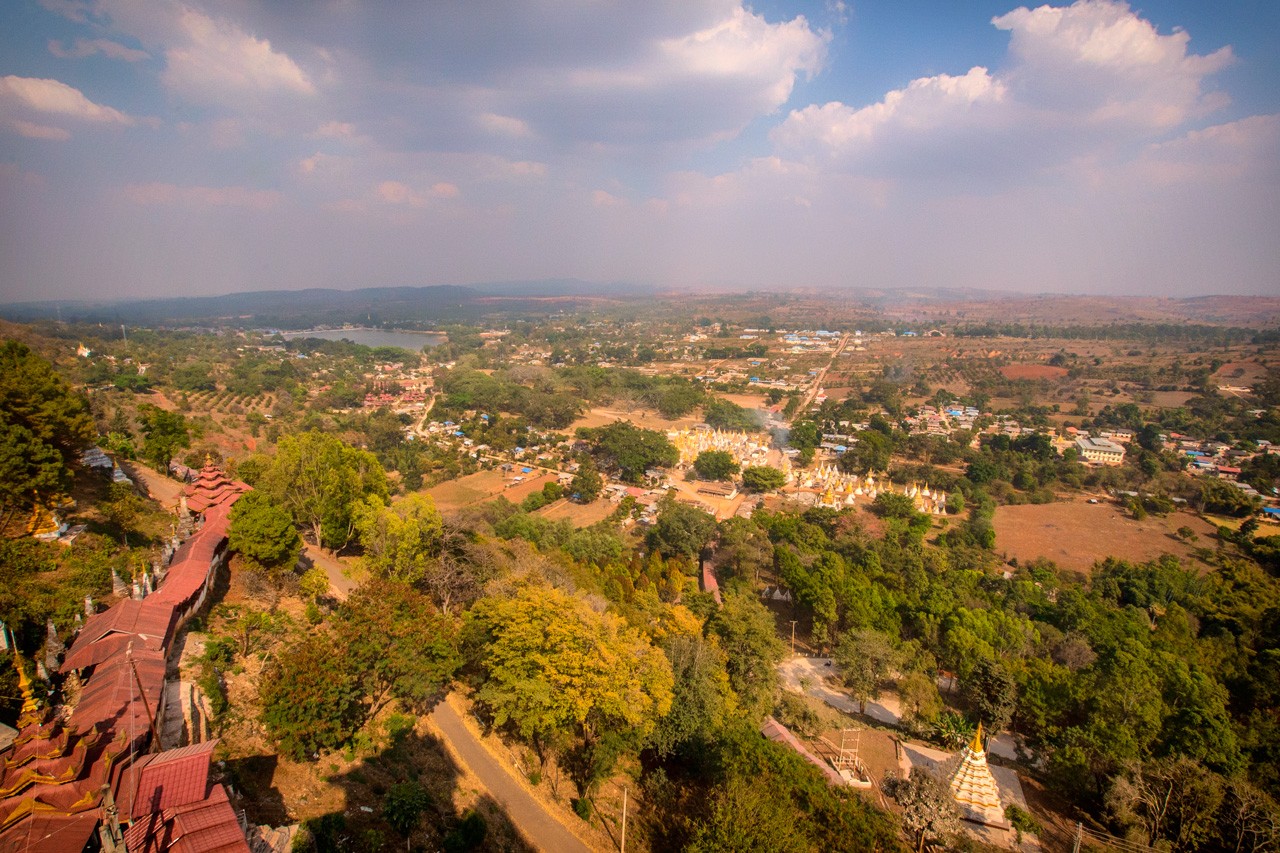 The caves slice into the hillside and are accessed via a series of covered stairways. The stairways leading to the cave are just over 3km (2mi) south of the town centre on the Shwe U Min Pagoda Road. It can be walked in about 20 minutes or a motorcycle taxi will take you to the top and back for around K2000 ($1.5 USD).
At the entrance of the stairways is an imposing (and rather incongruous) sculpture of a giant spider. The sculpture wouldn't be out of place at an American theme park; instead it guards the entrance to a Buddhist pilgrimage site!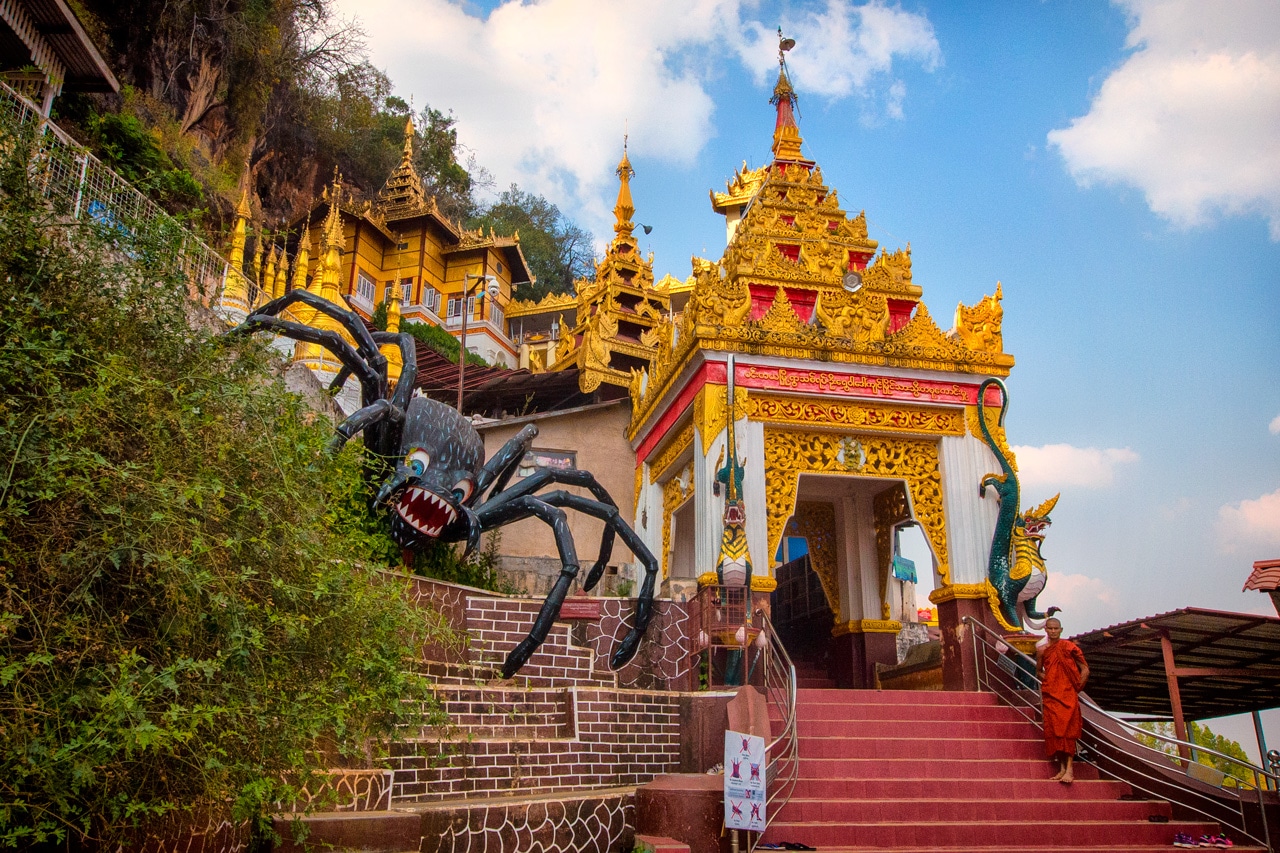 Nearby is a more fitting sculpture of a prince aiming his bow and arrow at the spider. Legend has it that seven princesses bathing in the lake below were captured by a giant spider and trapped in the cave. Luckily, they were rescued by the brave Prince Kummabhaya and his trusty longbow.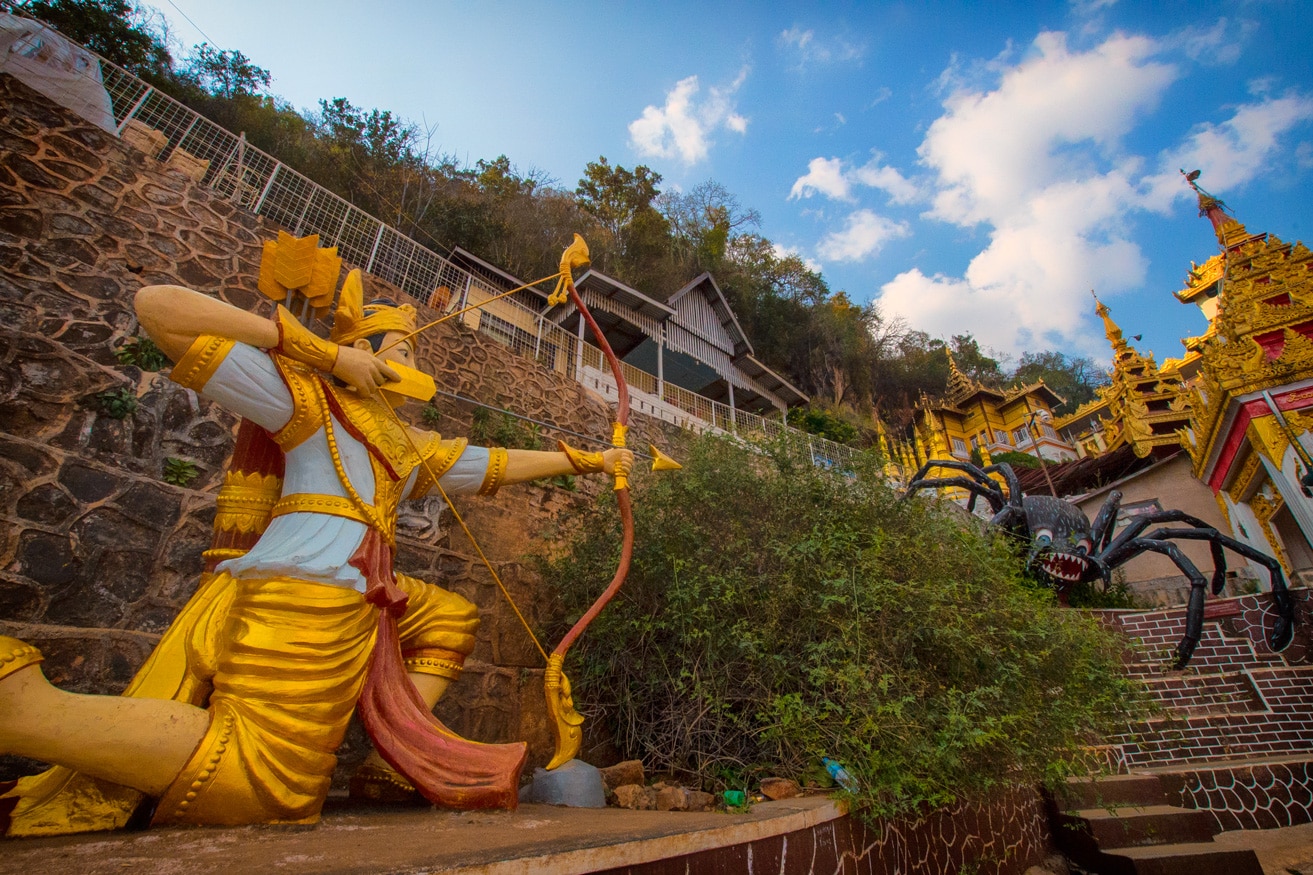 The cave complex is filled with over 8,000 statues of the Buddha (often referred to as 'images'), many of them donated over the centuries by pilgrims. The most recent count stands at 8,094.
The number continues to rise as Buddhist organisations from around the world still donate to the already bursting collection. As you wander the caverns you'll see donations from every corner of the world.
The images of the Buddha bombard visitors and come in a wide range of shapes and sizes and even materials including teak wood, marble, rock, lacquer, brick and cement images.
Pilgrims from around the world arrive in a steady stream throughout the year installing new statues. Visitors are likely to come across the odd devotee meditating in small meditation chambers in the cave walls.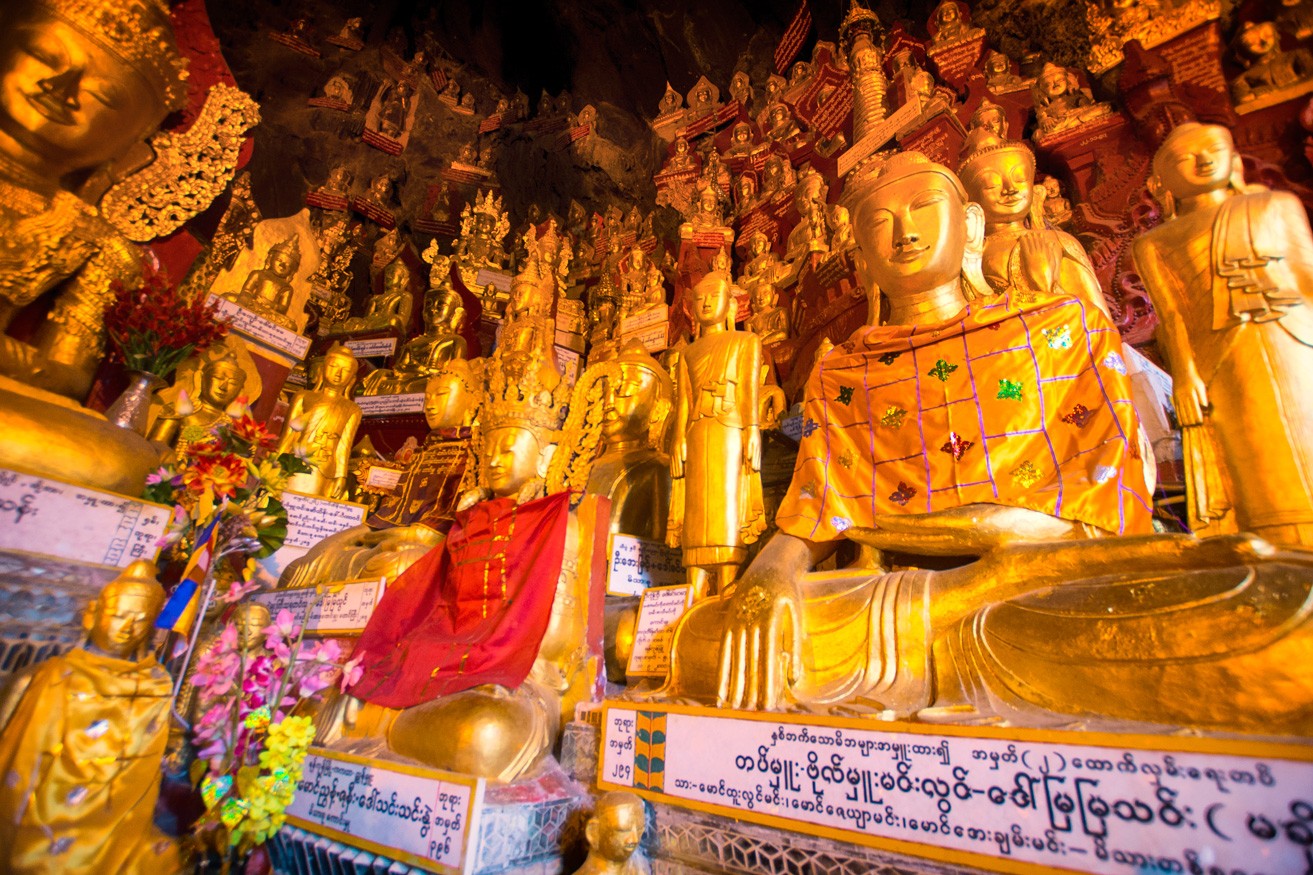 The oldest statues are dated to around 1750 with most statues estimated to be from the 18th and 19th centuries. There is nowhere in Myanmar which displays such a range of style, not only in the images, but also in the ornamental thrones and reredos – or altarpieces – that surround the Buddha images.
We spent about an hour wandering the complex in almost complete silence. There's an eerie atmosphere that encourages whispering and quiet – not unlike that of a grand old library. At times it felt like we had slipped onto the open set of an Indiana Jones movie!
Re-emerging into the afternoon sun, our group converged around the giant spider for a customary group photo. We all agreed that the caves were one of the most bizarre things we'd seen – not just in Myanmar.
Myanmar is indeed a country of contrasts. Where else would you find a subterranean complex of over 8,000 golden Buddha guarded by a giant spider?
Pindaya Caves: the essentials
What: We visited Shwe U Min Natural Cave Pagoda near Pindaya in Myanmar as part of a 13-day cycling tour of Myanmar (Burma).
Where: The tour began in Yangon, the country's largest metropolis, before heading north to Inle Lake, Pindaya and Mandalay, then to central Myanmar with Mount Popa and the Irrawaddy River before finishing at Bagan. Accommodation included 10 nights in comfortable tourist-class hotels, one night in a guesthouse and one night sleeping in a monastery (classed as a homestay).
When: The best time to visit Myanmar is from Oct-Mar when the monsoons have subsided and the temperatures are agreeable. From Apr-May, the country becomes very hot. The central regions where Bagan and Mandalay are located can see temperatures in excess of 40°C – not ideal for cycling!
Heavy rains arrive in force from May-Sep with the southwest monsoon. During this time, roads can become impassable, particularly from Jul-Sep. From October, the rains subside.
How: We booked G Adventures' 13-day Cycle Myanmar tour, priced from €2,499 ($2,730 USD) per person. The price includes all accommodation, 12 breakfasts, four lunches, one dinner, bike hire (including helmets and water bottles), domestic flights, transport, a fantastic chief experience officer throughout and additional support staff including experienced tour guides, mechanics and drivers. For more information or to book, call 0344 272 2040 or visit gadventures.co.uk.
Note that the prices do not include international flights and there are no direct flights from the UK. However, several airlines offer one-stop flights from London Heathrow via Dubai, Kuala Lumpur, Singapore or Bangkok. Book via skyscanner.net.
If you're considering a cycle tour anywhere, read our five tips for cycling travellers.
---
Enjoyed this post? pin it for later…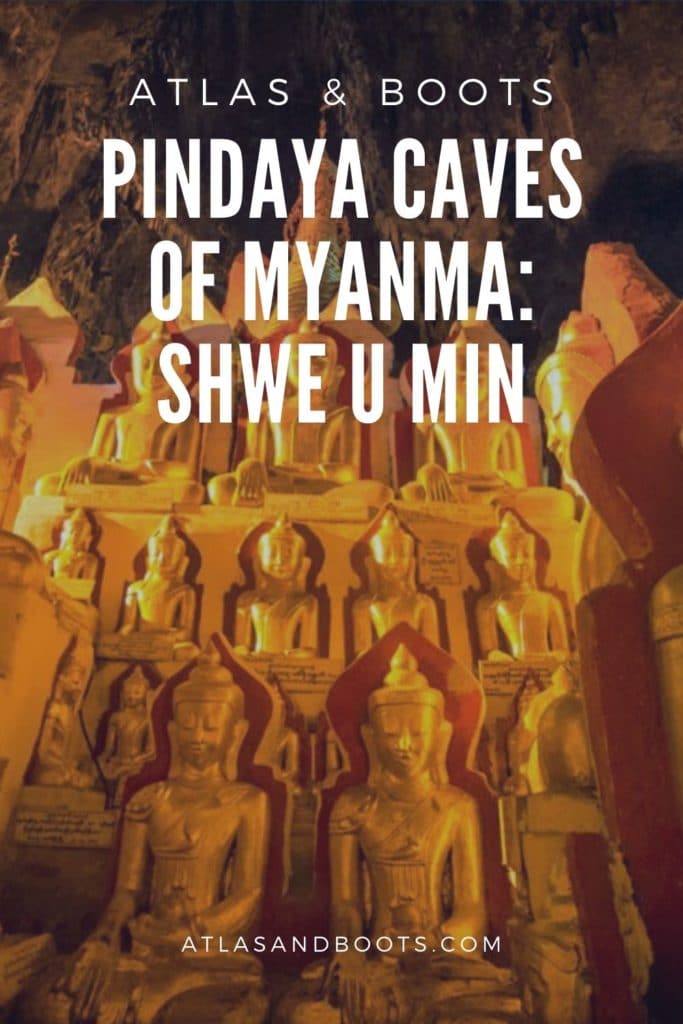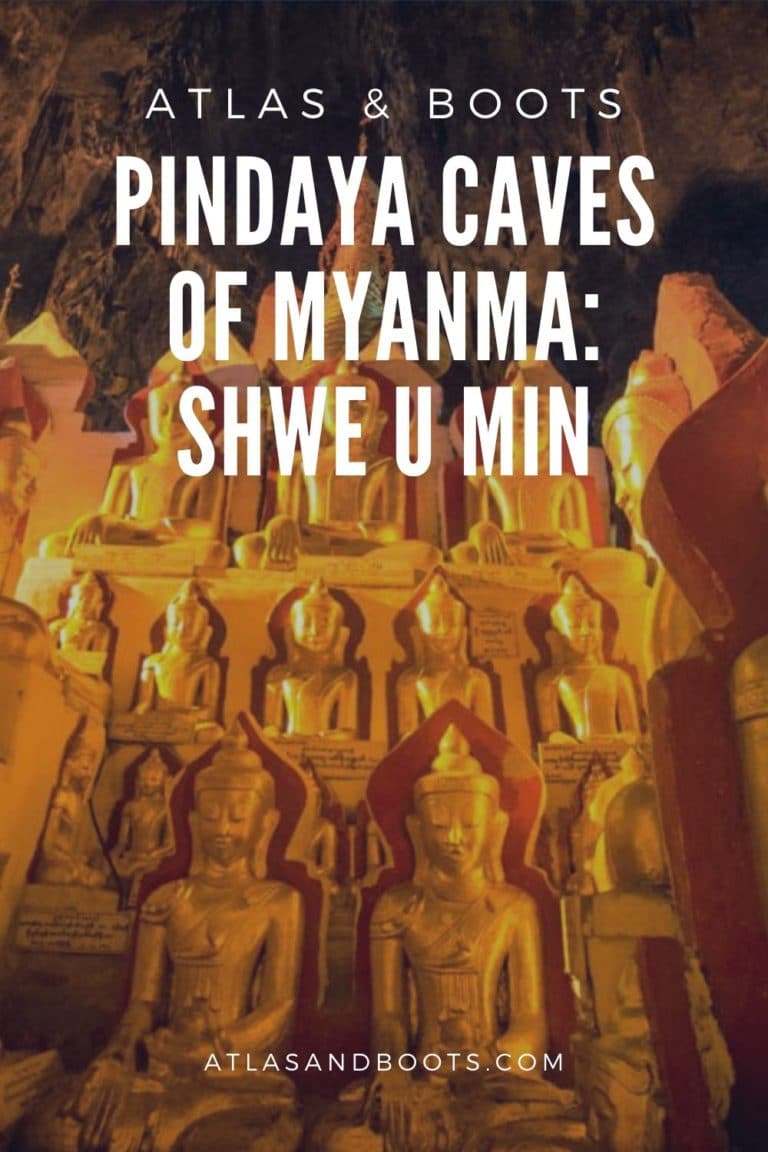 ---
Lonely Planet Myanmar is a comprehensive guide to Myanmar, ideal for those who want to both explore the top sights and take the road less travelled.
Disclosure: We travelled to Myanmar with support from G Adventures. All publications say this, but we really don't guarantee positive coverage. We say what we think – good and bad – so you can make informed decisions with honest advice.
Lead image: Atlas & Boots