The variety of things to do on Inle Lake provides a different look at life in Myanmar
Burma without Buddhism would be like Rome without religion: a land shorn of identity, bereaved of its most vivid colours. There's no question that Buddhism with its extraordinary monuments and monasteries makes the country what it is: spiritual, mystical and all those other adjectives western writers apply to eastern exoticism.
Burma, now known as Myanmar, is the East of the brochures: of mists rising on tranquil lakes and berobed monks in echoing chambers. Myanmar does not disappoint. But, much like Angkor Wat in Cambodia, it can wear out all but the most avid temple goers.
With this in mind, I was pleased to have a day on Inle Lake with plenty of variety. There were stupas and monasteries (naturally), but also extraordinary locals that provided a tiny slice of life on the lake.
Things to do on Inle Lake
1. Inthein
We started our Inle Lake boat tour at Inthein, a lakeside village littered with ancient stupas. Our first glimpse was of Nyaung Ohak, a set of unrestored pagodas both besieged and beautified by surrounding foliage. Plants and trees burst from crumbling brick in absurd whimsy more suited to the films of Disney.
Sadly, our group of nine had mere minutes alone before a tour bus arrived filled with fellow tourists. We dispersed among the pagodas in pursuit of quiet and soon came upon Shwe Inn Thein, a second set of pagodas reached by a covered stairway. The elevated pagodas are better restored and thus less charming, but impressive nonetheless. All in all, we found Inthein to be one of the best things to do on Inle Lake and around.
2. Mya Hintha silver workshop
The heat hit us as soon as we walked into the Mya Hintha silversmith workshop, the second stop on our Inle Lake boat tour. Worktops lined the wall with young men bent over their latest projects, their nimble fingers manipulating flinty pieces of silver into glittering fish or delicate cookware.
We watched a silver smelting demonstration, then made a customary stop at the gift shop. There was no pressure to buy, so I idly wandered the aisles while others in the group eagerly snapped up a bargain or two. Before long, we were back on the boat and headed to our next stop.
3. 'Long-neck' Kayan women
I felt somewhat uneasy about our stop to see the 'long-neck' Kayan women of Inle Lake as this sort of people gazing can feel like an intrusion. Indeed, as tourists lined up to have their photos taken with the women, I slunk back uncertainly.
Our guide, however, explained that many Kayan women rely on tourism for income and that their work was perfectly palatable given the lack of alternatives. Our group chose not to pose with the women but we did donate a small amount of money. It felt like the right thing to do.
4. Phaung Daw Oo Paya, Tha Ley
Phaung Daw Oo Paya is said to be the holiest religious site in Myanmar's southern Shan State. The tiered pagoda is home to five ancient Buddha statues or 'images' which sit on an elevated plinth in the center of the main chamber. The images are almost shapeless given the amount of gold leaf applied by pilgrims.
Sadly, women are not allowed on the elevated platform, so we headed instead to a large ornate barge anchored outside. The barge is shaped like a hintha (the golden swan of Burmese legend) and is used during the annual Phaung Daw Oo festival to parade the Buddha images around the lake.
5. Weaving workshop
The next stop on our Inle Lake boat tour took us to a weaving workshop. Here, we had a chance to see local women weaving fine scarves in a vast array of materials and colours.
We also learned about thanaka, a pale yellow cosmetic paste applied to the face and arms of local women and, to a lesser extent, men. Thanaka is used for protection against the sun as well as for aesthetic reasons. A few members of our group dabbed thanaka on their faces but I, ever the Brit, refrained.
6. Floating gardens
The next part of our tour was one of my favourite things to do on Inle Lake. As the sun dropped low, our narrowboat slid past floating islands bound from weed and water hyacinth. These islands act as living, working communities and can be cut, rearranged and moved by boats – even sold like a piece of land.⠀
The slipshod silhouettes of lashed bamboo offered a picturesque view of life on the lake and a sumptuous backdrop to numerous photos.
7. Intha fishermen
En route to our final stop, we spotted Inle Lake's famous 'leg-rowing' fishermen. This unique technique allows the fishermen to keep the boat moving, see beneath the hyacinth on the surface of the lake and cast their nets with both their hands.
We sailed past the fishermen in one of those moments that often occur when travelling: when everything is so alien, so incredibly different, that your senses feel raw and alive.
Soon, the temperature dropped and we wrapped up in blankets provided on the boat and headed to our final stop.
8. Nga Hpe Kyaung (Jumping Cat Monastery), Nga Phe
The 'Jumping Cat Monastery' is famous for the cats once trained to jump through hoops.
Any cats there now are not so much jumping as they are lazing. Still, the final stop on our Inle Lake boat tour was well worth a pause. The echoing main chamber of the monastery maintains a softly sedate mood, perfect for pause and reflection. As I wandered the sombre corners, my mind silent and still, I realised that I was ready once again for a dash of Buddhist spiritualism.
Things to do on Inle Lake: the essentials
What: We visited Inle Lake in Myanmar as part of a 13-day cycling tour of Myanmar (Burma).
Where: The tour began in Yangon, the country's largest metropolis, before heading north to Inle Lake, Pindaya and Mandalay, then to central Myanmar with Mount Popa and the Irrawaddy River before finishing at Bagan.
Accommodation included 10 nights in comfortable tourist-class hotels, one night in a guesthouse and one night sleeping in a monastery (classed as a homestay).
When: The best time to visit Myanmar is from Oct-Mar when the monsoons have subsided and the temperatures are agreeable. From Apr-May, the country becomes very hot.
The central regions where Bagan and Mandalay are located can see temperatures in excess of 40°C – not ideal for cycling! Heavy rains arrive in force from May-Sep with the southwest monsoon. During this time, roads can become impassable, particularly from Jul-Sep. From October, the rains subside.
How: We booked G Adventures' 13-day Cycle Myanmar tour, priced from €2,499 ($2,730 USD) per person. The price includes all accommodation, 12 breakfasts, four lunches, one dinner, bike hire (including helmets and water bottles), domestic flights, transport, a fantastic chief experience officer throughout and additional support staff including experienced tour guides, mechanics and drivers.
For more information or to book, call 0344 272 2040 or visit gadventures.co.uk.
Note that the prices do not include international flights and there are no direct flights from the UK. However, several airlines offer one-stop flights from London Heathrow via Dubai, Kuala Lumpur, Singapore or Bangkok. Book via skyscanner.net.
If you're considering a cycle tour anywhere, read our five tips for cycling travellers.
---
Enjoyed this post? pin it for later…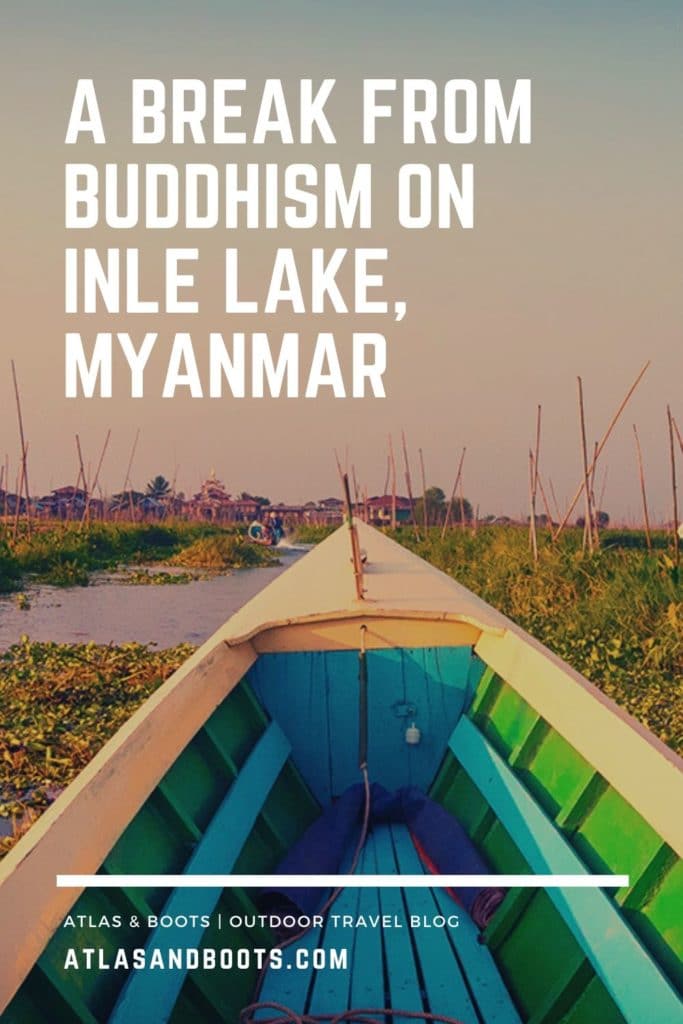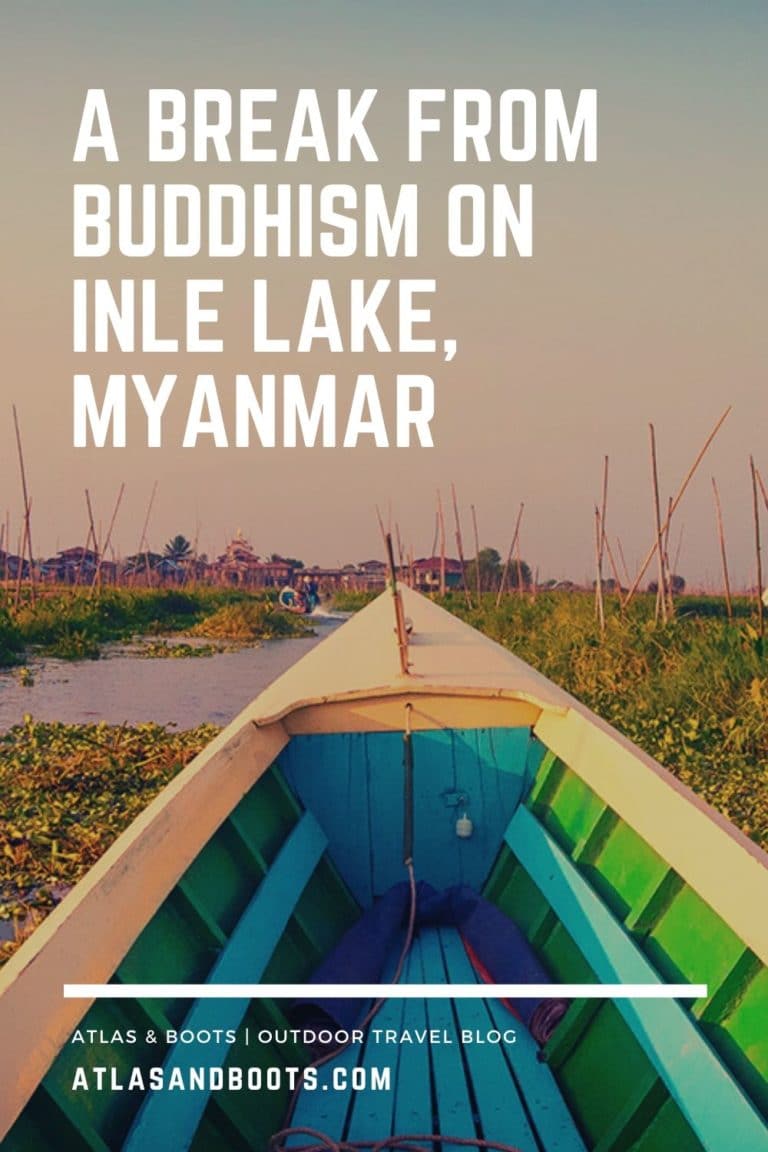 ---
Lonely Planet Myanmar is a comprehensive guide to Myanmar, ideal for those who want to both explore the top sights and take the road less travelled.
Disclosure: We travelled to Myanmar with support from G Adventures. All publications say this, but we really don't guarantee positive coverage. We say what we think – good and bad – so you can make informed decisions with honest advice.
Lead image: Atlas & Boots