Our cycling tour of Myanmar provided the perfect insight into Burmese culture coupled with the kind of outdoor adventure we love
Readers of this blog will be well aware that I prefer my adventures on two feet rather than two wheels. Given the choice, I will usually opt for hiking instead of biking. However, when we had the chance to spend two weeks cycling Myanmar with G Adventures I wasn't going to pass on the opportunity.
The trip did come with a catch: as with most of my adventures, I would have my trusty partner in crime with me – but Kia could barely ride a bike! She only learned to ride at the age of 28. In the ensuing years, she practised only periodically and fell off frequently, bruising like a peach in the process.
With this in mind, I was a little apprehensive about a two-week cycling tour of Myanmar, covering between 20km and 80km a day. However, Kia was cavalier as ever. There was an assurance of a support vehicle throughout the tour and I promised to stay nearby during the rides. Convinced, we signed up, booked flights and bought our cycling gloves.
The last long-distance cycling tour I had done was a coast-to-coast trip across the UK. Firstly, it was only three days and, secondly, it was through a much milder climate. This was going to be a very different cycling experience!
We met our CEO (chief experience officer), Chit, in Yangon along with our fellow cyclists-to-be. The group was only nine large plus Chit, another tour guide we knew as Mr Thein, and a small support team of mechanics, drivers and local experts.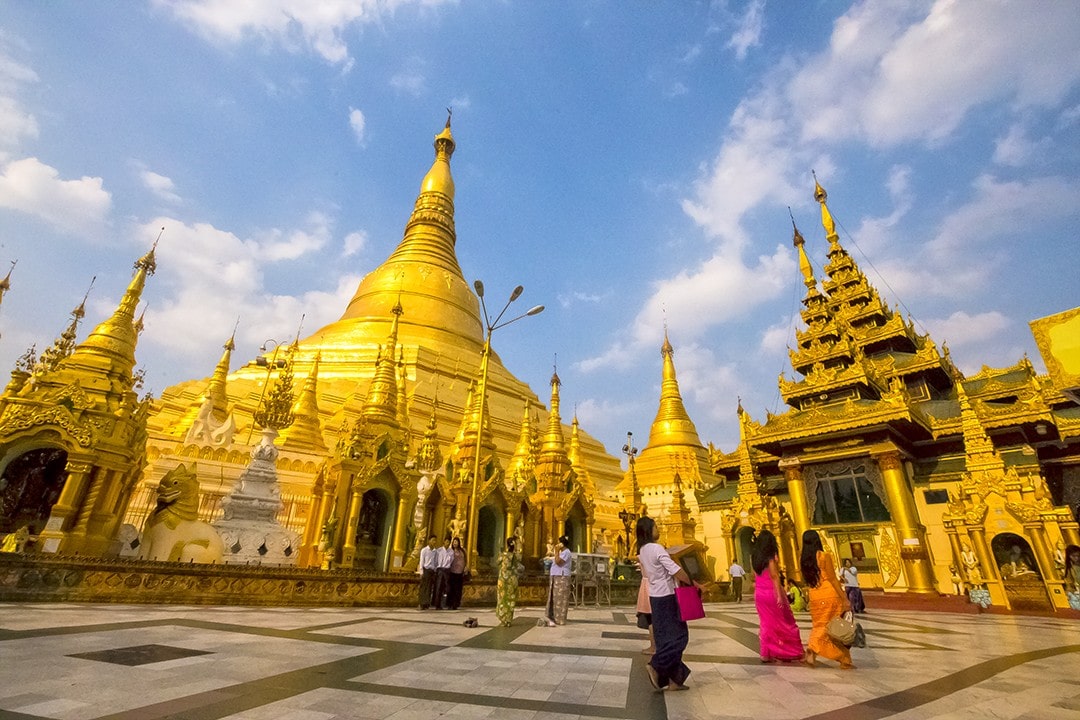 Chit proved an excellent host and guide, full of knowledge and pride of his country. He knew the problems Myanmar faced, but was passionate about how tourism could help address them. He was more than happy to answer our questions about his country, which was great because my entire knowledge of Myanmar came from reading George Orwell's rather depressing Burmese Days.
After an afternoon and evening in Yangon, we flew north to Nyaungshwe near Inle Lake to start the trip in the earnest, mount our bikes and hit the road. We did so beneath a blazing sun with heat simultaneously coursing from the sky above and the tarmac below. The whole group found cycling in this climate intense, but Kia struggled more than others – particularly in the uphill sections.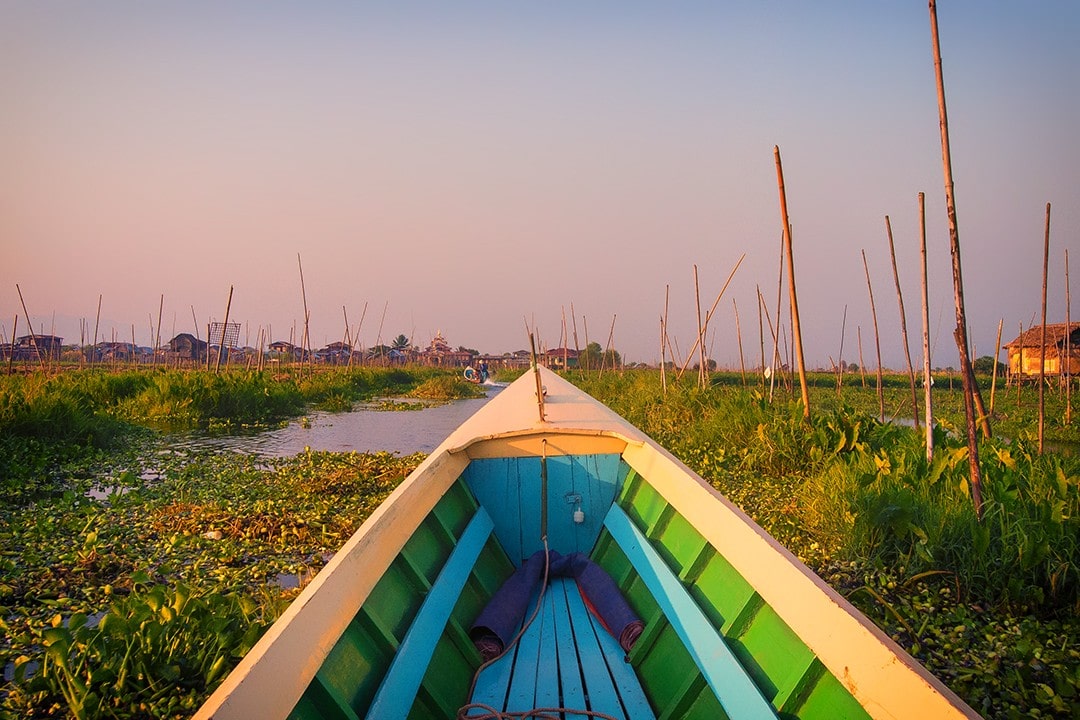 The first day was a relatively moderate 26km (16mi) along the shores of Inle Lake and I was concerned how Kia would cope with the more demanding days to follow. Knowing we would have a support vehicle – otherwise known as the "broom wagon" – provided great comfort.
Saying that, we both love seeing the world from ground level and cycling literally brings us closer to a land and its people, offering authentic sights and smells in the process. Both of us wanted to spend as much time in the saddle and as little time as possible in the back of a van. We hadn't come to Myanmar to view it through the sanitising filter of glass – we'd come to Myanmar to cycle.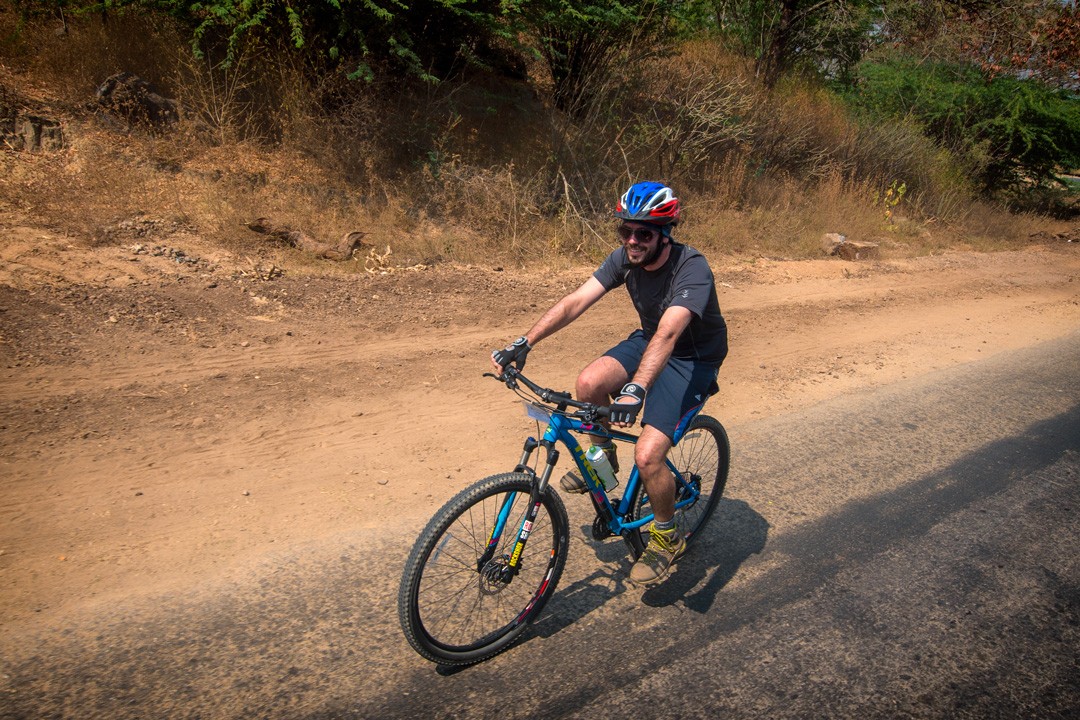 Luckily, the days of cycling were spread across the tour with rest days and hikes mixed with saddle time. Kia had time to work on her technique and was supported by the ever-present Chit. On one of the longer days in the saddle, he spent the day with Kia, riding by her side, giving hill-by-hill instructions on how to use gears and make the most of any downhill sections. This allowed me a bit more freedom to ride at my own pace, pausing when I wanted to take photographs.
As well as the serene Inle Lake, the tour took in Myanmar's finest landmarks including the surreal Pindaya Caves, a subterranean collection of more than 8,000 Buddhas; an overnight hike to the Yasakyi Monastery in the hills above Pindaya; Mandalay and the world's longest teak bridge at U Bein; Mount Popa and Tuang Kalat Temple perched atop a volcanic plug; and of course the wondrous vista of Bagan with its 2,000 stupas.
In the end, Kia only needed the support vehicle once and that was on the toughest day of riding: an 83km (52mi) slog up to Mount Popa at 1,518 metres (4,980ft). She was the first to break, but considering only four of the nine made it to the top that day, she didn't do badly at all. The rest (myself included) quit partway through due to heat and fatigue.
On the penultimate day of cycling, with Chit's help and a dash of Kia's indefatigable competitive spirit, she set a personal best: a 52km (32mi) ride from Mount Popa to Bagan with the iconic stupas and setting sun providing just reward. She kept pace with the group throughout the day, at one point overtaking three members including myself. Her own personal Everest one might say.
Emboldened by her newfound skills, she tore through the following day's cycling route around Bagan, always keeping pace, never once losing the group.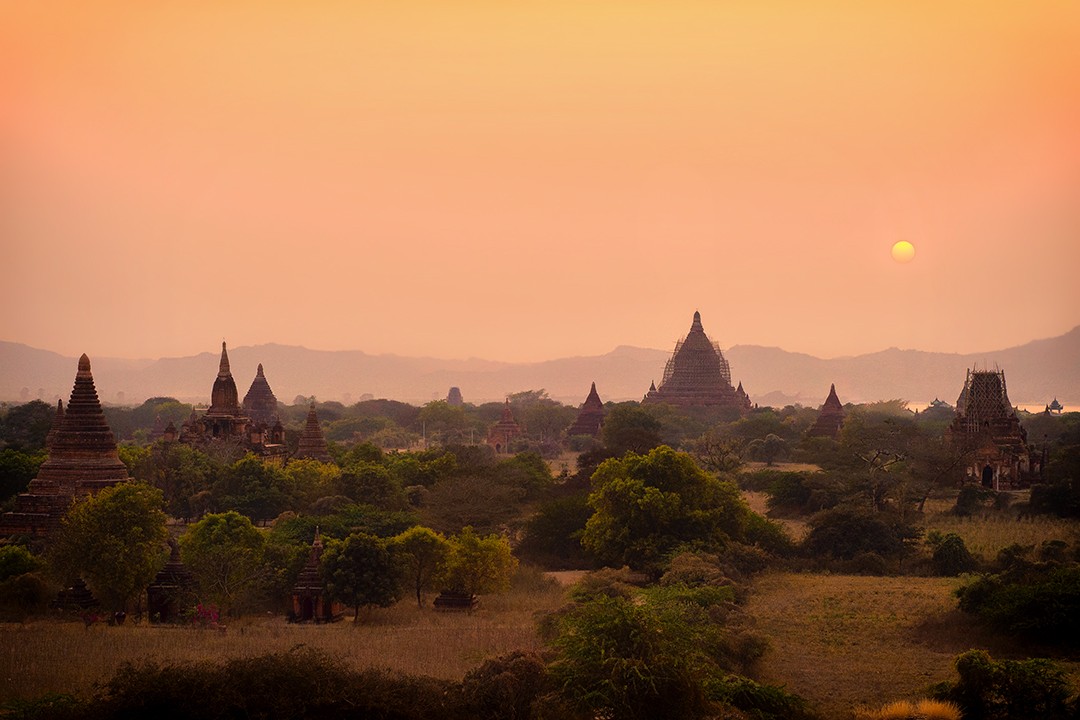 Our cycling tour of Myanmar was an excellent blend of active adventure and cultural immersion. With six days' cycling, two hiking and the remaining time spent exploring destinations and meeting locals, the tour provided a unique insight into a country emerging from a turbulent past.
Our experience of Myanmar couldn't have been more different to Orwell's Burmese Days. But then, Myanmar is a very different country to Burma.
Cycling tour of Myanmar: the essentials
What: 13-day cycling tour of Myanmar (Burma).
Where: The tour began in Yangon, the country's largest metropolis, before heading north to Inle Lake, Pindaya and Mandalay, then to central Myanmar with Mount Popa and the Irrawaddy River before finishing at Bagan. Accommodation included 10 nights in comfortable tourist-class hotels, one night in a guesthouse and one night sleeping in a monastery (classed as a homestay).
When: The best time to visit Myanmar is from Oct-Mar when the monsoons have subsided and the temperatures are agreeable. From Apr-May, the country becomes very hot. The central regions where Bagan and Mandalay are located can see temperatures in excess of 40°C – not ideal for cycling! Heavy rains arrive in force from May-Sep with the southwest monsoon. During this time, roads can become impassable, particularly from Jul-Sep. From October, the rains subside.
How: We booked G Adventures' 13-day Cycle Myanmar tour, priced from €2,499 ($2,730 USD) per person. The price includes all accommodation, 12 breakfasts, four lunches, one dinner, bike hire (including helmets and water bottles), domestic flights, transport, a fantastic chief experience officer throughout and additional support staff including experienced tour guides, mechanics and drivers. For more information or to book, call 0344 272 2040 or visit gadventures.co.uk.
Note that the prices do not include international flights and there are no direct flights from the UK. However, several airlines offer one-stop flights from London Heathrow via Dubai, Kuala Lumpur, Singapore or Bangkok. Book via skyscanner.net.
If you're considering a cycle tour anywhere, read our five tips for cycling travellers.
---
Enjoyed this post? pin it for later…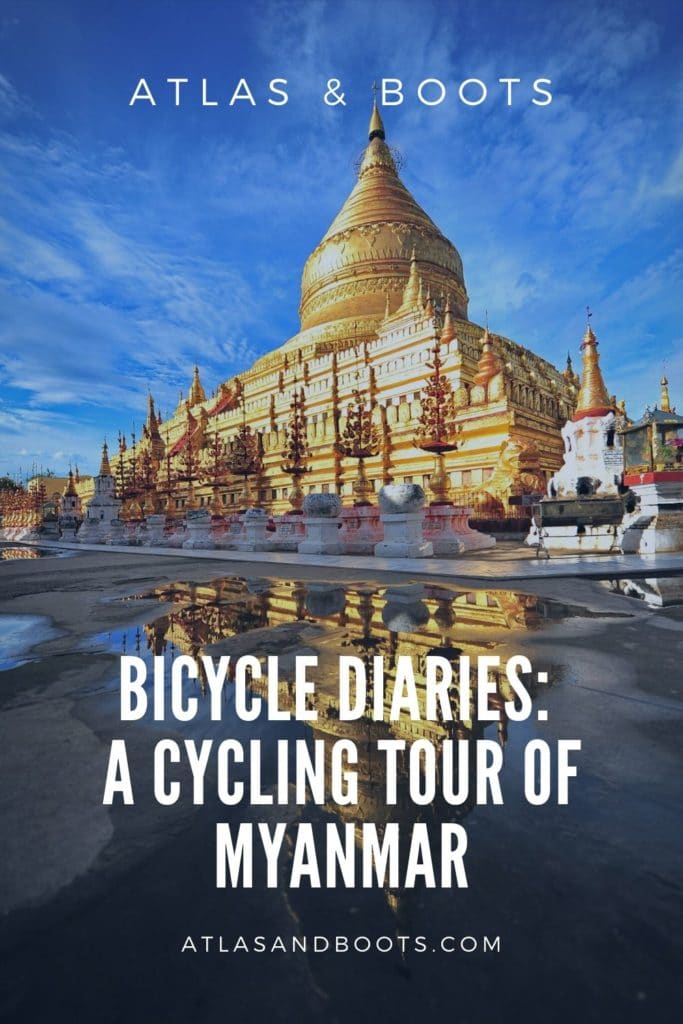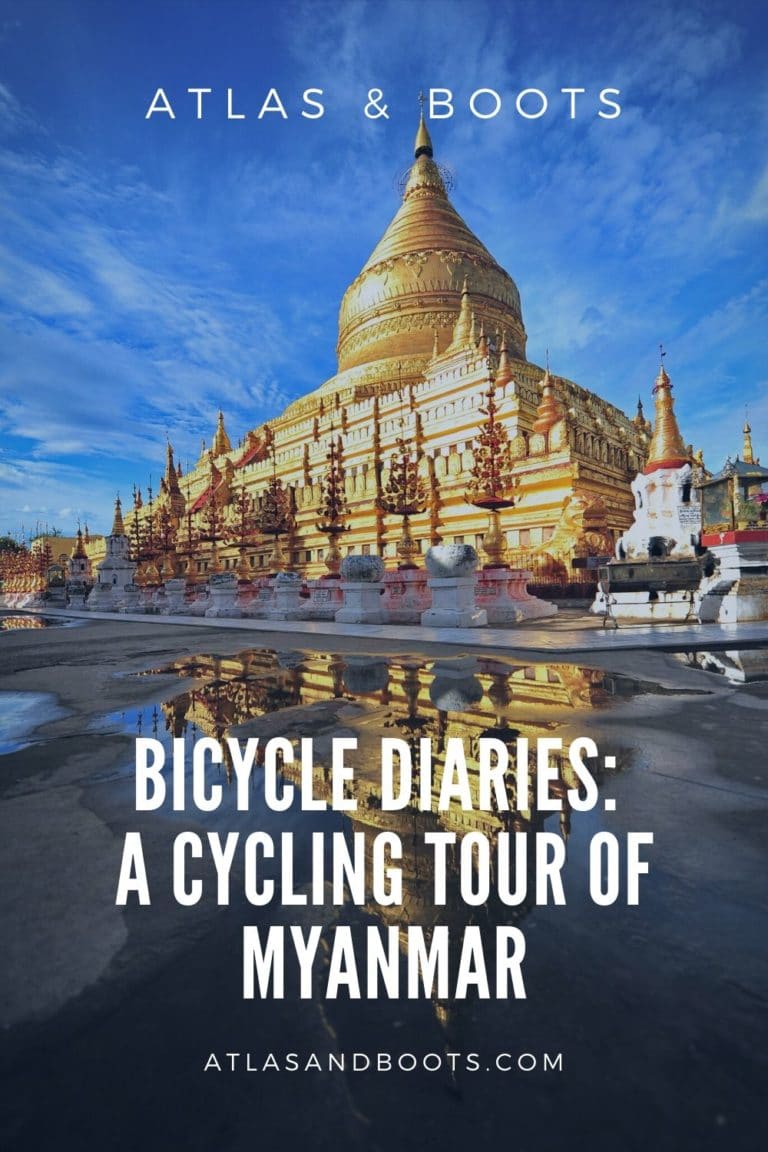 ---
Lonely Planet Myanmar is a comprehensive guide to Myanmar, ideal for those who want to both explore the top sights and take the road less travelled.
Disclosure: We travelled to Myanmar with support from G Adventures. All publications say this, but we really don't guarantee positive coverage. We say what we think – good and bad – so you can make informed decisions with honest advice.
Lead image: Atlas & Boots