While Peter went climbing in Russia, I opted for something far more amenable: horse riding in Montenegro
I was alone in more ways than one. I was travelling without Peter for the first time this year; I was the only non-French speaker on our seven-night tour; I was the only vegetarian in the group; and I was the least experienced rider by far.
'No matter,' I thought on Day 1. I could spend the week improving my riding and my French all at the same time.
As it turns out, the only vocabulary I learnt was the French word for leek (poireau), but my riding skills did improve leaps and bounds (literally) despite a few bumps.
My relative lack of experience became immediately obvious when we first met our horses on Day 2. I greeted Vranac, a sturdy male with a dark-chocolate coating, and began to stroke his mane.
Meanwhile, my fellow riders grabbed bristle brushes and hoof picks and began grooming their horses with fluid efficiency. I'd taken a dozen horse riding lessons in the past, but had never cleaned out hooves before.
Thankfully, Anne, a petite pensioner in leather boots and a cowboy hat came to my assistance. She showed me how to tickle Vranac's leg to prompt him to lift his hooves and helped me clean them properly.
Satisfied with my efforts, I mounted Vranac and soon we headed off. Immediately, I was struck by the landscape. I'd chosen the trip mainly because it coincided with Peter's climb in Russia and had had no idea that horse riding in Montenegro would be so beautiful.
Atlas & BOots
We spent the morning meandering through yellow meadows brimming with berries under a gently warming sun. The yawning landscape was perfect for riding: lush, colourful and fertile.
After four hours in the saddle, we stopped for lunch and as I watched the riders secure their horses with a quick release knot, I felt an acute ineptitude.
As Peter will tell you, I have an inexplicable issue dealing with gauges, clasps, zips, buckles, knots and locks (if this is a known disability, someone please tell me because it makes me feel like a fool). Needless to say, I had trouble tying the knot, especially as I'd never done one before. One of my fellow riders – this time, Mathilde – came to my aid and helped me tie (and retie) the requisite knot.
We ate a hearty lunch of kačamak (warm and buttery cornmeal mixed with local cheese) and punjena paprika (capsicum peppers stuffed with meat, rice and tomato), chased by rakija, a colourless brandy of 40% alcohol!
Soon, we were ready to ride once again. Back on our horses, we rambled through gentle pastures until the youngest rider in the group persuaded our guide to let us canter.
As we set off, Vranac – eager to gallop – flew past the horse in front. My lack of experience came to the fore once more as I failed to rein him in and he bolted out to the front. Adrenaline drummed in my ears and my thoughts flew back to my horse riding lessons for their most important rule: always remain calm. With this in mind, I relaxed my stance, then pulled and released and pull and released the reins until Vranac calmed back down.
With the day's drama over, we managed the rest of the afternoon without incident or accident. That came on Day 3. It happened on a mountain pass on a stretch of sheer rock. Our horses were navigating around the rocks slowly and carefully. I patted Vranac to reassure him that he was doing a good job. Alas, on one particularly slippery section, he lost his footing and went tumbling down on his left side.
Vranac took most of the impact but I too hit the ground, partly pinned beneath him. I felt a sharp tang of panic as he righted himself and I lost the reins with my left foot still caught in the stirrup. If he decided to bolt, I'd be dragged over the rocks. Vranac took a few unsteady steps forward but then, mercifully, he stopped. I shook free my foot and stood up quickly to avoid being trodden on.
Our lead guide, Millena, dismounted and checked my bones and bruises. Everyone (I most of all) was relieved to find that Vranac and I were fine. I wasn't in pain, but it was the first time I had fallen off a horse and when I held up a hand, I found that it was shaking. My shock soon turned to embarrassment and I was grateful for Millena's no-nonsense tone when she told me to get back on the horse. We were, after all, in the mountains and couldn't cover ground on foot.
Zipline footage: Mathilde Coolen
I reached my nadir on Day 4. I was sore from riding, bruised from falling and hot and bothered by my long-sleeved top which left me stewing in the heat. As we sat down to lunch and the conversation flowed around me in French, I silently counted the remaining days of riding. Could I really do three more days in the saddle? Could my weary calves take another 15 hours of riding? Could my British sensibilities handle three more days of an amateur's embarrassment?
Luckily, that afternoon, things took a turn for the better. Millenna swapped my strong, spirited horse for a calmer, gentler one. Suddenly, riding became a dream. My new horse, Mališa, was quiet and docile, and I was delighted to join the slower contingent at the tail end of the group.
On Day 5, the soreness wore off and I began to revel in the ride. Over the preceding days, my fellow riders had been extremely helpful in improving my technique. I now felt stronger and more confident than I had ever done before. We rode past glittering green lakes and high mountain passes through the dramatic Durmitor National Park and, my God, it was stunning.
Soon, I was confident enough to canter again and came to understand why the group was always so keen to go faster. That moment when a horse changes its gait and shoots off at speed is utterly thrilling. It snaps through your sinews and sparks through your blood until you think you'll literally lose your breath.
Video: Mathilde Coolen
After six days of riding, we spent our final day rafting Tara River and ziplining across Tara River Canyon which runs 82km (51mi) long and 1,300m (4,300ft) at its deepest point. As the week drew to a close and I readied for my last night in Montenegro, I thought over the week's events.
There had been highs and lows and at times I feared that I just wasn't experienced enough for the trip, but the patience of my fellow riders was inexhaustible and their guidance, invaluable. They helped me through the cuts and bruises and literal missteps. They saw me through the nadir of Day 4 to Day 6 when I could fully appreciate the thrill, the freedom, the unutterable joy of riding as one with a horse. It's not an overstatement to say that I've rarely felt more alive.
Horse riding in Montenegro: the essentials
What: Horse riding in Montenegro with Unicorn Trails. The seven-night Mountain and Lake Ride comprises six days in the saddle and covers 130km to 150km in total (four to seven hours of riding per day).
Where: We stayed in a mixture of eco cabins and mountain huts, usually with shared bathrooms. Riders can request private rooms but this isn't guaranteed given that there is limited accommodation in the mountains.
Rooms are warm and comfy and the food is plentiful. Vegetarians can be catered for with prior notice (do remind your guide once you arrive).
When: The best time to go horse riding in Montenegro is June to September when the weather is warm and sunny. Make sure to pack layers and a raincoat as it can get cold and rainy in the mountains even in the height of summer.
How: I went horse riding in Montenegro with Unicorn Trails, a specialist tour company with nearly 20 years' experience in riding holidays. I chose Unicorn Trails because of their commitment to responsible tourism in the sector. The company was founded by a veterinary surgeon and horse lover, and therefore has a proactive approach to responsible tourism. Peruse their trips to Montenegro here or explore their full list of destinations. Tel: 01767 600 606, email: info@unicorntrails.com.
Several international airlines fly to Montenegro. I had a super early flight, so booked a night at ibis Styles London Heathrow Airport. Rooms are quiet, comfortable and stylish (as the name suggests). There is complimentary high-speed wifi, an onsite restaurant and – best of all – express buses to Heathrow terminals at all hours. I left at 4.10am and was past security exactly 23 minutes later: perfect for a late night or early start!
Book flights via skyscanner.net for the best prices.
---
Enjoyed this post? pin it for later…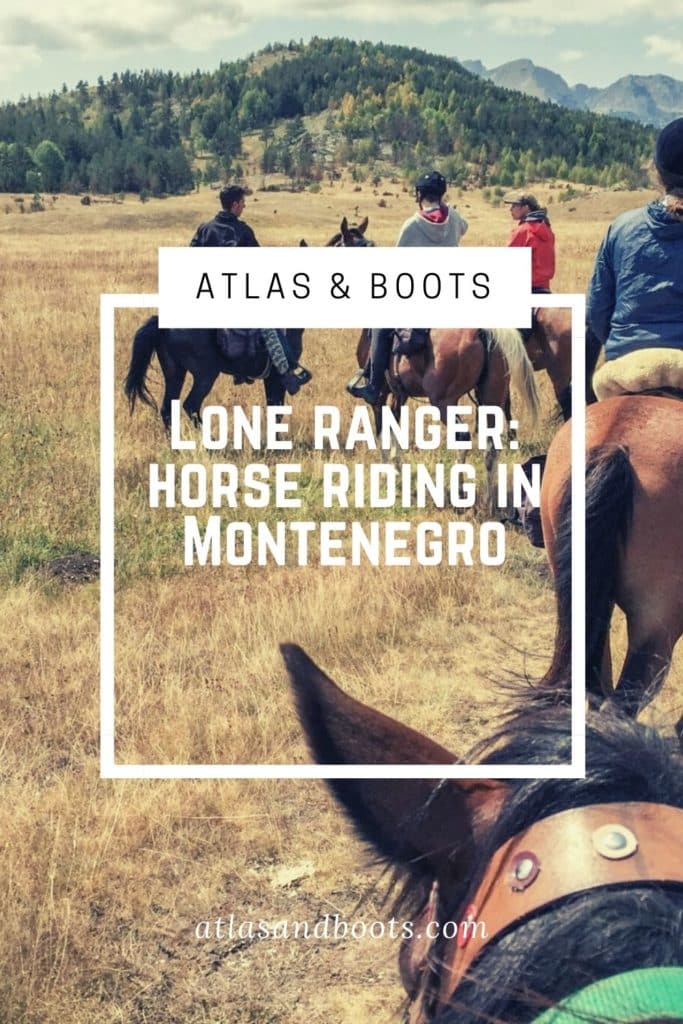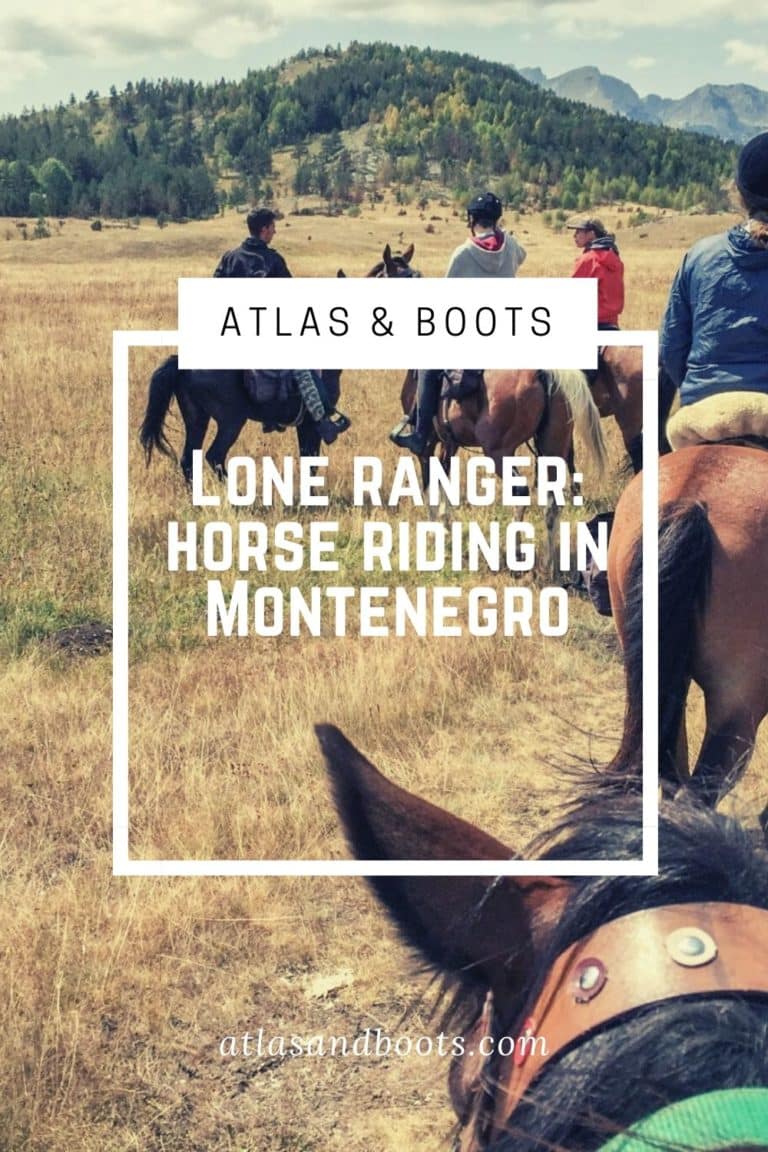 ---
Lonely Planet Montenegro is a comprehensive guide to Montenegro, ideal for those who want to both explore the top sights and take the road less travelled.