An at-a-glance guide to choosing between Kruger National Park and the private game reserves in South Africa

When it came to planning our trip to South Africa, Kia left me to my own devices, knowing how much I enjoy poring over maps and researching potential routes. Mostly, this is fun but also occasionally stressful as I know I'll be responsible if things go wrong.

With this in mind, I took pains to answer a central question: what are the pros and cons of Kruger National Park vs private game reserves in South Africa?

A safari in South Africa is a bucket-list item and I didn't want to get it wrong. As such, I spent a good few hours trawling through guidebooks and blog posts to weigh up our options. To save you the same trouble, I've collated my findings below to provide an at-a-glance guide to choosing between Kruger National Park and the private game reserves in South Africa.

Kruger National Park in brief
Kruger National Park is one of the world's best destinations for watching wildlife. Covering an area of 19,485km2 (roughly the size of Wales!), the park boasts an abundance of the 'big five' game animals (lion, leopard, rhino, elephant and buffalo) as well as 142 other mammals including cheetah, giraffe, hippo, zebra and hyena.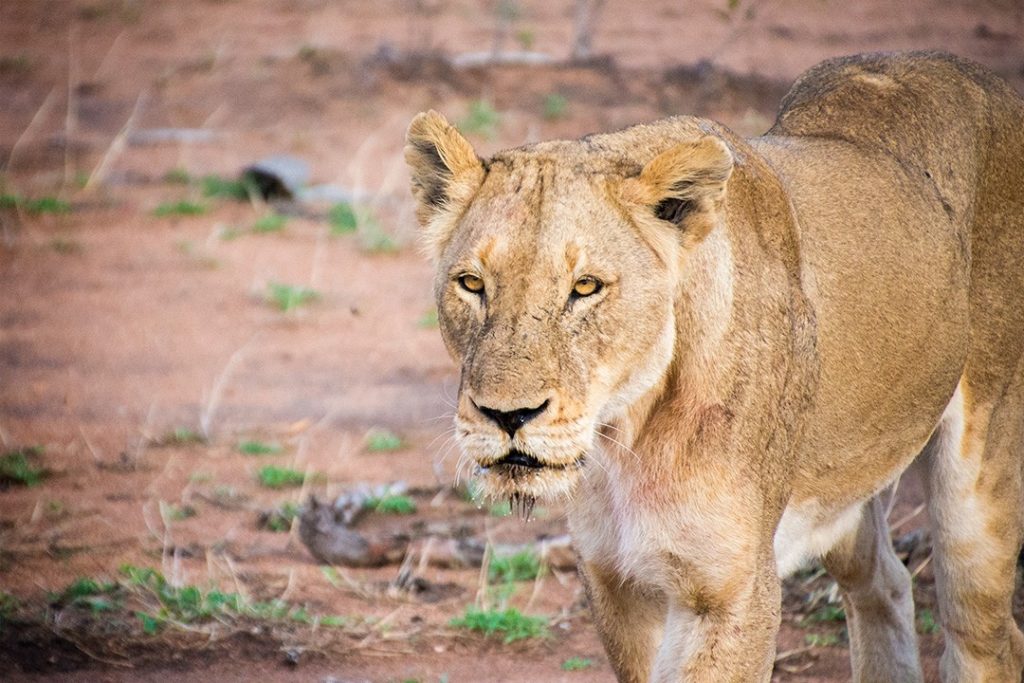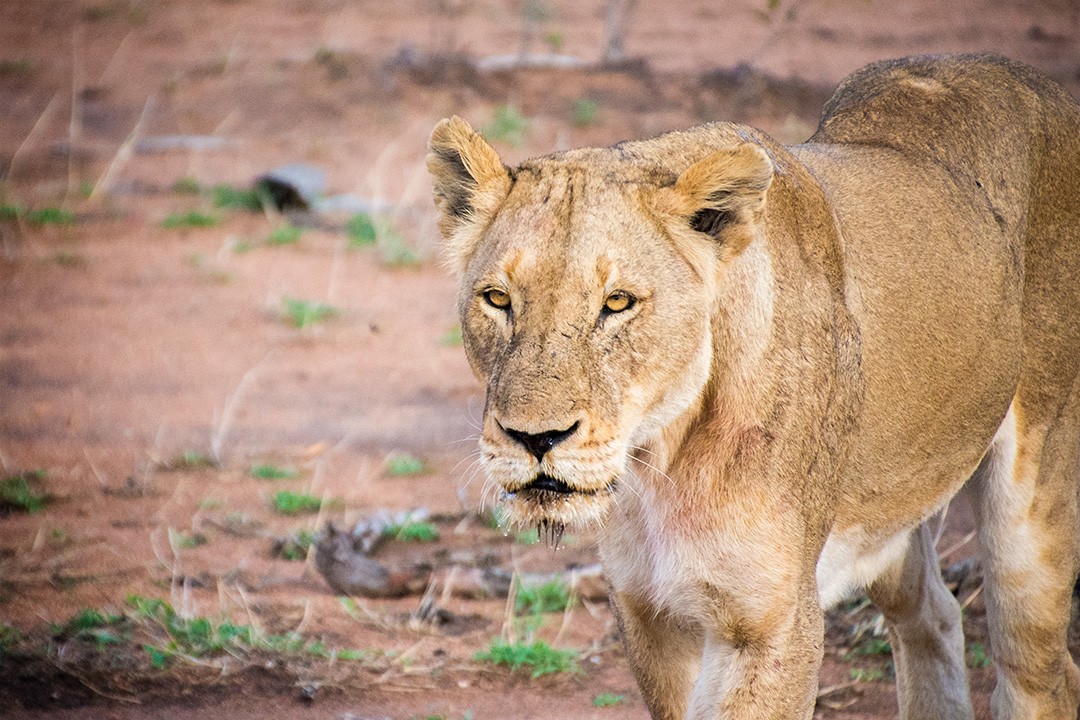 Named after Paul Kruger, former president of the South African Republic, the park was protected in part in 1898 and became South Africa's first national park in 1926.

In 2002, Kruger National Park joined with Mozambique's Limpopo and Zimbabwe's Gonarezhou. The resulting Great Limpopo Transfrontier Park became the largest game park in Africa, allowing for the free movement of animals over one of the largest protected wildlife areas in the world.
Private game reserves in brief
The 'Greater Kruger Park' refers to Kruger National Park (managed by the government through SANParks) and the adjacent private game reserves, some of which share unfenced boundaries with Kruger.
The private game reserves in South Africa are more expensive but also more comfortable. Sabi Sands is the most luxurious of them (and therefore the most expensive). Other private game reserves in the area include: Balule, Kapama, Klaserie, Makalali, Manyeleti, Thornybush and Timbavati among others.
We stayed at Honeyguide Khoka Moya Camp in Manyeleti Game Reserve. Manyeleti, owned by the local Mnisi tribe, is the only park that permitted entry to black South Africans during apartheid.

Have a look at this map for an idea of the overall layout of the private game reserves in Kruger.
Kruger National Park vs private game reserves

We list below pertinent information to help you choose between Kruger National Park and private game reserves in South Africa.

Private game reserves
National park (public)
Big 5
Yes
Yes
General sightings
Good

Most lodges are in the south which offers frequent leopard sightings. Guides share information, making it easier to locate game (although radio contact can be distracting).
Good

Depends on your ability to find animals if self-driving. Bigger herds, larger variety of animals.
Crowd level
Low

Even when lodges are full, guides limit vehicle numbers at sightings.
High

Very busy over school holidays (Dec-Jan, Easter and Jun-Jul). Expect tour buses, commercial restaurants and uncontrolled number of vehicles at sightings.
Vehicle limit at sightings
Yes
No
Self-drive
No
Yes
Off-roading
Yes
No
Guided game drives
Yes

Some lodges limit number of people per vehicle so that everyone has a window seat.
Yes

These may have 10 people per vehicle so not everyone will have a window seat.
Dedicated tracker
Yes
No
Private game drives
Yes
No
Night drives
Yes
No

Game drives are limited to daylight hours. The exception is if you book an evening drive with SANParks. Private operators and self-drive tourists can't drive after dark.
Area covered
Limited

You will see a small part of Greater Kruger with minimal variation in landscape.
Wide-ranging

Greater distances, greater variety of landscapes and vegetation.
Guided walking
Yes

Usually offered as standard.
Yes

You can book a guided walk with SANParks rangers.
Flexibility
Rigid

The daily schedule at private game reserves is usually quite fixed.
Free
Accommodation
Luxury

Lodges with AC, private pools, wifi and spa facilities.
Basic

Bungalows with AC, private bathroom and kitchen; simple huts with shared bathrooms and kitchen; camping. There are some private lodges inside the park but they use the same roads as everyone else, so aren't great value for money.
Food
High standard
Basic standard
Self-catering
No
Yes
Price point
High to sky high
Standard
Our recommendation

Kruger National Park offers opportunity to see bigger herds and a wider variety of animals. The landscape is more diverse and the cost is much more manageable.

With that said, if you can afford it, we recommend a private game reserve for all the reasons listed above. The cost is a major consideration of course. We spent a lot more per night than we usually would, but our philosophy is that if you're flying all the way to South Africa for a once-in-a-lifetime safari, there's no point scrimping when you actually get there.
Good luck and let us know in the comments if you have any questions.
---
Enjoyed this post? pin it for later…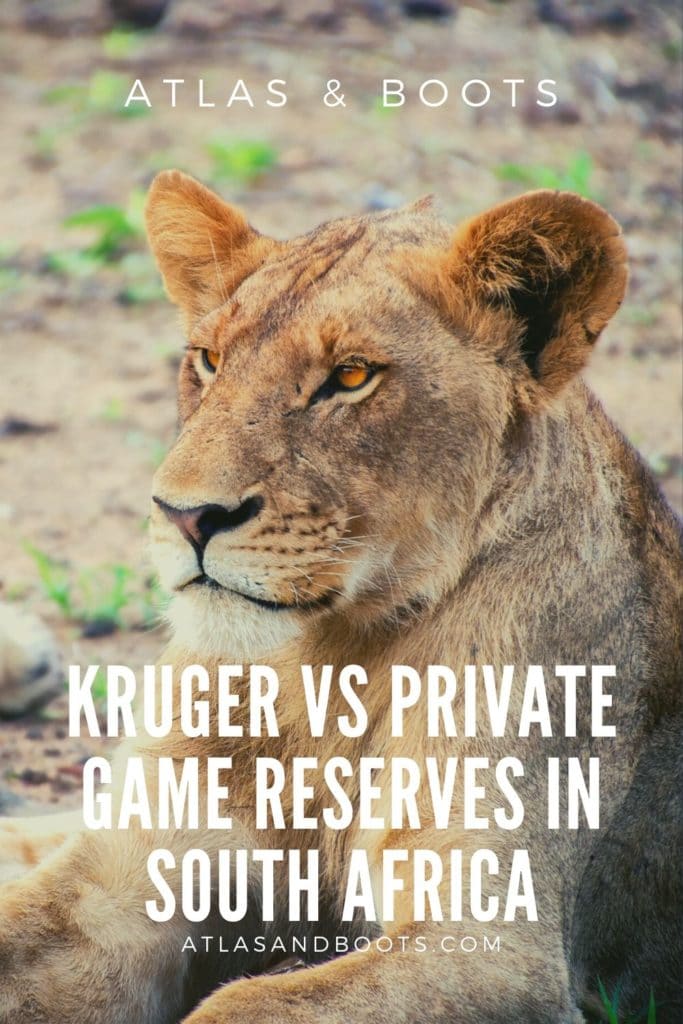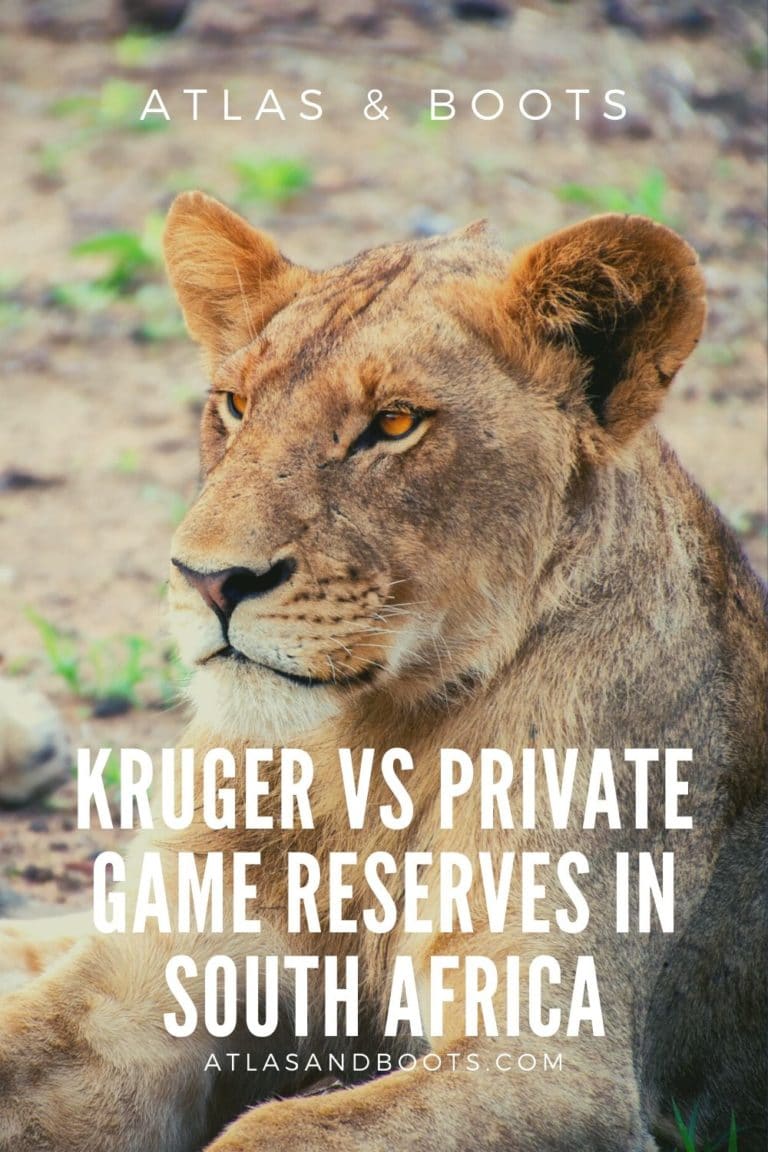 ---
Lonely Planet South Africa, Lesotho & Swaziland is a comprehensive guide to visiting South Africa, ideal for those who want to both explore the top sights and take the road less travelled.