Boulders Penguin Colony near Cape Town is home to 3,000 African penguins – but does it live up to the hype?
The 'African Penguin' is a contradiction in terms. Somehow, the hottest continent on Earth is home to a bird most often associated with the coldest: Antarctica. And yet, the three species of penguin I've seen have all resided in warm climes: the Galápagos Penguin off Isabela Island which lies right on the equator, the Little Penguin in super-dry, super-hot Australia and now the African Penguin in Boulders Penguin Colony in South Africa.

If you're familiar with Cape Town, you'll know Boulders Penguin Colony in Simon's Town 40km to the south.

Boulders Penguin Colony

Boulders is home to a land-based colony of 3,000 African Penguins. It is one of a handful left in the world and has become a popular tourist destination.

Located in Table Mountain National Park, Boulders comprises three beaches, a viewing area and boardwalks designed to maintain distance between penguins and visitors.

Atlas & BOots
In photographs of Boulders Penguin Colony, the birds seem to carpet the sand, such are their numbers. If they're not lazing, they're waddling along, toppling over, braying noisily and generally acting like extras for Pixar.
Behind the idyllic scenes, however, lies a sobering truth: their numbers have plummeted so starkly that African penguins are now officially endangered.

An endangered species

In 1910, there were an estimated 1.5 million African penguins in the world. In 1956, the first complete census of the species determined that there were 150,000 breeding pairs left.

By 2009, this plunged to 26,000 breeding pairs, signifying a loss of over 80% in 50 years. In 2010, the African Penguin was officially classified as endangered.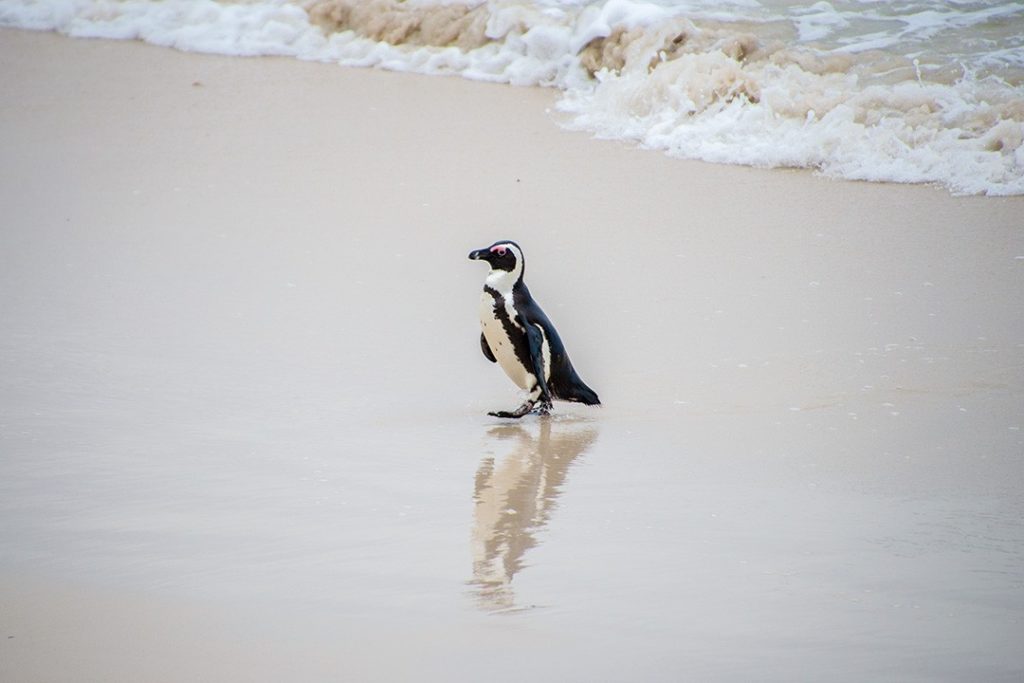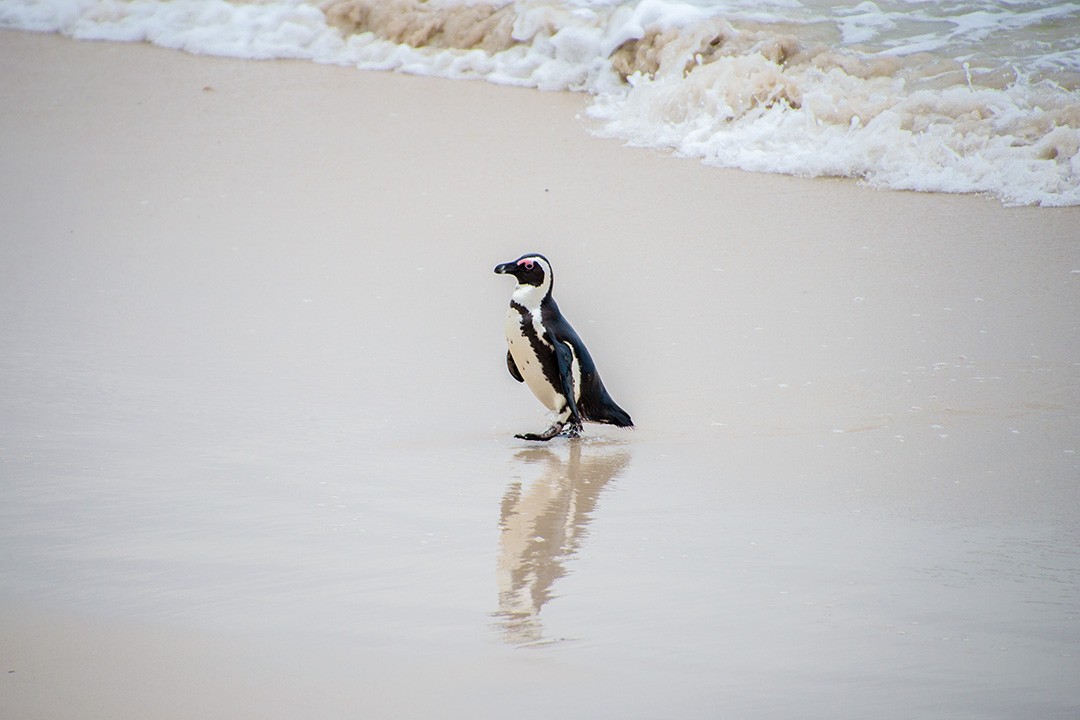 Boulders Penguin Colony was "founded" when two breeding pairs settled there in 1982. Numbers increased from surrounding island colonies and breeding numbers grew to 3,900 penguins in 2005. Alas, numbers have started to decrease again and currently stand at around 3,000.

Causes of decline

The decline of the African Penguin is caused by several factors. Climate change and the overfishing of pelagic stocks are making food more scarce while habitat destruction is leaving colonies vulnerable to predators, excess heat and flooding.

African penguins also live along a major oil transportation route and have been exposed to spills with disastrous results.

The 1994 MV Apollo oil slick is thought to have killed 5,000 African penguins while the 2000 MV Treasure spill oiled 19,000 penguins, killing nearly 10% of them and prompting the evacuation of a further 19,500, many of which suffered exposure to parasites and vector species after being brought inland.

The penguins at Boulders are affected in addition by vehicles on the adjacent road, domestic pets from the nearby beachfront development and irresponsible tourist behaviour (e.g. selfie sticks through fences, littering, removal of marine life and material).
To help, consider donating to SANCCOB, a registered non-profit which aims to reverse the decline of seabird populations like the African Penguin.
Our visit to Boulders Penguin Colony

As with many popular sights, I wondered if magazine spreads and Instagram posts were cleverly shot to heighten appeal. Would we really see hundreds of penguins carpeting the sand at Boulders?

I'm pleased to report that there is no exaggeration. The numbers are genuinely staggering. We walked the length of the boardwalks to watch the penguins waddle, swim and play. Needless to say, we were thoroughly charmed.

It has to be said, though, that the experience lacked some of the magic of seeing Galápagos penguins in Isabela and little penguins in Australia. The proximity to the road and beachfront development, the shops and stalls lining the thoroughfare and the sheer number of tourists made it feel a little contrived.

It's said that 60,000 people visit Boulders Penguin Colony annually. This averages to 165 people a day which doesn't seem very high compared with what we saw. Admittedly, we arrived at the same time as a big tour bus, but I suspect numbers are consistently high during peak season.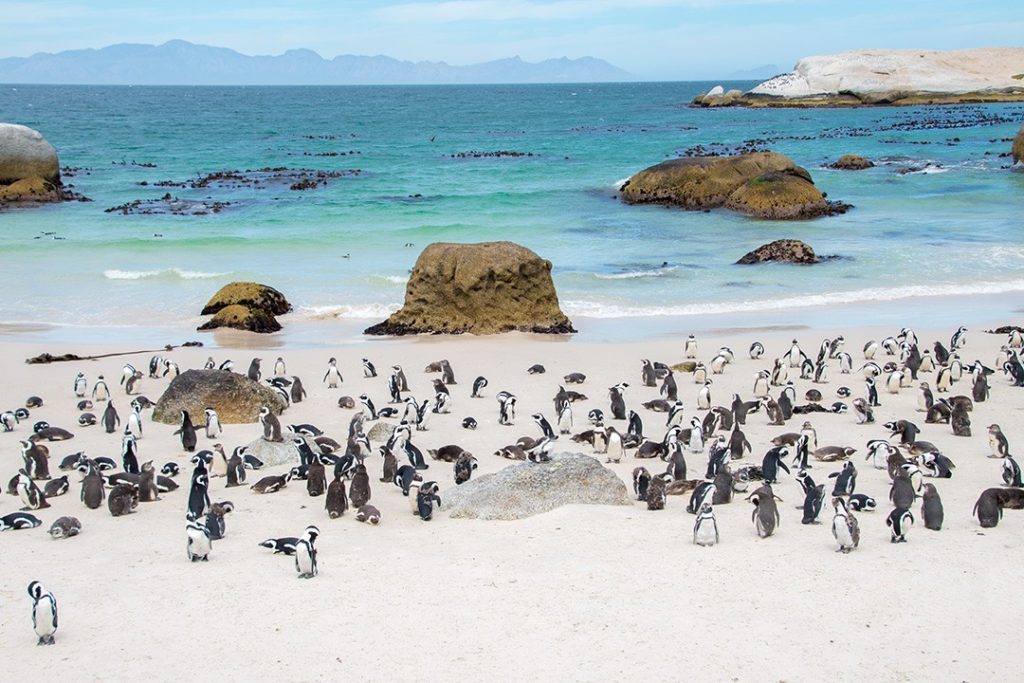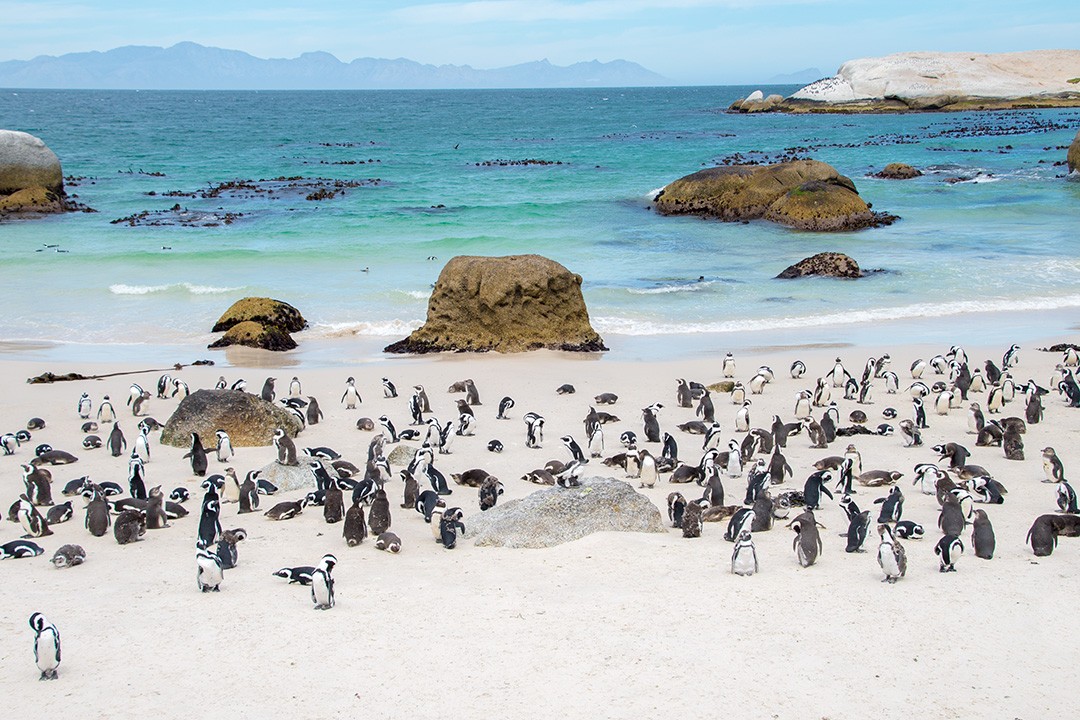 Nonetheless, a visit to Boulders Penguin Colony cannot be forgone on a visit to Cape Town. Seeing so many penguins probably won't change your life, but it will definitely make your day.

Boulders Penguin Colony: the essentials

What: Visiting Boulders Penguin Colony near Cape Town.

Where: We stayed at The Grand Daddy, a boutique hotel on Long Street, a 15-minute walk from the V&A Waterfront. The hotel is elegant with distinctly quirky touches: the reception desk is constructed from vintage suitcases, the rooftop has seven artistically renovated Airstream trailers and the elevator is said to be the oldest still operational in Cape Town.

The Grand Daddy
The on-site restaurant serves a great breakfast and the nearby Bombay Brasserie offers excellent fine dining at a reasonable price. The Grand Daddy is a great base, but do note that the 'Standard' level room has no natural daylight. We were moved on request (after a bit of wrangling with a receptionist). Book a 'Superior' or 'Luxury' room to avoid this.

When: The best time to visit Boulders Penguin Colony is during the warm summer months of Nov-Apr. Temperatures peak between Dec-Feb and this is also the busiest period. Arrive at opening time or an hour before closing time to beat the crowds.

If pairing Cape Town with a safari, note that game viewing is best during the dry winter (May-Oct) as animals gather around water holes and the lack of vegetation gives guests a clearer view. In spring (Nov-Dec), you can spot lots of newborns.

How: Boulders' official site doesn't list opening hours. Lonely Planet quotes them as below:

Dec-Jan: 7am-7.30pm
Feb-Mar, Oct-Nov: 8am-6.30pm
Apr-Sep: 8am-5pm
Visitors must pay a conservation fee of 152 ZAR per person (about $10 USD). Check the latest tariffs and consult the brochure for more information and contact details.

We hired a taxi for the day through our hotel reception ($70 USD which included a trip to Cape of Good Hope and Cape Point). Make sure you agree the daily rate and hours of work with the driver beforehand. If you self-drive, arrive early to ensure you find parking. We organised logistics en route using Travel SIM which works in numerous countries with a single card and phone number.

You can also visit Boulders with City Sightseeing's Cape Point & Penguin Explorer Tour or, for public transport, catch a train from Cape Town Station to Simon's Town (opt for a First Class ticket). From Simon's Town you can either take a 30-minute walk through the historic naval town or catch a taxi.

We flew to Cape Town with South African Airways. Book flights via Skyscanner for the best prices.
If you have time, we recommend visiting Lesotho and Eswatini (Swaziland) during your trip to South Africa.
---
Enjoyed this post? pin it for later…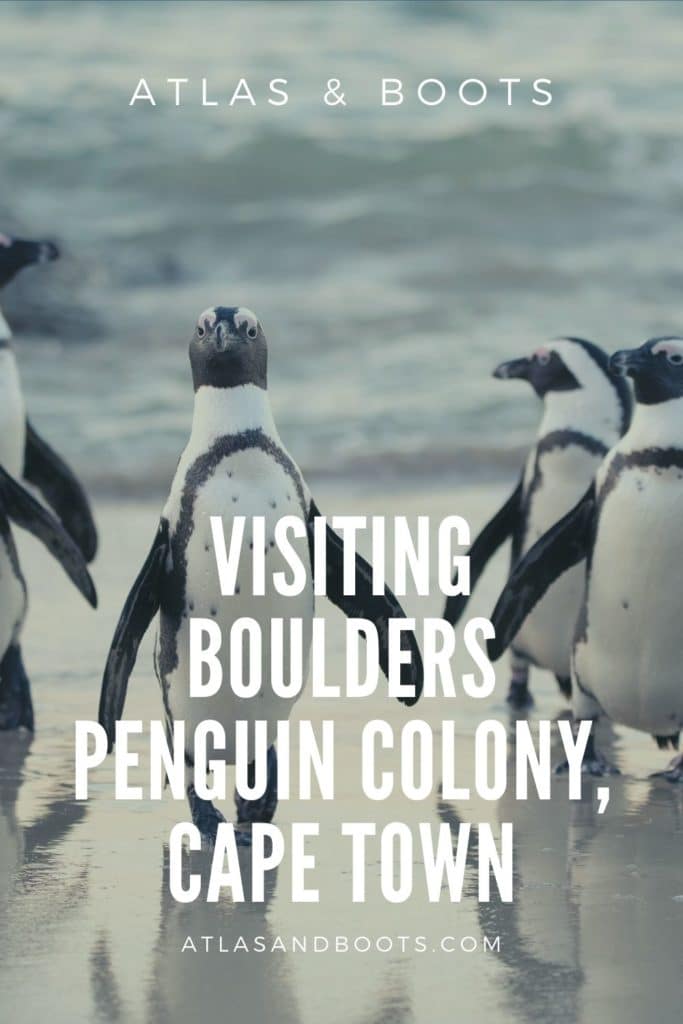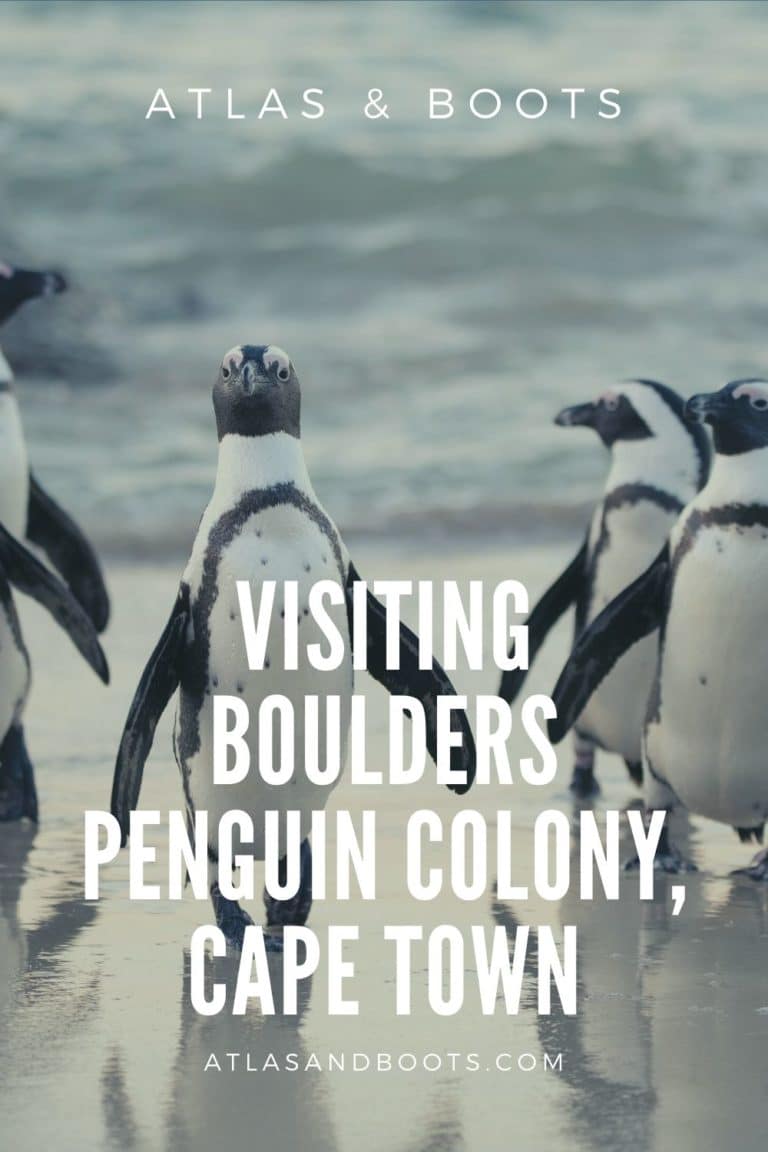 ---
Lonely Planet South Africa, Lesotho & Swaziland is a comprehensive guide to visiting South Africa, ideal for those who want to both explore the top sights and take the road less travelled.