Essential Mont Saint-Michel tips for visiting the most fantastical building in France
When it comes to French architecture, there are myriad contenders for the throne. The most notable is the Eiffel Tower, a world-famous symbol of Gallic ingenuity. Then there's the Louvre, possibly the world's most famous museum. After that we have the Notre Dame and, in any chosen order, the Arc de Triomphe, Sacre Coeur, Palace de Versailles and the Panthéon.
Less famous but more impressive is Mont Saint-Michel, Normandy's abbey on a rock in a bay.
The fairytale complex of Mont Saint-Michel dates back as far as the 8th century. Legend has it, the archangel Michael appeared in 708 AD to the bishop of Avranches and instructed him to build a church on the rocky islet.
A monastery and abbey were erected over subsequent centuries, complete with fairytale flourishes: soaring spires and hulking ramparts that rise dramatically from the sea.
Historically, Mont Saint-Michel was connected to the mainland via a tidal causeway (a path accessible only at low tide). Today, it is reached via a permanent walkway raised above the water below.
Mont Saint-Michel tips
We spent two days at Mont Saint-Michel and gathered the following tips for readers and future visitors.
1. Do check the tides
Mont Saint-Michel becomes an island only when the tides are very high – AKA, a supertide. As such, you will likely see the site as shown in the first picture below instead of the second.
If you are keen to see Mont Saint-Michel as an island, check the tide information and plan your visit around the very highest tides (on the right in the schedule).
It's worth noting that we visited at normal tide and were delighted nonetheless, so don't be put off visiting outside of highest tide.
2. Do stay on the island itself
Most tourist advice will tell you to spend a day on the island. Our advice is to spend the day and night.
Staying on the island is more expensive but gives you early morning and late night access away from the tourist masses.
Staying on the mainland offers extraordinary views of Mont Saint-Michel and costs less, but doesn't give you the eerie, magical experience of staying on the island itself.
We chose the first option and were deeply glad that we did. We enjoyed late evening walks around the complex and had much of it to ourselves.
3. Don't get caught out by the car park
If you are visiting by car, note that you must park on the mainland and take a (free) shuttle across the bridge. There is a separate car park for those staying overnight so make sure you obtain the access code from your hotel beforehand.
Note that parking prices work on a 24hr basis so if you leave even five minutes after your 24 hours is up, you will have to pay for a full extra day.
4. Don't take the horse and carriage
This is subjective but we thought that the customer load per carriage was high. We saw carriages of 10-20 people being pulled by two horses and felt that this was too much. As such, we encourage readers to take the free shuttle across the bridge, or indeed, walk!
5. Do explore the surrounding land – carefully!
The land around Mont Saint-Michel offers extraordinary views when the tide is out. Peter spent some hours exploring the area and photographed some stunning scenes.
Be careful if you venture out. Mont Saint-Michel is famed for its tidal variations; the waters sweep in at an incredible pace, said to be as fast as a galloping horse. The surrounding plains are also said to harbour indiscernible patches of quicksand.
There are guided tours around the area so do book onto one if you are keen to explore beyond the immediate vicinity.
6. Don't lose your patience
Despite its relative obscurity, Mont Saint-Michel still attracts almost three million tourists per year. This is an average of 8,000 per day(!) so do expect crowds.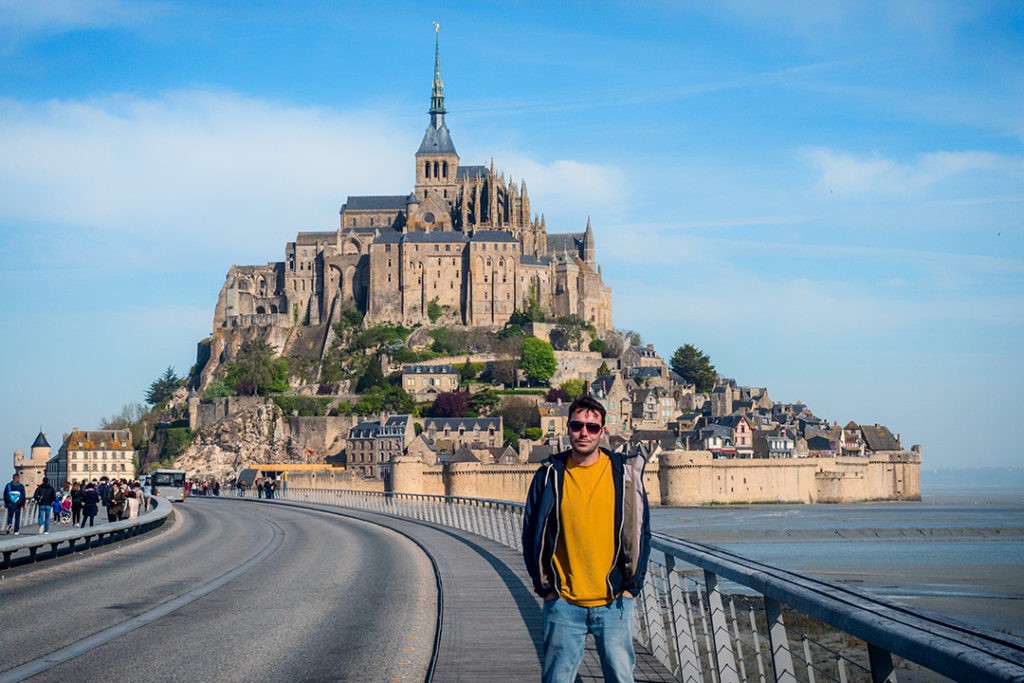 On immediate entry to the complex, you may find yourself at a standstill among the masses. Be patient. After all, you're part of the masses too!
The large coach groups tend to arrive around 9.30am and leave by 4pm so you may wish to visit the abbey outside of these times (€11 EUR per person).
7. Do try the famous Mont Saint-Michel omelette
We stayed at La Mère Poulard, arguably the island's most famous abode. The adjoining restaurant was founded by Anne Boutiaut who married the eponymous Victor Poulard and had the idea of creating giant omelettes in a wooden hearth to preserve them.
The restaurant became famous for this signature dish (more a souffle than an omelette) and today serves them to tourists from far and wide.
The omelette which comes as a starter, main or dessert isn't cheap (up to €49 EUR a plate) but is worth sampling if you have the budget. The cosy restaurant is lined with autographs of famous diners and bursts with Gallic charm.
8. Do explore Mont Saint-Michel after dark
If you stay on the island as advised, do explore after dark – inside and outside its walls. We recommend dining at Le Relais Saint Michel on the mainland for a stunning twilight view of Mont Saint-Michel and returning to the island after dark.
We explored eerily empty alleys and pathways late into the evening where all was quiet but the wishing of the waves.
9. Do walk over the bridge
We recommend walking over the bridge at least once. It is long and cold (and so, so windy!) but it's worth it for the varying views and angles.
We walked over the bridge once during the day and once at night (2km / 1.2mi). Needless to say, there were countless stops for photo opportunities.
10. Don't forget your coat!
Given its position, Mont Saint-Michel is regularly buffeted by wind and water which makes for a brisk temperature even in the height of summer.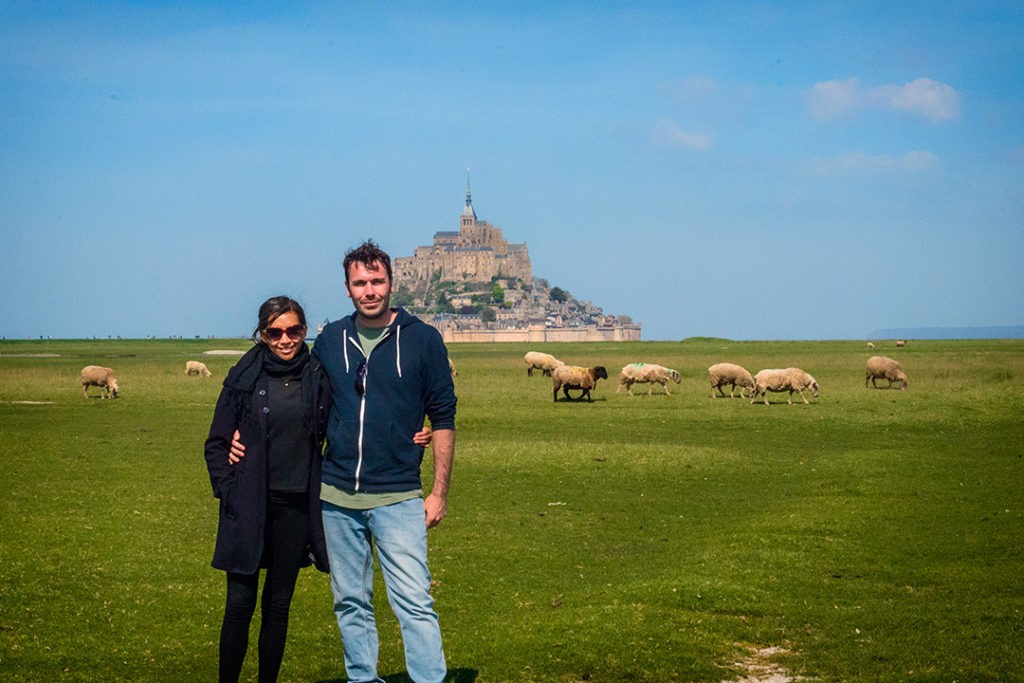 We gravely underestimated how cold it would be and I was in serious danger of losing my temper seeing as Peter broke my 'keep me fed, keep me warm and I'm happy' rule. Don't make the same mistake. Take multiple layers and if you plan to walk over the bridge, gloves and a scarf as well!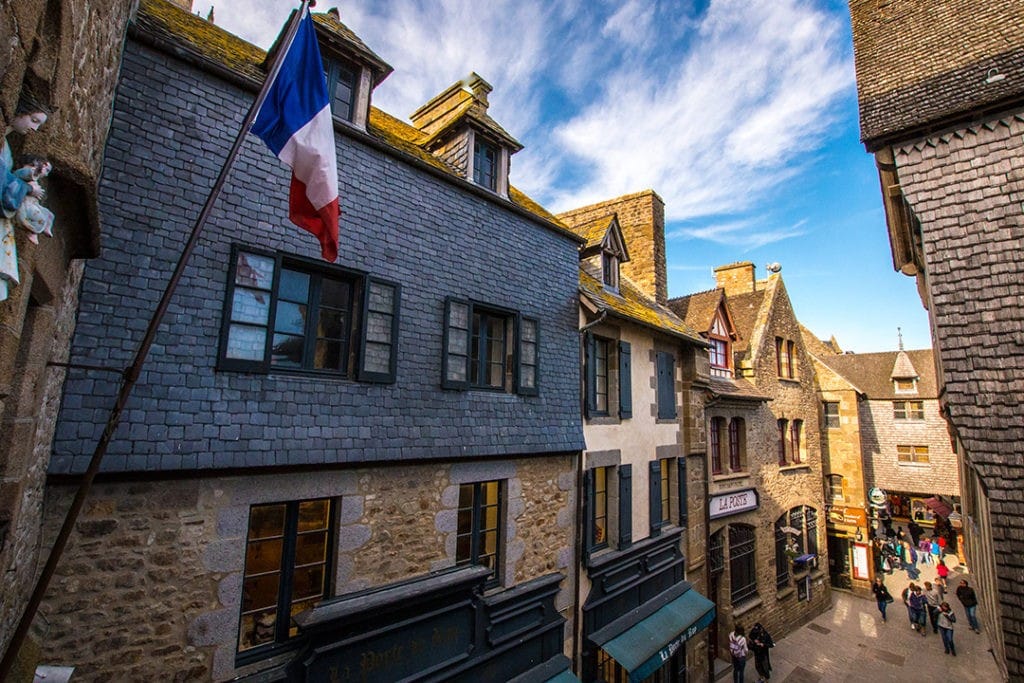 Atlas & Boots
A few more shots from our visit
the essentials
What: Essential Mont Saint-Michel tips for visiting the most fantastical building in Normandy, France.
Where: We stayed at the famed hotel and restaurant La Mère Poulard. Located on the island itself, the hotel is the epitome of old European charm. The rooms cannot be described as modern but the classic decor and historical setting are whimsical and charming in a slapdash sort of way. Think of a Wes Anderson caper set in Jean-Pierre Jeunet's France.
We dined at La Mère Poulard for our first night and tried Le Relais Saint Michel on the mainland for our second. The former is worth a visit for its famous omelette while the latter provides a perfect view of the fairytale abbey. Highly recommended.
When: The best time to visit Mont Saint-Michel is March to October when the weather is at its best. July to August is the high season so crowds are at their highest. The low season runs from November to February when the weather is at its worst.
If you would like to see Mont Saint-Michel fully surrounded by water, check the tide schedule before planning your visit.
How: Brittany Ferries operates a route between Portsmouth in the UK and St Malo in France, the nearest port to Mont Saint-Michel. Return fares for a car are priced at £589 and include a comfortable four-berth cabin with TV, en-suite facilities and entrancing views of the Channel.
Mont Saint-Michel is 56km (35mi) from St Malo. Car parks are available on the mainland for day visitors and overnight visitors. Note that parking prices work on a 24hr basis so if you leave even five minutes after your 24 hours is up, you will have to pay for a full extra day.
Visiting the island is free but the entrance fee to Mont Saint-Michael Abbey is €10 EUR per person (prices here).
You cannot drive right up to the island. Instead, take a free shuttle or opt to walk over the bridge (approximately 2km / 1.2mi).
DFDS Seaways also operate several routes between the UK and France, the nearest one to Mont Saint-Michel being the Newhaven-Dieppe route. Although it is a much longer drive at 3.5 hours / 306km (190mi), return fares for a car are cheaper starting at £102.50.
---
Enjoyed this post? pin it for later…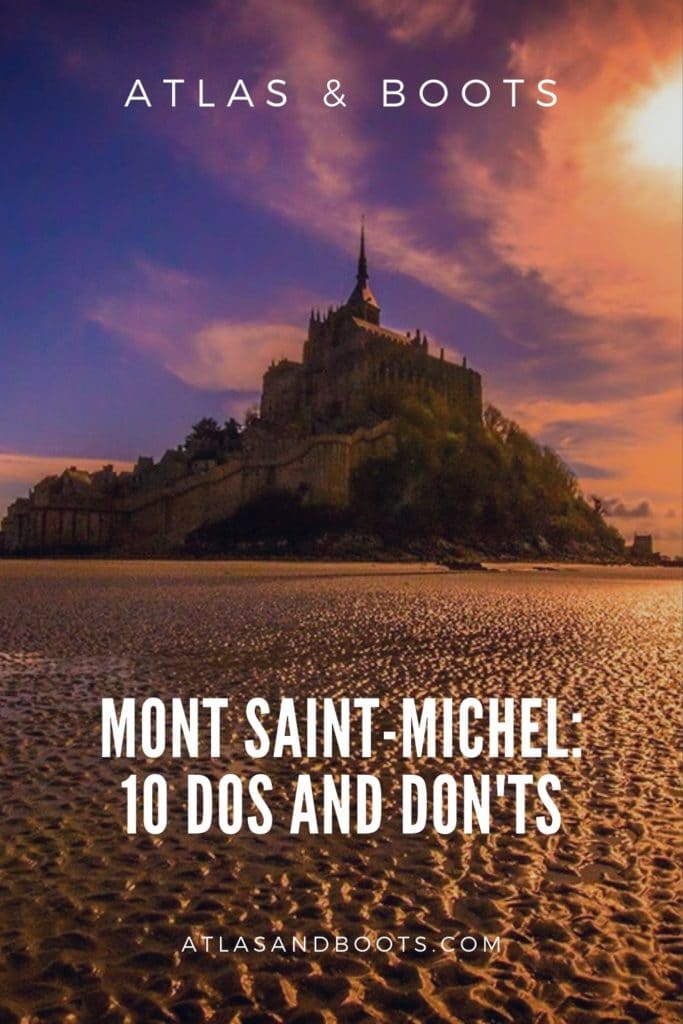 ---
Lead image: Atlas & Boots