The world's most stressed countries have been announced with Afghanistan named the most stressed nation
How did you feel yesterday? Did you feel physical pain? Experience enjoyment? Worry? Anger? What about stress?
These are the questions put to 127,000 interviews with adults in 121 countries and territories as part of the Gallup Global Emotions Report, which measures life's intangibles – feelings and emotions – that traditional economic indicators such as GDP were never intended to capture.
The report creates a number of indexes, ranking countries by the percentage of people who answered 'yes' to a particular question such as 'Did you experience stress during a lot of the day Yesterday?'
World's most stressed countries
Unsurprisingly, Afghanistan has been named the world's most stressed country. The country saw the Taliban take control in August 2021 as foreign forces pulled out of the country. Afghanistan is closely followed by Lebanon and then Turkey, Ecuador and Jordan.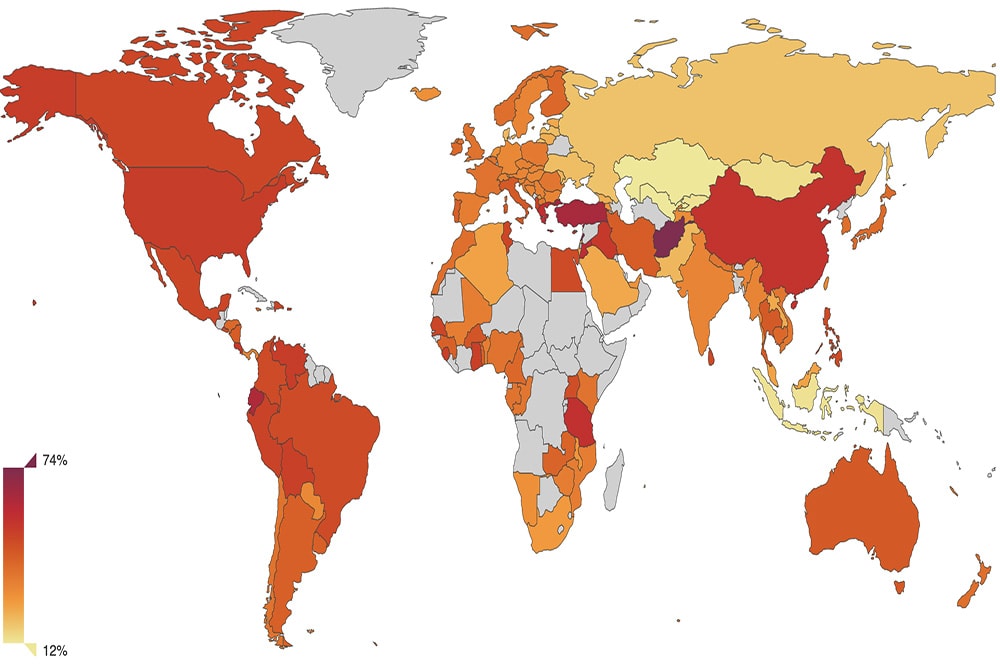 The world's 10 most stressed countries are:
Afghanistan
Lebanon
Turkey
Ecuador
Jordan
Greece
Tanzania
China
Iraq
Cyprus
World is under even more stress
2021 displaced 2020 as the most stressful year in recent history, with a new record-high four in 10 adults (41%) saying they experienced a lot of stress during the previous day.
This result may not be surprising, claims the report, as the world is reeling from multiple wars, inflation and the effects of a global pandemic. Any one of those would make the world worse but many countries are also experiencing a cost of living crisis.
However, globally, not everyone is feeling this to the same degree. Reported stress varied from a high of 74% in Afghanistan and Lebanon to a low of just 12% in Kazakhstan and Uzbekistan, where stress levels have historically been low and remained low.
Some of the results are surprising. Global studies and indexes such as the World Happiness Report frequently rank sub-Saharan African countries poorly while Nordic countries usually rank well.
Other consistent high performers are European nations along with the likes of Canada, Singapore, Australia and New Zealand.
These reports typically imply that the richer the country, the better the quality of life. Likewise, there is usually a strong correlation between poverty and unhappiness.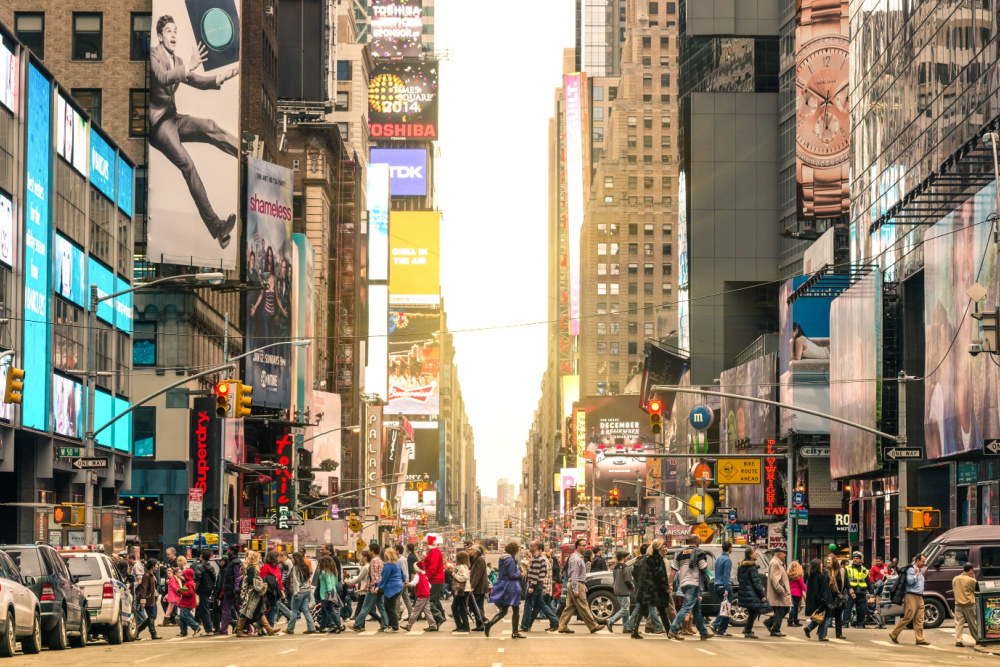 This trend, however, does not seem to apply when it comes to stress. Greece is the most stressed European nation, ranked in sixth place with 57% of those surveyed claiming they experienced a lot of stress during the previous day.
China is in eighth place with 55%; Cyprus is in 10th and Costa Rica is in 11th, both with 53%. Another surprise is the USA, ranked in 13th place with 52%.
Most stressed countries: complete ranking
The table below shows the percentage of approximately 1,000 adults, who answered yes when asked, 'Did you experience stress during a lot of the day yesterday?'
NB: Some countries and territories have been excluded due to insufficient sample sizes.
| Rank | Country | % 'Yes' |
| --- | --- | --- |
| 1 | Afghanistan | 74% |
| 2 | Lebanon | 74% |
| 3 | Turkey | 64% |
| 4 | Ecuador | 62% |
| 5 | Jordan | 58% |
| 6 | Greece | 57% |
| 7 | Tanzania | 56% |
| 8 | China | 55% |
| 9 | Iraq | 53% |
| 10 | Cyprus | 53% |
| 11 | Costa Rica | 53% |
| 12 | Venezuela | 52% |
| 13 | USA | 52% |
| 14 | Sierra Leone | 51% |
| 15 | Ghana | 51% |
| 16 | Bolivia | 51% |
| 17 | Peru | 50% |
| 18 | Albania | 50% |
| 19 | Tunisia | 49% |
| 20 | Senegal | 49% |
| 21 | Mexico | 49% |
| 22 | Malta | 49% |
| 23 | Dominican Rep | 49% |
| 24 | Canada | 49% |
| 25 | Sri Lanka | 48% |
| | | |
| --- | --- | --- |
| 26 | Philippines | 48% |
| 27 | Egypt | 48% |
| 28 | Colombia | 48% |
| 29 | Brazil | 48% |
| 30 | Uganda | 47% |
| 31 | El Salvador | 47% |
| 32 | Burkina Faso | 45% |
| 33 | Thailand | 44% |
| 34 | Italy | 44% |
| 35 | Hong Kong | 44% |
| 36 | Australia | 44% |
| 37 | Nicaragua | 43% |
| 38 | Iran | 43% |
| 39 | Uruguay | 42% |
| 40 | Togo | 42% |
| 41 | Portugal | 42% |
| 42 | Guinea | 42% |
| 43 | Argentina | 42% |
| 44 | Zambia | 41% |
| 45 | Jamaica | 40% |
| 46 | Ireland | 40% |
| 47 | Honduras | 40% |
| 48 | Finland | 40% |
| 49 | Cameroon | 40% |
| 50 | Cambodia | 40% |
| | | |
| --- | --- | --- |
| 51 | Japan | 39% |
| 52 | South Korea | 38% |
| 53 | Norway | 38% |
| 54 | New Zealand | 38% |
| 55 | Morocco | 38% |
| 56 | UK | 37% |
| 57 | Nigeria | 37% |
| 58 | Kenya | 37% |
| 59 | Gabon | 37% |
| 60 | France | 37% |
| 61 | Chile | 37% |
| 62 | Belgium | 37% |
| 63 | Vietnam | 36% |
| 64 | Romania | 36% |
| 65 | North Macedonia | 36% |
| 66 | Nepal | 36% |
| 67 | Congo | 36% |
| 68 | Poland | 35% |
| 69 | Zimbabwe | 34% |
| 70 | Spain | 34% |
| 71 | Mozambique | 34% |
| 72 | Mali | 34% |
| 73 | Croatia | 34% |
| 74 | Cote d'Ivoire | 34% |
| 75 | Benin | 34% |
| | | |
| --- | --- | --- |
| 76 | Slovenia | 33% |
| 77 | Serbia | 33% |
| 78 | Czech Republic | 33% |
| 79 | Switzerland | 32% |
| 80 | Sweden | 32% |
| 81 | Slovakia | 32% |
| 82 | Singapore | 32% |
| 83 | Panama | 32% |
| 84 | Myanmar | 32% |
| 85 | India | 32% |
| 86 | Bulgaria | 32% |
| 87 | Bosnia & Herz | 32% |
| 88 | Austria | 32% |
| 89 | Taiwan | 31% |
| 90 | Paraguay | 31% |
| 91 | Hungary | 31% |
| 92 | Germany | 31% |
| 93 | Tajikistan | 30% |
| 94 | UAE | 29% |
| 95 | Netherlands | 29% |
| 96 | Namibia | 29% |
| 97 | Iceland | 29% |
| 98 | Malawi | 28% |
| 99 | Armenia | 28% |
| 100 | South Africa | 27% |
| | | |
| --- | --- | --- |
| 101 | Kosovo | 26% |
| 102 | Malaysia | 25% |
| 103 | Algeria | 25% |
| 104 | Saudi Arabia | 24% |
| 105 | Laos | 24% |
| 106 | Israel | 24% |
| 107 | Estonia | 24% |
| 108 | Lithuania | 23% |
| 109 | Georgia | 23% |
| 110 | Moldova | 22% |
| 111 | Pakistan | 21% |
| 112 | Mauritius | 21% |
| 113 | Denmark | 21% |
| 114 | Ukraine | 20% |
| 115 | Latvia | 20% |
| 116 | Russia | 19% |
| 117 | Mongolia | 14% |
| 118 | Kyrgyzstan | 13% |
| 119 | Indonesia | 13% |
| 120 | Uzbekistan | 12% |
| 121 | Kazakhstan | 12% |
---
Enjoyed this post? pin it for later…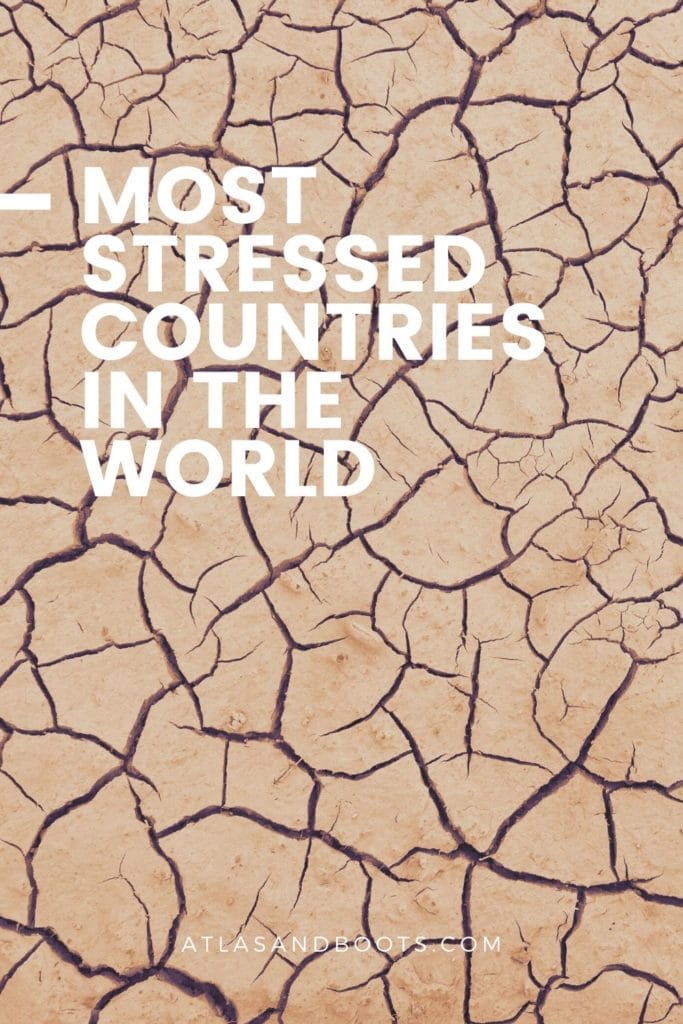 ---