Kia reckons with a palpable sense of desolation while visiting Ny-Ålesund, the literal edge of civilisation
There are places and moments in my life which have felt far removed from civilisation: the Danakil Depression in Ethiopia, the Atacama Desert in Chile, Lac Abbé in Djibouti, Paradise Bay in Antarctica, and 81°17'5''N in the High Arctic.
These places have one thing in common. They are untamed and uninhabited. They have felt wild because they are wild. They can be dangerous, even fatal, in the wrong conditions. It's fair to say that these are frontier places – but none have felt so strikingly bleak as Ny-Ålesund on the island of Spitsbergen in Svalbard, Norway.
Here, it's not the wildness that strikes you but the opposite: the tiny huddle of buildings that dare at civilisation amid a vast and daunting landscape. The squat structures are painted in jaunty colours in a valiant effort at cheer. Under a bright blue sky, they would look positively picturesque, but on the gloomy day of our visit, they seem to hunker glumly, charged with the ambitious task of brightening up what is said to be the very edge of civilisation.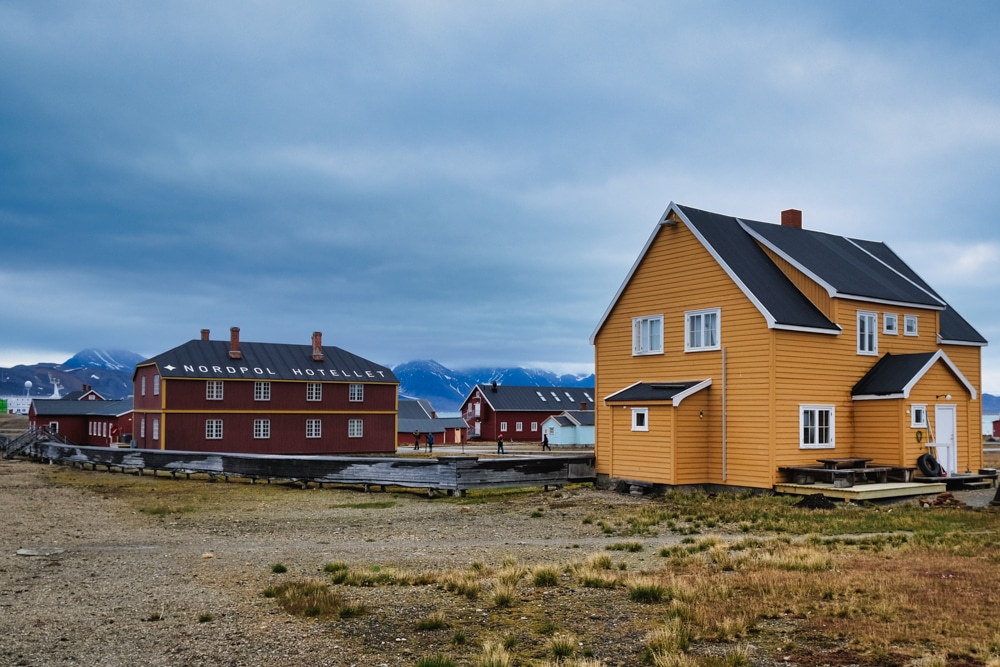 Ny-Ålesund is indeed the world's northernmost permanent settlement. Nowhere further north can you visit someone's house for a cup of tea. While there are research stations further north in Canada, Russia and Greenland, these are either unoccupied for part of the year, or occupied by revolving teams of researchers. Ny-Ålesund, in comparison, has a permanent population: 35 year-round and 114 in the summer.
It's difficult to imagine the mental tenacity of its long-term residents. Ny-Ålesund feels cut off, isolated, alone; the sort of place in which Jack Torrance of The Shining might settle for the winter. Luckily, there are no unstable writers here as far as I can tell. Instead, Ny-Ålesund's residents are mainly hardy scientists and researchers. Its location at 78°56'N in the High Arctic makes it an ideal place to monitor climate change. The experts here run the gamut from atmospheric physics, biology and geology to glaciology and oceanography.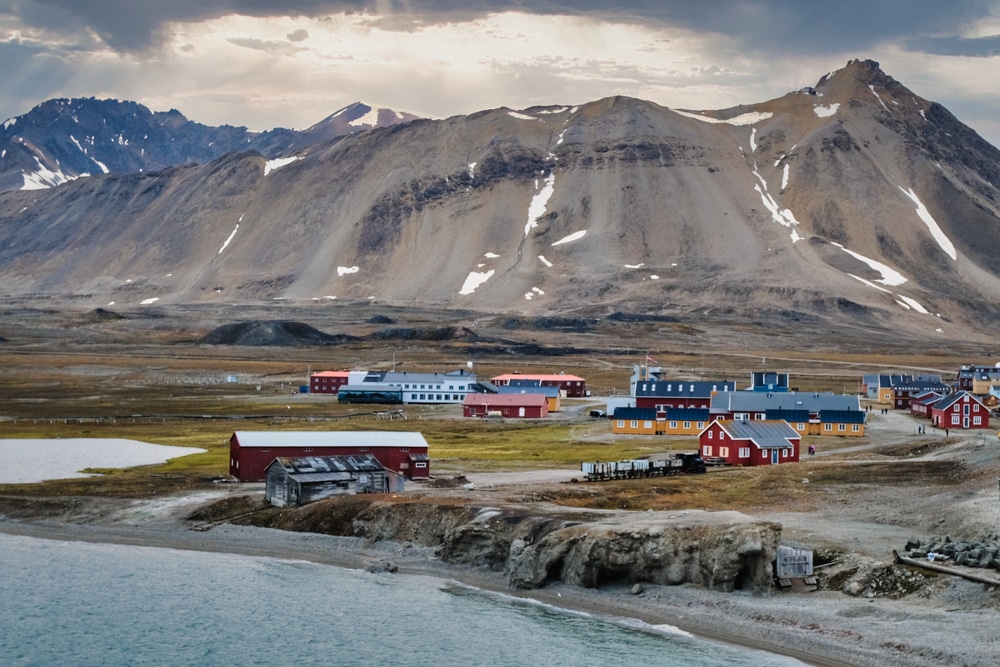 It should be said that Ny-Ålesund wasn't always a beacon of Arctic research. The settlement was founded in 1917 by the mining company Kings Bay Kull Comp, which mined there with mixed success until 1929. The company was nationalised in 1933 and mining resumed periodically until a major accident killed 21 miners in 1962. Thereafter, mining was permanently terminated and Ny-Ålesund gradually became an Arctic research station, now populated by 18 institutions from 11 countries across the world.
If members of the general public want to visit Ny-Ålesund, they can expect several rounds of bureaucracy, involving Kings Bay AS, the Norwegian State Company and the Norwegian Polar Institute. Luckily, our 8-day expedition to Svalbard included visiting Ny-Ålesund.
We arrived on a particularly gloomy morning on the penultimate day of our expedition. The best part of the trip was over and we were already feeling a little downbeat. After disembarking, we took a customary photo by the welcome sign before venturing further inshore.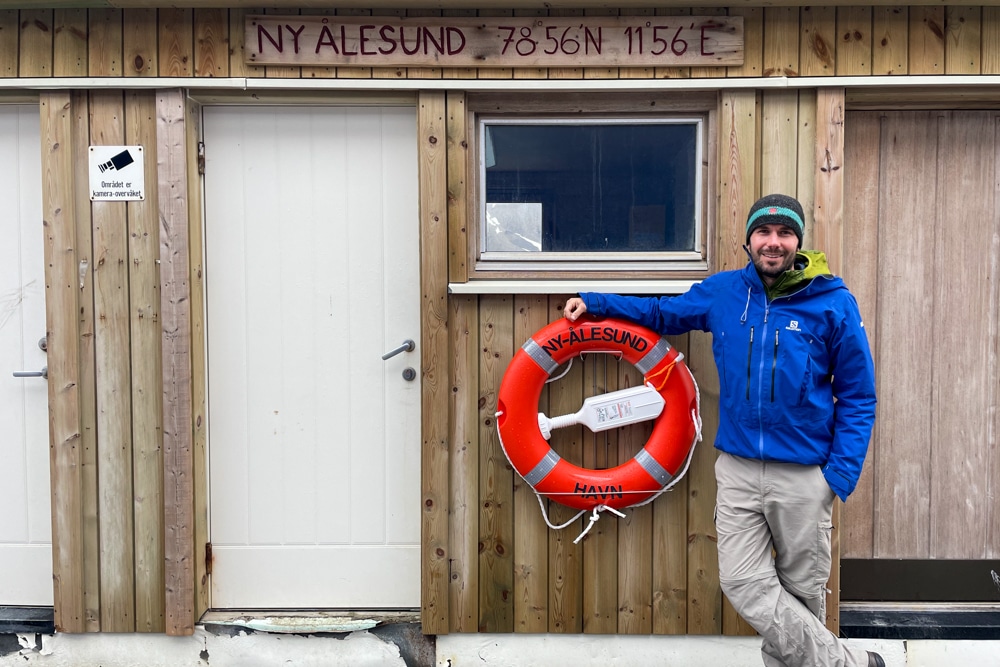 Given the fragile nature of the landscape and the unique cultural heritage here, visitors are asked to observe a set of community guidelines. We were instructed by our Expedition Leader to turn our devices to flight mode so as not to interfere with active research, to stay on the roads and boardwalks to avoid disturbing wildlife or destroying cultural heritage, and to take off our shoes when entering public buildings.
We started our visit at the storybook locomotive which sits on a length of disused rail track next to the harbour. The loco, which is thought to be the northernmost in the world, came to Ny-Ålesund in 1917 and was used to transport coal from the mine to the harbour. Since its retirement in the 1950s, it has undergone restoration to protect it from the elements, which, this far north, are rather abundant.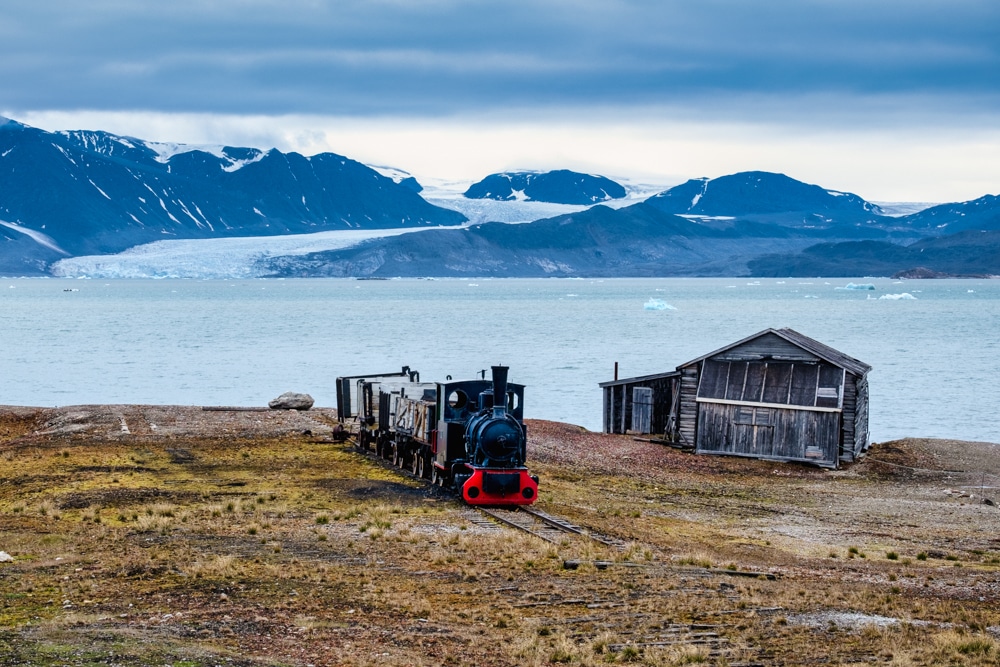 We continued to the world's northernmost post office, a fading cyan building straight out of a Wes Anderson movie. This post office is no longer active, so those hoping to send a postcard must take a short trip to the nearby shop and use the postbox there.
Peter opted to send a card to his father while I wrote to my four-year-old niece encouraging her to travel the world and maybe, one day, venture far north.
We stopped at the statue of legendary Norwegian explorer Roald Amundsen. It was in Ny-Ålesund that Amundsen launched his 1926 expedition to the North Pole aboard the airship Norge. Amundsen left on 11th May with Umberto Nobile, the airship's designer and pilot, and Lincoln Ellsworth, expedition sponsor, along with 13 other men. They reached the Pole on 12th May and flew on to Teller in Alaska. It was the first verified trip of any kind to reach the North Pole, and the first crossing of the Arctic Ocean. Needless to say, we had to pay our respects.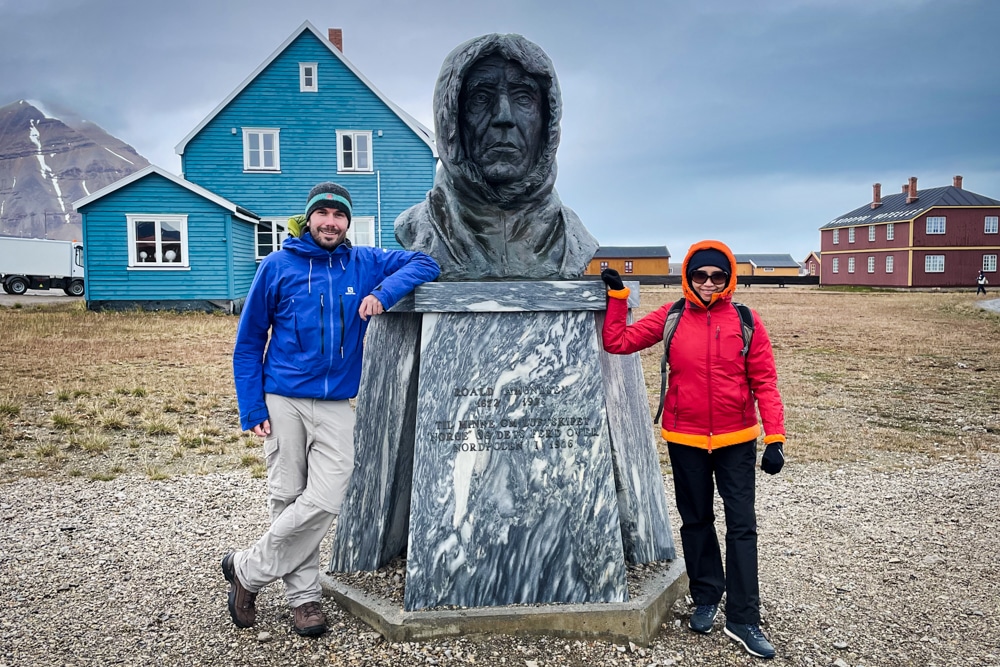 We continued to the mooring mast to which the Norge was docked. The mast also moored the airship Italia, which took an ill-fated trip to the North Pole in May 1928. Designer Umberto Nobile was on board along with 15 others. One crewman was killed in the crash, one died trekking for help, six were trapped in the airship envelope which has never been found, and eight were rescued.
Sadly, rescue efforts resulted in a number of additional fatalities – among them, Roald Amundsen who disappeared on a flight to Spitsbergen. His body has never been found.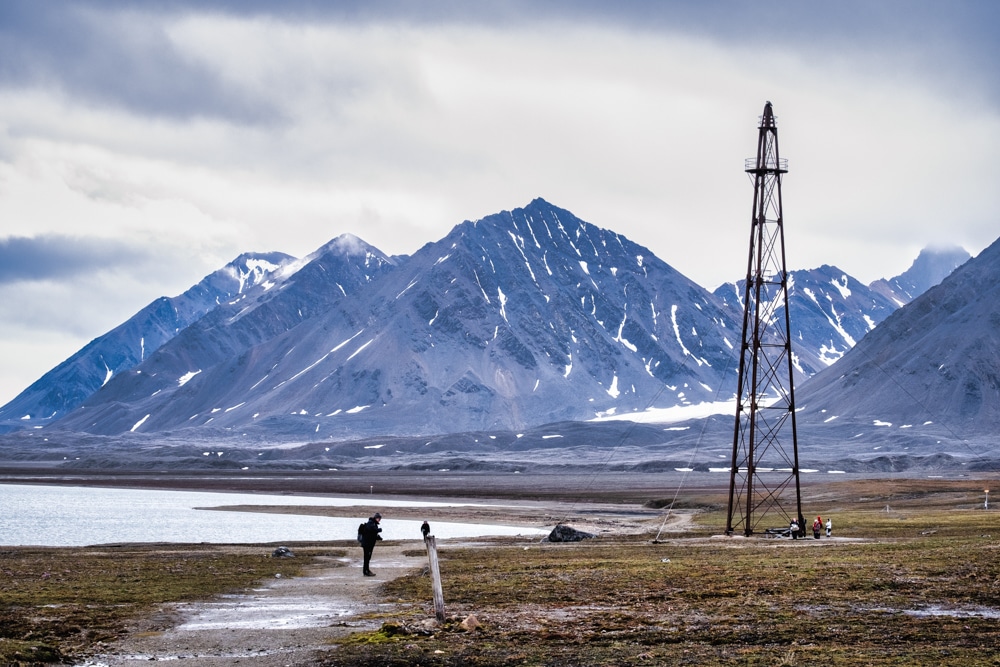 At the mast, we paused to admire the expansive views of the glaciers around Ny-Ålesund: Midtre Lovénbreen and Austre Brøggerbreen. After eight days of sailing around Svalbard, we were rather complacent about seeing these hulking structures, but they are undeniably impressive even under gloomy skies.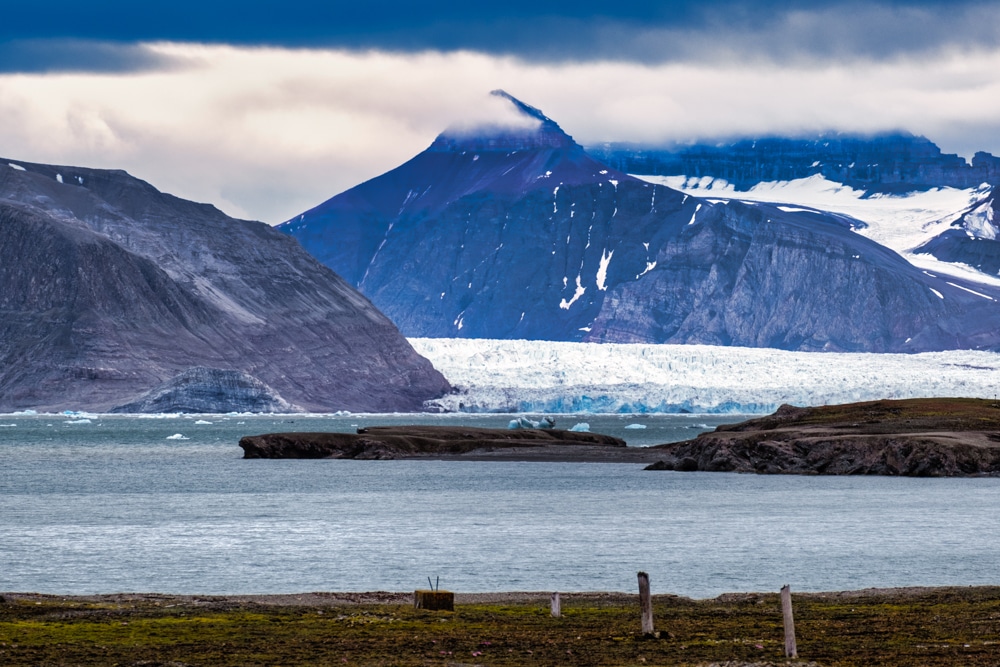 We finished our cultural tour at Ny-Ålesund Town and Mine Museum, the world's northernmost museum. Free and mostly unstaffed, it covers the history of Ny-Ålesund, the coal mining industry, the 1962 accident, early aviation and polar exploration, scientific research and the society and culture of the settlement. For a relatively small museum (a few rooms across two floors), it offers a wealth of fascinating information.
We meandered across the boardwalks and roads, back to our ship. I was glad to have seen this bleak little place but also glad to leave it. The pall there feels tangible, ill-suited to city folk.
Still, as I embarked our ship, I was glad for Ny-Ålesund. Knowing that this remote little outpost exists where people across the world come together in the name of science feels like a tiny flame in a staggering stretch of desolation.
Visiting Ny-Ålesund in Svalbard: the essentials
What: Visiting Ny-Ålesund as part of an 8-day expedition to Svalbard, the last stop before the North Pole with Albatros Expeditions.
Where: We stayed in a Panorama Window Suite on the Ocean Atlantic. Albatros Expeditions' future trips to the Arctic, however, will be aboard the new Ocean Albatros. With a total of 95 staterooms and suites, all with unobstructed sea views, most with their own balcony, the Ocean Albatros will be one of the greenest ships to venture to the Arctic.
The Ocean Albatros has two restaurants, a wellness area, a bar, an open deck dining facility and a modern lecture lounge as well as a unique panorama sauna and 12 dedicated solo cabins without a single-supplement.
When: The best time to visit Svalbard is June to July when the midnight sun is high in the sky and daylight never ends. June to July is also the best time to see polar bears in Svalbard.
How: We visited on an 8-day expedition to Svalbard, the last stop before the North Pole. Prices start at $6,590 USD per person based on two people sharing.
Discounts and promotions can be found close to departure dates. Check Adventure Life and Cruise Norway in the US, or Wildfoot, Swoop or Audley Travel in the UK.
Prices include all Zodiac cruises and landings, the Polar Plunge, rubber boot rentals, guiding and lectures, all meals on board and 24-hour tea and coffee. The kayaking excursion is extra, as is internet access though be warned that there is very little coverage given how far north you'll be!
We flew from London to Oslo and joined Albatros Expeditions' charter flight to Longyearbyen. Book your international flights via Skyscanner for the best prices.
---
Enjoyed this post? pin it for later…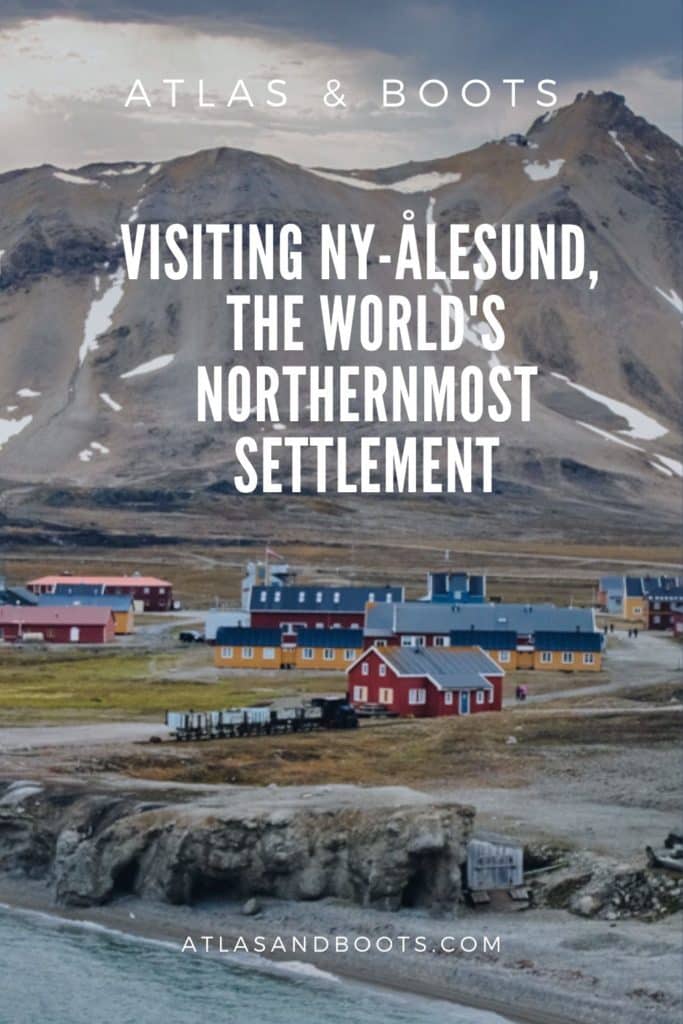 ---
Lead image: Atlas & Boots