In the land of the midnight sun, Kia finds a place of raw nature, rare wildlife and one of her most memorable moments of travel
It is said that you can't die in Svalbard, the remote archipelago that lies midway between Norway and the North Pole. The permafrost here not only preserves corpses, it sometimes pushes them to the surface. The truth is that authorities would prefer you didn't die on Svalbard. Coffin burials are not allowed due to the permafrost, so critically-ill patients are usually flown to mainland Norway.
And just as there are rules in death, there are also rules in life. Heavily pregnant women are flown to the mainland as giving birth in Svalbard is also off limits.
In many ways, this is a place occupied with life and death. The capital, Longyearbyen, is home to the Global Seed Vault, a secure facility that stores over 1.1m seed samples in case a global cataclysm causes all crops to fail; a renewal of life after wholesale death so to speak.
Elsewhere in Longyearbyen, signs warn you of mortal danger. This is polar bear country and visitors are warned not to leave the confines of the capital without a trained guide.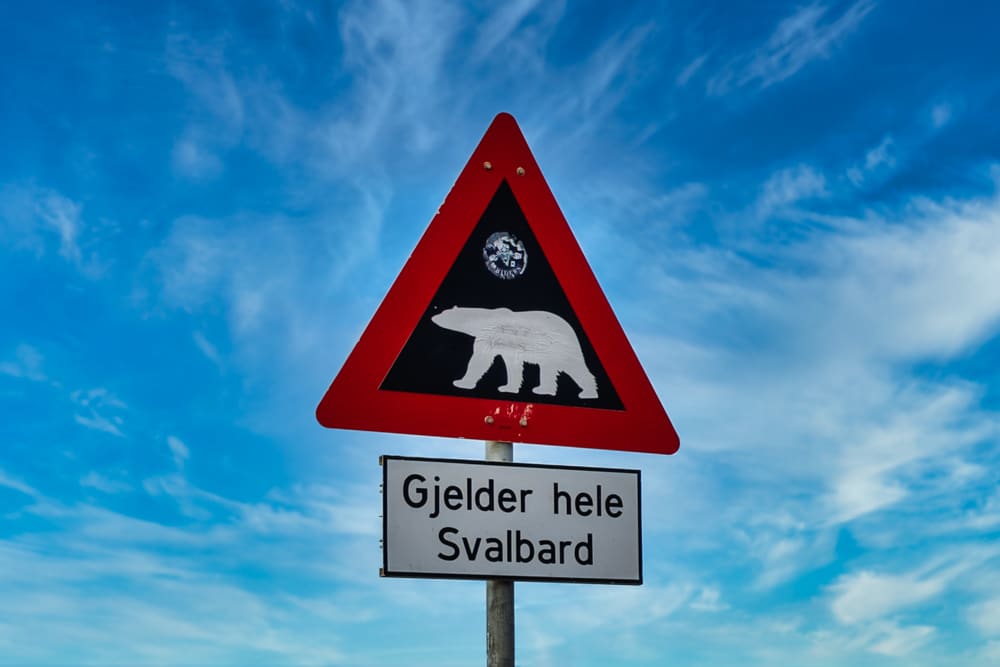 It is this sense of foreboding, of being on the edge of things, that could be said to define Svalbard. This is a place of vast tundra, of epic polar feats and a wild, elemental beauty. In fact, Svalbard is the last stop before the North Pole and acts as a harbinger of its untamed spirit.
I should admit, however, that Peter and I saw Svalbard in comparative luxury. There was no trudging through reams of snow or eating meagre meals. Instead, we joined the Ocean Atlantic for an 8-day Svalbard – Last stop before the North Pole expedition with Albatros Expeditions.
We boarded the ship in Longyearbyen and could feel a palpable excitement among our fellow passengers who had all come to see polar bears. Peter and I had the same hopes but were also painfully aware that wildlife can't be controlled. After lukewarm sightings of leopards at Manyeleti Game Reserve in South Africa and Yala National Park in Sri Lanka, we vowed to enjoy the scenery if that is all we got. After all, we were in the land of the midnight sun amid some of the cleanest air in the world, about to sail among gargantuan glaciers and pack ice. How could we possibly deem ourselves anything but lucky?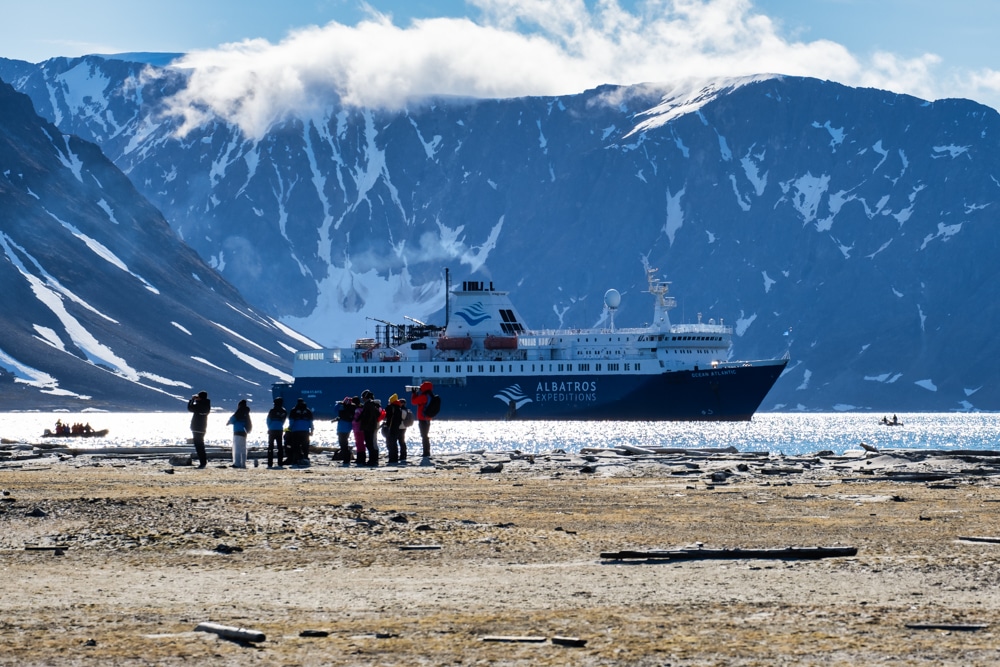 We made ourselves at home in our Panorama Window Suite. The Ocean Atlantic feels like a classic ship but is soon to be replaced by the Ocean Albatros, a greener vessel in which all the rooms have sea views and nearly all have balconies.
Unlike our Antarctic expedition, which began with a two-day crossing of the Drake Passage, our first morning dived straight into activities. We boarded the Zodiacs and headed to our first landing – at Magdalenefjord on the west coast of Spitsbergen, the largest island on Svalbard.
En route, we passed a huddle of walruses on a nearby shore. These unlikely creatures are weirdly arresting: bulbous and unwieldy and yet somehow majestic. Found only in the far north of the planet, walruses are highly sensitive to noise. Any sign of danger can cause them to stampede to the water. With that in mind, we didn't linger for long.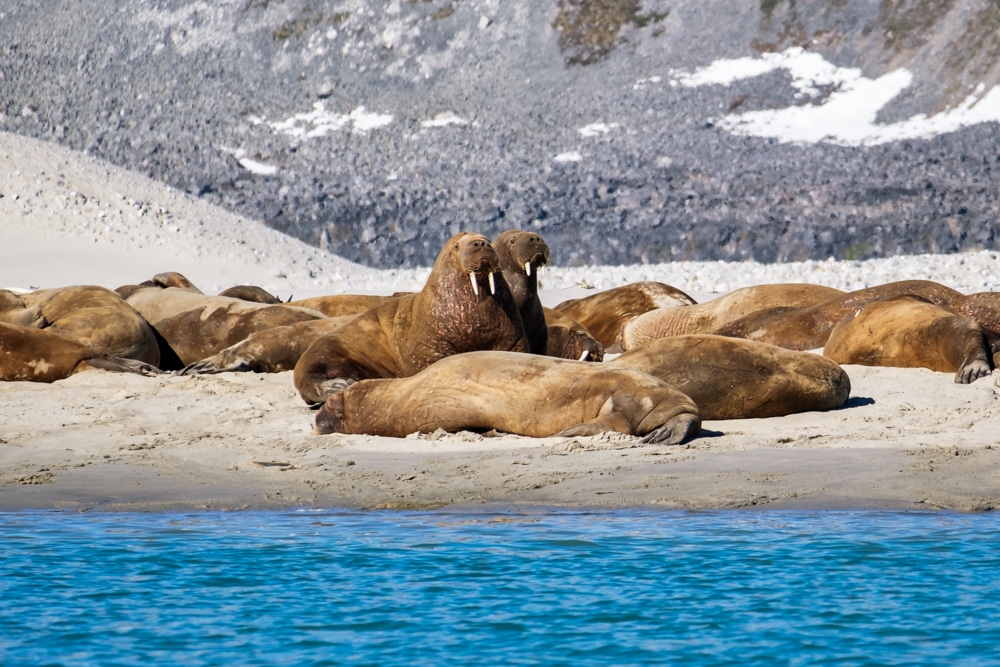 On land, we found a sandy beach littered with giant ice 'cubes'; strange shapes and structures hewn by the elements. In some ways, Magdalenefjord is a microcosm of Svalbard: a stunning blue-green bay, dramatic peaks and sprawling tidewater glaciers as well as the protected graves of 17th- and 18th-century whalers and the remnants of two blubber stoves which speak to the area's history of whaling. We spent the morning exploring the surreal site before embarking on a Zodiac cruise for a closer look at the glaciers.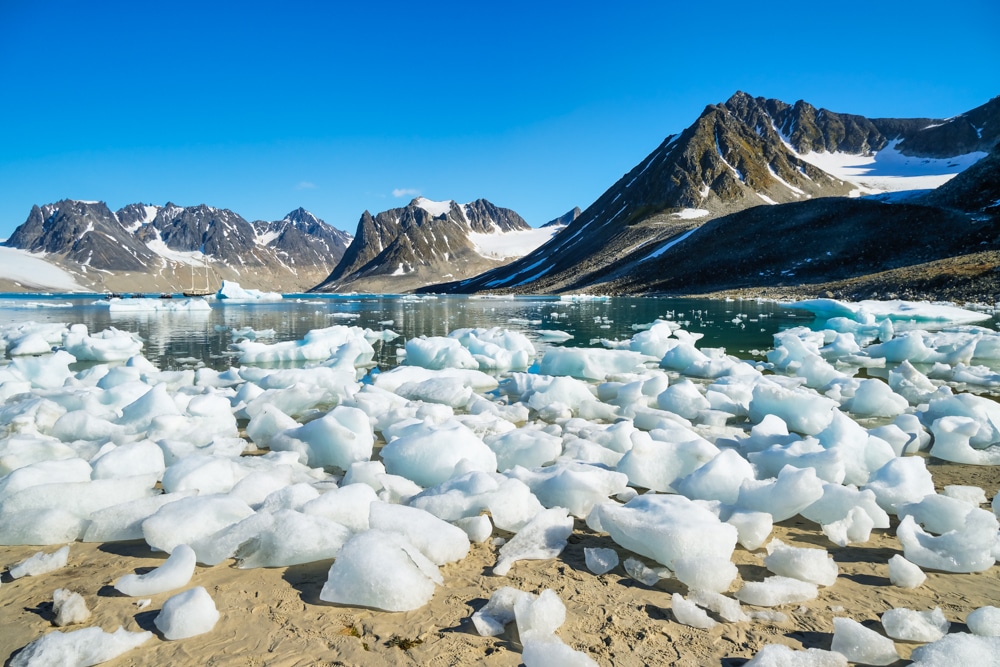 Back on the ship, we toasted the captain at a welcome cocktail party. As the evening drew on, we found ourselves unusually energetic, not realising that it was well past midnight.
You see, on other trips during which we saw the midnight sun – in the Faroe Islands and Antarctica – it hung low against a gloomy sky. In Svalbard, however, it was high, bright and blazing, and seriously disoriented us. We eventually forced ourselves to bed despite our bodies still thinking it daytime.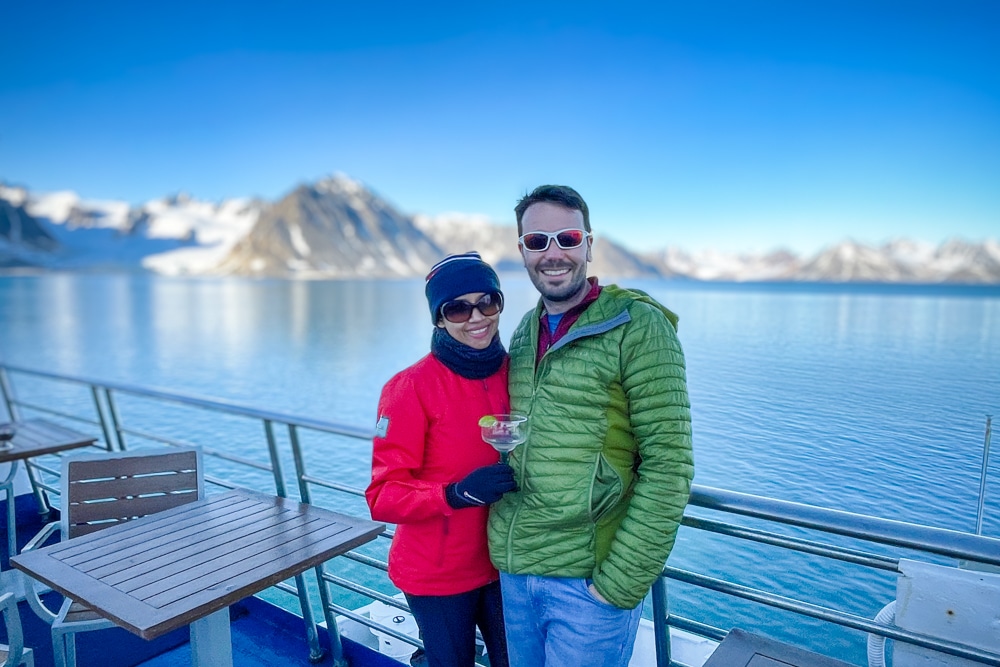 Our third day brought more walruses, a reindeer sighting and a hike on the dramatic island of Ytre Norskøya off the northwest coast of Spitsbergen. By the fourth, I could sense a growing anticipation among my fellow passengers. Our morning hike on Faksevågen was duly dramatic, but we were all here to see polar bears and were ready for the main attraction.
Peter and I were settling into the Viking Lounge for a post-lunch cup of tea when an announcement sounded over the tannoy: a polar bear had been spotted off the stern of the ship.
The passengers leapt into action, all of us pulling on our layers and hurrying out on deck. At first, the polar bear was impossible to spot with the naked eye, but when it ambled past a rock, its bright white coat came into focus. Soon, we loaded into the Zodiacs to take a closer look. Alas, the polar bear promptly fell asleep so we didn't see it in motion.
This was to be the sole polar bear of our trip and although it wasn't like the crystal clear pictures of the BBC, we felt lucky to have seen it.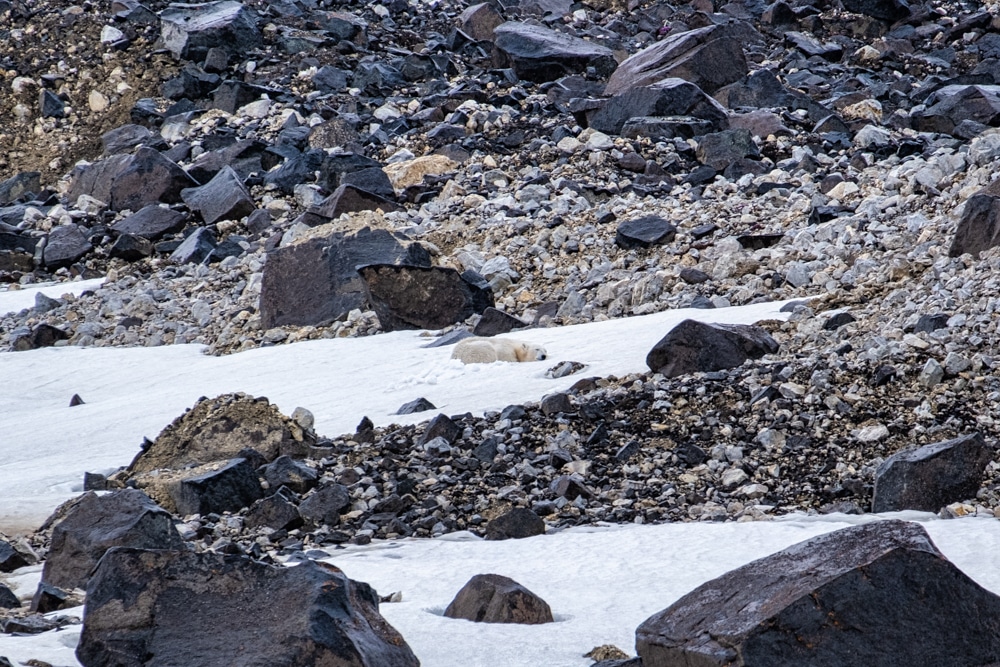 Afterwards, we headed to the cliffs of Alkefjellet, the breeding ground of 60,000 pairs of guillemots. There, we had one of the most special moments of the trip: an Arctic fox kill. These creatures have evolved into excellent killers. Their fur is white in the winter but turns grey-brown in the summer to help with camouflage.
We watched as a wily fox bounded down an impossibly steep cliff and crept into a nest of guillemots eggs. It plucked one up between its teeth and bounded off to bury it. Moments later it repeated the trick, each time sending a flurry of birds screeching. In total, it managed five or six kills – the circle of life played out before our very eyes.
On day five, we approached the pack ice: broken slabs that stretched as far as the eye could see. The vast swathe of blue-white ice was another surreal sight in a trip filled with unreal scenes. Despite the mighty wind chill, we spent hours on deck staring out at sea.
The captain continued to steer us north until we reached 81°17'5'', the furthest north the Ocean Atlantic had reached all season, and only 500 miles from the North Pole (just over half the length of Britain).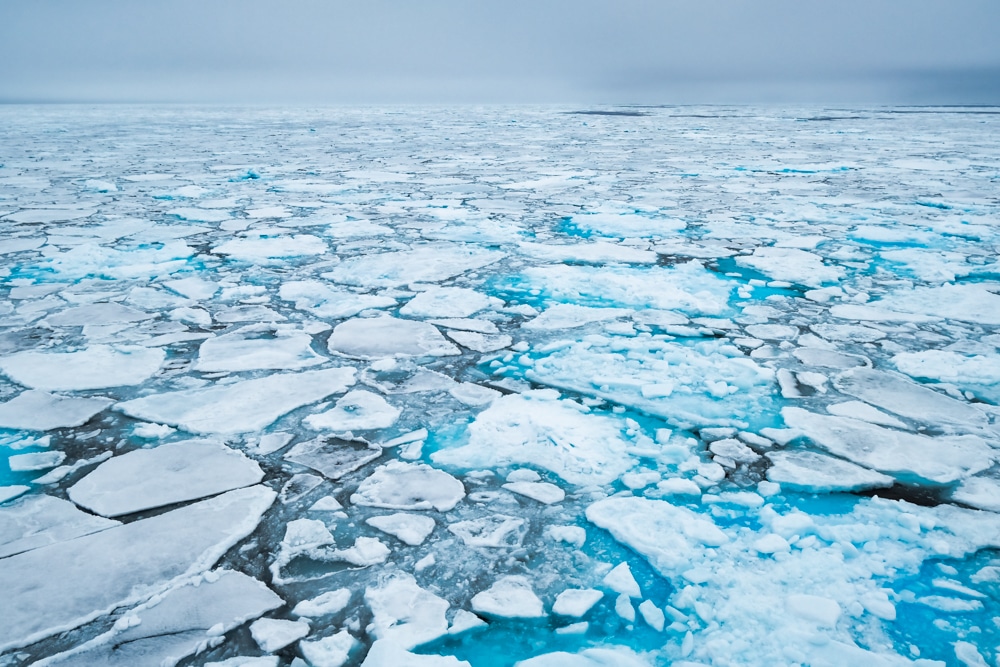 We were out on deck when we heard the announcement that the captain had green-lighted the Polar Plunge. This fearsome rite of passage for visitors to the polar regions entails jumping off the ship into near freezing water (1-2°C). Our plunge in Antarctica had been made off the shore due to technical reasons. Back then, I mused that a shore plunge must be harder. "It surely requires more mettle," I wrote, "to advance into near-freezing water than to take a split-second leap."
Oh, how wrong I was. Plunging into the bone-chilling water metres from the pack ice was a far bigger shock to the system. Imagine being winded while getting brain freeze while icy needles sink into your skin.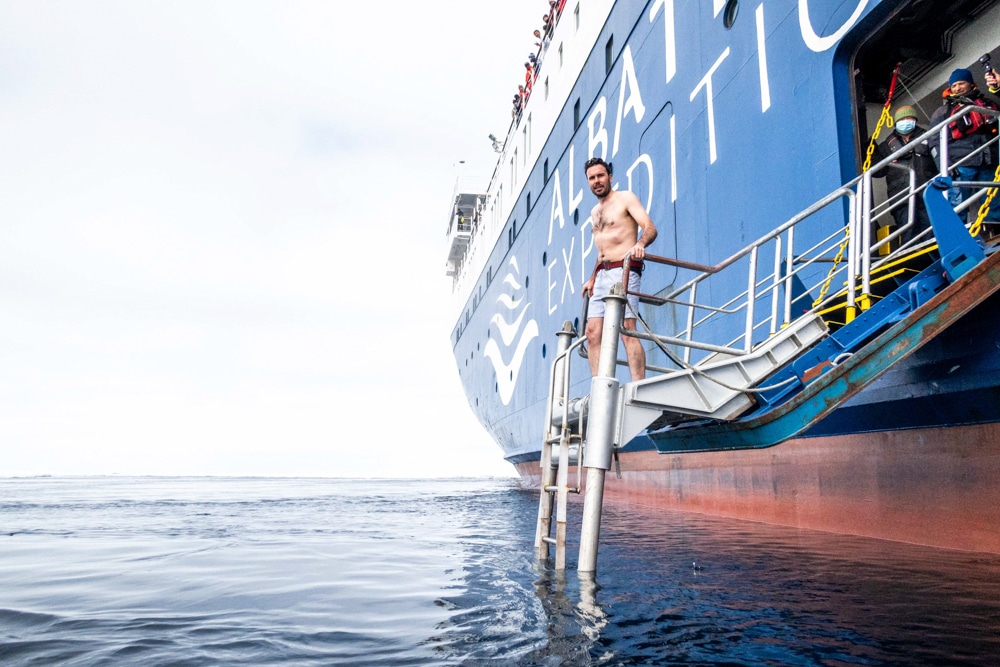 Werner Kruse
Kia and Peter take the Polar Plunge
I emerged from the Plunge gasping for air and bolted back up the ladder into a waiting towel. Though challenging, the Plunge energised the passengers, particularly those who had dearly hoped for more polar bears. It lifted their spirits and put us all in good stead for the rest of the expedition.
Peter and I assumed that the best of the trip was over but there was another highlight in store. On day six, after a landing at Alicehamna, a small group of passengers went kayaking in Raudfjorden.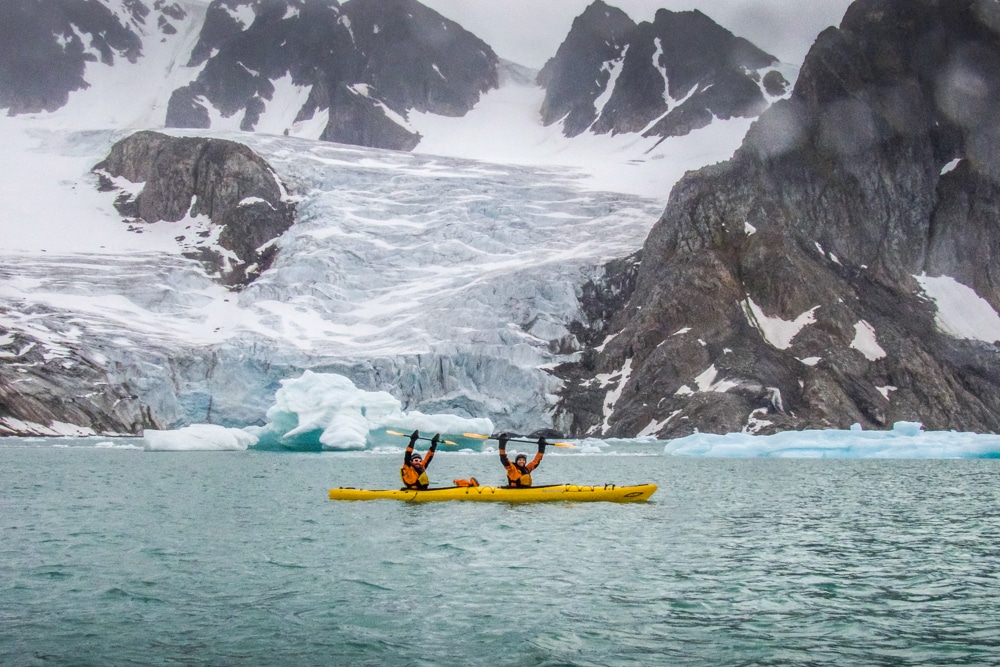 We kayaked past icebergs and approached a glacier that was audibly calving: electric cracks followed by a rumbling splash. It was here that our guide, Wan, asked us to set down our cameras and close our eyes. Take a moment, he said, to absorb the smells and sounds: the crisp, cool air, the gentle lap of water, the sharp whip-crack of the glacier.
What could have felt twee and awkward was actually simple and beautiful. When I opened my eyes, I was reminded of those other surreal moments in my life: watching Mount Yasur spew lava, a roiling Erta Ale, the mirror-still water of Paradise Bay and the Milky Way in the Outback.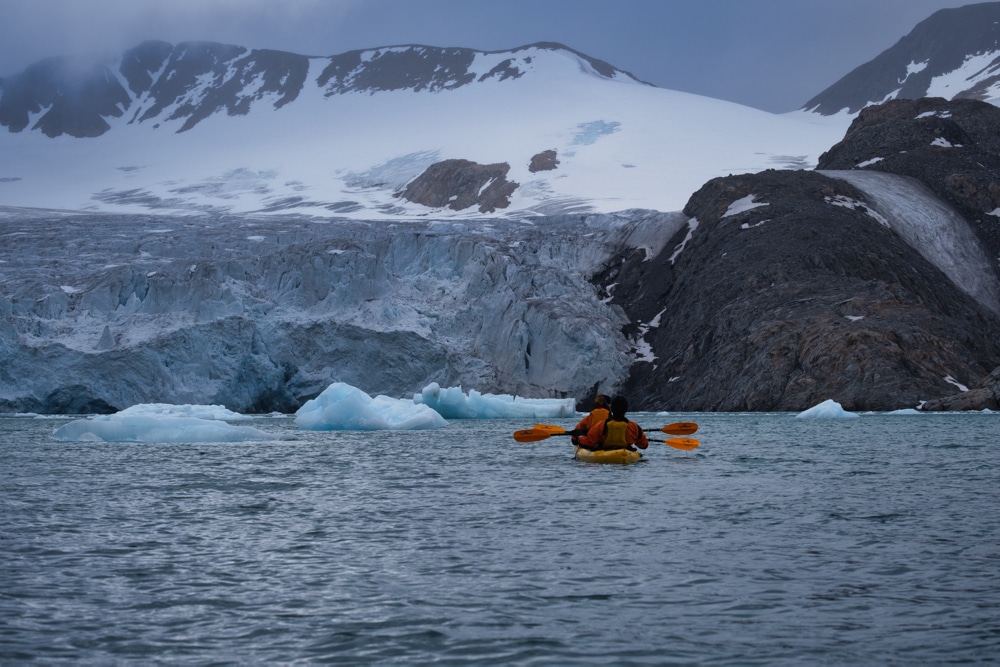 We rounded off our trip with a day in Ny-Ålesund, the world's northernmost permanent settlement, situated at 79° north. The population here is a mere 35 people year-round and 114 in the summer. Given the town's unique setting, it's an ideal place for scientists and researchers to monitor Arctic systems and global changes – but this isn't its only claim to fame. Ny-Ålesund is where the great polar explorer Roald Amundsen began his 1926 expedition to the North Pole aboard the airship Norge.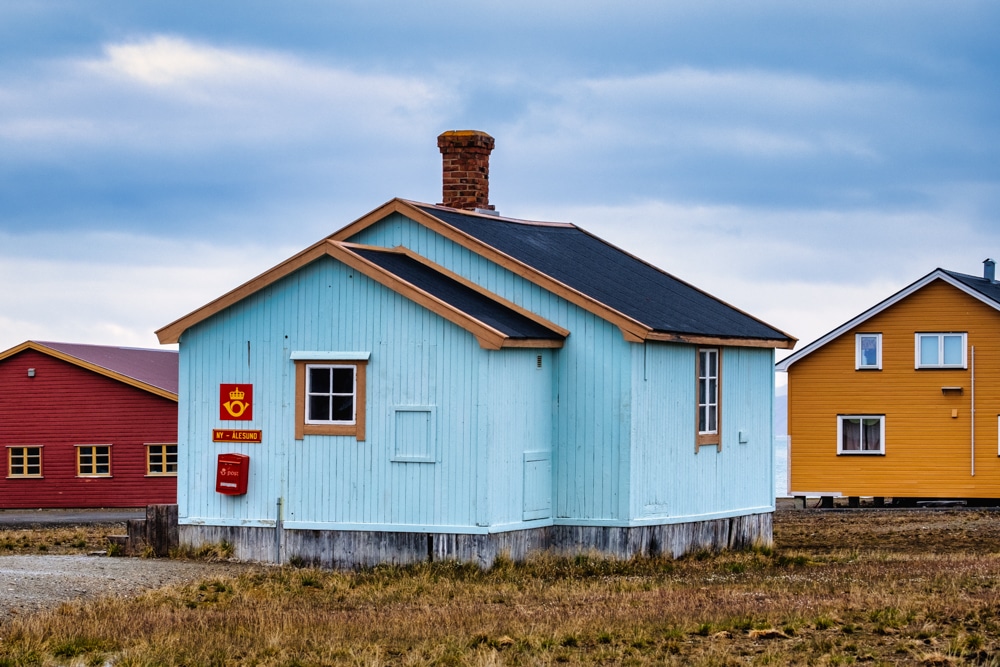 Atlas & Boots
Exploring Ny-Ålesund
We visited Amundsen's statue and sent postcards to our families from the northernmost post office in the world before heading back to the Ocean Atlantic for our last evening under the midnight sun.
After our trip to Antarctica, we had worried that nothing would feel quite as frontier-like, but seeing a polar bear in the wild and an Arctic fox on the hunt, kayaking among icebergs and sailing through swathes of pack ice was utterly sublime. In this place of the midnight sun, of ethereal landscapes and inexorable life and death, I collected another memory, another modest gem, that I could hold to the light in my twilight years to prove to myself that I had lived.
Midnight sun in Svalbard: the essentials
What: An 8-day expedition to Svalbard, the last stop before the North Pole with Albatros Expeditions.
Where: We stayed in a Panorama Window Suite on the Ocean Atlantic. Albatros Expeditions' future trips to the Arctic, however, will be aboard the new Ocean Albatros. With a total of 95 staterooms and suites, all with unobstructed sea views, most with their own balcony, the Ocean Albatros will be one of the greenest ships to venture to the Arctic.
The Ocean Albatros has two restaurants, a wellness area, a bar, an open deck dining facility and a modern lecture lounge as well as a unique panorama sauna and 12 dedicated solo cabins without a single-supplement.
When: The best time to visit Svalbard is June to July when the midnight sun is high in the sky and daylight never ends. June to July is also the best time to see polar bears in Svalbard.
How: We visited on an 8-day expedition to Svalbard, the last stop before the North Pole. Prices start at $6,590 USD per person based on two people sharing.
Discounts and promotions can be found close to departure dates. Check Adventure Life and Cruise Norway in the US, or Wildfoot, Swoop or Audley Travel in the UK.
Prices include all Zodiac cruises and landings, the Polar Plunge, rubber boot rentals, guiding and lectures, all meals on board and 24-hour tea and coffee. The kayaking excursion is extra, as is internet access though be warned that there is very little coverage given how far north you'll be!
We flew from London to Oslo and joined Albatros Expeditions' charter flight to Longyearbyen. Book your international flights via Skyscanner for the best prices.

---
Enjoyed this post? pin it for later…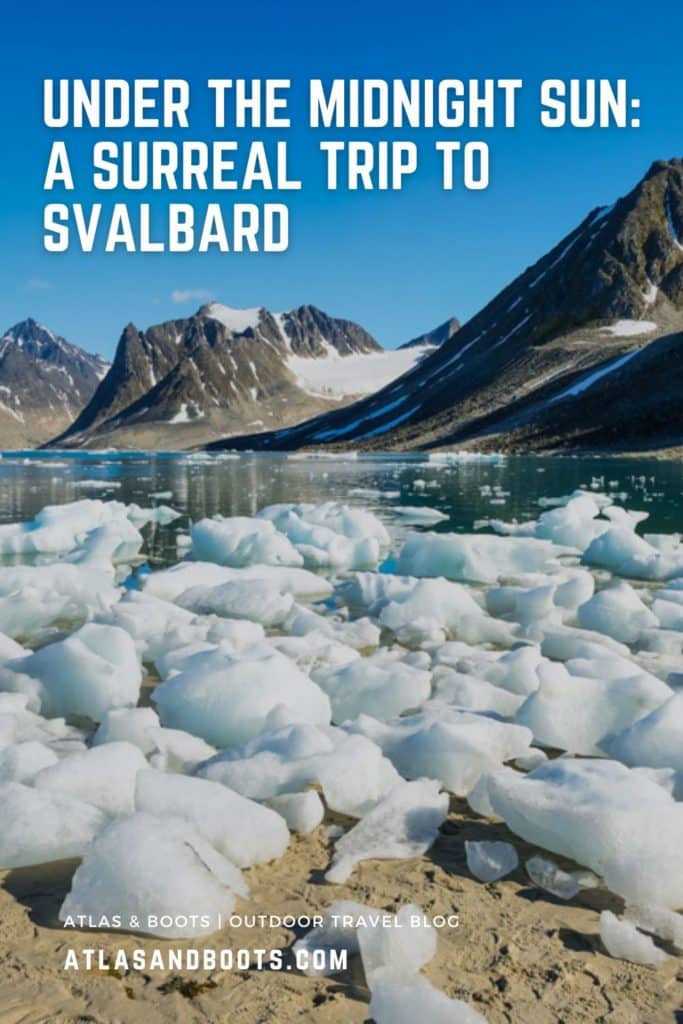 ---
Disclosure: We were hosted on Ocean Atlantic as guests of Albatros Expeditions who covered the full cost of the expedition. We funded our international flights, transfers, staff gratuities, on-shore accommodation and expenses ourselves. We never guarantee positive coverage and all opinions are our own.