We list the 12 most common expat problems. The problems fall into three main areas: relationships, money and culture shock
Over the course of the past year, we have used our expat survey to gather advice for expats and their loved ones, most popularly 8 tips to know before you go and 6 things not to say to an expat.  
Here, we list the 12 most common expat problems based on InterNations' broader Expat Insider survey.
The respondents – 14,000 of 1.9 million InterNations members worldwide – named problems that fell broadly into three main problem areas: relationships, money and culture shock. We discuss these themes below before taking a look at the 12 problems themselves.

12 most common expat problems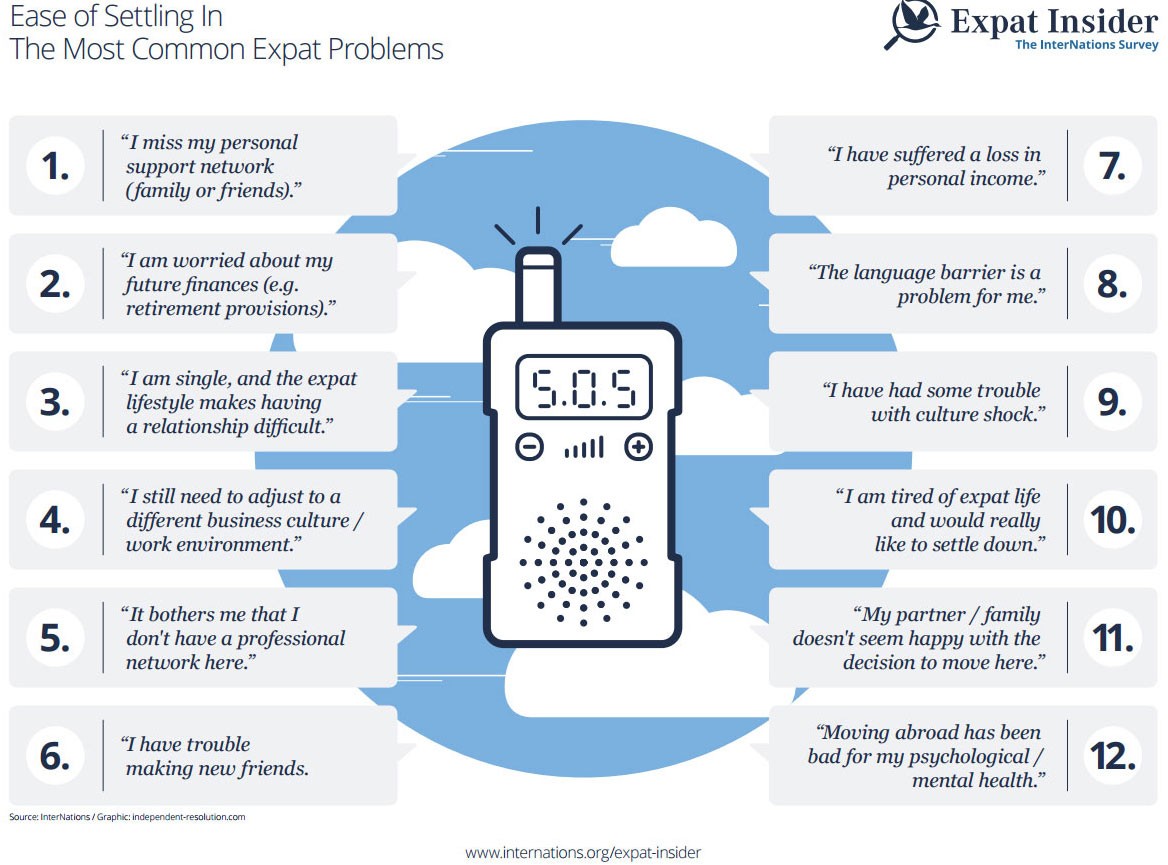 Relationships
The number-one problem facing expats is the loss of their personal support networks. Over half of those surveyed (52%) said this was the biggest issue they encountered and cited making new friends in a new country one of the biggest challenges. Romantic relationships also suffer with 38% of single respondents saying the expat life makes having a romantic relationship more difficult.
The above-mentioned and free to join InterNations has a global membership and hosts over 4,000 events throughout the year. It's a great place to make new friends or meet people in a similar situation.
Those who make the move with a spouse face problems of their own. Some worry that their partner or family doesn't seem happy with the decision. A travelling spouse may well have given up a career and suffered from a loss of income, which can affect the dynamic of the relationship.
A large proportion of travelling spouses (65%) are unhappy with being financially dependent on their partner and 45% are concerned by the loss of financial independence.
Other factors can also have a negative impact: 52% of travelling spouses say their partner is always working long hours, 51% feel they are expected to organise all the practical aspects of their life abroad and 27% feel discriminated against because of their gender, an issue far more prevalent among women.
Money
Forty percent of all respondents worry about their future finances. Unsurprisingly, this figure rises when their new country is dealing with economic woes (in Greece, this figure rises to 71%).
Access to pension and other investment schemes can be interrupted or compromised when working abroad and is a common financial concern among expats. Respondents also worry about expenses: 30% of expats surveyed report losing money from moving and working abroad.
Other finance-related problems include difficulty adjusting to a new work environment and the lack of a professional network. In Japan, this problem is particularly prevalent with almost half of all respondents (48%) saying they struggle with the local business environment.
Culture shock
Although less prominent than the above areas, a quarter of all expats expressed concerns with adjusting to the culture of their new country. Struggling with learning the new language was considered a burden, an issue raised by 26% of all respondents.
Meanwhile, 22% said the change in culture was a bigger shock than they had anticipated, 21% said they were tiring of the expat life while a smaller but still significant 10% said that the move overseas had been bad for their psychological health.
---
Download the full Expat Insider 2015 report.