The Sydney Bridge Climb is one of Australia's most iconic activities – but is it worth the cost and effort? We braved some boiler suits to go and find out
The Sydney Bridge Climb, if nothing else, is a lesson in sheer forcefulness. When its creator, Paul Cave, first put forward proposals for the climb, regulators replied with a list of 60-something reasons why it simply wasn't possible.
Cave's proposed blue suits would distract drivers, they said. Dropped items would cause accidents, and climbers would fall and hurt themselves. The list went on.
Not one to accept defeat, Cave set out to systematically examine and eliminate each concern. The blue suits were made grey so not to distract drivers; climbers were put in boiler suits to prevent items from falling; and safety harnesses were added to keep climbers clipped on.
In the end, from concept to launch, the Sydney Bridge Climb took longer than the construction of the bridge itself.
"I had a two-year business plan and it took 10 years," Cave has noted wryly.
The Sydney Harbour Bridge itself was constructed over nine years, from turning over the first sod in July 1923 to its grand opening on 19th March 1932. Today, it stands at 1,149m in length and 134m in height. The weight of the steelwork is 52,800 tons, bolted together with some six million rivets.
Curiously, of the 16 deaths that took place during construction, only one was caused by a fall off the bridge. There was a second fall, but the lucky Irishman in question hit the water feet first and escaped with a broken rib or two.
Today, safety is paramount and climbers are clipped to the bridge at all times. All belongings including phones and cameras must be stowed in a locker beforehand with the exception of sunglasses which are clipped onto climbers' suits. Everything else is supplied by the climb. Hats, gloves, fleeces, waterproofs and even handkerchiefs are clipped on to prevent items from dropping onto the cars below.
We were given special permission to carry a small camera, which was of course clipped on after being examined and signed off by a superior. Again: safety is taken very, very seriously.
We set off from our hotel, Mantra on Kent, and arrived at the Sydney Bridge Climb offices 15 minutes before our scheduled climb. There, we checked in, signed our waivers and changed into our boiler suits, leaving all loose items in a locker.
The Sydney Bridge Climb comes in several different flavours: Dawn, Day, Twilight or Night. The most common choice is a Day climb which itself has several options.
The classic BridgeClimb takes 3h 30m and traces a route along the famous arch of the bridge. This climb has 1,332 steps and is the better option for nervous climbers as it offers more support from climb leaders.
The BridgeClimb Express takes 2hr 15m and is designed for "independently-minded folk who want to fast-track it to the top". With 1,002 steps, it takes climbers not along the arch of the bridge but through the bowels for a close look at one of the world's great suspension bridges.
We opted for the Express and set off with our climb leader across the 'Catwalk'. It's here that nervous climbers struggle most. The rush of traffic is clearly visible beneath the criss-cross of metal, sometimes proving too much for nervous souls.
Most people persevere and find that the Sydney Bridge Climb isn't as taxing as they had feared. There are no ladders or ropes. Instead, participants walk up steps, most of them shallow and punctuated by ramps and horizontal catwalks. There are also plenty of stops where you can pause and listen to your climb leader share stories about the bridge and its many illustrious visitors.
The Sydney Bridge Climb has attracted a host of celebrities over the years. We won't name and shame our climb leader but we will say that despite visitors like Oprah Winfrey, Robert De Niro, Paul McCartney and Kylie Minogue, he got most excited about guiding PC Tony Stamp to the top!
The Sydney Harbour Bridge has also played host to over 4,000 proposals and a few dozen weddings (yes, you can get married on it!). There were no such shenanigans on our climb. Instead, we traced our way to the top past great girders and pylons, endless rows of rivets and vertiginous vantage points over rushing traffic. There, we found one of the best views in all of Sydney. The Sydney Opera House and iconic harbour lay to one side while the city sprawled on the other.
We took some customary photos including awkward poses with our thumbs up and arms spread ("Brits always struggle with those," our climb leader noted amusedly). Naturally, we preferred the most natural one.
So – all in all, was the Sydney Bridge Climb worth it? There's no denying that the prices are steep ($303 AUD / $230 USD per person plus more for photos). We certainly balked at the prices before we arrived in the country, but we soon realised that everything is expensive in Australia. The Sydney Bridge Climb is one of the most iconic things you can do in the country and for that reason alone, it's worth it.
Adrenaline junkies won't be tested by the climb, but the sheer uniqueness of the experience combined with the insight from climb leaders and the resulting view of the harbour makes the Sydney Bridge Climb worth the cost and effort. As I said in lessons learnt from travelling the world, if in doubt, spend the money. In a year's time you probably won't remember the cost but you will remember the experience. That I promise you.
Sydney Bridge Climb: the essentials
What: The Sydney Bridge Climb in Sydney, Australia.
Where: We split our time in Sydney between Mantra 2 Bond Street and Mantra on Kent, both of which offer apartment-style accommodation in excellent locations.
Mantra 2 Bond Street in Sydney's CBD (Central Business District) is walking distance to the city's major sights. The Sydney Opera House and the Sydney Harbour Bridge are a 15-minute walk away while Circular Quay and The Rocks can be reached in a mere 10 minutes. Wynyard train station is two minutes away, making this an excellent base from which to explore Sydney's sights.
The apartments themselves are stylish and supremely comfortable. The executive studio apartments are split-level and open plan with a sunken lounge, marble bathroom and fully equipped kitchen – if you're inclined to cook that is! A rooftop pool and spa and lobby cafe and bar complete the hotel's excellent set of facilities.
Mantra on Kent is less opulent but just as comfortable. Our modern one-bedroom apartment offered expansive views across the city and easy access to Darling Harbour five minutes away, as well as Chinatown 10 minutes away.
The stylish hotel has an onsite restaurant, business meeting rooms and 24 hour reception. All apartments offer wifi as well as kitchen and laundry facilities. With Town Hall station 100 metres away and Wilson parking available (at a fee), Mantra on Kent is a convenient and comfortable way to explore Sydney and beyond.
Mantra Hotels offer accommodation across the entire country – a safe bet for comfortable lodgings in excellent locations.
Atlas & Boots
When: The best time to visit Sydney is Sep-Nov and Mar-May. This avoids the peak season of Dec-Feb and offers comfortable temperatures with manageable crowds.
How: Book a climb through the Sydney Bridge Climb website. The offices are centrally located in Sydney, walking distance from most CBD hotels. Review the pre-climb checklist a few days before and aim to arrive 15 minutes before your climb.
Book domestic or international flights to Sydney via Skyscanner for the best prices.
---
Enjoyed this post? pin it for later…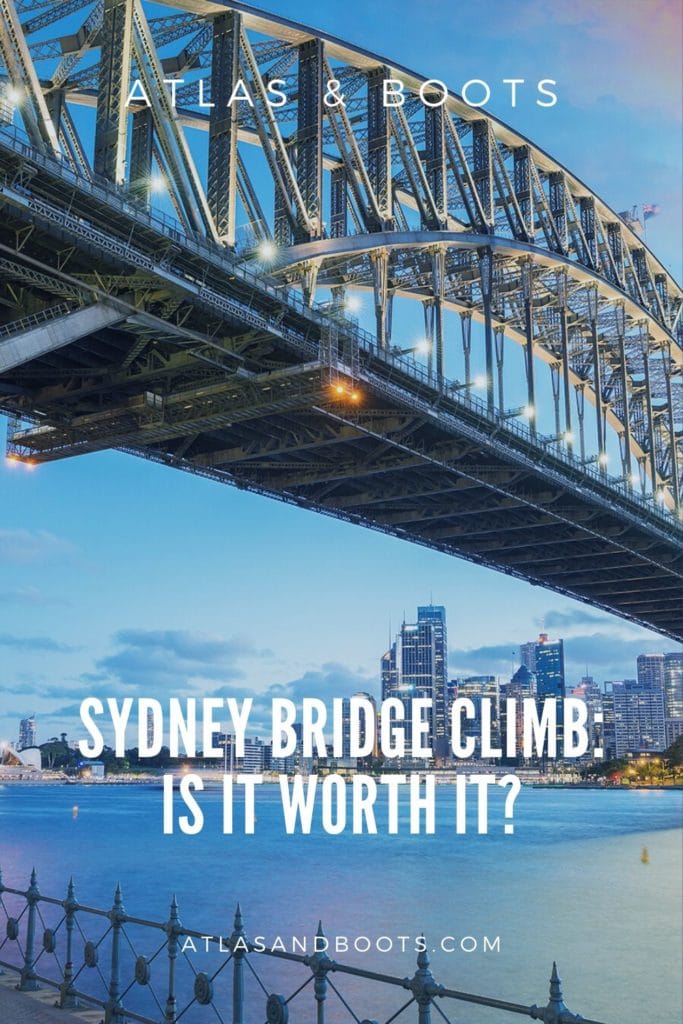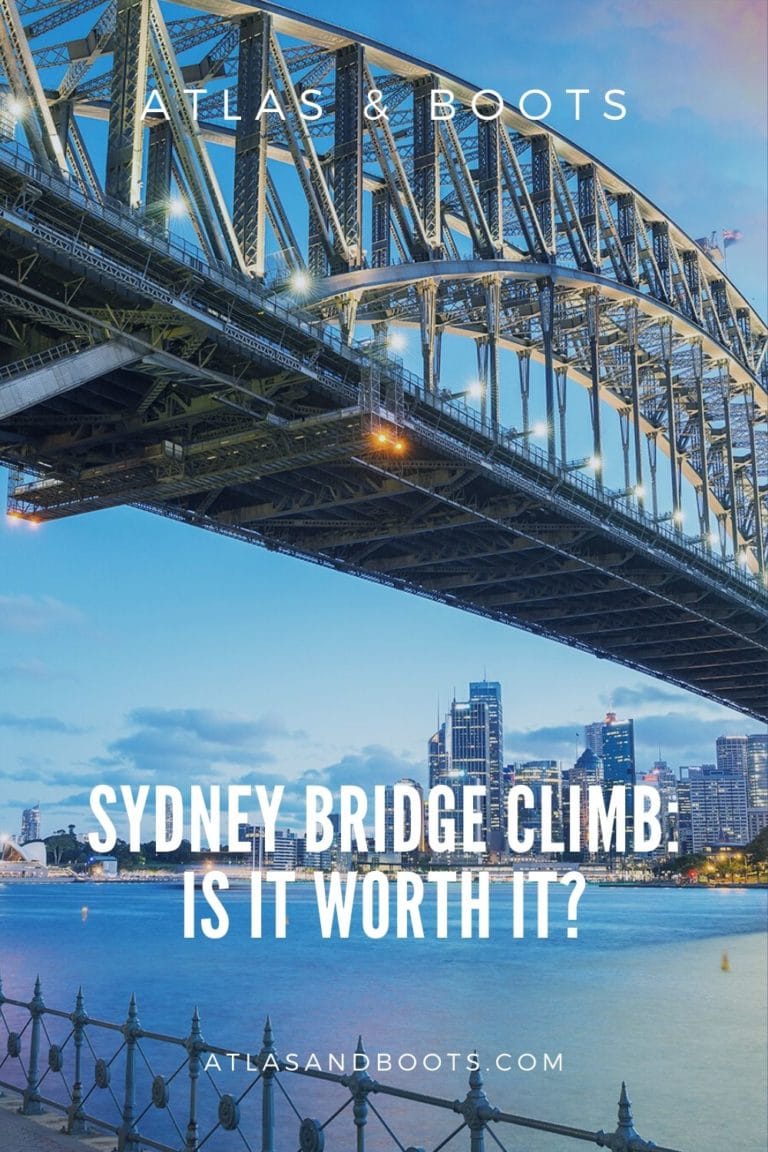 ---

Australia is a huge country. If you prefer to pass on the planning, we recommend G Adventures and their small group Australia tours.
Lonely Planet Australia is a comprehensive guide to the country, ideal for those who want to both explore the top sights and take the road less travelled.