I squinted at the map on my phone, reading the tiny numbers in the afternoon glare of an unforgiving sun. The Temple of Artemis was definitely marked on the map – number 23.
We had spent the morning at Ephesus, Turkey's iconic archaeological site, and were now in search of the Temple of Artemis, one of the famed seven wonders of the ancient world.
We had walked down three different paths and hit boundaries of the site, unable to locate the seemingly mythical temple. Eventually, we traipsed to the South Gate, arms held out at unnatural angles to let air around our sweating skin. We were welcomed at the gate by a typically gregarious Turk who cheerily told us the Temple of Artemis wasn't in the complex of Ephesus at all but 3km away, back near town.
Though rarely daunted by a 3km walk, the prospect of schlepping to the temple in the ungodly heat appealed to neither of us, so we jumped into a taxi instead. Ten minutes and $5 USD later, we found ourselves on a balding mound of swampy mud and withered grass.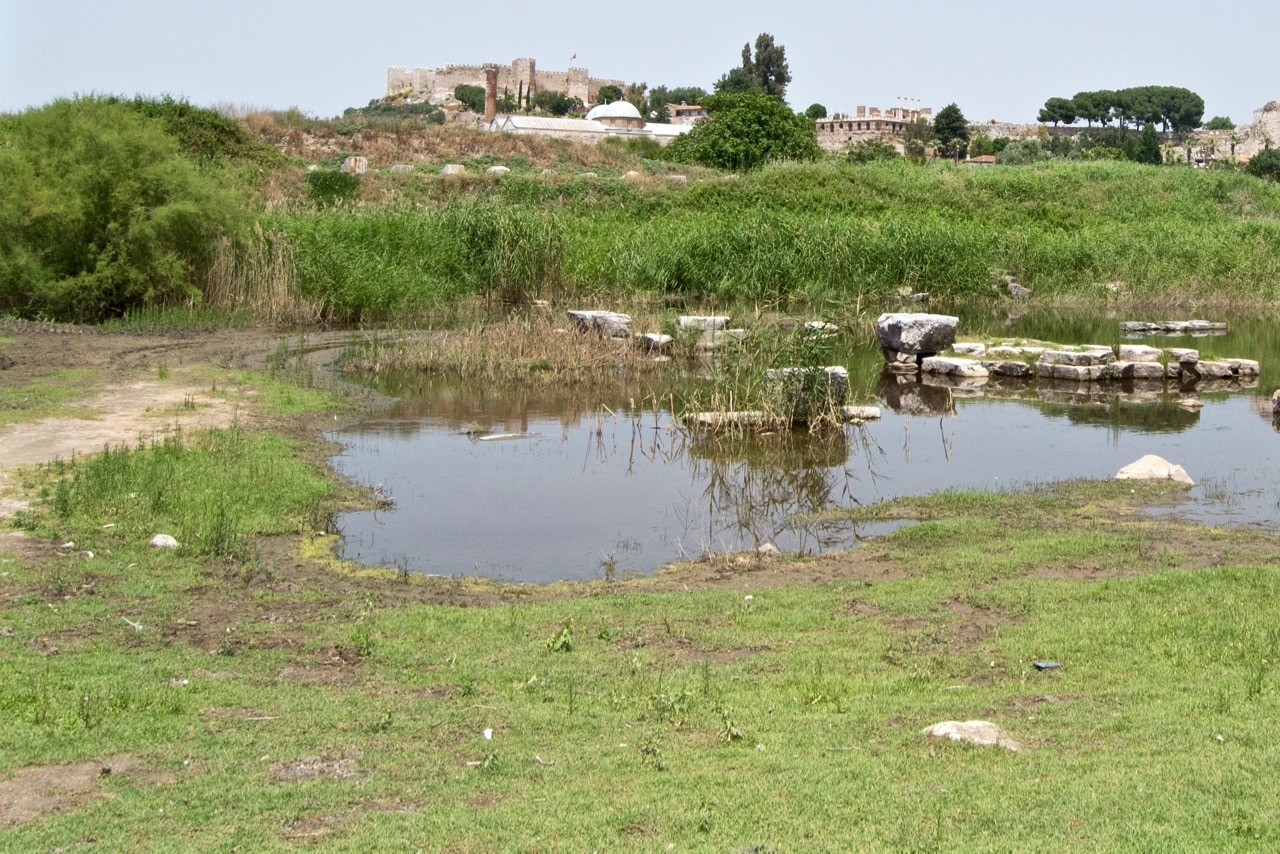 Fit for a Goddess? The famed Temple of Artemis sits atop a balding mound of swampland
We headed to a forlorn information board and surveyed the scene beyond. We weren't expecting much of the temple (all but the Giza Pyramids of the ancient wonders have been destroyed) but we did expect more fanfare around the site itself: some velvet roping perhaps or a plaque of some sort – something to commemorate the significance of the site. Instead, we found a solitary column surrounded by a scattering of stone.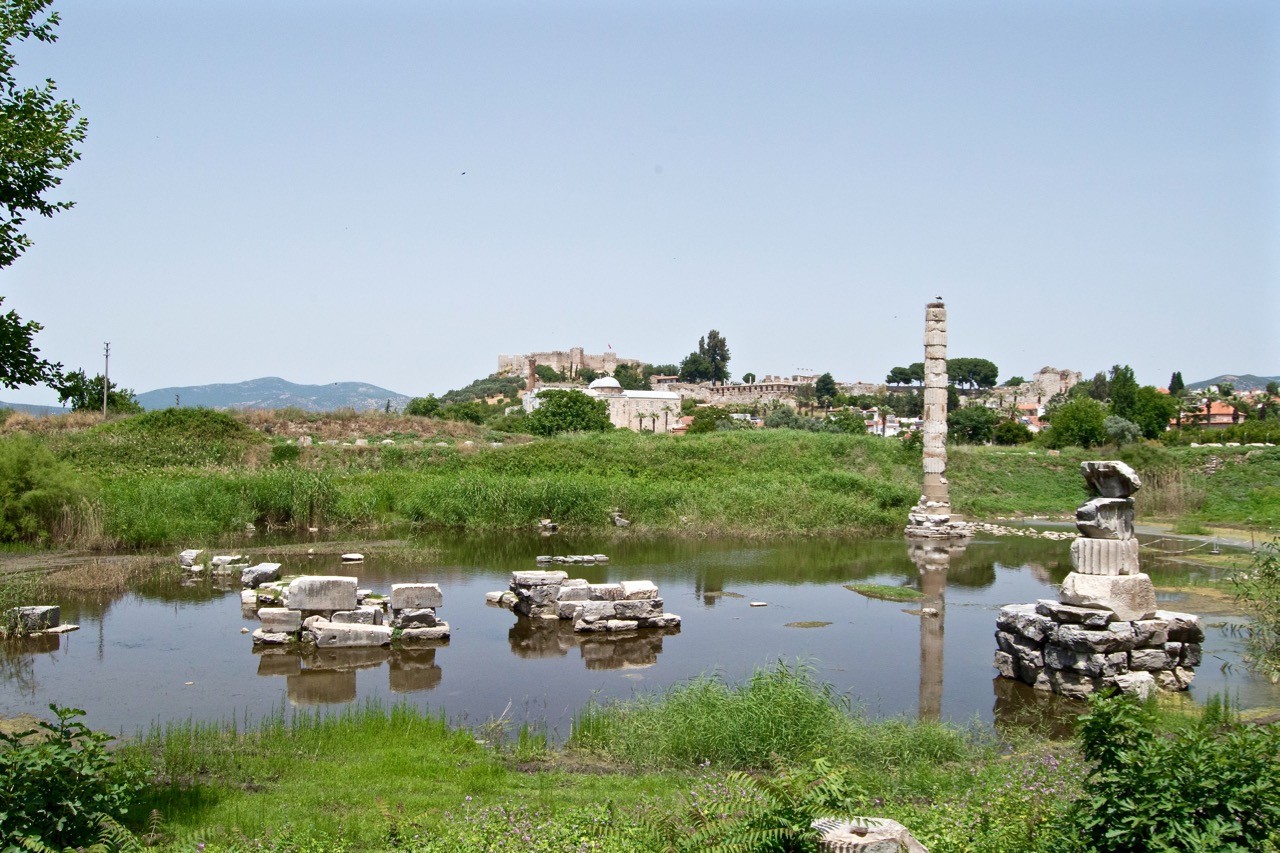 It seems that the Temple of Artemis, an homage to the eponymous Greek goddess of the hunt, was now relegated to the fourth best thing to see in town after Ephesus, Ayasoluk Castle and Isa Bey Mosque. We spent 20 minutes walking around the ruins, unable to get too close because of the swampy basin around it.
The temple, first built around 800 BC, was destroyed three times in turn by flooding, arson and plundering. The third incarnation stood for 600 years and comprised over 127 columns, only one of which remains at the original site.
As we stood before the lonely column, we tried to absorb its significance; to bask in the echoes of a glorious past.
Alas, all we felt was a sense of underwhelming, tinged with the guilt of being British. You see, parts of the temple have been excavated and transported to the "Ephesus Room" at the British Museum following work by British archaeologists John Turtle Wood in 1869-1874 and David George Hogarth in 1904-1906.
Of course, it's not the first time the British have claimed precious artefacts for themselves. Other contested items include Egypt's Rosetta Stone and Greece's Elgin Marbles. Authorities in both countries have long lobbied for the return of these objects but the British Museum has deftly refused, claiming that the treasures are world heritage objects and more accessible to visitors in London.
The British Museum likely also worries that priceless artefacts are at risk in foreign museums that have far less funding. After all, it was at the Egyptian Museum in Cairo that King Tutankhamun's beard was stuck back on with everyday glue.
Finally, if the British Museum surrenders to one claim, it could open the floodgates to scores of others.
On the other hand, British ownership of precious artefacts is commonly the result of colonial dispute, not diplomatic agreement. If we are to follow any modern code of social conduct, then surely the only course of action is to return precious artefacts to their country of origin whether or not it has the means and motivation to preserve them as we would.
One thing that has always astounded us at Atlas & Boots is the incomprehensibly warm reception we've had as Brits all over the world. Indians have called us compatriots, one Fijian called Britain the 'motherland' and Kenyans proudly told us that they still use the shilling. It seems that Britain's colonial past was so forceful, so utterly complete, that it managed to not only dominate faraway lands but endear itself as well.
Perhaps it's now time for Britain to show humility; to extend the same courtesy that others offer us. Perhaps it's time to give our treasures back.
visiting the Temple of Artemis: the essentials
What: Visiting the Temple of Artemis in Selçuk, Turkey.
Where: We chose to stay at Akay Hotel, which is situated perfectly for visiting Ephesus as well as the other points of interest around Selçuk. It is close to the Temple of Artemis, Ayasoluk Castle, Basilica of St. John and Isa Bey Mosque, and just a 10-minute walk from the town centre and railway station.
The hotel has a welcoming swimming pool, a small bar offering cold drinks, snacks and beer, and even a pair of tortoises roaming the garden. The real draw, however, is the sweeping view of the surrounding town and countryside. Breakfast is served outside your room overlooking the view, so ask for a room on the upper floor.
The staff have limited English but will go out of their way to assist you in anything you need. Şükran had a dictionary close by and diligently wrote out phrases to make sure we understood each other properly.
When: The best time to visit Ephesus is spring (March to mid-June) when the weather is moderate and the days are long. Do note that you may get a day or two of rain, particularly in April. Despite it being milder than summer, do not underestimate the sun. Summer will definitely be hot and likely crowded, while winter can be cold and rainy.
How: You can walk to the Temple of Artemis from Akay Hotel as it's only 1km (0.6mi) away. Entrance is free. In fact, there is no entrance; you can just walk up to it!
We arrived in Turkey at Istanbul's Ataturk international airport and spent a few days in Istanbul before moving onto Selçuk. We took a domestic flight to Izmir (1hr) and then boarded a train to Selçuk (1hr 20mins).
The airport is international and has connections to a number of domestic destinations throughout Turkey. Book via Skyscanner for the best prices. 
The trains proved very reliable and easy to use. For more information and booking options visit the Turkish State Railways website. We also used the train to continue on to Denizli to visit Pamukkale.
Note: Due to recent unrest in Turkey, check FCO travel advice before visiting.
---
Lonely Planet Turkey is a comprehensive guide to Turkey and contains a detailed section on visiting Ephesus and the surrounding area.