In two weeks, we have crossed four states on our American road trip, seeing an array of landscapes straight out of the movies
We never even planned to be in the US!
In fact, we should have been about 3,000 miles further south by the time we rocked up on Venice Beach in LA, mixing with the crowds of hippies, hipsters, tourists and homeless. I'll admit that with my two-month-old beard, huge backpack and threadbare flip-flops, I blended in most with the latter.
In the two weeks since our arrival, we have crossed four states on our American road trip, seeing an array of landscapes straight out of the movies. From snowcapped mountain ranges to tumbleweed-strewn deserts, from glitzy casinos and roadside motels to the empty and silent towns of the Midwest, we saw it all. And it was magical.
Our route
Our ship docked in LA where we spent a few days with friends before hiring a car and heading north along the coastal road (Highway 1) to San Francisco. LA is traffic-clogged at the best of times so we left after 10am to avoid the rush hour.
You could make San Francisco with one-stop but we stopped twice, taking easy days along the coast road stopping regularly for photos at breathtaking vista points. We stopped for the night at San Luis Obispo and Monterey and arrived in SF early to visit the Golden Gate Bridge.
In SF, we met with more friends and stayed for three nights, this time using the metro and city buses to get around. From SF we headed west across the Eldorado National Forest before turning south down Route 395 where we stopped at a (deserted) town called Bridgeport.
The next day was long but rewarding as we continued west via Death Valley to Las Vegas. There are some great roads to drive along including the relentlessly long and straight and then undulating and winding Highway 190 through Death Valley.
One night in Vegas was all we could afford (safer that way) before continuing west to the Grand Canyon National Park. We spent an afternoon at the visitor centre exploring some short trails and driving the Desert View Drive stopping regularly at vista points. We drove north that night to stay at Lee's Ferry so we could do some hiking and canyoning the following day.
Two nights there was all we could afford before heading back cross-country to LA. We got a tip in Lee's Ferry to stop off at Zion National Park on the return journey for some "red-Yosemite-in-the-desert style" scenery. We followed the advice and were not disappointed, holing up in a seedy casino just inside Nevada for the night before heading to LA in the morning.
We wish we'd had another week (or two) as we could have spent longer in almost every destination (maybe not the seedy casino) but we can't complain considering everything we managed to see.
What we saw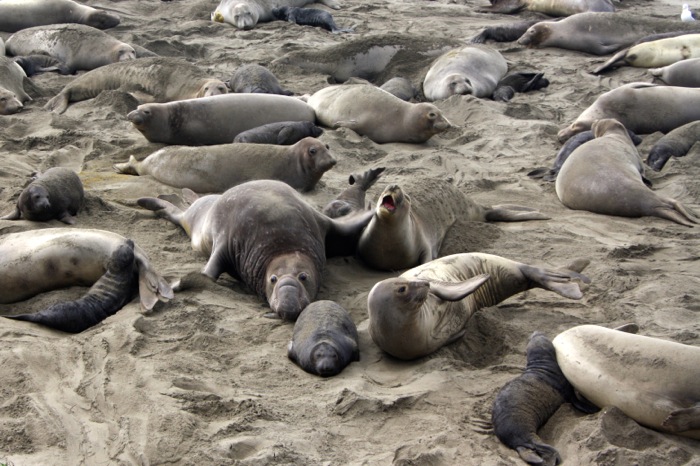 Rules of the (American) road
I've learnt to drive in the UK and have driven across much of Western Europe, North Africa, Tanzania and even sporadically – and never again – in India. The US felt very similar to Europe but also very different. Here are just a few observations.
Americans tend to drive a bit slower than Europeans but that doesn't necessarily mean it's safer or easier. In general, there are more lanes on their roads, but also more cars meaning things often seem more hectic than on European roads.
There aren't speed cameras (I hope) and don't expect to find many roundabouts over there – I saw two in two weeks and got very excited when I did! I was told that the slower traffic should stay to the right and the faster traffic to the left. However, I saw very little evidence of this and often found the outer two (fast) lanes thronging with traffic while the inner two lanes were almost empty.
In general, American drivers tend to weave between lanes – to the left and to the right – and are happy to undertake. As a British driver who's used to the regimented rules of UK roads (rather like those of the London underground), I found this rather disconcerting at first. Over the weeks, concern turned to weariness and eventually, when I gave up trying to understand, weariness turned to amusement.
It didn't take long to convert to their style. However, there are still some things I feel uncomfortable with: should I really be able to turn right when the traffic light is red?
Irrespective of the road rules, if you're a confident driver these challenges won't detract from the enjoyment of the great American road trip. You've seen these roads before – they're straight out of the movies.
---
Whether exploring your own backyard or somewhere new, discover the freedom of the open road with Lonely Planet's USA's Best Trips.