Seven years after our first visit, we return to Tierra del Fuego to rediscover the best things to do in Ushuaia, the capital of the end of the world
There are few places left in the world that still evoke the romance of old-world exploration. They inspire nostalgia for a time we never knew; places to which we've never been.
We know their names in the same way we know Neverland and Narnia: shrouded in legend and lore. Cartagena, Antarctica, the Northwest Passage and Vinson Massif. Even men sounded greater then: Drake, Amundsen, Livingstone and Shackleton.
Amid these legendary places surely lies space for Tierra del Fuego, the southern tip of Argentina and the famed "end of the world", the last huddle of humanity before the wilderness of Antarctica.
It's with this sense of awe that we set foot in Ushuaia, the capital of Tierra del Fuego nestled between the Martial mountains to the north and the Beagle Channel to the south.
Portuguese explorer Ferdinand Magellan was the first European to explore the area. Sailing for the Spanish Crown in 1520, he happened upon the natives' numerous fires across the land and thus was born the moniker Tierra del Fuego, or "Land of Fire".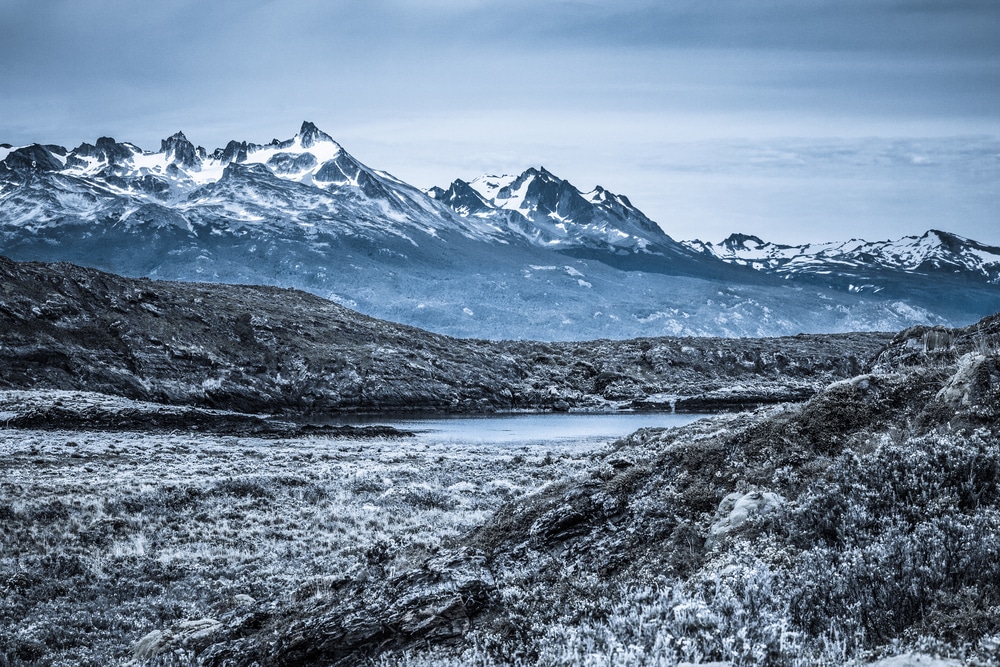 In reality, Tierra del Fuego is a frigid land of changing landscapes. In summer, it is clear and crisp; in winter, it is heavy and imposing. We have seen it in both seasons and winter is undoubtedly more beautiful. If you're travelling onwards to Antarctica, however, summer is the only option. Either way, there are plenty of things to do in Ushuaia, the best of which we share below.
Best things to do in Ushuaia
Ushuaia is a destination in and of itself. We spent four days there in winter 2015 as part of our trip around the world, and returned there in summer 2022 en route to Antarctica. Either way, it's worth stopping for a few days to explore the best things to do in and around Ushuaia.
Museo Marítimo y del Presidio de Ushuaia
This former prison has been converted to the Maritime and Prison Museum of Ushuaia. The eerie corridors and cells once held the country's most notorious criminals, among them anarchist Simón Radowitzky and 16-year-old serial killer Cayetano Santos Godino.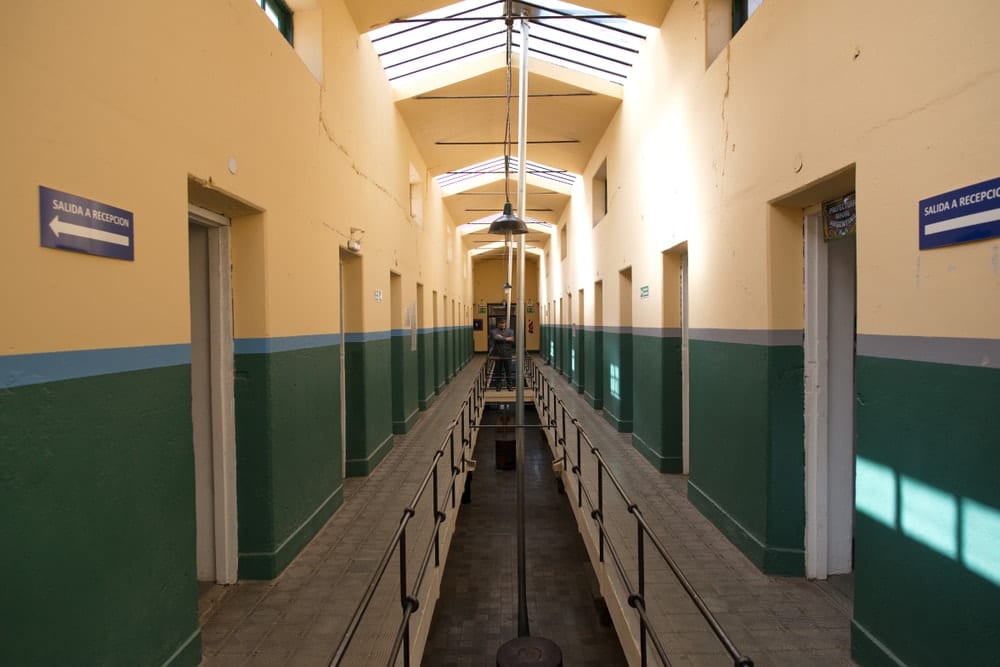 Today, the complex has a less gory purpose. Its separate wings showcase different aspects of life in Tierra del Fuego, from naval and aerial history to modern-day art. Tickets aren't available online and so must be bought on site. (Tip: Take USD with you and convert to local currency on the ground as your money will go much further.)
Plaza Islas Malvinas
We paused at Plaza Islas Malvinas, a memorial dedicated to the fallen soldiers of the Falklands War. The Wall of Remembrance contains the names of 649 Argentine servicemen who lost their lives in the conflict.
The Falklands – which are still claimed by Argentina – are known as Las Islas Malvinas here. If you find yourself in a political discussion, be sure to use the local name and not the British one.
Tren del Fin de Mundo
The Tren del Fin de Mundo, or End of the World Train, once shuttled prisoners into nearby forest to collect wood and stone. Today, it transports tourists from Ushuaia to Parque Nacional Tierra del Fuego and completes the final 7km of what was once the prisoners' journey. The route takes in vast scenic landscapes, a waterfall, a 'tree cemetery' and swathes of lenga forest.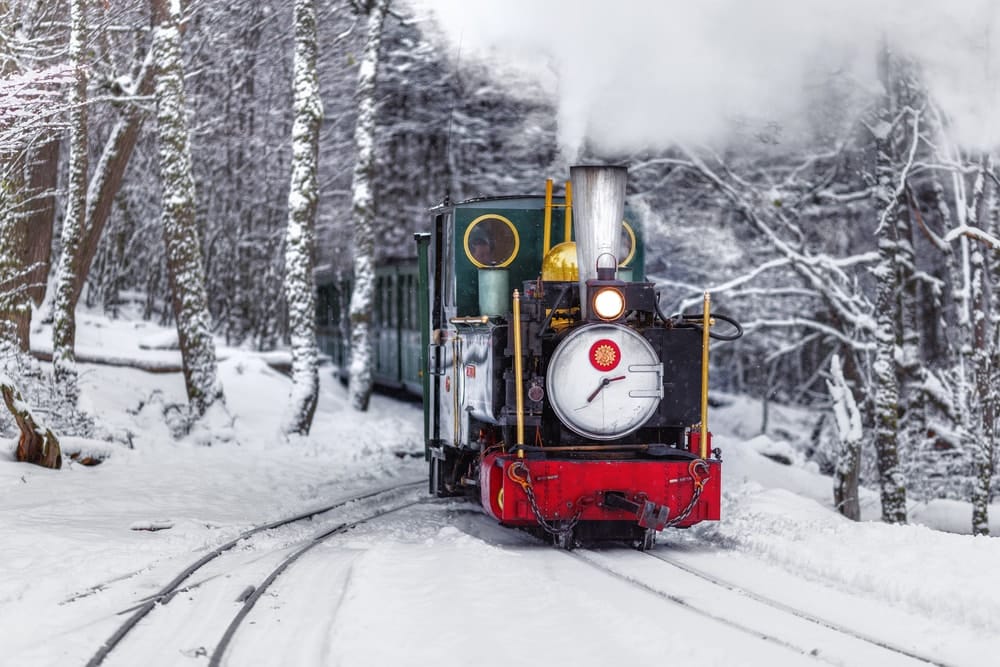 The train station is located 8km from Ushuaia, so passengers will need to organise transport to and from the site. The train is popular with tourists so pre-book tickets if you don't want to miss your ride.
Passport stamp at the end of the world
The end of the world offers one of the coolest passport stamps in the world. Visit the tourist office at Prefectura Naval Argentina 470 to get your passport stamped.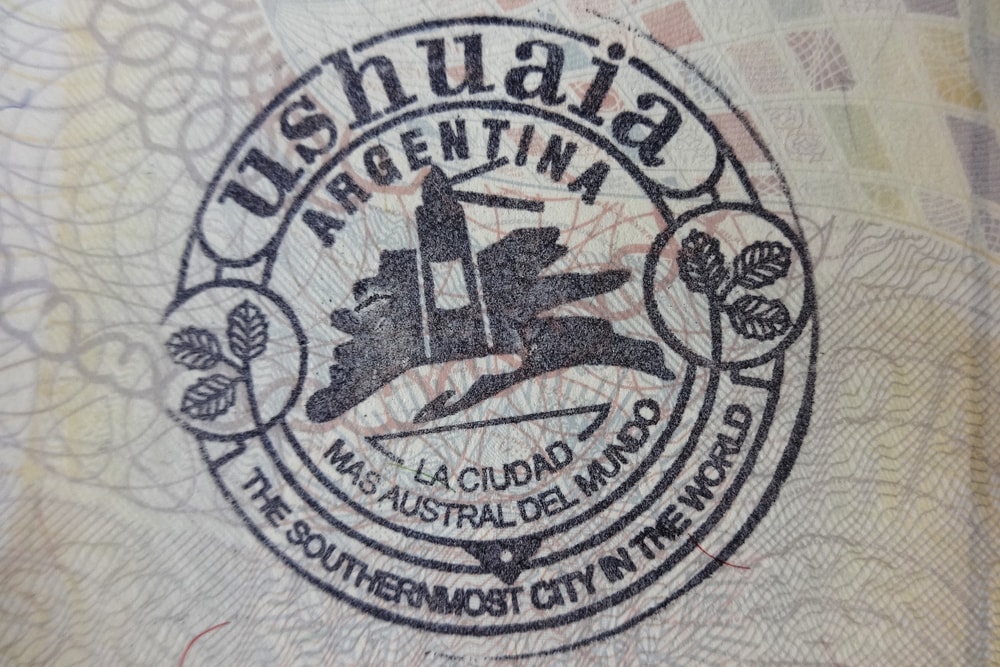 Ink pads and stamps are set out on a surface towards the back and you can use them as you see fit. We were travelling to the seventh continent, so stamped our passports with both Ushuaia and Antarctica.
Museo del Fin del Mundo
The Museo del Fin del Mundo, also known as the End of the World Museum, provides little more than 30-45 minutes of entertainment, but is worth visiting for posterity alone.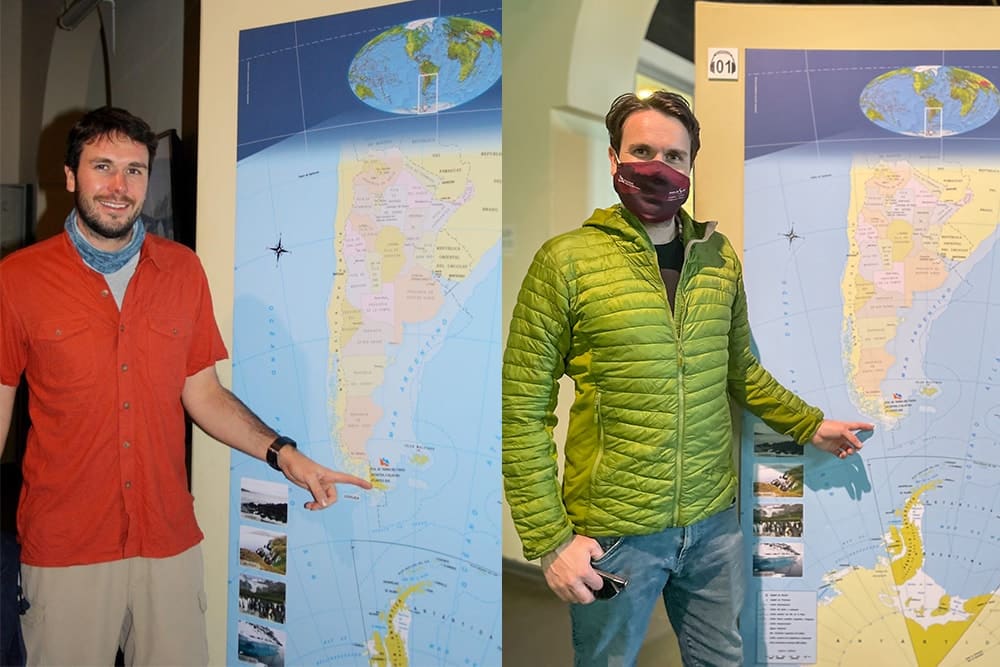 Built in 1903, the former bank now displays exhibits on natural history, birdlife, natives and early penal colonies. If you do visit, be sure to ask about the museum's second section which is housed in a different building.
Best things to do around Ushuaia
The map below shows the best things to do in and around Ushuaia. Pink pins show sights that are within the city and yellow pins show sights nearby.
Les Éclaireurs Lighthouse
Les Éclaireurs Lighthouse can be reached by a short boat ride on the Beagle Channel. The Argentines call it Faro del Fin del Mundo or Lighthouse at the End of the World, not to be confused with the San Juan de Salvamento lighthouse on the more easterly Isla de los Estados, made famous by the Jules Verne novel The Lighthouse at the End of the World.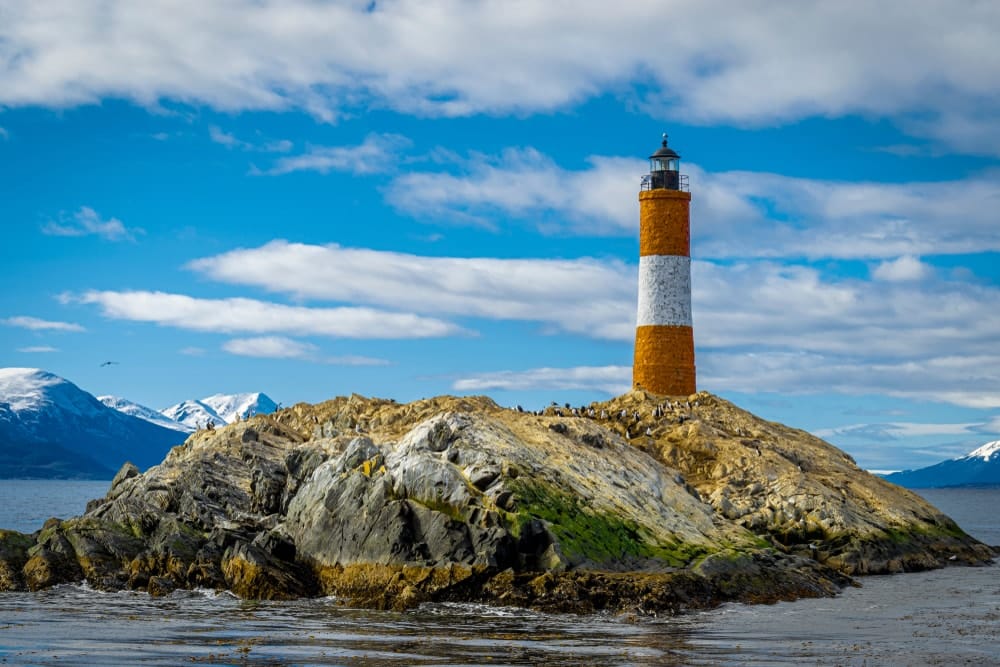 Laguna Esmeralda
The 9km hike to Laguna Esmeralda is one of the most popular from Ushuaia. The trail is moderate but traverses extremely muddy terrain, so pack good hiking shoes, galoshes and walking sticks if possible. Those who brave the mud will be rewarded by the green glacial waters of Laguna Esmeralda, snow-capped mountains and dense ancient forest.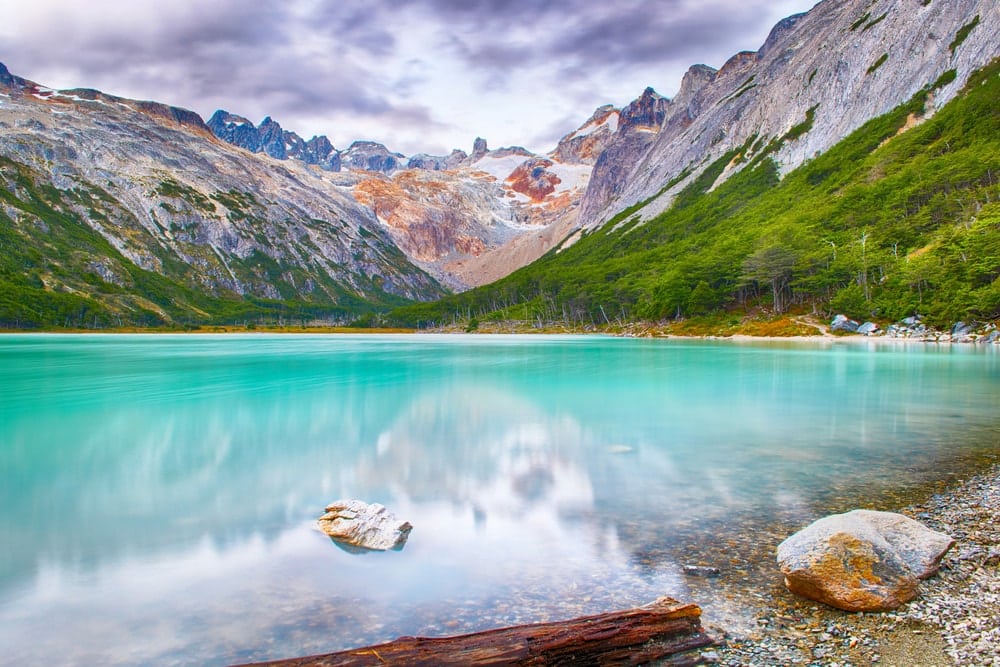 The trailhead is a few kilometres northeast of Ushuaia. You can take a shuttle or taxi to the trailhead to hike it independently or book a guided trip. Note that you cannot enter the trail after 3pm in spring-summer or 1pm in autumn-winter, so plan accordingly.
Isla Martillo (Penguin Island)
Nearby Isla Martillo, or Penguin Island, allows visitors to walk among penguins. Sadly, we didn't visit the island ourselves as it was closed the first time we visited. The second time, we were en route to Antarctica and due to see a multitude of penguins anyway. Viator offers a number of well-reviewed tours (see below), so we recommend booking one of them.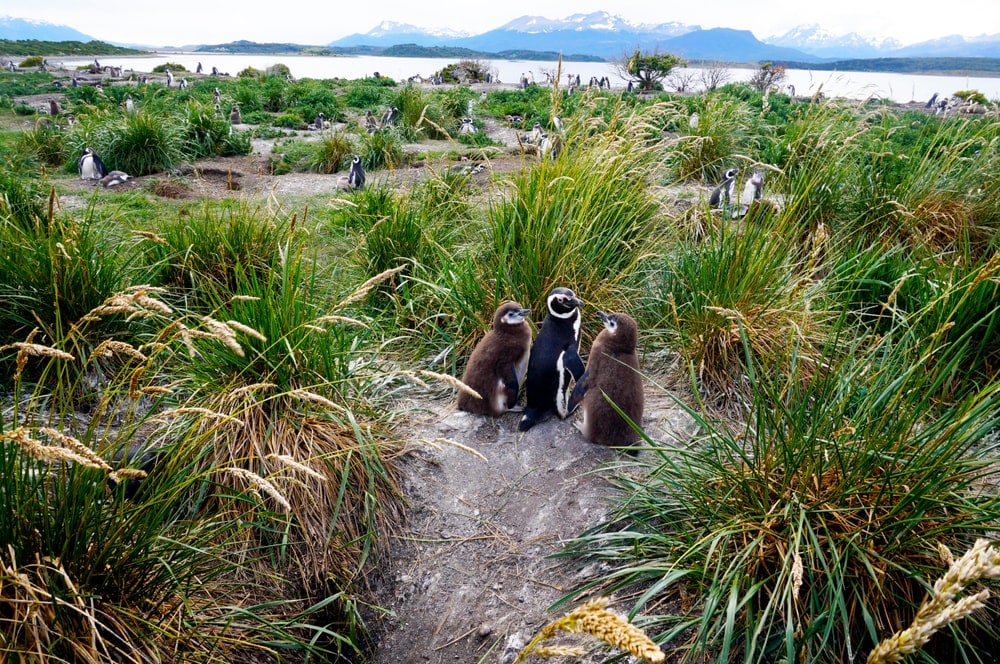 Glacier hiking
Glacier Martial and Glacier Vinciguerra are both reachable by day hikes from Ushuaia. The trailhead for the first is a few kilometres north of Ushuaia and easily accessible by road (book a taxi or return minibus).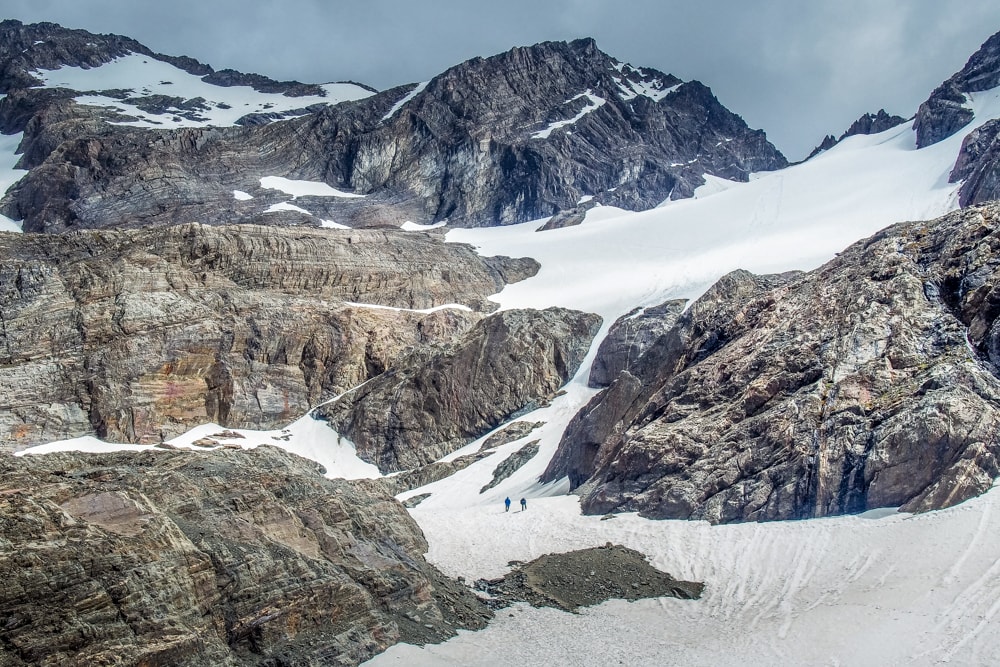 CC; Shutterstock
Martial Glacier (left) and Vinciguerra Glacier (right)
The Martial Glacier Trail itself is 6km, but you can cut out part of the uphill section by opting to take a chairlift. The glacier itself doesn't rival Perito Moreno – especially in the summer – but it does offer picturesque views of Ushuaia across and the Beagle Channel.
The Vinciguerra Glacier Trail is deeper in the mountains and longer, harder and muddier, but hikers are rewarded with arguably prettier views.
Parque Nacional Tierra del Fuego
Finally, don't miss Parque Nacional Tierra del Fuego (Tierra del Fuego National Park). The departing bus companies are a few minutes from the tourist office but if you pre-arrange the trip, they can pick you up from your hotel.
At Tierra del Fuego National Park, we found the isolation we expected, both bleak and beautiful in its snow-capped glory. With expansive panoramas of echoing mountains in the still winter air, the park is undoubtedly one of the best things to do in Ushuaia.
After several hours of hiking, we rounded off our visit with a warm drink by an open fire. What better way to spend our last day at the end of civilisation?
Things to do in Ushuaia: The Essentials
What: Things to do in Ushuaia, the capital of Tierra del Fuego in Argentina.
Where: We stayed at a charming bed and breakfast called Mysten Kepen, eight minutes from the centre of town. Hosts Rosario and Roberto are incredibly warm and welcoming (Spanish speaking only) and put on an excellent breakfast in the mornings. The rooms are cosy and comfortable with reliable hot water – much needed in the winter chill. Higher-end hotels are further out of town, but the apartments at Ushuaia Drake Departamentos are centrally located and well reviewed.
When: We first visited at the end of May just as the first snow hit the ground. It was beautiful but there are more activities available outside of the southern winter.
November to March is best for hiking and visiting penguins, mid-November to mid-April is best for fly fishing and July to September is best for skiing, snowboarding and dog sledging. Most Antarctic expeditions leave November to March.
How: You can get to Ushuaia by bus from El Chaltén and El Calafate (via Rio Gallegos) in Argentina (see Taqsa Patagonia for schedules and prices). Buses also run from Puerto Natales and Punta Arenas in Chile (see Buses Pacheco). Domestic flights are also available. Book via skyscanner.net.
In Argentina, we stayed online with a Keepgo Lifetime World LTE SIM Card, which connects to local 4G networks in over 100 countries. You can get 10% off any Keepgo product using this referral link.
---
Enjoyed this post? pin it for later…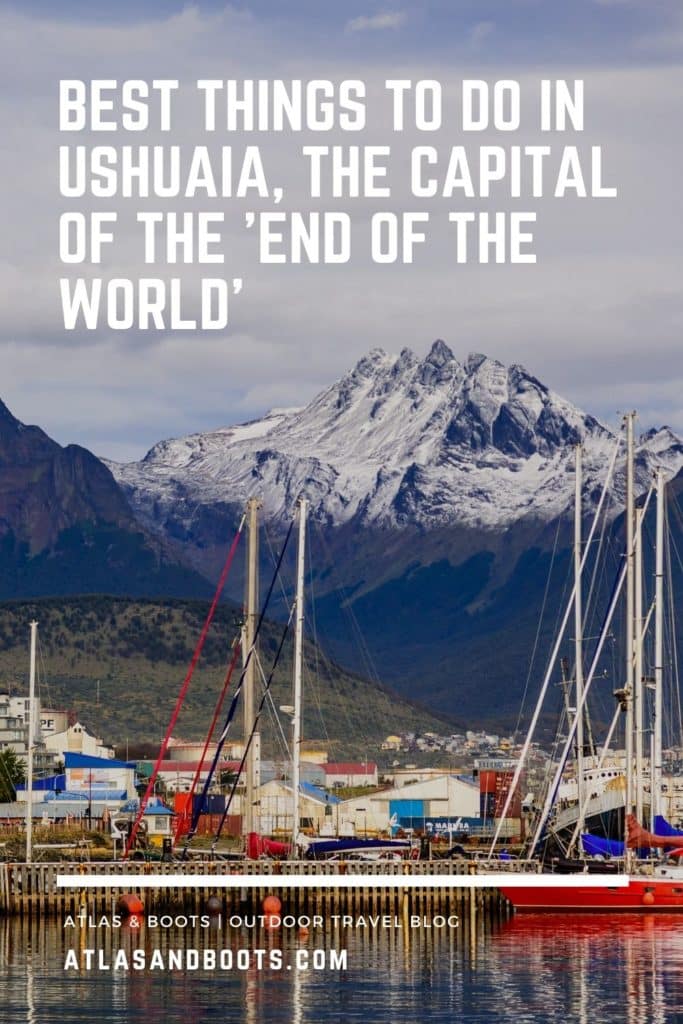 ---