With options to suit everyone, here are six outstanding El Chaltén hiking routes to choose from
Patagonia's El Chaltén hiking trails are on the bucket list of every serious hiker. The trekking capital of Argentina provides access to a network of well-maintained hiking routes with some of the best alpine viewpoints in the world.
The routes are rambling and chaotic at times (underestimate the ever-present winds at your peril) but the rewards are big. The imposing towers of Fitz Roy and Cerro Torre steal the show but the magnificent World Heritage-listed Parque Nacional Los Glaciares has much to offer hikers at every level.
El Chaltén hiking Trails
With options to suit everyone, here are six outstanding El Chaltén hiking routes to choose from. If you're really brave (or foolhardy), you can opt to complete them all.
1. Los Cóndores and Las Águilas viewpoints
Distance: 6km (3.5miles)
Duration: 1.5-2 hours
This is the shortest El Chaltén hiking trail with the most easily accessible miradors (viewpoints). The hike provides an excellent 360° view of the Adela, Torre and Fitz Roy massifs along with the greater Río de las Vueltas valley.
It's not the most dramatic as you won't get particularly close to any of the landmarks but if you're short on time and want to see as much as possible then it's ideal. The well-signed route begins at the visitors centre.
2. Laguna Capri
Distance: 12km (7.5miles)
Duration: 3-4 hours
This is an excellent, often over-looked El Chaltén hiking trail providing broad views of Laguna Capri, a glistening blue water lagoon, and its lakeside forest. You can also enjoy great views of 3,405m (11,200ft) Fitz Roy and its surrounding peaks.
The trail starts at the northern end of town and soon arrives at a viewpoint facing north along the scenic Río de las Vueltas. The trail then turns westerly where you'll find an excellent mirador facing the Fitz Roy massif.
3. Laguna Torre
Distance: 24km (15miles)
Duration: 6-7 hours
This is the classic El Chaltén hiking trail and also the most popular. If you can only do one hike here, do this one. There are two trailheads at El Chaltén, both of which begin with an hour's steep climb before reaching Mirador Torre and the first vista west towards the icy spire of Cerro Torre at 3,128m (10,262ft).
The trail continues along the Río Fitz Roy to the glacial lake of Laguna Torre. If it's not too windy you can continue along the lake's northern shore to reach Mirador Maestri with unrivalled views of the tower.
4. Laguna de los Tres
Distance: 26km (16miles)
Duration: 8-10 hours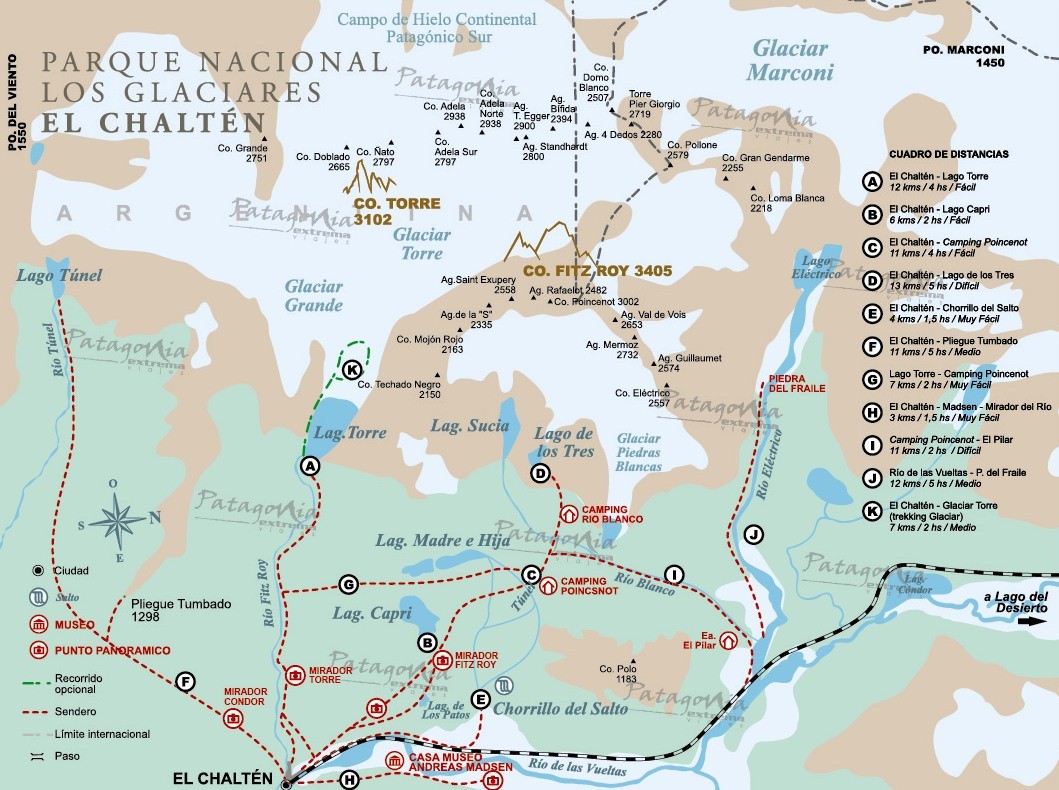 This El Chaltén hiking trail offers the best views of Fitz Roy and the surrounding glaciers, but it's also the hardest and longest of the day-hikes. Many choose to camp overnight at one of two campsites (Poincenot and Río Blanco) along the way but it can be done in a day.
If doing so, rise early and get a head start. The trailhead starts with a steep climb from the end of Avenida San Martín and ends with the closest view of Fitz Roy's granite wall and surrounding peaks.
5. Laguna de Los Tres and Piedra Del Fraile
Distance: 58km (36miles)
Duration: 3-5 days
This is an excellent trekking option for the more adventurous hiker, combining several sections of the various trails surrounding El Chaltén. Follow the route towards Laguna De los Tres as described above, either stopping overnight at Campground Poincenot and rising early for stunning views of Fitz Roy, or continuing to the campsite and refuge of Piedra del Fraile.
Either way, the next day is a challenging one up to the climbers' camp of Piedra Negra.
6. Paso del Vientos / Huemul Circuit
Distance: 65km (40miles)
Duration: 4-5 days
This is the hardest of the El Chaltén hiking trails and should only be attempted by experienced trekkers. Although only a few kilometres longer than the Piedra Del Fraile route, the terrain is far more challenging and the risk of getting lost much higher. Many trekkers choose to join an organised trekking tour, which includes an optional walk out onto the Hielos Sur icecap.
The trail begins at the visitor centre heading towards Rio Túnel. You can spend the night at the Laguna Toro campsite. Day 2 is spent steadily ascending to the white expanse of Hielos Sur where there is sheltered camping available beside Laguna Ferrari.
Day 3 contains moderate walking following cairns roughly north-west across the moraine before retracing your steps back to Laguna Ferrari. Day 4 is a cairned route heading south close to the Chile border before arriving at a basic campsite and refuge. The final day is a blister-inducing 25km slog back to El Chaltén.
El Chaltén hiking Trails: ESSENTIALS
What: Exploring the outstanding El Chaltén hiking trails of Argentine Patagonia.
Where: El Chaltén is a small but expanding town, well prepared for the annual influx of hikers, trekkers and climbers. There is a range of restaurants, cafés, hostels, lodges, bakeries and mini-markets spread throughout the town.
We stayed at the simple but comfortable El Alamo where breakfast and wifi is included. Be warned that wifi in El Chaltén is provided by satellite and, therefore, frustratingly slow.
When: The best time to go is between November and March when the weather is at its best. Remember that the Patagonian climate is unpredictable at the best of times and the weather can change dramatically throughout the year with little warning. Pack the right outdoor clothing and footwear and be prepared for all eventualities.
How: El Chaltén is located 215km (130miles) north of El Calafate. There is a daily bus service in both directions between El Calafate and El Chaltén running all year round. During the high season (November to March) a third service also runs.
The bus journey takes about three hours. Some services also pass through El Calafate International Airport; just tell the driver you want to alight there when you board the bus. Check prices and schedules beforehand.
When you arrive by bus, you will stop at the excellent visitor centre where briefings take place in Spanish and English. There is plenty of information available as well as a range of maps.
The nearest airport is at El Calafate but it only serves domestic routes. Check skyscanner.net for latest prices.
---
Enjoyed this post? pin it for later…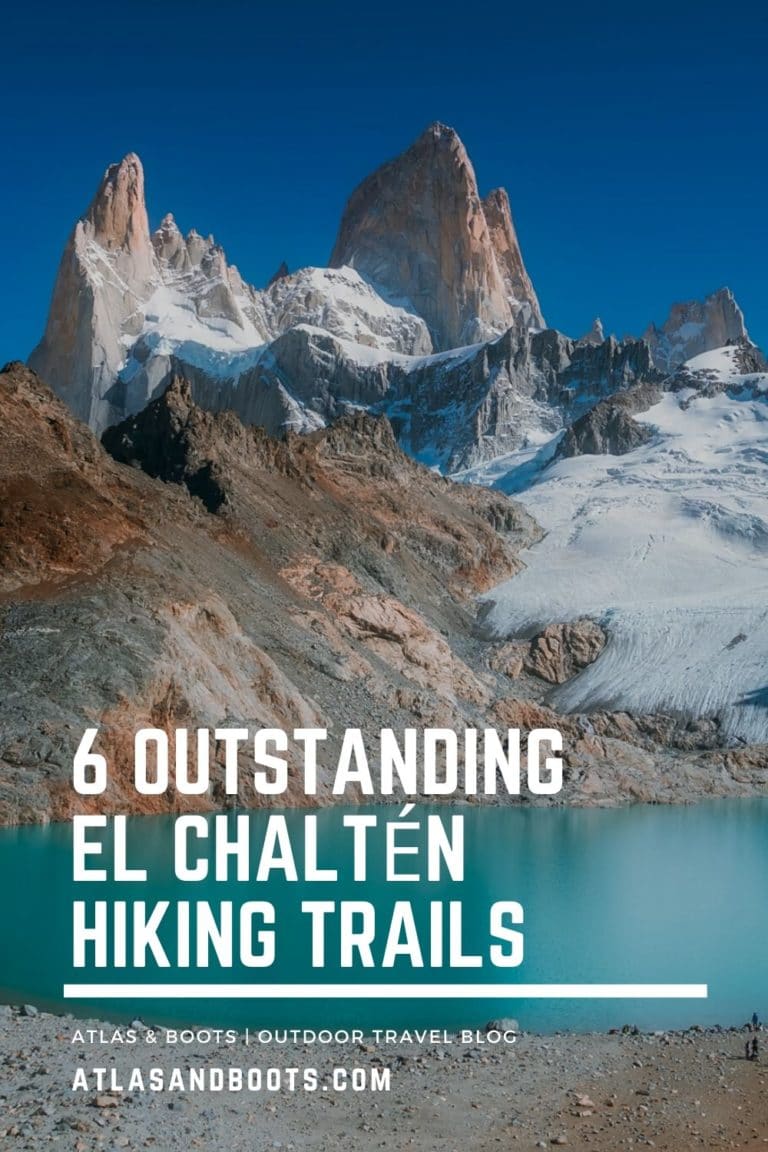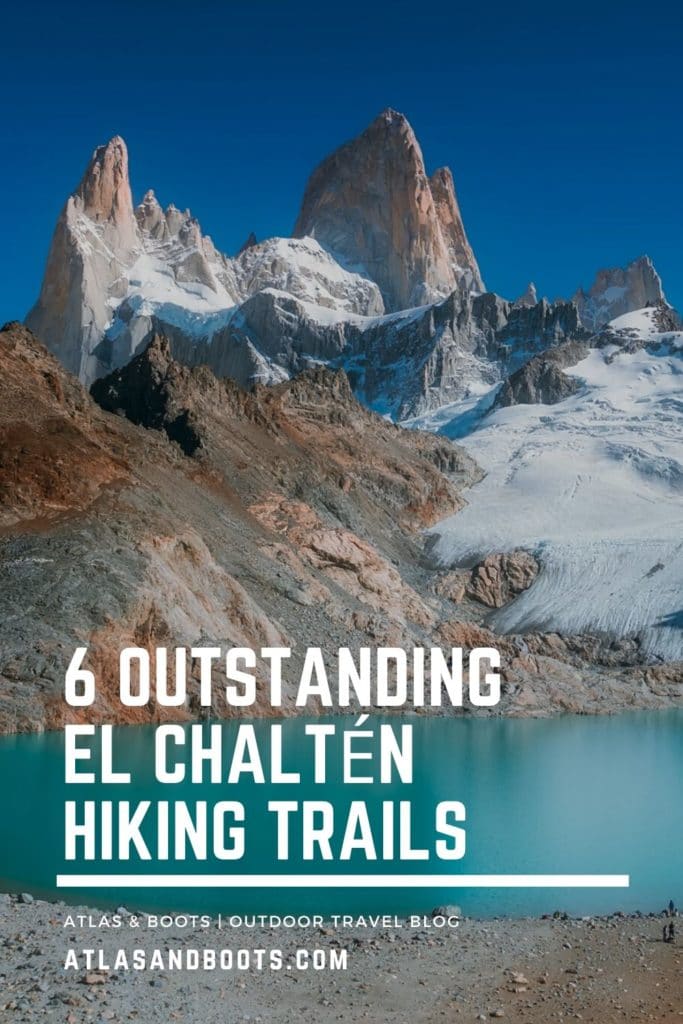 ---
Beautifully written and full of wonderful descriptions and intriguing tales, In Patagonia is an account of Bruce Chatwin's travels to a remote country in search of a strange beast and his encounters with the people whose fascinating stories delay him on the road.