Our selection of quick Cappadocia hikes explore some of the most bizarre and magnetic scenery in the world
Hiking around Cappadocia in Turkey is a unique experience offering some of the most surreal scenery in the world. There are numerous options available, from brief walks to full-day treks and beyond. Below, we take a look at some short but sweet Cappadocia hikes offering excellent vantage points with extraordinary views.
We hired a car and sought out the trails on our own. If you prefer, you can opt to book a Cappadocia hiking tour that will cover all the below. Voyager Balloons offer customised itineraries and are a good option if you don't have transport.
Maps for our Cappadocia hikes
We used a Cappadocia hiking map and an area map to help plan our routes beforehand (the red numbers on the maps correspond to hikes below). It's not necessary to have a detailed topographic map as the trails are signposted, mostly short and rarely stray far from civilisation.
That said, make sure you take plenty of water, sunscreen, a decent sun hat, a compass and a fully charged phone in case of an emergency. We recommend telling your accommodation where you're going, your route and when you plan to return. It's also worth starting early in the morning to beat the heat of the day.
We've created the Google map below with the valleys and places of interested marked – something we wished we'd had when we were exploring the area.
1. Pigeon Valley (Güvercin Vadisi)
Duration: 1-2 hours
Distance: 4.1km (2.5mi)
One of the best Cappadocia hikes can be combined with the Love Valley (Bağıldere Vadisi) trail below. You can start in Göreme town and walk towards the ever-present and looming Uçhisar Castle.
The valley route travels alongside high-sided cliffs and through a tunnel before finishing at the bottom of the castle which you can visit for some sweeping views (entrance fee: 6.5 TL / $3 USD). Along the way, the trail forks off multiple ways and several times but they will all lead to Uçhisar Castle eventually.
If you start at Uçhisar Castle and walk through the tunnel and main valley trail you will join the hiking trail near Göreme that continues onto Love Valley (signposted).
2. Love valley (Bağlıdere / Bağıldere Vadisi)
Duration: 1-2 hours
Distance: 4.1km (2.5mi)
Assuming you're joining from the Pigeon Valley trail near Göreme, the route follows the main road out of town before looping back around on itself through Love Valley.
The valley is aptly named given the phallic-shaped rock formations. The trail ends once you emerge from the valley and meet the paved road. From here you can walk to Çavuşin (15 min) or head back to Göreme (40 min).
3. Red Valley (Kızıl Vadisi)
Duration: 1-2 hours
Distance: 2-5km (1-3mi)
The Rose and Red valleys get their names from the rose-coloured rock that varies in hue and intensity depending on the time of day. The trailhead starts just up the hill from the Göreme Open-Air Museum on the opposite side of the road and offers two different routes through the Red Valley.
One is a longer, winding route with more to see, and the other is more direct. The trails are clearly signposted with the different distances displayed, so you can decide which one to choose. There are lots of excellent rock churches and viewpoints along both routes. Both routes leave you near Rose Valley so it's worth combining the two Cappadocia hikes.
4. Rose Valley (Güllüdere Vadisi)
Duration: 1-2 hours
Distance: 4-5km (2.5-3mi)
The winding route through the accordion-ridged Rose Valley is also one of the most popular Cappadocia hikes. Like the Red Valley there are lots of rock churches as well as vineyards and even a small café at Üzümlü Church. There is also an excellent panoramic sunset viewpoint of the valley near Çavuşin where the trail ends.
5. Zemi Valley (Zemi Vadisi)
Duration: 2-3 hours
Distance: 6km (3.7mi)
The looping trail starts between the Göreme Open-Air Museum and the Tourist Hotel. Follow the signs up the valley towards El Nazar Church (which you can visit for 5 TL / $2 USD), carry on along the trail and then follow the signposts as the trail skirts fairy chimneys, cave systems and rock formations.
El Nazar Church and thus the trail are very popular and can be busy at any time of the day, particularly at weekends.
6. Sword Valley (Kılıçlar Vadisi)
Duration: 1 hour
Distance: 3km (1.8mi)
A short and sweet hike with two well preserved rock churches en route. The trailhead is opposite the Göreme Open-Air Museum entrance. From the parking spots along the trail you can descend into the valley to join the Red and Rose Valley trails to end in Çavuşin.
7. Zelve valley (Zelve Vadisi)
Duration: 1-2.5 hours
Distance: 1.5-8km (1-4.5mi)
The Zelve Open-Air Museum is situated about 10km (6mi) from Göreme on the Avanos road. It once housed one of the largest communities in the region and is an amazing cave town, honeycombed with dwellings and rock churches.
We recommend walking around the open-air museum (1.5km / 1mi) before continuing on to the Paşabağ Fairy Chimneys at Monks Valley (6.5km / 4mi) with its distinctive stone cones.
8. IHLARA Valley (IHLARA Vadisi)
Duration: 2-6 hours
Distance: 3.5-14km (2.2-8.7mi)
Hiking the full trail between Ihlara village and Selime is a rural and rustic day out. Most visitors come on a tour and go as far as the short stretch to the (several) stone-cut churches, so the rest of the trail is often deserted.
The valley is also much lusher than the surrounding Cappadocia hikes as the Melendiz River runs along the valley floor painting the gorge in opulent shades of blue and green along the way. The total length of the valley is 14km (8.7mi) but can be broken down depending where you start:
5km (2.2mi): start at the main gate in Ihlara village and walk until Belisirma Village
7km (4.4mi): start at the beginning of the valley and walk until Belisirma Village
14km (8.7mi): start from the beginning of the valley and walk along the river until Selime Monastery
Atlas & BOots
Cappadocia hikes: the Essentials
What: Short Cappadocia hikes around Göreme National Park.
Where: We stayed at Esbelli Evi hotel in Ürgüp, which offers 10 spacious suites and four standard cave rooms making use of the original caves along with traditional arched rooms of cut stone. There are several stone terraces with sweeping views of the Cappadocian countryside and the town of Ürgüp – perfect for a late afternoon drink after a day's exploration.
There is a relaxed yet luxurious feel to the hotel which makes for a laid back, authentic experience. The hotel also offers many modern touches (guest laptops and hotel-wide free wifi) along with complimentary fresh coffee, snacks and cold drinks throughout your stay.
Atlas & BOots
The small town of Ürgüp is quieter and more charming than the more popular and touristy Göreme. Ürgüp has a handful of dining options, as well as hammams and a range of souvenir and craft shops. Our favourite restaurant was the delightful Dimrit Café and Restaurant.
When: The best time for visiting Cappadocia is spring (April to mid June). Summer can be unbearably hot while winter can see snowfall! Autumn (mid September to October) is also a good option, but the days are shorter and there's more chance of rain.
How: As we were travelling independently it made sense to hire a car ($35 USD per day) for the duration of our stay as we wanted the freedom to explore all the different sites around Cappadocia.
The hotel arranged everything for us and car was dropped off to us on our first morning. We returned the car at the local airport (Nevşehir Kapadokya) on departure which was perfect as we were flying back to Istanbul before catching our return flight to the UK. The airport is a 45-minute drive from Ürgüp.
To get to Cappadocia there are high-speed train and bus options available. High-speed trains connect Istanbul with Ankara and Konya via Eskişehir. From Konya you can continue to Cappadocia by bus or rental car (232 km/144 miles; 4 hours). For more information and booking options visit the Turkish State Railways website.
A night bus from Istanbul is the cheapest way to get to Cappadocia at around TL 85 (30 USD), but it's a long ride at 730km (454mi) taking 10-12 hours. Several companies run overnight buses including Metro Turizm and Nevşehir Seyahat.
There are domestic flights between Istanbul and Nevşehir Kapadokya Airport (NAV). We paid $50 USD for a one-way flight back to Istanbul. Ataturk Airport in Istanbul is international and has connections to a number of domestic destinations throughout Turkey. Book via Skyscanner for the best prices for international and domestic flights.
---
Enjoyed this post? pin it for later…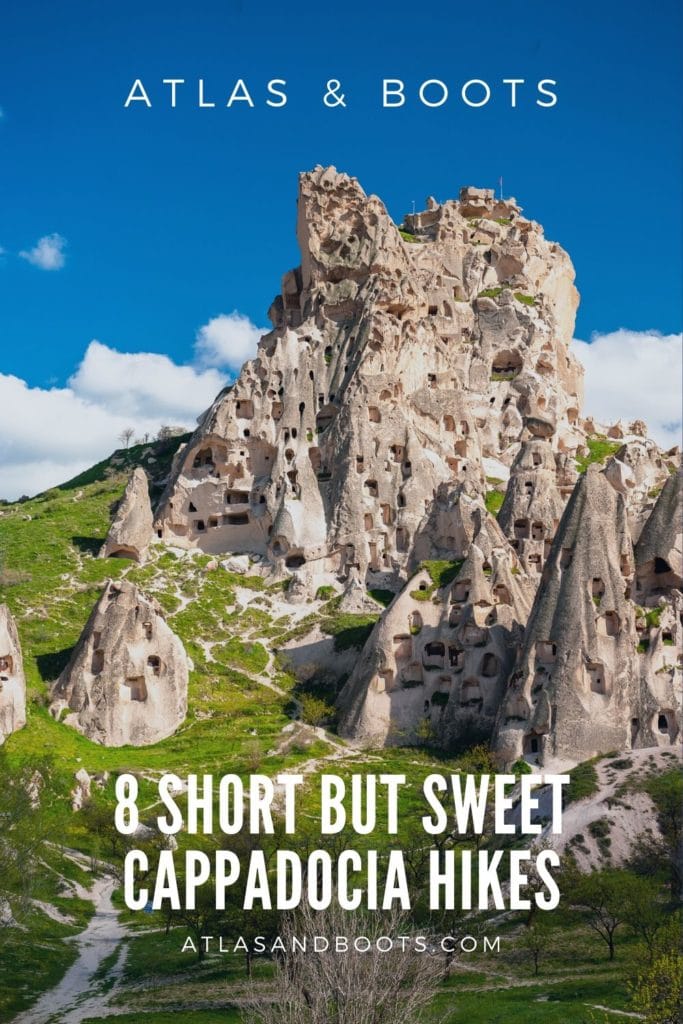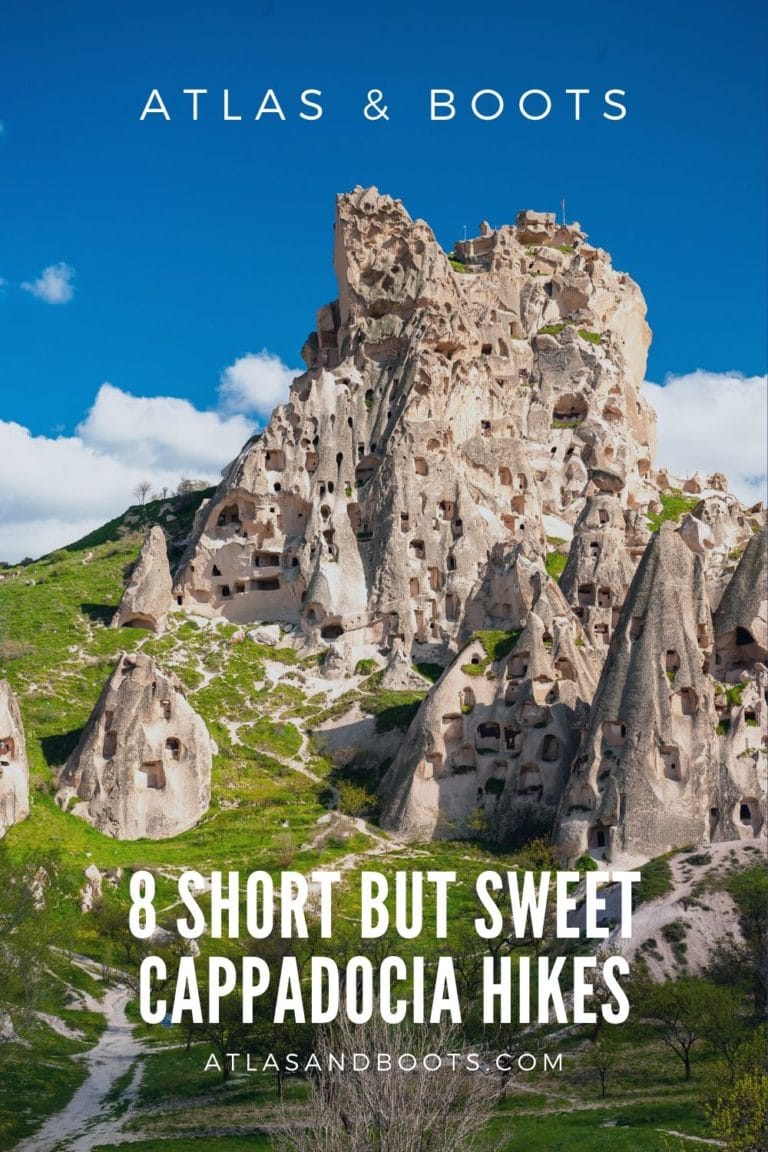 ---
Lonely Planet Turkey is a comprehensive guide to the country, ideal for those who want to both explore the top sights and take the road less travelled.