We spent our final day in Myanmar cycling around Bagan, the world's largest and densest concentration of Buddhist temples, pagodas, stupas and ruins 
After cycling over 250km (155mi) across Myanmar including a 83km (52mi) slog up to Mount Popa, the final day of our cycling tour of Myanmar – a mere 25km (15mi) around the temples of Bagan – was going to a be cinch.
Despite the short distances, the Burmese sun was shining strongly and with it came the vaporous Burmese heat. Thankfully, with over 2,000 Buddhist structures spread across 104 sq km (40 sq mi) there was regular relief in the cool and airy stone temples.
Founded in the second century AD, the kingdom of Bagan once had over 10,000 Buddhist temples, pagodas and monasteries, all constructed between the 11th and 13th centuries.
As it's located in an active earthquake zone, Bagan has suffered many earthquakes over the ages, the most recent of which in 2016 destroyed over 400 buildings and damaged hundreds more. Today, the remains of 'only' 2,000 temples and pagodas can still be seen, many of which are undergoing repairs and restoration.
Seeing this iconic site by bicycle is a great way to get right among the ruins. At ground level it's easier to move between sites along smaller, quieter roads that tour buses cannot access. It's only at this level that you really get a feel for just how many structures there are. Around every corner, behind every cluster of trees stands an ancient temple or pagoda waiting to be discovered over and over again.
Below, we look at the highlights of cycling Bagan and offer a list of must-see sites along with a simple route map to get you started.
Cycling Bagan: Route
The Google map below includes several essential sites as well other points of interest that we spotted while cycling Bagan. We visited Shwesandaw Paya to watch the sunset on the evening we arrived, Thitsawadi Paya for sunrise the following morning and Old Bagan Pier for a sunset cruise on the Irrawaddy River on our final night.
Dhammayazika Paya
The grand 12th century Dhammayazika Paya is hard to miss. Its giant golden bell-shaped pagoda mounted on terracotta terraces twinkles in the twilight and stands proudly above the surrounding plains. It was badly damaged in the 2016 earthquake and was off limits during our trip. We still got to glimpse the impressive structure, although it was from afar and scaffolding partly obscured our view.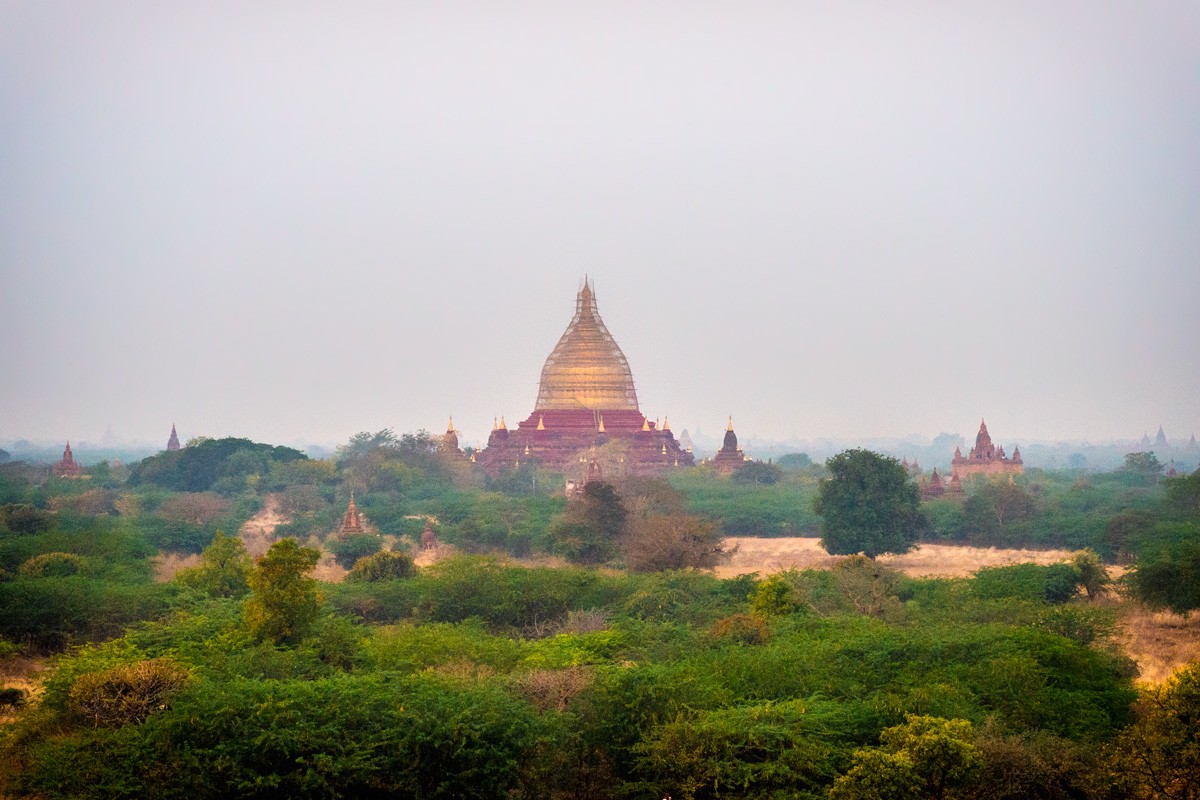 Dhammayangyi Pahto
Visible from anywhere in Bagan, this enormous walled temple is the widest of them all. It is famous for its surreal, dimly lit, bricked-up inner passageways that visitors can wander at will.
It's said that King Narathu built the temple in the 12th century to make amends for his terrible sins: he murdered his father and brother and executed his wife, an Indian princess, for practising Hindu rituals. The best preserved of Bagan's temples, it features detailed mortar work in its upper levels.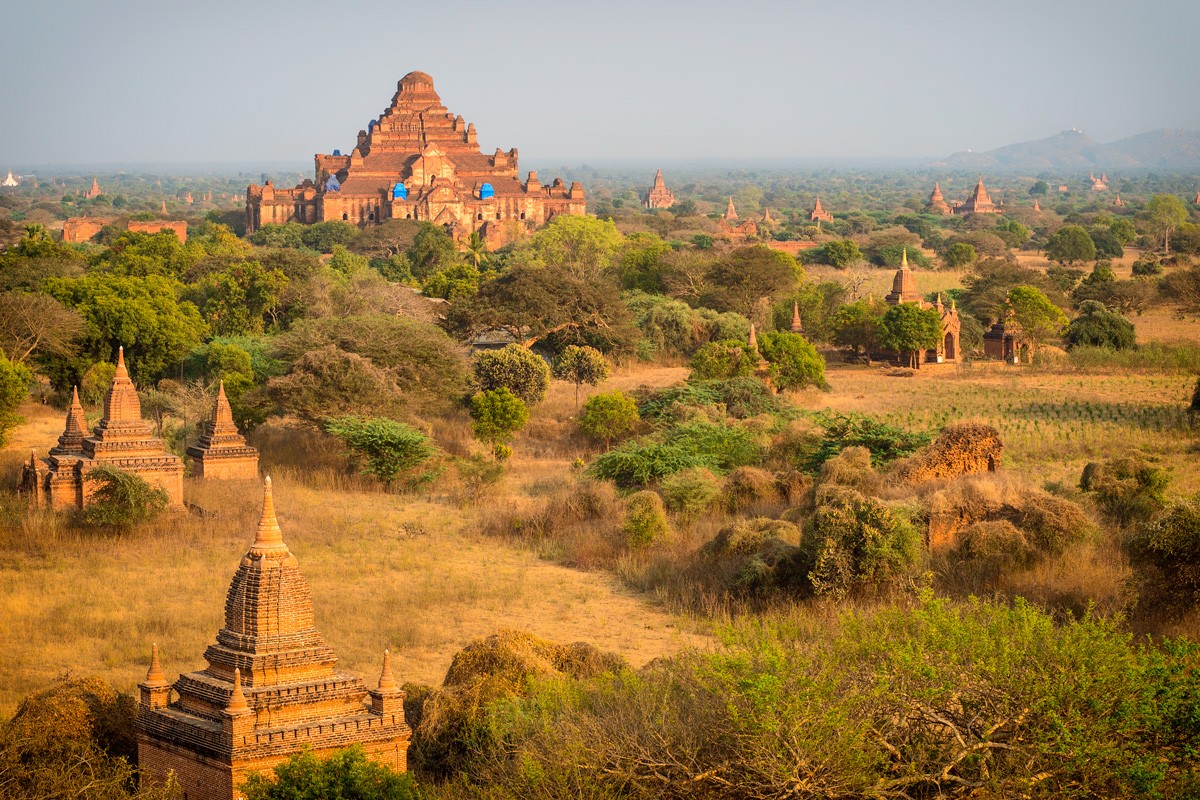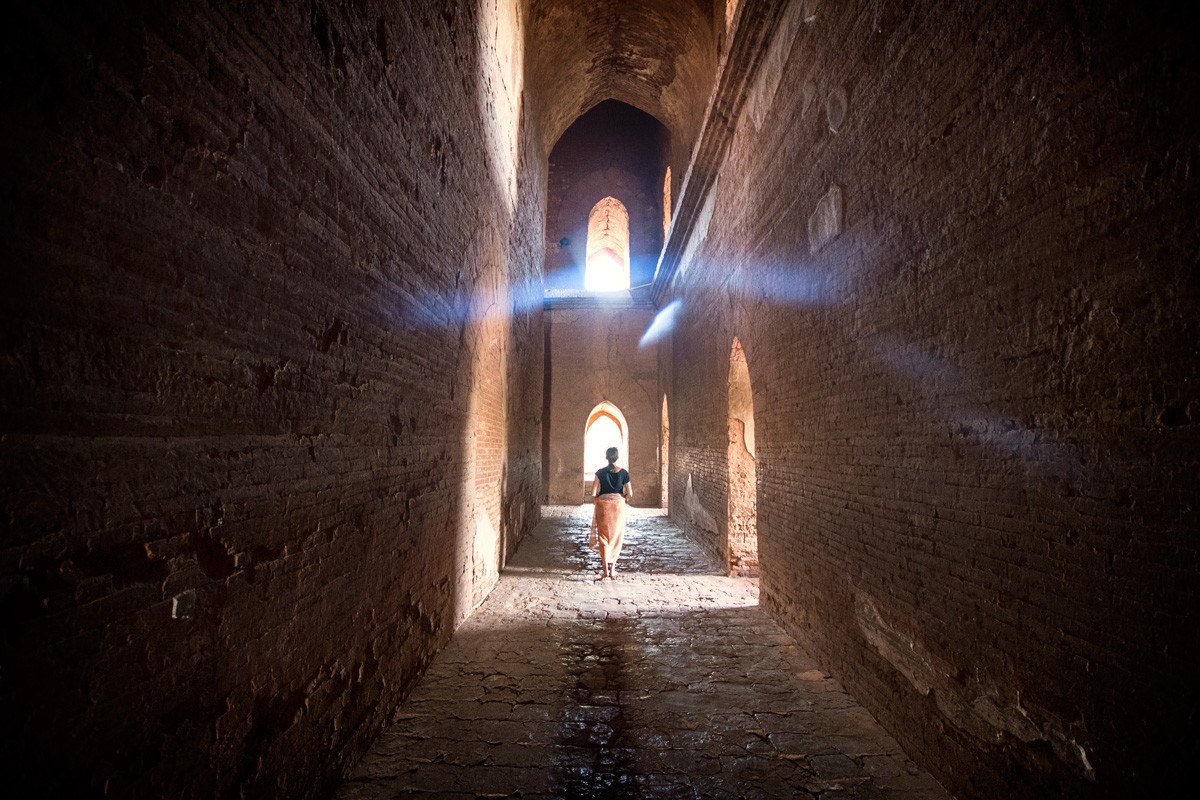 Paya Thone Zu
Paya Thone Zu has been recently renovated and is unique as it's the only temple in Bagan that comprises three temples conjoined through narrow passages. The interior of the temple contains numerous wall paintings, many of them incomplete as it's thought the temples were hastily abandoned before completion due to the Mongol invasion of Burma in the 13th century.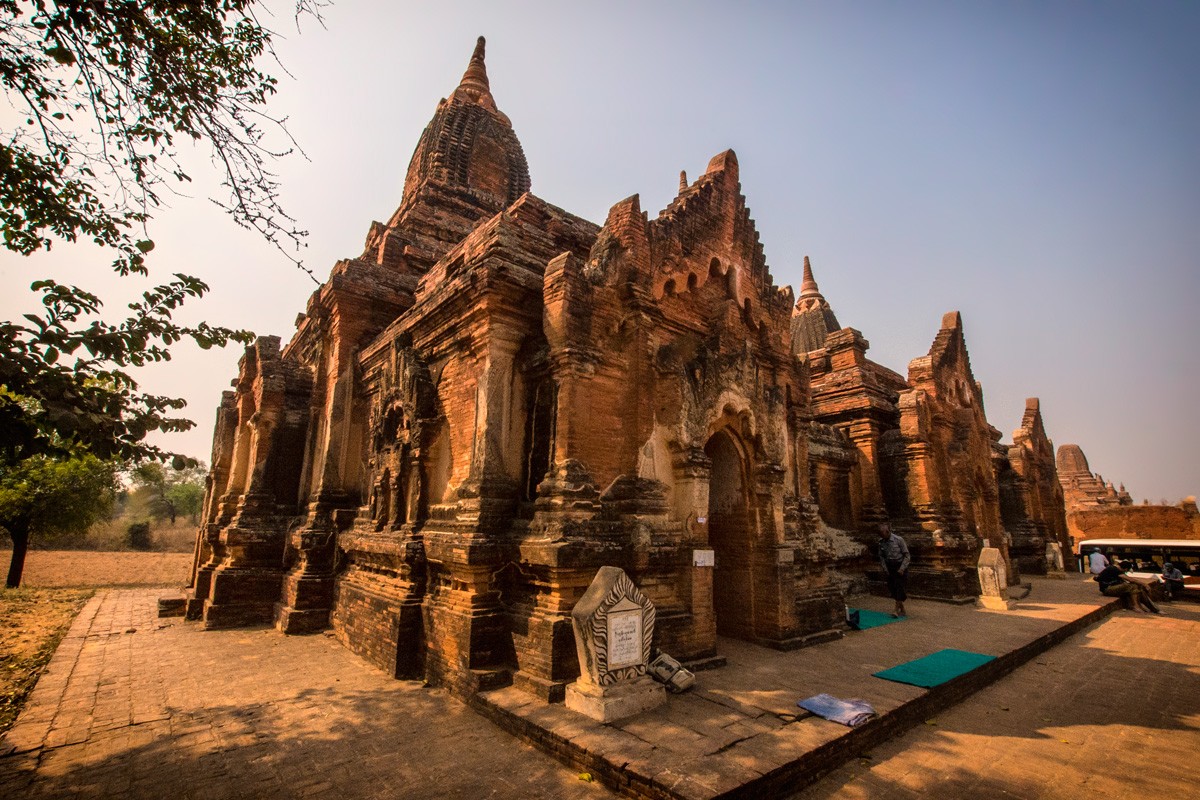 Shwezigon Paya
Located in the nearby town of Nyaung-U, this huge gilded temple is the main religious site in the town. The main pagoda is believed to enshrine a bone and tooth of Gautama Buddha.
There are four shrines at the cardinal (compass) points, each housing a 4m (13ft) tall bronze standing Buddha. Cast in 1102, these are Bagan's largest surviving bronze buddhas. On a hot and sunny day the gold leaf and reflective-stone flooring is almost blinding. Be sure to wear sunglasses!
Ananda Pahto
Ananda Pahto was partially damaged during the 2016 earthquake but remains open to visitors. The temple is one of the finest, largest and best preserved of all the Bagan temples.
Completed in 1105 – over 900 years ago – the iconic structure towers 50m (170ft) above the surrounding plains. It is a popular site so there are plenty of hawkers around the grounds selling souvenirs such as books, postcards and oil paintings but don't let that put you off visiting.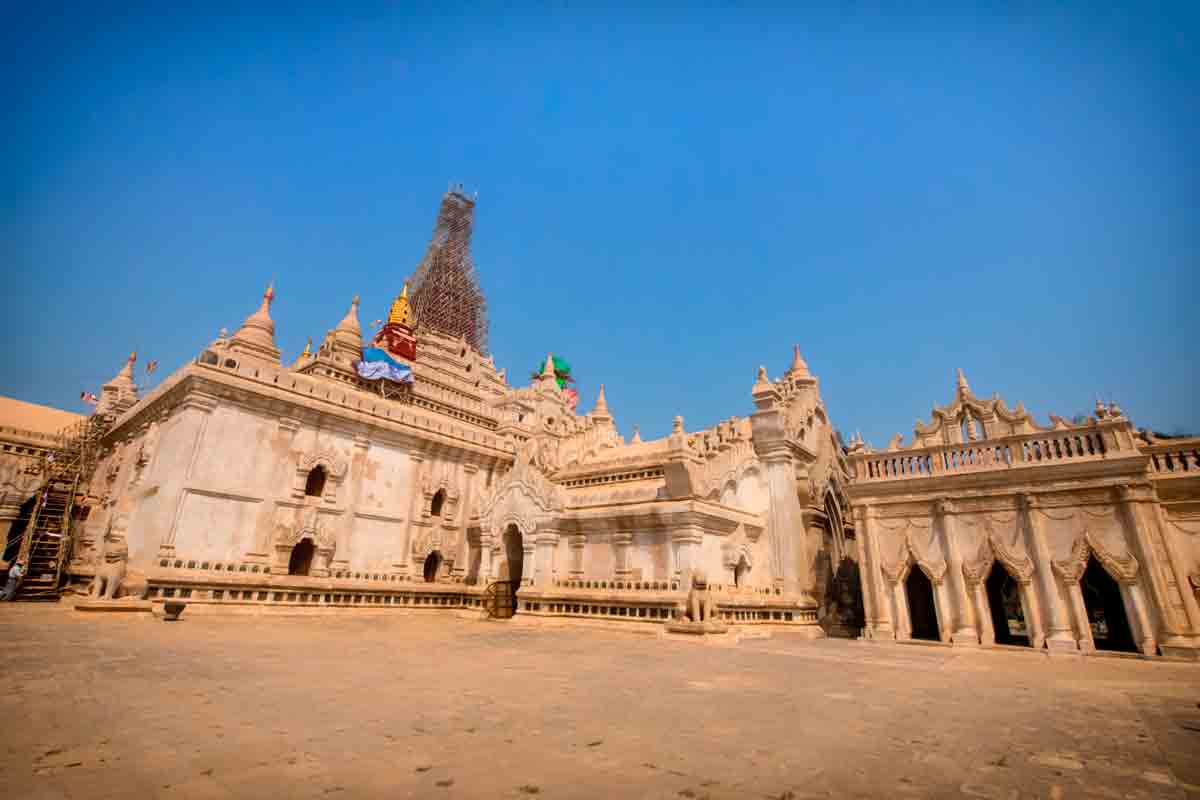 Shwesandaw Paya
On the day we arrived in Bagan we had just enough time to check into our hotel and have a quick shower before heading out to catch the sunset over one of the most iconic views in the world.
The graceful Shwesandaw Paya is Bagan's most famous and popular sunset-viewing spot. However, during the day, you'll likely have the place all to yourself, making it an ideal spot for temple panoramas and photography.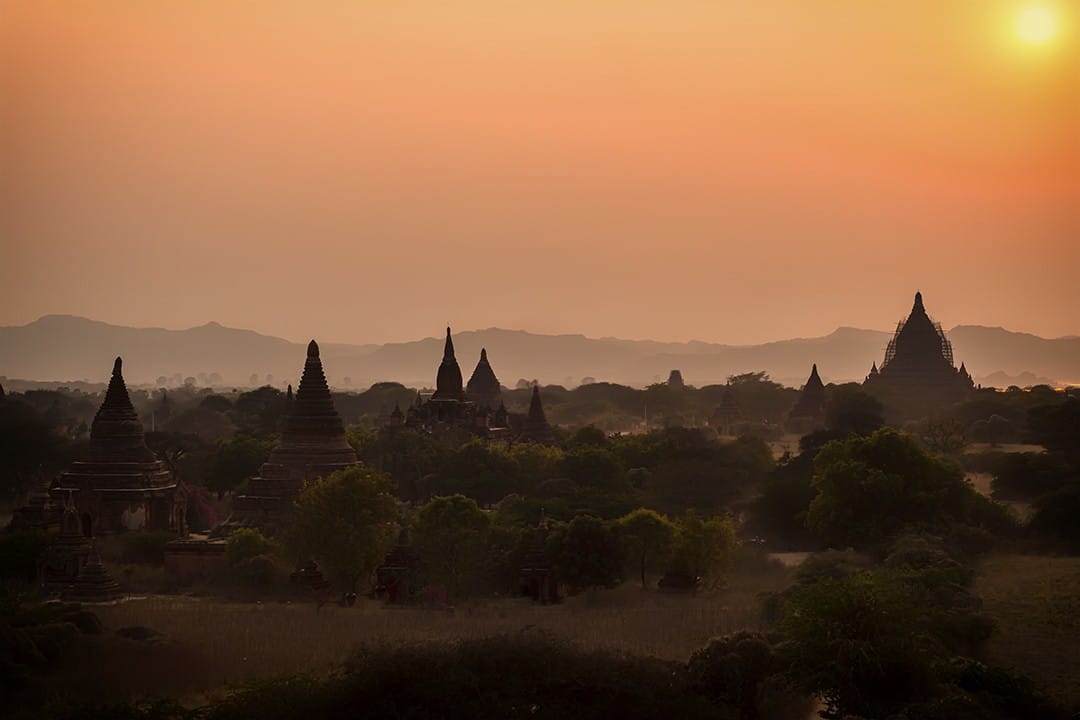 Thitsawadi Paya
Thitsawadi Paya is a rare three-storey building – most in Bagan are only two-storey – making it another ideal spot for sunsets and sunrises. There are excellent views of the nearby Dhammayazika Paya and Sulamani Temple as well as countless stupas.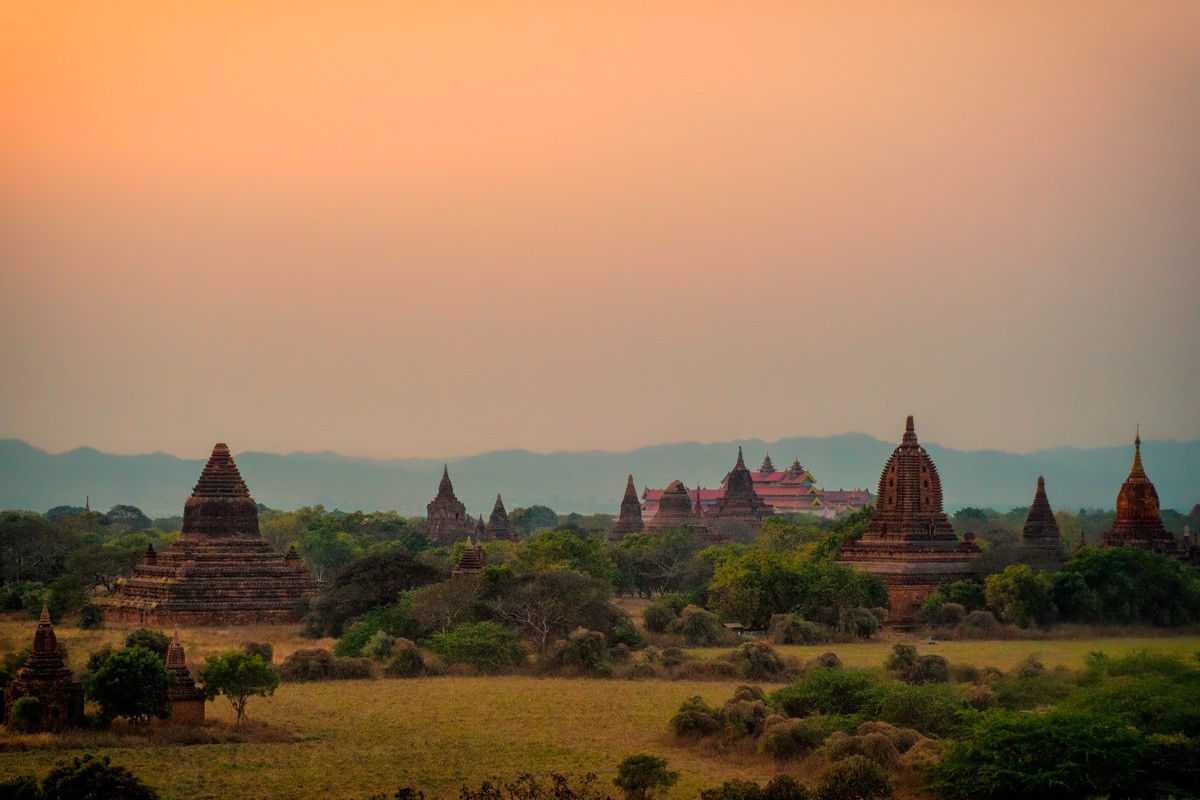 Irrawaddy River Cruise
Popular Irrawaddy River cruises run from the Old Bagan Pier and offer an alternative view of the region. We couldn't see Bagan's endless sea of stupas, but it was a great way to end our day of cycling. A 1.5-hour river cruise motors out towards the opposite bank before serenely drifting back with the current as the sun sets across the water.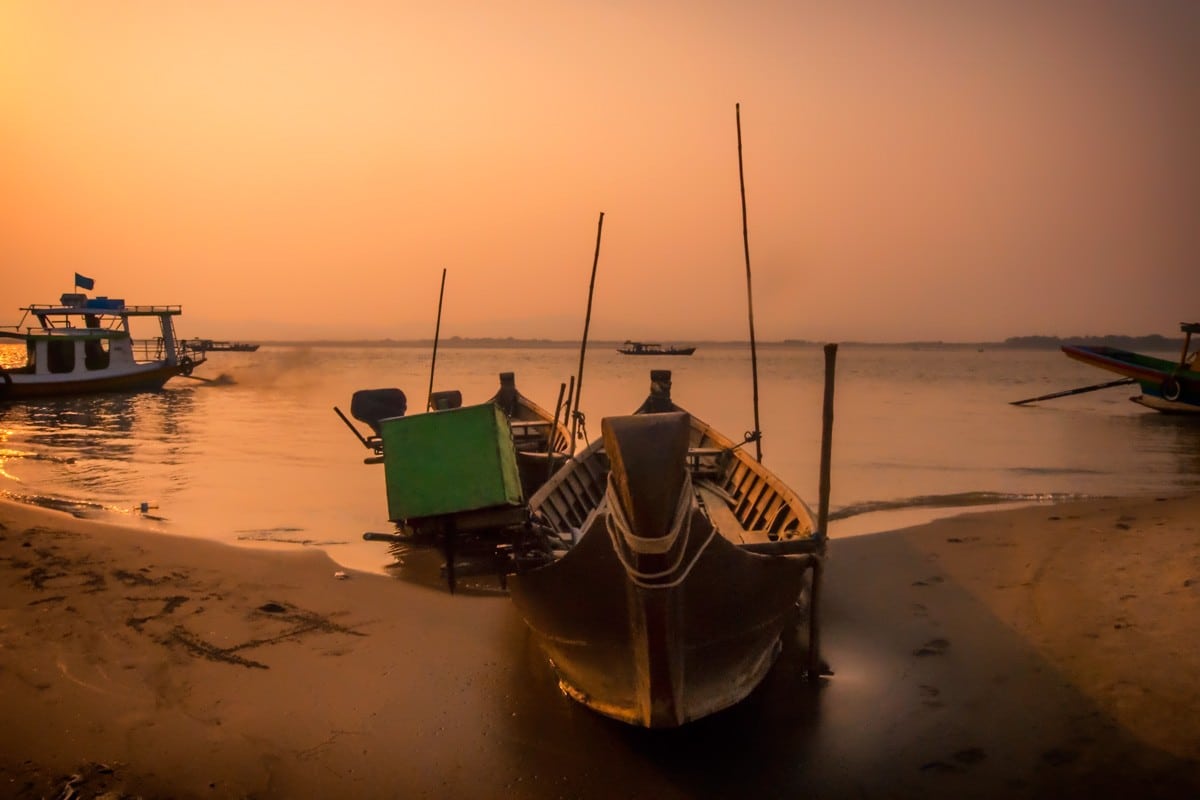 Cycling Bagan: the essentials
What: We were cycling Bagan as part of a 13-day cycling tour of Myanmar (Burma).
Where: The tour began in Yangon, the country's largest metropolis, before heading north to Inle Lake, Pindaya and Mandalay, then to central Myanmar with Mount Popa and the Irrawaddy River before finishing at Bagan.
Accommodation included 10 nights in comfortable tourist-class hotels, one night in a guesthouse and one night sleeping in a monastery (classed as a homestay).
When: The best time to visit Myanmar is from Oct-Mar when the monsoons have subsided and the temperatures are agreeable. From Apr-May, the country becomes very hot. The central regions where Bagan and Mandalay are located can see temperatures in excess of 40°C – not ideal for cycling!
Heavy rains arrive in force from May-Sep with the southwest monsoon. During this time, roads can become impassable, particularly from Jul-Sep. From October, the rains subside.
How: We booked G Adventures' 13-day Cycle Myanmar tour, priced from €2,499 ($2,730 USD) per person. The price includes all accommodation, 12 breakfasts, four lunches, one dinner, bike hire (including helmets and water bottles), domestic flights, transport, a fantastic chief experience officer throughout and additional support staff including experienced tour guides, mechanics and drivers.
For more information or to book, call 0344 272 2040 or visit gadventures.co.uk.
Note that the prices do not include international flights and there are no direct flights from the UK. However, several airlines offer one-stop flights from London Heathrow via Dubai, Kuala Lumpur, Singapore or Bangkok. Book via skyscanner.net.
If you're considering a cycle tour anywhere, read our five tips for cycling travellers.
---
Enjoyed this post? pin it for later…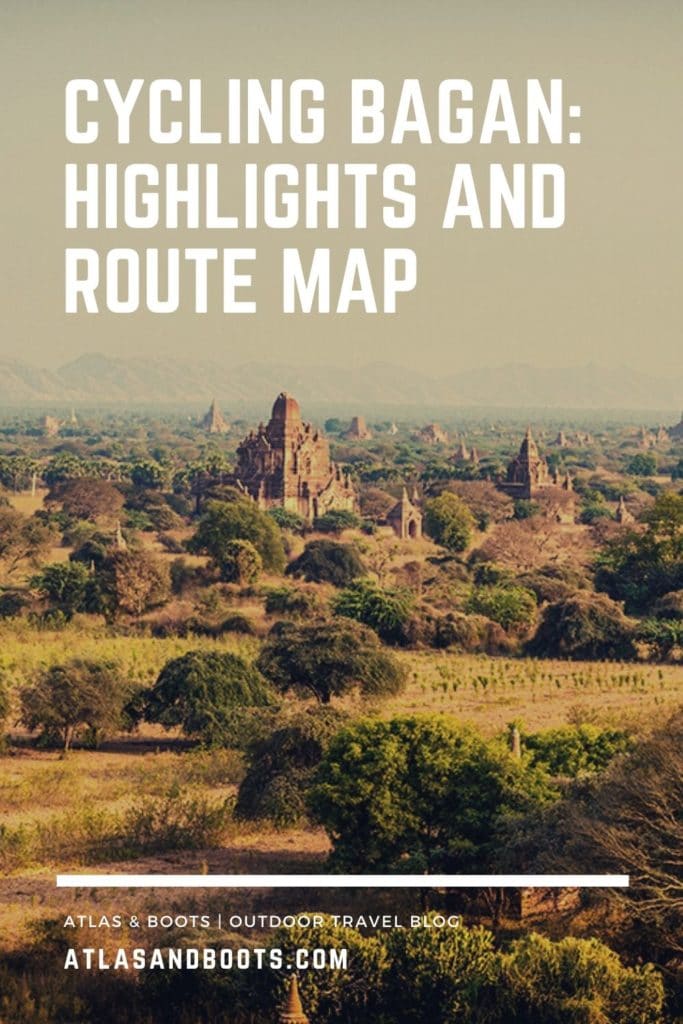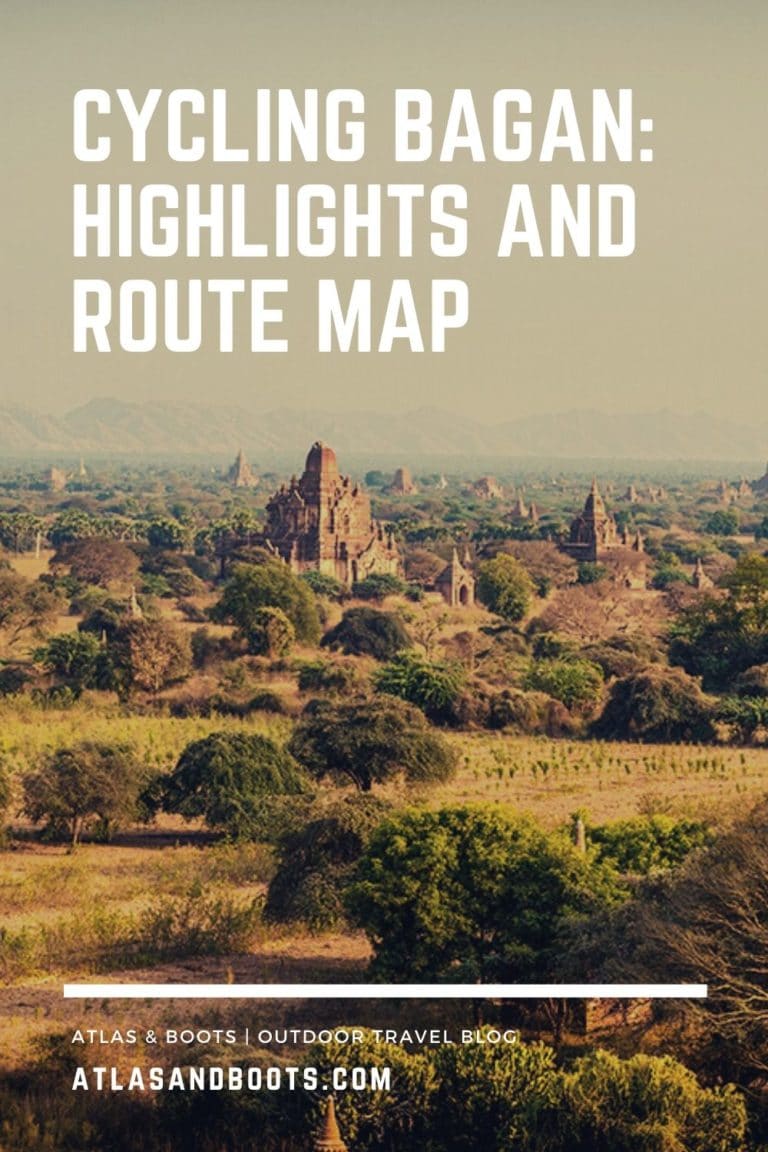 ---
Lonely Planet Myanmar is a comprehensive guide to Myanmar, ideal for those who want to both explore the top sights and take the road less travelled.
Disclosure: We travelled to Myanmar with support from G Adventures. All publications say this, but we really don't guarantee positive coverage. We say what we think – good and bad – so you can make informed decisions with honest advice.
Lead image: Atlas & Boots