My comprehensive Everest base camp kit list includes everything you'll need to reach the foot of the highest mountain in the world
Having just returned from my Everest base camp trek in Nepal, I thought it would be useful to share my entire Everest base camp kit list as a point of reference for future trekkers.
I joined a G Adventures 15-day trek to base camp, which includes 12 days of trekking: eight to ascend to base camp and four to descend back to Lukla.
I had most of the gear beforehand but also made a trip or two to an outdoor shop to grab some last-minute pieces. I treated myself to a couple of new items – a new hydration pack and a couple of dry sacks – but nearly all of what I already owned was sufficient for a high-altitude multi-day trek.
Buying and hiring locally
It is possible to buy (or hire) most items on my Everest base camp kit list on arrival in Nepal. However, I wouldn't advise leaving it that late and quality can't always be guaranteed.
There are also strict weight limits on the domestic flight from Kathmandu to Lukla. The flight only allows for a weight limit of 10kg for checked luggage and 5kg for hand luggage. This coincides with the maximum weight porters are allowed to carry: 10kg per trekker with a maximum of two trekkers per porter.
As such, I would advise doing most – if not all – of your shopping, packing and weighing before you leave home. Luggage can be stored securely at your hotel in Kathmandu, but you will need to take all your trekking gear with you. In our Kathmandu hotel, Fuji Hotel, there were some luggage scales available for guests to use.
Kathmandu does have a host of outdoor shops selling much of what you're likely to need. There is a collection of imported gear shops – with comparable prices to those in the west – spread along Tridevi Marg near Thamel.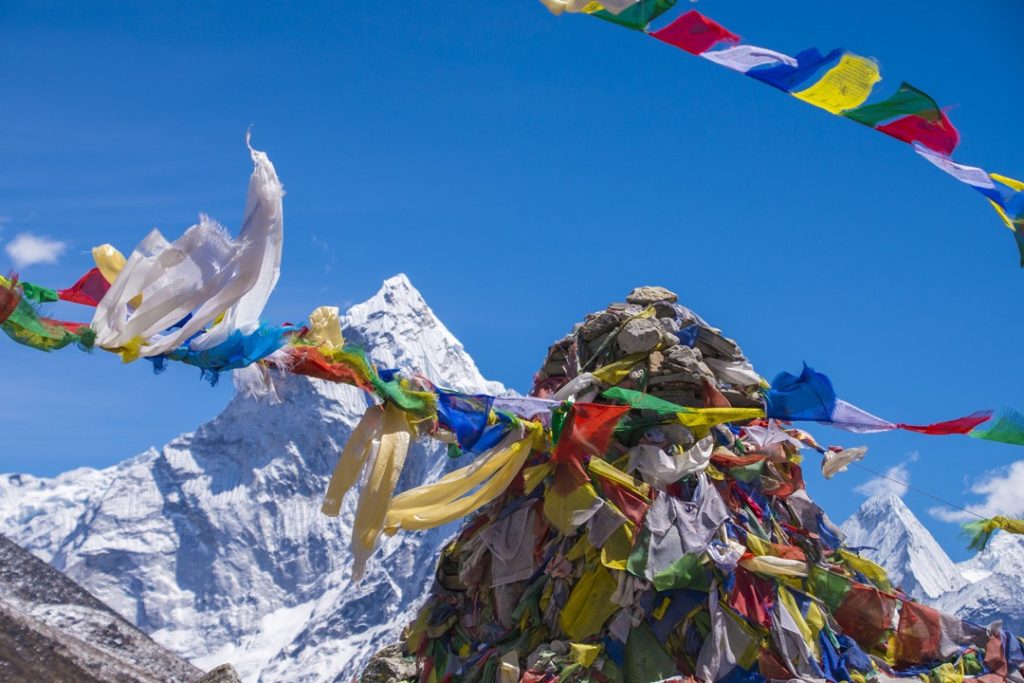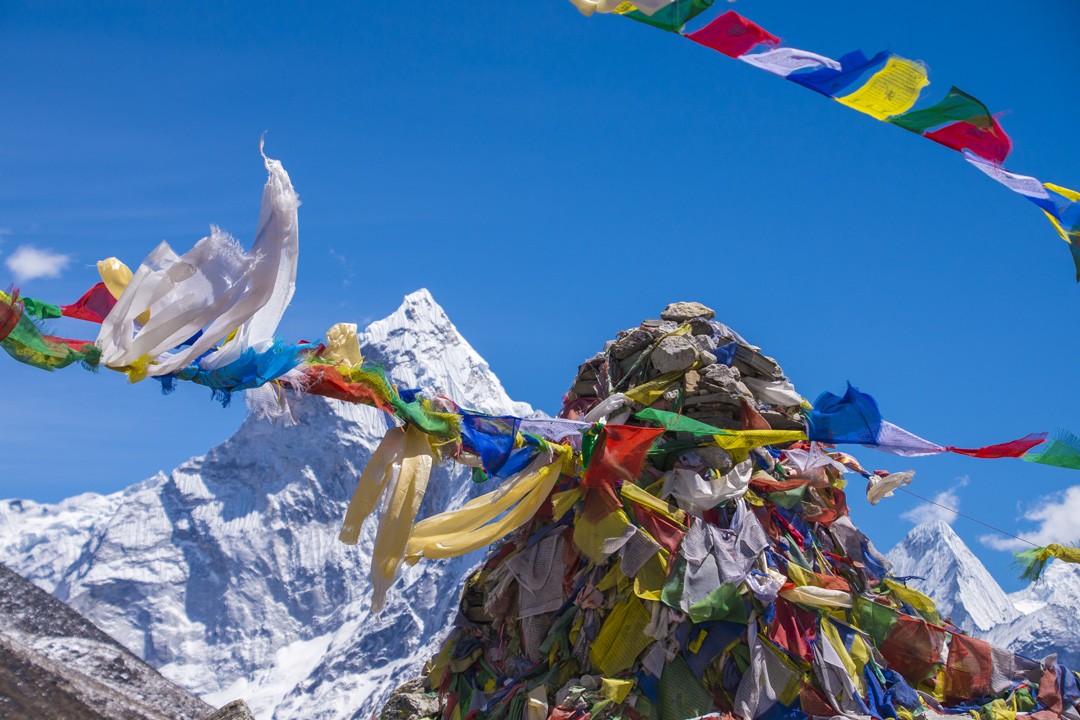 Atlas & BOots
Descending the Khumbu Valley
Additionally, Kathmandu has a wide range of locally made and inexpensive outdoor gear shops, although a lot of it can be bootleg. Most imitations are reasonably well made or at least good enough to last the trip. Locally made down jackets and fleece jackets can be just as good as their far more expensive western equivalents.
On the trail, Namche Bazaar has some excellent equipment shops including some genuine (Sherpa, The North Face) and locally made outdoor gear shops as well as countless souvenir shops. There is also a limited assortment of shops and pharmacies in Lukla and other trailside villages en route.
Again in Kathmandu it's possible to hire many items such as sleeping bags and down jackets. It's also possible to hire sleeping bags from G Adventures for $15 USD for the entire trip. Trekkers should always bring their own walking boots and shoes, which should be thoroughly worn in beforehand.
Everest base camp kit list
The Everest base camp kit list below comprises everything I took with me including clothing, trekking gear, toiletries, medication, electronics and documentation. Some of the electronics and toiletries are optional, but the clothing, trekking gear and medication are essential unless otherwise stated.
This list is based on joining an organised trek and staying at teahouses. Trekkers planning to camp or trek independently would need to consider camping and cooking equipment.
Clothing
The best clothing for trekking is either wool or synthetic materials used in layers as this is quick drying and holds heat. It is better to have lots of layers available, building up from lightweight base layers to thicker, warmer outer layers.
For more information, read our guide on how to layer clothing for the outdoors.
4 x breathable underwear
4 x thick trekking socks
2 x liner socks (optional)
1-2 x thermal underwear
3 x hiking trousers / zip-offs
3 x base layers
2-3 x short-sleeve mid-layer
2 x long-sleeve top layers
1 x fleece
1 x soft-shell jacket
1 x waterproof jacket
1 x waterproof trousers
1 x cap or sunhat
1 x neck buff
1 x fleece neck col or scarf
1 x beanie or warm hat
1 x sunglasses (with UV protection)
1 x pair of warm gloves (ideally waterproof / mountaineering)
1 x pair of liner gloves (optional)
1 x hiking boots (worn frequently prior to departure)
1 x comfortable shoes (for wearing in the evenings)
1 x down jacket (optional, but recommended for winter season)
Sleepwear (optional – I just wore thermal underwear with a base layer)
Trekking equipment
Daypack/rucksack (25l+)
Holdall or large backpack for main gear (50l should be sufficient)
Sleeping bag (three season at least)
Trekking poles
Whistle
Spare bootlaces
Water bottle (minimum one litre) – try to avoid buying plastic bottled water or soft drinks on the trail
Hydration pack or bladder (optional, but I definitely recommend taking one)
Waterproof backpack cover (for daypack)
Toiletries and medication
Every trekker should carry a personal first aid kit on them at all times. Try to use biodegradable toiletries in the mountains.
Sunscreen (SPF 40+)
Lip balm (SPF 30+)
Soap (biodegradable)
Small travel towel
Toothbrush and toothpaste
Roll-on deodorant
Earplugs
Toilet roll
Antibacterial wipes
Hand sanitiser
Insect repellent
Imodium (or similar diarrhoea medication)
Ibuprofen
Paracetamol
Antiseptic cream
Plasters / Band-Aid
Compeed (blister treatment)
Diamox – for altitude sickness (optional – I prefer not to use it, but many do)
Water purification tablets (50 litres +)
Antihistamines (optional)
Any additional prescription drugs you may be taking
Electronics
These are all optional, but trekkers should make sure they have something that can be used as an alarm clock. That said, these days most people tend to travel with at least a smartphone. It is possible to charge appliances at teahouses, but this usually incurs a charge starting from 100 NPR ($1 USD) at lower altitudes and rising to 500 NPR ($5 USD) higher up the trail.
Smartphone and charger (doubled as an alarm clock)
DSLR camera with 3 x spare batteries (optional)
USB and power cables
Documentation
Passport + photocopies
Insurance certificate and details
Flight information
Visa information
Spending money (allow $400-500 USD for meals)
$700 USD cash emergency fund (includes $500 emergency helicopter fund)
Joining an organised trek
I joined a G Adventures 15-day trek to Everest base camp which comes with a detailed packing list along with lots of information on the itinerary, joining instructions, visas and much more. Prices start from around £780 GBP ($1,000 USD), depending on dates, for a round trip from Kathmandu.

G Adventures focus on small group adventures so the maximum group size is 15 with their average for an Everest base camp trek being 10. We've used G Adventures several times before (Cambodia, Vietnam, Myanmar, New Zealand and Costa Rica) and continue to recommend them.
For more information or to book, call 0344 272 2030 or book online.
---
Enjoyed this post? pin it for later…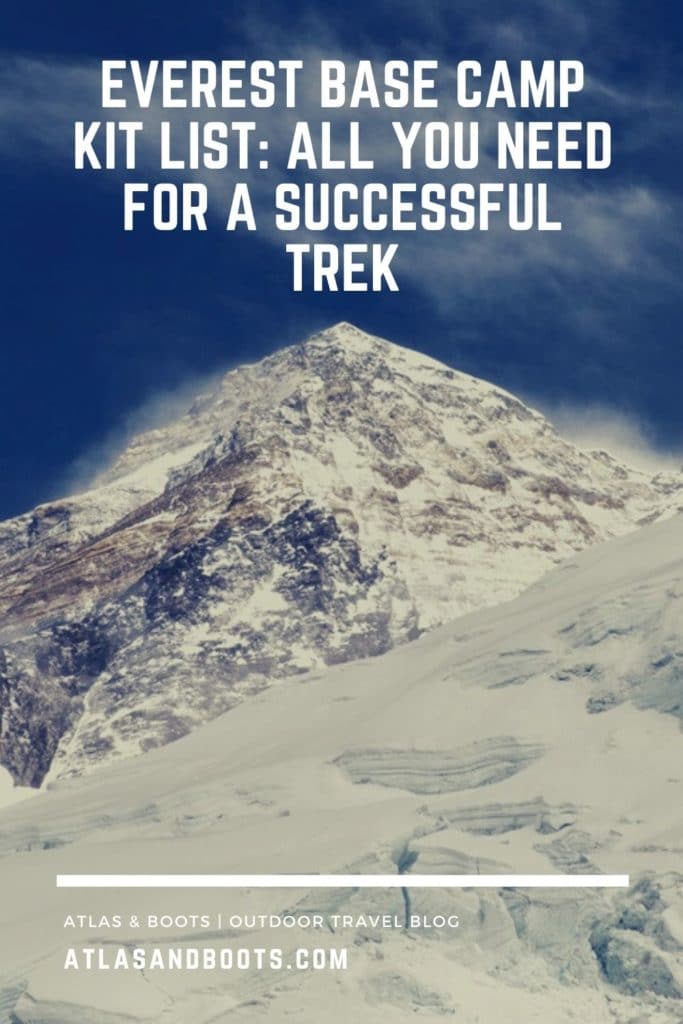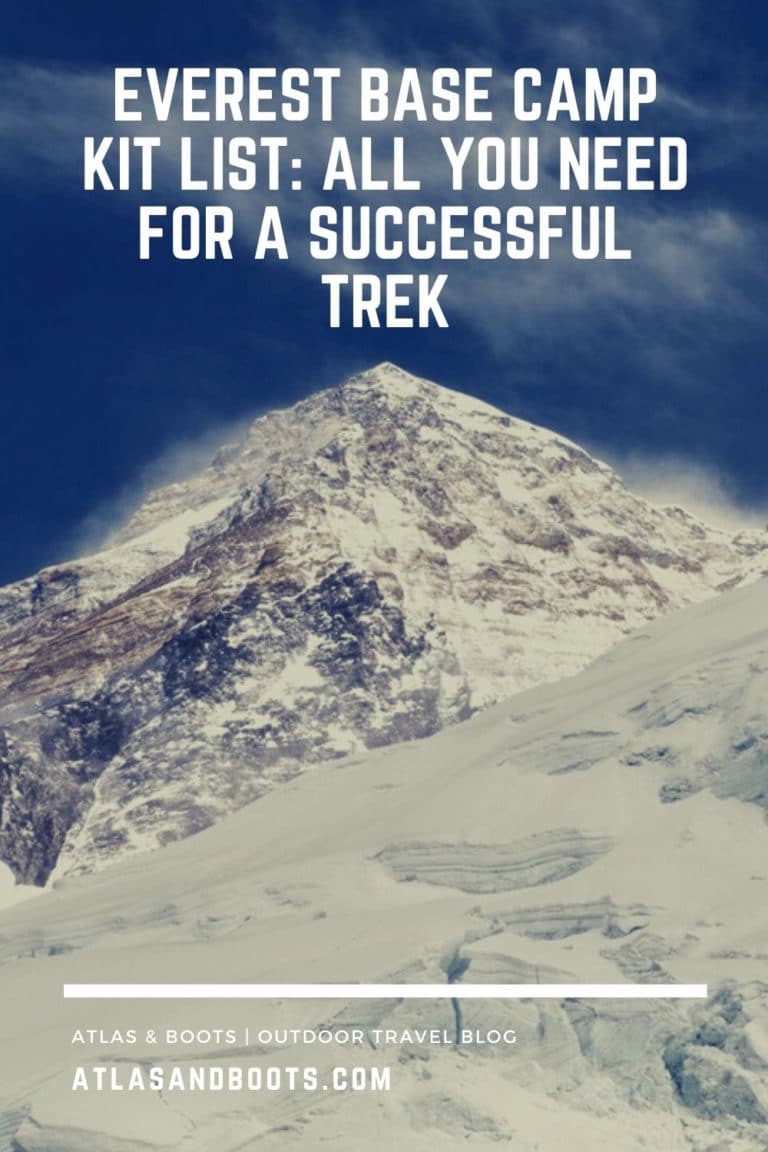 ---
Lonely Planet Trekking in the Nepal Himalaya offers a comprehensive look at all you need to know to have a safe and rewarding trek, including detailed trail coverage of the Everest base camp trek.
Disclosure: We travelled to Nepal with support from G Adventures. All publications say this, but we really don't guarantee positive coverage. We say what we think – good and bad – so you can make informed decisions with honest advice.
Atlas & BOots