Our tips for trekking to Everest base camp, generated from the many questions our readers sent in
Before, during and after my Everest base camp trek in Nepal, we received dozens of questions about the experience via email and social media. We've collated them below in a detailed Q&A that includes all our tips for trekking to Everest base camp.
Tips for trekking to Everest base camp
How long does it take?
I joined G Adventures on a 15-day trek to Everest base camp, which included 12 days of trekking: eight to ascend to base camp and four to descend back to Lukla. This included two 'rest' days where you take acclimatisation hikes to higher ground.
This is the standard itinerary and having done several high-altitude multi-day treks I would not advise trying to do the Everest base camp trek any quicker than this.
How hard is the trek?
On a scale of one to 10, I would say it's about a six or seven. It is a high-altitude trek, it is for 12 days, you walk for between three and eight hours a day and it can get very cold. It is a challenging trek that shouldn't be taken lightly.
If you have little experience of multi-day trekking or walking at altitude, or aren't particularly fit, then you will find this trek more challenging. A member of our group, a healthy thirty-something man, described it as the hardest thing he's ever done.
That said, porters carry your heavy gear so your backpack is light, the trail is well trodden and easy to follow and as long as you take your time and listen to advice, it is a very achievable trek. Every year, over 30,000 people from all walks of life make the trek.
How much does it cost?
Prices for the G Adventures trek I joined start from around £780 GBP ($1,000 USD), depending on dates, for a round trip from Kathmandu.
The price includes all accommodation, an English-speaking local guide and assistants throughout the trek, porters to carry luggage between villages, entrance fee to Sagarmāthā National Park, internal flights to and from Lukla and all transport between destinations and to and from included activities.
How cold does it get?
It depends on the time of year and your location on the trail. The higher you are, the colder it gets. During our trek in early April it got as cold as -20°C on one night – although most nights were not as cold. The days varied massively. Sometimes we were hiking in shirtsleeves and sweating in the sun while on others we were in cold-weather gear while it snowed.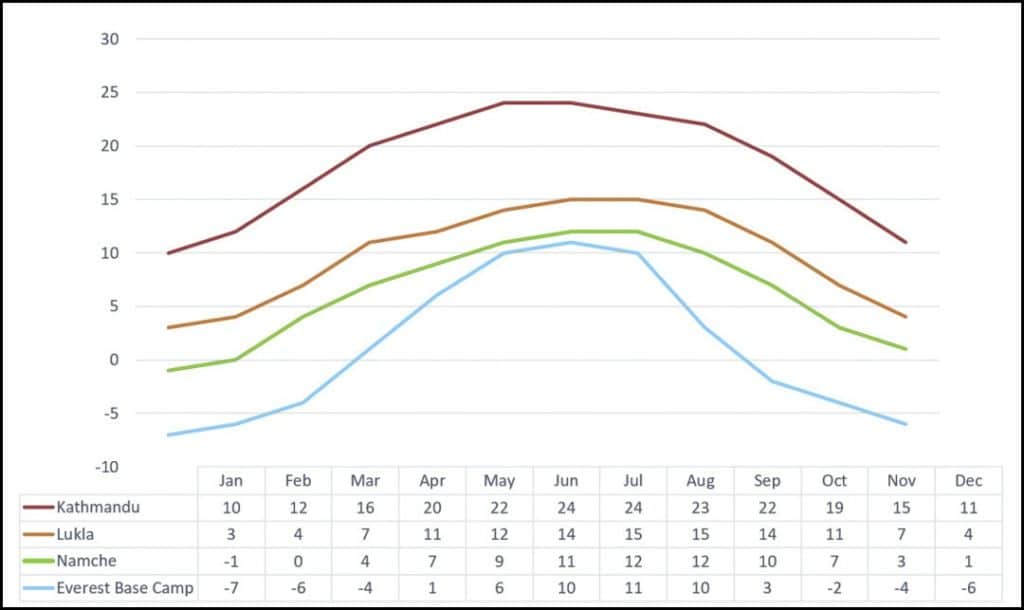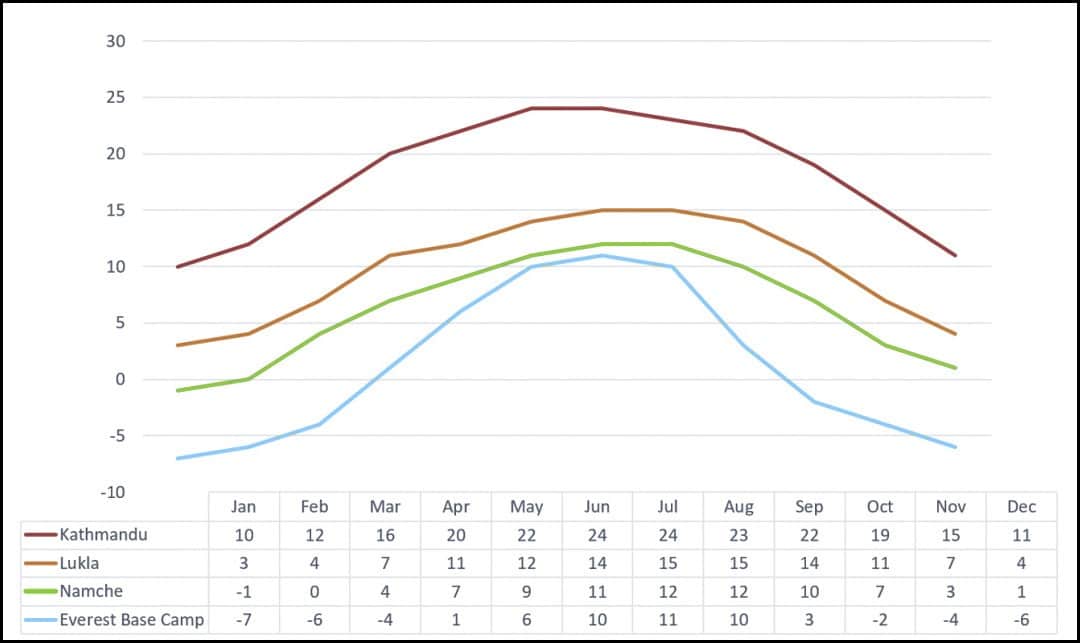 When is the best time to trek?
The best time to complete an Everest base camp trek is in autumn (late Sep-Nov). Days are generally dry and clear although there can be the odd shower or storm. This is also peak season so trails are at their busiest.
Another excellent time to trek is during the warmer and quieter spring (Mar-May), which is when I went (early April). This is also the time when the colourful rhododendrons bloom, generally between 2,000m and 3,000m. The drawback is that the dry weather brings dust which leads to hazier days.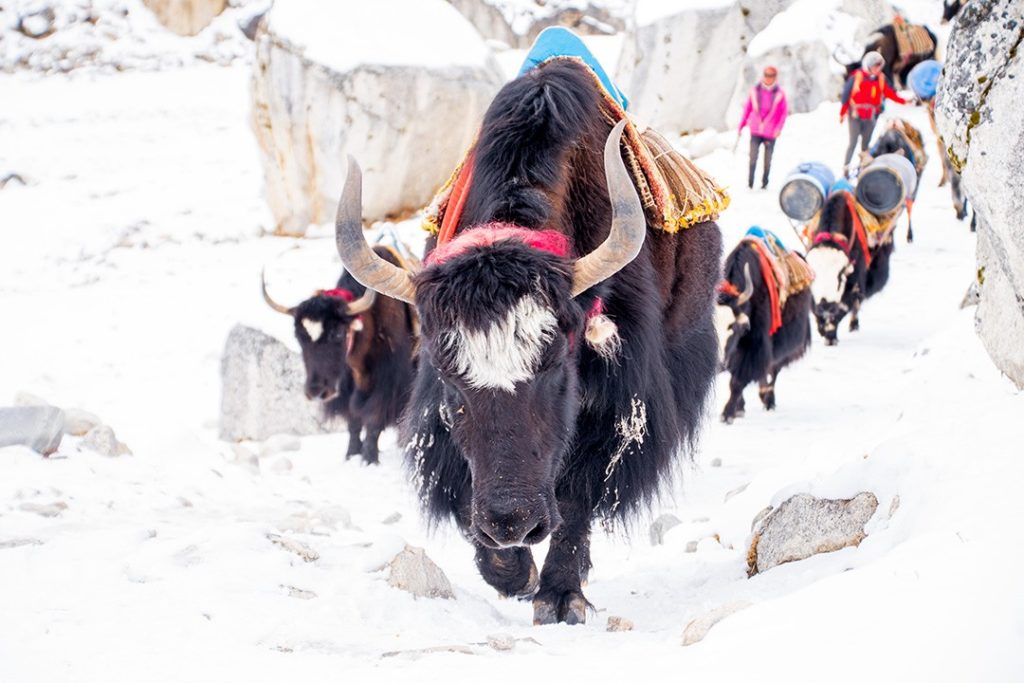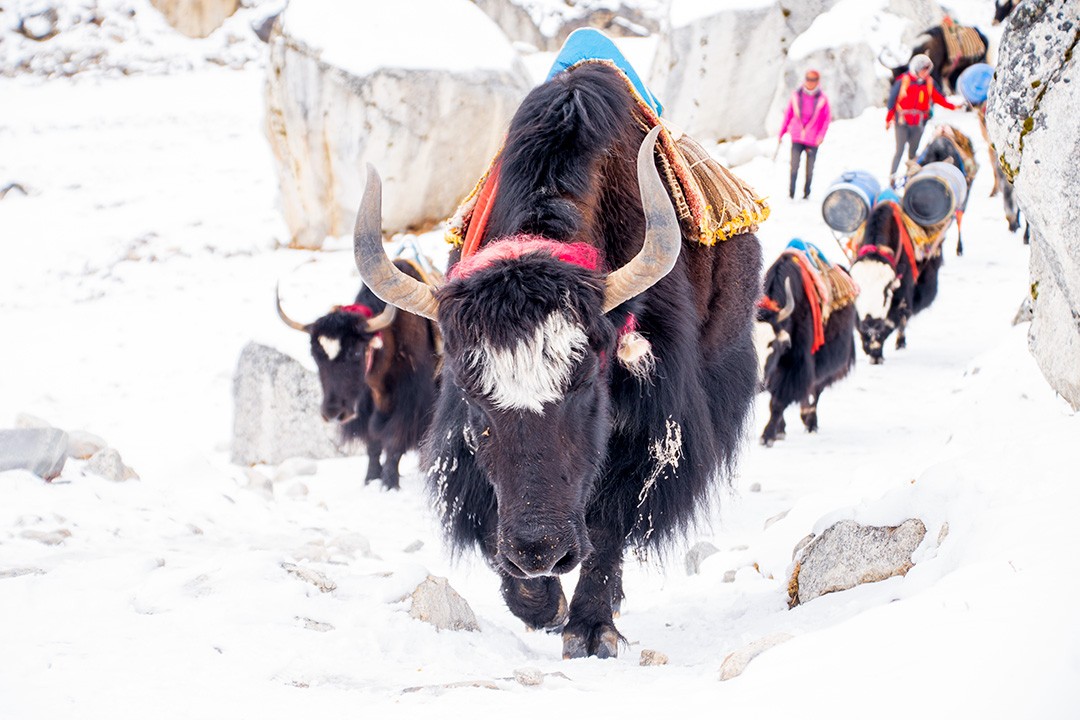 Dec-Feb are good months for trekking, but they are also the coldest months and reaching base camp can be a real endurance test. The monsoons arrive in earnest from Jun-Sep, swelling rivers to breaking point, bringing hordes of leeches and making the trail very muddy. Many teahouses will close during these months.
Is there snow at Everest base camp?
Absolutely. It's the base of the highest mountain in the world! It will of course depend on the weather and the time of year, but you should expect to find snow at base camp throughout the year.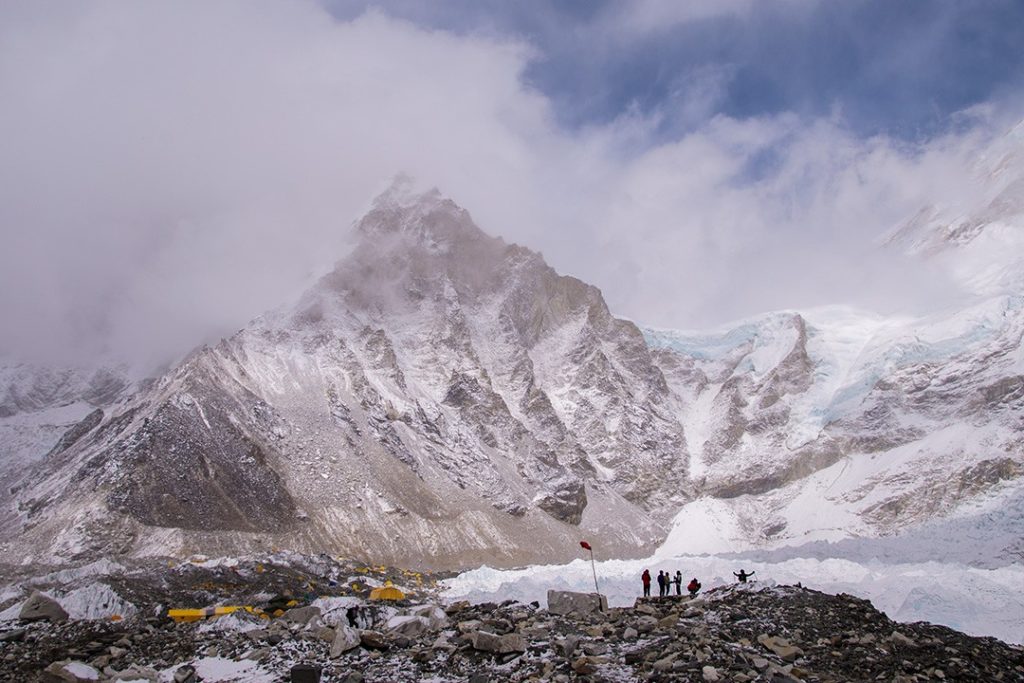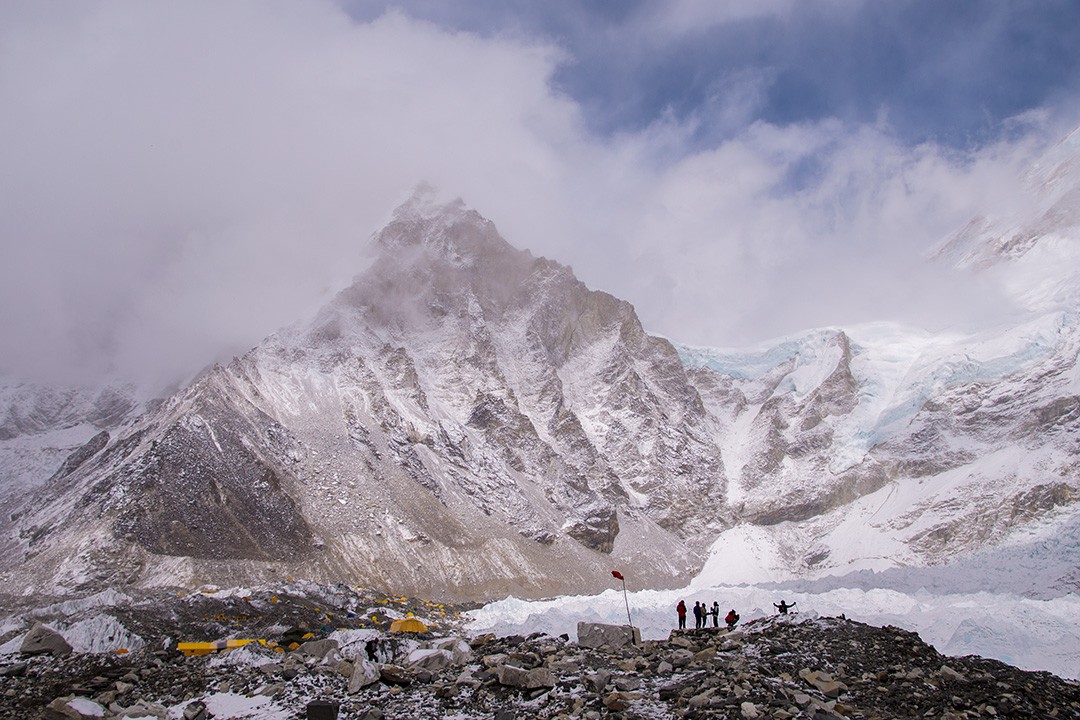 What should I pack?
I've put together a complete Everest base camp kit list. It contains everything I took with me including clothing, trekking gear, toiletries, medication, electronics and documentation.
Can I buy trekking gear and clothes locally?
It is possible to buy (or hire) most items on my Everest base camp kit list on arrival in Nepal. However, I wouldn't advise leaving it that late and quality can't always be guaranteed.

Kathmandu does have a host of outdoor shops selling much of what you're likely to need. There is a collection of imported gear shops – with comparable prices to those in the west – spread along Tridevi Marg near Thamel.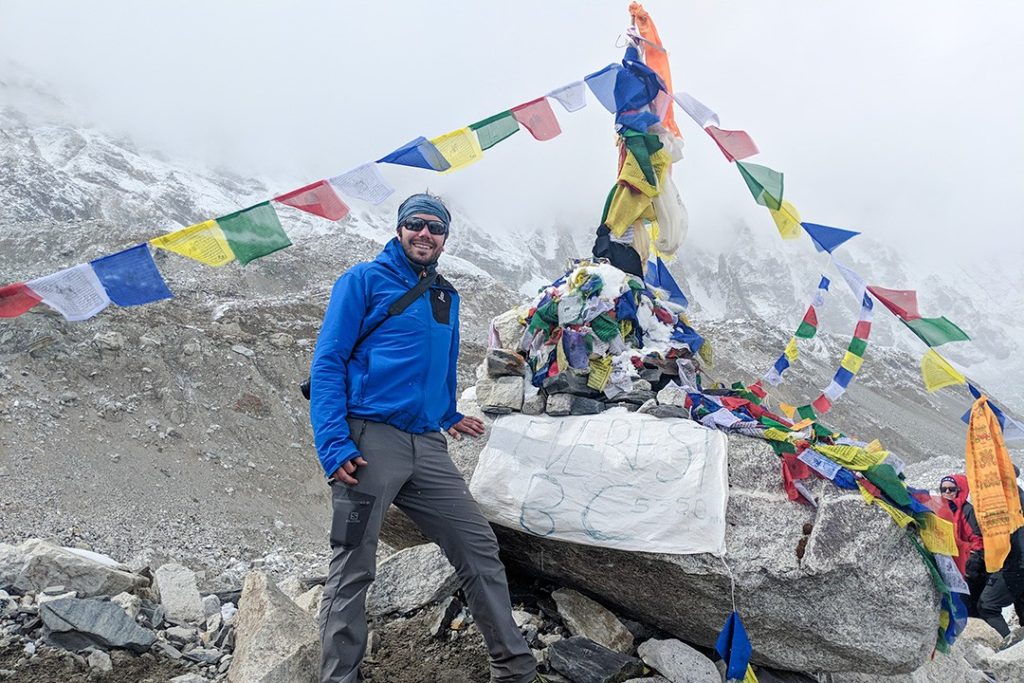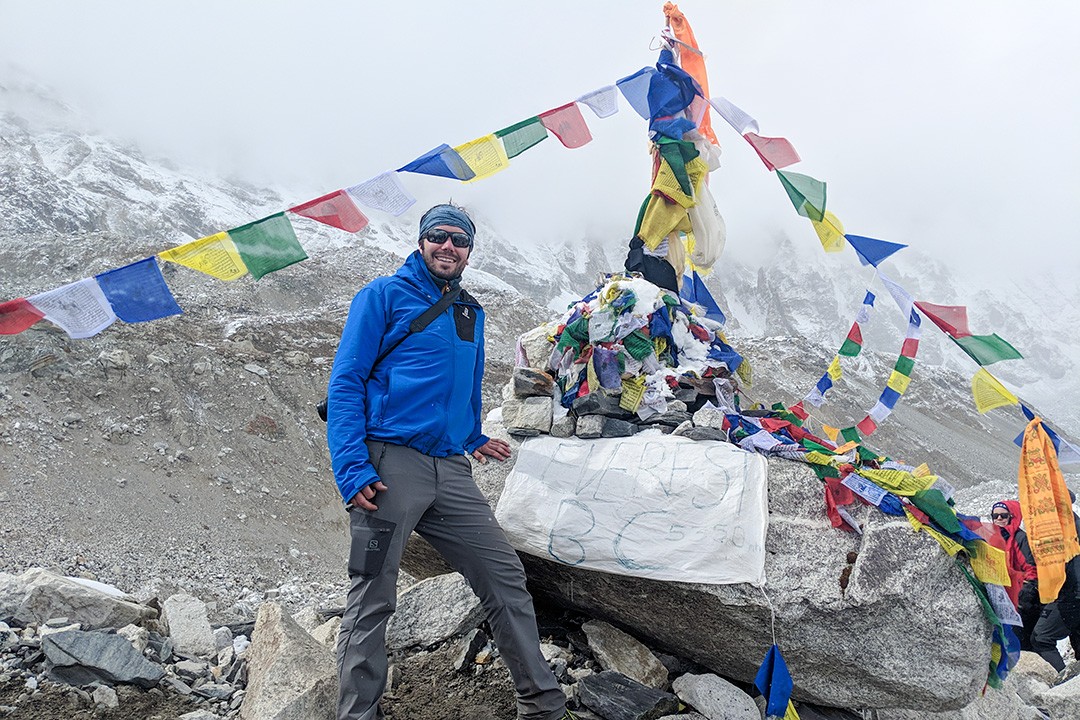 On the trail, Namche Bazaar has some excellent equipment shops including some genuine (Sherpa, The North Face) and locally made outdoor gear shops as well as countless souvenir shops. There is also a limited assortment of shops and pharmacies in Lukla and other trailside villages en route.
Again in Kathmandu it's possible to hire many items such as sleeping bags and down jackets. It's also possible to hire sleeping bags from G Adventures for $15 USD for the entire trip. Trekkers should always bring their own walking boots and shoes, which should be thoroughly worn in beforehand.

What are the weight limits on the flight?
There are strict weight limits on the domestic flight from Kathmandu to Lukla. The flight only allows for 10kg of checked luggage and 5kg of hand luggage. This coincides with the maximum weight porters are allowed to carry: 10kg per trekker with a maximum of two trekkers per porter.
Luggage can be stored securely at your hotel in Kathmandu, but you will need to take all your trekking gear with you. In our Kathmandu hotel, Fuji Hotel, there were some luggage scales available for guests to use.
What is the flight to Lukla like?
Thrilling! The morning flight to Lukla is spectacular in its own right, with the landing an exciting way to begin the trek. One end of the runway at Tenzing-Hillary Airport in Lukla is 60m (197ft) higher than the other.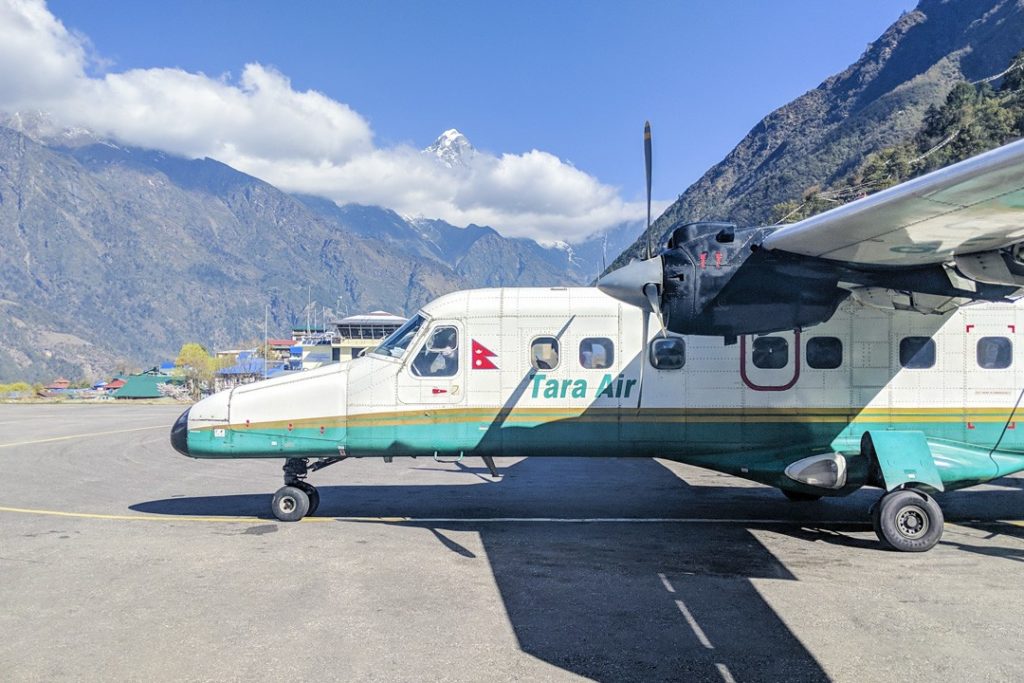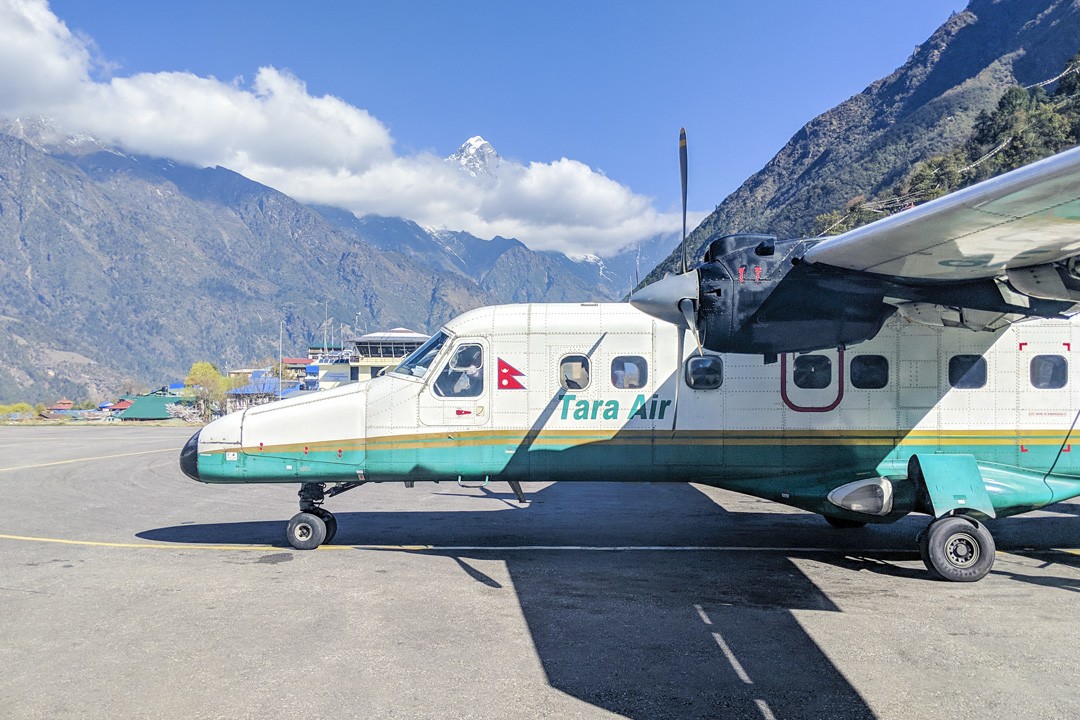 The journey to Lukla takes around 25 minutes by small propeller planes – either Dornier Do 228s or Twin Otters – that seat only 15 to 19 passengers. Spectacular views of the Himalaya foothills are on offer, but the weather tends to deteriorate in the afternoon.
If you suffer from travel sickness, I would advise taking some medication. At least one member of our group wished they had! Airsickness bags are provided on the flight.
How much should I tip guides and porters?
Tipping when travelling can be a bit of a quagmire, but the guides and porters on the trek deserve every penny they earn and then some. Fortunately, G Adventures provide some advice when it comes to tipping local support staff.
For the head guide between $20-30 USD per client, per week.
For porters during the trek $4-7USD per group, per day.
For drivers and local guides $1-$2 USD per client, per day.
We had a head guide, assistant guide and five porters supporting our group of 11 clients. Our guide and assistant guide were with us for 15 days and the porters for 12 days.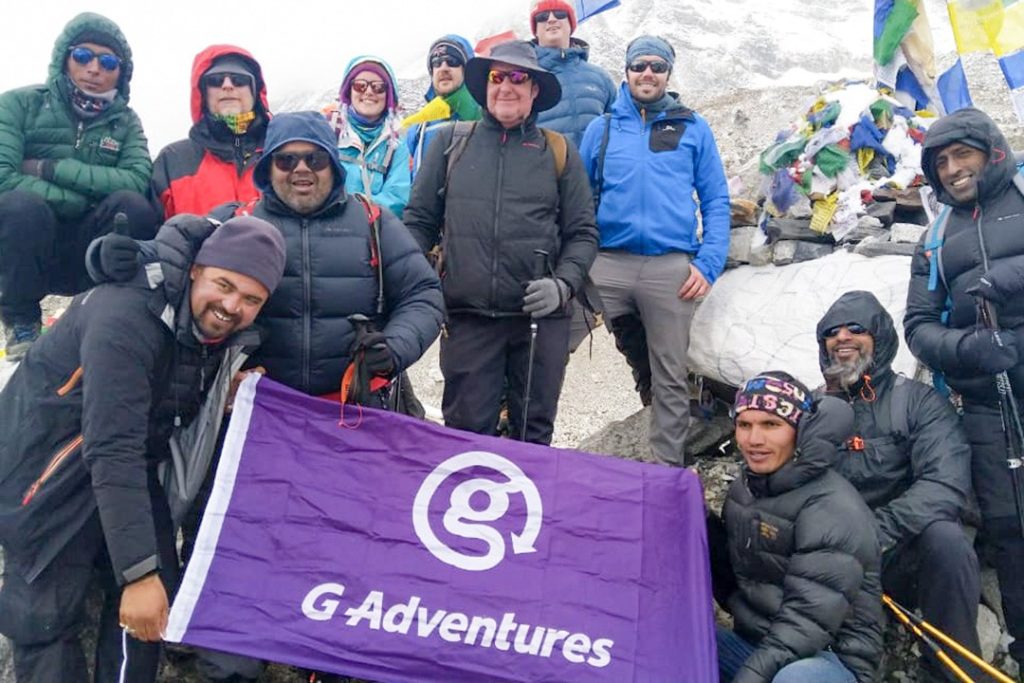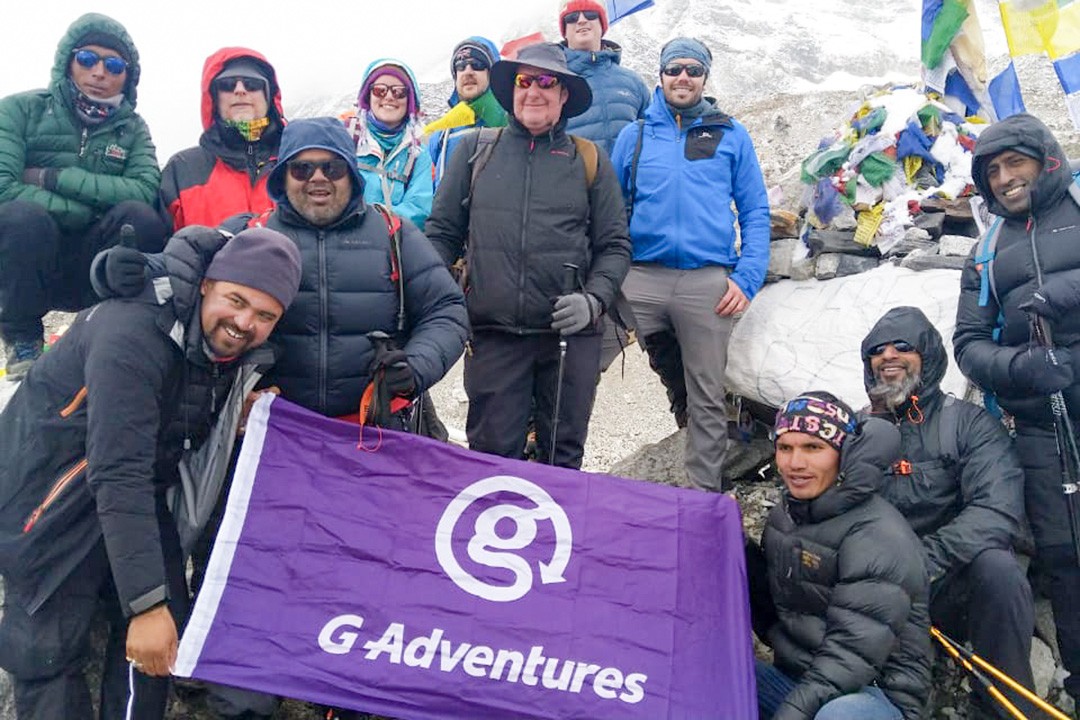 We each contributed around $150 USD into the tip fund which was divvied up as follows:
Head guide: $60 x 11 = $660
Assistant guide: $30 x 11 = $330
Porters: $60 x 11 = $660 / 5 porters = $132 each
We also collected a few dollars each for our head porter as he was particularly helpful and even invited us to his wife's teahouse during the descent for snacks and tea.
Can I charge my phone and camera on the trail?
It is possible to charge appliances at teahouses, but this usually incurs a charge starting from 100 NPR ($1 USD) at lower altitudes and rising to 500 NPR ($5 USD) higher up the trail. Some teahouses charge more for charging a powerbank or camera. I think the most I heard someone paying was 700 NPR ($7 USD) for a large powerbank.
Some cafes on the trail will allow you to charge a device for free if you're buying a meal or drink.
Is there wifi available?
Wifi is available at many villages along the trail. However, these are some of the most remote villages in the world so connection is often interrupted or very slow – particularly when groups of trekkers arrive at the same time and all connect simultaneously!
Again, wifi costs increase as you ascend. Generally, at lower levels it starts from around 100 NPR ($1 USD) to connect at a teahouse overnight and increases as you get higher.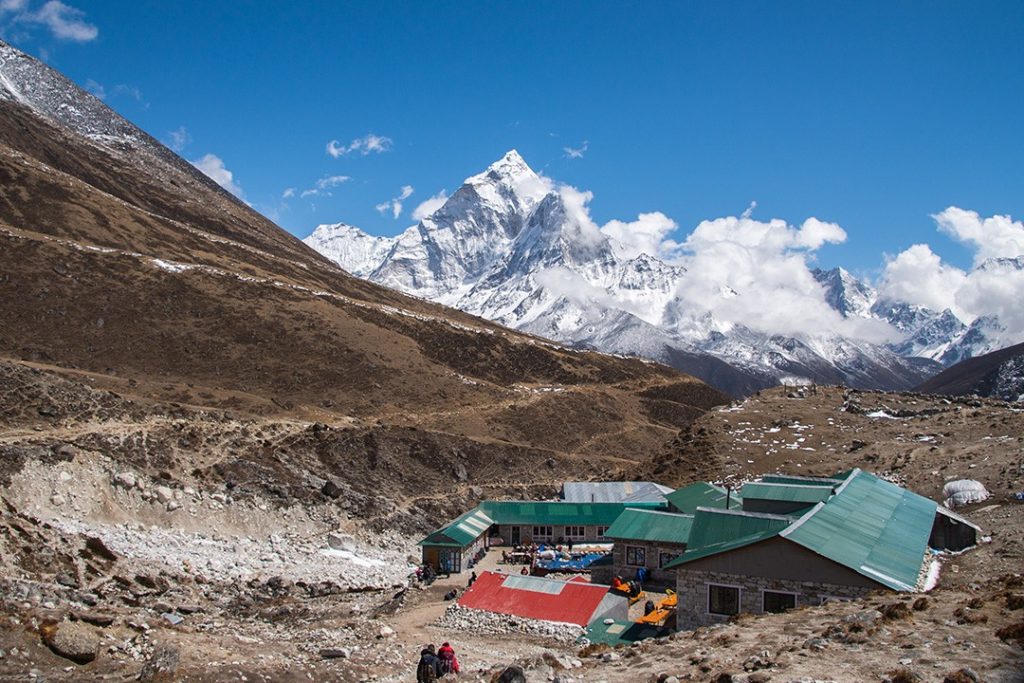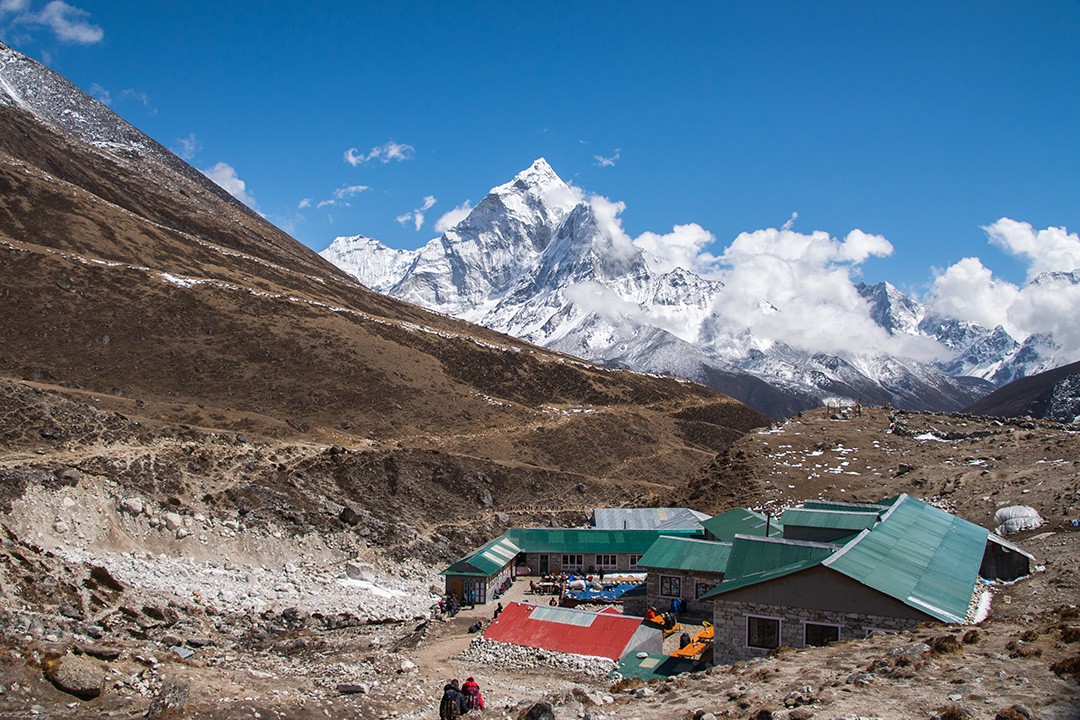 The most reliable connections are the Everest Link hotspots available at most of the villages. These prepaid cards are available in 10GB and 20GB for 1,999 NPR ($20 USD) and 2,999 NPR ($30 USD) packages and last for 30 days. Cards can be bought in Kathmandu, Lukla, Namche Bazaar and in some of the smaller villages.
Is there phone reception?
Phone reception is of course intermittent, but there is reception at the lower villages. I made the mistake of buying a Nepal Telecom 'Namaste' SIM card at the airport on arrival. However, this didn't have reception from Namche Bazaar onwards. The Ncell network, which my guide and some other trekkers had, appeared to have better reception further up the trail and my guide recommended them.
Both providers have outlets at the airport and throughout the country and offer a range of data packages. You'll need a copy of your passport and a photo to obtain a SIM card.
Is it safe to drink the water?
Yes, it is safe to drink the water as long as you use purification tablets. Nearly all teahouses and restaurants can provide drinking water free of charge. Only at Gorakshep (the last stop before base camp) was it necessary to buy bottled water, as there is not a natural spring nearby.
Otherwise, do not buy bottled water or bottled soft drinks on the trail. The plastic bottles are difficult to dispose of and have become a serious environmental problem.
What is the food like?
Food is actually pretty good along the trail. For lunch and dinner, every teahouse serves the traditional Nepali Dal Bhat (rice and lentils) as well as a variety of meals such as rice, vegetables, noodles, potatoes and soup along with Nepali versions of western food such as pizza, pasta, sandwiches and veggie burgers.
Atlas & BOots
The food on the trail was tasty and varied
Breakfast is usually a choice of porridge, various styles of eggs, toast, pancakes or the delicious (but sweet) Tibetan bread.
Do not eat meat along the trail, particularly higher up, as it has to be flown into Lukla and then transferred up the trail. Additionally, refrigeration cannot be relied upon.
Regardless, it's much better to stick to a carb-heavy vegetarian diet as it's just what you need on a long high-altitude trek such as this.
How much do meals cost?
Allow for between $400-600 USD for meals along the trail. The cost of food and drinks gets more expensive the higher you trek.
I found I was spending around 3,000 NPR ($30 USD) per day on food, hot drinks and snacks – and that often included a fee for charging a device, a hot shower or wifi.
Can I take a shower during the trek?
There are some hot showers at teahouses on the trail at an additional cost (300-500 NPR / $3-5 USD). I took two hot showers during the trek. The rest of the time I just had cold-water washes.
Only have showers at teahouses with solar heaters. Don't use water heated by wood, as a lack of firewood in villages is a big environmental concern in Nepal. Your guide will be able to advise you.
Is the trek dangerous?
All high-altitude treks involve a certain degree of risk. However, if you follow these tips for trekking to Everest base camp, along with the advice of your guide and adhere to the set acclimatisation itinerary, then most healthy people will complete the trek without any serious issues.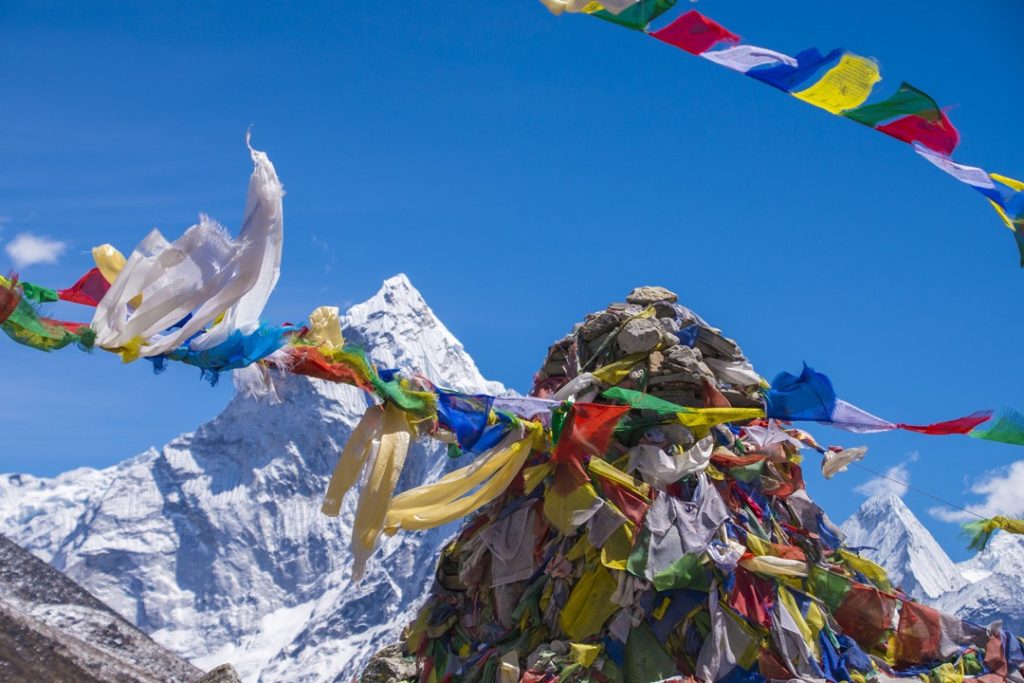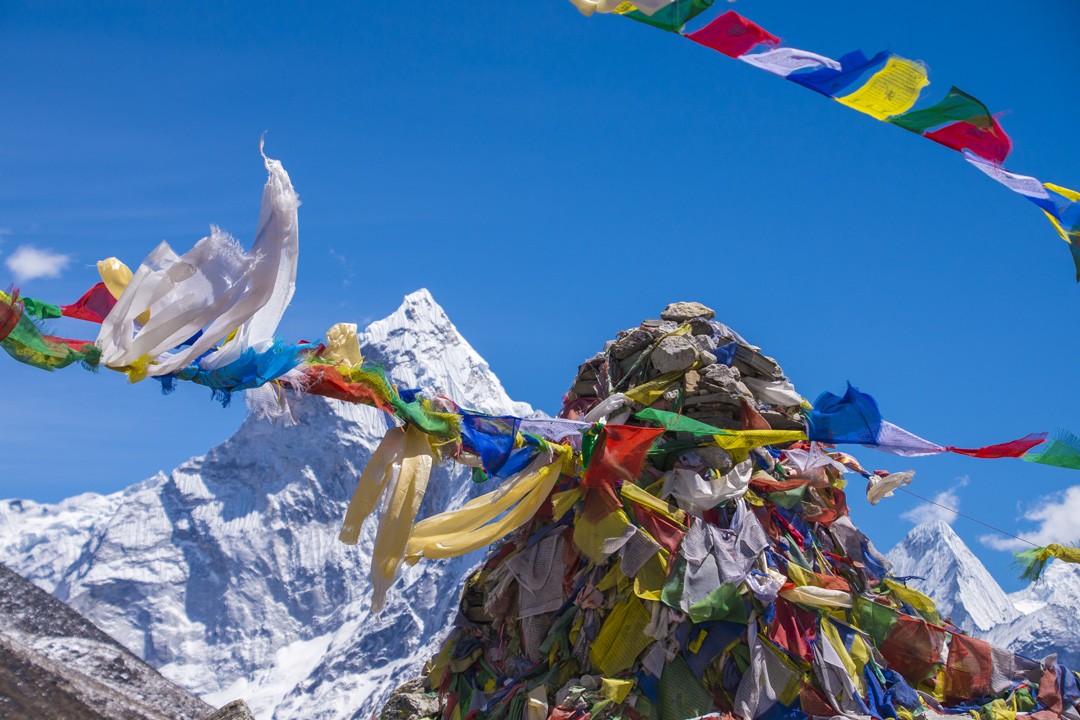 The important thing with high-altitude trekking is to not rush, go at your pace and listen to your body. Read our detailed guide on how to identify, treat and prevent altitude sickness symptoms.
Should I take Diamox?
This is very much down to the individual. I didn't take Diamox, but I have been up to this altitude several times before so knew what to expect. However, I did have some with me in case I felt bad at the higher altitudes.
The best advice I can give is what my guide gave to us. Have some Diamox with you and take it as soon as you start to feel the pulsing headaches that are synonymous with altitude sickness. He said it's good to have some available at the higher altitudes – particularly at Gorakshep where you sleep at 5,300m – so you can use it to help you get a good night's sleep.
Do I need sunscreen?
Yes! Despite the cold, the sun is intense. Make sure you wear sunscreen with an SPF of at least 40, lip balm with SPF protection, sunglasses and a sunhat.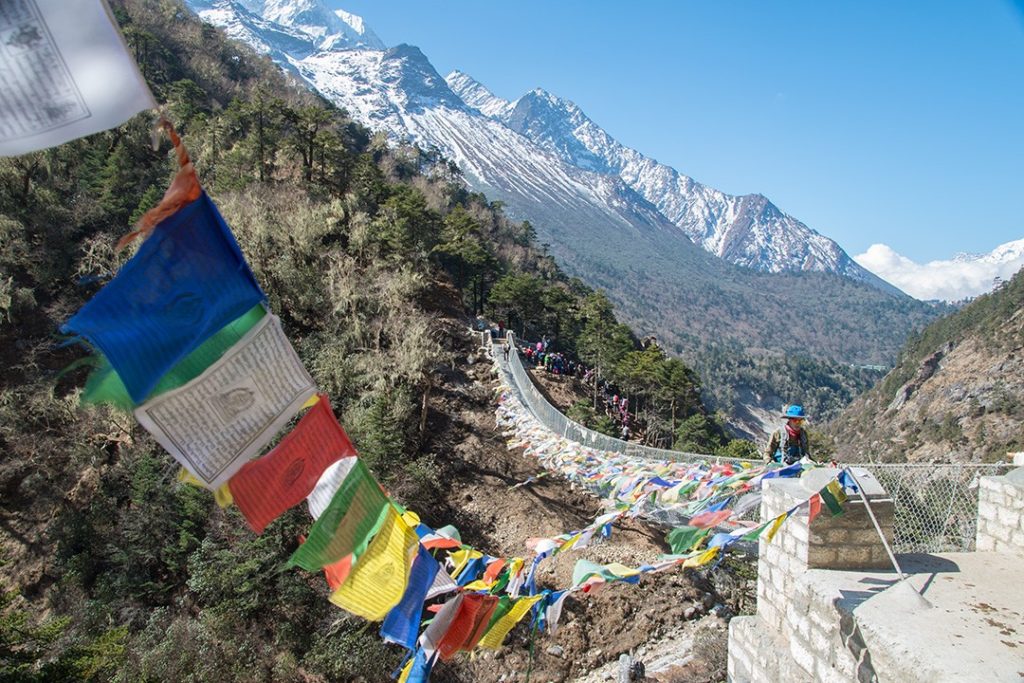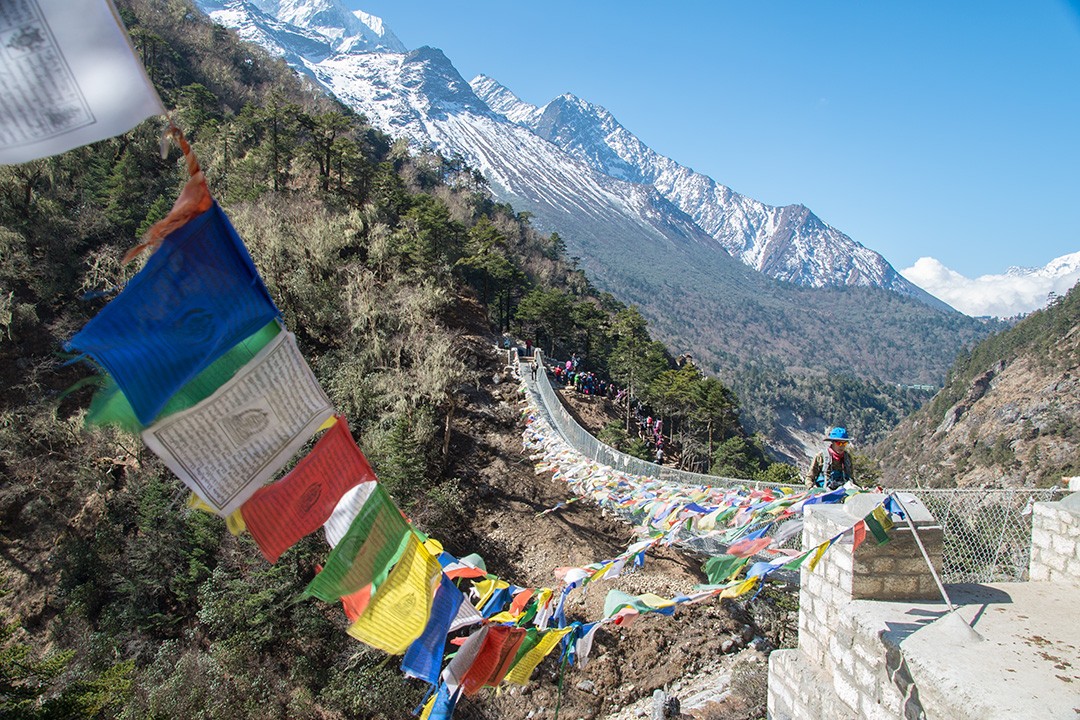 What sort of travel insurance do I need?
One of the most important tips for trekking to Everest base camp is to make sure you select a travel insurance policy that has sufficient medical coverage. It must have a minimum coverage of $200,000 USD for repatriation and emergency rescue. Make sure you check how your policy covers 'dangerous activities' such as trekking at altitude and mountaineering.
It must cover the possibility of a helicopter evacuation for trekkers and general medical evacuation to Bangkok or Delhi, which alone can cost $40,000 USD.
Do I need a trekking permit?
To trek to Everest base camp you must enter Sagarmāthā National Park where you will need to pay a national-park fee. For foreigners, not from a South Asian Association for Regional Cooperation (SAARC) country, the fee is 3,000 NPR ($30 USD) per person. A full list of park entry fees in Nepal can be found here.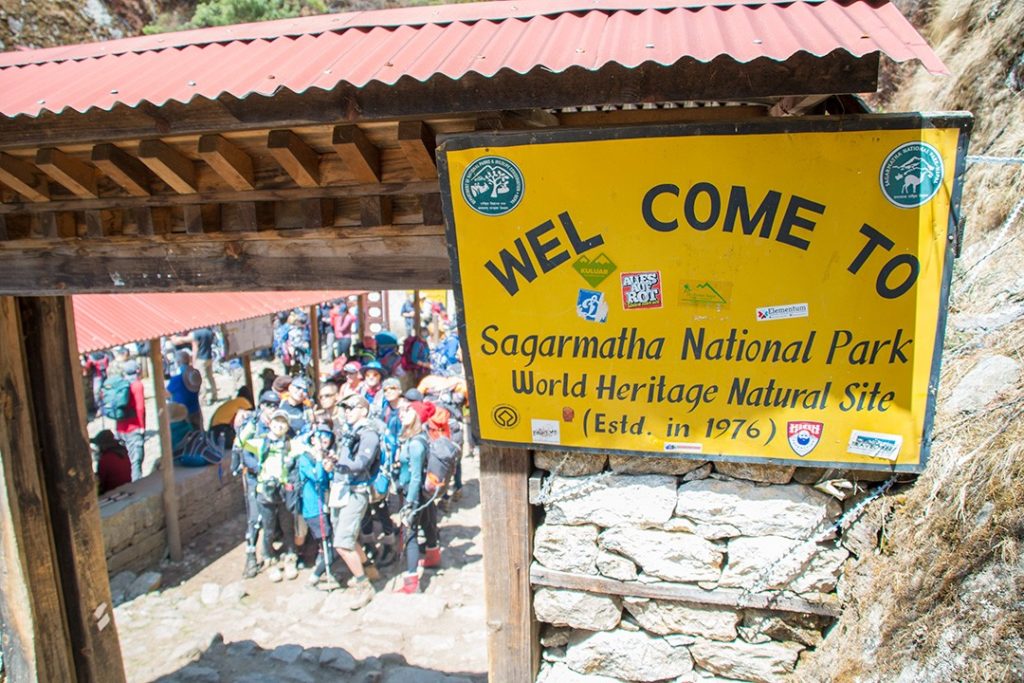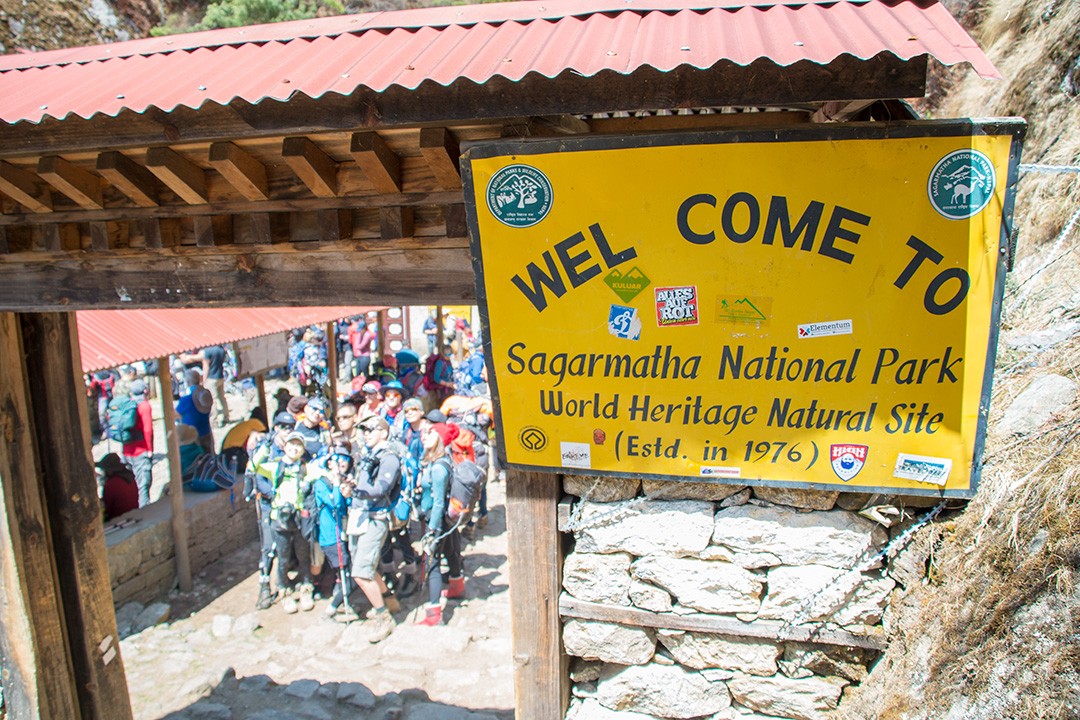 If you're joining an organised trek with G Adventures, the fee is included in the trip cost.
Are the teahouses warm?
There is usually a large dining room-cum-lounge with a stove in the centre where trekkers hang out in the evenings. The stove is usually lit in the early evening so the room gets pretty cosy.
However, the bedrooms remain chilly to say the least. A blanket is often supplied which, combined with your sleeping bag, means you should be warm enough once safely cocooned in your bedding. The cold certainly never stopped me from getting a good night's rest.
Can I drink alcohol along the trail?
There are teahouses, restaurants and even bars in the villages along the trail that serve alcohol. However, I wouldn't recommend drinking any alcohol until you're on your way down.
Some members of our group drank alcohol on the way up and they all suffered for it. On the way down you'll be accustomed to the altitude and in a far better state to enjoy a snifter or two.
Furthermore, drinking higher up the trail just encourages demand. All those cans of beer you don't need have to be carried on the backs of porters and yaks.
Can I see Everest from base camp?
Yes, although because of the angle it is somewhat obscured by Lhotse, Nuptse, the West Shoulder and the South Col. The best views of Everest massif and the Khumbu Icefall are from the summit of Kala Patthar.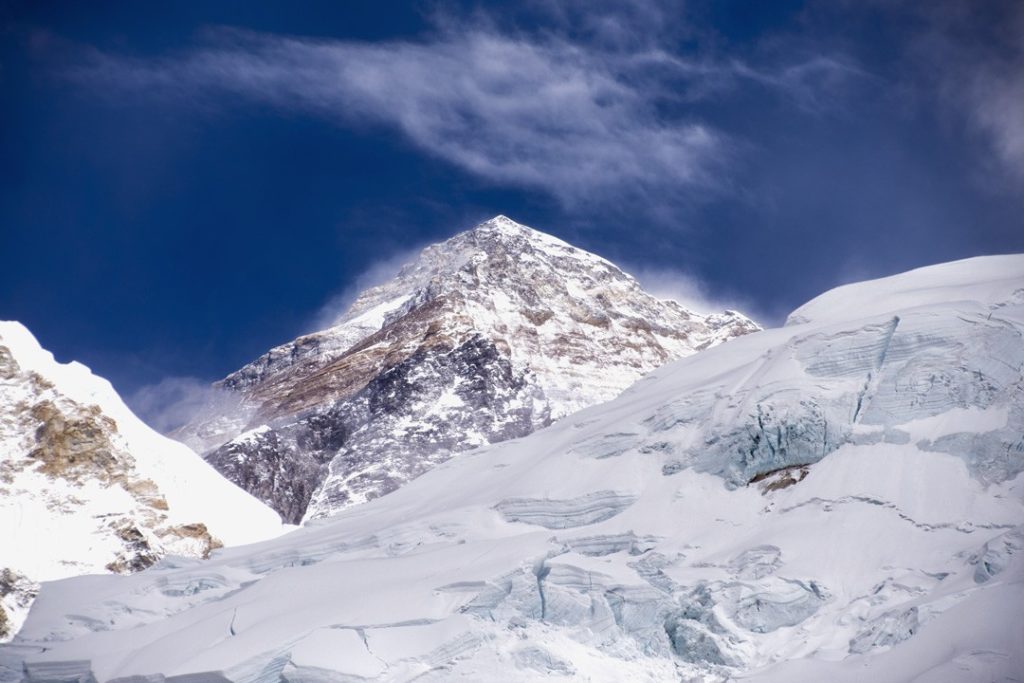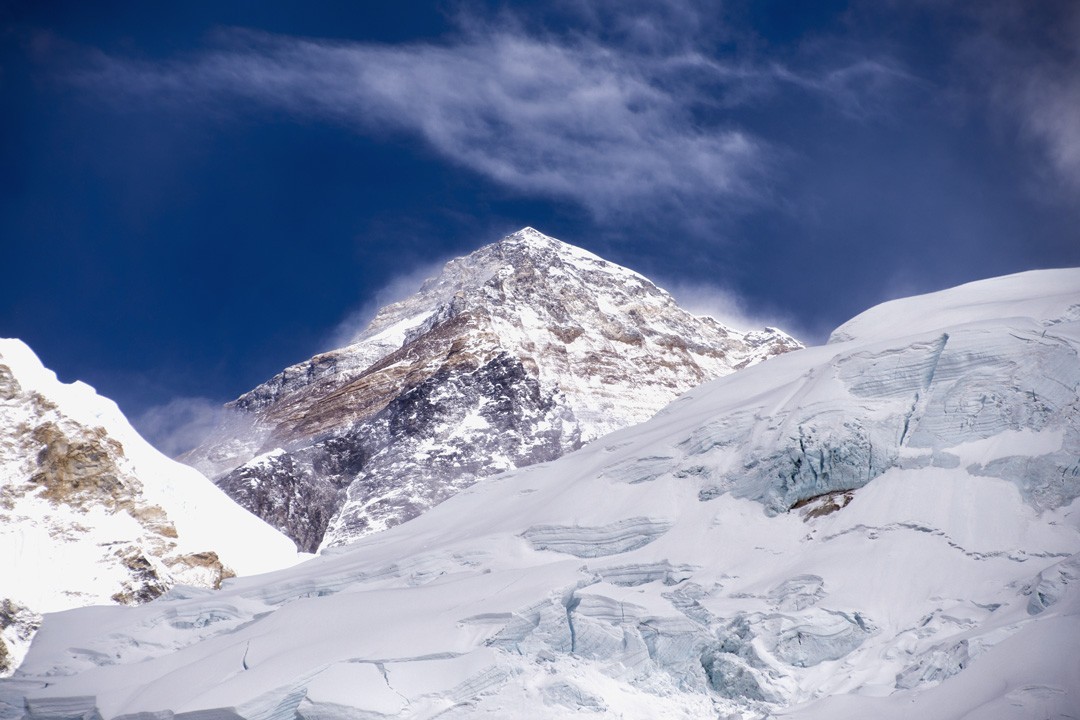 This is an optional sunrise hike, available on the morning following your arrival at base camp. On my trek, no one fancied the early morning hike up Kala Patthar, so I dragged myself out of bed and headed off alone.
I didn't have enough time to make it to the summit, but I got as high as the plateau which still offered some excellent views. The wind was lashing and it was ferociously cold, but I do regret not getting up a bit earlier and making the full ascent.
Is the Everest base camp trek worth it?
Without a doubt, yes.
After 130km of high-altitude trekking amid soaring peaks, Sherpa villages, picturesque forests and glacial moraines, concluding at the foot of the world's highest mountain, I can safely say the experience was everything I hoped it to be.
Nepal has instantly become my favourite country and I have vowed to return as soon as possible to complete the Annapurna Circuit and Langtang treks. One day I hope to go a step further and climb the mountain for real.
Atlas & BOots
Joining an organised trek
I joined a G Adventures 15-day trek to Everest base camp which comes with detailed advice and plenty of tips for trekking to Everest base camp as well as extensive information on the itinerary, joining instructions, visas and much more. Prices start from around £780 GBP ($1,000 USD), depending on dates, for a round trip from Kathmandu.

G Adventures focus on small group adventures so the maximum group size is 15 with their average for an Everest base camp trek being 10. We've used G Adventures several times before (Cambodia, Vietnam, Myanmar, New Zealandand Costa Rica) and continue to recommend them.
For more information or to book, call 0344 272 2030 or book online.
Disclosure: We travelled to Nepal with support from G Adventures. All publications say this, but we really don't guarantee positive coverage. We say what we think – good and bad – so you can make informed decisions with honest advice.
---
Enjoyed this post? pin it for later…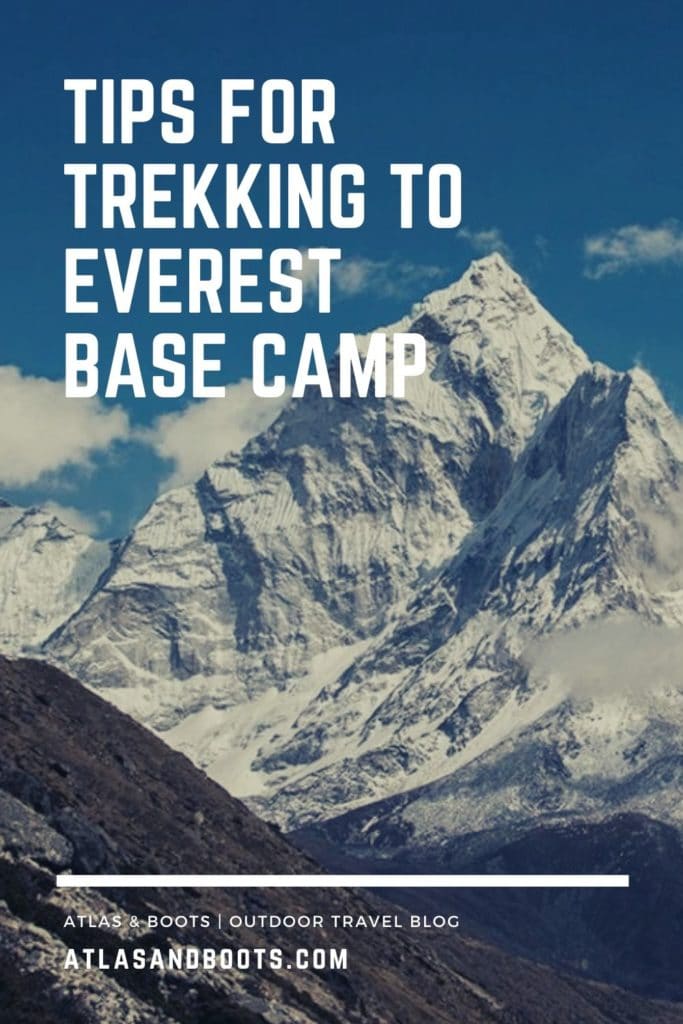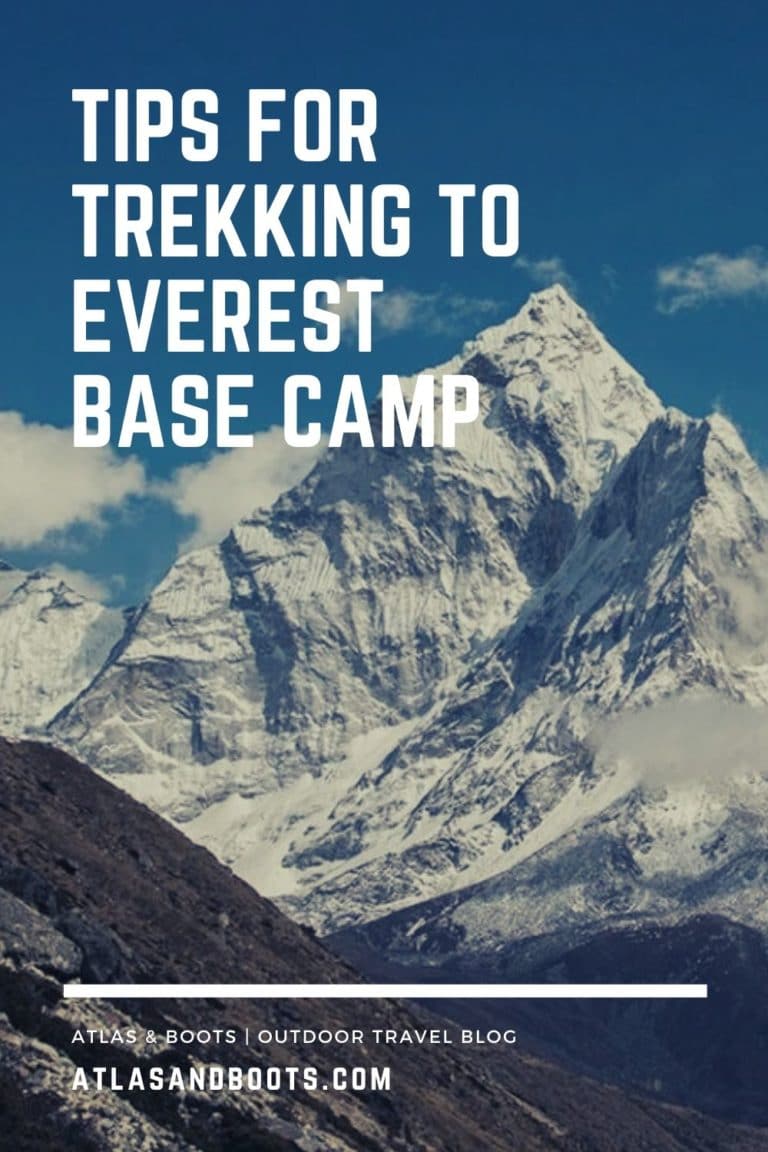 ---
Lonely Planet Trekking in the Nepal Himalaya offers a comprehensive look at all you need to know for a safe and rewarding trek, including lots of tips for trekking to Everest base camp.
Atlas & BOots