The Everest base camp trek in Nepal takes trekkers to the foot of the highest and most captivating mountain in the world
My bookshelves are filled with mountaineering books, my wardrobe is stuffed with outdoor clothes and I spend an inordinate number of nights under canvas and even more of my days on hiking trails. As such, it was almost criminal that I hadn't yet seen Nepal.
This year, I finally put that to rest with G Adventures on a 15-day trek to Everest base camp.
Mount Everest, at 8,848m (29,029ft), is the highest mountain in the world, one of just 14 eight-thousanders and a member of the seven summits. It has captivated intrepid men and women since the first legends of mountaineering made headlines of Everest around the world.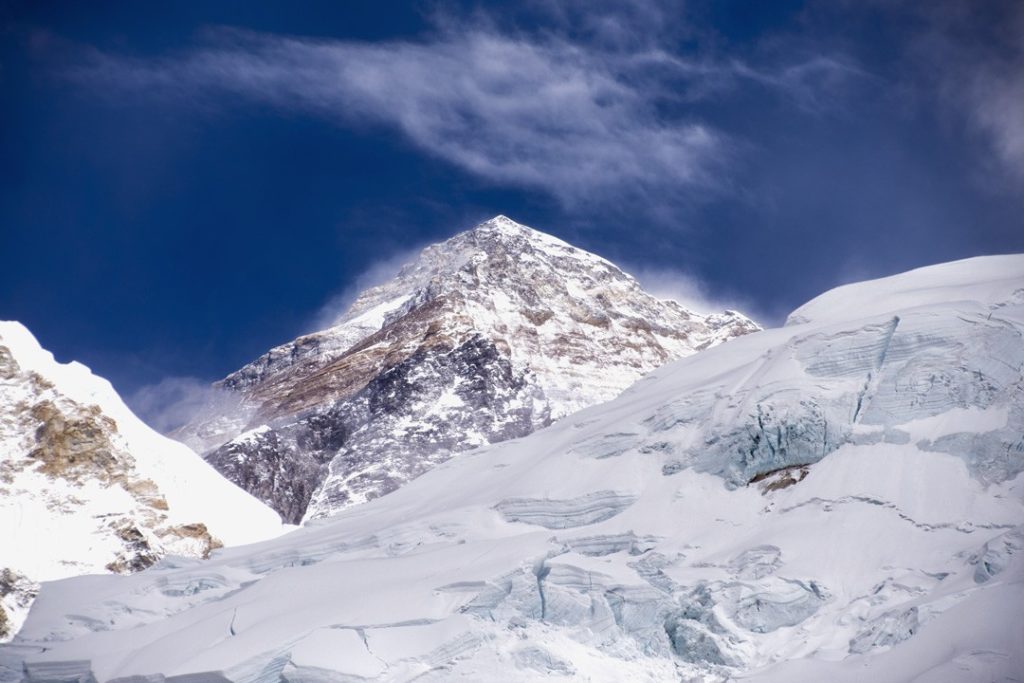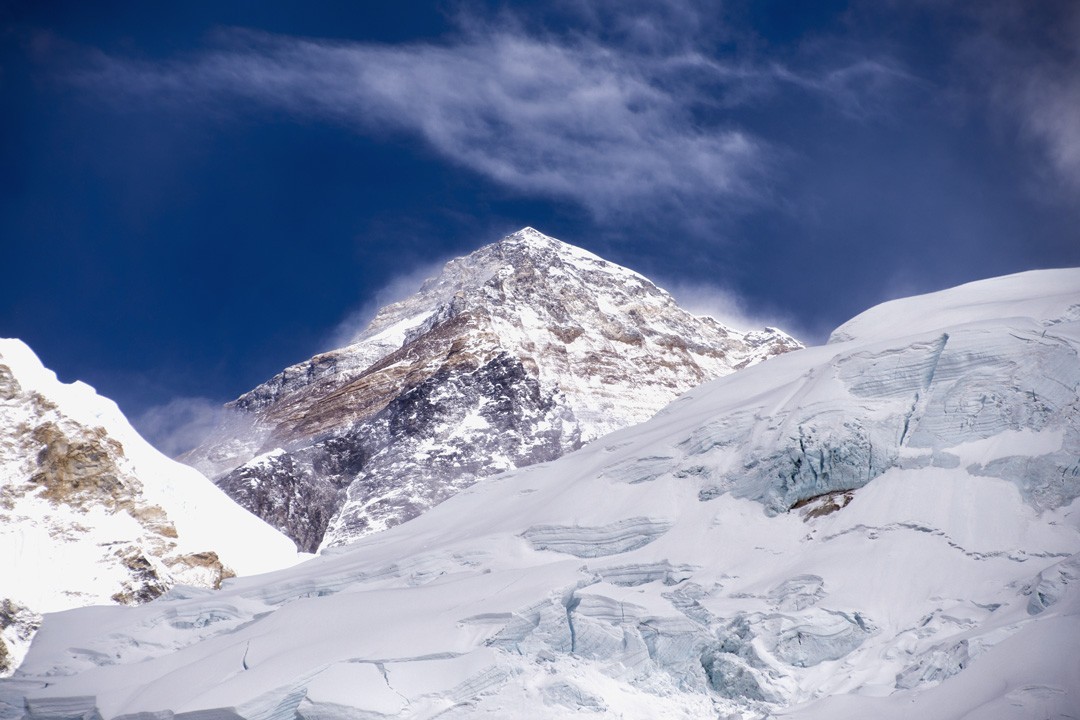 First it was George Mallory and Andrew "Sandy" Irvine on their ill-fated 1924 expedition that caught the public's imagination. Then, in 1953, Tenzing Norgay and Sir Edmund Hillary finally conquered the world's highest peak.
Today, the Everest base camp trek has become an achievable goal for most. Every year, over 30,000 people from all walks of life make the trek to catch a glimpse of the most famous mountain on Earth. This year, I joined them.
After 130km of high-altitude trekking amid soaring peaks, Sherpa villages, picturesque forests and glacial moraines, concluding at the foot of the world's highest mountain, I can safely say the experience was everything I hoped it to be.
Nepal has instantly become my favourite country and I have vowed to return as soon as possible to complete the Annapurna Circuit and Langtang treks. One day I hope to go a step further and climb the mountain for real.
Here's how my long-awaited Everest base camp trek took shape.
Day 1: Meet in Kathmandu
I arrived in Kathmandu a day before our welcome meeting with our CEO (Chief Experience Officer), Suman, and my soon-to-be trekking companions. I spent the day wandering the streets of Kathmandu and passing the time in cafes and public gardens.
Kathmandu was exactly as I had imagined it – dusty, chaotic, colourful – but I was not in Nepal to see Kathmandu. I had bigger things on my mind and was keen to get my walking boots on.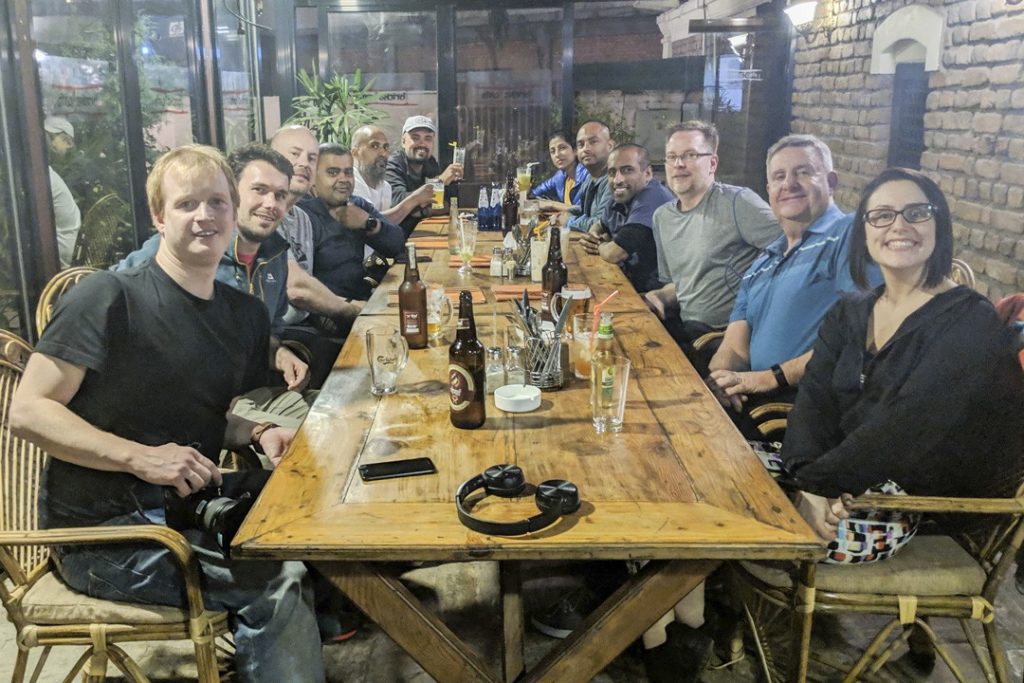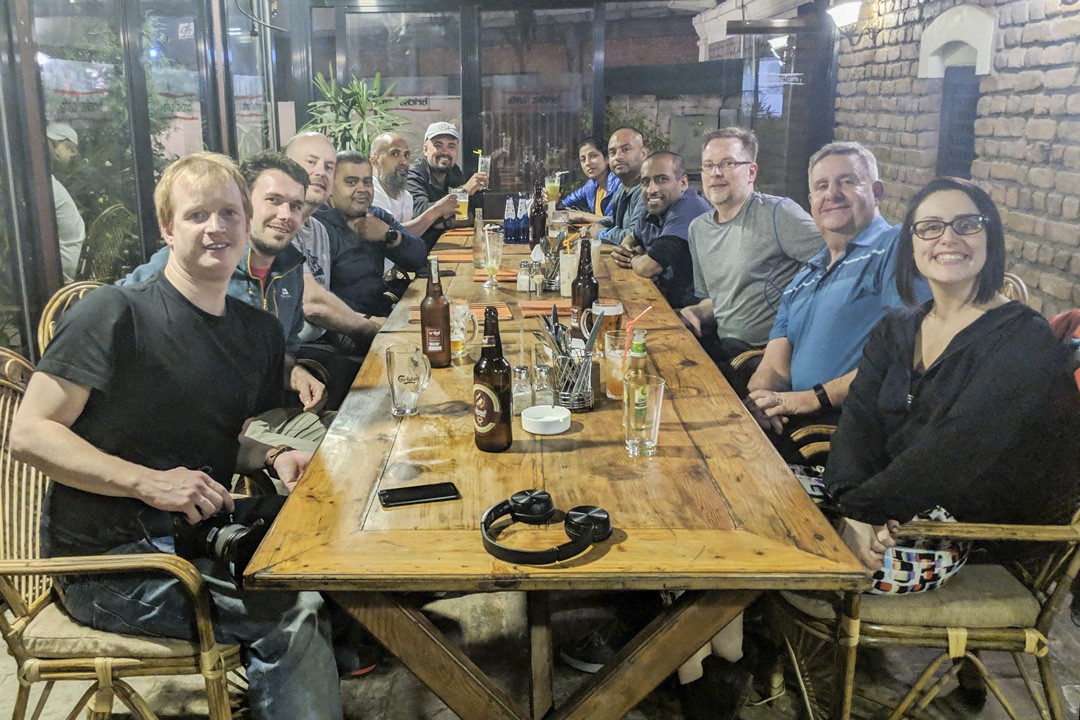 At the evening meeting we went through our itinerary and used the time to pick up any last-minute items we needed before heading out for a meal to get acquainted. There were 11 of us in total, aged from around 30 to 62 and all British apart from one Australian. It was a relatively early night for all of us as we had a frightfully early start ahead of us.
Day 2: Lukla-Phakding
Distance: 8km
Duration: 3-4 hours
Elevation: 2,610m (8,563ft)
We met in the lobby of our hotel at 4am, bleary eyed and desperate for coffee. We had a domestic flight to catch from Kathmandu to Lukla where we would begin our trek.
The morning flight to Lukla is spectacular in its own right, with the landing an exciting way to begin the trek. One end of the runway at Tenzing-Hillary Airport in Lukla is 60m (197ft) higher than the other.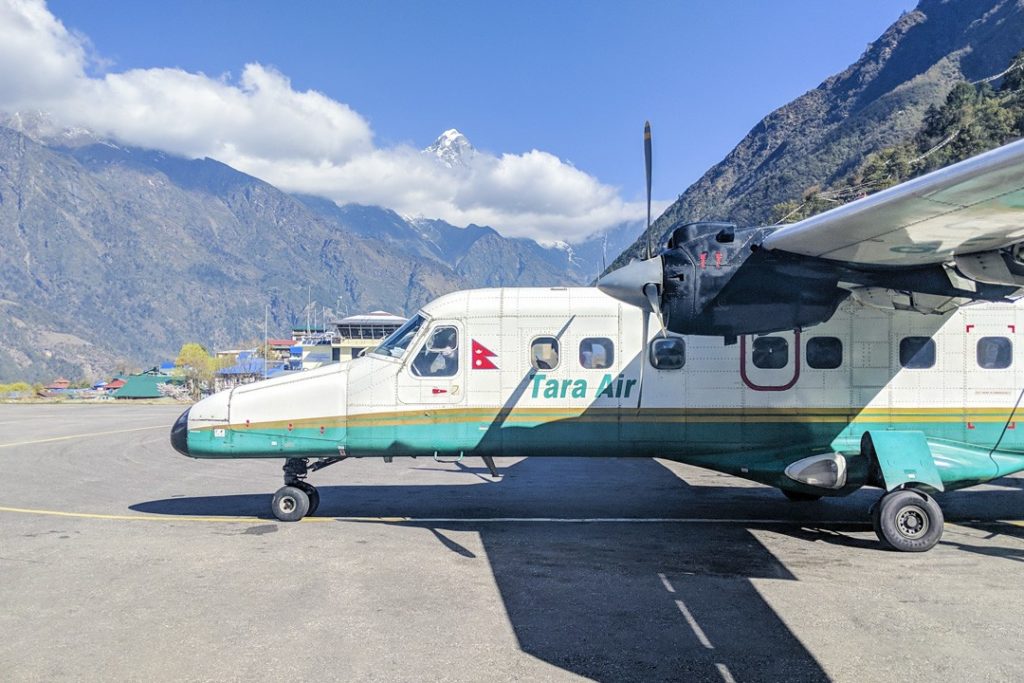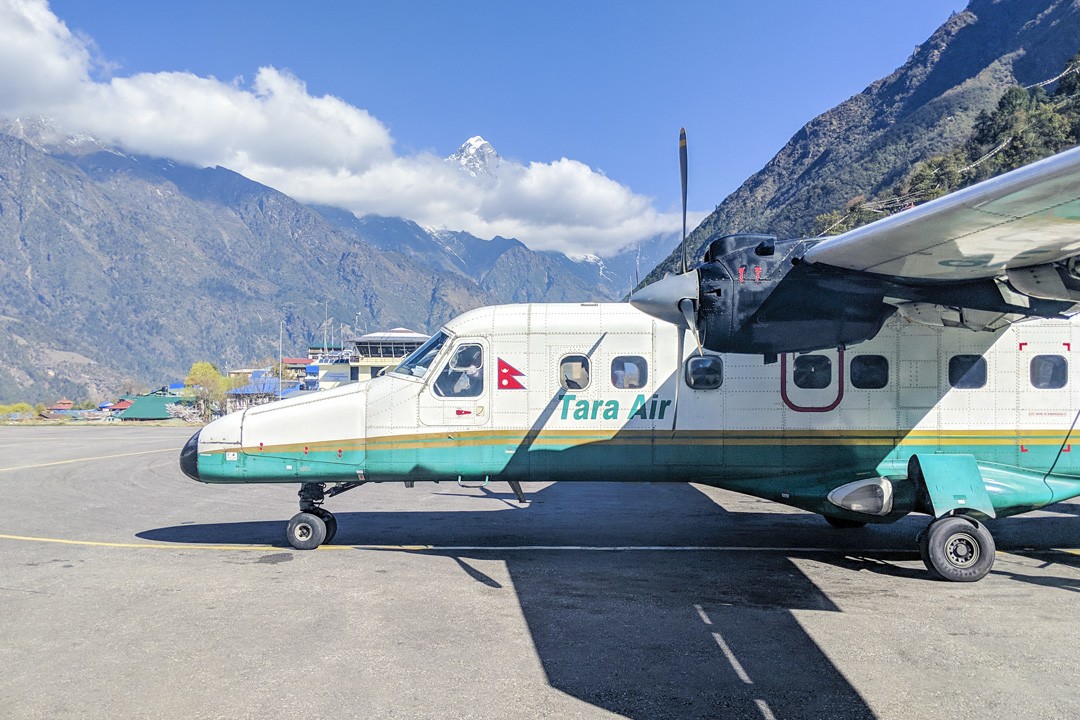 The journey to Lukla takes around 25 minutes by small propeller planes – either Dornier Do 228s or Twin Otters – that seat only 15 to 19 passengers. Spectacular views of the Himalaya foothills are on offer, but the weather tends to deteriorate in the afternoon hence the early start.
Interestingly, the first day of the Everest base camp trek ends lower than where it begins, meaning we were hiking downhill. Lukla, situated at 2,860m (9,383ft) is around 250m higher than Phakding (2,610m / 8,563ft) where we finished the day.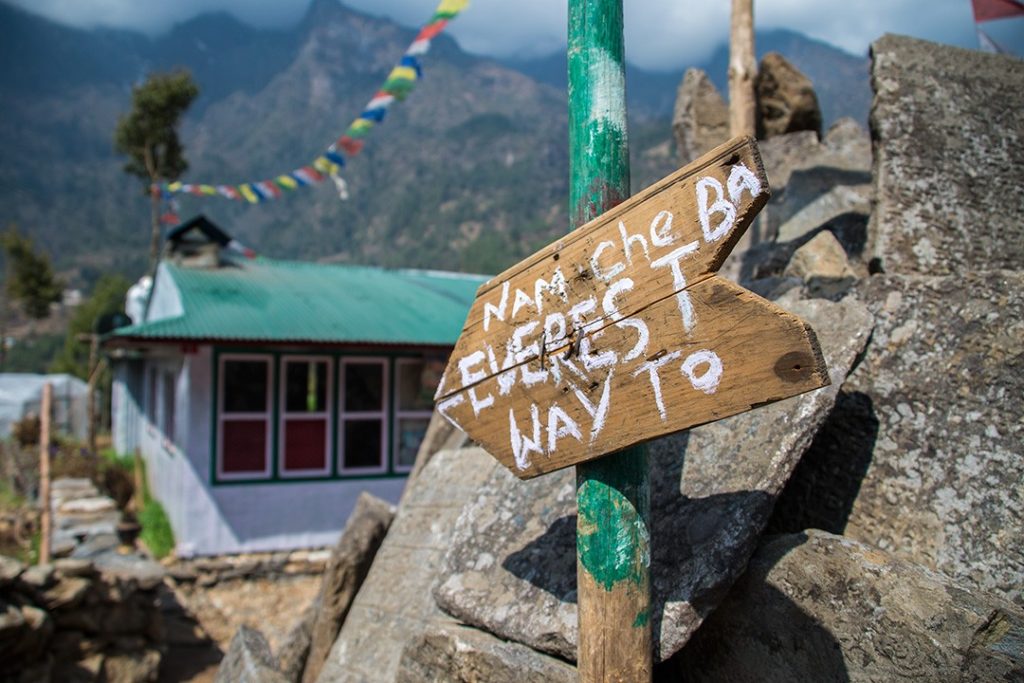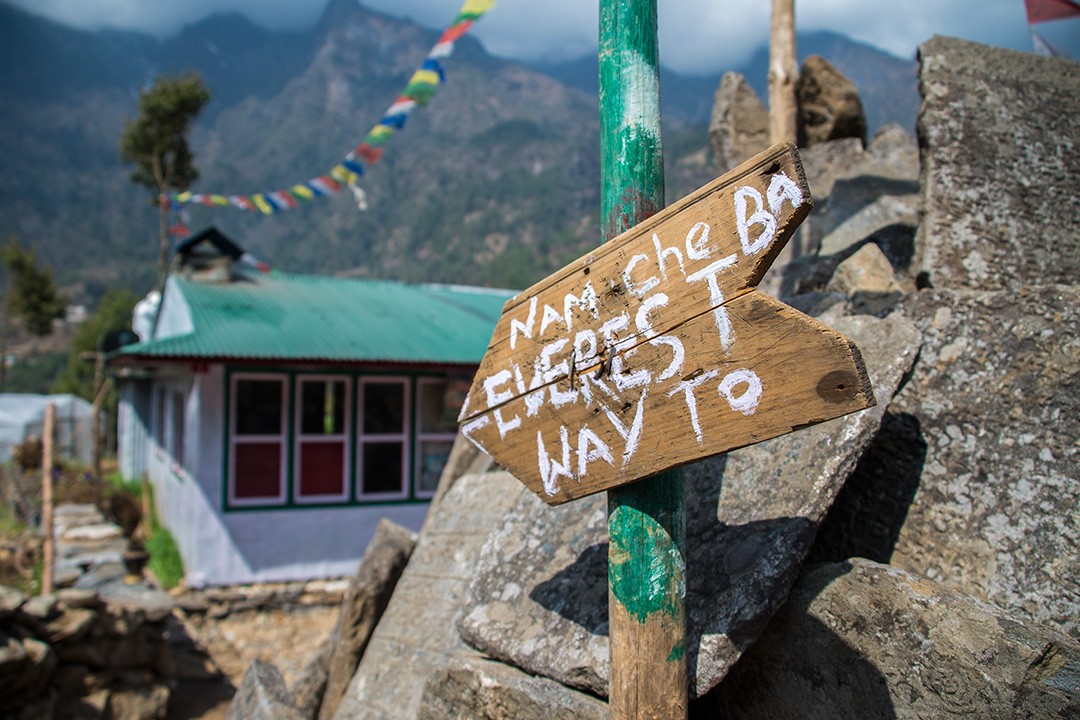 We descended along the trail through pine and cedar woods, following the emerald Dudh Kosi River. We spent our first day getting used to Himalayan life: dodging yak and mule trains, crossing springy suspension bridges, spinning colourful prayer wheels and passing mani stones (boulders carved with Buddhist inscriptions).
It was a gentle introduction to the Everest base camp trek, but we were all mindful of the challenge ahead.
Day 3: Phakding-Namche Bazaar
Distance: 11km
Duration: 6-7 hours
Elevation: 3,440m (11,286ft)
Today, our Everest base camp trek began in earnest and it did so under clear skies and stunning views of the surrounding valley and mountains. We spent the entire day trekking in the shadow of Mount Khumbila rising 5,761m (18,901ft) above us.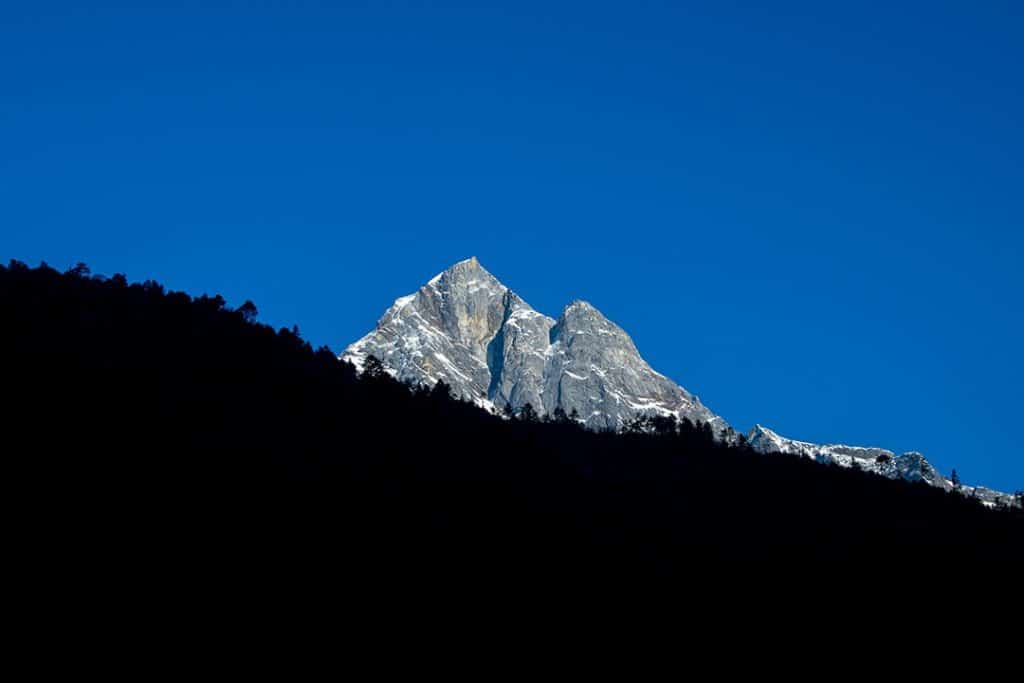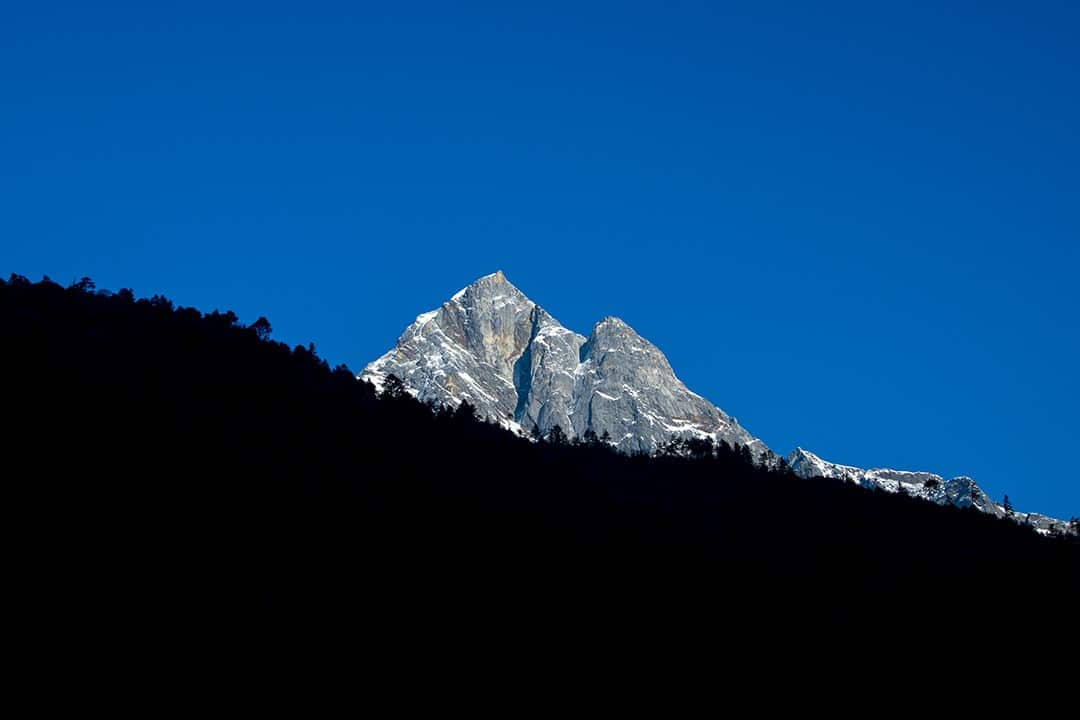 Khumbila roughly translates as 'God of Khumbu' and is a deeply sacred mountain to the Sherpa people of the area. As such, climbing on Khumbila is strictly forbidden and it remains one of the world's unclimbed mountains.
In the morning, we passed through the Jorsalle entrance gate to Sagarmāthā National Park just slightly beyond the village of Manjo. Mount Everest is known in Nepali as 'Sagarmatha' which translates as 'goddess of the sky', and in Tibetan as 'Chomolungma' meaning 'Holy Mother'.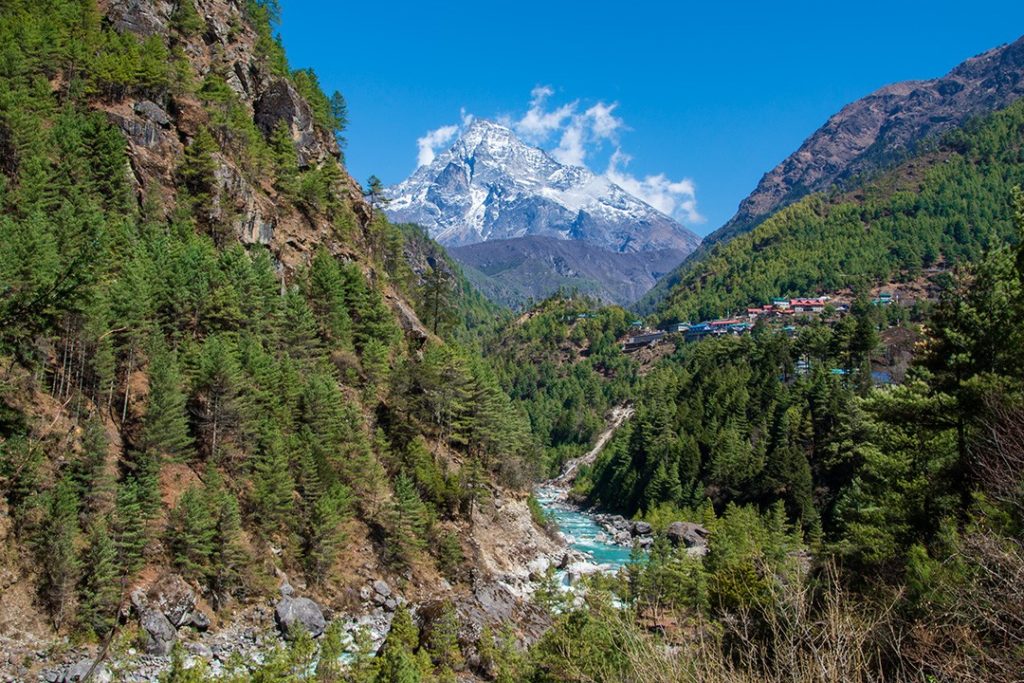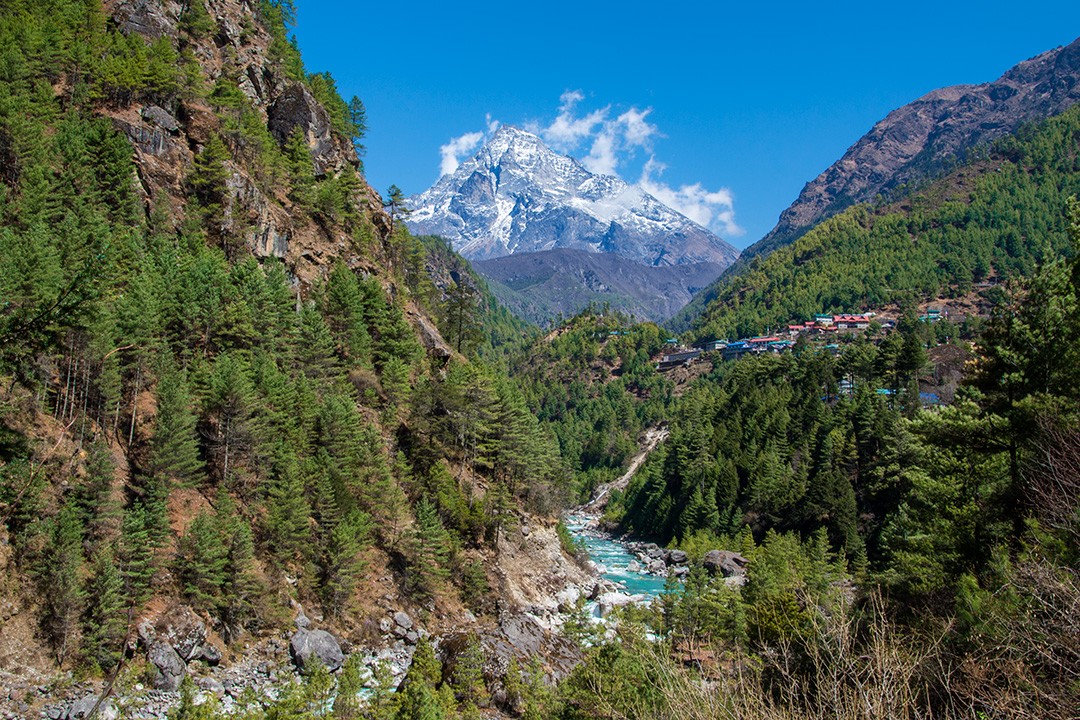 By the afternoon, the weather began to turn with thick mist descending from the mountains – something that would become a recurring theme throughout the trek. We arrived in the small town of Namche Bazaar which is widely known as the gateway to the high Himalayas.
We spent two days in Namche, acclimatising and enjoying our last real taste of civilisation.
Day 4: Namche Bazaar
Distance: 3km
Duration: 3 hours
Elevation: 3,860m (12,664ft)
Today, we took an acclimatisation hike up to the Everest Sherpa Resort teahouse at 3,860m (12,664ft). En route we stopped at the Sagarmatha National Park Visitor Centre which houses a small museum alongside the Tenzing Norgay Memorial. Here we caught our first glimpse of Mount Everest and its surrounding massif.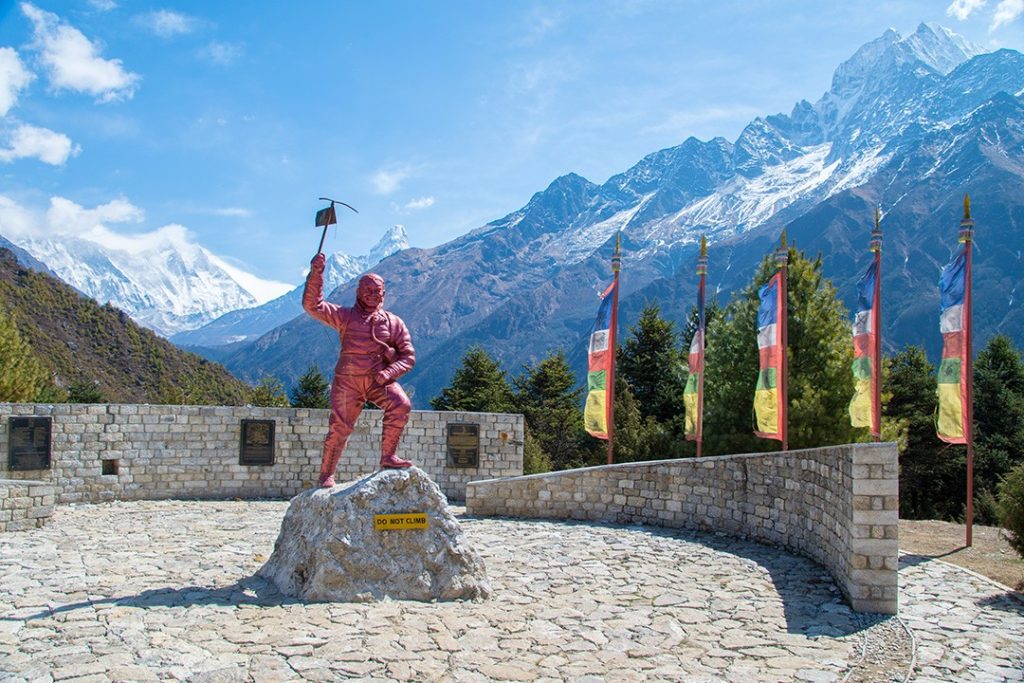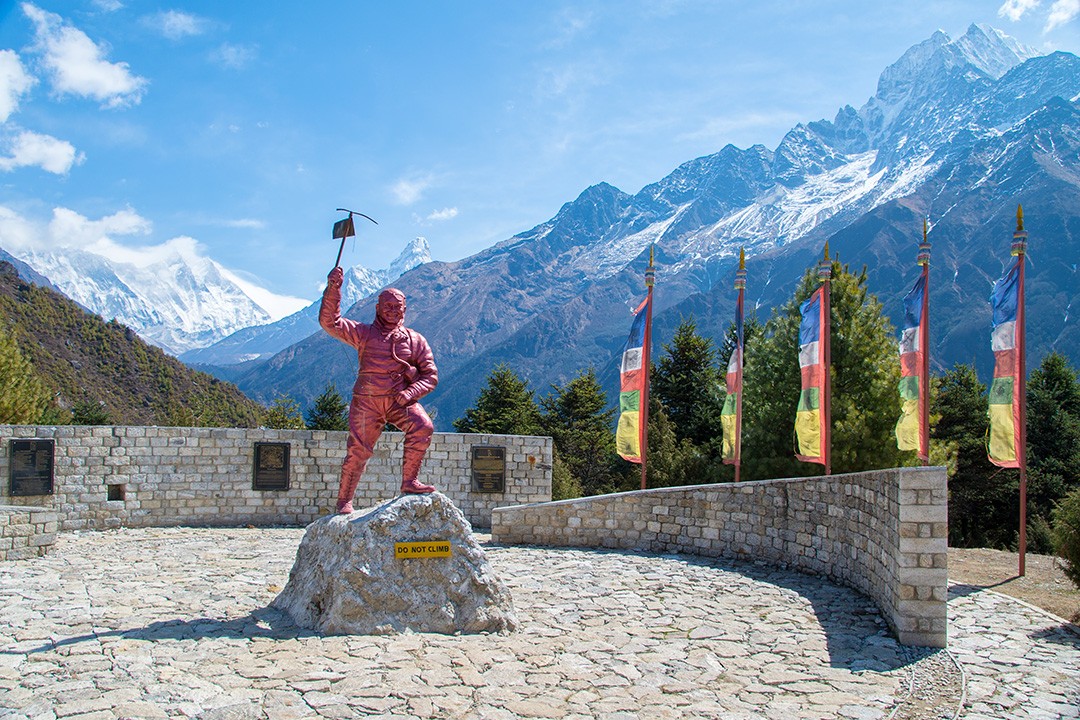 The views only improved the higher we got. At the teahouse, we sat in the warm midday sun, gazing out across the Himalayas with the Everest massif in the distance and the imposing peaks of Kongde Ri at 6,187m (20,299ft) behind us and Thamserku at 6,623m (21,729ft) to the east.
I think it was here that the true scale of the Himalayas finally dawned on me. We were at roughly the same altitude as the summit of the infamous Eiger in the Bernese Alps of Switzerland. Yet, here in Nepal, 3,860m seems entirely insignificant compared with its soaring peaks. It's a sense of scale and perspective that only gigantic mountains can bring.
Day 5: Namche Bazaar- Tengboche
Distance: 9km
Duration: 5-6 hours
Elevation: 3,867m (12,687ft)
The route from Namche to Tengboche (or Thyāngboche ) is unbelievably beautiful. Continuing to follow the Dudh Kosi River, now further below, with the peaks of Thamserku, Kantega, Ama Dablam, Lhotse and Everest rising in front, we had an exceptional day of trekking.
Numerous suspension bridges criss-crossed their way back and forth across the river, always continuing to rise. We paused at a teahouse mid-morning and sipped hot drinks on the patio, looking along the valley towards Ama Dablam.
At 6,812m (22,349ft), with soaring ridges and steep faces, Ama Dablam is quite possibly the most beautiful mountain in the world. It's little wonder that it's often referred to as the 'Matterhorn of the Himalayas'.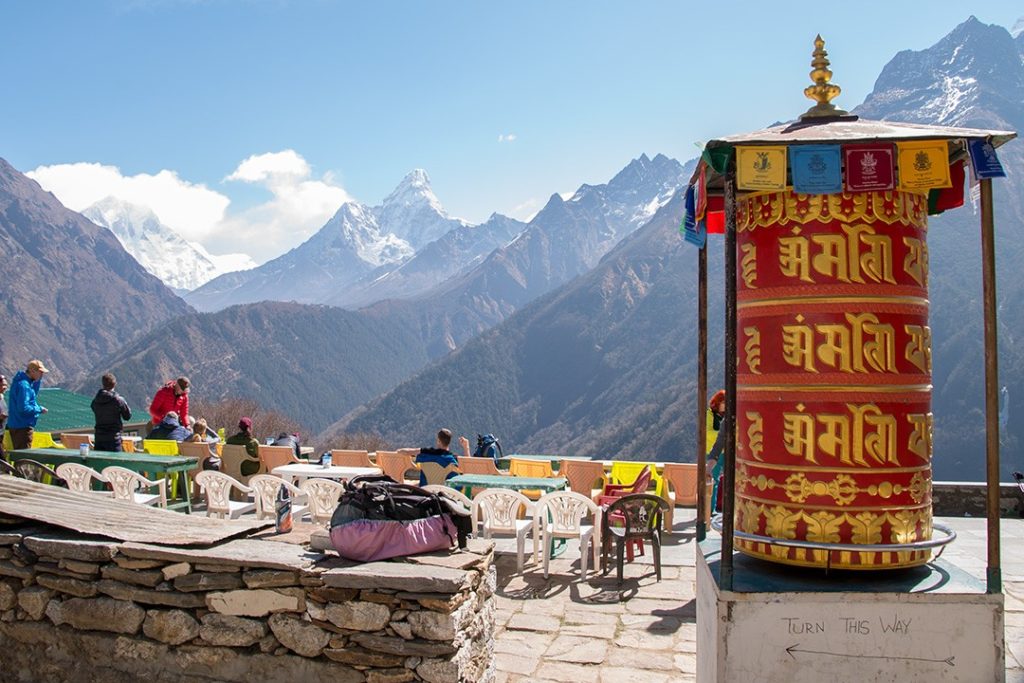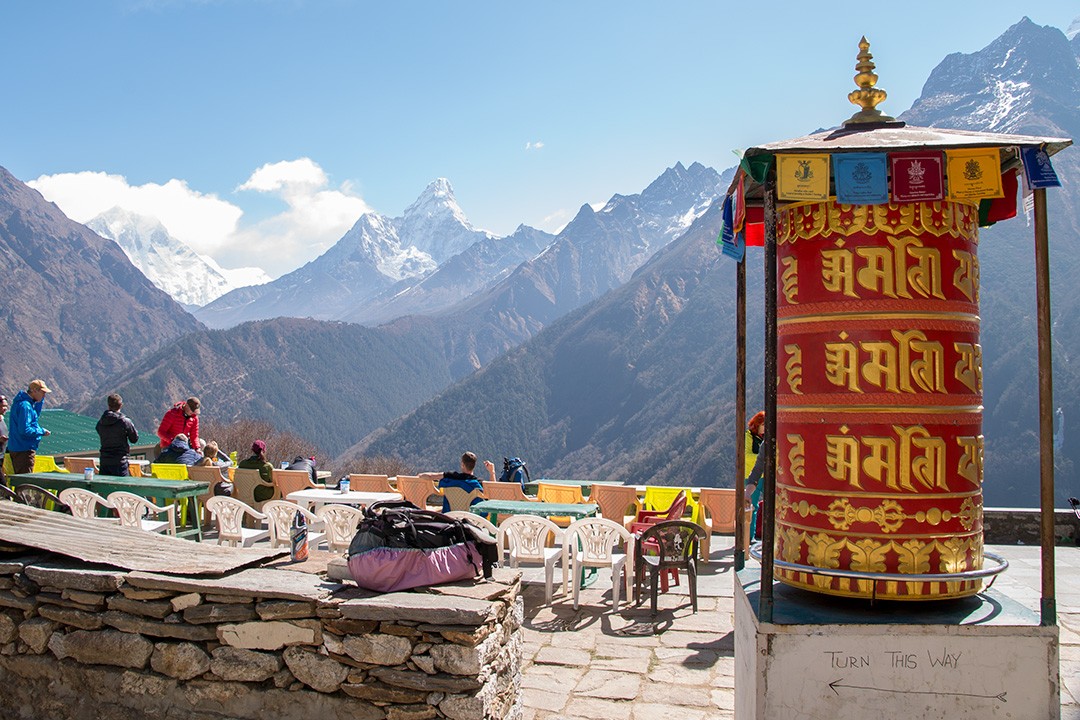 We continued to make our way up through the forest, following the rising contours of the valley, passing mani stones and prayer flag-clad chorten (stupas) en route to Tengboche. We arrived late afternoon in time to visit Tengboche Monastery.
A UNESCO World Heritage Site, Tengboche Monastery is where would-be Everest summiteers traditionally pause to be blessed before continuing on to base camp. It is a tradition that dates back to 1953 when Sir Edmund Hilary and Tenzing Norgay, a resident of the village, first summited Everest.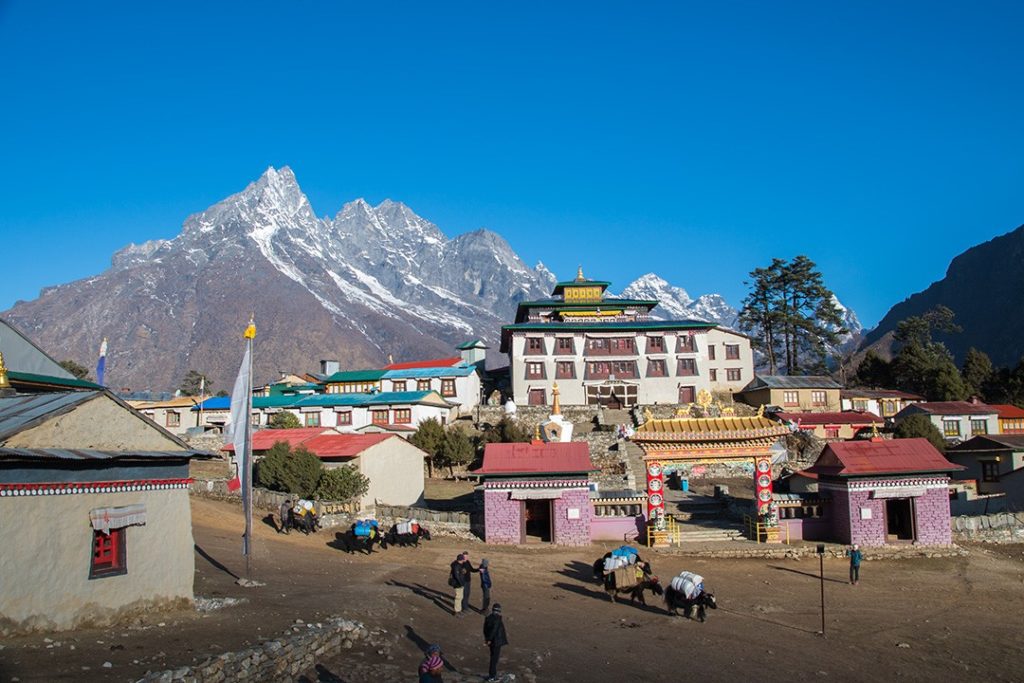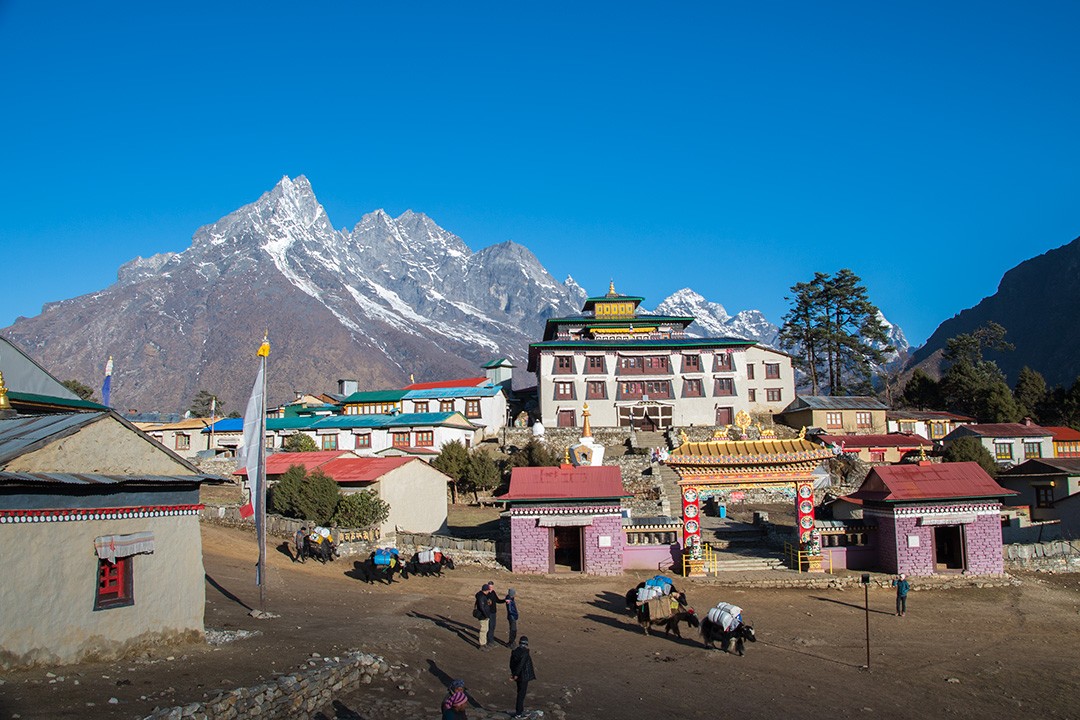 Day 6: Tengboche-Dingboche
Distance: 11km
Duration: 5-6 hours
Elevation: 4,410m (14,468ft)
Today, we ascended stone steps through rhododendrons, birches and conifers where, due to the hunting ban, Nepali pheasants can be regularly seen and more regularly heard. We were slightly too early to witness the rhododendrons in full bloom, but the first inklings of blossom were starting to show in some places.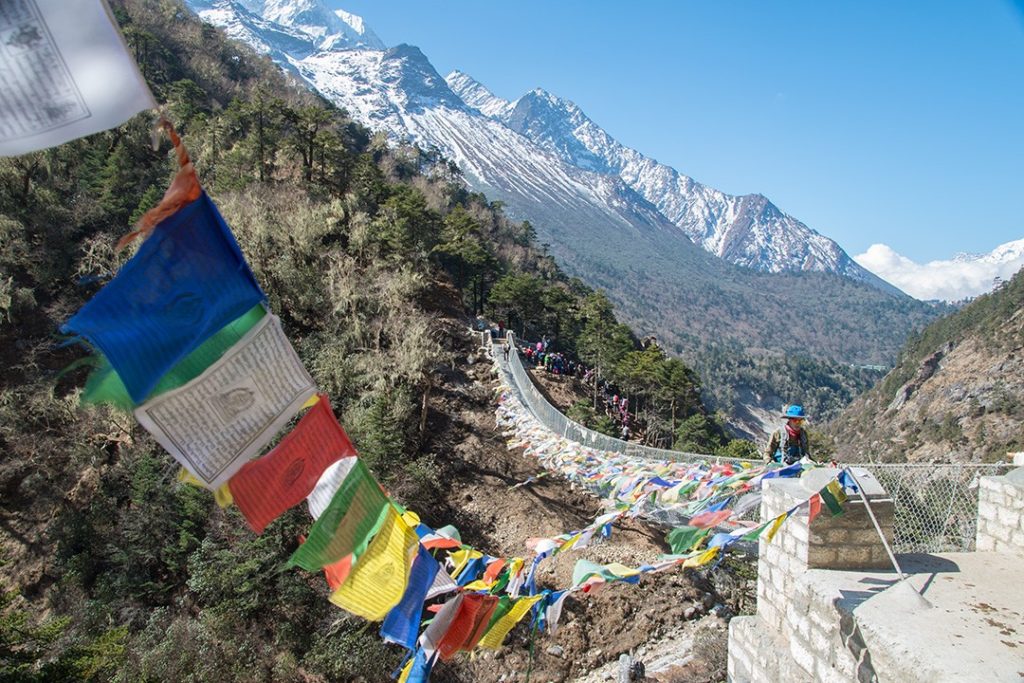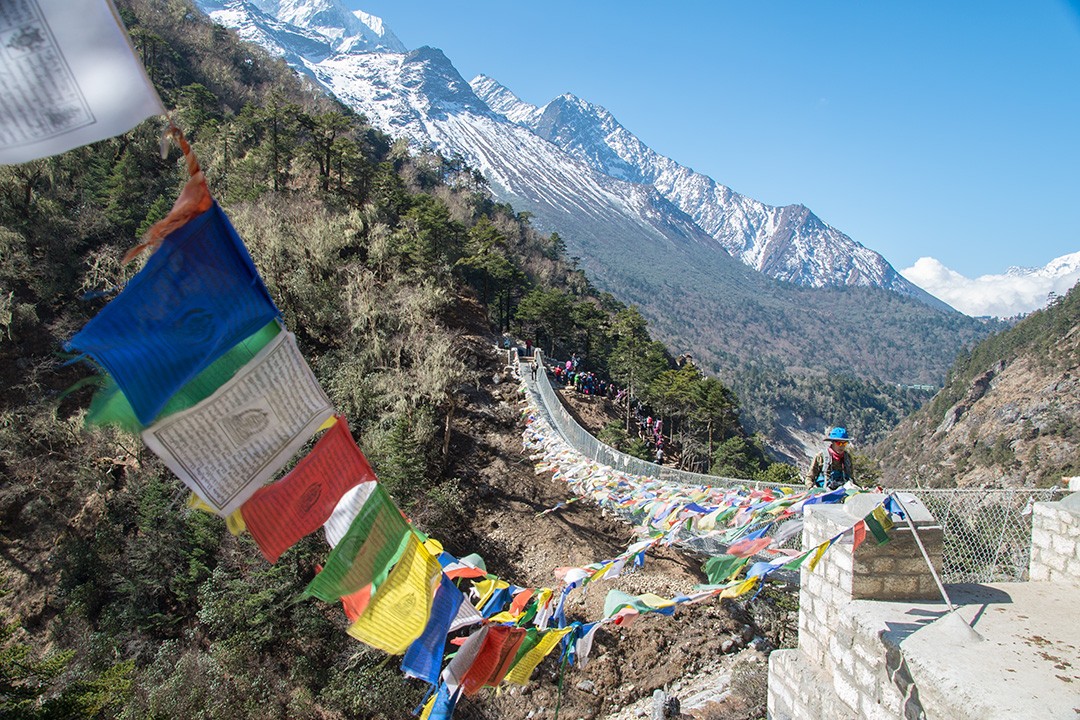 The scenery began to open up with steep valley sides giving way to a wider, more gradually sloping montane landscape. At the dramatically positioned high-Himalayan village of Dingboche, the mountain views were nothing short of outstanding.
We finished in thick fog that day, having cleared the tree line, but the next would reveal the true magnificence of our location.
Day 7: Dingboche
Distance: 3km
Duration: 3 hours
Elevation: 4,700m (15,419ft)
Today was another acclimatisation day and what a day it was. We hiked up the slopes of the Imja Khola valley above the village where we had extraordinary panoramic views of the surrounding valleys and mountains.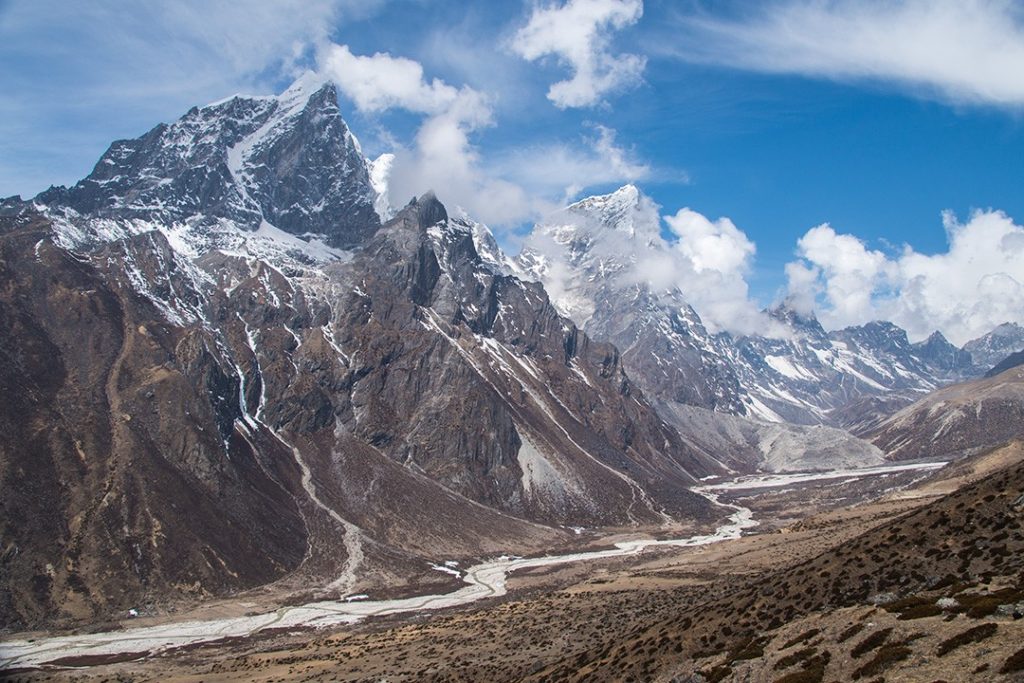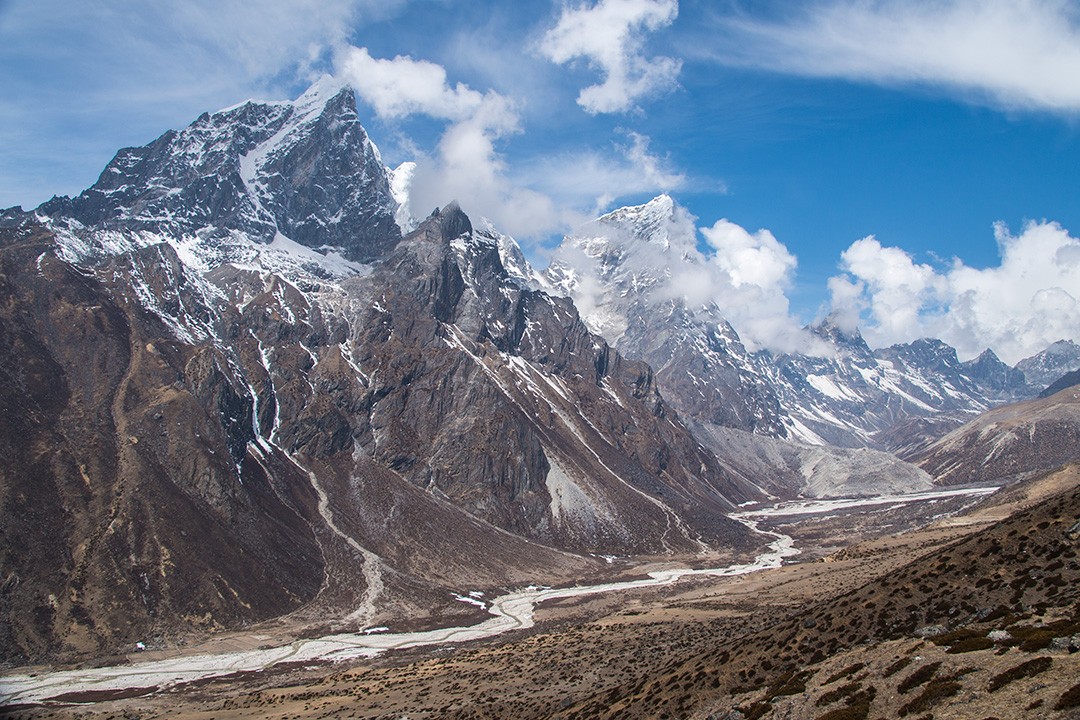 The arresting 6,000m-plus peaks of Taboche, Cholatse and Ama Dablam flank the Imja Khola valley – not to mention the countless ridges and peaks I can't identify.
We were back at our teahouse in time for lunch and spent the rest of the afternoon relaxing and keeping warm as the now-reliable afternoon mist and chill rolled in.
Day 8: Dingboche-Lobuche
Distance: 12km
Duration: 5-6 hours
Elevation: 4,940m (16,207ft)
Today, we got our first taste of real Himalayan weather as snow arrived with vengeance. By mid-morning our rocky surroundings were covered in a thick blanket of white and had us reaching for our down and waterproof jackets.
We shared our path with caravans of woolly yaks far more accustomed and better adapted to this sort of climate. By lunchtime the snowfall reached its peak and began to dip by early afternoon.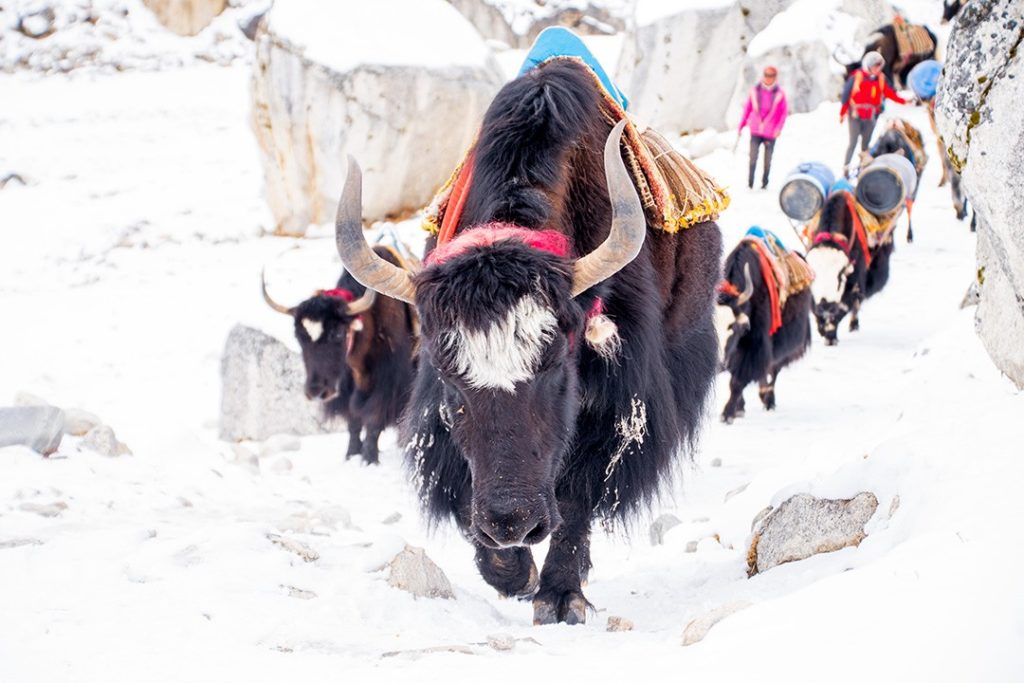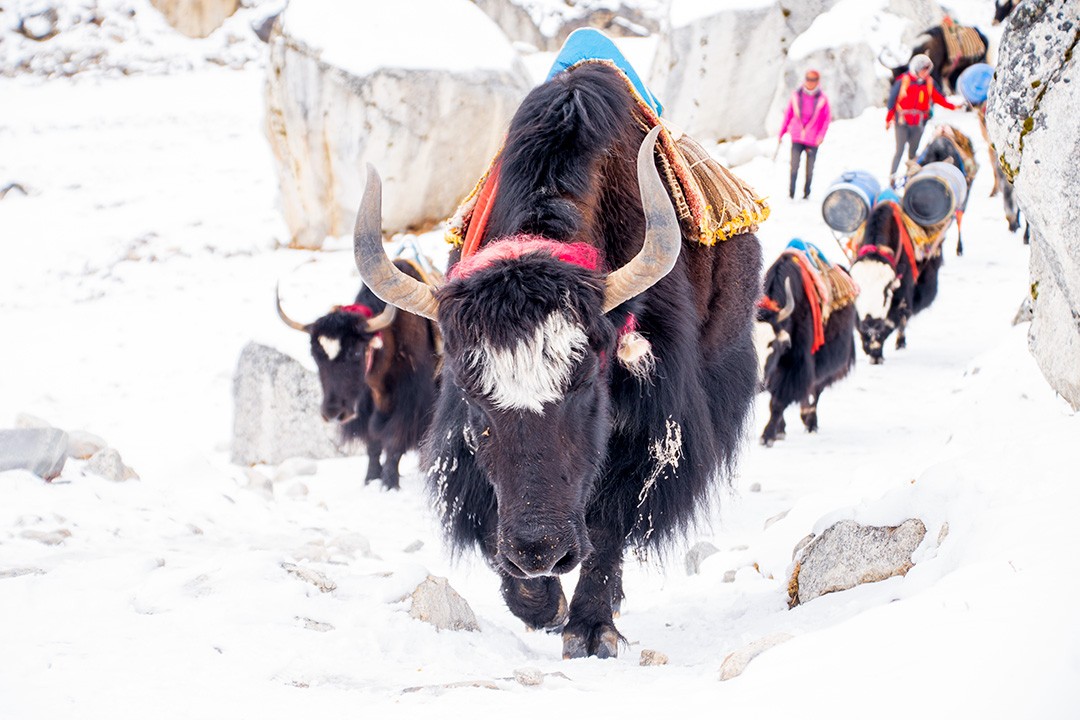 We passed through the Everest Memorial at Chukpi Lhara near the village of Pheriche. Dotted with stone piles and plaques with prayer flags strung between them, the memorial is dedicated to the hundreds of sherpas and climbers who have died on the mountain over the years. It was a sobering reminder of the dangers that accompany high-altitude climbing and trekking.
We were now higher than any mountain in Western Europe and we hadn't even strapped on a crampon. The sunset that evening over snow-dusted mountains was utterly stunning, revealing yet another side of this magnificent part of the world.
Day 9: Lobuche-Everest base camp-Gorakshep
Distance: 12.5km
Duration: 7-8 hours
Elevation: 5,364m (17,598ft)
Today was the day… and it was another whiteout. Concern was rife among the group: when we arrived at Everest base camp, would we even see anything?
We began our final day of ascent. By now, the altitude was becoming more challenging. The Changri Glacier loomed ahead as the trail headed for the village of Gorakshep positioned alongside a small frozen lake.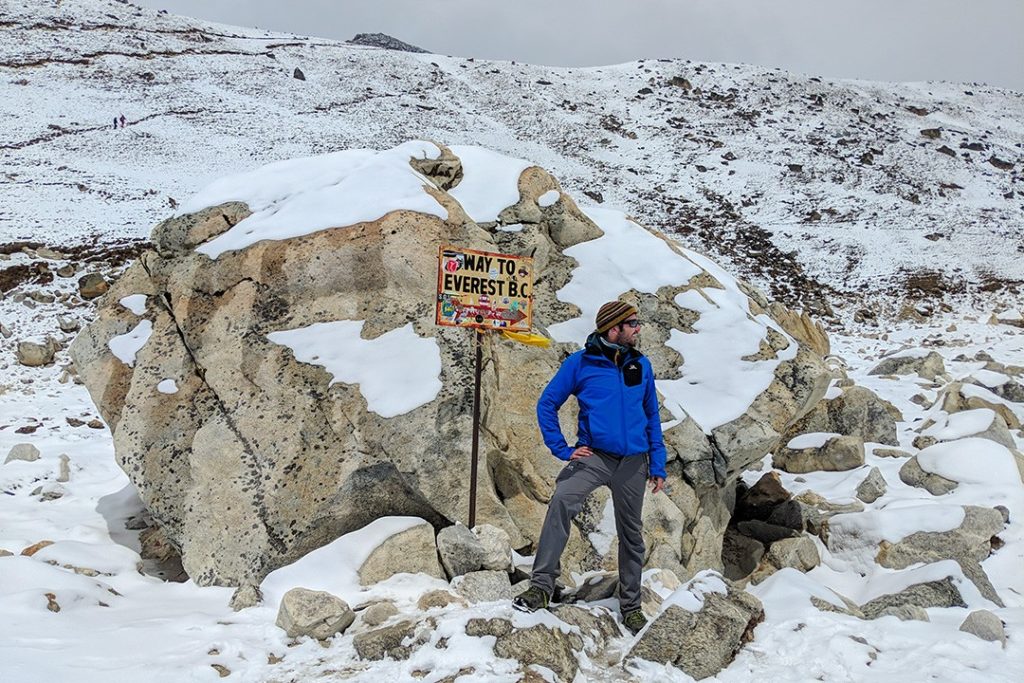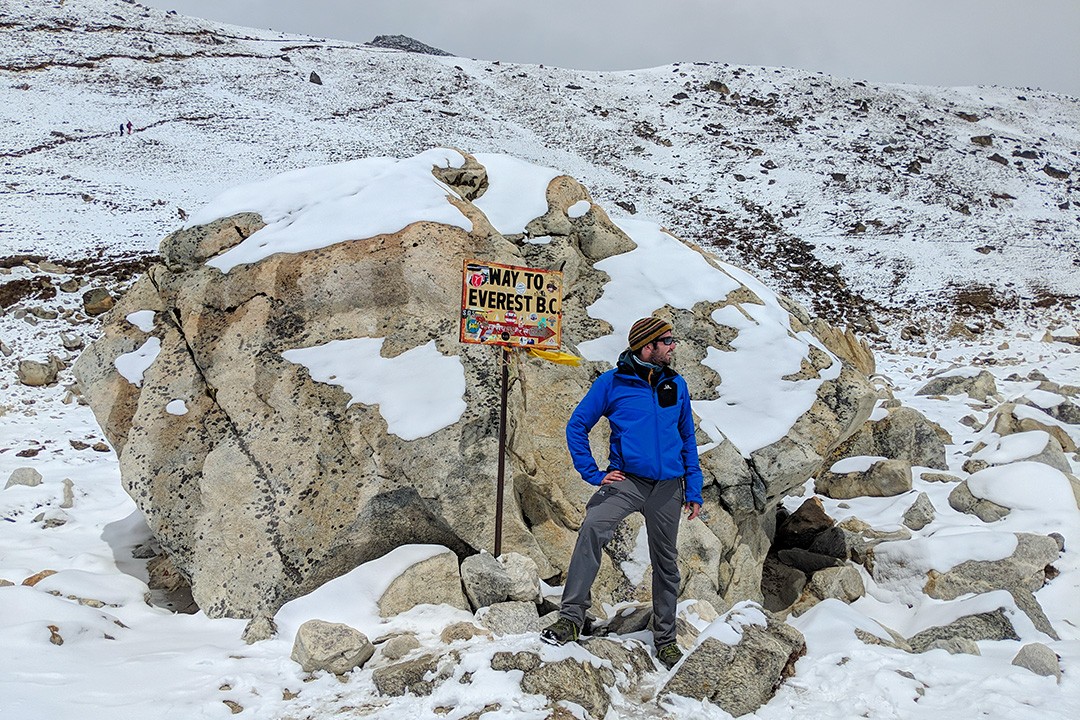 We arrived at Gorakshep for lunchtime. We left any superfluous gear there and headed off towards the pinnacle of our Everest base camp trek: base camp itself.
By now, the group was a bit strung out along the trail as we all walked at our own speeds, some struggling from the effects of altitude more than others. Our first glimpse of the yellow tents of base camp came as we rounded a spur in the valley. Our pace immediately quickened with excitement. Half an hour later, we arrived at Everest base camp.
First on the scene, I slumped at the prayer flag-bedecked cairn with its rudimentary sign and waited for my trekking mates to trickle in. High fives and whoops of delight filled the air as we snapped selfies and gathered for a group photo.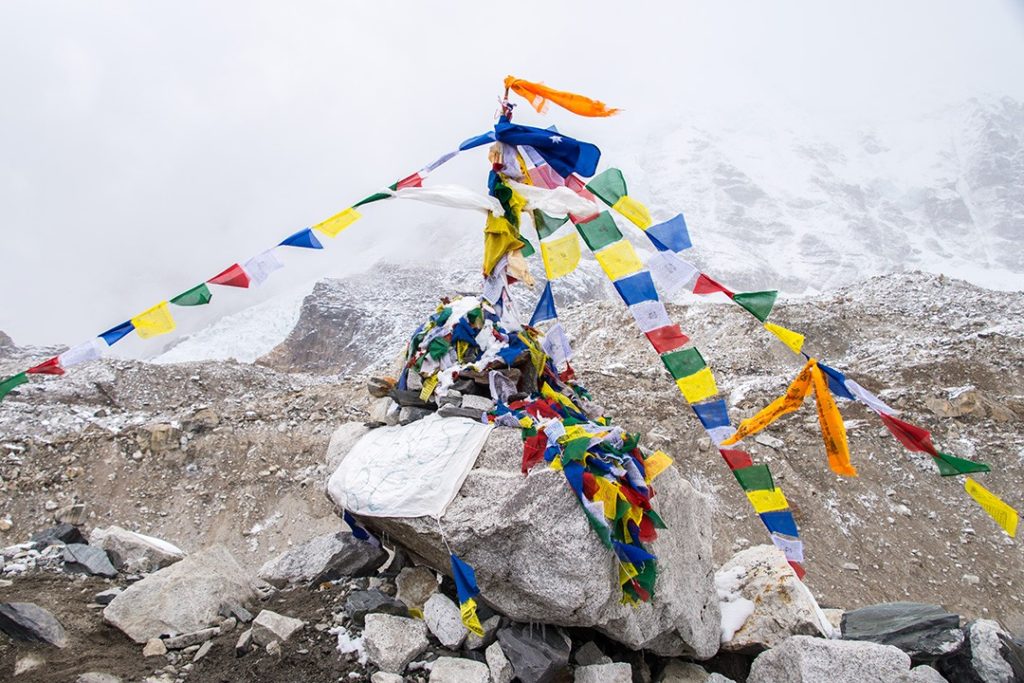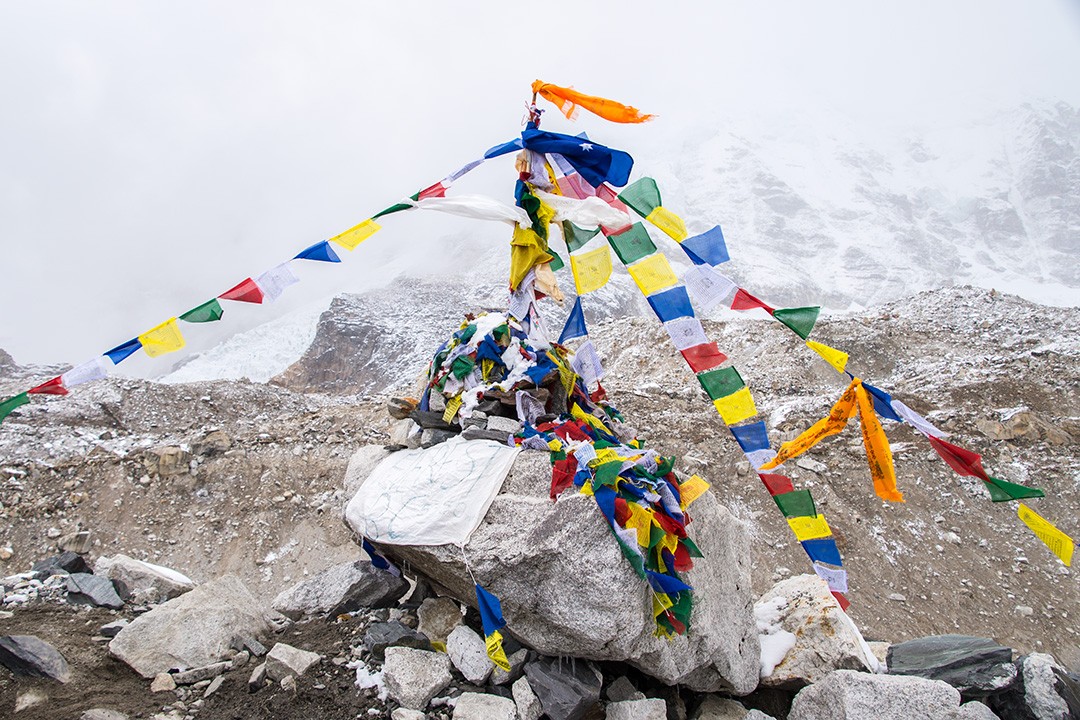 Surveying the scene, a surreal sense of familiarity washed over me. I've read so many books about Everest that arriving here felt a bit like coming home. I quietly vowed to return one day, but with the summit as my goal instead. Then, almost as a reminder of how hostile the Khumbu really is, an avalanche thundered down the slopes towards the glacier below.
As we gathered to collect our final photographs and memories of Everest base camp, as if on cue, the clouds began to clear. The summit of Everest – along with the distinct and unmistakable features of the surrounding massif – Lhotse, Nuptse, the West Shoulder and the South Col – appeared before us. It was nothing short of magical.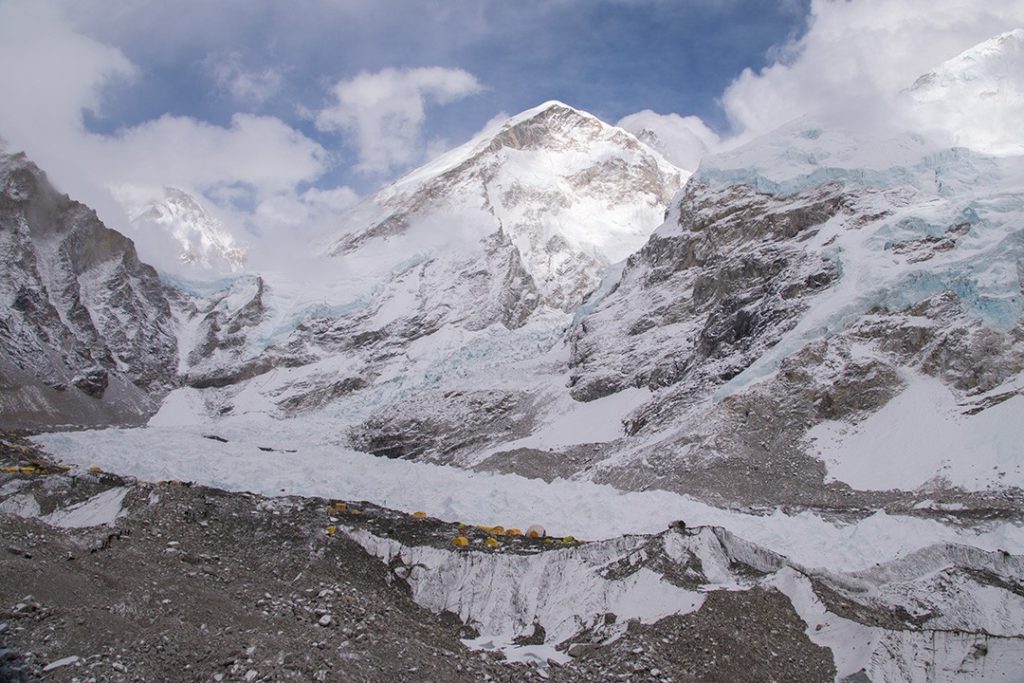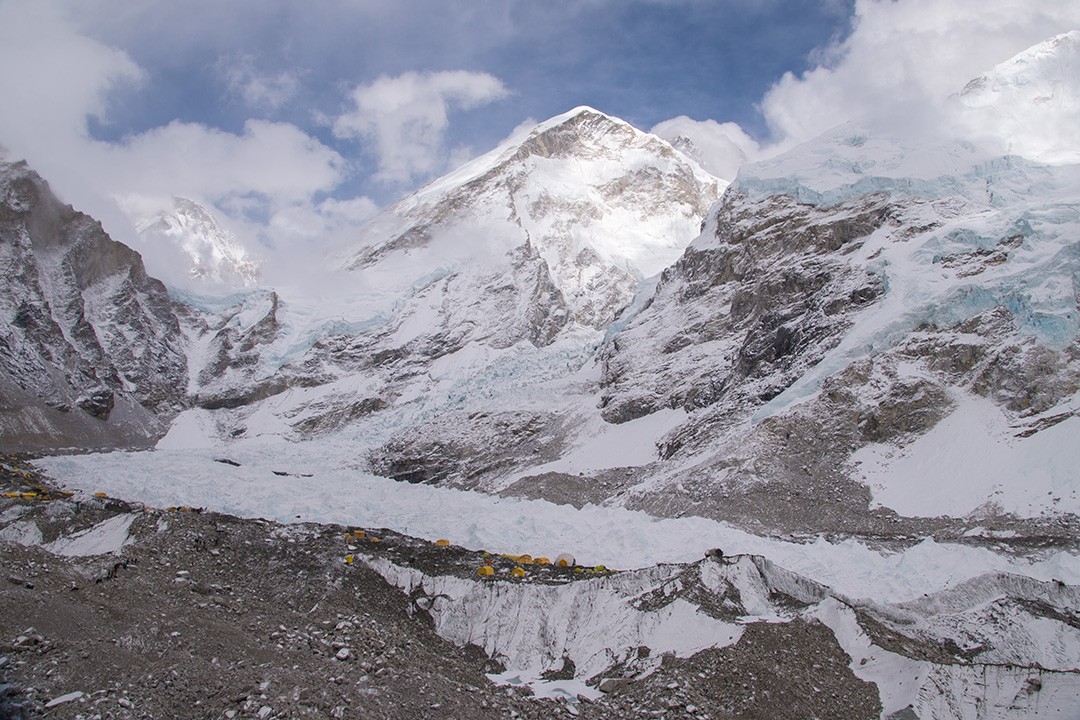 It was late in the afternoon and time to get back to our teahouse at Gorakshep. Descending along the same route took a third of the time it had taken just a couple of hours earlier. We paused a few times to look back and admire the ever improving views.
Back at the teahouse we celebrated with copious amounts of tea and piles of Dal Bhat (rice and lentils).
Day 10: Gorakshep-Pheriche
Distance: 11km (+ optional 4km)
Duration: 6-7 hours (+ optional 2.5 hours)
Elevation: 5,643m (18,513ft)
The following morning I dragged myself out of bed earlier than everyone else. No one fancied the early morning hike up to the summit of Kala Patthar. I didn't have enough time to make the summit of the relatively diminutive mountain, but I got as high as the plateau.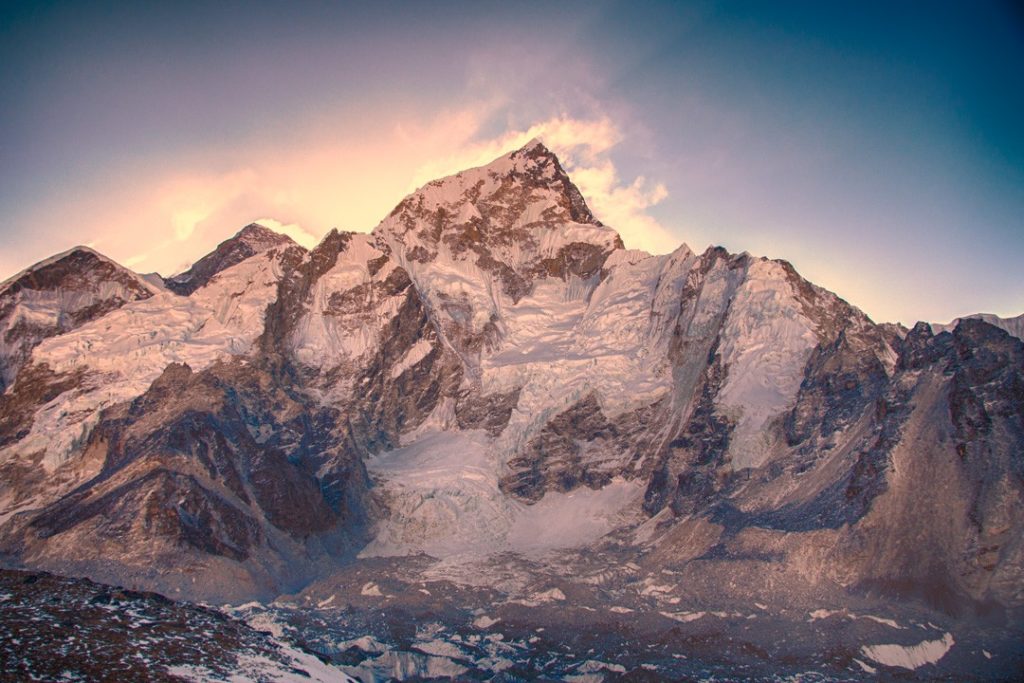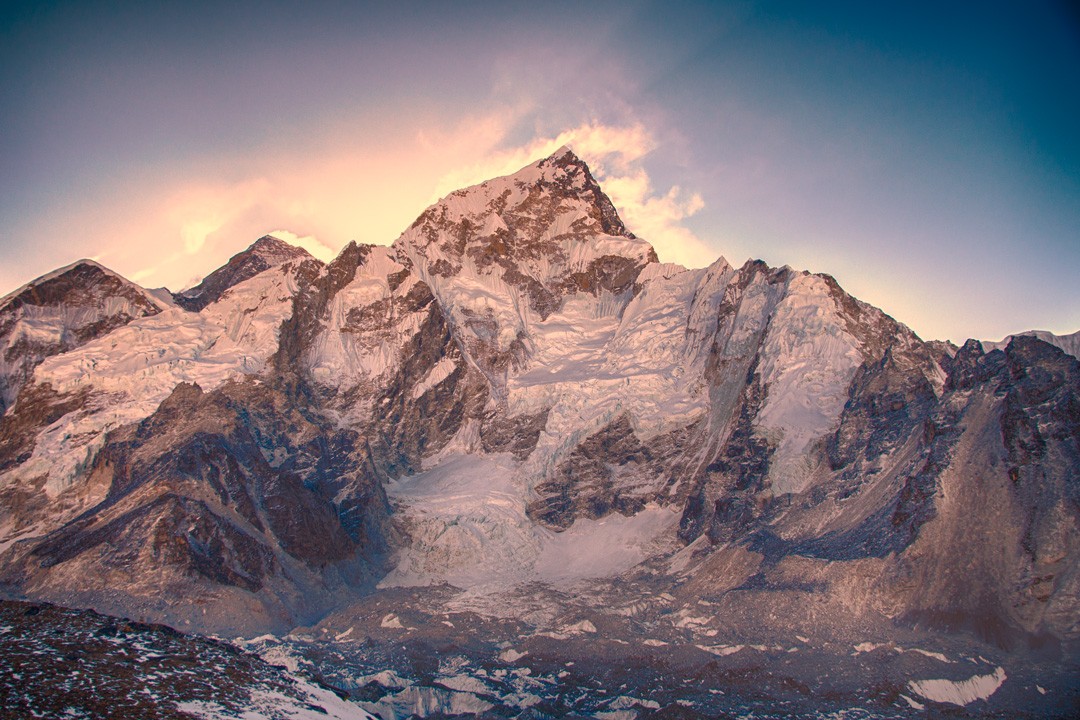 The wind was lashing and ferocious so I spent little time photographing a sunrise over the Everest range before retracing my footsteps and re-joining my trekking mates in time for breakfast.
We began our Everest base camp trek descent, dropping altitude at rate. As we dropped height, my energy levels came flooding back and so too did the good weather. It was a gloriously clear and warm day and the views were the most sensational of the trip.
Atlas & BOots
Descending the Khumbu Valley amid glorious weather
During the ascent through this section of the Khumbu Valley most of the scenery had been obscured by low cloud and snow. Now the skies were clear and the mountains at their most majestic. This was the Himalaya in all its glory.
We passed the base camp at the foot of Lobuche (6,119m / 20,075ft) which had been shrouded in cloud two days earlier. Today, the mountain looked sublime. Likewise, the Everest Memorial at Chukpi Lhara was this time flooded in light, but no less sombre.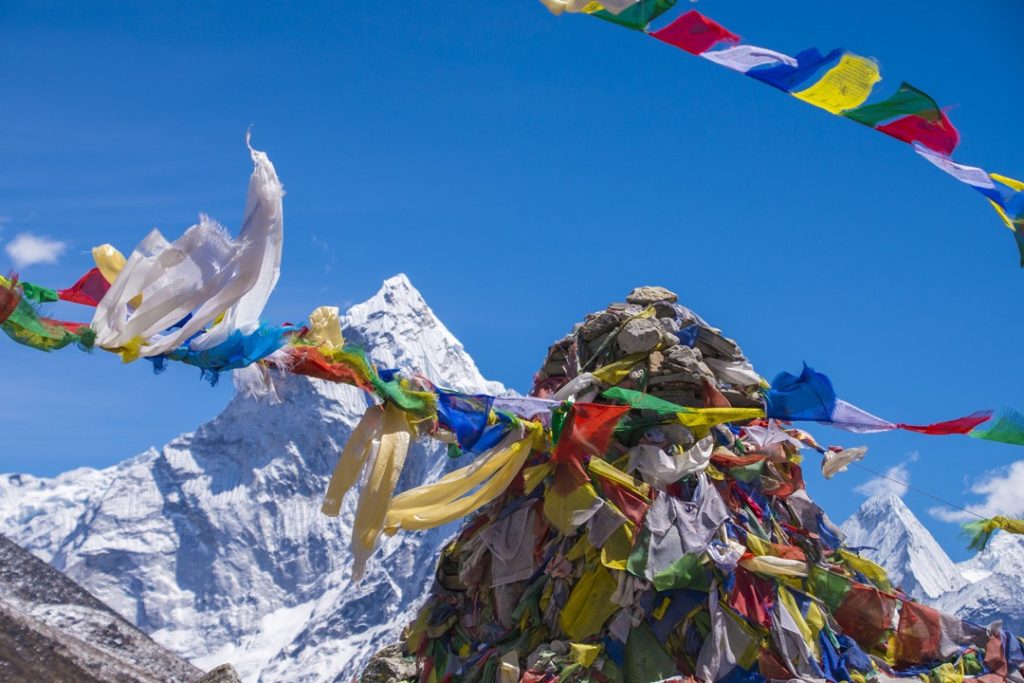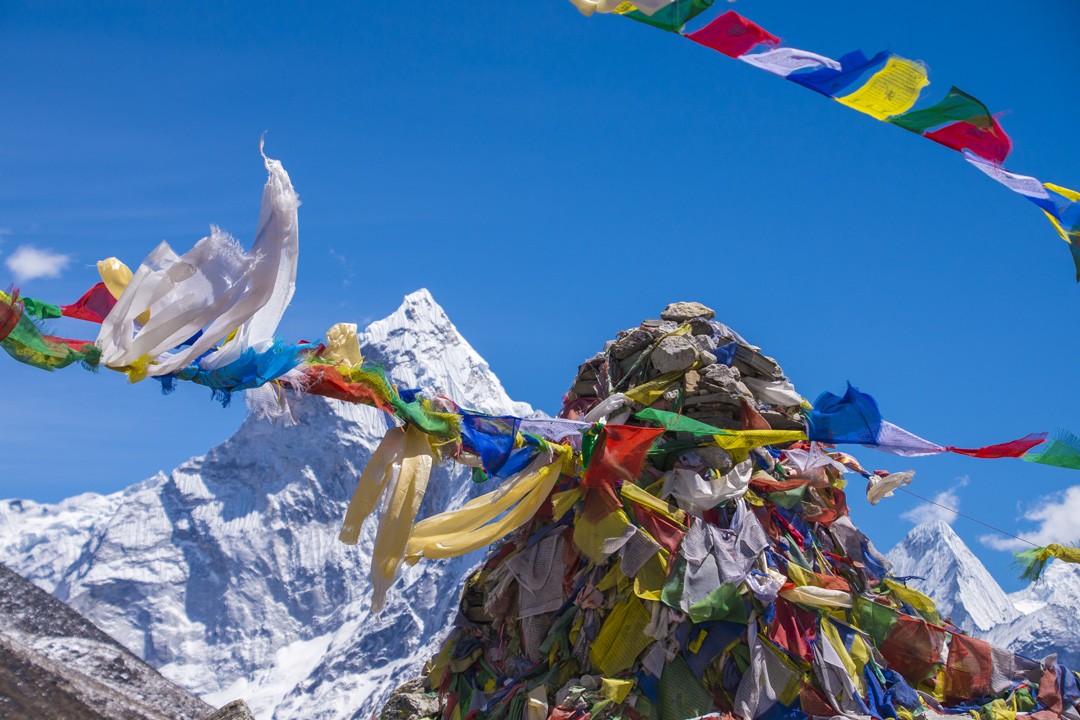 We arrived at our lodgings in Pheriche still beneath a hot sun and bright skies where I enjoyed my first hot shower in over a week.
Days 11-13: Pheriche-Kyangjuma-Monjo-Lukla
Distance: 16km, 10km, 13km
Duration: 7-8 hours, 5-6 hours, 5-6 hours
Elevation: 3,570m (11,712ft), 2,835m (9,300ft), 2,860m (9,383ft)
Over the next three days we largely retraced our footsteps along the trail, although we stopped overnight at different villages along the way.
Ama Dablam and then Khumbila returned, beautiful and ever watchful as we descended back into the forests and across the numerous bridges. By now more of the rhododendrons had begun to bloom, revealing yet another side to the already multifaceted landscape.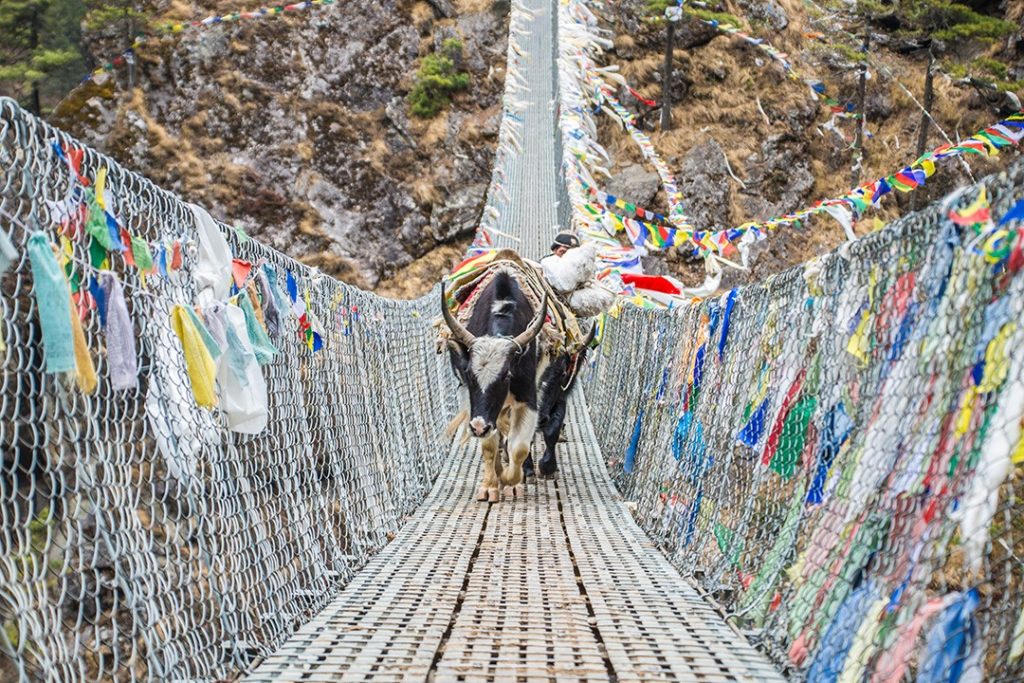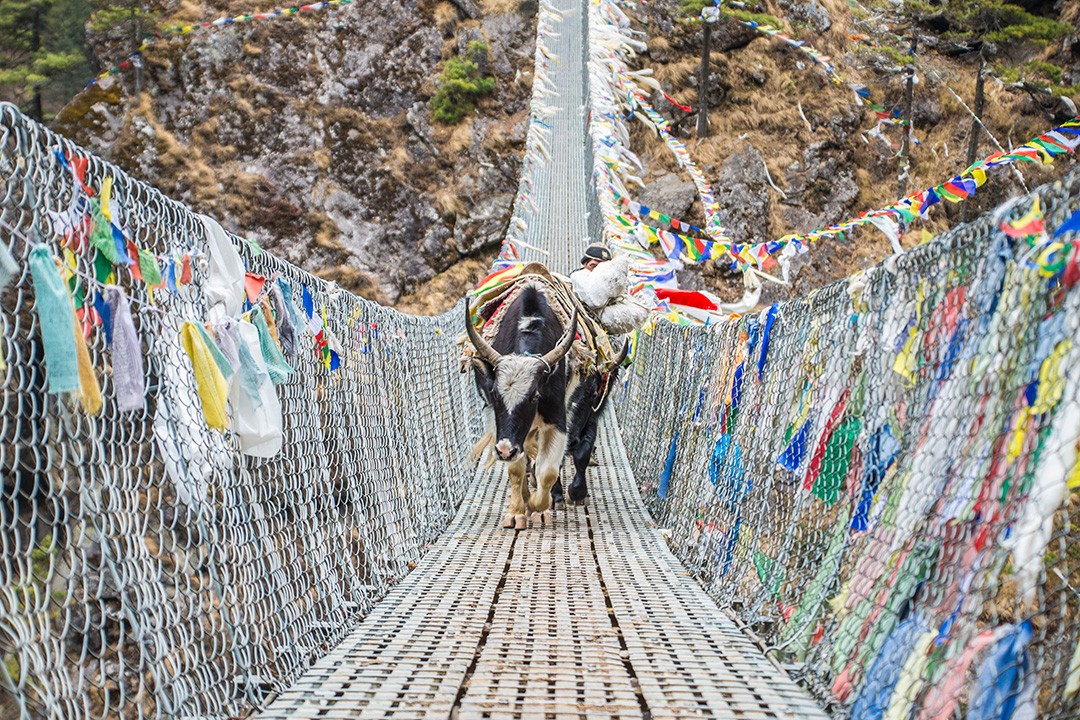 The weather stayed true throughout the descent, in particular when we arrived at our penultimate teahouse in Chumoa, replete with a lawned patio and makeshift volleyball court.
Here we sat in the sun and drank ice-cold beer with the peak of Khumbila still above us while some of the trekkers played volleyball with the porters who'd got us all this way. It was utter bliss.
Days 14-15: Lukla-Kathmandu
Our flight back to Kathmandu from Lukla had to be rerouted due to resurfacing of the runway at Kathmandu. This meant we flew to an airstrip at Manthal where a minibus took us back to Kathmandu.
Our final evening was spent at the restaurant where we had all met for the first time, although this time the beer ran a bit more freely and we weren't so early to bed. The following day some of our group stayed on to explore Kathmandu while some of us, myself included, caught flights home. I knew I'd be back, after all.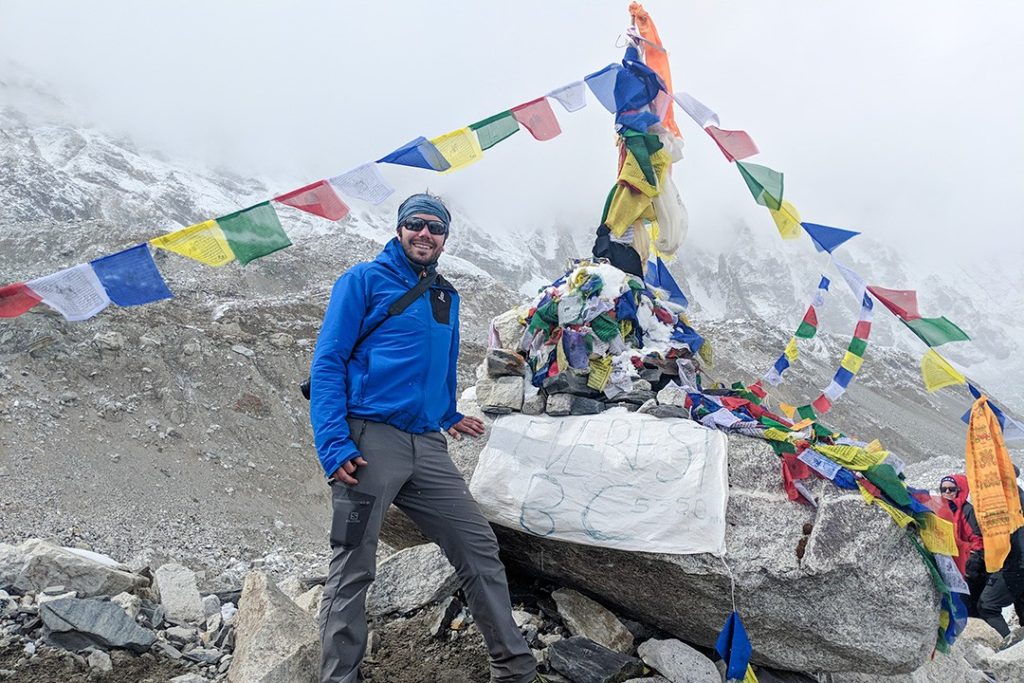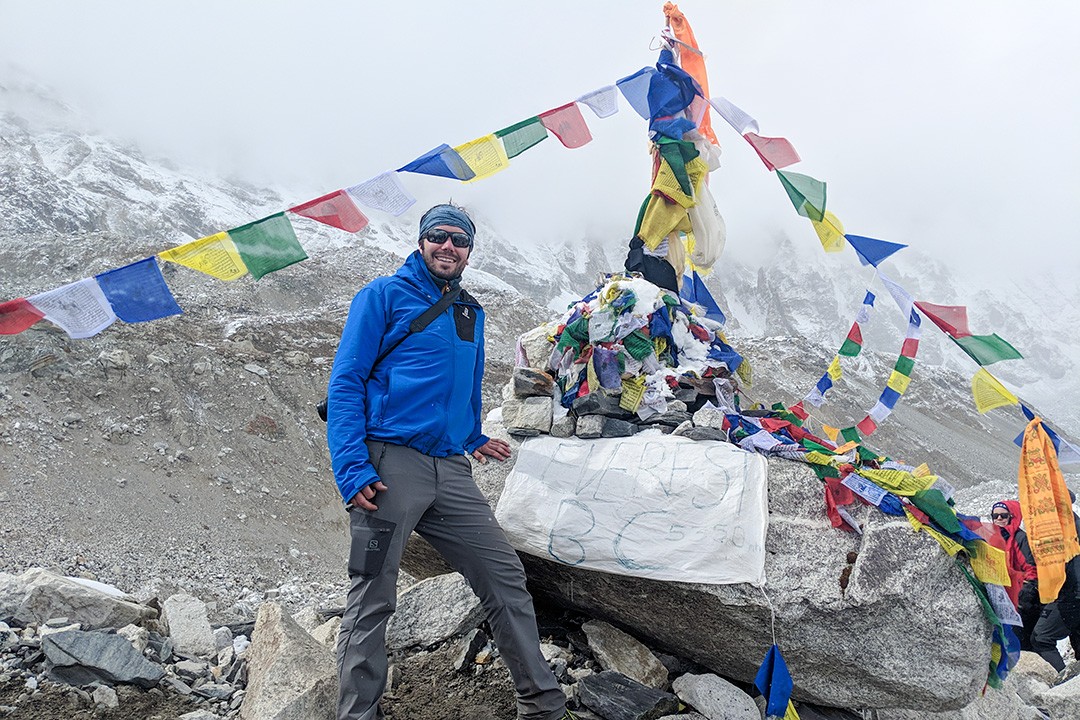 Our Everest base camp trek had lived up to every expectation and hope I had. The Himalayas are quite possibly the most beautiful place on Earth. I am not the most sentimental of people, but this trip holds a very special place in my heart. It was long overdue, but it was entirely worth the wait.
I will be back soon to trek and climb some more. There are other multi-day treks to complete (Annapurna Circuit and Langtang), training to be taken and, most importantly of all, some unfinished business at the end of a certain trail in the heart of the high Himalaya.
It's 8,848m tall and it's the stuff of legends.
Atlas & BOots
A note on our EBC team
No one completes the Everest base camp trek without support – and we were no different. Our outstanding head guide, Suman, was supported by his deputy, Raz, and head porter, Lama Sherpa, along with four other porters.
The porters carried around 20kg each for 12 days while Suman, Raz and Lama supported the group on the trail, made sure we had everything we needed in the evenings and ensured we knew what was happening when and where. They showed great professionalism, enthusiasm and attention to detail throughout, and always in good humour.
Atlas & BOots
High altitude trekking is not easy, especially for those who've had little or no experience of walking at height. I can't emphasise enough how much harder – almost impossible – this expedition would have been without the support of our team in Nepal.
I know I speak for our entire group when I extend heartfelt thanks for their support, care and efforts.
Everest base camp trek route map
Everest base camp trek: the essentials
What: Everest base camp trek with G Adventures in Nepal.
Where: Accommodation included two nights in Fuji Hotel in Kathmandu and 12 nights in teahouses during the trek.
Teahouses are essentially a combination of guesthouse, restaurant and social hangout. The lodges are fairly basic with twin rooms and shared bathrooms.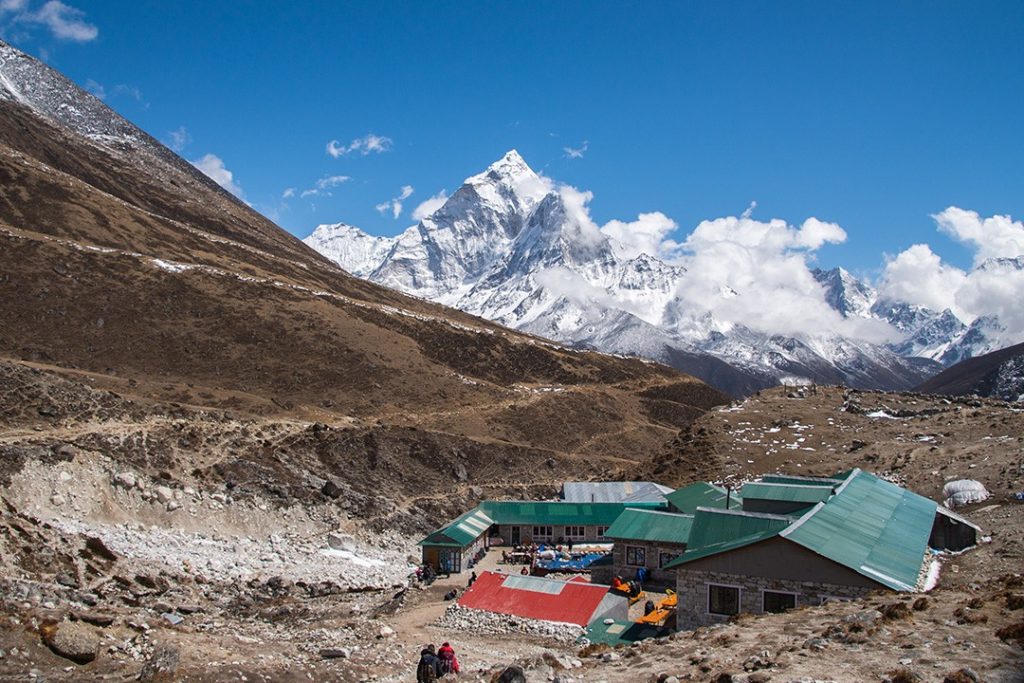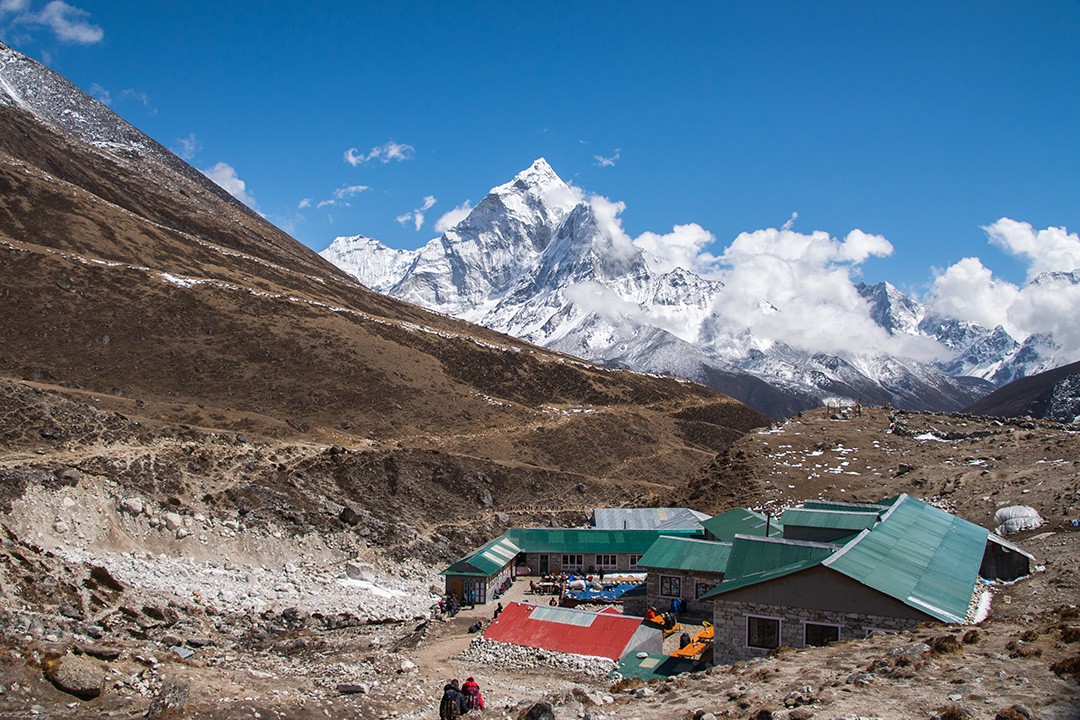 There is usually a large dining room-cum-lounge with a stove in the centre where trekkers hang out in the evenings. Breakfast and dinner is taken at the teahouses with lunch at a trailside teahouse.
Every teahouse serves the traditional Nepali Dal Bhat (rice and lentils) as well as a variety of meals such as rice, vegetables, noodles, potatoes and soup along with Nepali versions of western food such as pizza, pasta and veggie burgers.
When: The best time to complete an Everest base camp trek is in autumn (late Sep-Nov). Days are generally dry and clear although there can be the odd shower or storm. This is also peak season so trails are at their busiest.
Another excellent time to trek is during the warmer and quieter spring (Mar-May), which is when I went (early April). This is also the time when the colourful rhododendrons bloom, generally between 2,000m and 3,000m. The drawback is that the dry weather brings dust meaning hazier days.
Dec-Feb are good months for trekking, but they are also the coldest months and reaching base camp can be a real endurance test. The monsoons arrive in earnest from Jun-Sep, swelling rivers to breaking point, bringing hordes of leeches and making the trail very muddy. Many teahouses will close during these months.

How: I joined a G Adventures 15-day trek to Everest base camp. Prices start from around £780 GBP ($1,000 USD), depending on dates, for a round trip from Kathmandu.
The price includes all accommodation, an English-speaking local guide and assistants throughout the trek, porters to carry luggage between villages, entrance fee to Sagarmāthā National Park, internal flights to and from Lukla and all transport between destinations and to and from included activities.
There are no meals included so allow between $400-600 USD for meals and around $150-200 USD for tips (guides and porters).
G Adventures focus on small group adventures so the maximum group size is 15 with their average for an Everest base camp trek being 10. We've used G Adventures several times before (Cambodia, Vietnam, Myanmar, New Zealand and Costa Rica) and continue to recommend them.
For more information or to book, call 0344 272 2030 or book online.
---
Enjoyed this post? pin it for later…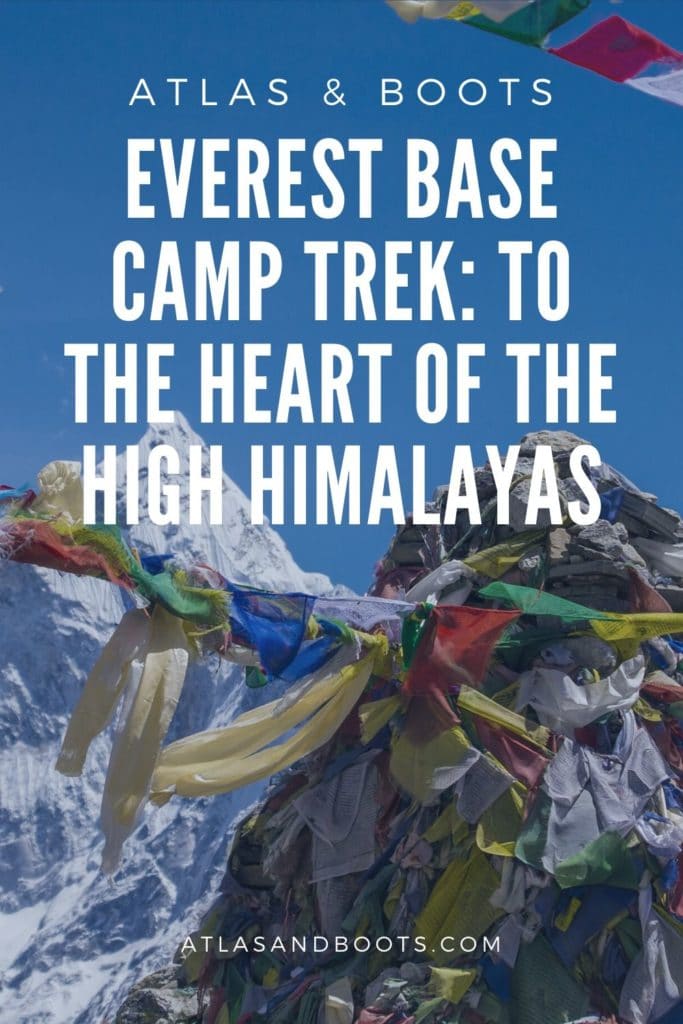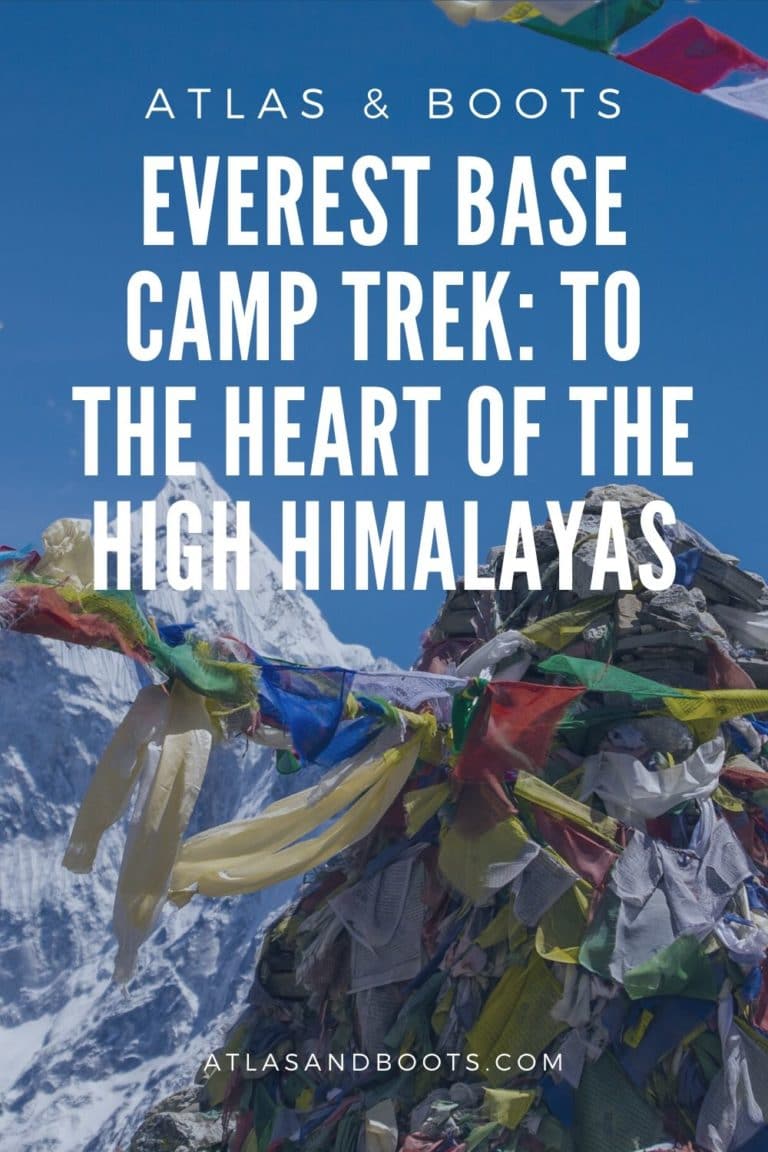 ---
Lonely Planet Trekking in the Nepal Himalaya offers a comprehensive look at all you need to know for a safe and rewarding trek, including detailed trail coverage of the Everest base camp trek.
Disclosure: We travelled to Nepal with support from G Adventures. All publications say this, but we really don't guarantee positive coverage. We say what we think – good and bad – so you can make informed decisions with honest advice.