A comprehensive checklist of what to pack in your hiking first aid kit, from apps that could save your life to must-have gear for the great outdoors
Peter and I have a running joke that I've fallen off my bike in the most beautiful places in the world, from Bora Bora to the Galápagos Islands. The worst fall happened when cycling through the quiet country lanes of our tiny French village.
I hit the ground first with a knee, then a hip, then my head. Stupidly, I put my dirtied fingers into my mouth to check if I had lost a tooth. I hadn't but there was plenty of blood. Later, I paid the price for this mistake. I spent the afternoon not only shaken by the accident but throwing up whatever nasty substance I had drawn into my mouth.
Thankfully, I've managed to avoid similar incidents while hiking but it's likely a matter of time given that we at Atlas & Boots enjoy things like climbing Nevis Peak unguided and trekking active volcanoes. As such, I've put aside my complacency and put together a hiking first aid kit, perfect for those who wander outdoors. Here's what's in it.
Hiking first aid kit: apps
First Aid by Red Cross
Platforms: iOS, Android, Windows
Price: Free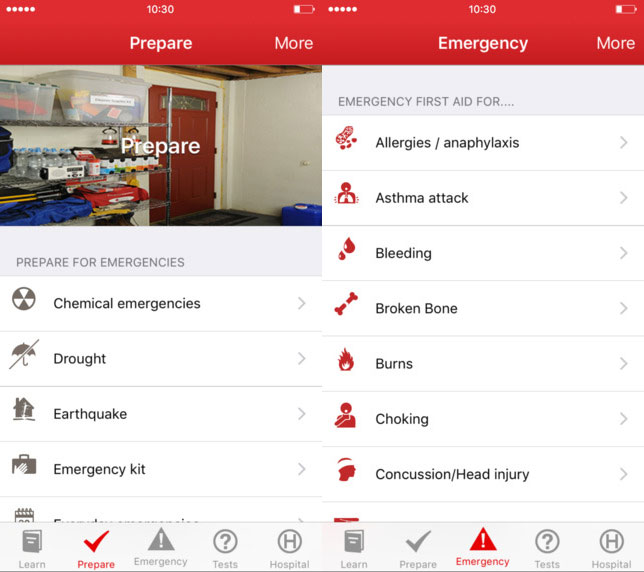 The official Red Cross First Aid app is available worldwide and is tailored to the user's location (i.e. American, British, Australian Red Cross organisations).
The app provides pre-loaded content with instant access to all safety information at any time including expert advice for everyday emergencies. There are videos, diagrams, interactive quizzes and simple step-by-step advice to help users deal with and prepare for emergencies – an intrinsic addition to your hiking first aid kit.
TripWhistle
Platforms: iOS
Price: Free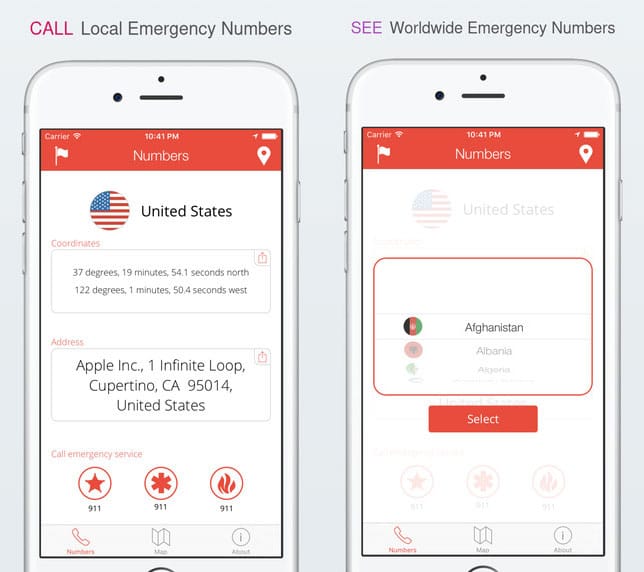 TripWhistle, formerly Emergency Phone Numbers, stores a comprehensive list of emergency numbers across the world. It allows you to make a call from within the app and displays your location while on the phone so you can tell first responders exactly where you are.
You can also share your location coordinates via email, SMS or social apps: simply tap the share button next to the coordinates, choose who to send it to and they will receive the coordinates along with your position on Google Maps.
Cairn
Platforms: iOS
Price: Free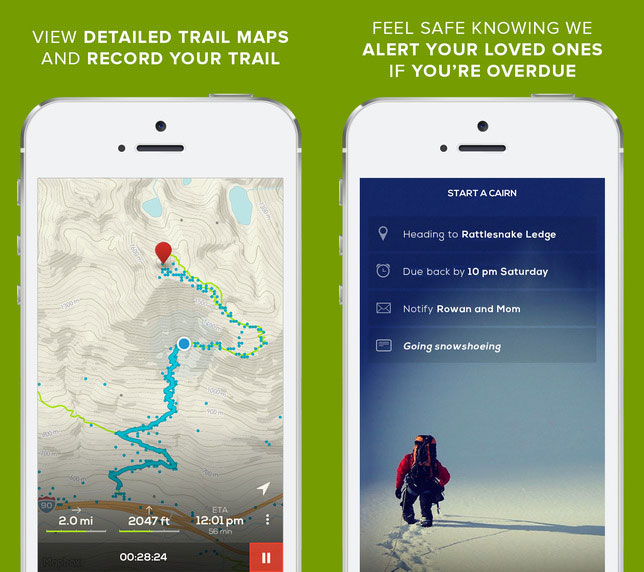 Cairn allows you to pinpoint cell coverage using crowdsourced data. Through its simple interface, you can find spots in which other users were able to secure a signal. While it doesn't administer hiking first aid itself, it may prove invaluable in an emergency situation that requires cellphone coverage.
As an extra precaution, you may wish to include a satellite phone in your safety kit. Iridium phones have global coverage, integrated GPS, an SOS button and Push-to-Talk feature, and are available to buy or rent.
SnakeBite911™
Platforms: iOS
Price: Free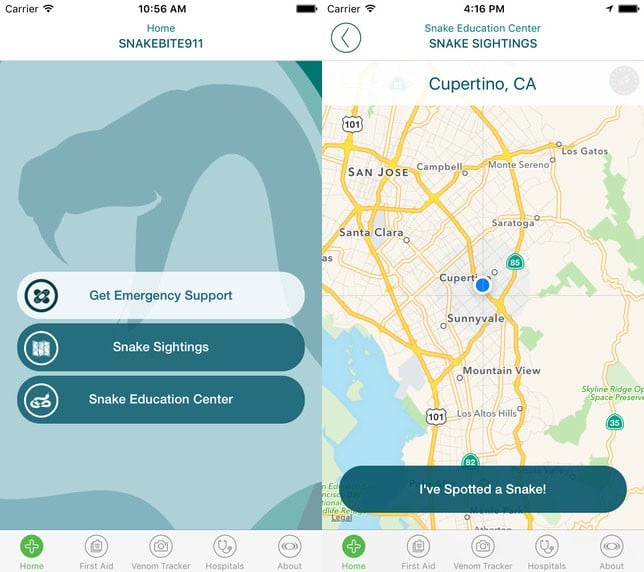 The threat of a snake bite isn't restricted to just Indiana Jones types swashbuckling their way through Indian wilds. Even in the relatively safe terrain of the US, about 8,000 people are bitten every year. Venomous snakes live all over the country and their bites can be fatal if left untreated.
SnakeBite911 provides emergency information on how to treat a snake bite and includes a photo library to help snake identification. It provides a list of dos and dont's and dispels treatment myths that actually put the victim at greater risk of infection or loss of limb (e.g. don't apply suction to the bite site!).
One key aim is to prevent snake bites in the first place. The app does this through the Snake Sightings Map which allows users to view and enter snake sightings, and get advice on how to best navigate snake-inhabited terrain. Should the worst happen, users can find the nearest hospital equipped to deal with snake bites using the Hospital Locator feature.
It's the sort of app you don't know you need until you need, so be safe and download it now. It costs nothing.
Hiking first aid kit: gear
A physical first aid kit should contain most of the below. For our physical hiking first aid kit, we use Lifesystems Pocket, which includes all but the starred items below. We add painkillers and a thermal blanket manually.
Alternatively, you can opt for the Lifesystems Explorer for your hiking first aid kit. This version of the kit includes all of the below expect antiseptic cream and a thermal blanket, which you can add manually.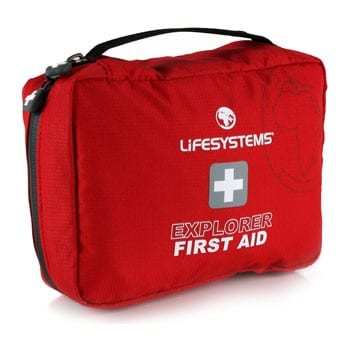 General
Primary care leaflet
Tweezers
Scissors
Safety pins
Disposable gloves*
Thermometer*
Thermal blanket*†
Medication
Painkillers*
Antihistamines*†
Loperamide (e.g. Immodium)*†
Bandages
Open woven bandage
Crepe bandage
Triangular bandages*
Preparation and tapes
Antiseptic cream†
Gauze swabs
Tape
Hygienic cleansing wipes
Dressings
Assorted plasters
Blister plasters (such as Compeed)
Low adherent dressing
Steristrips (butterfly stitches)*†
* Not included in Lifesystems Pocket
† Not included in Lifesystems Explorer
---
Enjoyed this post? pin it for later…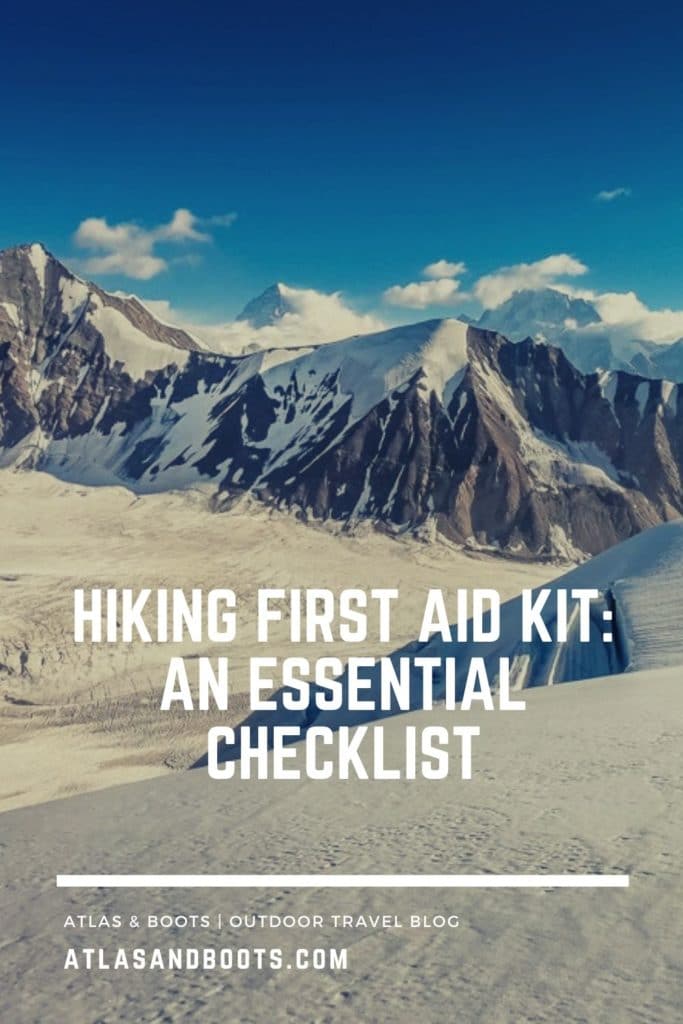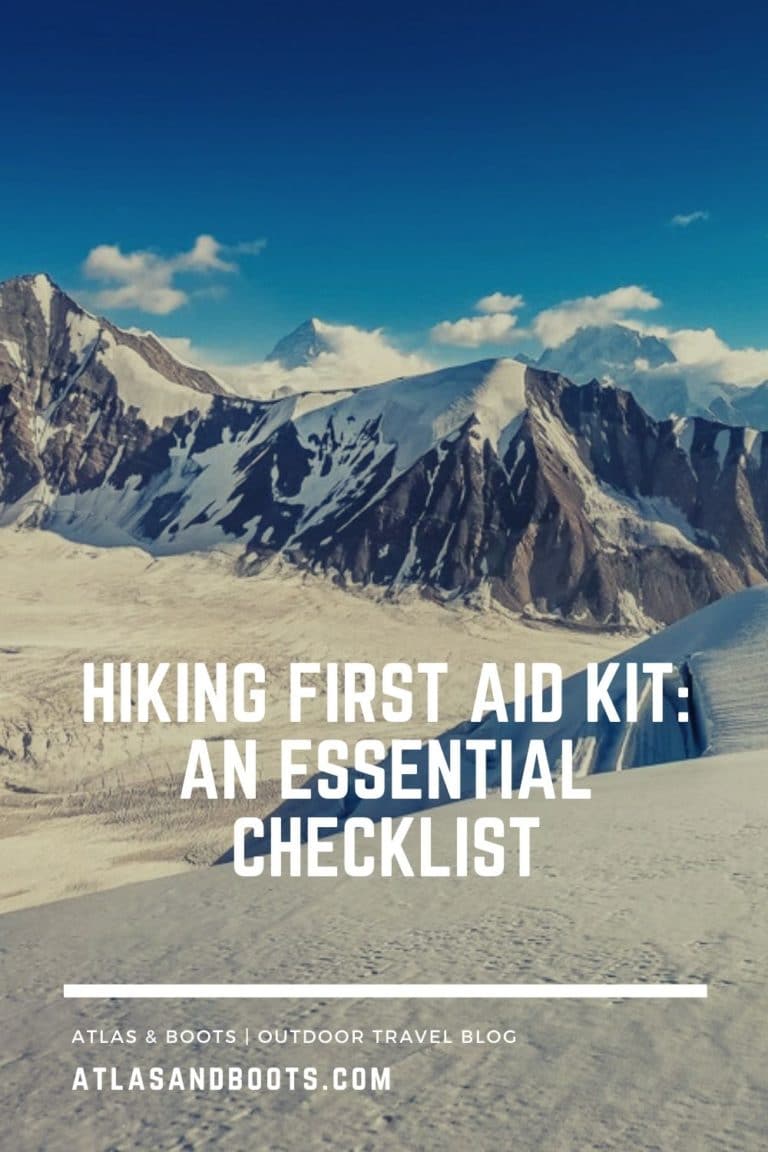 ---