A beginner's guide on how to choose a down jacket that will keep you warm and toasty in the great outdoors
A high-quality down jacket is no longer the preserve of the outdoorsy. Politicians, pop stars and even princesses have been pictured in a 'puffa'. Of course, a down jacket truly comes into its own when used and tested in the great outdoors.
Understanding what to consider before you choose a down jacket can be confusing. To make the decision easy, we've put together a simple guide to choosing the jacket that's best for you.
What is down?
Down is the natural insulating layer found on geese and ducks that helps keep their bodies warm in nearly freezing temperatures. It is usually white or grey and looks like small clusters of fluff. These clusters create millions of tiny air pockets which are warmed by our body heat and held in place by the down.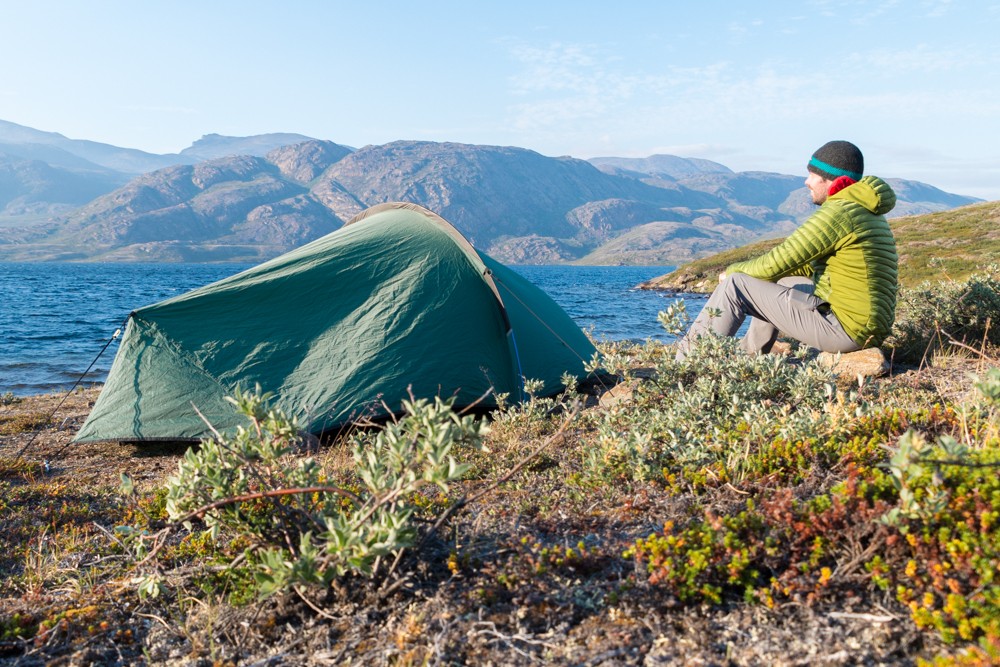 Despite significant investment into synthetic insulation, humans have yet to come close to the insulating powers of down, which still has the best warmth-to-weight ratio on the planet.
Ethical consideration
When choosing a down jacket, bear in mind that geese and ducks are casualties of the trade. As such, we recommend that you opt for "traceable down" or "certified responsibly sourced down" which means that manufacturers can trace the source of their down and the harvesting practices of those who provide it.
Down or synthetic?
There are several pros and cons of choosing a down jacket over synthetic insulation.
Pros of down
Best warmth-to-weight ratio.
Longer lasting: Down can maintain its loft (or fluffiness) for years longer than synthetic material.
Compresses better.
Cons of down
It loses its insulating ability when wet.
Less durable. Most synthetic jackets will survive a harsh scrape or two; down leaks out of even the smallest tear.
More expensive (but longer lasting).
Animals are used for their down.
Choose a down jacket if you will be in cold but dry conditions (or if you can keep your jacket dry in the wet weather) and when low weight and bulk are important.
Choose synthetic insulation if you will be in wet conditions and when performance and recovery is more important than weight and bulk.
Goose down or duck down?
Generally speaking, goose down has a higher warmth-to-weight ratio and packs down smaller than duck down. As such, goose down is usually more expensive.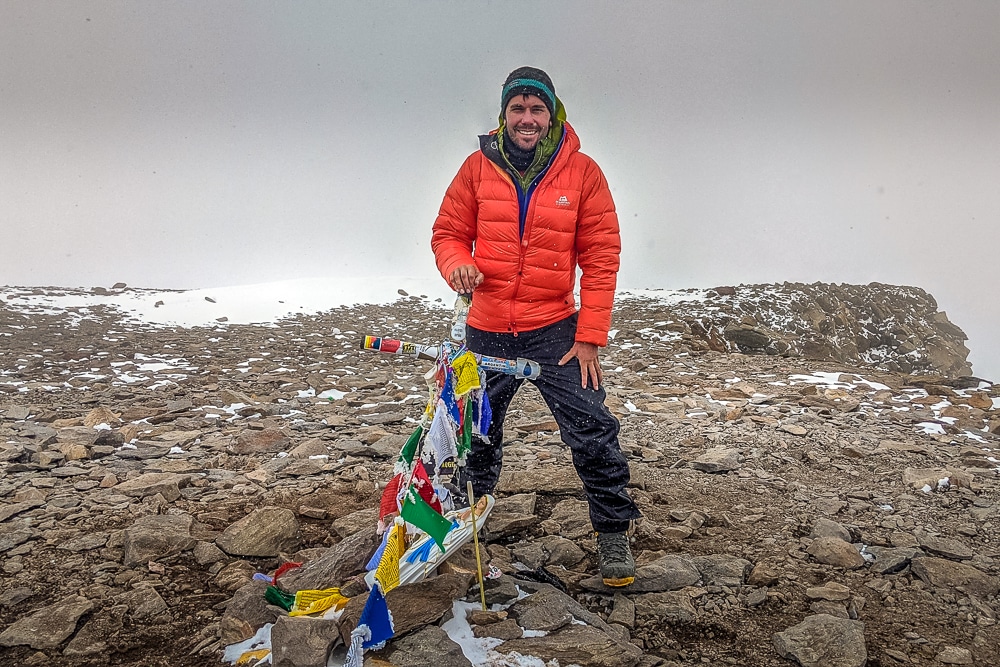 That said, high-quality duck down can provide better insulation than low-quality goose down, so it's important to consider the quality – or 'fill power' – of your down.
Down fill power
The quality of down is measured by 'fill power'. This is the number of cubic inches that one ounce of down occupies in a climate-controlled test cylinder. The more volume occupied by the down, the better the warmth-to-weight ratio.
As a general rule:
650 fill power is considered high quality
750-850 fill power is considered to be in the upper bracket of quality
900+ fill power is the best quality
Note: There are two main methods of measuring fill power and the 'US' method gives a slightly higher figure than the 'EU' method for the same quality down. An 800+ fill power using the EU method is roughly the same as an 850+ fill power using the US method.
Weight
When preparing to choose a down jacket, bear in mind that a higher fill power number is not automatically warmer. For example, eight ounces of 850 fill down may be similar in warmth to 12 ounces of 650 fill down. What the first does have is a better warmth-to-weight ratio. It is also more compressible as it has less down in it.
Waterproofing
In a heavy downpour, the average down jacket will completely lose its loft. It will become wet and heavy and take a long time to dry out thoroughly.
'Hydrophobic' down is down that has been coated with a DWR (durable water repellent). The idea is that hydrophobic down will repel water as effectively as synthetic insulation. This is up for debate, but if you're travelling in a wet area, it's prudent to choose a down jacket that has a DWR treatment on at least its face fabric. If budget allows, opt for hydrophobic down as well.
Construction
Baffles are the individual sections of insulation in your jacket. They distribute the down evenly, preventing it from gathering at the bottom. The baffle construction of your jacket can affect how well it performs.
Sewn-through vs box wall baffles
Sewn-through baffles keep the insulation evenly distributed. These jackets are cheaper as they are simpler to make and use less material. They can, however, lead to some heat loss along the the stitching.
Box wall baffles allow the down to expand to its maximum loft. They also reduce heat loss in stitched areas. These jackets are more expensive as they are more complex to make and use more material.
Wide vs narrow baffles
Wide baffles are the warmest option as they contain more down and fewer seams through which heat can escape. They are, however, bulkier and do not layer as well or compress as much as narrow baffles. If warmth over agility is your priority, opt for wide baffles. If a slim fit and active use is priority, opt for narrow baffles.
Material
Down can escape through the smallest of tears, so your jacket shell needs to be tough and resistant to abrasion. That said, if it's too heavy, it will impact the jacket's warmth-to-weight ratio. Nylon is ideal as it's durable but light. A DWR coating is ideal for protecting your down if you do get caught in a drizzle.
Features
When preparing to choose a down jacket, consider the below features.
Pockets:
Handwarmer pockets: Are these high enough to sit above a pack's waist belt?
Internal or external chest pockets: Internal pockets are usually better insulated and are useful for preserving your phone battery in cold weather.
Internal stash pocket: These large internal pockets with an unzippered top opening are great for stashing gloves, hats, batteries or anything else you want to keep warm.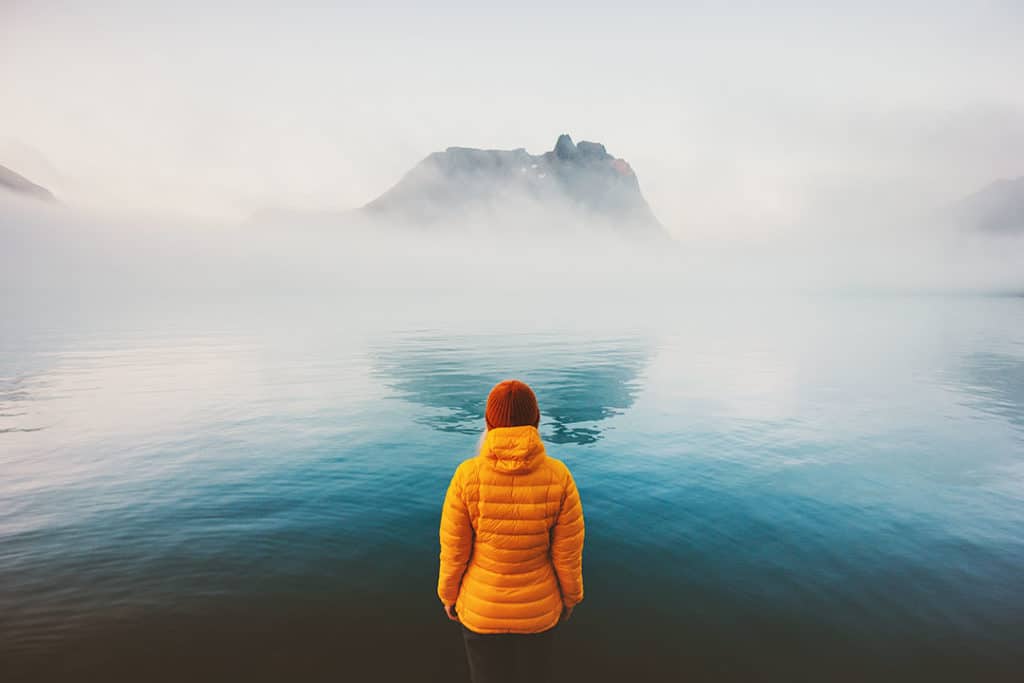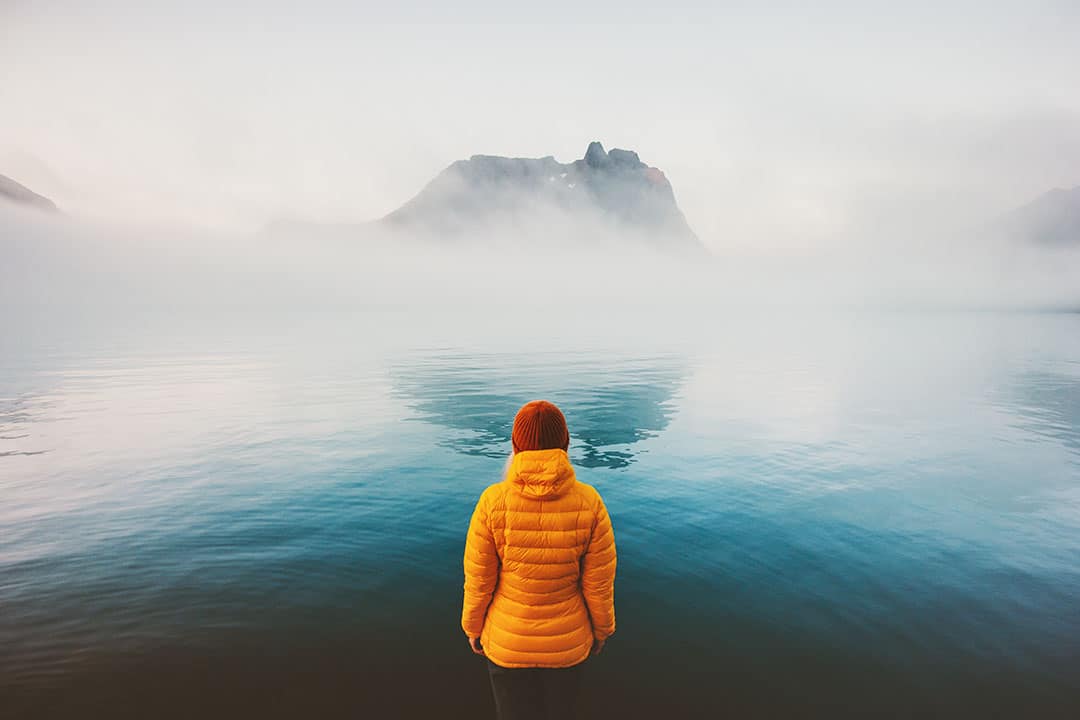 Hood: A hood will add warmth but also extra bulk. If you are using a down jacket as a mid-layer under a waterproof coat, you may want to choose a down jacket without a hood.
Drawcords: Hem and hood drawcords are useful for closing out draughty gaps. For hoods, we prefer a single drawcord that tightens at the back of the head which is less fussy than dual drawcords at the side of the face and more adjustable than elastic versions.
Stuffable/clipable: Many down jackets come with their own stuff sac, or compress into their own pocket. We prefer the latter as stuff sacs are easily lost. Some down jackets have a clip-able carabiner loop which is useful when climbing as it is easily clipped into a harness.
Intended use
When you come to choose a down jacket, it is of course worth considering its intended use. We make some suggestions below.
Alpine climbing: To avoid ripping the shell on rocks, consider wearing down as a mid layer beneath a more durable hardshell. The North Face Summit L3 Down Hoodie and the Arc'teryx Cerium LT Hoody are excellent options.
Rock climbing: The Rab Microlight Alpine is a good jacket for rock climbing.
Skiing: Use down as a mid-layer beneath an outer shell. Opt for Mountain Hardwear Ghost Whisperer Hooded, the REI Co-op Magma 850 or the Patagonia Down Sweater Hoody. The Rab Microlight Alpine is also a good option.
Wet weather: Down isn't ideal for wet weather, but the Columbia Outdry Ex Gold does a good job. The trade-off is that it isn't very compressible and therefore not ideal for extended trips in the wild.
Mountaineering: For mountaineering, a down jacket can serve as one part of your layering system. The award-winning Mountain Equipment Skyline Jacket offers an excellent warmth-to-weight ratio.
---
Enjoyed this post? pin it for later…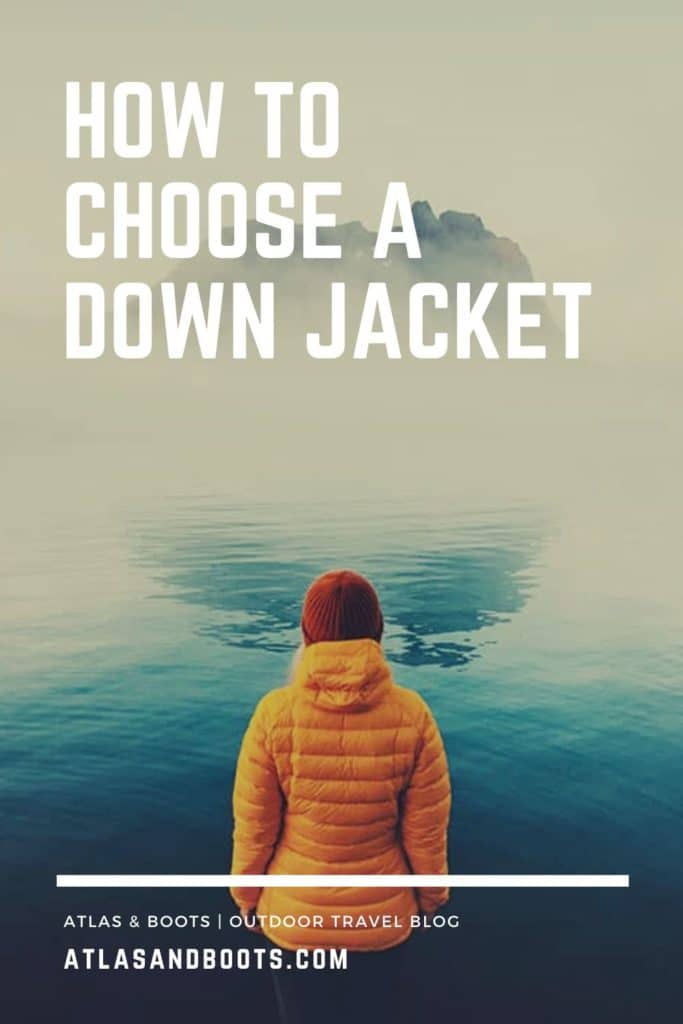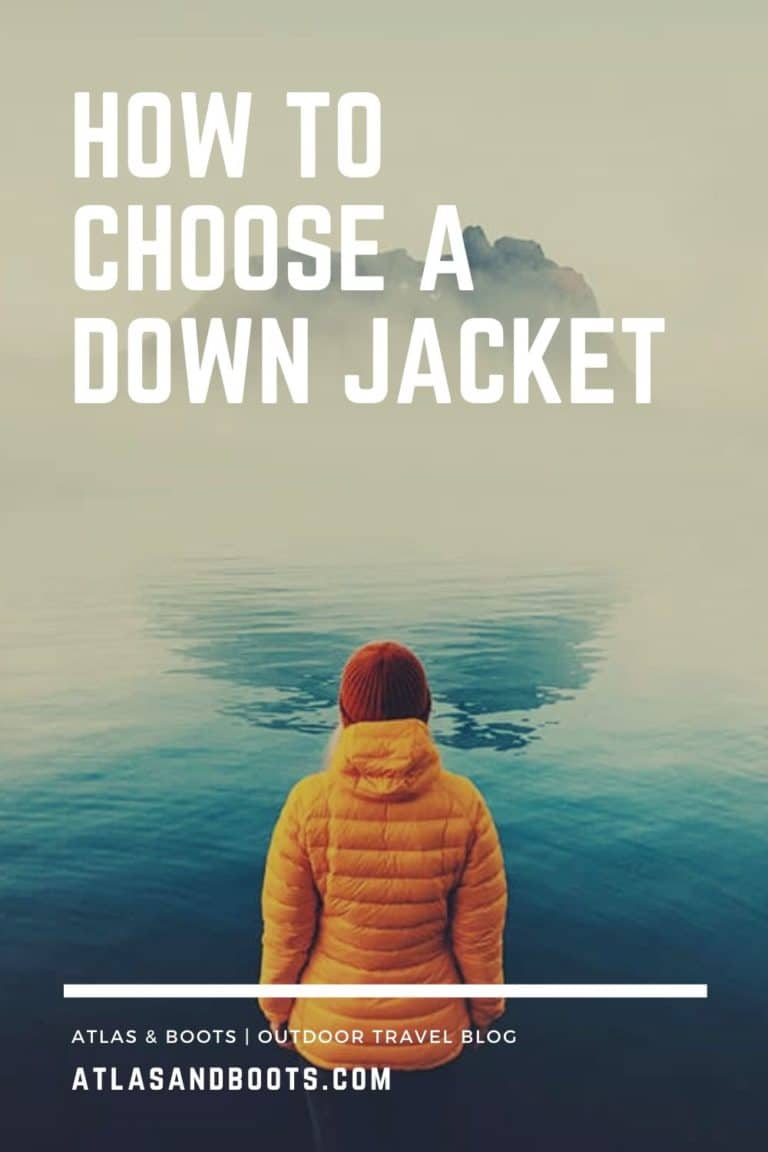 ---