We share the most interesting facts about Chile collected on our breathtaking visit to this incredible country
There is a tale that Chileans are fond of telling tourists. When God created the world, they say, he had a little bit of everything left over: deserts, lakes, mountains, glaciers and volcanoes, so he tossed it all together and created Chile.
This slither of land in South America is indeed one of the most diverse in the world. From the arid and alien landscapes of Atacama Desert to the lush greenery of the Lake District, Chile has something for everyone.
Our arrival from the ever-challenging Bolivia was greeted with the words "más bajo, más caliente" (lower and hotter) which effectively equipped us with fresh vigour.
Our journey from San Pedro de Atacama in the north to Punta Arenas in the southerly tip was fun and fruitful and taught us many interesting facts about Chile, the best of which we share below.
Interesting facts about Chile
1. Chile is the world's longest country from north to south measuring at 4,620km (2,647mi). It extends across 38 degrees of latitude but is only 150km (93mi) wide from west to east.
(Source: CIA World Factbook)
2. The Andes mountains trace the entire length of the country, covering approximately 80% of its land. As a result, only 3.8% of Chile's land is arable.
(Source: Trading Economics)
3. Easter Island, famous for its moai statues, is geographically Polynesian but officially belongs to Chile. Located 2,000km (1,200mi) east of Pitcairn and 3,700km (2,300mi) to the west of Chile, it is one of the most remote communities in the world.
(Source: National Geographic)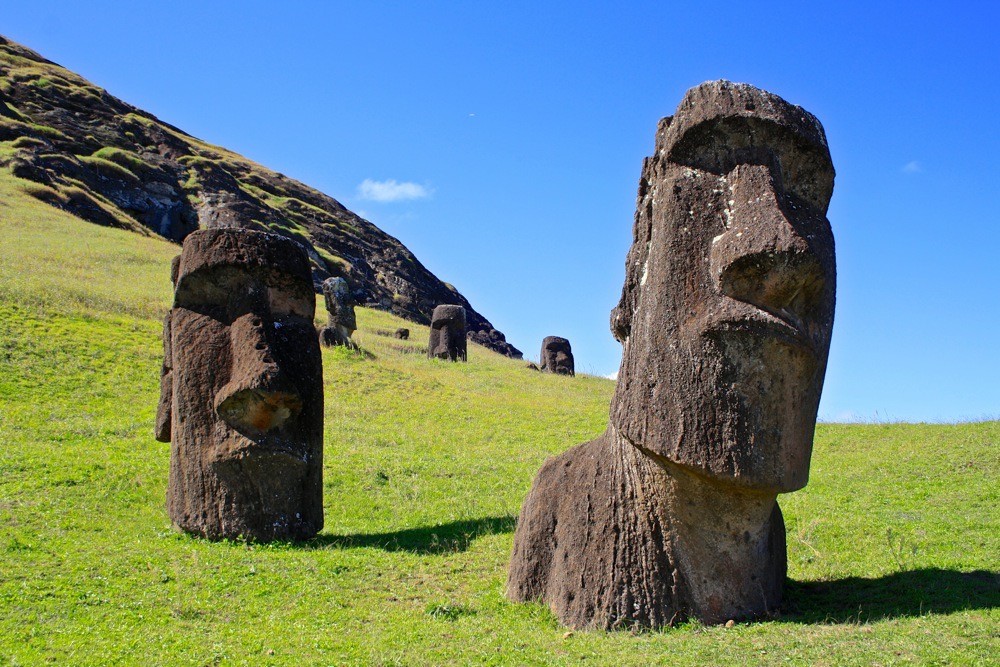 4. There are approximately 90 active volcanoes in Chile. Cerro Arul, Cerro Hudson, and Villarrica – composite volcanoes, sometimes called stratovolcanos – are three of its most active and therefore most closely monitored. Chile is also home to the world's highest historically active volcano: Ojos del Salado which stands at 6,893m (22,615ft).
(Source: BBC, CIA World Factbook)
5. Chile celebrates its independence each year with Fiestas Patrias on 18th and 19th of September. By law, all public buildings must display the Chilean flag during the celebrations. The flag must be pristine and hung from a white pole or from the front of the building. Failure to meet the requirements could earn a fine of up to 40,000 pesos ($80 USD).
(Source: Emol Nacional – Spanish)
6. The world's biggest swimming pool is at San Alfonso del Mar Resort in the Chilean city of Algarrobo. It is over 1,013m (3,323ft) in length, covers an area of eight hectares (20 acres) and has a maximum depth of 115 feet. It holds 66 million gallons of water and costs over $3 million USD a year to maintain.
(Source: Guardian)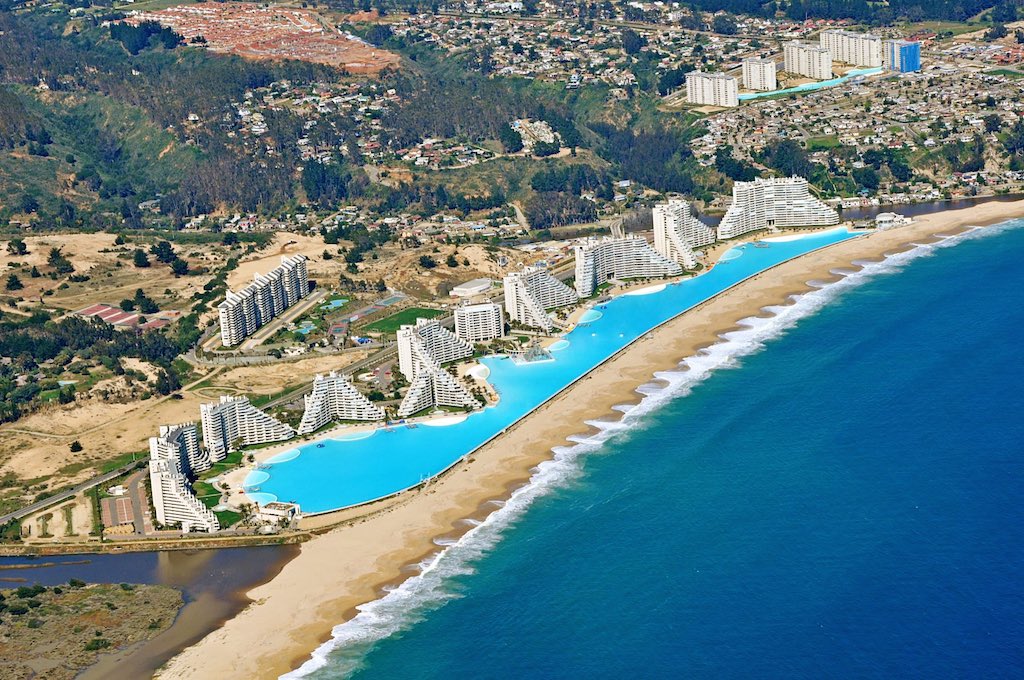 (Image: Crystal Lagoons [Creative Commons])
7. The oldest mummy in the world is not Egyptian but Chilean. The child, a Chinchorro mummy from a site in the Camarones Valley, has been dated to 5050 B.C. In contrast to the Egyptians who reserved mummification for kings and luminaries, the Chinchorro accorded everyone in the community this sacred rite regardless of age or status.
(Source: National Geographic)
8. Chile only legalised divorce in 2004, the last country in the Western Hemisphere to do so.
(Source: The New York Times)
9. Chile's Atacama Desert is the driest place on Earth with an average of 15mm (0.6in) of rainfall per year. Periods of four years have been registered with no rainfall in the central sector and some weather stations haven't received any rain at all since records began. The area is so dry, planetary scientists used it to test early prototypes of Mars rovers.
(Source: National Geographic, Smithsonian)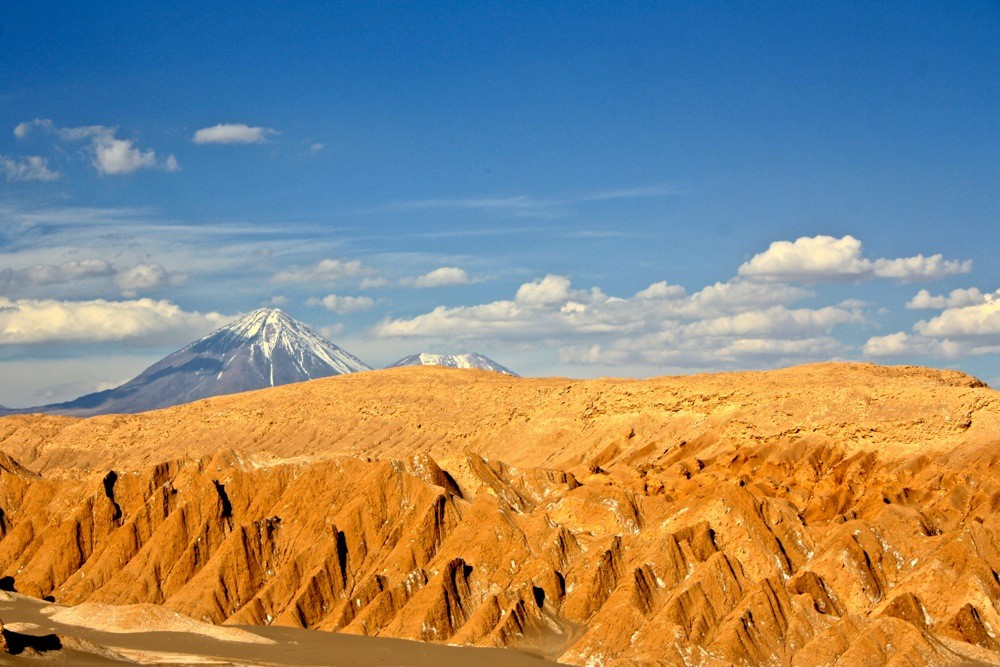 10. Scottish sailor Alexander Selkirk was marooned for four years on Chile's Islas Juan Fernández, situated 670km (416mi) off the coast. He was eventually rescued by former crewmate and famed British explorer William Dampier. Selkirk's story of survival was widely publicised on his return and is said to be the inspiration behind Daniel Defoe's classic, Robinson Crusoe.
(Source: Smithsonian)
11. In 2000, a glass box (Casa de Vidrio) appeared in the center of Santiago with a young woman inside it. The woman, a local actress, lived inside the box for two weeks, revealing to intrigued spectators all the intimate details of her daily life. The architects behind the installation said the stunt aimed to address the limits of privacy and the quality of life in big cities.
(Source: Guioteca – Spanish)
12. Chile is one of few countries in the world with a government-backed UFO research facility. The country's Central District has had so many reported UFO sightings that in 2008, the town of San Clemente opened a 30km (19mi) UFO trail through the Andes including plateaus for UFO landings.
(Source: Huffington Post, CEFAA, Time)
13. Ushuaia in Argentina is the world's southernmost major settlement and is renowned as the "end of the world". However, it is the Chilean town of Puerto Williams on the island of Navarino that is the southernmost human settlement overall (Antarctic research stations notwithstanding). Puerto Williams is also a port of entry to Antarctica and a major hub for scientific activity.
(Source: Rough Guides)
14. The extraordinarily clear atmosphere in the mountains of Norte Grande is excellent for astronomers. It has about 300 clear nights a year and is the best possible site to build Southern Hemisphere observatories.
(Source: Smithsonian)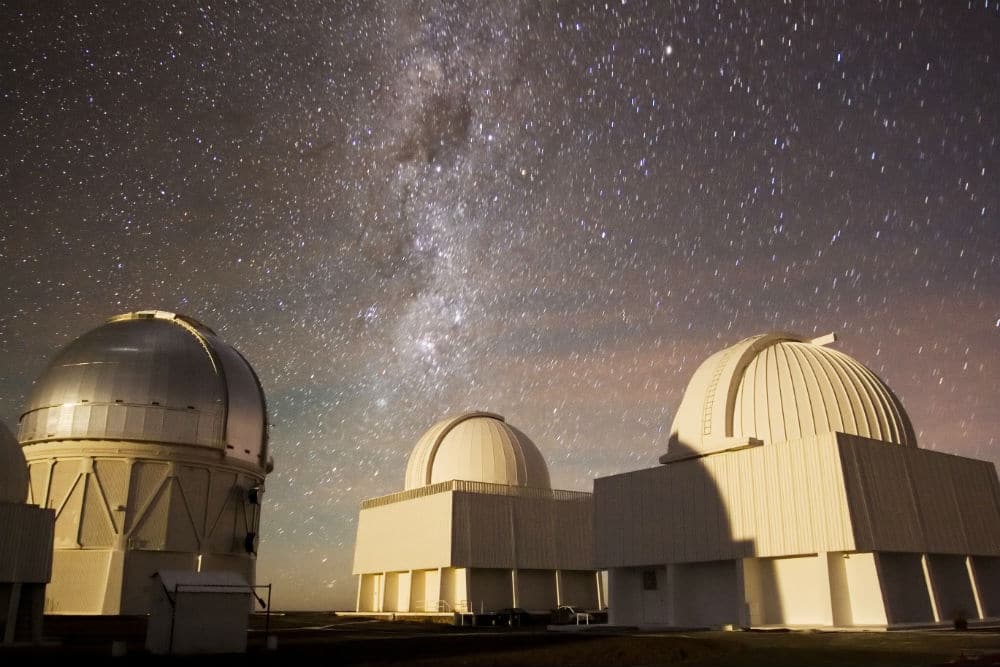 15. Chile is affectionately known as país de poetas (country of poets). It has procured two Nobel Prize winners in Literature: Gabriela Mistral in 1945 and famous poet Pablo Neruda in 1971.
(Source: BBC – Spanish)
---
For more interesting facts about Chile, the Lonely Planet Chile and Easter Island guide includes a comprehensive guide to the country.

Additional photography: Dreamstime