From the grand mosques of Muscat to the glorious mountains of Al-Hajar, Oman is a beguiling alternative to Dubai
In Oman, you will hear much about the country being second best at something. It has the second biggest carpet in the world, your guide might tell you – a hand-loomed beauty in Muscat's Sultan Qaboos Grand Mosque, usurped only by its peer in Abu Dhabi.
Oman has the world's second-largest pipe organ, you'll hear, housed in the magnificent Royal Opera House. And if you happen to stroll along the Muttrah waterfront, you might be told that the sultan's 155m yacht is the second-longest in the world. These claims vary in veracity, but they do seem apt in a country that still lingers in the shadow of its grandstanding neighbours.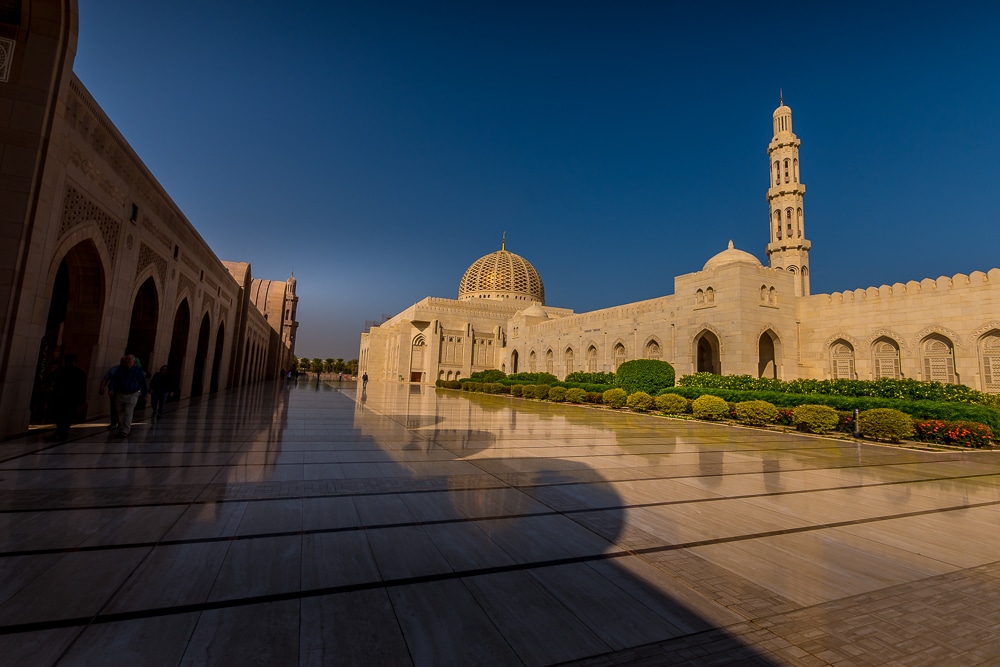 This shouldn't be a surprise, for Oman seems less in thrall to the spoils of capitalism. There are no swathes of gleaming skyscrapers here or the constant press of surplus wealth. It's true that Muscat's Grand Mosque and Royal Opera House are sleek and elegant in the way modern Arabia so often is, but in wandering its souks and forts, one still gets a sense of its ancient soul.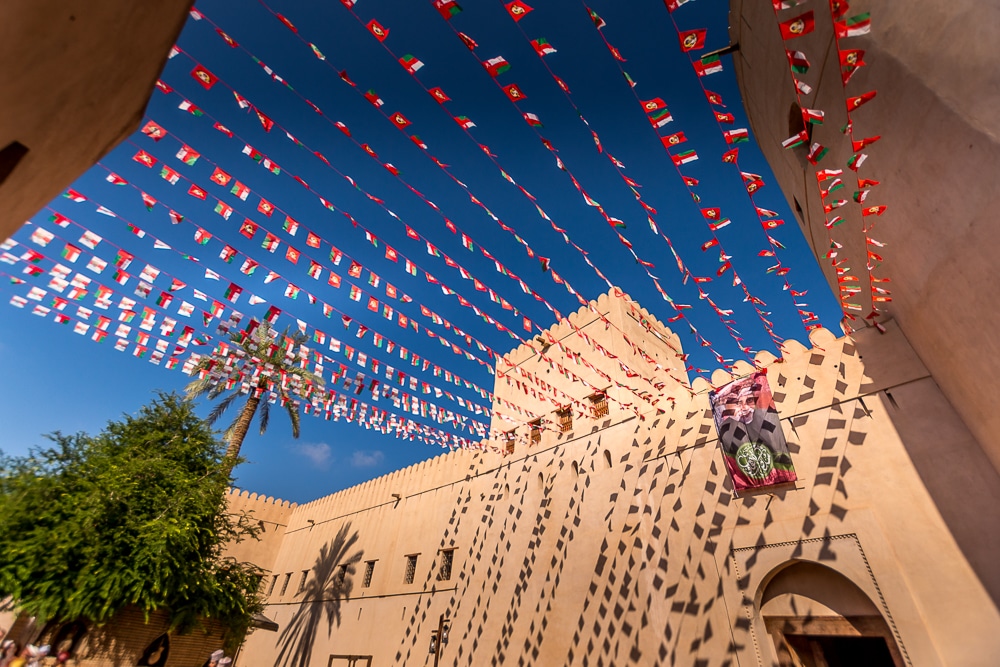 Oman is in fact the oldest independent state in the Arab world. Lying on the southeastern coast of the Arabian Peninsula, it shares borders with the UAE as well as Yemen and Saudi Arabia. It should be said that, despite its neighbours, Oman remains stable, peaceful and comparatively progressive. In fact, it was named in 2019 as the world's safest country for expats.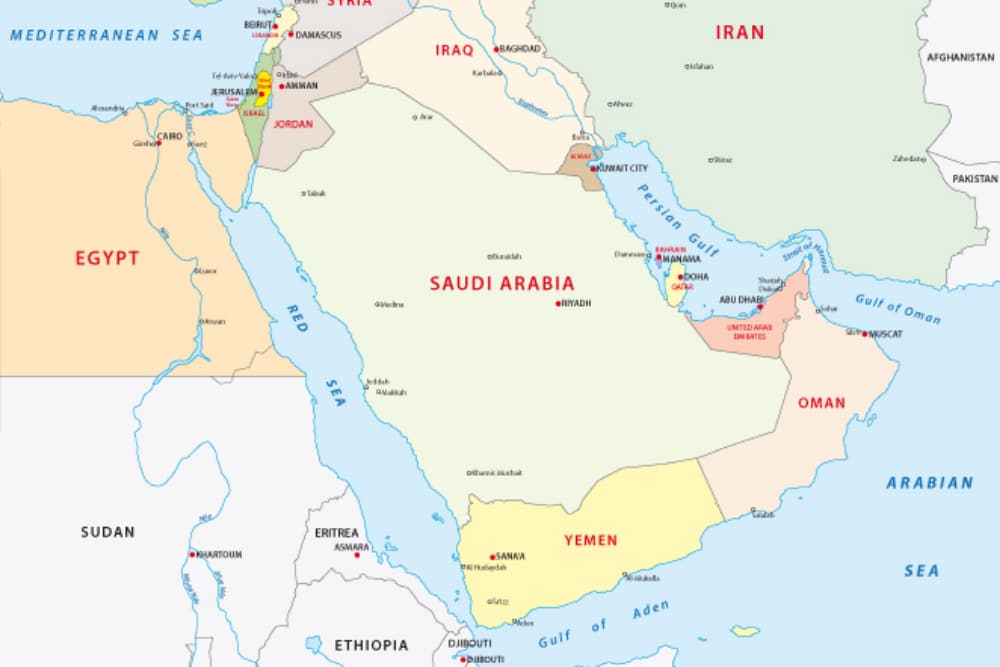 Interestingly, when Omanis staged demonstrations in 2011 calling for more jobs and economic benefits following the Arab Spring, Sultan Qaboos responded by increasing unemployment benefits and issuing a royal directive for a national job creation plan. He, though elusive, remains universally popular – at least ostensibly. Omanis exhibit a real sense of pride in their leader, evidenced by his ubiquitous portrait affixed to hotel lobbies, shop fronts and car windows all over the country.
As well as stability, Oman boasts a natural beauty unrivalled by the UAE as witnessed on our six-day dash through the north of the country, starting in the capital, Muscat.
Where Dubai mostly boasts beaches and malls, Oman offers that and so much more: soaring granite mountains, vertiginous canyons and dramatic ravines or 'wadis' that careen between high peaks.
We began our journey into the mountains at the deserted village of Wadi Bani Habib. Perched at the bottom of a valley, this cluster of decaying mudstone buildings is fringed by abundant walnut trees, making for a timeless scene.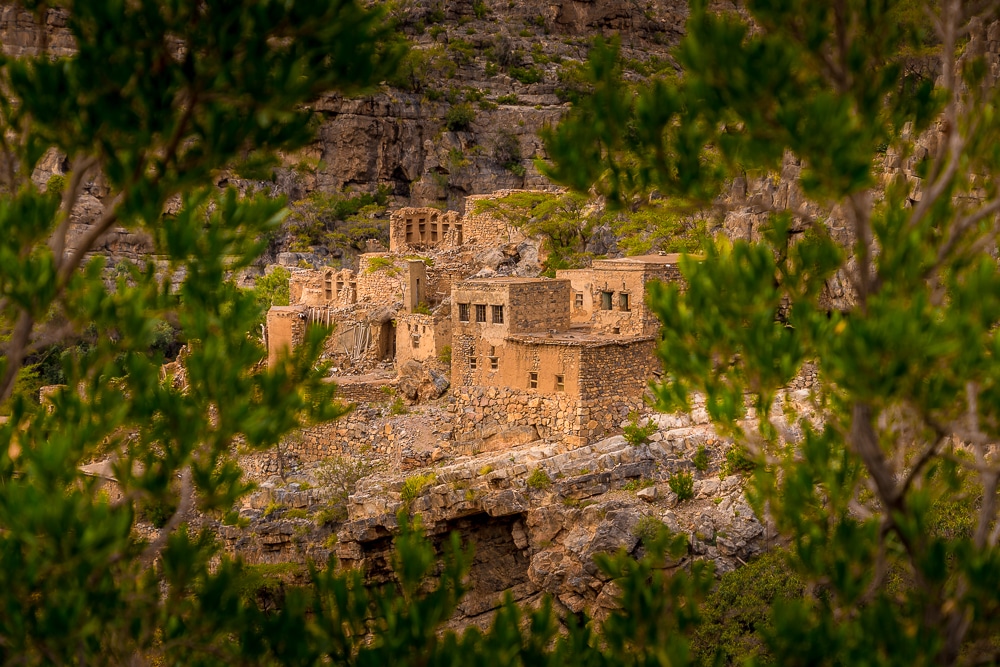 From Wadi Bani Habib, we continued deeper into the Al-Hajar mountains. This dramatic range stretches 700km across Oman and into the UAE and is home to Oman's highest peak, Jebel Shams, which soars to 3,009m (9,872ft). It's not the peak, however, that draws tourists most heavily but the canyon that lies alongside it: Wadi Ghul, known locally as the Grand Canyon of Arabia.
Sadly, a rainstorm cut off our path to Jebel Shams (yes, it rains in Oman!) and so we continued straight to Jebel Akhdar or 'Green Mountain' for its jaw-dropping vistas of the surrounding peaks. One of the most impressive views is found at Diana's Point located in the grounds of Anantara Hotel.
Diana's Point is named after Diana, Princess of Wales, who visited the spot with Prince Charles in November 1986. A plaque reads that the couple arrived by helicopter to what was then an untouched wilderness. Charles, it says, spent the time painting the scenery in watercolours while Diana read a book. Unsurprisingly, there are hopes that Prince William will one day visit with Kate and family in tow.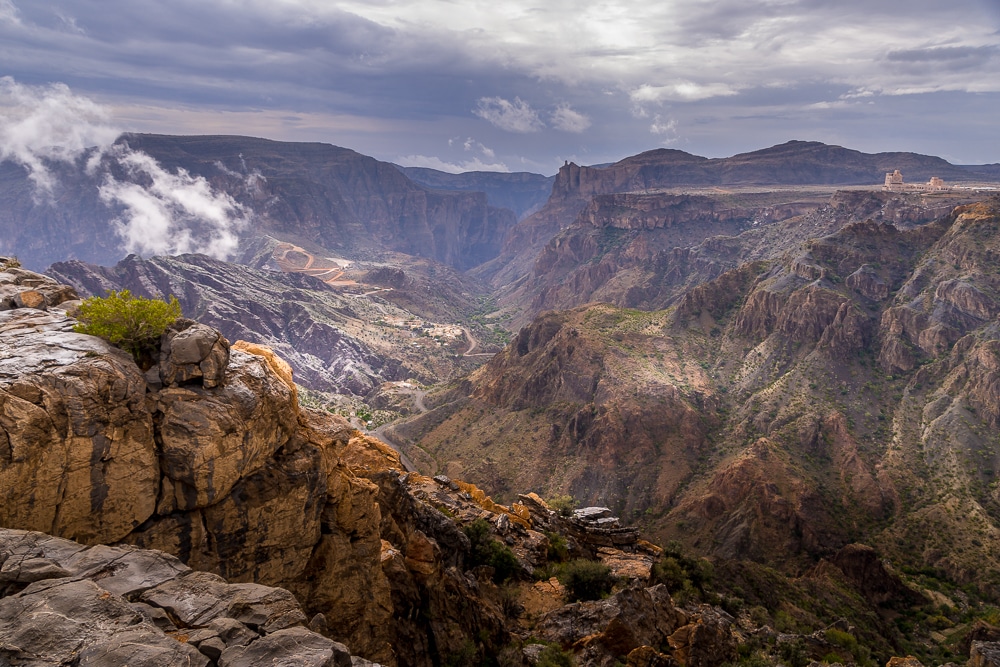 The following day was our favourite: a drive to Wakan village through the wild rockscape of Al-Hajar's peaks. These harsh, untamed mountains rise from a gravel plain and bear witness to a time of intense geological activity.
For professional geologists, Oman is one of the most interesting countries on Earth. It lies at the southeast corner of the Arabian continental plate where it meets the Eurasian oceanic plate. As the Red Sea grows wider, Oman is being pushed north and forced beneath the Eurasian plate in a rare geological process called 'subduction'. Add the lack of vegetation or soil cover and you're left with millions of years of complex geological process exposed with extraordinary clarity – all perfectly framed by our perch in Wakan.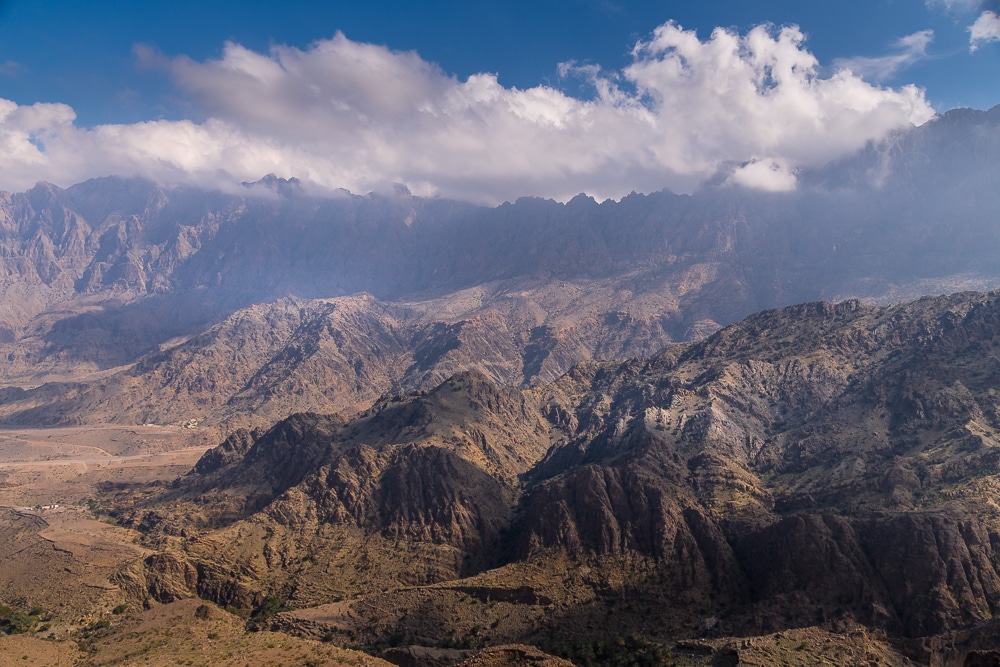 After Wakan, we moved to the resort of Dunes by Al Nahda, a series of luxury tents circled by dramatic dunes (on weekends, locals gather for customary dune bashing so expect some noise). There, we headed out for our last sunset in Oman.
As we walked among the dunes in the rose-red twilight, it occurred to me that this was the Oman I expected: vast dunes with knife-edge lines rising beneath an ethereal sky. What I hadn't foreseen was everything that came before it: the mountains, the canyons and the plunging gorges.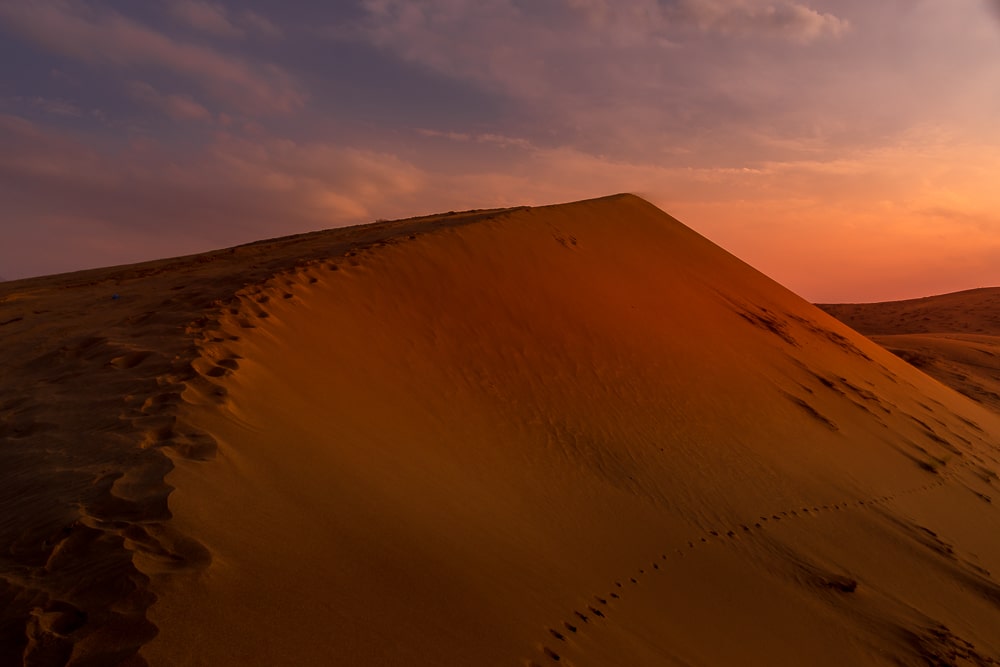 Even as I considered this, I was struck by how much more there was to see: diving in the Daymaniyat Islands, the grand Wahiba Sands, the tranquil fjords of Musandam and, of course, the notorious Empty Quarter that sprawls across the western fringe of the country.
Oman is a place of incredible geographical diversity, impossible to see in a single week. With this in mind, we know that we'll be back. It may be less popular than the UAE, but when it comes to natural beauty, it turns out that Oman isn't second best after all.
Visiting Oman: the essentials
What: A six-day trip through northern Oman, our suggested alternative to Dubai.
Where: We stayed at three resorts: the luxurious Kempinski Hotel Muscat in Muscat, Sahab Resort and Spa in Jebel Akhdar and Dunes by Al Nahda. Diana's Point is located in the grounds of Anantara in Jebel Akhdar. All are highly recommended.
Atlas & BOots
Top four: Kempinski Hotel Muscat; Middle four: Sahab Resort & Spa; Bottom four: Dunes by Al Nahda
When: The best time to visit Oman as an alternative to Dubai is October to March when the oppressive summer heat settles to sunny days and balmy nights. Note that it does rain in Oman so plan accordingly.
How: We took a six-day trip with Old Muscat Tourism who specialise in showcasing '7,000 years in 7 days'. Our guide, Adil, was knowledgeable and flexible and went out of his way to fill our day when our path to Jebel Shams was washed out by the rain.
We flew to Muscat in Oman directly from the UK with Oman Air. Book via Skyscanner for the best prices.
---
Enjoyed this post? pin it for later…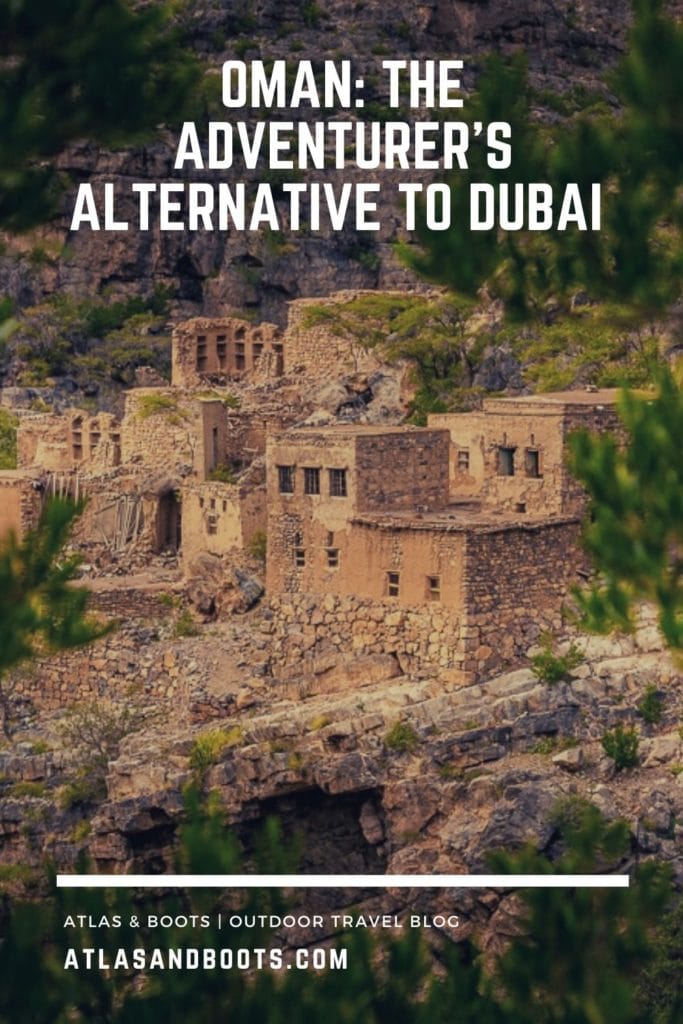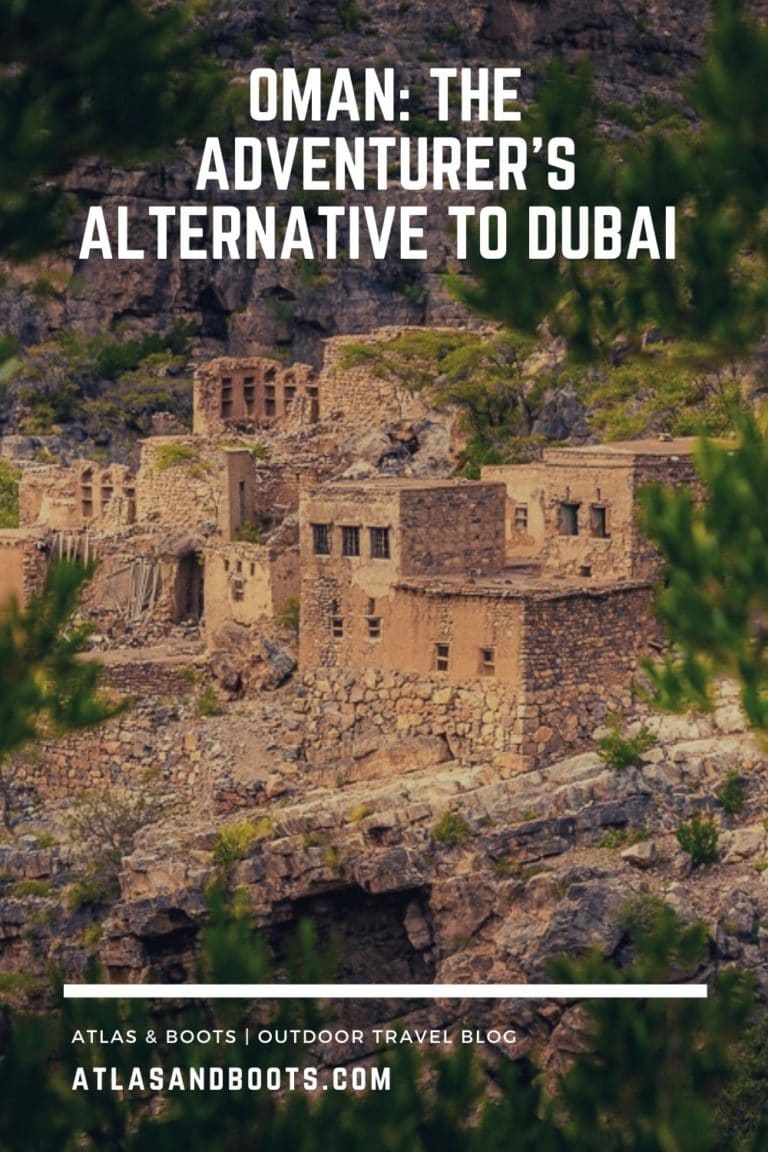 ---
Disclosure: We travelled to Oman with support from the Ministry of Tourism. All publications say this, but we really don't guarantee positive coverage. We say what we think – good and bad – so you can make informed decisions with honest advice.