We journey to Mykines, the westernmost island of the Faroes in pursuit of its famous puffins
"We do not have bad weather," says the Faroe Islands website.
"Just a lot of weather."
Adrift in the Atlantic Ocean, halfway between Iceland and Norway, the 18 islands of the Faroes do indeed have weather. It is palpable here: an ever-looming presence that snatches away your car door, rattles against your window and cries shrilly into quiet lulls.
The weather would be fitting if the nights were long and dark but, in June, sunset is close to midnight and the eerie twilight only adds to the riddle of these wild Atlantic isles.
There is much to do here, from world-class hiking to dry-suit diving, but first on our agenda was seeing puffins in Mykines (pronounced meech-ih-ness), the westernmost Faroe isle.
Mykines or Vestmanna Bird Cliffs?
Every visitor wants to know where to see puffins in the Faroe Islands. We were torn between the Vestmanna Bird Cliffs and Mykines, both known for an abundance of birdlife including puffins, guillemots, razorbills, fulmars, kittiwakes and gannets.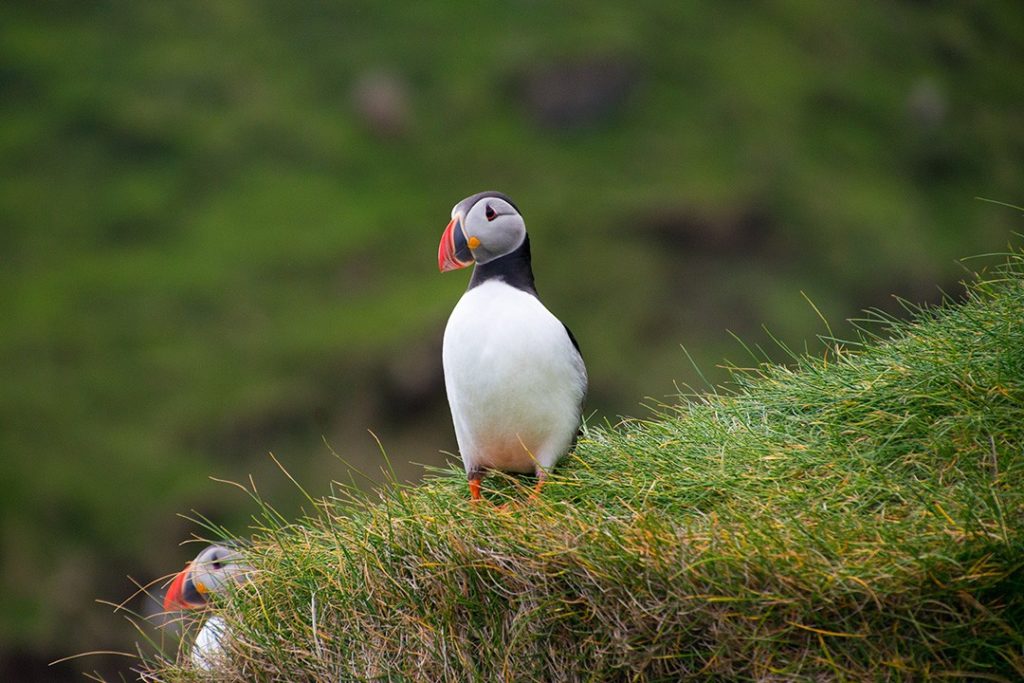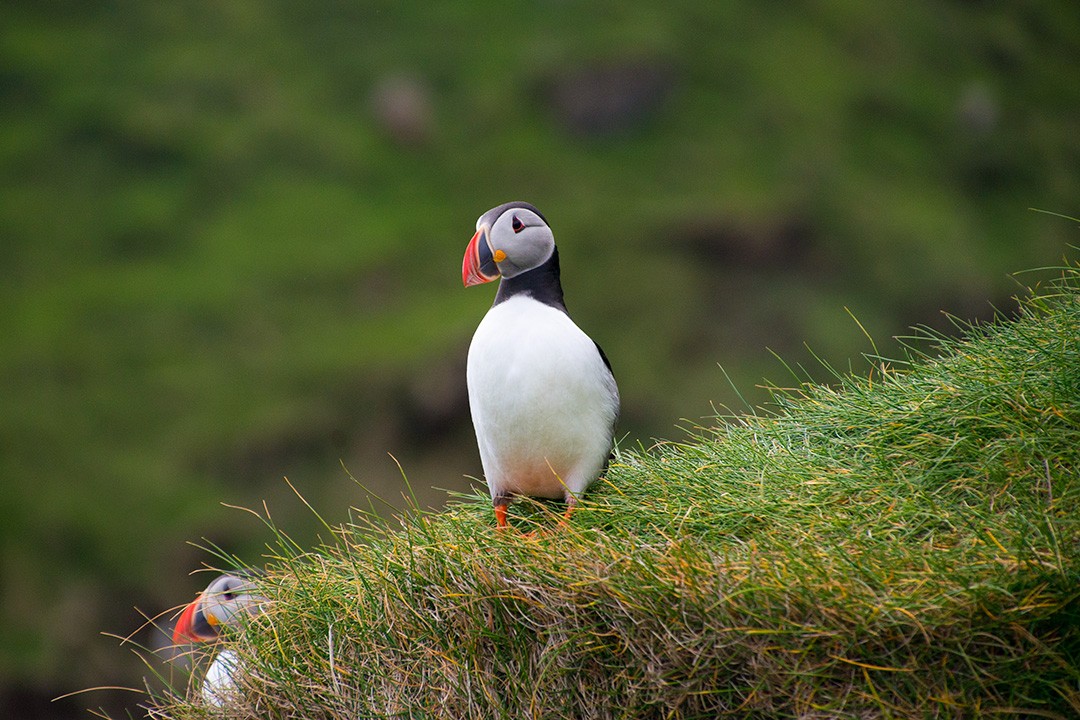 After researching online and talking to locals, it seemed that the best place to see puffins in the Faroe Islands was Mykines and so we booked two last-minute tickets on an extra ferry.
Note: pre-book your tickets if you really want to see puffins in the Faroe Islands as extra ferries don't always run.
Puffins in Mykines, Faroe Islands
We alighted at Mykines with modest expectations. We had seen stunning pictures of puffins up close, but assumed they were taken by telephoto lens.
We agreed that we wouldn't leave too disappointed if we didn't see puffins on Mykines. After all, this carless island with its colourful dwellings, wave-battered cliffs and frothing ocean views was thoroughly beguiling all on its own.
Atlas & BOots
In secret though, we both knew we'd be crushed if we didn't see puffins here. Given the remoteness of the Faroes, it was unlikely we'd return so this was our only shot.
We set off on a 6km round hike to Holmur Lighthouse on the islet of Mykineshólmur. About 15 minutes in, Peter pointed at a cliff.
There, sitting alone, was a colourful puffin. Sadly, he didn't wait very long but the brief glimpse did buoy our hopes.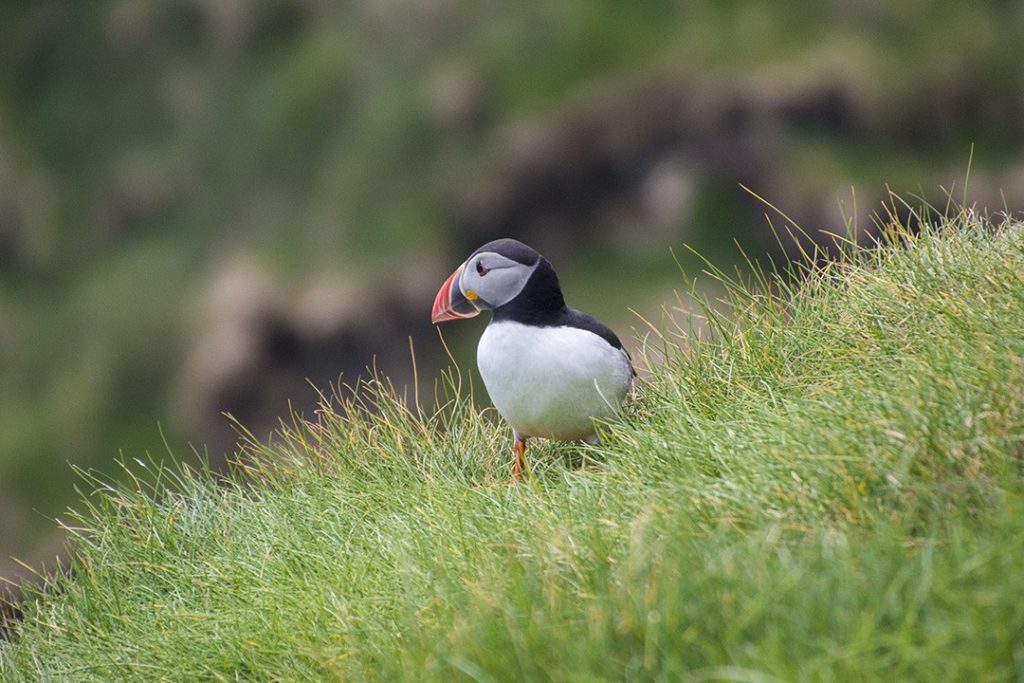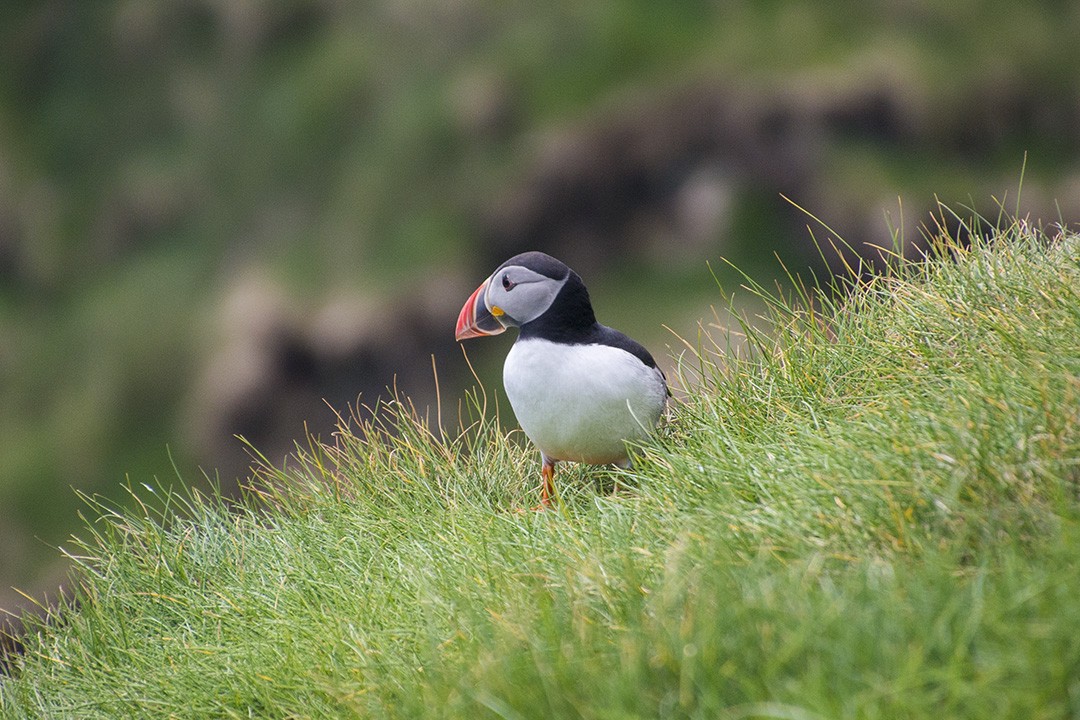 As we hiked on, we saw one or two puffins hopping along the grass, pausing for just long enough to allow a photo or two.
Just before the bridge to Mykineshólmur, we passed an area called Lambi. Here, we found dozens of puffins lazing in the fading sun.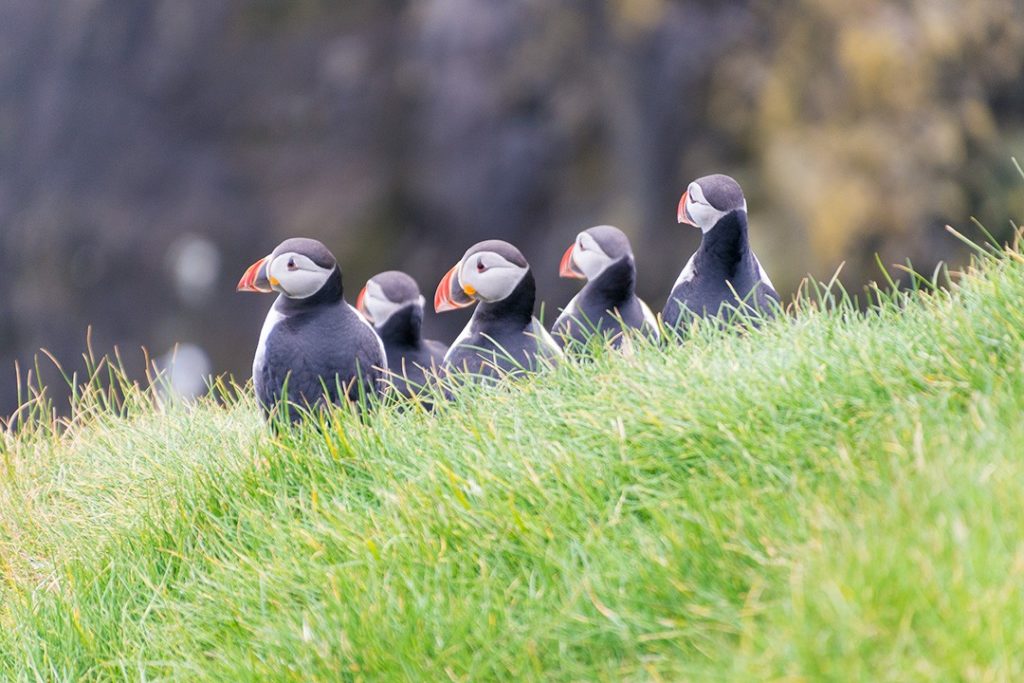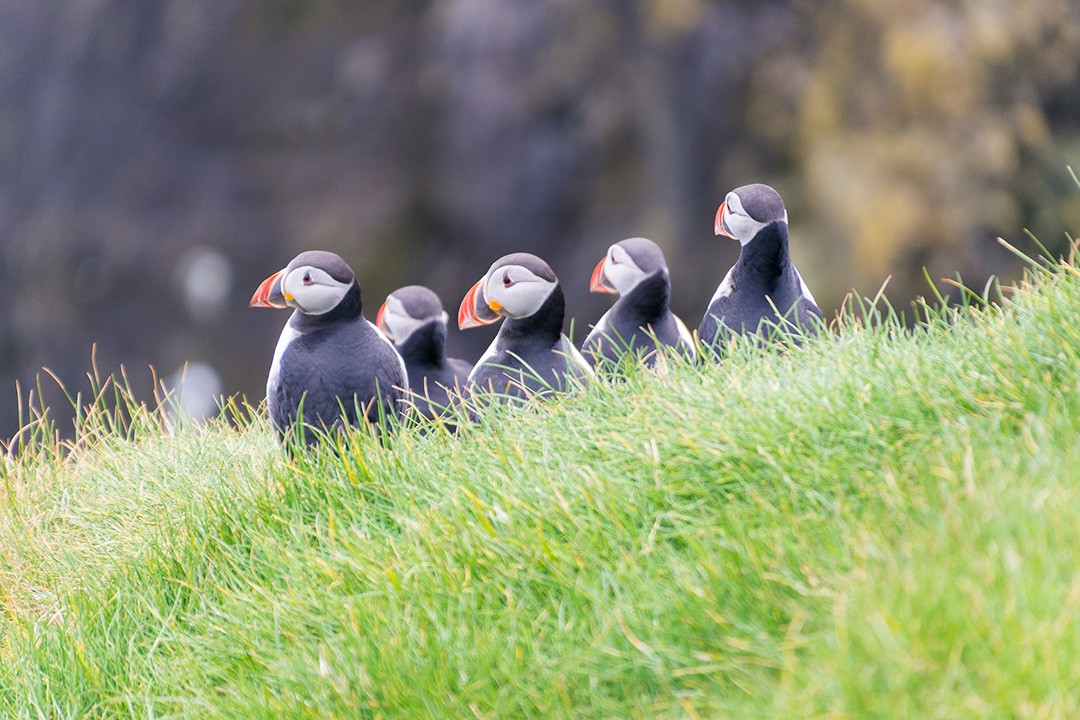 We were slightly too early for the height of nesting season which runs from mid-June to August, so most of the puffins were still at sea. In fact, when we paused and looked seaward, we saw hundreds in the water.
Sadly, at a distance, they weren't quite discernible, but it gave us an indication of what can be seen mid-season when the puffins flock to land.
Faroese puffins breed in colonies on grassy, steep slopes where they dig nesting burrows. You will see these holes all over the ground which is why it's important to never stray from the path. Mykines is the most fragile of the Faroe Islands and visitors are therefore required to follow strict guidelines (see 'Tips' below.)
We spent a short while taking pictures (hikers are asked not to linger in the colony) and continued to the lighthouse.
There, we paused to eat our lunch. It's worth noting that you should always keep an eye on your surroundings. On a dip just below us, three puffins paused for a chat. None of the other hikers noticed and we managed to snap some of our favourite images.
Atlas & BOots
Of course, puffins aren't the only birds to frequent the Faroes. A total of 305 species have been recorded here. Of those, around 50 species breed regularly on the islands, partly due to their sheer remoteness; there's no other land nearby!
This may help explain the unique appeal of the Faroes. They have an international airport, an excellent road system and even Google Street View. But in parallel to technological advancement, they steadfastly maintain a traditional way of life.
There is little globalisation here and though this may change one day soon, for now, the Faroes remain a magical land of peeping puffins, midnight sun and copious amounts of weather.
Tips for visiting Mykines
First and foremost, read and adhere to the guidance on puffins and birdwatching and hiking on Mykines. We saw two people straying among the burrows despite instructions to never leave the path.
Opt for the ferry rather than the helicopter to Mykines. The ferry offers better views of the islands, can be booked as a day trip (the helicopter cannot) and frees up helicopter spaces for locals who use it as a mode of transport.
Book your tickets early as they are usually sold out. Aim to visit at the start of your trip so that if the ferry is cancelled, you may get a second chance. Do note, however, that cancellation does not give you priority access to later ferries.
Wear plenty of layers and pack a hat, gloves and a scarf. Even summer temperatures can be bracing.
If you suffer from motion sickness, you may wish to take medication.
If you're unclear about your pickup time from Mykines, double check with the crew!
Take a packed lunch to eat on Mykines as there aren't provisions on the island. There is a small cafe offering cake and hot drinks but it's worth taking a sandwich too.
Take your time on the 6km round hike to Holmur Lighthouse on the islet of Mykineshólmur. Based on the ferry schedule, you will have around six hours on Mykines. We hiked to the lighthouse, ate our packed lunch, hiked back to town, had some cake and coffee and still had an hour to spare.
With that said, do not linger in the colony. Never stray from the path and be careful not to step on puffin burrows (small holes in the ground). This is very important as the puffins nest under the ground right next to the path.
It's easy to get caught up in your search for puffins. Do take some time to enjoy the myriad other birds on the island as well as its extraordinary natural beauty.
Atlas & BOots
Mykines, Faroe Islands: the essentials
What: Searching for puffins in Mykines, Faroe Islands.
Where: We stayed at The Old Millar House, a charming cottage 1km from the centre of town. The cottage is warm and cosy with a traditional turf roof and access to a grotto-like garden.
There is a beach meters away (though it might be too chilly for swimming!) and the Sandá river runs practically past the doorstep. If you're keen to sample the Faroese nightlife, you may wish to stay closer to the centre, but for those happy to retreat to cosy evenings, the Old Millar House is an excellent option.
Click here to get a discount on your first stay with Airbnb or find alternative accommodation on Booking.com.
When: The best time to visit Mykines in the Faroe Islands is mid-June to mid-August when the puffins flock to land to nest. For two weeks on either side, you will likely see some puffins, but the majority will still be out at sea.
How: Ferries run between Sørvágur port (on Vagar) and Mykines during the summer months. This takes 45 minutes and costs 60 DKK ($10 USD) per person. Check mykines.fo for the timetable ('Travel Plan') and book your tickets in advance.
Extra ferries may be added in high season at a higher cost (scroll down at mykines.fo to see if there are any 'Extra Trips').
Helicopters also run to Mykines (tyrla.atlantic.fo). This option is surprisingly affordable but cannot be booked as a return trip on a single day.
We recommend taking the ferry as it offers better views and frees up helicopter spaces for the locals who use it as a mode of transport.
Visitors to Mykines will also need to pay a hiking fee (100 DKK / $15 USD per person). We paid this at the port at Sørvágur but there are plans to administer the charge online (mykines.fo).
We reached Sørvágur by car. On approach to the port, look out for a blue sign pointing to 'Mykines' and follow it to the departure point beyond the Effo Petrol Station.
There is also a bus that runs from the capital, Tórshavn, to Sørvágur.
We flew to the Faroe Islands with Atlantic Airways.
---
Enjoyed this post? pin it for later…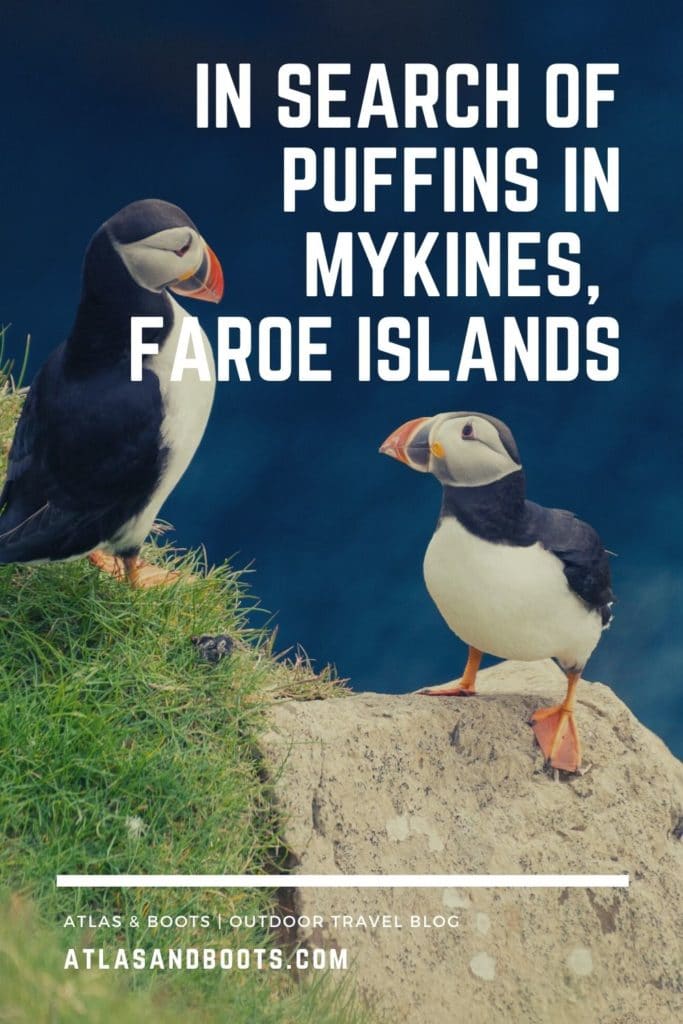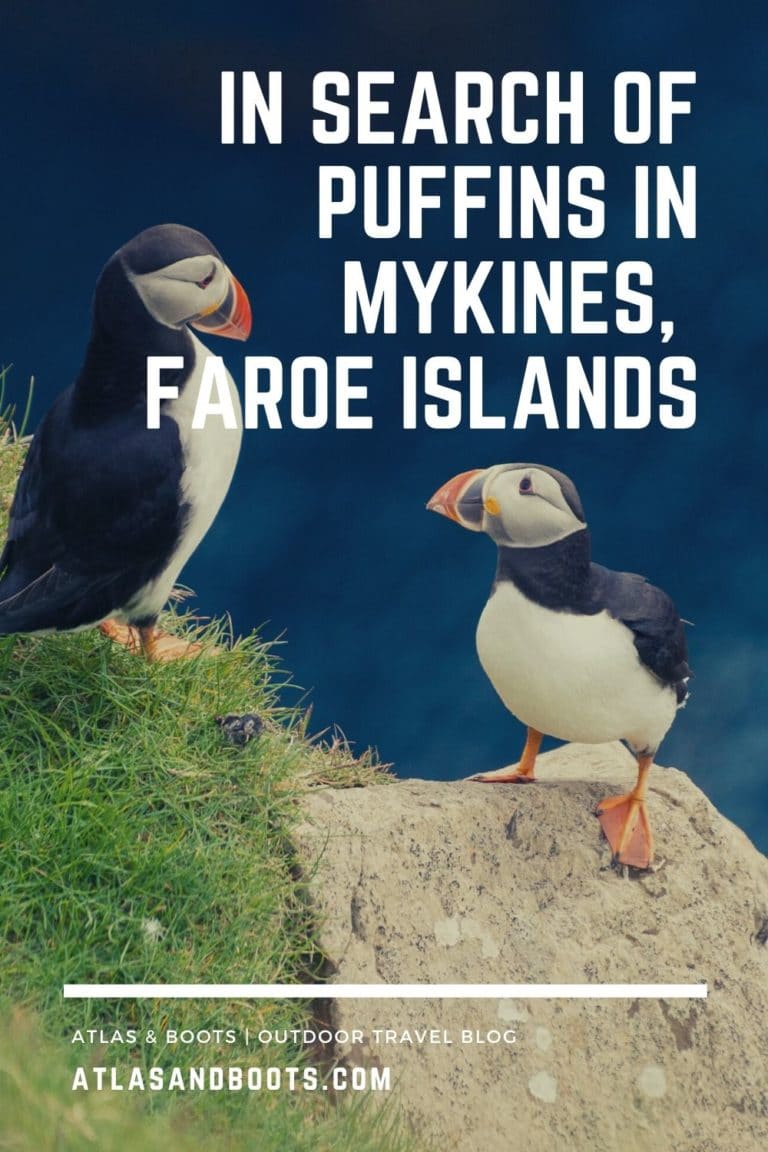 ---