Our tips for trekking the Arctic Circle Trail, gathered from the many questions our readers sent in
Before, during and after my adventures on the Arctic Circle Trail in Greenland, we received dozens of questions about the experience via email and social media. We've collated them below in a detailed Q&A that includes all our tips for trekking the Arctic Circle Trail.
Tips for trekking the Arctic Circle Trail
1. How long is the trek?
The trail is 165km (102.5mi), running from Kangerlussuaq to Sisimiut. However, there are several different starting options available.
The official start of the trail begins near the research station commonly referred to as Kellyville. It's possible to get a taxi to the start of the trail here, shaving around 17km off the distance and avoiding the rather unremarkable walk along the road from Kangerlussuaq.
Others opt to start their trek earlier, either at the inland ice cap at Point 660 or at Russell Glacier. These options would add 37km and 25km onto the total distance respectively.
2. How much time does the trek take?
Most trekkers complete the trek between seven and 10 days, although I met people on the trail who were spending up to two weeks walking the route. The below table provides a good itinerary which I loosely followed. I found I was finishing most days a few kilometres beyond each hut.
| Day | From/to | Distance | Ascent | Descent |
| --- | --- | --- | --- | --- |
| 1 | Kangerlussuaq to Hundesø | 20km | 505m (1,655ft) | 335m (1,100ft) |
| 2 | Hundesø to Katiffik | 20km | 470m (1,540ft) | 520m (1,705ft) |
| 3 | Katiffik to Amitsorsuaq (Canoe Centre) | 20km | 200m (665ft) | 200m (665ft) |
| 4 | Amitsorsuaq (Canoe Centre) to Ikkattooq | 22km | 650m (2,130ft) | 450m (1,475ft) |
| 5 | Ikkattooq to Eqalugaarniarfik | 11km | 330m (1,080ft) | 520m (1,705ft) |
| 6 | Eqalugaarniarfik to Innajuattoq | 19km | 680m (2,230ft) | 510m (1,675ft) |
| 7 | Innajuattoq to Nerumaq | 17km | 370m (1,215ft) | 520m (1,705ft |
| 8 | Nerumaq to Kangerluarsuk Tulleq | 17km | 300m (985ft) | 325m (1,065ft) |
| 9 | Kangerluarsuk Tulleq to Sisimiut | 20km | 700m (2,295ft) | 725m (2,380ft) |
3. How hard is the trek?
The Arctic Circle Trail is not inherently dangerous, but it is suitable only for experienced trekkers. It is a long-distance and very remote trek so preparation is key.
The major challenges include carrying a heavy pack for long periods filled with all the food and supplies required for at least seven days in the backcountry. Additionally, the sheer remoteness of the trail means trekkers must carry everything they need to deal with any eventuality, knowing that there is little chance of outside support unless it's an emergency.
The total ascent/descent for the entire trek is relatively low at just 4,105m (13,465ft) over 165km of trekking.
4. How much does it cost?
The trail is free to access and wild camping is allowed throughout Greenland. The huts along the trail are also free to use.
It's worth noting that Greenland is a remote destination which makes food and accommodation off the trail markedly expensive.
Flights to and from Greenland and between Kangerlussuaq and Sisimiut will likely be the most expensive part of a trip. My return flights in July from the UK (via Copenhagen in Denmark) cost around $1,000 USD. The flights between Kangerlussuaq and Sisimiut cost around $200 USD. Book via Skyscanner to find the best prices.
Most supplies (excluding camping gas) should be bought in your home country to keep costs down.
5. Do you need a trekking permit?
At the time of writing no permits are required for the Arctic Circle Trail, although it's good practice to inform the police in either Kangerlussuaq and Sisimiut of your schedule.
6. Do I need specialist insurance?
The altitude of the Arctic Circle Trail should not invalidate most travel insurance policies. However, it is quite common for insurance policies to claim to cover 'everywhere', but in reality to not cover remote wilderness areas such as the Arctic Circle Trail.
Take the time prior to your trip to contact your insurance provider and specifically inquire about trekking the Arctic Circle Trail – then double-check the small print.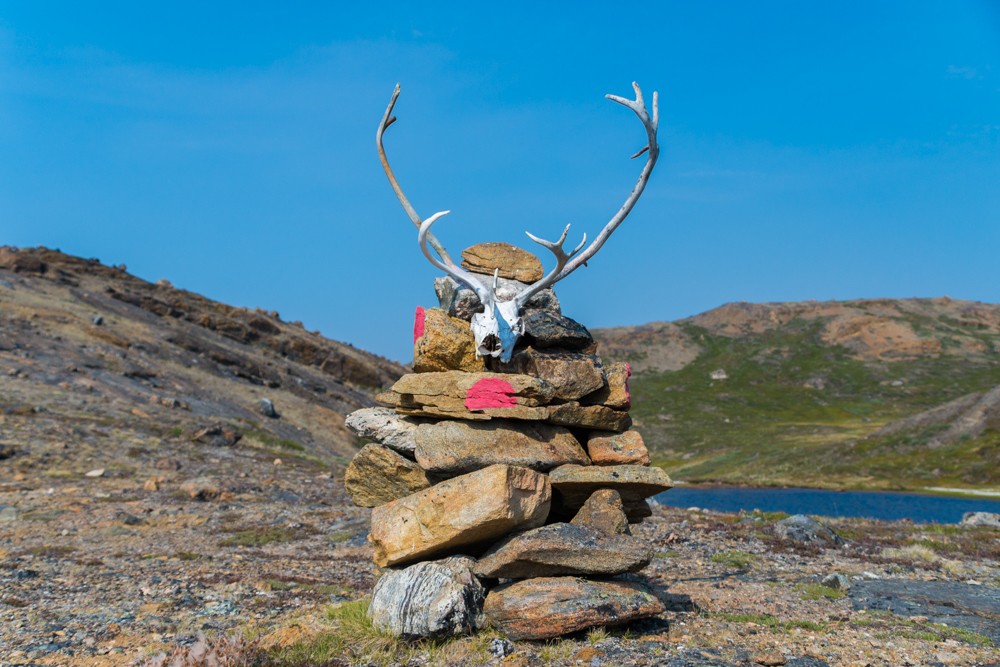 7. What is the weather like?
One of our most important tips for trekking the Arctic Circle Trail is plan for every type of weather including strong winds, sleet and snow, heavy rain and sub-freezing temperatures.
I trekked the Arctic Circle Trail during a summer of unprecedented temperatures in the Arctic which has caused widespread wildfires throughout the polar region. I spent two weeks in Greenland and didn't see rain until the day I departed. As I said, plan for every eventually.
8. When is the best time to trek?
The best time for trekking the Arctic Circle Trail is from June to August when the weather is at its best and the days are longest (never-ending at times). August and September see the temperatures drop and overnight snow arrive.
The trail is likely to be frozen and covered in snow for the rest of the year although some hardy trekkers still make the pilgrimage in snowshoes and starkly more challenging conditions. Regardless of the time of year, trekkers must be prepared for all types of weather.
9. What should I pack?
I've put together a complete Arctic Circle Trail packing list. It contains everything I took with me including camping and trekking gear, clothing, food and cooking equipment, toiletries, medication and electronics. There are also links to the gear I took with me for reference.
10. Can I buy supplies in Greenland?
Yes you can, but everything will be significantly more expensive compared with your home country. Other than gas – which cannot be transported on planes – it is advisable to buy all supplies before you travel to Greenland.
Additionally, due to Greenland's remote location, supply lines can be disrupted leading to empty shelves at local supermarkets.
11. Where can I buy gas?
There are several places in both Kangerlussuaq and Sisimiut where trekkers can buy camping gas. In both towns there are supermarkets and stores – and even some accommodation providers – that stock camping gas along with basic supplies for the trail.
12. Is there phone reception on the trail?
No – there is absolutely no mobile phone reception for the duration of the trail. Trekkers should seriously consider taking an emergency beacon or satellite phone with them in case of emergency.
13. Can you charge electronics on the trail?
There is no electricity anywhere along the trail, including at the huts. Most trekkers travel with a power bank or solar charger – particularly if carrying an emergency beacon or satellite phone.
14. Where can I get drinking water?
Drinking water is abundant and never far away on the Arctic Circle Trail. The route crosses an area known as 'the land of a hundred lakes' as well as a handful of small rivers, all of which are safe to drink from.
There is an 8km stretch around the lakes of Hundesø, Brayasø and Limnaesø where the water is brackish and salty to taste. It is still safe to drink and fine to cook with, but does have a bitter taste and may not quell thirst as much.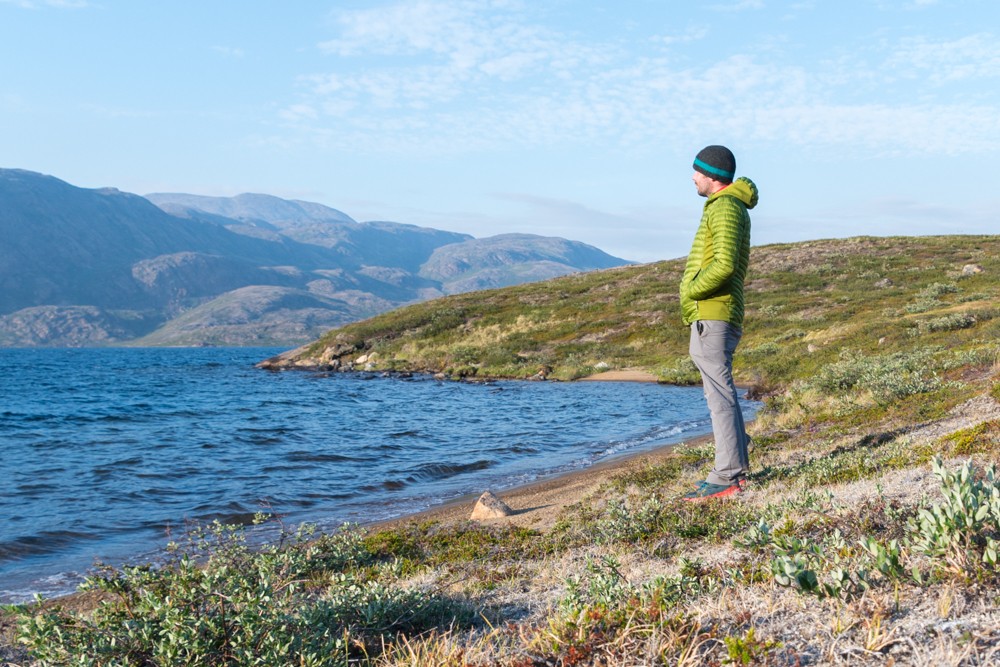 15. How do I go to the toilet?
This is a bit of a bugbear of mine. The only litter I saw throughout the trek was the remnants of where trekkers had gone to the toilet, either near the trail or a hut. In a wilderness as expansive as Greenland's, there is absolutely no excuse for such inconsiderate behaviour.
Other than the basic 'bag' toilets at some of the huts (which rely on trekkers to empty them when full), trekkers should expect to do their business in the wild leaving absolutely no trace in the process. It is essential to follow these basic principles:
Walk well away from the trail and any water sources
Dig a hole with your heel or a trekking pole
Cover the waste thoroughly with soil
Place large boulders on top to stop animals from digging it up
For a more thorough explanation, read Kathleen Meyer's How to Shit in the Woods for a "delightfully shameless discussion of a once-secretive activity".
16. Can you take a shower along the trail?
None of the huts have shower facilities. If you're brave enough to face a wash in the lakes then do it far from where trekkers may collect water and only use biodegradable toiletries.
17. What do you eat on the trail?
What to eat on the trail very much depends on personal preference. Below is my Arctic Circle Trail trekking diet.
Breakfast: coffee, protein bar, cereal/yoghurt bar.
Lunch: protein bar, cereal/yoghurt bar and black tea.
Dinner: dehydrated trekking meal, chocolate bar and hot drink
Snacks: I snacked between meals on a homemade trail mix of nuts, dried fruit and chocolate as well as berries I picked along the trail.
Most trekkers take between seven and 10 days to complete the trail. I packed food for eight days of trekking with a few extra snacks and cereal bars in case I needed an additional day.
There are wild berries growing along the trail – the slightly sour crowberry and the sweeter Arctic blueberry – with which I supplemented my trekking diet. There are also wild mushrooms along the trail which are perfectly edible.
18. Is the trek dangerous?
All long-distance and wilderness trekking carries a certain degree of risk. That said, without major ascents, the trail offers no obvious threats that accompany altitude or mountaineering.
As mentioned, the main challenge and dangers come with the remoteness and inaccessibility of the trail. In recent years, wildfire has been a growing threat to trekkers with several people having to be evacuated in recent years, including myself this summer. Be vigil and consider carrying an emergency beacon or satellite phone.
19. What wildlife can I see?
Reindeer, musk oxen, Arctic foxes and hares can all be seen along the trail, as well as a plethora of birdlife. Respect all wildlife by never approaching, worrying or feeding it.
You are highly unlikely to see a polar bear along the Arctic Circle Trail.
20. Are there canoes to use along the trail?
The section along Amitsorsuaq Lake, between the Katiffik and Amitsorsuaq huts, can be covered using a canoe. This depends on a canoe being available at either of the huts depending on the direction you're walking.
At the time of writing there were three canoes available. Make sure you inspect the canoes carefully before use and leave them at either the Katiffik hut, Amitsorsuaq canoe centre or the canoe frame at the end of the lake.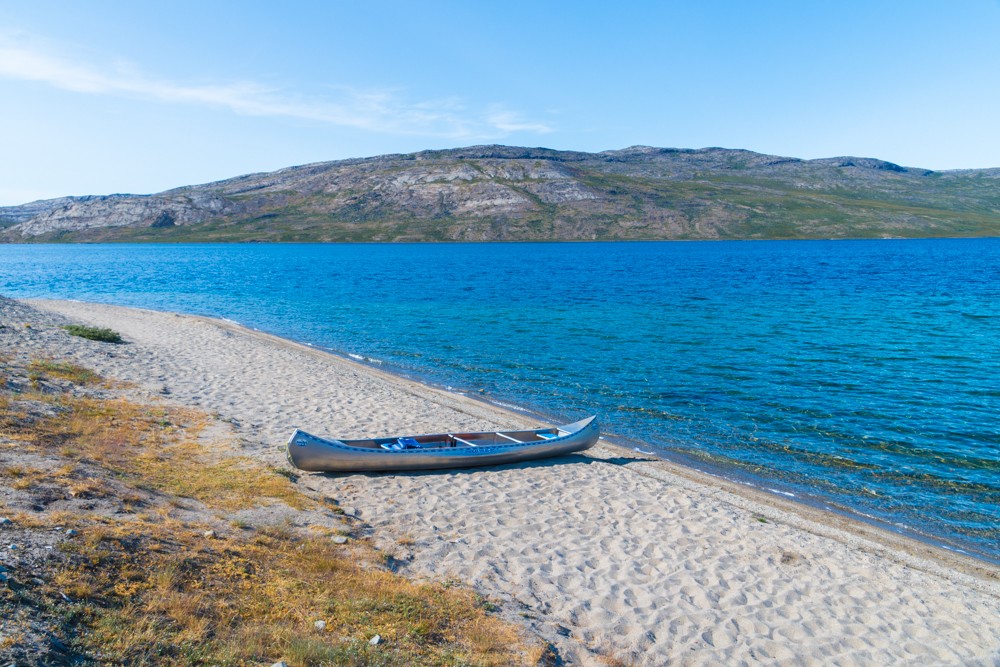 21. Should I start from Kangerlussuaq or Sisimiut?
The Arctic Circle Trail is a thru-hike so can be started at either Kangerlussuaq or Sisimiut. Traditionally, most trekkers begin at Kangerlussuaq travelling from the 'icecap to the sea' and most of the supporting literature and guides follow this course. Additionally, as nearly all international flights arrive at Kangerlussuaq, it is a convenient place to begin the trek.
However, as the trail grows in popularity, more trekkers are choosing to start from Sisimiut. I chose to trek from Kangerlussuaq to Sisimiut, mainly so I wouldn't have to reverse engineer the route descriptions in my guidebook.
22. What maps do I need?
The following paper maps cover the trail in its entirety:
These maps can be purchased online at Harvey Maps (UK) and Scanmaps (Denmark). They can also be bought at a number of outlets in Kangerlussuaq and Sisimiut.
23. What guidebook should I use?
Cicerone Guide to Trekking in Greenland by Paddy Dillon is the best guidebook available for the Arctic Circle Trail. It was updated in 2018 and includes lots of information as well as detailed maps and many more tips for trekking the Arctic Circle Trail.
Trekkers could walk the entire trail only using the guidebook, but I would always advise taking paper maps and a compass along too.
24. Should I take a GPS to navigate?
I used Gaia GPS to track my progress on my smartphone, downloading the maps beforehand so they would work offline. There are several hiking apps that offer this kind of functionality. Read our guide on the best hiking apps.
Another option is to take a GPS device. After my experiences trekking the Arctic Circle Trail, I would definitely advise taking a satellite phone with emergency beacon (SOS) functionality. These should have a navigation function built in.
25. Is it daylight all the time in summer?
The famed midnight sun can be observed from mid-June through August along the Arctic Circle Trail, although the surrounding mountains usually obscure it. Regardless, it will not get dark so pack an eye mask if you find it difficult to sleep during daylight.
26. What are the huts like on the trail?
There are eight huts available on the route which vary in size and amenities. They can sleep anything from six to 22 people, although more could squeeze in if necessary. Some have bunk beds with mattresses, others have little more than a wooden sleeping platform.
Several of the huts have basic 'bag' toilets, which rely on trekkers to empty them when necessary. None of the huts are staffed. Most people travel, as I did, with a tent so they can camp en route.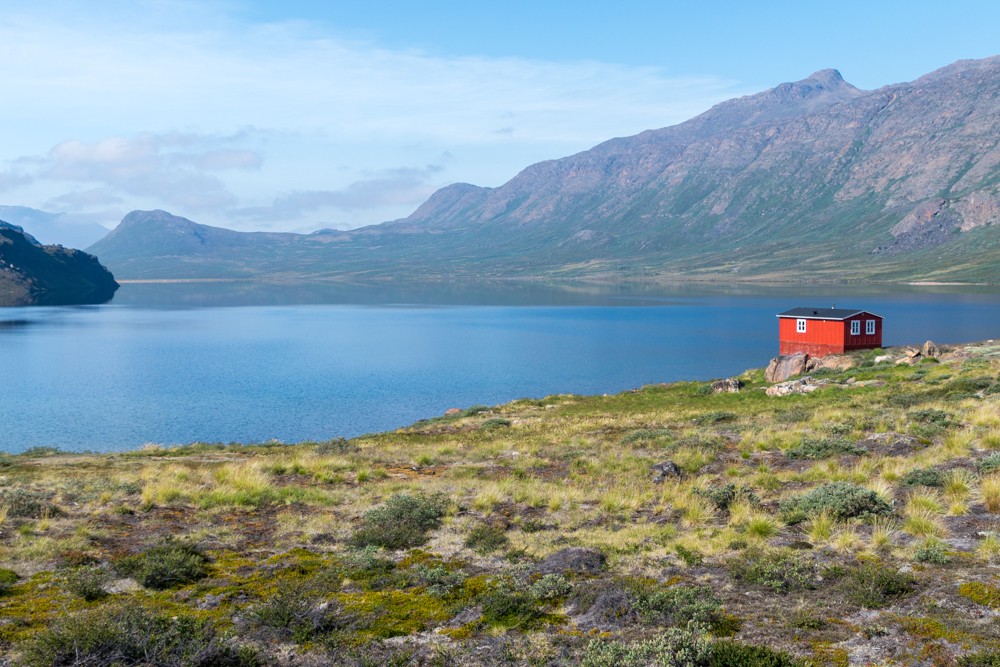 27. Do I have to take a tent?
Trekkers do not have to take a tent, but there is no guarantee that there will be space available in the huts. Taking a tent also allows trekkers to be more flexible with their daily distances and program. I highly recommend taking a tent or shelter.
28. Are there alternative routes?
A large section of the Arctic Circle Trail was rerouted this year due to the fires, with trekkers encouraged to take a more southerly course between Eqalugaarniarfik and Kangerluarsuk Tulleq. This could be used if there are obstructions on the trail, such as the wildfires that swept across the Arctic this summer or floods. It's worth familiarising yourself with this alternative route before departing.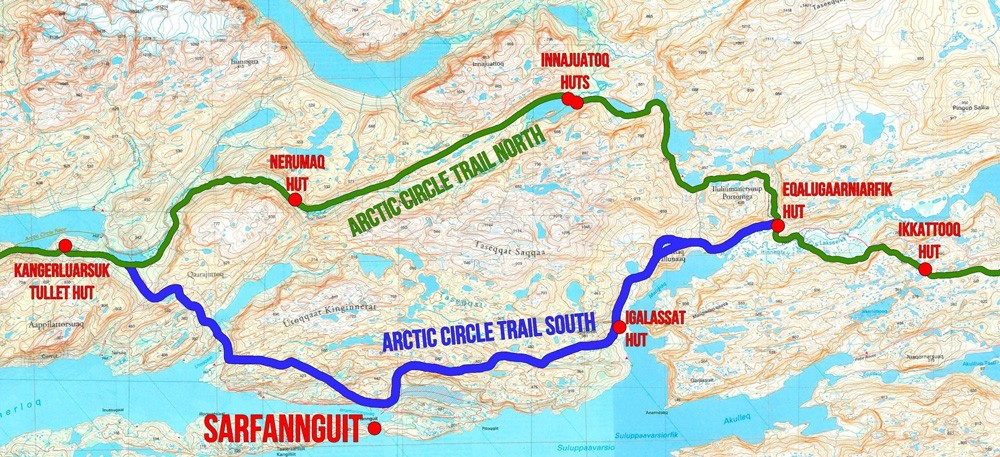 29. What online resources do you recommend?
There are several online resources worth checking out when you're planning your trip.
30. Where can I stay in Kangerlussuaq or Sisimiut?
In Kangerlussuaq, I stayed at the basic but clean Polar Lodge (DKK795 / $120 USD) when I arrived and then camped at the nearby campsite during my other visit for DKK 60 ($9 USD). Other options include the Kangerlussuaq Hotel located in the airport and the Kangerlussuaq Youth Hostel.
In Sisimiut there is a wider range of hotels available including Hotel Sisimiut, Sisimiut Sømandshjem and Sisimiut Youth Hostel.
31. Can I visit the ice cap from Kangerlussuaq?
Absolutely. It's possible to visit the ice cap either before or after your trek. Read our upcoming article on visiting the Greenland ice sheet and Russell Glacier for more information.
32. What were the mosquitos like?
In summer, mosquitoes and flies can descend on the region in plague-like proportions. They were worst around the boggy regions during the later half of the trail and when there was less wind.
I packed a Mosquito head net which I had to break out a couple of times when they became excessive. I used insect repellent every day but still picked up several bites.
32. How many people did you see on the trail?
In total, I saw around 20 other hikers throughout my trek. There were two or three couples and two other loan hikers who were on a similar itinerary to me. We would bump into each other at huts and occasionally on the trail. However, the majority of the time I was hiking alone.
The latest estimates suggest that only around 1,500 people make the expedition every year.
---
Enjoyed this post? pin it for later…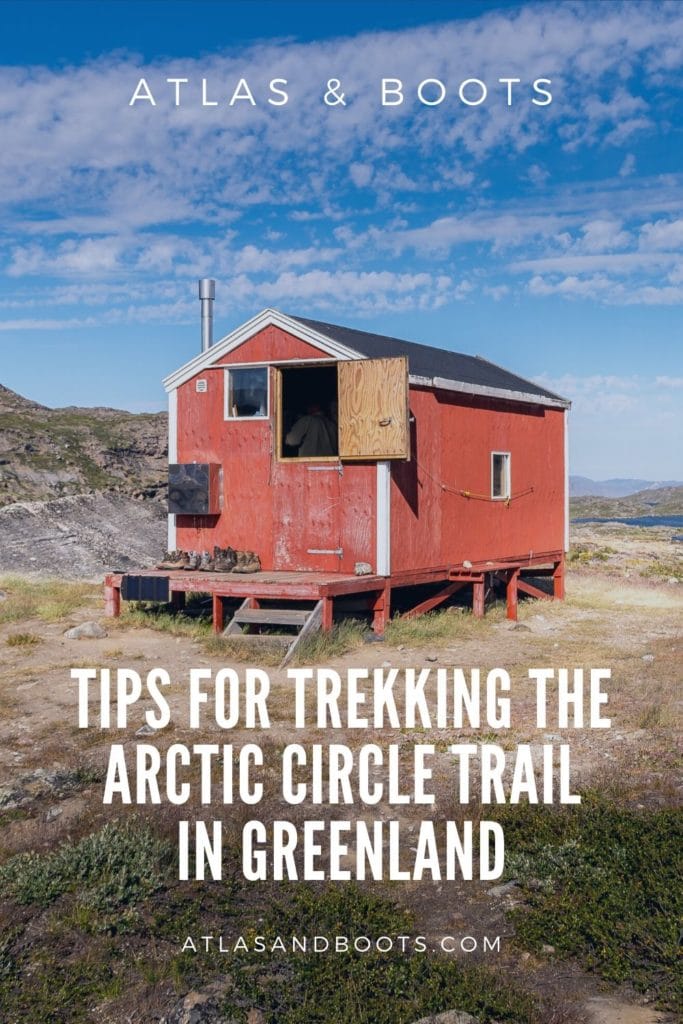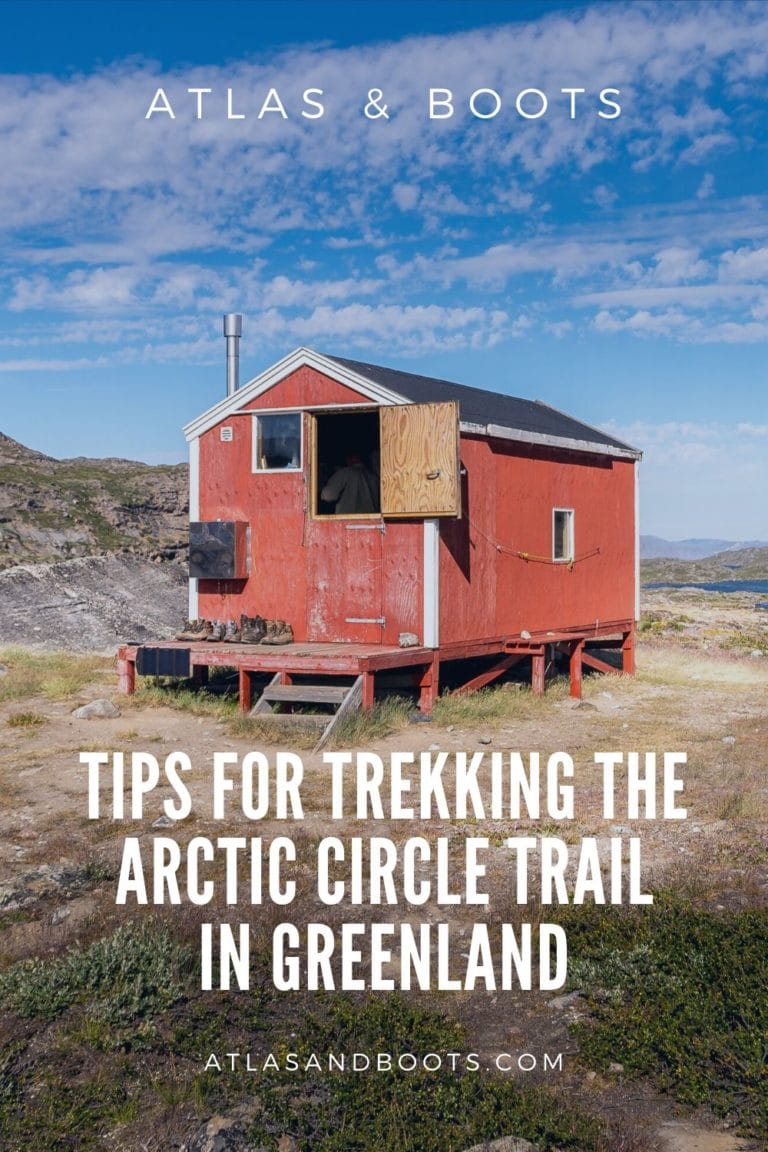 ---