Trekking the Arctic Circle Trail in Greenland has long been a dream of mine. A dream I came tantalisingly close to fulfilling but for a freak natural event
I wanted to begin this post by triumphantly announcing that I had finished trekking the Arctic Circle Trail in Greenland – but I can't, for my trek ended in bitter disappointment. It (quite literally) left a stale taste in my mouth and gave rise to a cloud of unanswerable questions; a maddening maelstrom of 'what ifs' and 'maybes' to lament and regret.
I first came across the Arctic Circle Trail while researching an article on unknown treks around the world and immediately added it to my bucket list. This summer, rather unexpectedly, events at home meant I had some free time to fill with an expedition of my choosing.
As such, I decided to trek the Arctic Circle Trail and eagerly set about preparing for a journey through Greenland's wild and remote backcountry. It proved to be a trip like no other, comprising a vast array of emotions.
Awash with ups and downs, calm and chaos, elation and dejection, here's how my long-awaited Arctic Circle Trail trek unfolded, and unravelled.
What is the Arctic Circle Trail?
The Arctic Circle Trail is a long-distance footpath in Greenland. It runs from the inland settlement of Kangerlussuaq to the town of Sisimiut on the west coast. The trail is 165km long and usually takes between seven and 10 days to complete.
Greenland is larger than Mexico and is in fact the largest island in the world. Despite its size, it has a tiny population of around 57,000 people, making it the least densely populated state in the world. Mexico in contrast is home to nearly 130 million people.
The Arctic Circle Trail traverses one of the largest ice-free areas of Greenland, which is notable given that 80% of the nation's landmass is covered in ice and largely inaccessible. With this in mind, it's worth noting that the Arctic Circle Trail does not intersect or pass close to any settlements, meaning trekkers must be entirely self-sufficient throughout.
There are eight basic huts available along the route, but most trekkers, as I did, choose to camp for much of the route as the huts are small and only available on a first-come, first-served basis. The huts and the trail are free to access and wild camping is allowed throughout Greenland.
The route crosses an area known as 'the land of a hundred lakes' replete with rugged and mountainous backcountry, steep glacial valleys and sweeping Arctic tundra. However, the total ascent/descent for the entire trek is relatively low at just 4,105m (13,465ft) over 165km of trekking.
The Arctic Circle Trail is one of the most remote hiking trails in the world with the latest estimates suggesting that only around 1,500 people make the expedition every year.
As the name suggests, the Arctic Circle Trail lies entirely within the Arctic Circle, between 40-50km to the north of the major circle of latitude at 66° 33' 39".
Trekking the Arctic Circle Trail
I have purposely omitted exact trekking times and durations in my route descriptions. As I trekked during the Arctic summer I had 24-hour sunshine, which meant I wasn't restricted by time and could walk deep into the evening if required. I intended to loosely follow the itinerary below which was outlined in my guidebook.
| Day | From/to | Distance | Ascent | Descent |
| --- | --- | --- | --- | --- |
| 1 | Kangerlussuaq to Hundesø | 20km | 505m (1,655ft) | 335m (1,100ft) |
| 2 | Hundesø to Katiffik | 20km | 470m (1,540ft) | 520m (1,705ft) |
| 3 | Katiffik to Amitsorsuaq (Canoe Centre) | 20km | 200m (665ft) | 200m (665ft) |
| 4 | Amitsorsuaq (Canoe Centre) to Ikkattooq | 22km | 650m (2,130ft) | 450m (1,475ft) |
| 5 | Ikkattooq to Eqalugaarniarfik | 11km | 330m (1,080ft) | 520m (1,705ft) |
| 6 | Eqalugaarniarfik to Innajuattoq | 19km | 680m (2,230ft) | 510m (1,675ft) |
| 7 | Innajuattoq to Nerumaq | 17km | 370m (1,215ft) | 520m (1,705ft |
| 8 | Nerumaq to Kangerluarsuk Tulleq | 17km | 300m (985ft) | 325m (1,065ft) |
| 9 | Kangerluarsuk Tulleq to Sisimiut | 20km | 700m (2,295ft) | 725m (2,380ft) |
Generally, I hiked in the mornings and took a long lunch during the hottest part of the day, before continuing in the afternoon as the weather cooled. Most days I pitched my tent by around 7pm.
Day 1: Kangerlussuaq to Hundesø
The most uninspiring day of walking is the first section from Kangerlussuaq to Hundesø. Many trekkers opt to get a taxi to the official start of the Arctic Circle Trail near Kellyville, but I doggedly stuck by my decision (even declining an offer of a ride halfway through the day) to march along the dry and dusty road that leads out of Kangerlussuaq.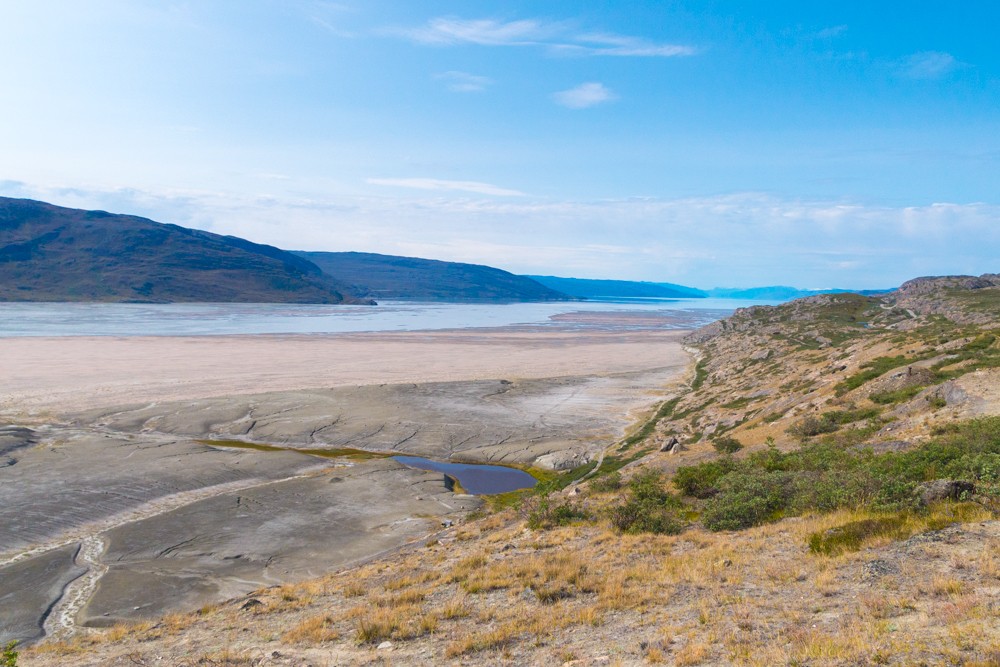 Atlas & BOots
The trail from Kangerlussuaq
The trail climbs steadily, initially running parallel to the airport runway, before rising above the Kangerlussuaq fjord. There were some pleasant views and pretty lakes to be enjoyed en route, but this was not the Greenland I'd travelled 2,000 miles to see. The day was searing hot (not what I had expected in the Arctic Circle), my pack was at its heaviest and the chalky route was barren and hard underfoot.
After around 13km of footslog, the route turned off to the right and rose into the kind of scenery trekkers come here to delight in: lush glacial lakes, boulder-strewn moraine and the expansive verdant wilderness that is hard to find at home.
The trail passes the Sondrestrom Upper Atmospheric Research Facility, more commonly referred to as Kellyville, which is a small collection of colourful prefabricated buildings and enormous radar antenna. Just a little beyond, I finally reached the first Arctic Circle Trail cairn and marker.
I followed the trail for a while, but pulled off at my first opportunity to give my feet a much-needed rest, eat some lunch and gulp down some fresh glacial lake water. This was the Greenland I was looking for.
Shortly after, I arrived at the Hundesø hut, a ragtag unofficial hut comprising a converted caravan and a couple of rundown sheds. I took a brief rest here, chatting to a hiker walking in the opposite direction, before pushing on for a couple more kilometres.
I wanted my first night on the trail to be under canvas, so I was keen to find a nice campsite for the night. I did just that and pitched my tent near the lakeshore of Limnaesø and cooked my first meal. My trek had begun in earnest. Then, despite the crisp chill of the Arctic night, I slept deeply and contentedly.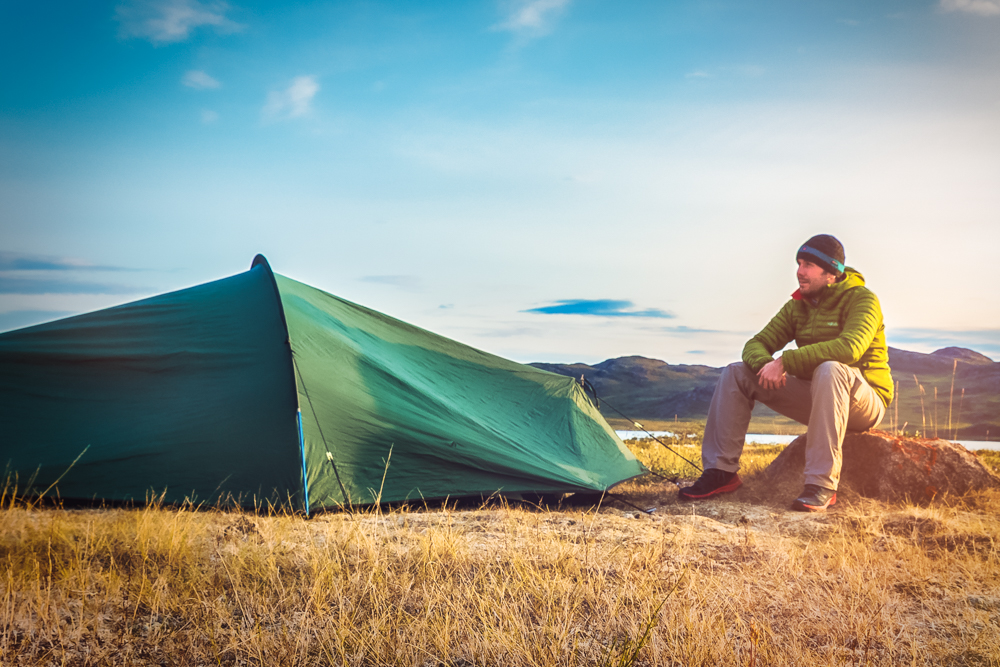 Day 2: Hundesø to Katiffik
I woke up in Greenland's deep Arctic wilderness and, invigorated by the sharp scent of meltwater that crept across the landscape, I packed up my kit and rejoined the trail. This was Greenland proper.
The day would follow an undulating course among low-lying hillocks and small lakes. It was a great opportunity to get used to identifying the narrow and often faint trail and recognising the subtle differences in terrain and cairn spotting.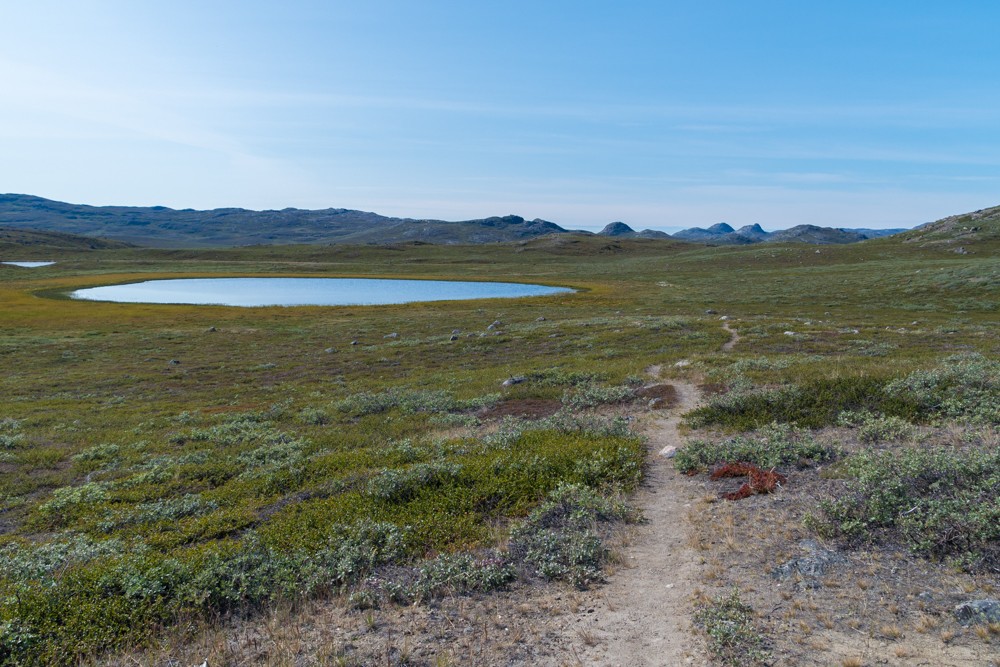 The landscape began to open up with broad valleys flanked by domed hills and immense boulder fields mossed with low shrub. By noon, the day was hot again and I was in shirtsleeves.
With my pack still heavy with food and supplies, I found myself taking more breaks than I usually would, but I didn't mind. At this point, I was in no rush to get through the route and wasn't restricted by time, thanks to the region's famed midnight sun.
By around 6pm I arrived at Katiffik hut at the head of Amitsorsuaq Lake. Here, I found a canoe (there are three or four kept along the lake which trekkers are free to use), so decided to knock a couple of kilometres off the following day's distance.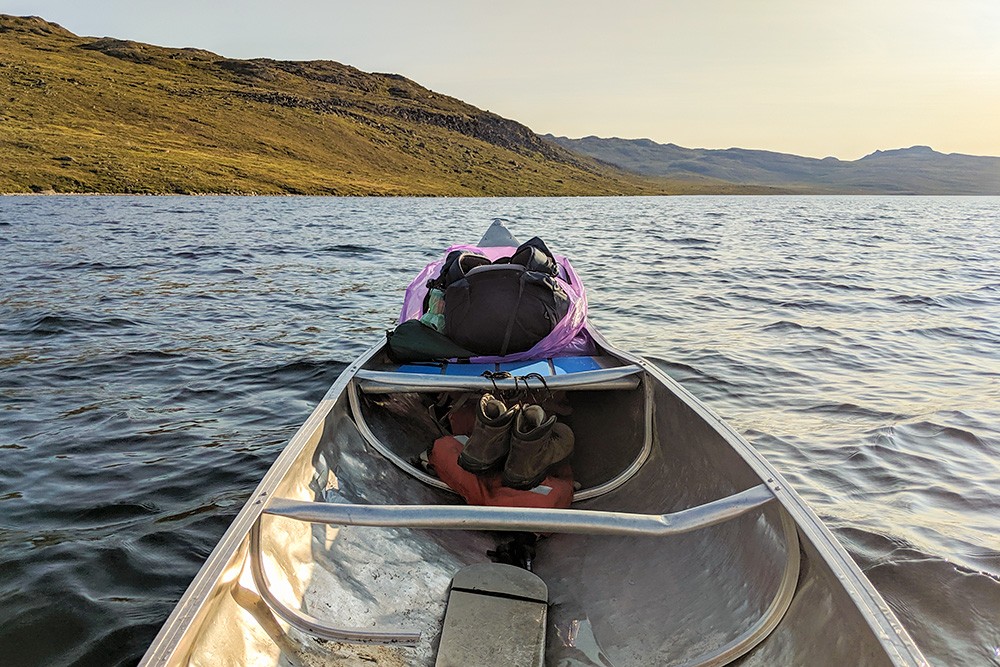 The canoes are designed for two, but I was canoeing by myself so it took me a while to get the weight distributed correctly. If you're canoeing alone, it's best to pack your gear deep into the bow of the canoe, ensuring it's securely fastened and then position yourself at the rear. This way it's easier to steer and ensures that the bow remains raised out of the water with more weight (you) at the stern.
The wind was with me, so I covered around four kilometres that night before pulling onto a sandy beach to camp for the night.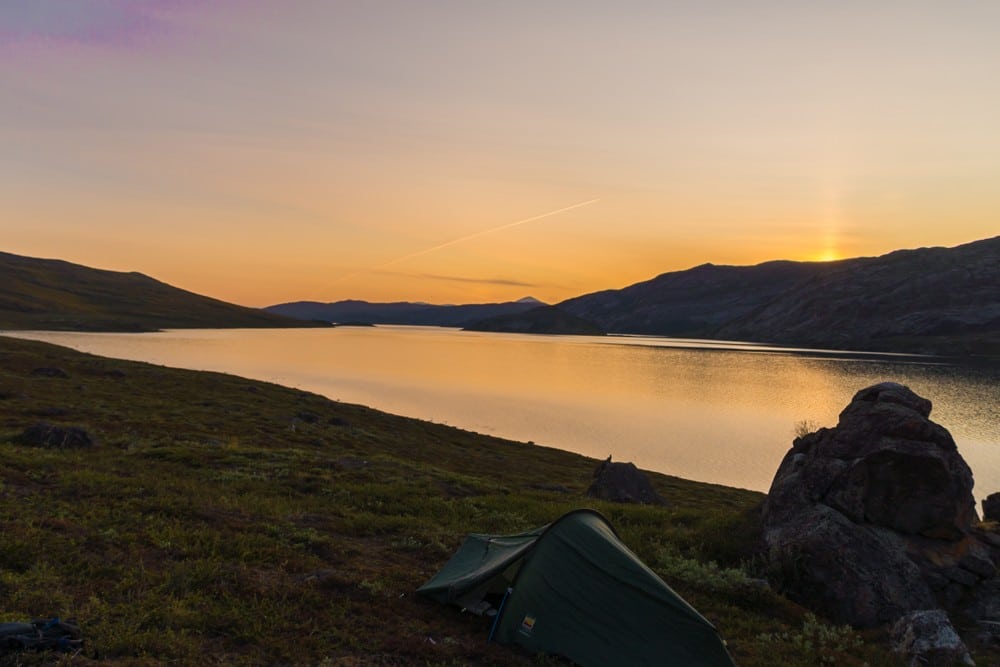 Day 3: Katiffik to Amitsorsuaq (Canoe Centre)
The following morning I met two hikers headed in the opposite direction who had been hoping to use a canoe for the trip, but didn't find one at the other end of lake. I was happy to pass off my canoe and return to the trail.
I was immediately rewarded with the first wildlife of the trip: an Arctic hare hiding in the rocks to my right. Further along, I saw the first of many reindeer I would spot along the way.
The route that day was not particularly demanding. It was largely along the lakeshore and over a level path that crossed a couple of awkward boulder fields, but nothing particularly taxing.
When I arrived at the Amitsorsuaq Canoe Centre, I took a long rest and chatted to a couple of hikers. There was another canoe available so I commandeered it and rowed the remaining four kilometres to the end of the lake where I camped for the night.
Here, the wind dropped altogether stilling the lake's surface and creating a mirror image of the surrounding hills. The only movement was a reindeer picking its way through the shrubs.
It was an idyllic end to an utterly idyllic 24 hours.
Day 4: Amitsorsuaq to Ikkattooq
The weather turned today. There would be no rain, but the clouds rolled in and a powerful wind whipped up, hurtling through the valley floors and over the lakes' now choppy planes. As I had canoed an extra four kilometres the previous day, I'd reduced my total distance for today from 22km to 18km.
I was pleased I'd done so, as the day was a challenging one. It began leisurely enough, gently dropping through a low valley near a sandy beach, before climbing sharply and steeply into a group of rugged mountains. Here the wind increased again making the going altogether irksome.
There were some fines views to be had, but if I'm honest, most of the day passed in a howl of rushing wind and onerous ascents. I was pleased to reach the Ikkattooq hut where I took all of two minutes to decide to stay there instead of trying to pitch my tent in the unrelenting wind.
The little hut consisted of one room with bunkbeds sleeping six people and a small cooking area. There were four other trekkers in there that night, all like me taking respite from the wind.
Day 5: Ikkattooq to Eqalugaarniarfik
The following morning, the wind dropped and what little cloud remained was fast burning off in the strong late-morning sun. The next hut along the trail was only 11km so I set off in good spirits knowing my lunch stop wasn't far ahead.
The trail descended rapidly into a wide, flat valley floor where the Itinneq River snakes. The river had to be forded, which meant getting my feet wet. It was mid-July so the water was just above my knees. However, in early June, during the thaw, it can be waist height. Later in the summer it may not be much above ankle-height.
From here it was a short and painless last few kilometres to the Eqalugaarniarfik hut, where I stopped for lunch and a brief nap.
Day 6: Eqalugaarniarfik to Innajuattoq
With the day still young I pushed onwards and upwards into the sprawling rocky uplands of the Iluliumanersuup Portorngu range with splendid views of rounded peaks, sheer cliffs and pristine mountain pools.
I was feeling strong so continued, hiking around 10km beyond my objective for that day. I descended from the range and camped on the shores of another beautiful lake.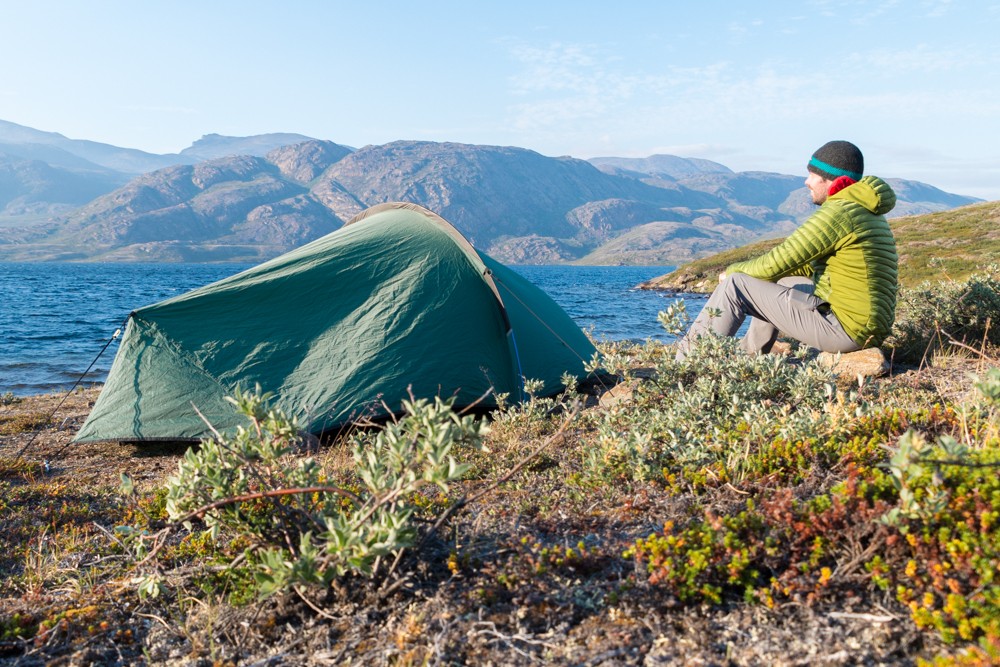 That evening I sat on the lakeshore eating my meal and looking out across the tranquil waters. With over 100km of hiking behind me and around 60km remaining I felt perfectly content and at ease with what lay ahead.
The morning's march to Innajuattoq followed a relaxed course alongside a series of interconnected lakes. The skies were clear and I made good time, arriving at Innajuattoq around midday.
Over lunch I considered pushing on 17km to the next hut, Nerumaq, along a lengthy steep-sided valley. This would put me a full day ahead of my loose itinerary, which appealed to me as I had vague plans to visit other parts of Greenland after my trek. My decision made, I organised my ever-lightening backpack and headed out onto the trail again.
Day 7: Innajuattoq to Nerumaq
The first part of the afternoon was serene. The views across the lake I followed were breathtaking. The trail was clear and easy to follow which made for an utterly enjoyable afternoon of trekking.
After around nine kilometres I met two hikers walking in the opposite direction. We chatted for a while before they mentioned a small peat fire that they'd seen near Nerumaq hut.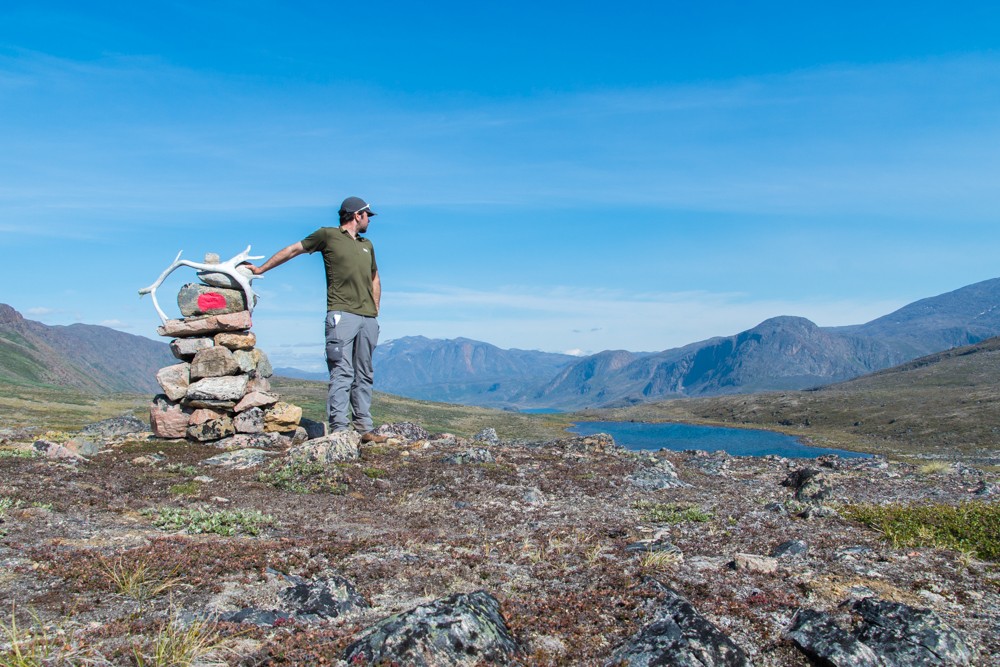 "It's nothing to worry about," they told me. "It just rather spoils the view."
Unworried, we said our goodbyes and continued on our respective ways. After another hour of walking, I spotted the first signs of the peat fire they'd referred to. It was little more than a small haze creeping slowly into the valley ahead. I was unconcerned and continued on my way – a position reinforced by the fact that I didn't even take the trouble to photograph the scene ahead. Like the other hikers, I merely saw it as somewhat spoiling the pleasant view ahead of me.
Things take a turn for the worse
Just before the Nerumaq hut, the valley and trail swings abruptly to the right – towards the source of the smoke. As I approached this turn, the smoke thickened. Here, I met another hiker who I'll call Max as I didn't ask permission to use his name. I had met him at some of the previous huts and he had been ahead of me on the trail. He had been in the vicinity for around an hour and was visibly agitated.
Max informed me the hut could no longer be seen due to the dense smoke and the area we were in was also quickly filling with fumes. We retreated somewhat and decided to camp some distance back from the area and see if we could continue in the morning.
Our plan didn't last long. It quickly became clear that we couldn't remain in the valley. Dense grey smoke enveloped us and we had to make a decision fast. At this point we still fully intended to complete the trek so decided to climb out of the valley onto a ridge above. This would give us the option of either returning to our current position and rejoining the trail if the fire burned out or dropping down the other side of the ridge into an adjacent valley and rejoining the trail further along.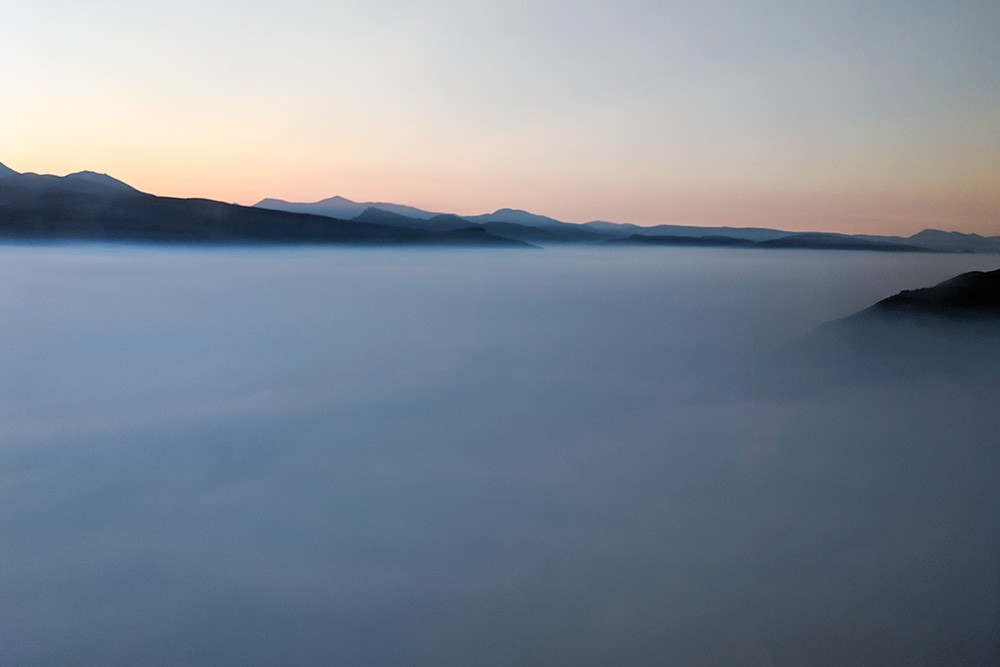 As we struggled up the steep valley side and looked back we knew we'd made the right decision. We could no longer see the river and valley floor we'd just climbed out of. Instead, there was an impenetrable bank of silvery smoke. We continued to climb until we reached a wide plateau, which we crossed to see into the adjacent valley – our intended route back to the trail.
Our hearts sank when we reached the edge of the plateau. The valley below was worse than the one we'd just climbed out of. We were now trapped on three sides by either the fire or thick smoke. On the fourth side, to our rear, was a bank of tall mountains that we weren't prepared to scale. It dawned on me that it was no longer a matter of how to complete the trek, but of how to escape safely.
We considered our options. Max had a satellite phone so we knew we could hit the SOS button and request an emergency response if we needed to. We were reluctant to do this, so decided to wait and see if the situation improved. We agreed that if in an hour things didn't get better, we would make the call.
Within 15 minutes, the smoke around us became so thick that we both started to cough. Our hand was forced and so we hit the button and requested an emergency response.
Within an hour we were collected from the plateau by an emergency response helicopter from Kangerlussuaq. Within three hours we were back in Kangerlussuaq, pitching our tents at the small campsite there in the early hours of the stark Arctic morning. I was back where I had begun my trek seven days earlier. It was a forlorn and abrupt conclusion to a trip I'd so eagerly anticipated.
Hindsight is a wonderful thing
The fire burned for weeks, making the news across many outlets as fires broke out across the Arctic regions during a summer of unprecedented temperatures in the Arctic. I spent two weeks in Greenland this summer and didn't see rain until the day I departed.
A large section of the Arctic Circle Trail was rerouted with hikers encouraged to take a more southerly course instead. Since our evacuation, there have been multiple reports of trekkers being evacuated and more fires breaking out in the region.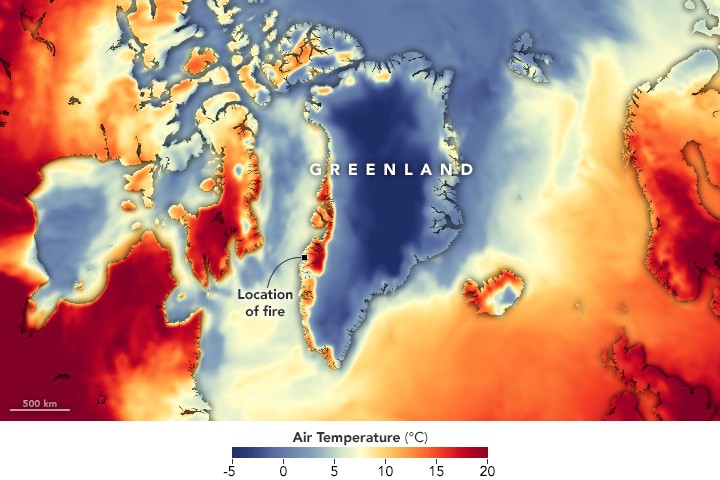 The local police chief who debriefed us assured us that we had made the right decision in requesting rescue. It was little consolation. I was bitterly disappointed. I climb enough mountains to know that this sort of thing is always a possibility. However, of all the scenarios I'd prepared and packed for, wildfire was not one of them.
I was totally dejected. I couldn't help hypothesising about all the things I could have done differently that may have put me somewhere else along the trail that day. A couple of hours ahead or a couple of hours behind may have made the difference.
If I had taken the canoe the full length of the lake that evening I may have been further ahead. Or if I'd not taken it at all, I would certainly have been further back. There are several alternative scenarios: what ifs that may have made a difference.
In the end it's a fruitless equation. Trekking the Arctic Circle Trail had long been a dream of mine. A dream I came tantalisingly close to fulfilling, but for a freak natural event. I say freak, but it is deeply disturbing that wildfires such as this appear to be becoming the norm due to climate change.
I must be thankful that I am alive and well to tell the tale, grateful to Max for his support and deeply indebted to the Greenland rescue services for their excellence, professionalism and reassurance throughout.
Trekking the Arctic Circle Trail remains an ambition of mine. The trail is wild, challenging and profoundly beautiful. Sadly for me, it is also elusive and remains as it was: a dream.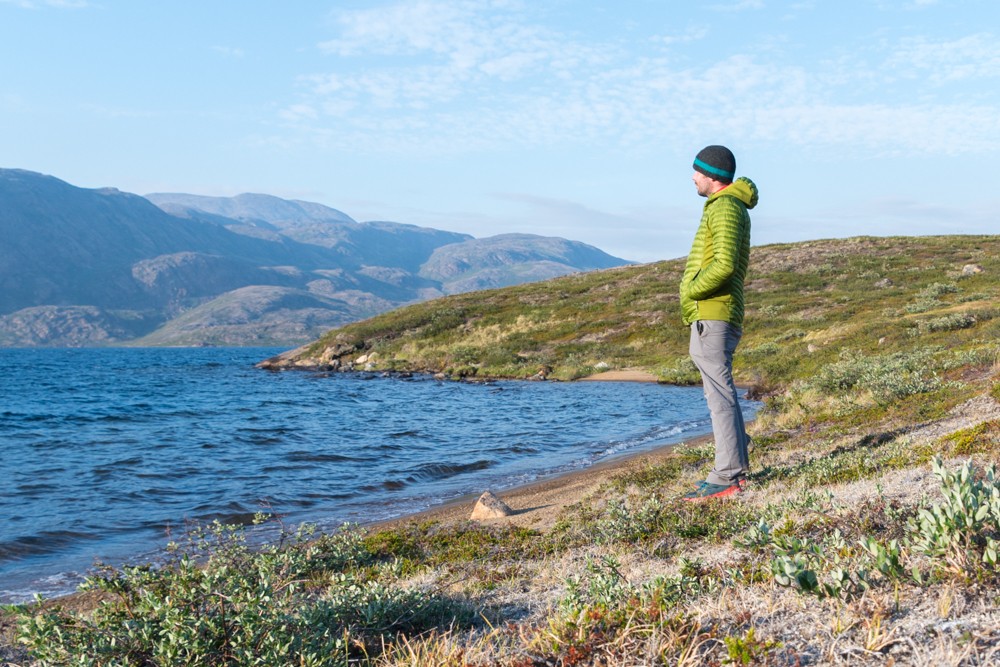 Trekking the Arctic Circle Trail: the essentials
What: Trekking the Arctic Circle Trail in Greenland.
Where: There are eight huts available on the Arctic Circle Trail, varying in size and amenities. They can sleep anything from six to 22 people, although more could squeeze in if necessary. Some have bunk beds with mattresses; others have little more than a wooden sleeping platform.
Several of the huts have basic 'bag' toilets, which rely on trekkers to empty them when necessary. None of the huts are staffed. Most people travel, as I did, with a tent so they can camp en route. Wild camping is free and unrestricted throughout the trek.
In Kangerlussuaq, I stayed at the basic but clean Polar Lodge (DKK795 / $120 USD) when I arrived and camped at the nearby campsite for DKK60 ($9 USD) during my second visit. In Sisimiut there is a wider range of hotels available.
When: The best time for trekking the Arctic Circle Trail is from June to August when the weather is at its best and the days are longest (never-ending at times). August and September see the temperatures drop and overnight snow arrive.
The trail is likely to be frozen and covered in snow for the rest of the year although some hardy trekkers still make the pilgrimage in snowshoes and starkly different conditions. Regardless of the time of year, trekkers must be prepared for all types of weather.
How: Most trekkers begin their Arctic Circle Trek at Kangerlussuaq, although it is possible to get a taxi to the official start of the trail near Kellyville. Some choose to begin their trek at either the icecap at Point 660 or Russell Glacier adding up to 37km of walking. I completed this as an overnight hike afterwards upon my return to Kangerlussuaq – read my trip report on visiting Point 660 & Russel Glacier for more information.
Trekkers have to be entirely self-sufficient on the Arctic Circle Trail meaning they must carry all their food, supplies and sleeping gear. Read my Arctic Circle Trail packing list and tips for trekking Arctic Circle Trail for more information.
It's essential that trekkers follow the Leave No Trace code of conduct. Take all waste and litter with you for the duration of your trek and bury any human waste.
I flew to Kangerlussuaq from London via Copenhagen in Denmark. Air Greenland essentially has a monopoly on domestic flights. There are two flights a day between Sisimiut and Kangerlussuaq. Book via Skyscanner.
---
Enjoyed this post? pin it for later…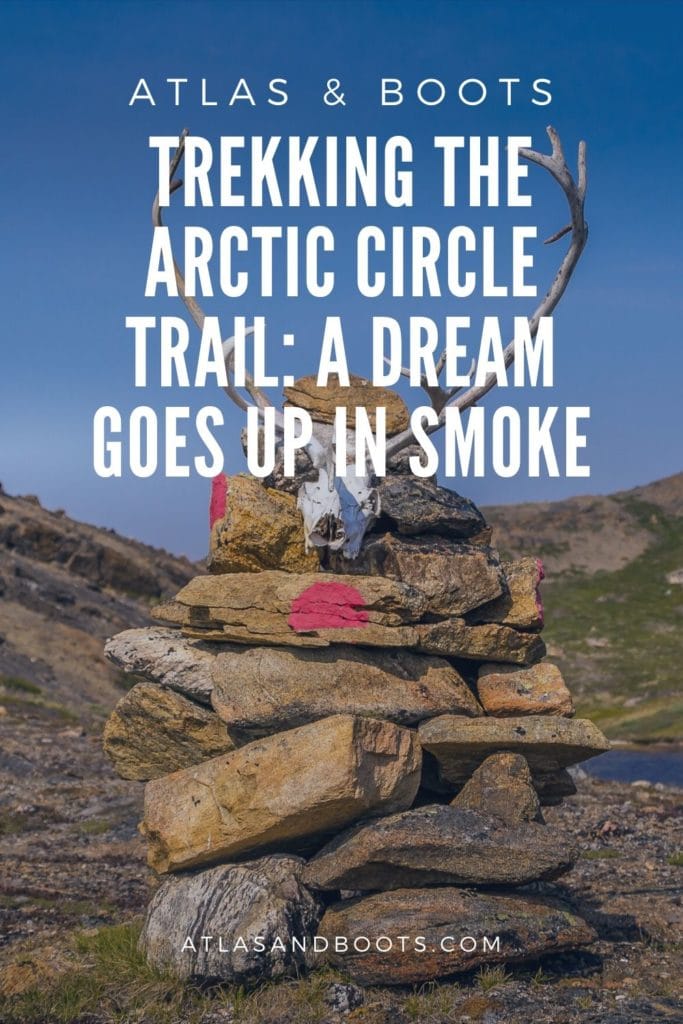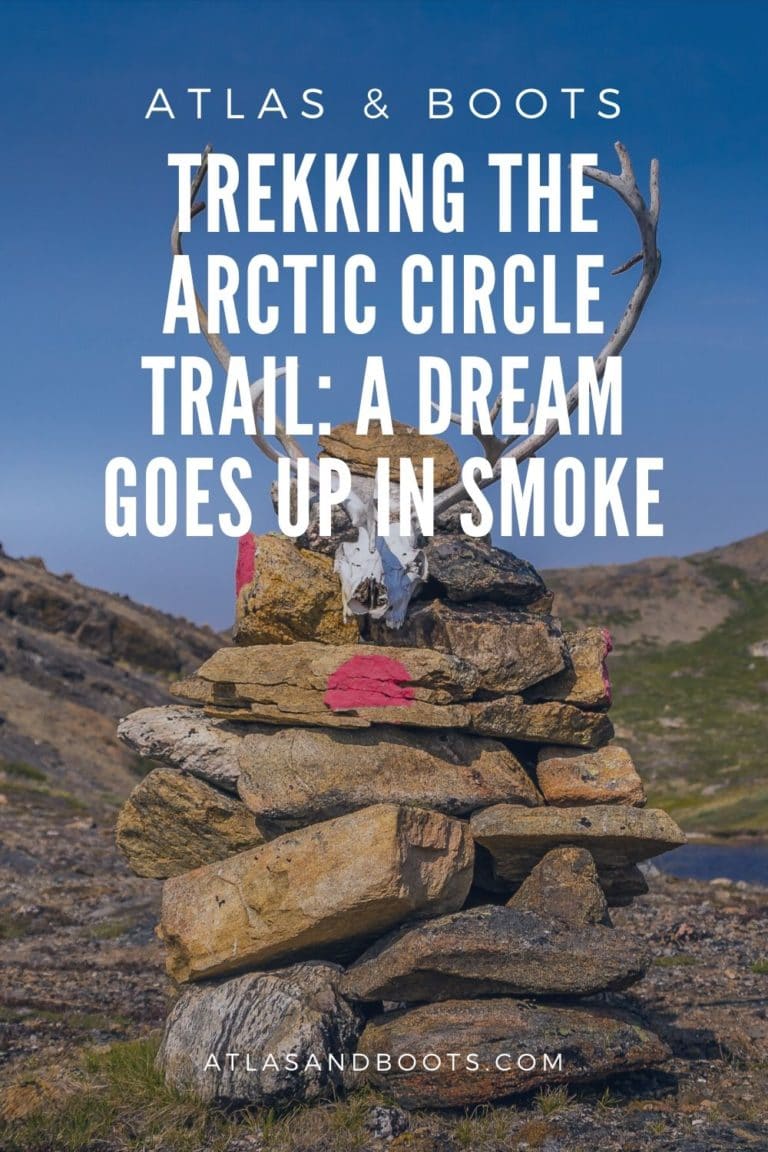 ---
If you're planning on trekking the Arctic Circle Trail then the Cicerone Guide to Trekking in Greenland is the ideal companion.