From remote corners of Bhutan to the lofty heights of Nepal, we profile some of the best unknown treks in Asia
When it comes to exploration, 'too late for the seas, too soon for the stars' may best describe our current times. Legendary explorers like Drake and Magellan charted the seas long ago while Scott, Shackleton, Amundsen and their like did the same for remote lands.
There's a sense that our planet has been entirely measured and mapped; tamed, some might say. Even Everest – one of the most inhospitable places on Earth – has queues on its slopes.
This is why I was thrilled last year to join a trek to K2 base camp including a crossing of Gondogoro La pass. In comparison to my earlier trip to Everest base camp, K2 felt far more remote.
It left me craving for a taste of true seclusion. I've spent much of lockdown planning and scheming my next big treks in the Karakoram and Himalaya. Below, I share 10 largely unknown treks in Asia that I've added to my wishlist.
Unknown treks in Asia
The Great Himalaya Trail (GHT) offers some of the best scenery in Asia. It denotes a network of trails, but the true trail itself crosses the Himalaya along the highest trekkable passes. The first five treks below cover sections of the GHT that pass through Nepal. Subsequent trails follow routes through Bhutan, India and Pakistan.
As with any truly remote corner of the world, these regions have little infrastructure, so all of these unknown treks in Asia are camping-style expeditions.
1. Kanchenjunga Base Camp to Makalu Base Camp
Location: Nepal
Duration: 42 days
Max elevation: 5,160m
Mount Kanchenjunga (8,586m) is the third highest mountain in the world after Everest and K2. It is the most easterly of the 14 eight-thousanders and lies on the Nepal-India border.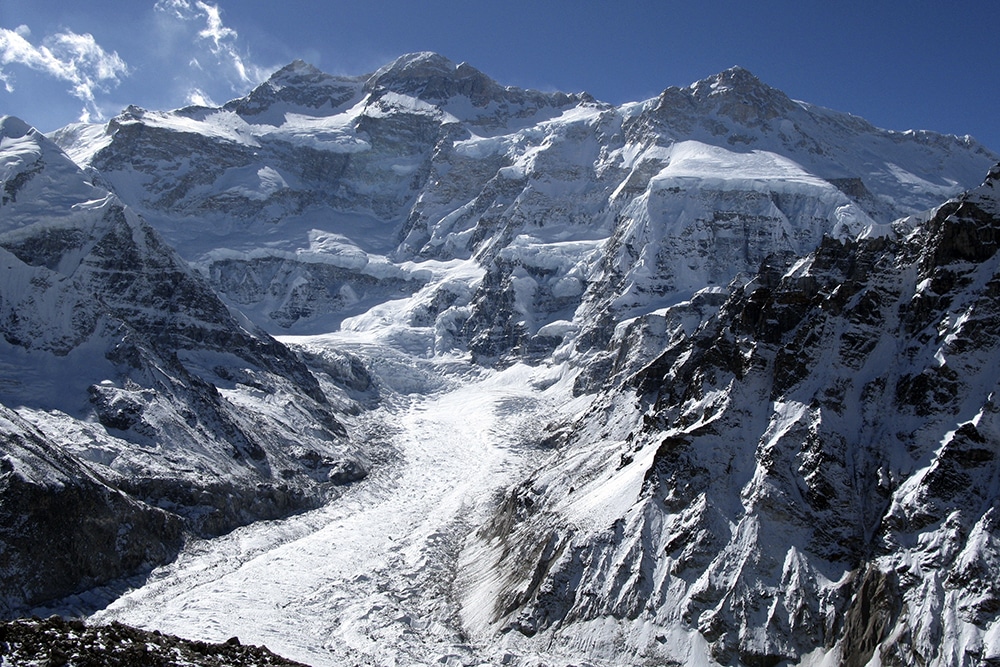 This challenging trek begins with the Kanchenjunga Base Camp route, offering views of the vast north face of the mountain. It crosses the high passes of Nango La (4,820m) and Lumba Sumba (5,160m) and winds through remote landscapes on the Nepal-Tibet border.
Expect hypnotic views of Kanchenjunga and Jannu to the east and Makalu to the west, as well as sweeping valleys, dramatic gorges and even stretches of dense forest.
It's worth noting that the GHT is not signposted or waymarked and the section from Kanchenjunga to Makalu has particularly tricky route finding, which is why it's important to visit with a specialist operator. The Mountain Company, founded by Everest summiteer Roland Hunter, is experienced in the area.
Find out more: Kanchenjunga Base Camp to Makalu Base Camp
2. Makalu to Everest
Location: Nepal
Duration: 28 days
Max elevation: 6,143m
Makalu to Everest follows Section 2 of the GHT and is the most difficult section in Nepal. To join this trek, you will need prior experience of high-altitude trekking and some mountaineering skills as you will be climbing on fixed ropes over high passes and using group rope travel on glaciers. There is also some walking on loose moraine following an indistinct trail.
With that said, the challenges are commensurate to the rewards. The route crosses three passes – Sherpani, West Col and Amphu Laptsa – and offers extraordinary views of Makalu, Everest, Lhotse and Chamlang. When it comes to unknown treks in Asia, this is one of the finest.
Find out more: Makalu to Everest
3. Naar to Upper Mustang
Location: Nepal
Duration: 24 days
Max elevation: 5,595m
The Naar to Upper Mustang trek splits off the Annapurna Circuit at Chame/Koto and follows a much quieter trail to the remote valleys of Naar and Phu where trekkers can get a glimpse of timeless Tibetan culture.
The trail continues up the Lapse Khola river, then across the Teri La pass at a height of 5,595m. The descent here is steep and anyone joining must be confident walking on loose, rocky terrain without a defined trail.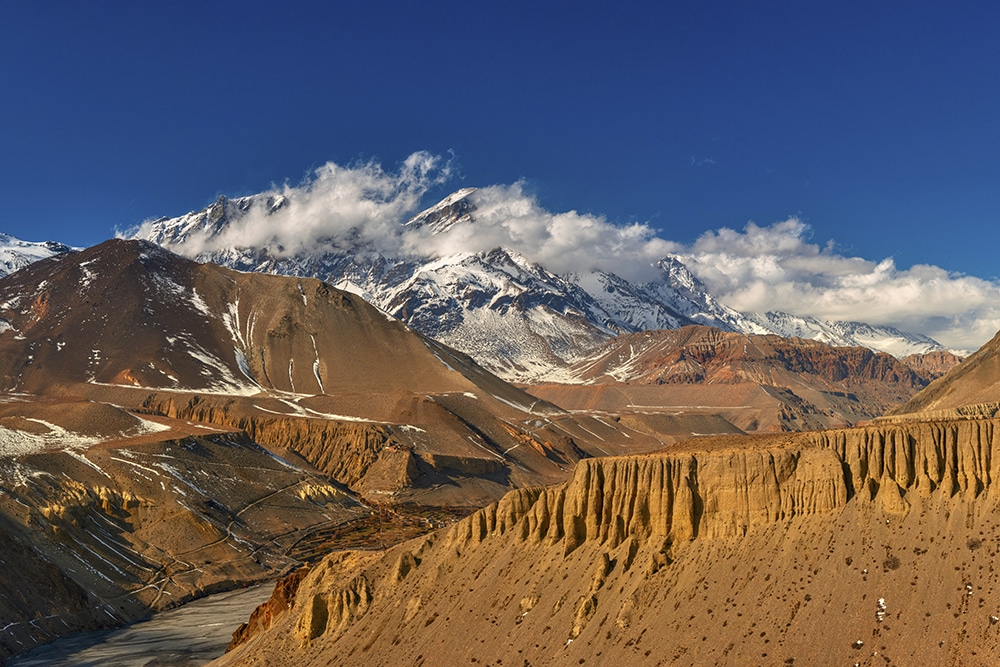 The route soon enters the Upper Mustang, an arid landscape of colourful rock formations, serpentine ridgelines and cave dwellings carved into dramatic cliffs.
Though challenging, the route offers spectacular views of the Annapurnas, Chulus, Himlung and Kang Guru. If the weather is clear, you may even see Mount Manaslu at 8,156m.
Find out more: Naar to Upper Mustang
4. Upper Dolpo to Jomsom
Location: Nepal
Duration: 30 days
Max elevation: 5,515m
The Upper Dolpo trek winds through an isolated region of mid-west Nepal and takes in the remote Dolpo villages of Shimen, Tinje and Chharka. The region is home to a number of Bönpo (pre-Buddhist) monasteries including Shey Gompa, considered the spiritual heart of the Upper Dolpo area.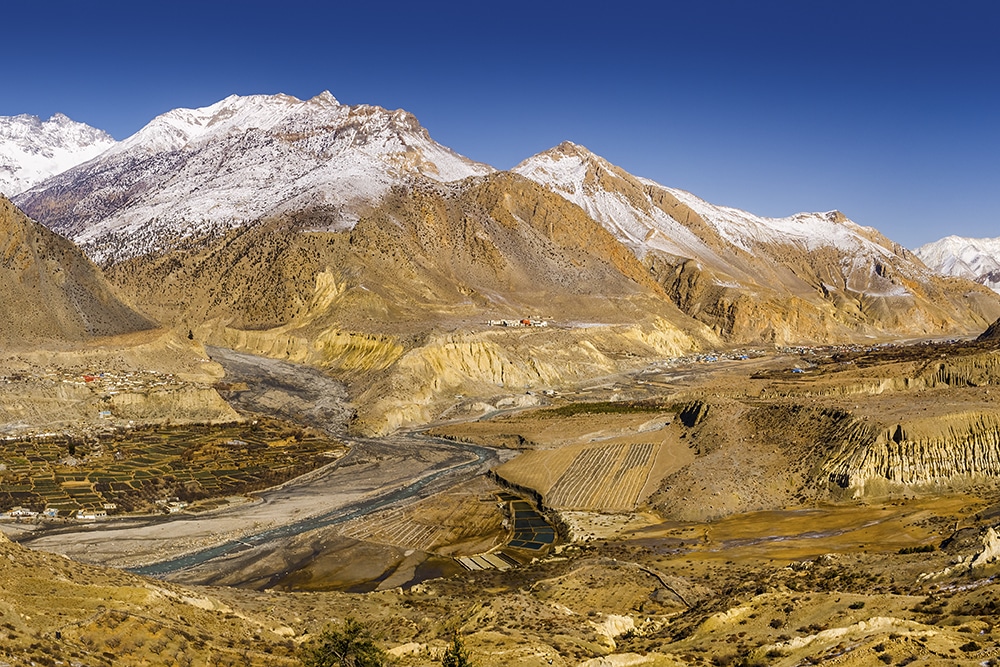 The trek crosses a number of high passes out to Lower Mustang in Kali Gandaki valley and finishes at the town of Jomsom on the Annapurna Circuit.
Trekkers have to negotiate narrow cliff trails and scree slopes with switchbacks, but are rewarded with extraordinary views of Phoksundo Lake and Kanjiroba Himal at 6,612m as well as a rich variety of wildlife including blue sheep, musk deer and Himalayan fox. Snow leopard sightings are rare but not unheard of.
Find out more: Upper Dolpo to Jomsom
5. Far West Nepal & Limi Valley
Location: Nepal
Duration: 29 days
Max elevation: 4,380m
If it's true trailblazing you're after, then opt for the Far West Nepal & Limi Valley trek, covering the final section of the GHT through west Nepal to the border with Tibet.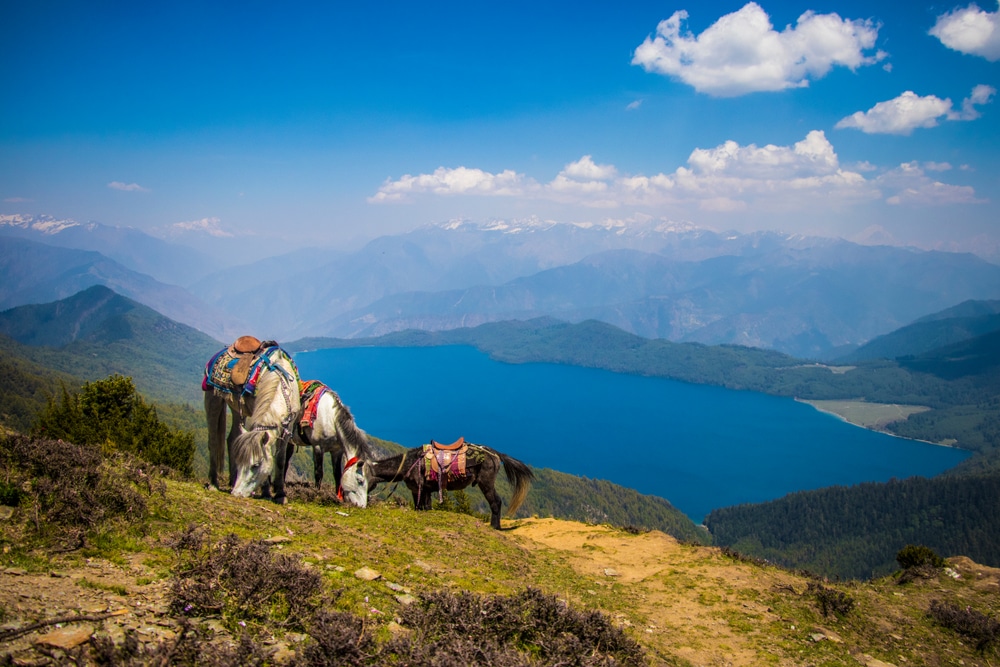 The route is currently being recce'd by The Mountain Company and is likely to be completed in April 2021.
Commercial operators seldom venture this far so trekkers will enjoy a truly unique view of the glorious Himalaya.
Find out more: Far West Nepal & Limi Valley
6. Lunana Snowman
Location: Bhutan
Duration: 34 days
Max elevation: 5,250m
The Lunana Snowman in Bhutan, also known as the Snowman trek, is considered one of the hardest treks in the world. Given that it crosses eight passes over 4,000m and three over 5,000m over the course of 28 days, it's easy to see why.
The Mountain Company
Scenes from the Lunana Snowman trek in Bhutan
Trekkers will have a chance to visit the iconic Taktsang monastery (known as the Tiger's Nest) before starting the trek in earnest. The spectacular scenery includes views of the 7,000m peaks of Chomolhari and Gangkar Punsum and the slightly smaller Jitchu Drake as well as glittering lakes and traditional Bhutanese villages.
Would-be explorers will be heartened to learn that there are several peaks along the Bhutan-Tibet border that are yet unnamed and unmapped. If it's seclusion you're after, then there are few better options than trekking in Bhutan.
Find out more: Lunana Snowman
7. Dagana & Lawagu Pass
Location: Bhutan
Duration: 13 days
Max elevation: 4,427m
The Dagana and Lawagu Pass trek explores the hidden valley of Dagana in south Bhutan and is offered as a shorter alternative to the Lunana Snowman above.
As with the Snowman, trekkers will have a chance to visit Taktsang monastery before embarking on the trail itself.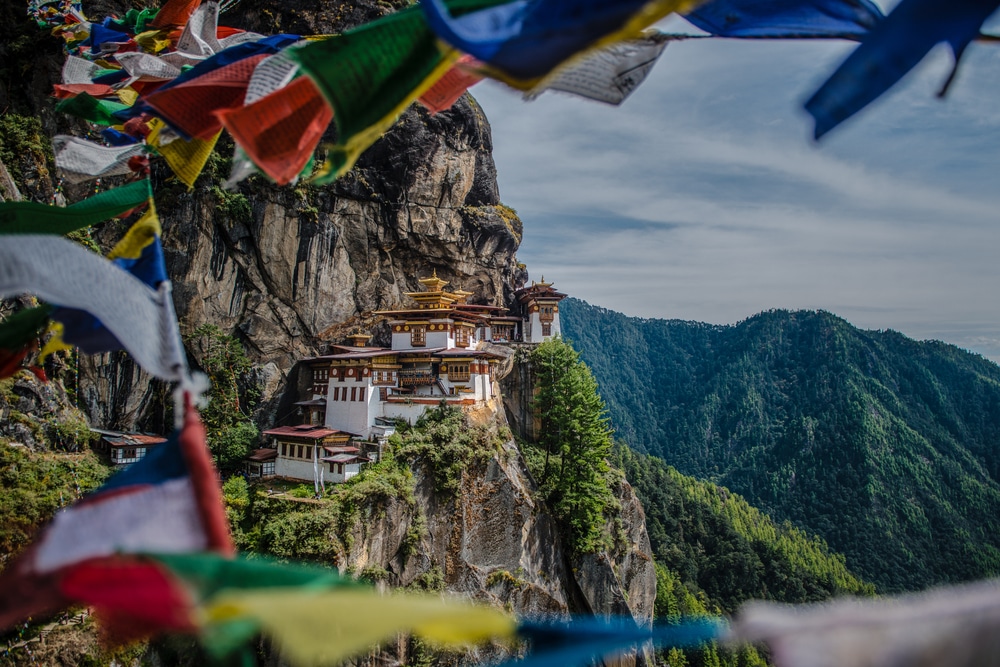 The route crosses the passes of Lari Gang (4,267m) and Lawagu (4,427m) with views of Kangchenjunga, Chomolhari and Jitchu Drake on offer.
Along the way, trekkers will pass through deep forest, open rolling hills, traditional villages and 300-year-old monasteries including the impressive Dagana Dzong.
Find out more: Dagana & Lawagu Pass
8. Haa Valley Pilgrims
Location: Bhutan
Duration: 12 days
Max elevation: 4,189m
Bhutan's Haa Valley remains one of the least visited areas in the country. The Haa Valley Pilgrims trek follows a trail used by Buddhist pilgrims up to the sacred lake at Nub Tshona Patta. The route crosses several high passes and offers spectacular views of Chomolhari, Jitchu Drake and Kanchenjunga.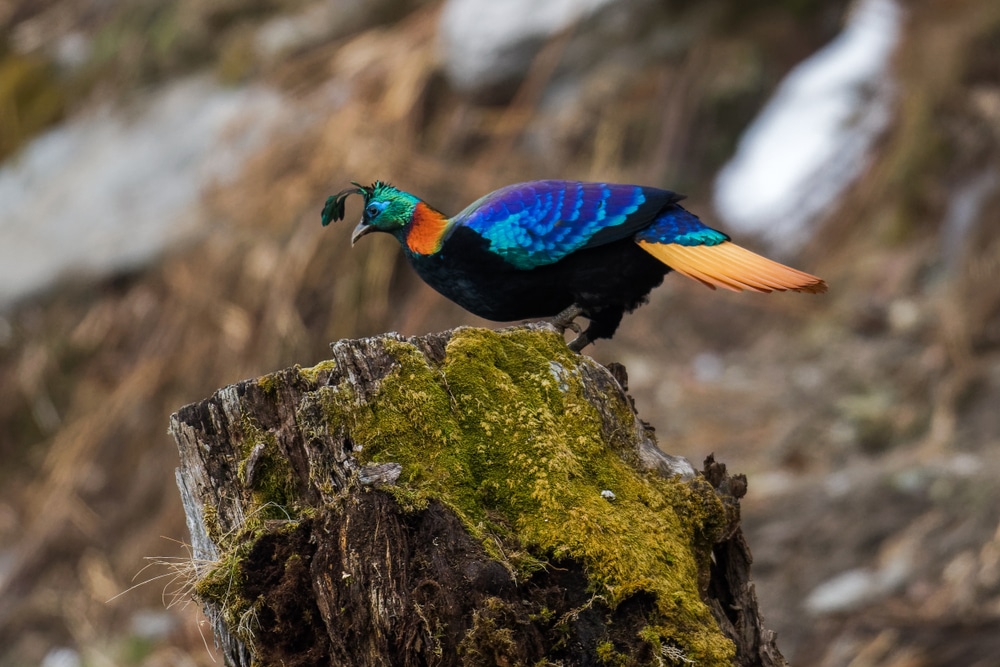 Trekkers will visit Taktsang monastery as well as Lhakhang Karpo (black temple) and Lhakhang Nagpo (white temple), two of the 108 monasteries reportedly built in one day in the 7th Century by Tibetan king Songtsen Gampo.
Expect pristine alpine forests, flowering meadows and a range of wildlife including blue sheep, herds of yaks and the colourful Himalayan Monal pheasant.
Find out more: Haa Valley Pilgrims
9. Ladakh Sky Trail GHT
Location: India
Duration: 27 days
Max elevation: 5,380m
The Ladakh Sky Trail GHT is a unique route through a remote region of northern India. Over the course of three weeks, trekkers will travel through Ladakh, Zanskar and Changthang, crossing six mountain passes over 5,000m.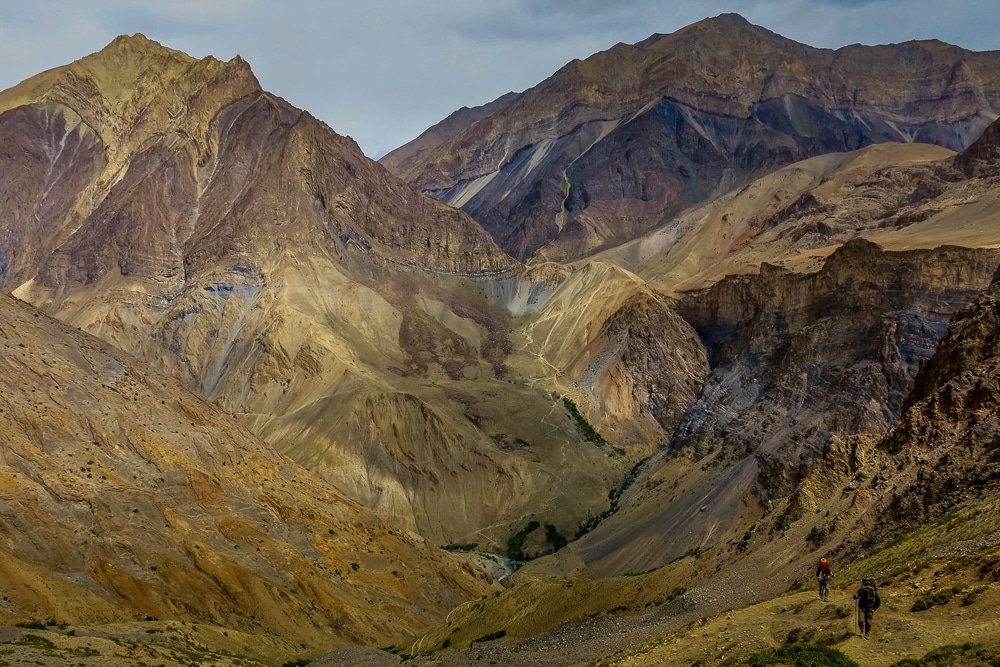 The route follows ancient footpaths from the Lamayuru monastery into the Zanskar valley to the blue lake of Tso Moriri on the Changthang plateau at 4,500m.
Along the way, trekkers will pause at Tsharlow where rock strata are set like waves in the hillsides, formed by millenia of geological processes. The area is also an important wildlife sanctuary, home to snow leopards, wolves, blue sheep, marmots and various species of birds including the black necked crane.
Find out more: Ladakh Sky Trail GHT
10. Snow Lake & Hispar La
Location: Pakistan
Duration: 22 days
Max elevation: 5,151m
Pakistan's Snow Lake is a 16km wide high-altitude glacial basin located at the head of the Biafo and Hispar glaciers. The glaciers meet at Hispar La (5,151m), connecting two ancient mountain kingdoms: Hunza in the west and Baltistan in the east.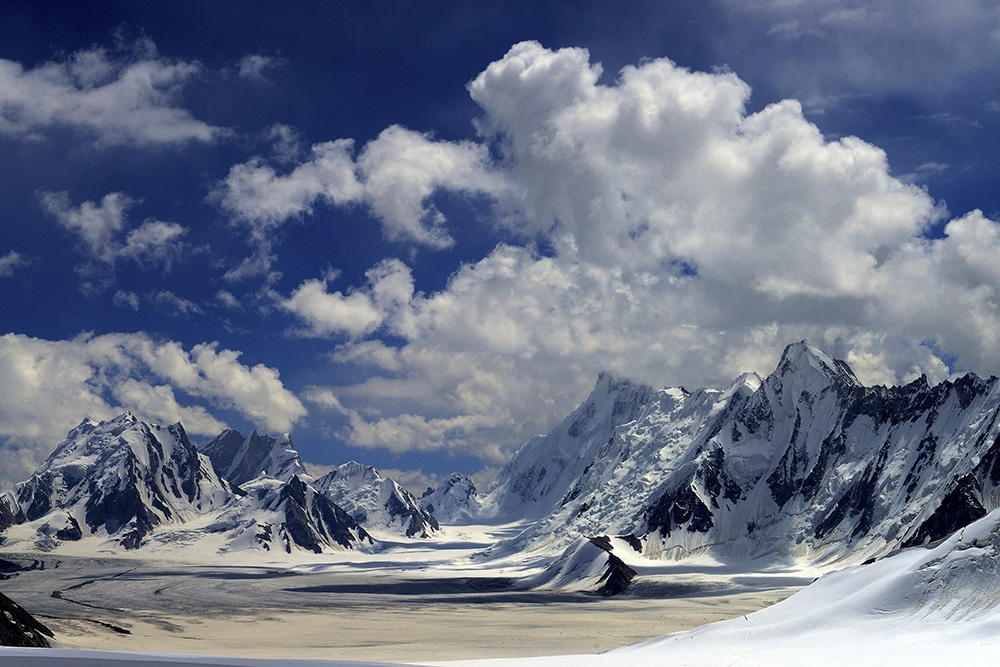 Trekkers will navigate a network of crevasses en route to Hispar La beneath the towering 7,000m peaks of the Karakoram including Kanjut Sar, Distaghil Sar and Baintha Brakk/The Ogre (7,285m), first climbed in 1977 by Doug Scott and Chris Bonington. The story of their dramatic descent is well worth a read.
This remote region serves as a stronghold for a number of animals including the Himalayan bear, ibex, markhor and the elusive snow leopard. In fact, the area is so remote that the mountaineer Eric Shipton described it as 'the last blank on the map'.
It is, I dare say, the perfect trek for explorers who were born too late for the seas and a little too soon for the stars.
Find out more: Snow Lake & Hispar La
---
Enjoyed this post? pin it for later…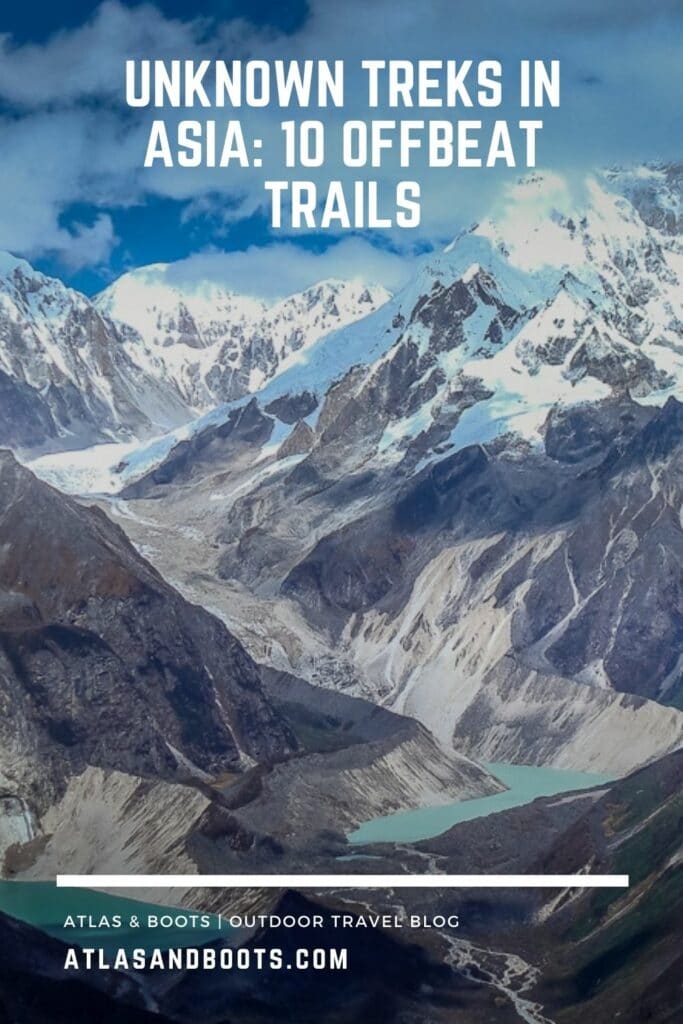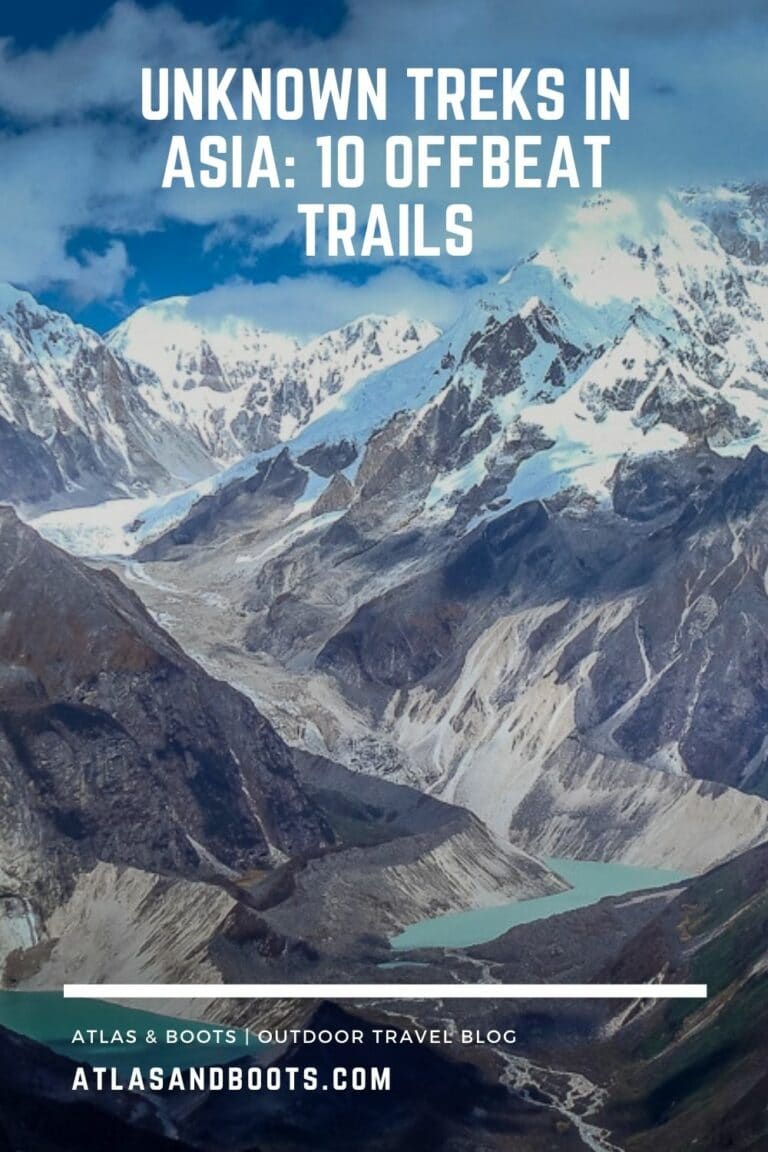 ---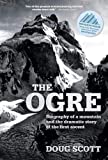 On 13 July 1977, having become the first climbers to reach the summit of the Ogre, Doug Scott and Chris Bonington began their long descent. In the minutes that followed, their achievement would be overwhelmed by a desperate fight for survival. The Ogre: Biography of a Mountain and the Dramatic Story of the First Ascent tells their story.
Lead image: The Mountain Company