From a ship scuttled in World War II to a fiercely guarded secret spot, we share the best dive sites in Aruba as chosen by local divemasters
When it comes to choosing dive sites, we are yet to find a perfect solution. Official rating apps are often skewed towards popular spots, meaning that a mediocre dive site with lots of visitors will trump a less-visited but better site based on the weighting system.
As such, in planning the shore excursions on our 11-day cruise from Charleston, we took pains to pinpoint the best dive sites in Aruba and our following stops. We asked local divemasters for their recommendations and drew up a shortlist of five.
We had only a day in Aruba so didn't get to all five sites, but in the spirit of sharing, we list them below for fellow divers.
Antilla Wreck
Type: Shipwreck
Depth: 18m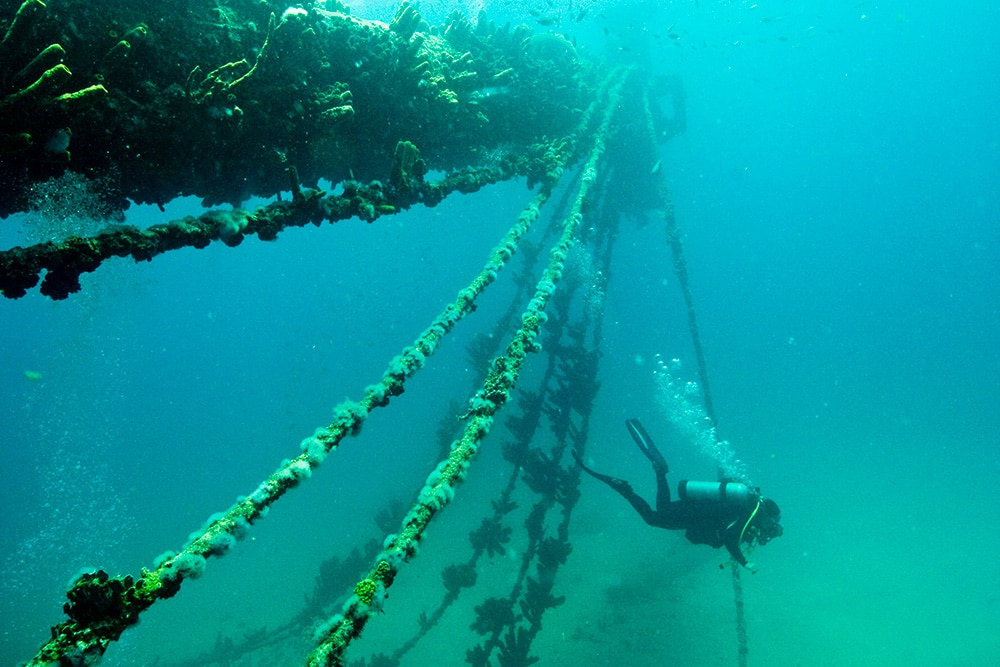 The SS Antilla was a German cargo ship launched in 1939 and scuttled in 1940 when the Germans invaded the Netherlands during World War II. The Dutch government ordered the seizure of all German ships in the Dutch Antilles, prompting the crew to deliberately sink it.
At 120m long, the Antilla is one of the largest wrecks in the Caribbean. It lies on its port side in 18m of water and is popular with not just divers but snorkellers too. Divers have the advantage, of course, as they are able to swim through the large compartments of the vessel.
As they will witness, the Antilla teems with life. Corals and tube sponges have colonised the wreck, attracting lobsters, hawksbill sea turtles and myriad species of fish including moray eels and blue tang.
Jane Sea
Type: Shipwreck
Depth: 24m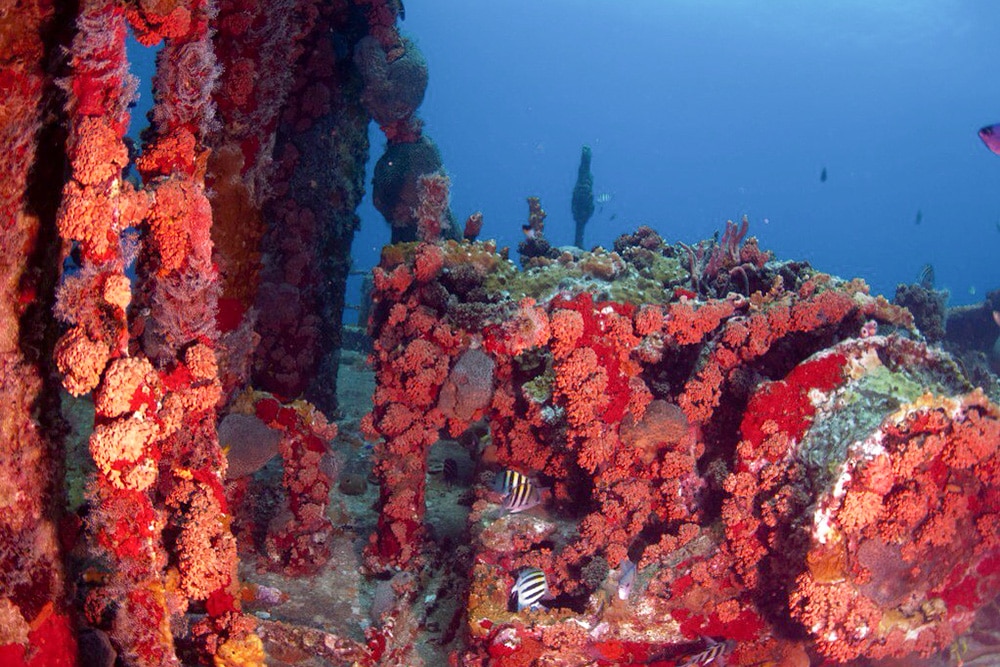 Legend has it that the Jane Sea was seized by authorities after being used to transport cocaine between Venezuela and Aruba. The truth, it seems, is more prosaic. According to the archives of the Aruba Ports Authority, the Jane Sea (also known as Jane C) was a cement freighter placed under embargo after it suffered engine trouble at Barcadera Harbor and its owners failed to pay the harbour fees. When attempts to auction the vessel failed, it was scuttled just south of Barcadera Harbor to form an artificial reef.
Today, it offers one of the best dives in Aruba. The 75m vessel lies upright with its bow at 20m and stern at 28m. The large cargo space offers great penetration but do get a briefing from your divemaster beforehand as some walls have collapsed recently.
If you're lucky, you may spot a great barracuda close to the stern. Other marine life includes moray eels, silversides, coral crabs and trumpetfish as well as hawksbill turtles and sometimes a cobia or spotted eagle ray.
Sonesta Airplanes
Type: Airplane wreck
Depth: 18m
The Sonesta Airplanes with S.E. Aruba Fly N Dive was one of the best dives we've ever done. The two planes, a Convair 240 (or a DC-3; it's debatable) and a YS-11, lie off the coast of Aruba and were intentionally sunk to create an artificial reef for divers.
The Convair is cut in two with several smaller pieces of wreckage scattered around the sandy bottom of Sonesta reef. This in itself is an impressive site but it's the YS-11 that really took our breath away. This old passenger plane still has an intact fuselage through which we were allowed to dive.
Swimming through the chamber with its sharp carpet of barnacles and eerie underwater light was possibly the best moment of our entire Caribbean cruise.
Pedernales Wreck
Type: Shipwreck
Depth: 10m
The SS Pedernales was a lake tanker severely damaged in a 1942 German torpedo attack while anchored at Aruba. The damaged ship was split into three sections. The fore and aft were joined together and sailed to the US and the middle section was intentionally sunk as a dive site.
Today, large pieces of the Pedernales lie scattered among coral formations. It's less impressive than the Antilla, but it does teem with life and its relatively shallow depth makes for great visibility.
Expect to see large schools of grunt fish, silversides and snappers along with trumpetfish, angelfish, squirrelfish and grouper. There has been the occasional octopus here and you may even see a spotted eagle ray gliding over the wreckage.
Serito Pinnacle
Type: Reef
Depth: 18m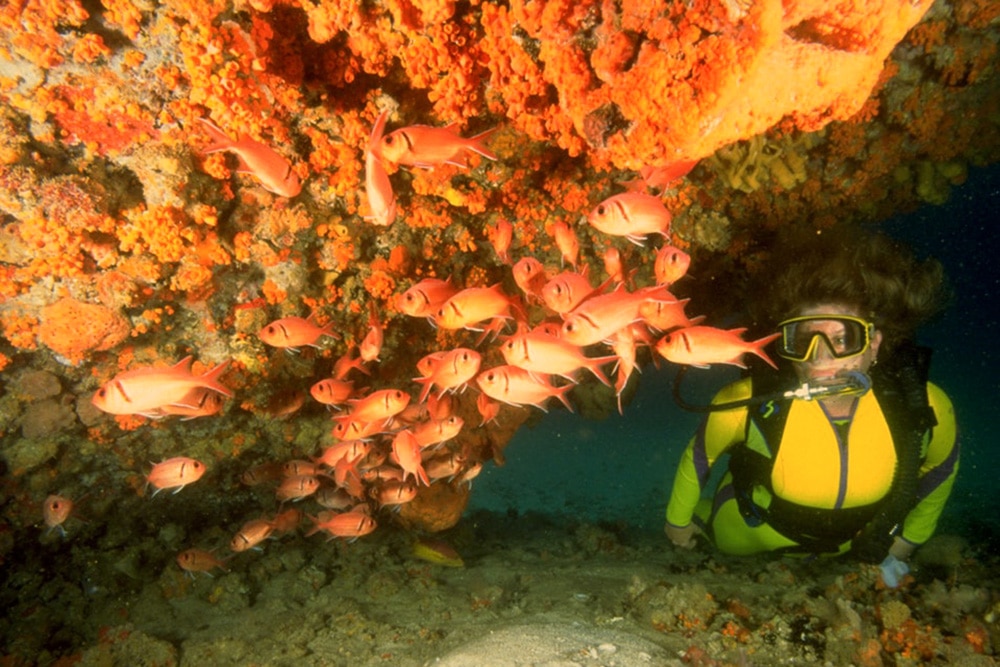 If your divemaster seems evasive at the mention of Serito Pinnacle, it's because it's regarded as something of a secret within the diving community in Aruba. We could barely find out anything about it (hence the above image which looks like it was taken in the 1970s).
Located on the southern side of the island, just southeast of Cabez Reef, Serito Pinnacle is only accessible by private charter. The reef here is largely untouched and the strong current brings a host of marine life including barracuda, manta ray and jack.
The strong current means it's suitable only for experienced divers and given that it's unlisted by most dive outfits, if you do manage to visit, you're more than likely to be the only ones there. It's not a bad way to see the best of Aruba.
Other candidates: The divemasters we polled also mentioned: Debbie II Wreck & Blue Reef, Arashi Reef, Garden Reef, Bali Reef, Fingers Reef, Palm Slope Reef, Barcadera Reef and Isla de Oro Reef.
Best Dive sites in Aruba: the essentials
What: Diving in Aruba as part of an 11-day Carnival cruise from Charleston, stopping at St Thomas in the US Virgin Islands, Aruba, Bonaire, Grand Turk in the Turks and Caicos and Princess Cays in the Bahamas.
Where: We stayed in a Balcony Stateroom aboard the Carnival Sunshine. Our room was spacious and comfortable, and the balcony was well worth having.
The ship itself is equipped with myriad dining and entertainment options. For day dining, we liked BlueIguana Cantina and Pizzeria del Capitano. For evening dining, we recommend paying the small surcharge to dine at each of the speciality restaurants at least once (Steakhouse, JiJi Asian Kitchen and Cucina del Capitano).
When: The best dive sites in Aruba are accessible year-round. Visit between December and April for the best weather: hot, sunny and dry with low humidity and balmy nights.
How: We booked our dive with local experts S.E. Aruba Fly N Dive who talked us through our options and helped us choose the best site based on our short time in Aruba. Our divemaster was knowledgeable and professional and helped make the dive one of the best we've ever done.
We booked our Caribbean cruise with Carnival. Prices are from $1,579 per person for a Balcony Stateroom and include accommodation, all meals, a range of non-alcoholic drinks and entertainment.
We flew to Charleston via New York but there are direct flights from the UK as of January 2020. Book via Skyscanner for the best prices.
---
Finally, if you plan to snorkel in Aruba (and you really should), consider packing a full-face snorkel mask. We use and recommend Ocean Reef's Aria QR+.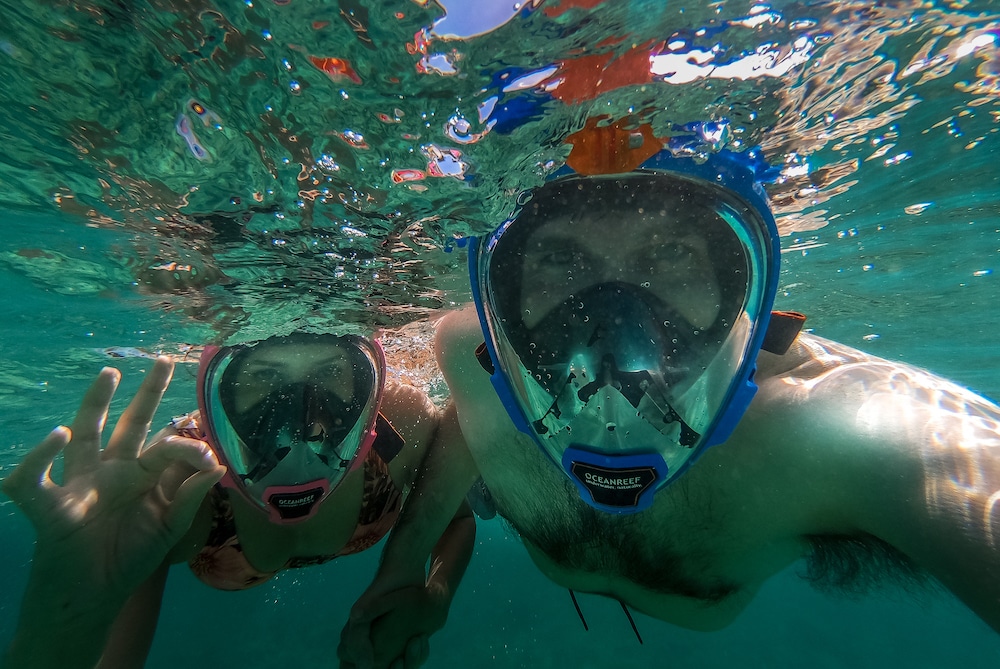 ---
Enjoyed this post? pin it for later…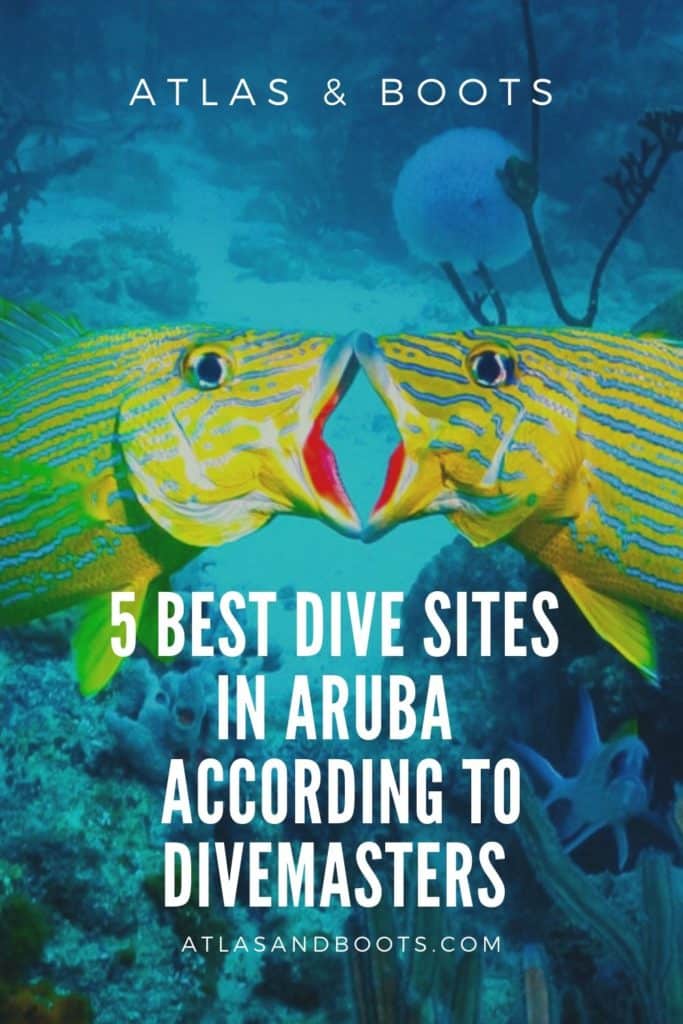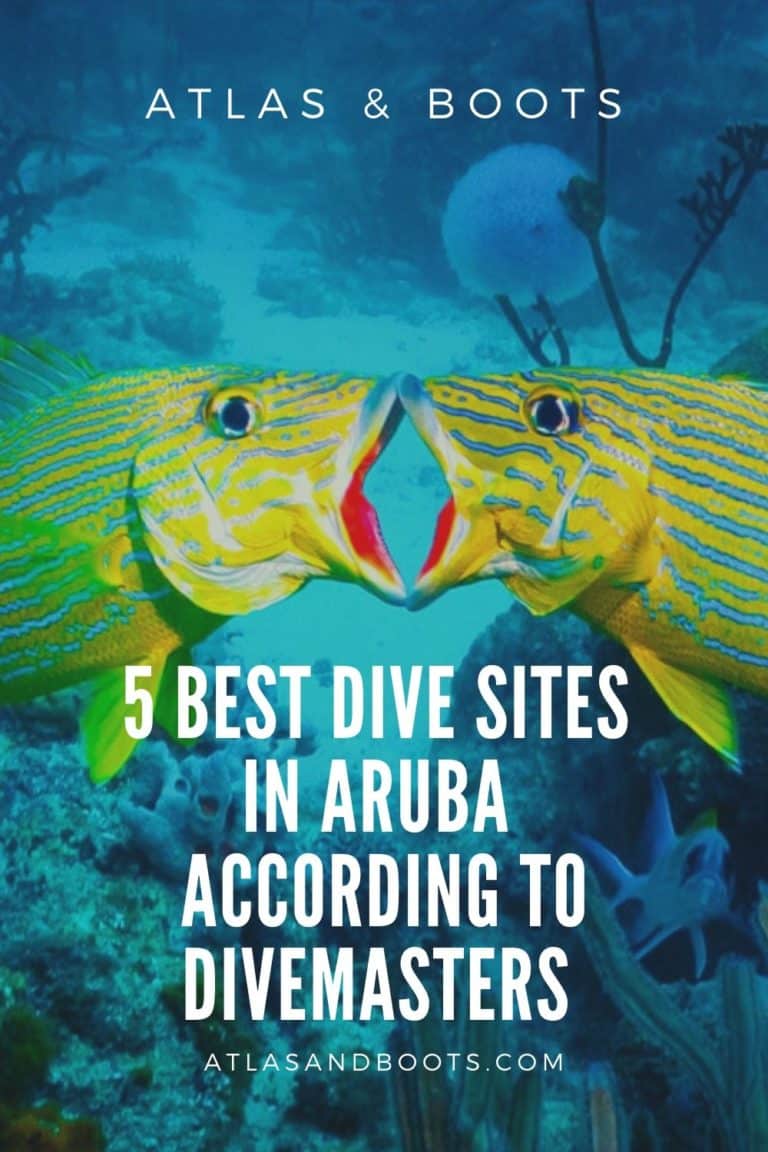 ---