After a busy year of trekking and writing, we decided to treat ourselves to a touch of indulgence
I'm not going to lie: I was in two minds about our Caribbean cruise. We had initially planned a cruise in Alaska but it clashed with commitments around my book. We pushed back our dates to December and were left with one obvious destination: the Caribbean. 
'But it's hardly adventurous, is it?' I said to Peter. After all, with 29 million passenger arrivals every year, the Caribbean is the largest cruise destination in the world.
He shrugged. 'I'm okay with that.'
I considered this. After trips to the Faroe Islands, Nepal, Greenland and Pakistan on which he climbed to the base camps of Everest and K2, perhaps he deserved some downtime.
As for me, I had spent the year working nearly non-stop on the release of my book and writing its follow-up for a mid-November deadline. Perhaps a Caribbean cruise would serve me just fine.
Decision made, we booked onto an 11-day cruise from Charleston, stopping at St Thomas in the US Virgin Islands, Aruba, Bonaire, Grand Turk in the Turks and Caicos and Princess Cays in the Bahamas.
It was a world away from Alaska, but there was adventure nonetheless. Here are the things that we liked best.
Diving the Sonesta Airplanes in Aruba
This was one of the most jaw-dropping dives we've ever done. The 'Sonesta Airplanes' is the collective name for two plane wrecks off the coast of Aruba: a Convair 240 (or a DC-3; it's debatable) and a YS-11, both intentionally sunk to create an artificial reef for divers.
The Convair is cut in two with several smaller pieces of wreckage scattered around the sandy bottom of Sonesta Reef. This in itself is an impressive site but it's the YS-11 that really took our breath away. This old passenger plane still has an intact fuselage through which we were allowed to dive. Swimming through the chamber with its sharp carpet of barnacles and eerie underwater light was possibly the best moment of our entire Caribbean cruise.
Read more in Diving the Sonesta plane wrecks in Aruba
Spotting a baby sea turtle in Bonaire
We got a little bit hot and bothered in Bonaire. We travelled the wrong way around the north of the island (anti-clockwise instead of clockwise) which meant that when we hit a stretch of road that was only one-way, we had to double-back all the way around to reach the famous snorkelling spot of 1,000 Steps.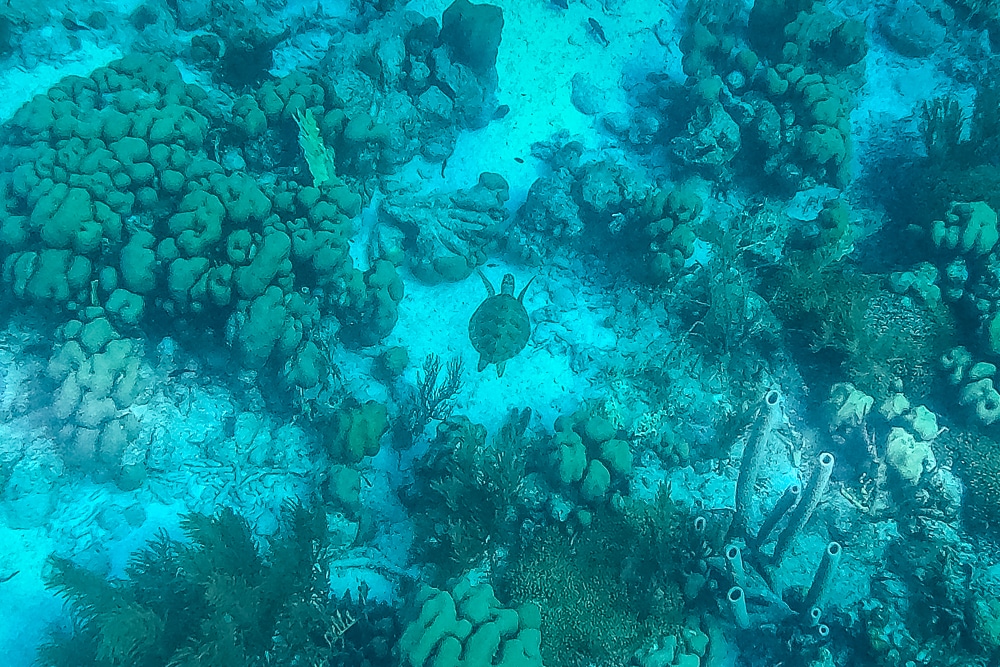 Atlas & Boots
By the time we got there, we were tired and overheated. Thankfully, there aren't actually 1,000 steps to contend with. It was so named by divers who had to climb up with their tanks, making the 67 steps feel more like 1,000.
The beach here isn't sandy (bring flip-flops), but the water is warm and clear. We spotted a sea turtle while snorkelling and managed to observe her for a good few minutes. On dives, we usually get only fleeting glances of turtles so it was nice to watch her for a while.
Other highlights on Bonaire include the salt pans, pink lake and flamingo reserve.
Read more in Things to do in Bonaire: our top 12 picks
Eating fried green tomatoes for the very first time
On our first day in Charleston, we headed to one of its many quality seafood restaurants to sample its famous fare.
I had been keen to try fried green tomatoes ever since I'd seen the film Fried Green Tomatoes at the Whistle Stop Cafe as a child.
To my surprise, the tomatoes were not just fried but deep-fried. (I can't recall if in the film you actually see them on screen.)
The dish is an acquired taste and I don't know if I'd eat it all the time, but I'm pleased I ticked off this childhood wish!
Diving in the Turks & Caicos
There's a moment on this dive when your heart starts to race because you realise exactly what you're looking at: a literal abyss.
Grand Turk's renowned wall starts at around 7m (25-30ft) and drops like a sheer cliff to a depth of over 2,000m (7,000ft). As you hover over the precipice, you can't help but wonder what would happen if you somehow started to sink.
At one stage, I moved away from the face of the wall and turned my back on the other divers to peer into the emptiness. Needless to say, the thought of being alone out there was pretty bloody scary. Luckily, there were plenty of friendly groupers to keep us all company.
Read more in Wall diving in the Turks and Caicos: a glimpse at the abyss
Visiting the ship's kitchen
Peter and I were invited to join a special onboard experience whereby passengers are brought to the belly of the ship – the kitchen – for a tasting session with a senior chef and to observe some of the pre-dinner preparations.
We accepted the invitation tentatively. We're not big foodies and weren't sure if we would take much from the experience
Well, we were wrong. Gusti, the lead chef at the Steakhouse restaurant, talked us through the evening's menu, complete with samples for us to try (yum). Later, we met the executive chef, Vivek Menon, who taught us the chef's hello (bumping elbows instead of shaking hands for the sake of hygiene) and regaled us with the challenges of feeding a ship.
The evening rush began and the kitchen grew abuzz with startling efficiency. It really was a marvel to watch these pros at work.
Lazing on Caribbean beaches
The Caribbean has no shortage of soft and sandy beaches. Our favourites were Lindqvist Beach in St Thomas in the US Virgin Islands and Princess Cays on Eleuthera in the Bahamas.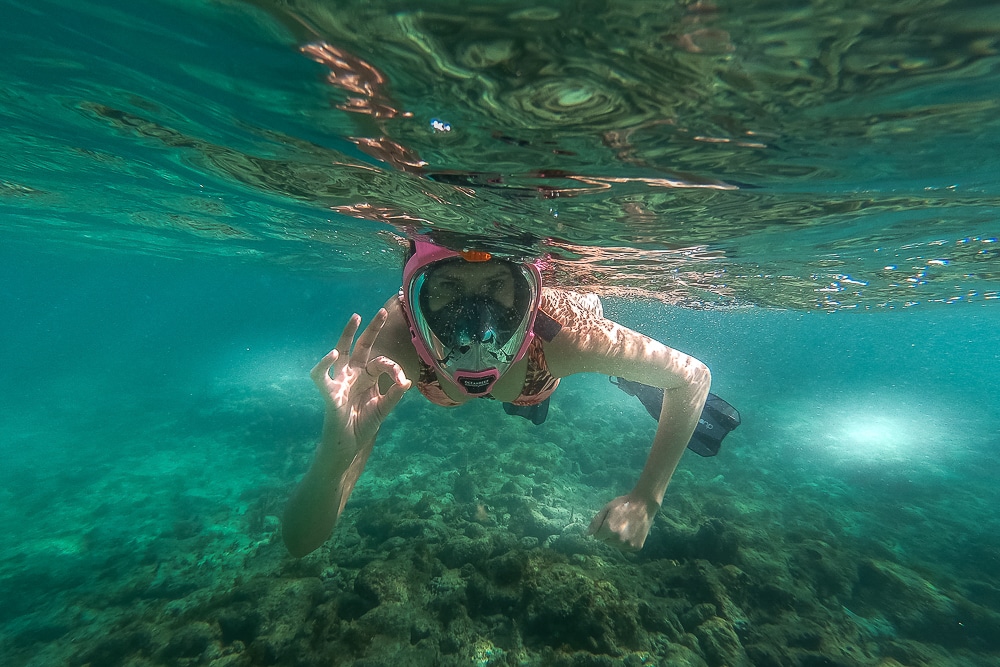 Atlas & Boots
The first was practically deserted. The second is next to a cruise port, but if you walk a mere 10 minutes away, you're more than likely to find some peace. If you plan to snorkel, consider packing a full-face snorkel mask. We use and recommend Ocean Reef's Aria QR+.
Evenings at the piano bar
Cruises are very much about having fun. Passengers are encouraged to get involved, whether that's singing, dancing or competing in the various games and quizzes.
If, like us, you shy away from audience participation (we can't help it, we're British), there are places you can go that are more low-key. Our favourite was Piano Bar 88 where talented Hungarian pianist and singer Giovanni entertained the audience with a wide range of songs, from rollicking anthems (his Stairway to Heaven was spectacular) to spine-tingling ballads.
The nice thing about the piano bar is that it draws permutations of the same crowd each night, so you have a chance to build up a real camaraderie with fellow passengers as well as with Giovanni. (Just for laughs, ask him to play Sweet Home Alabama.)
Being out at sea
This seems obvious but I think it deserves its own place on our list. There's something about being out at sea that makes one think about life. There were evenings when I set aside my Kindle and simply watched the water from our stateroom balcony.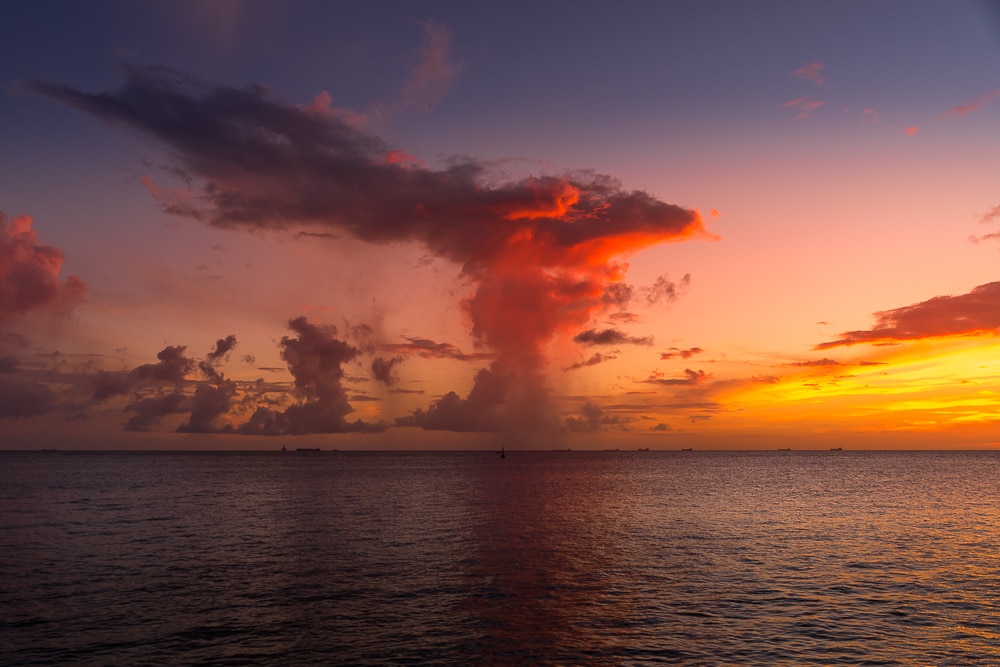 Atlas & Boots
These moments can be painful (memories of my late father) or joyful (holding my novel for the first time), but they're always tinged with a sense of nostalgia for all the life that has passed you by, mixed with a sense of tumult for all the life that is yet to come. It's not an overstatement to say that there's something about being at sea that makes you glad to be alive.
Caribbean cruise: the essentials
What: An 11-day Carnival cruise from Charleston, stopping at St Thomas in the US Virgin Islands, Aruba, Bonaire, Grand Turk in the Turks and Caicos and Princess Cays in the Bahamas.
Where: We stayed in a Balcony Stateroom aboard the Carnival Sunshine. The room was spacious and comfortable, and the balcony was well worth having. Our stateroom attendant, Aris, was fantastic as were the rest of the staff.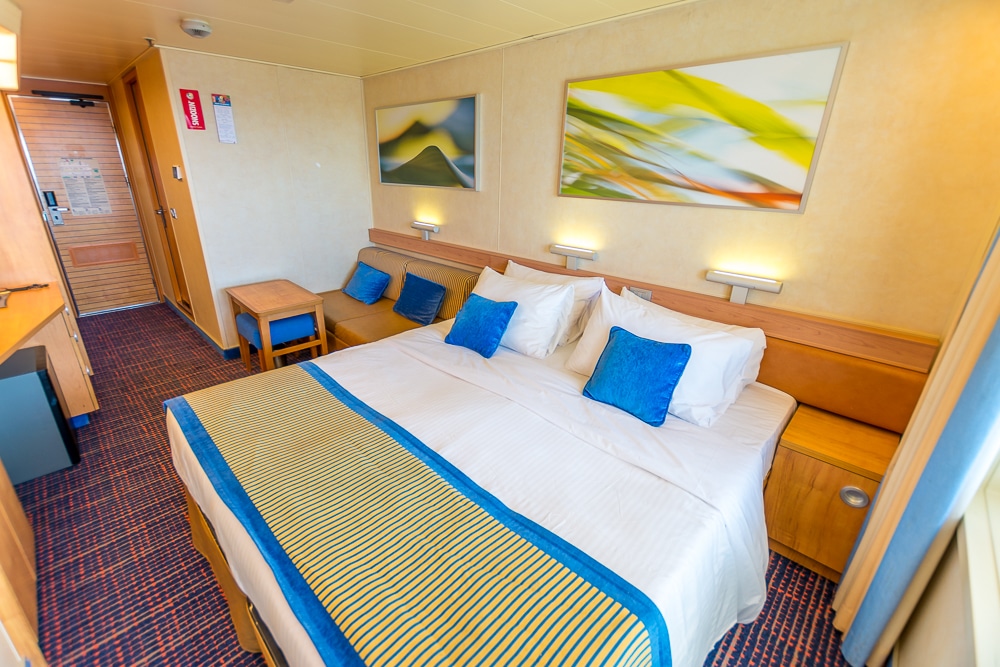 Atlas & Boots
The ship itself is equipped with myriad dining and entertainment options. For day dining, we liked BlueIguana Cantina and Pizzeria del Capitano. For evening dining, we recommend paying a small surcharge to dine at each of the speciality restaurants at least once (Steakhouse, JiJi Asian Kitchen and Cucina del Capitano).
For lazing, head to the Serenity Retreat (though do note that you can still hear the fun and games from the main pool area). In the evenings, head to the Piano Bar.
When: The best time to go on a Caribbean cruise is December to April. The weather is hot, sunny and dry with low humidity and balmy nights.
How: We booked directly with Carnival. Prices are from $1,579 per person for a Balcony Stateroom and include accommodation, all meals, a range of non-alcoholic drinks and entertainment.
Shore excursions cost extra as does onboard wifi. The wifi is surprisingly fast but it only connects one device at a time.
We flew to Charleston via New York but there are direct flights from the UK as of January 2020. Book via Skyscanner for the best prices.

---
Lead image: Atlas & Boots