Diving the Sonesta plane wrecks in Aruba was eerie and surreal, but ultimately thrilling
I'm hopeless at fish identification. My memory is awful and I don't like diving with a fish ID slate – it just becomes a piece of clutter to add to the essentials (pressure gauge, regulators, dive computer and my camera). As such, unless it's a lionfish, grouper, clownfish, whale, dolphin or shark, it's unlikely I'll be able to identify it.
If I'm honest, this doesn't really bother me. When it comes to diving, unless it's a truly amazing reef system (like our dives in the Great Barrier Reef for example), I'm more interested in seeing or trying something new or unique like our recent wall dive in the Turks and Caicos.
I loved our wreck dive in Djibouti for example and diving with sharks in the Galápagos. As such, when we saw the opportunity to dive a plane wreck in Aruba during our Caribbean cruise, we signed up immediately.
Known as the Sonesta Airplanes, the two planes, a Convair 240 (or a DC-3; it's debatable) and a YS-11, lie off the coast of Aruba and were intentionally sunk to create an artificial reef for divers.
We booked a two-tank dive with S.E. Aruba Fly N Dive, a local outfit positioned right on the beachfront of Oranjestad, the capital of the Dutch island of Aruba. It proved to be one of the most surreal dives we've ever done.
After meeting at the dive shop and fitting our wetsuits and fins, we motored a few minutes out to sea to prepare for our first dive. It had been a while since Kia and I had dived (the last time being Steve's Bommie in Australia), but we reacquainted ourselves quickly and after the standard safety checks, we were once again in the ocean, descending to the seabed en route to our first site.
Soon enough we came across the first signs of wreckage. The Convair fuselage is split in two with several smaller pieces of wreckage scattered around the sandy bottom of Sonesta reef.
A tail fin appeared first followed by a propeller, an engine, a wing and then the largest part of the fuselage: a cavernous shell shorn in two that divers can explore up close.
The Convair in itself is an impressive site but it's the YS-11 that really took our breath away. This old passenger plane still has an intact fuselage through which divers can easily swim.
As the wreck appeared in view, it was truly difficult to comprehend. Diving is surreal enough – it physically takes us from our world and plants us in another where complacency is lethal – but to find a machine of the skies resting mute and serene at the bottom of the sea is simply astonishing.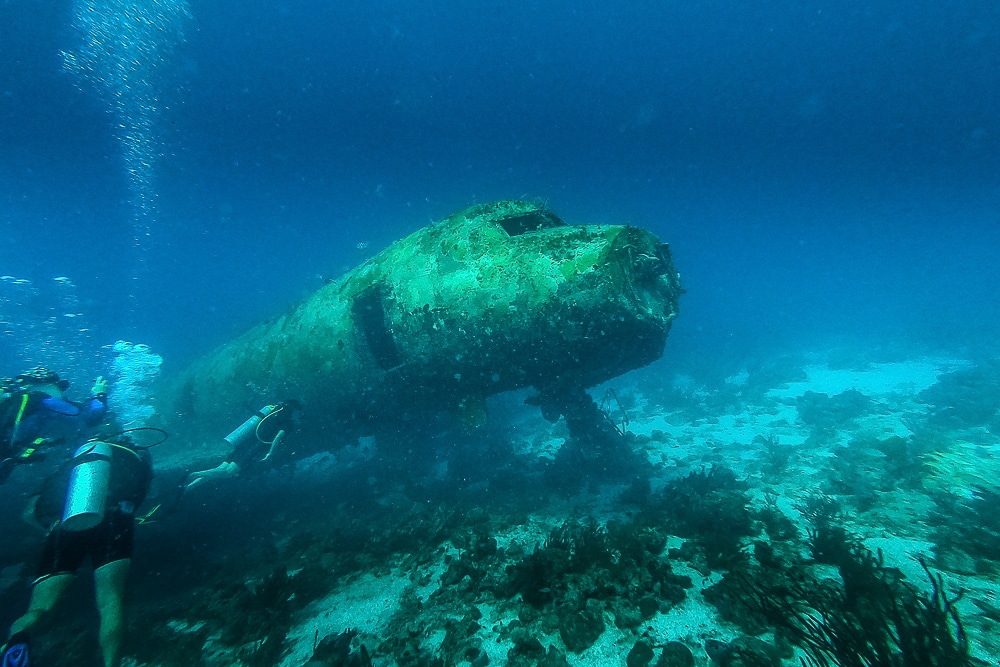 We swam the width of the fuselage via the doors just behind the cockpit, before circling the entire airplane. We then dipped back into the fuselage and swam its entire length, from the rear doors up to the front – a thoroughly surreal experience.
After a few final minutes of exploring the wreck, we made our way back to the surface. Our second dive was at the picturesque Garden Reef, but really it was the Sonesta plane wrecks that was the highlight of our trip.
Our Caribbean cruise had 11 idyllic days of swimming, snorkelling and lazing on pristine beaches, but it was drifting through the chamber of the YS-11 airplane with its sharp carpet of barnacles and eerie underwater light that offered the best moment of the entire trip.
Diving the Sonesta plane wrecks in Aruba: the essentials
What: Diving the Sonesta plane wrecks in Aruba as part of a Caribbean cruise, stopping at St Thomas in the US Virgin Islands, Aruba, Bonaire, Grand Turk in the Turks and Caicos and Princess Cays in the Bahamas.
If you have time for some more dives, read our guide on the best dive sites in Aruba according to divemasters.
Where: We stayed in a Balcony Stateroom aboard the Carnival Sunshine. Our room was spacious and comfortable, and the balcony was well worth having.
The ship itself is equipped with myriad dining and entertainment options. For day dining, we liked BlueIguana Cantina and Pizzeria del Capitano. For evening dining, we recommend paying a small surcharge to dine at each of the speciality restaurants at least once (Steakhouse, JiJi Asian Kitchen and Cucina del Capitano).
When: Diving the Sonesta plane wrecks in Aruba is possible year-round. Visit between December and April for the best weather: hot, sunny and dry with low humidity and balmy nights.
How: We booked our dive with local experts S.E. Aruba Fly N Dive who talked us through our options and helped us choose the best site based on our short time in Aruba. Our divemaster was knowledgeable and professional, and helped make the dive one of the best we've ever done.
We booked our Caribbean cruise with Carnival. Prices are from $1,579 per person for a Balcony Stateroom and include accommodation, all meals, a range of non-alcoholic drinks and entertainment.
We flew to Charleston via New York but there are direct flights from the UK as of January 2020. Book via Skyscanner for the best prices.
---
Finally, if you plan to snorkel in Aruba (and you really should), consider packing a full-face snorkel mask. We use and recommend Ocean Reef's Aria QR+.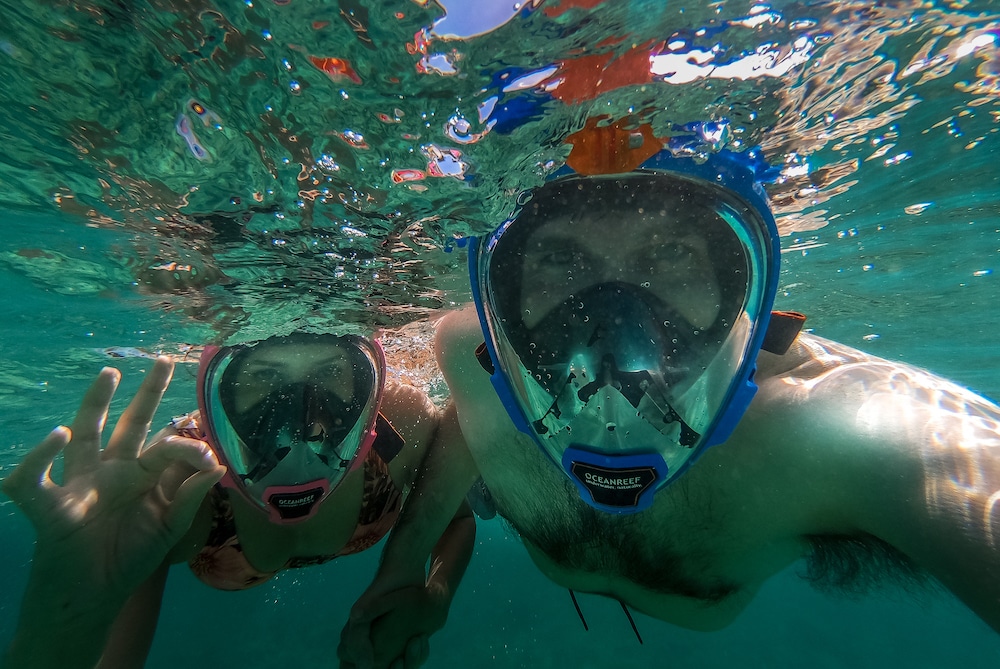 ---
Enjoyed this post? pin it for later…
---