Ahead of a three-day trek in the Simien wilds, we take a breather to explore the magnificent Gondar castle
Gondar castle is improbable. It's improbable in size, style and design, but mostly in location. After all, this is Ethiopia and if TIA is to be believed, we should be looking at desertscapes dotted with baobab trees, not a Camelot in the sun.
Gondar castle in the fortress city of Fasil Ghebbi indeed evokes legends of yore. This shouldn't be such a surprise given the Great Mosque of Djenné and Africa's other architectural wonders, but I find the evocation of medieval Europe astonishing, perhaps more so because as Ethiopians will tell you, theirs is one of only two African countries that were never colonised (the other being Liberia).
So, how did this unlikely structure come about? As with many things, its provenance lies in religion.
Religion in Ethiopia stretches back thousands of years. In fact, Ethiopia was only the second nation, after Armenia, to adopt Christianity as its state religion (in around 330 AD).
In c.1622, Ethiopian Emperor Susenyos I converted to the Roman Catholic faith under the influence of Portuguese missionaries, prompting years of rebellion. His son, Fasiladas, usurped his rule in 1632 and proceeded to restore the traditional Ethiopian Orthodox Church.
Legend has it that several years after taking rule, Fasiladas met a venerable hermit near the river Angereb in the north of the country. The hermit told Fasiladas to build his capital there and the emperor duly obliged, founding the city that would become Gondar, home to the castles and fortifications of Fasil Ghebbi.
Gondar served as the capital of Ethiopia from c.1636 to 1855, and today is home to not only Gondar castle (also known as Fasiladas castle), but several other castles, churches, monasteries and royal buildings constructed by Fasiladas' successors.
We arrived at Fasil Ghebbi through one of the 12 gates that punctuate the 900m (2,900ft) wall surrounding the royal enclosure. With tickets in hand, we politely sidestepped the waiting group of guides and went off exploring. (We're told the guides are well worth the 200 ETB / $7 USD but we generally prefer to explore on our own.)
Naturally, we started at the main attraction: the imposing Gondar castle. This great structure is said to have been built by an Indian architect and conjures a sense of the surreal. The huge dome towers and battlemented parapet evoke medieval Europe transposed to Ethiopia. The hulking walls, made of roughly-hewn brown basalt stone held together with mortar, are crowned by a flat roof and a rectangular tower in the south-west corner affording distant views of Lake Tana.
As we walked along the looming bulk, it was easy to imagine the feasts of raw meat and honey wine described in history books.
Fasil Ghebbi was inscribed as a UNESCO World Heritage Site in 1979, but at 70,000 sq metres isn't quite fully restored. We were absorbed by the scale and grandeur, but on closer inspection noticed peeling walls and crumbling stone, no doubt a lasting remnant of World War II when the Italians caused damage to the city during occupation and the British bombed it during liberation.
Still, Fasil Ghebbi bears its scars well. Any dilapidation only adds to its aura of a long forgotten Camelot, its original splendor evident nonetheless.
We took a look inside Gondar castle before exploring the rest of the site, easily mistaken for the set of Robin Hood.
Atlas & Boots
In addition to the impressive collection of royal buildings inside the enclosure, there are several others dotted around Gondar. We visited Debre Berhan Selassie church for Sunday morning service.
Also worth a visit is the Bath of Fasilidas which can be accessed with your Fasil Ghebbi ticket.
In some ways, Gondar castle with its hulking domes and crenellated walls, is the least expected sight in Ethiopia. But in others it signifies the country perfectly. Ethiopia is a land that subverts expectation; that smarts beneath the grip of presumption; that arrests newcomers with constant surprise. A structure like this or of any sort shouldn't be a shock at all. Ethiopia, as the slogan suggests, is after all the land of origins.
Exploring Gondar castle: the essentials
What: Visiting Gondar castle, also known as Fasilides castle, in Ethiopia.
Where: We stayed at Lodge du Chateau seconds away from the royal enclosure of Fasil Ghebbi. The lodge is run by Simon, a Gondar local and consummate host. Simon picked us up from Axum airport, gave us excellent insider tips about Gondar, and even dispatched a member of staff to put us on the correct bus on departure.
Atlas & Boots
Simon claims the best breakfast in Ethiopia and we have to say, it was certainly delicious: local honey and ripe avocado accompany fresh bread and Ethiopian coffee while the wheat pancakes or special omelette make for an especially excellent start to the day. The views over Gondar are pleasing too.
The rooms are basic but functional. The walls are thin, so do bring earplugs. The wifi was sketchy during our stay, but this seemed pretty standard in Ethiopia. All in all, Lodge du Chateau is a super-convenient location from which to explore Gondar castle.
When: The best time to visit Gondar castle in Ethiopia is October to March when there are pleasant temperatures, blue skies and low rainfall in most parts of the country.
How: Gondar castle in the royal enclosure of Fasil Ghebbi is seconds away from Lodge du Chateau. The entrance fee is 200 ETB ($7 USD) per person. This includes one day at Fasil Ghebbi (opening times 8.30am-12.30pm and 1.30-6pm) and a second at Fasiladas' Bath 2km away. Note that there is an additional fee if you wish to use a video camera: 75 ETB ($3 USD) for a small camera and 125 ETB ($4.5 USD) for a professional camera. You can pick up a guide at the entrance. We preferred to explore on our own.
We flew from Axum to Gondar airport and got a transfer to Lodge du Chateau, arranged by proprietor, Simon (lodge@lodgeduchateau.com).
After our stay in Gondar, we went on to Bahir Dar using a public Coaster bus: 100 ETB ($4 USD) per person. Touts at the bus station are very aggressive, so be prepared to bat them off. On the bus, avoid sitting right at the back. We had five people squeezed into four seats (six people if you count the baby!). Note that we boarded the bus at 9am and departed at 10.15am while we waited for the bus to fill up.
You can organise a private transfer through your hotel but be aware that there is no official taxi service, so you will be at the mercy of local dealmakers.
Domestic flights are the quickest way to travel in Ethiopia (check latest routes here). It's far cheaper to book flights at an Ethiopian Airlines office in the country. Be sure to mention if you flew with them internationally as you will be eligible for a substantial discount.
Addis Ababa is the country's primary international airport. Book international flights via skyscanner.net.
---
Enjoyed this post? pin it for later…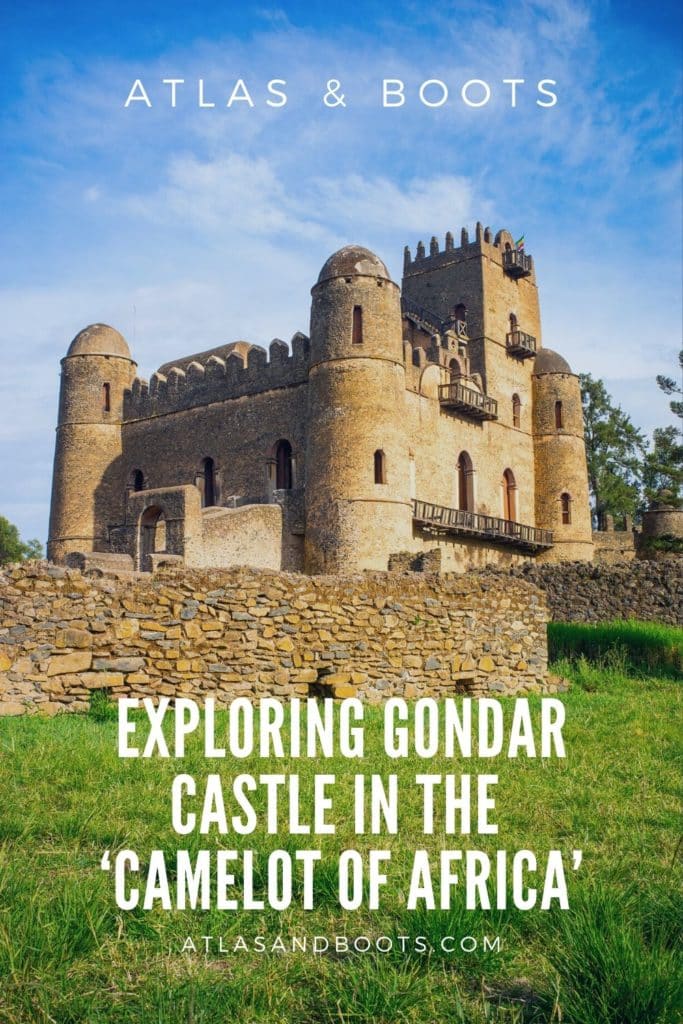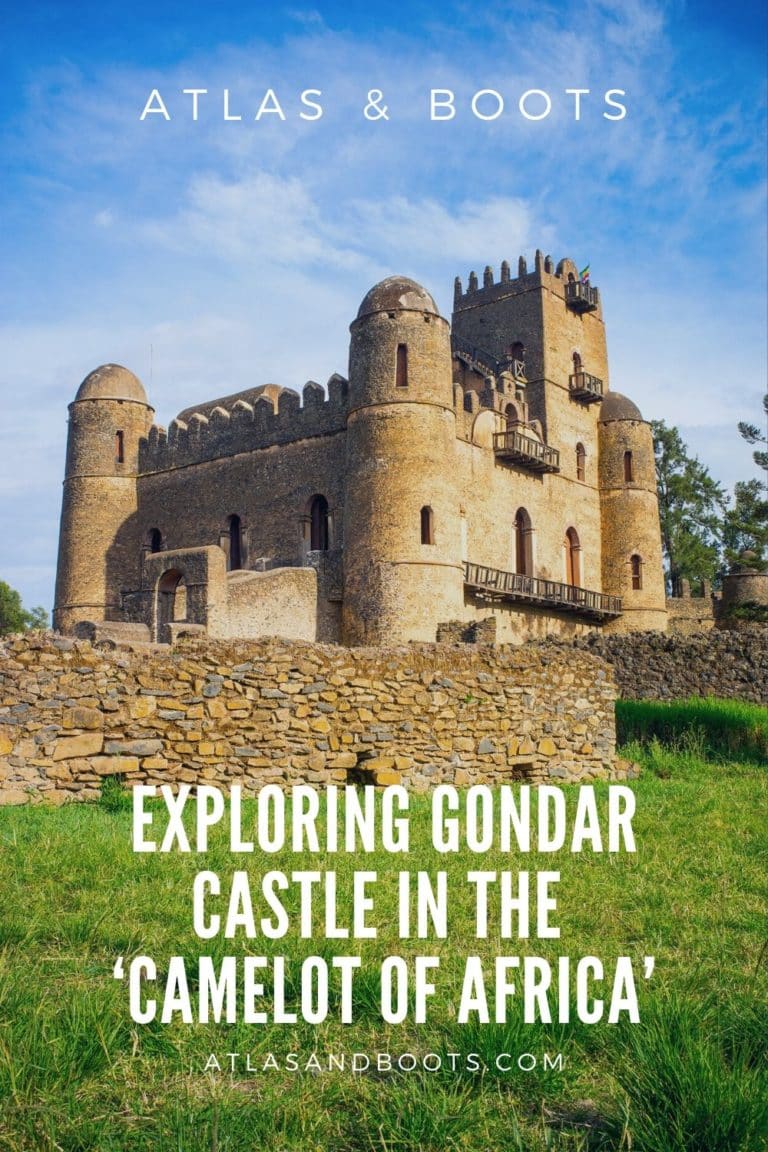 ---
Lonely Planet Ethiopia is a comprehensive guide to the country, ideal for those who want to both explore the top sights and take the road less travelled. If you prefer to travel in a tour, we recommend G Adventures and their small group Ethiopia tours.
Lead image: Atlas & Boots