After Erta Ale and Dallol, would Ethiopia's Simien Mountains National Park live up to the hype?
If Simien Mountains National Park really were 'Africa's Grand Canyon', how was it that I knew nothing of it? Was this just Peter's ploy to drag me out camping again?
I knew of the park by name, but couldn't point to it on a map, or tell you what I might find there. To be honest, prior to planning our trip, I had no idea there were proper mountains in Ethiopia – a result perhaps of TIA syndrome which conjures dusty, flyblown vistas and not the vast gorges of lush beauty that populate Simien Mountains National Park.
And, so, I set off with my expectations in check. After seeing the fiery furnace of Erta Ale, the yellow lakes of Dallol and the rock-hewn churches of Lalibela and Tigray, I thought I'd seen the best of Ethiopia. But, no, this inscrutable land had one more gem to sell.
We booked a 4-day trek with the excellent SimienEcoTours and met our guide, Yirga, early in the morning for the drive from Gondar to Debark. There, we paused to drop off our heavier luggage, arrange entry formalities and collect our mandatory armed escort, also known as a 'scout'. We're told that this practice is a way to employ local people rather than to protect against any real danger. Unlike the Danakil Depression, there is no separatist violence here and no real threat from wildlife.
Joined by our scout, Johannes, we set off for the park and started our trek in earnest. Within minutes, we arrived at the first viewpoint.
It felt like cheating. Usually, we would hike for hours to reach a view like this. Today, we were on the cusp of an extraordinary gorge a mere five minutes into our trek. It dawned on me that comparisons to the Grand Canyon were not overstated. Simien Mountains National Park was going to be extraordinary.
Carved by massive erosion over millions of years, the park is a vast cauldron of jagged peaks, plunging gorges and sharp precipices dropping some 1,500m (4,920ft).
The park is also home to several rare species including the gelada baboon, the walia ibex and the Ethiopian wolf, which is the world's rarest canid. While there are approximately 300 Ethiopian wolves in the Bale Mountains to the south, only 70 reside in the Simiens. Given that the park spans an area of 220 sq km (85 sq mi), our chances of seeing one were fairly slim.
Efforts to protect the Ethiopian wolf are part of a wider conservation drive. Simien Mountains National Park was inscribed as a UNESCO World Heritage Site in 1978 with an aim to stem human encroachment. At the time of inscription, 80% of the park was under human use of one form or another.
Today, UNESCO lists threats to the park as "human settlement, cultivation and soil erosion; frequent fires in the tree heather forest; and excessive numbers of domestic stock."
UNESCO hopes that close cooperation with local communities, increased levels of staff training and the possible extension of park borders will serve to protect the site and its rare species.
This commitment to conservation was evident in our guide, Yirga, who spoke passionately and knowledgeably about the spectacular landscape. As we trekked through vast vistas of precipitous cliffs and rugged canyon-like lowlands, Yirga pointed out clusters of St.John's Wort and Abyssinian Wild Rose, and spoke animatedly of his love for these mountains and the boundless beauty within them. Needless to say, we were utterly enchanted.
After a relatively gentle day of trekking 8km, we arrived at Sankaber, our first camp for the night. Perched at 3,250m (10,660ft) above sea level, it offered ample time to get acclimatised.
We enjoyed a delicious three-course meal cooked by Chef Messi and his assistant, Wandum, and retired to our tent for the night. Thankfully, we had been warned about the plunging night-time temperatures, so had plenty of layers with which to battle the cold.
The second day of the trek was more challenging with six hours of trekking across 13km. We traversed the northern escarpment before dropping down to impressive views at Jinbar Waterfall. For lunch, we stopped at the picturesque Jinbar River, which offered a welcome chance to freshen up and rest.
After lunch, we ascended through terraced farmland to the village of Gich and continued on to our camp at 3,600m (11,810ft). There, we enjoyed another excellent dinner followed by a much-welcome surprise: a hot water bottle each!
Peter, ever the gentlemen, let me have his one too. This may have just been his latest effort to initiate me into the joys of camping, but I didn't question his motivations. I wrapped up in my three-season down sleeping bag with one bottle warming my feet and the other, my torso. Needless to say, it was a toasty night.
Day three was yet more challenging with a scheduled seven hours of trekking through 15km of the undulating landscape of Simien Mountains National Park. As we ascended from Gich to the summit of Imet Gogo at 3,926m (12,880ft), I began to feel the altitude. With dwindling energy, I trudged on.
My efforts were rewarded with a spectacular 360-degree viewpoint across deep ravines, towering pinnacles and hulking peaks – among them Ras Dashen, the highest peak in the country at 4,550m (14,930ft).
We trekked along the escarpment, then crossed a small valley before ascending to peak Inatye. At 4,070m (13,350ft), it was no easy feat and I felt my limbs wearying and pace slowing.
Thankfully, Yirga was incredibly attuned to my struggles and offered frequent breaks and plenty of encouragement. Soon, we reached the summit and were stunned once again by the incredible vista. Could Simien Mountains National Park get any better?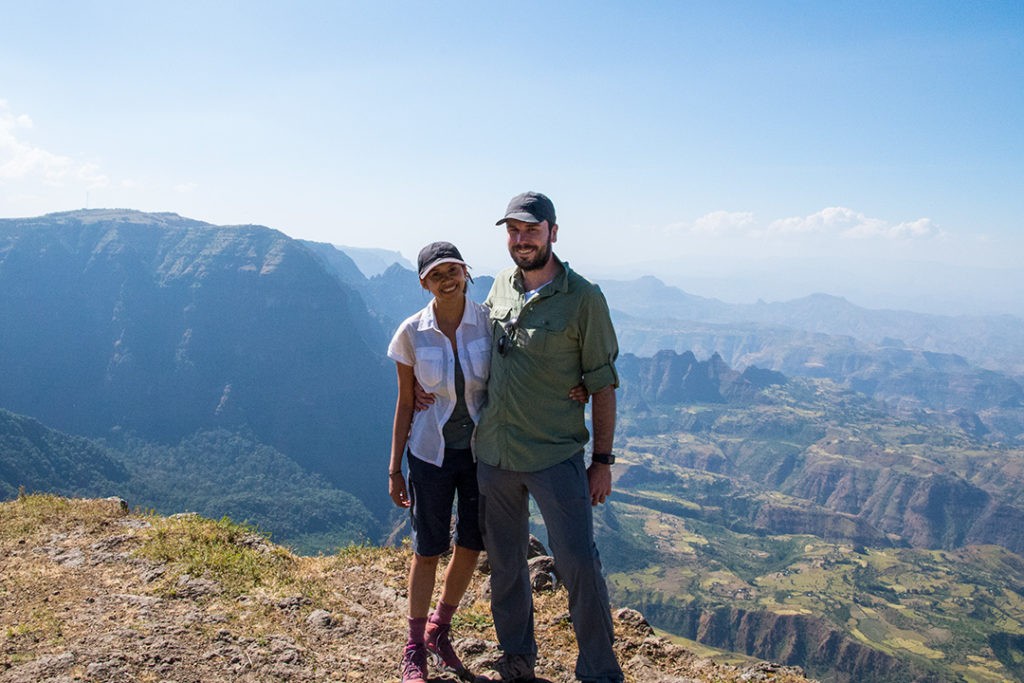 Atlas & Boots
The answer, to my surprise, was yes.
The final day, which includes a challenging climb to Ras Bwahit at 4,430m (14,530ft) for those willing and able, had one more shock in stock. As we explored the area, we spotted not one Ethiopian wolf but two. We were utterly thrilled – Peter in particular who had spent the preceding weeks bemoaning the fact that we weren't visiting the Bale Mountains and would therefore miss our chance to see the wolf.
We had the incredible fortune of four different sightings. Our host back in Gondar had visited Simien Mountains National Parks six times and had never seen the wolf. It was a befitting climax to an idyllic trek.
In some ways, Simien Mountains National Park is a microcosm of Ethiopia itself: beautiful, challenging, sprawling, shocking. That I barely knew it existed is a source of great shame. That I have now seen its beauty is, undoubtedly, a source of great pride.
Simien Mountains National Park: the essentials
What: A 4-day trek in Simien Mountains National Park, Ethiopia.
Where: We camped in the Simien Mountains at three designated campsites. The sites have drop toilets and no running water. A shower block is currently under construction at the first campsite. Tents and sleeping mats are provided by SimienEcoTours. Bring your own sleeping bag.
When: The best time to visit Simien Mountains National Park in Ethiopia is October to March when skies are clear and the sun is strong. A short rainy season occurs Feb-Mar when there is likely to be a short period of rain every day. Note that it gets very cold during the night; the Simiens have been described as "summer every day, winter every night". As such, pack plenty of layers!
How: We did a 4-day Simien Mountains trek with the excellent SimienEcoTours. Prices vary from $220 USD to $400 USD if joining pre-fixed departures which leave every Wednesday and Saturday.
The price includes transfer from and to your hotel in Gondar, accommodation in two-person tents, all food and non-alcoholic drinks, all entrance and camping fees for the park, scouts and park rangers, mules and mulemen for transporting heavy material and an experienced guide. Our guide, Yirga, was the most capable and knowledgeable person we met in the whole of Ethiopia so trust us: you'll be in good hands.
The price does not include tips. In ETB, we tipped as follows which was 100-200 over the recommended amount (apart from the mulemen who should receive 200 as standard).
Chef: 700
Assistant chef: 500
Scout: 400
Guide: 1,000
Two Mulemen: 200 each
Domestic flights are the quickest way to travel in Ethiopia (check latest routes here). It's far cheaper to book flights at an Ethiopian Airlines office in the country. Be sure to mention if you flew with them internationally as you will be eligible for a substantial discount.
You can organise private transfers to and from Gondar through local hotels but be aware that there is no official taxi service so you will be at the mercy of local dealmakers.
Addis Ababa is the country's primary international airport. Book international flights via skyscanner.net.
---
Enjoyed this post? pin it for later…
---
Lonely Planet Ethiopia is a comprehensive guide to the country, ideal for those who want to both explore the top sights and take the road less travelled. If you prefer to travel in a tour, we recommend G Adventures and their small group Ethiopia tours.
Lead image: Atlas & Boots