We take pause on the calming shores of Lake Bishoftu and reflect on a challenging month in Ethiopia
It was our fourth week in Ethiopia and I have to say, we were wearying. Ethiopia is a vast country with magnificent sights like Erta Ale and Dallol; it has fantastic food, a rich culture and intriguing history – but wow is it tiring.
Let's be honest: in sharing the delights of a destination, travel writers often omit the hassles, annoyances and challenges of being on the road. In Ethiopia, this was ramped up by a factor of five. Putting aside the many logistical challenges, there were several unpleasant events that ranked from disconcerting to downright distressing.
There were the kids who threw stones at us in Gondar, the men who swore at us because I ignored their "hey pretty lady", the teen who pulled open our car door in Mek'ele, the boys who grabbed at us at the bus stop, the youths who followed us on three different occasions in three different cities. At times, it felt relentless.
Between us, Peter and I have visited 70 countries across six continents. We're not exactly babes in the woods, so believe me when I say that we needed a rest.
Enter Lake Bishoftu, a glittering fortress of calm 45km southeast of Addis Ababa. We uhmed and ahhed about going there. The last few days of our trip were meant to be spent in the Bale Mountains, but after receiving an extortionate price for the transfer, we simply gave up. It was yet another battle and we had no more fight.
And, so, we headed to Bishoftu instead, a town of seven crater lakes created by a series of volcanic explosions in the vicinity of Bishoftu town. In the landlocked borders of Ethiopia, the lakes provide a much welcome connection to water.
We chose Lake Bishoftu for its reputation as a weekend retreat for frazzled Addis Ababans in desperate need of peace. The lake offers views over gently rippling water encircled by a steep crater rim. With a maximum depth of 87m, it is the second deepest lake in Ethiopia and, according to local lore, is home to a sleeping devil. From time to time, his evil force kills fish and sends them to the surface to be swept up by hungry waterbirds – or at least that's what we heard.
If there were a devil, we saw neither horn nor hide of him – and we spent plenty of time watching from our balcony at Asham Africa perched right by the crater rim.
With access to well-tended gardens, all-day dining and pleasing views, we had no reason to leave the hotel grounds and so we went into lockdown mode, that indulgent phase of travel where you take a few days to do absolutely nothing.
Sure, there was Mount Yerer closeby and, yes, we briefly considered horse-riding, but after a month in the country, we were content to just laze and relax.
We spent three days eating tasty wat and injera, moseying around the on-site gallery, taking long evening walks by the lake, and people-watching the well-heeled visitors from Addis and around.
At Asham, we saw yet another face of Ethiopia: fashionable women in silken abayas and professional men in weekend attire, their designer shades and loose collars lending an air of French Riviera.
Pausing at Lake Bishoftu reminded us just how important it is to schedule in some down days to avoid travel burnout. Our stay was completely reinvigorating and readied us for the next and final stop of our Ethiopian epic: the great sprawling city of Addis Ababa.

Lake Bishoftu: the essentials
What: Three days on Lake Bishoftu in Ethiopia.
Where: We stayed at Asham Africa, a collection of capacious rooms with sweeping views over Lake Bishoftu. Our room with its four-poster bed and sunny balcony was the perfect antidote to four hectic weeks in Ethiopia.
Atlas & Boots
In addition to the charming lakefront view, the hotel boasts an on-site art gallery and a well-tended, multi-level garden, perfect for afternoon walks in the setting sun.
The hotel regularly hosts conferences and yet manages to maintain an aura of complete calm. In fact, during our three nights, we thought the hotel was close to empty and were surprised on checkout to find that it was in fact fully booked. Overall, Asham Africa is a lovely little spot in which to recover from the travails of independent travel in Ethiopia.
When: The best time to visit Bishoftu in Ethiopia is October to March when there are pleasant temperatures, blue skies and low rainfall in most parts of the country.
How: We took a private transfer from Addis Ababa to Bishoftu: 45km, 700 ETB ($25 USD). We organised out transfer via Hotel Celeste in Addis Ababa and were originally quoted 1,500 ETB, so be prepared to haggle.
Addis Ababa is the country's primary international airport. Book international flights via skyscanner.net.
---
Enjoyed this post? pin it for later…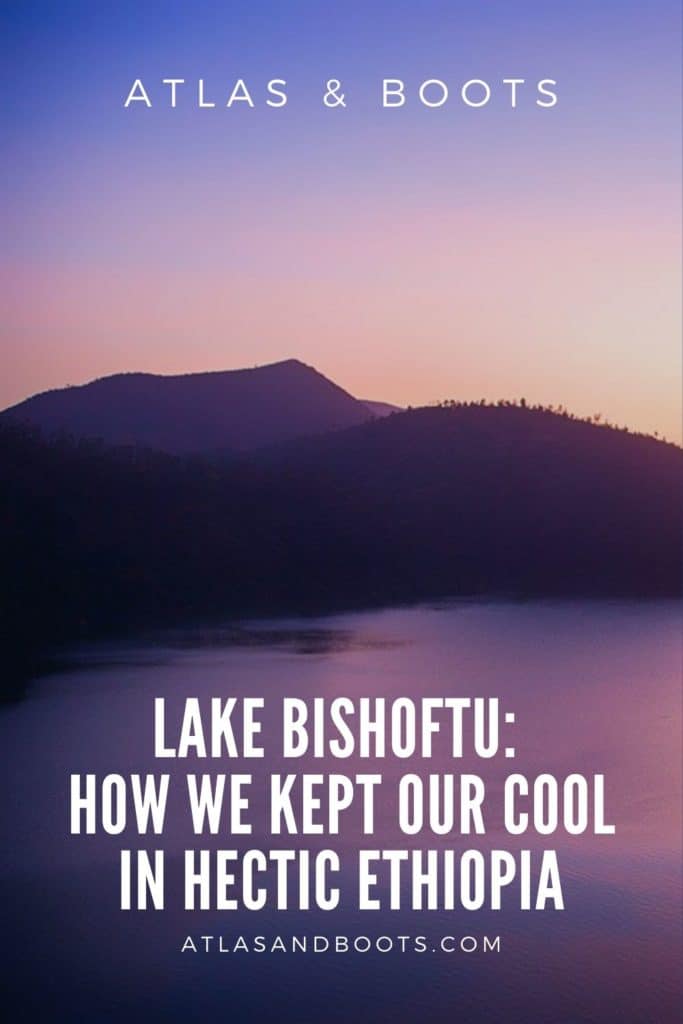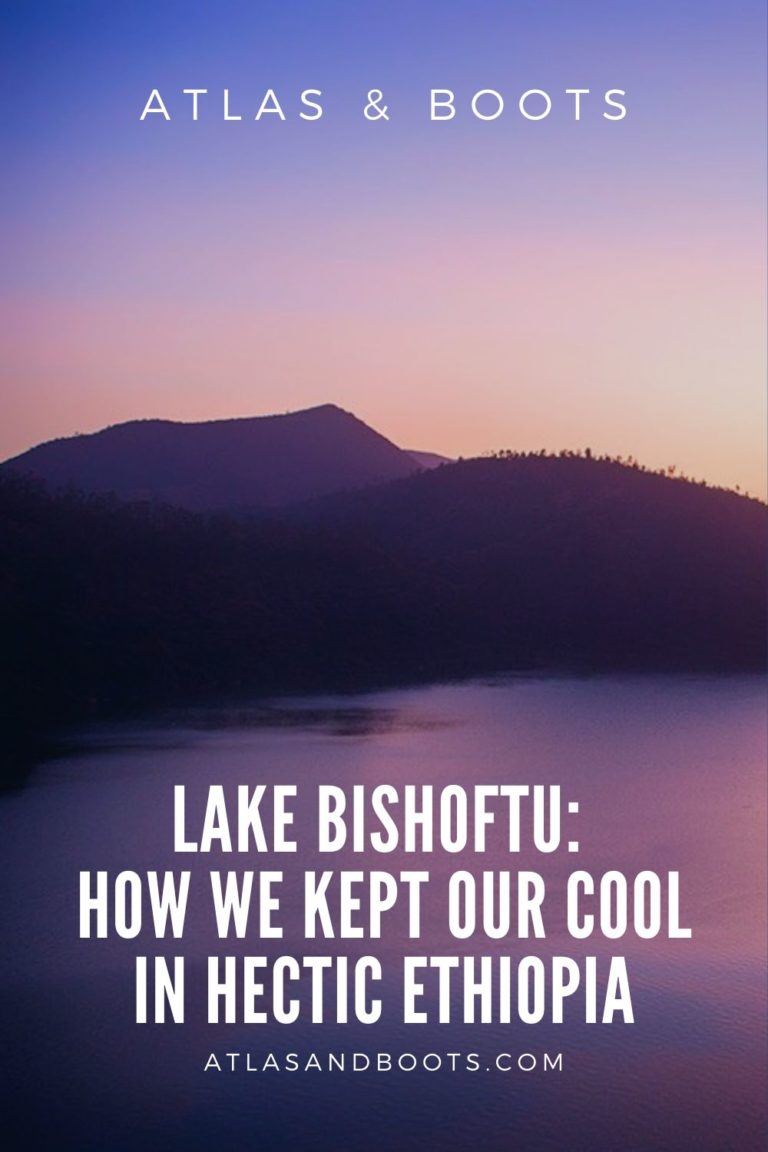 ---
Lonely Planet Ethiopia is a useful guide to the country, ideal for those who want to both explore the top sights and take the road less travelled. If you prefer to travel in a tour, we recommend G Adventures and their small group Ethiopia tours.
Lead image: Atlas & Boots