Moving to a new country is one of the most expensive endeavours one can undertake. Enter Mercer's 2016 Cost of Living ranking, a survey of the most expensive cities for expats.
With the UK recently voting in favour of Brexit, we at Atlas & Boots are reassessing our future. Prior to the result, we fully expected to return to France after our next big trip. Now we may have to look further afield. Whatever we decide, one useful way to choose where our future lies is to compare the cost of living in our new city compared to our old, currently London.
comparing the Cost of living
Consultancy firm Mercer initially developed the list to help multinational companies and governments determine wages and allowances for their expat workforce. Mercer's survey analyses the price of over 200 goods and services in over 360 cities with substantial expat communities across the globe.
Mercer uses New York as its base city and the US dollar as the base currency. The results differ from other surveys such as the Economist's Worldwide Cost of Living as Mercer focuses specifically on products bought by expats.
Region by region
Cities in the US have climbed up the ranking due to the strength of the US dollar against other major currencies, in addition to the significant drop of cities in other regions. New York is up five places to 11th, the highest-ranked city in the region.
Canadian cities continued to drop in this year's ranking mainly due to the weak Canadian dollar. The country's highest-ranked city, Vancouver (142), fell 23 places. In South America, Buenos Aires (41) ranked as the costliest city despite dropping 22 places from last year. San Juan in Puerto Rico (67) follows as the second most expensive location in the region, climbing 22 spots.
---
Thinking of moving abroad? InterNations is the biggest expat community worldwide and is free to join. It hosts over 4,000 events throughout the year, offering a great way to make new friends. Sign up for free here.
---
Two European cities are among the top 10 most expensive cities for expats. At number three in the global ranking, Zurich remains the most costly European city, followed by Geneva (8), down three spots from last year.
Despite dropping off the top spot on the global list, Luanda, Angola (2) remains the highest ranking city in Africa. Kinshasa (6) follows, rising seven places since 2015.
This year, Hong Kong (1) emerged as the most expensive city for expats both in Asia and globally as a consequence of Luanda's drop in the ranking due to the weakening of its local currency. Singapore (4) remained steady while Tokyo (5) climbed six places. Shanghai (7) and Beijing (10) follow.
Most expats do not contribute to their home country's social programs. This comprehensive guide shows expats how to build wealth overseas with index funds.
most expensive cities for expats Ranking
Since 2015 a number of cities have changed position, as can be seen in this graphic from last year's ranking.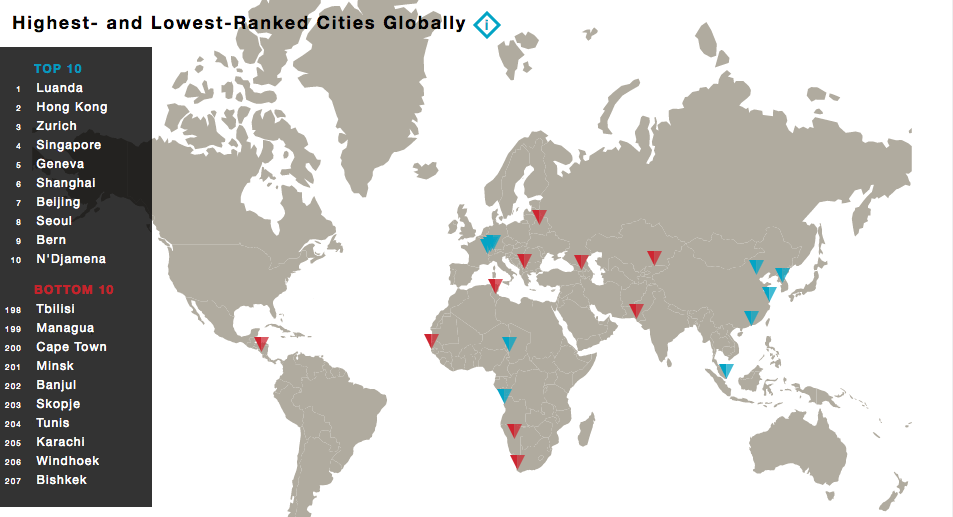 Sort the table to view the ranking by either the least or most expensive cities for expats by 2015 and 2016.
| 2016 | 2015 | City | Country |
| --- | --- | --- | --- |
| 1 | 2 | Hong Kong | Hong Kong, China |
| 2 | 1 | Luanda | Angola |
| 3 | 3 | Zurich | Switzerland |
| 4 | 4 | Singapore | Singapore |
| 5 | 11 | Tokyo | Japan |
| 6 | 13 | Kinshasa | Dem. Rep. of the Congo |
| 7 | 6 | Shanghai | China |
| 8 | 5 | Geneva | Switzerland |
| 9 | 10 | Ndjamena | Chad |
| 10 | 7 | Beijing | China |
| 11 | 16 | New York City | United States |
| 12 | 14 | Shenzhen | China |
| 13 | 9 | Bern | Switzerland |
| 13 | 20 | Lagos | Nigeria |
| 15 | 8 | Seoul | South Korea |
| 16 | 17 | Victoria | Seychelles |
| 17 | 12 | London | United Kingdom |
| 18 | 15 | Guangzhou | China |
| 19 | 18 | Tel Aviv | Israel |
| 20 | 35 | Abuja | Nigeria |
| 21 | 23 | Dubai | United Arab Emirates |
| 22 | 32 | Osaka | Japan |
| 23 | 42 | Brazzaville | Congo |
| 24 | 24 | Copenhagen | Denmark |
| 25 | 33 | Abu Dhabi | United Arab Emirates |
| 26 | 37 | San Francisco | United States |
| 27 | 36 | Los Angeles | United States |
| 28 | 30 | Libreville | Gabon |
| 29 | 26 | Nanjing | China |
| 30 | 27 | Tianjin | China |
| 31 | 21 | Shenyang | China |
| 32 | 39 | Noumea | New Caledonia |
| 33 | 24 | Qingdao | China |
| 34 | 29 | Chengdu | China |
| 34 | 42 | Chicago | United States |
| 36 | 22 | Conakry | Guinea |
| 37 | 52 | Honolulu | United States |
| 38 | 50 | Washington | United States |
| 39 | 28 | Yangon | Myanmar |
| 40 | 55 | Djibouti | Djibouti |
| 41 | 19 | Buenos Aires | Argentina |
| 42 | 31 | Sydney | Australia |
| 43 | 41 | Taipei | Taiwan |
| 44 | 46 | Paris | France |
| 45 | 56 | Miami | United States |
| 45 | 63 | Dhaka | Bangladesh |
| 47 | 49 | Dublin | Ireland |
| 47 | 62 | Accra | Ghana |
| 47 | 64 | Boston | United States |
| 50 | 44 | Beirut | Lebanon |
| 50 | 53 | Milan | Italy |
| 50 | 54 | Amman | Jordan |
| 50 | 60 | Yaounde | Cameroon |
| 54 | 56 | Vienna | Austria |
| 54 | 80 | Nagoya | Japan |
| 56 | 58 | Abidjan | C?te d'Ivoire |
| 57 | 71 | Riyadh | Saudi Arabia |
| 58 | 59 | Rome | Italy |
| 59 | 38 | Oslo | Norway |
| 60 | 76 | Port Of Spain | Trinidad & Tobago |
| 61 | 71 | White Plains | United States |
| 62 | 77 | Dallas | United States |
| 62 | | Bangui | Central African Republic |
| 64 | 67 | Helsinki | Finland |
| 64 | 69 | Amsterdam | Netherlands |
| 66 | 127 | Ashkhabad | Turkmenistan |
| 67 | 50 | Moscow | Russia |
| 67 | 89 | San Juan | Puerto Rico |
| 69 | 48 | Perth | Australia |
| 70 | 78 | Douala | Cameroon |
| 71 | 47 | Melbourne | Australia |
| 71 | 88 | Morristown | United States |
| 71 | 91 | Manama | Bahrain |
| 74 | 45 | Bangkok | Thailand |
| 75 | 92 | Houston | United States |
| 76 | 99 | Doha | Qatar |
| 77 | 87 | Munich | Germany |
| 78 | 103 | Atlanta | United States |
| 79 | 83 | Dakar | Senegal |
| 80 | 75 | Manila | Philippines |
| 81 | 104 | Panama City | Panama |
| 82 | 74 | Mumbai | India |
| 83 | 106 | Seattle | United States |
| 84 | 106 | Stockholm | Sweden |
| 85 | 82 | Aberdeen | United Kingdom |
| 86 | 94 | Luxembourg | Luxembourg |
| 86 | 102 | Brussels | Belgium |
| 88 | 79 | Bandar Seri Begawan | Brunei |
| 88 | 90 | Ho Chi Minh City | Vietnam |
| 88 | 98 | Frankfurt | Germany |
| 91 | 115 | Minneapolis | United States |
| 91 | 120 | Cairo | Egypt |
| 93 | 99 | Jakarta | Indonesia |
| 94 | 110 | San Jose Costa Rica | Costa Rica |
| 94 | 117 | Muscat | Oman |
| 96 | 66 | Brisbane | Australia |
| 96 | 80 | Birmingham | United Kingdom |
| 98 | 61 | Auckland | New Zealand |
| 98 | 65 | Canberra | Australia |
| 100 | 106 | Berlin | Germany |
| 101 | 99 | Istanbul | Turkey |
| 102 | 71 | Adelaide | Australia |
| 103 | 117 | Kuwait City | Kuwait |
| 103 | 122 | Detroit | United States |
| 105 | 115 | Madrid | Spain |
| 106 | 86 | Hanoi | Vietnam |
| 107 | 114 | Dusseldorf | Germany |
| 108 | 70 | Santiago | Chile |
| 108 | 130 | St. Louis | United States |
| 110 | 124 | Barcelona | Spain |
| 110 | 133 | Cleveland | United States |
| 112 | 130 | Pittsburgh | United States |
| 113 | 124 | Hamburg | Germany |
| 114 | 111 | Riga | Latvia |
| 115 | 120 | Bamako | Mali |
| 116 | 104 | Nairobi | Kenya |
| 117 | 135 | Portland | United States |
| 118 | 142 | Phnom Penh | Cambodia |
| 119 | 83 | Montevideo | Uruguay |
| 119 | 109 | Glasgow | United Kingdom |
| 121 | 151 | Jeddah | Saudi Arabia |
| 122 | 111 | Pointe A Pitre | Guadeloupe |
| 123 | 83 | Wellington | New Zealand |
| 124 | 133 | Cotonou | Benin |
| 124 | 142 | Prague | Czech Rep. |
| 126 | 149 | Guatemala City | Guatemala |
| 127 | 154 | Quito | Ecuador |
| 128 | 40 | Sao Paulo | Brazil |
| 129 | 139 | Stuttgart | Germany |
| 130 | 132 | New Delhi | India |
| 130 | 140 | Casablanca | Morocco |
| 132 | 144 | Lome | Togo |
| 132 | 147 | Lyon | France |
| 134 | 127 | Belfast | United Kingdom |
| 134 | 145 | Lisbon | Portugal |
| 136 | 137 | Bratislava | Slovakia |
| 137 | 136 | Athens | Greece |
| 137 | 162 | Tashkent | Uzbekistan |
| 139 | 97 | Kigali | Rwanda |
| 139 | 129 | Colombo | Sri Lanka |
| 141 | 122 | Lima | Peru |
| 142 | 119 | Vancouver | Canada |
| 143 | 126 | Toronto | Canada |
| 143 | 162 | Addis Ababa | Ethiopia |
| 145 | 96 | Port Au Prince | Haiti |
| 146 | 153 | Ouagadougou | Burkina Faso |
| 147 | 157 | Winston Salem | United States |
| 148 | 165 | Santo Domingo | Dominican Rep. |
| 149 | 155 | Niamey | Niger |
| 150 | 155 | Tallinn | Estonia |
| 151 | 113 | Kuala Lumpur | Malaysia |
| 152 | 152 | St.Petersburg | Russia |
| 152 | 160 | Kingston | Jamaica |
| 154 | 161 | Ljubljana | Slovenia |
| 155 | 140 | Montreal | Canada |
| 156 | 67 | Rio De Janeiro | Brazil |
| 157 | 168 | Harare | Zimbabwe |
| 158 | 157 | Chennai | India |
| 159 | 167 | Zagreb | Croatia |
| 160 | 169 | Nurnberg | Germany |
| 160 | 177 | San Salvador | El Salvador |
| 162 | 146 | Calgary | Canada |
| 162 | 159 | Limassol | Cyprus |
| 164 | 93 | Maputo | Mozambique |
| 165 | 170 | Budapest | Hungary |
| 165 | 172 | Leipzig | Germany |
| 167 | 171 | Vilnius | Lithuania |
| 168 | 175 | Rabat | Morocco |
| 169 | 137 | Mexico City | Mexico |
| 170 | | Havana | Cuba |
| 171 | 162 | Ottawa | Canada |
| 172 | 33 | Baku | Azerbaijan |
| 172 | 178 | Bucharest | Romania |
| 174 | 179 | Dar Es Salaam | Tanzania |
| 175 | 174 | Port Louis | Mauritius |
| 176 | 184 | Kiev | Ukraine |
| 177 | 175 | Warsaw | Poland |
| 178 | 173 | Nouakchott | Mauritania |
| 179 | 202 | Banjul | Gambia |
| 180 | 183 | Bangalore | India |
| 180 | 188 | Islamabad | Pakistan |
| 182 | 187 | Sofia | Bulgaria |
| 183 | 165 | Asuncion | Paraguay |
| 184 | 195 | La Paz | Bolivia |
| 185 | 181 | Algiers | Algeria |
| 186 | 193 | Tirana | Albania |
| 187 | 184 | Kampala | Uganda |
| 188 | 190 | Tegucigalpa | Honduras |
| 189 | 192 | Yerevan | Armenia |
| 190 | 148 | Bogota | Colombia |
| 190 | 150 | Brasilia | Brazil |
| 192 | 199 | Managua | Nicaragua |
| 193 | 196 | Belgrade | Serbia |
| 194 | 193 | Kolkata | India |
| 195 | 196 | Sarajevo | Bosnia and Herzegovina |
| 196 | 94 | Almaty | Kazakhstan |
| 197 | 182 | Monterrey | Mexico |
| 198 | 198 | Tbilisi | Georgia |
| 199 | 203 | Skopje | Macedonia |
| 200 | 180 | Lusaka | Zambia |
| 201 | 188 | Gaborone | Botswana |
| 201 | 205 | Karachi | Pakistan |
| 203 | 204 | Tunis | Tunisia |
| 204 | 200 | Minsk | Belarus |
| 205 | 191 | Johannesburg | South Africa |
| 206 | 186 | Blantyre | Malawi |
| 207 | 207 | Bishkek | Kyrgyzstan |
| 208 | 200 | Cape Town | South Africa |
| 209 | 206 | Windhoek | Namibia |