From cycling parched deserts to exploring mountain lakes, we share our favourite outdoor activities in Chile
There is a charming folk tale about Chile that claims when God created the world, he had a little bit of everything left over – deserts, lakes, mountains, glaciers and volcanoes – so he tossed it all together and created Chile.
The country, which stretches like a spine along South America's western coast, is one of the most diverse in the world. From the parched Atacama Desert to the lush greenery of the Lake District, Chile swings from one extreme to another.
In a land of endless options, deciding what to do can be distinctly daunting. Here, we list eight specific outdoor activities in Chile that offer an unparalleled view of the country's beauty and diversity.
1. Hiking in Torres Del Paine
Hiking in Torres Del Paine is one of the best outdoor activities in Chile. In 2013, the national park was voted by National Geographic as the fifth most beautiful place in the world. With staggering jagged mountain peaks, ultramarine glaciers, sapphire green lakes and the granite towers of Las Torres, it's easy to see how it won such praise.
There are several day hikes available as well as a number of multi-day trails, the W (4-5 days) and The Circuit (7-9 days) being the best among them. Visit between November and April for the best weather but bear in mind that Patagonian climes can be fickle!
See 6 best Torres del Paine hiking trails for more
2. Cycling in the Atacama Desert
The Atacama Desert is the driest place on Earth and is regularly compared to Mars. NASA even duplicated the tests they conduct on Mars and discovered that parts of the Atacama "missed present signs of life in soil samples" making it essentially alien.
The desert averages 15mm (0.6in) of rainfall per year. Periods of four years have been registered with no rainfall in the central sector and some weather stations haven't received any rain at all, ever.
It may sound less than ideal for cycling but the red rock formations, narrow gorges and 150m-high sand dunes of Valle de la Muerte and Valle de la Luna are a sight to behold. The weather changes little from month to month, so visit any time of the year.
See Visiting Atacama Desert for more
3. Horse riding in Maipo Valley
Maipo Valley offers some of the best outdoor activities in Chile, among them horse riding through stunning Andean scenery. Cascada de las Ánimas runs trips that begin with a short introductory session before heading into the mountains through a plateau forested with thousands of trees.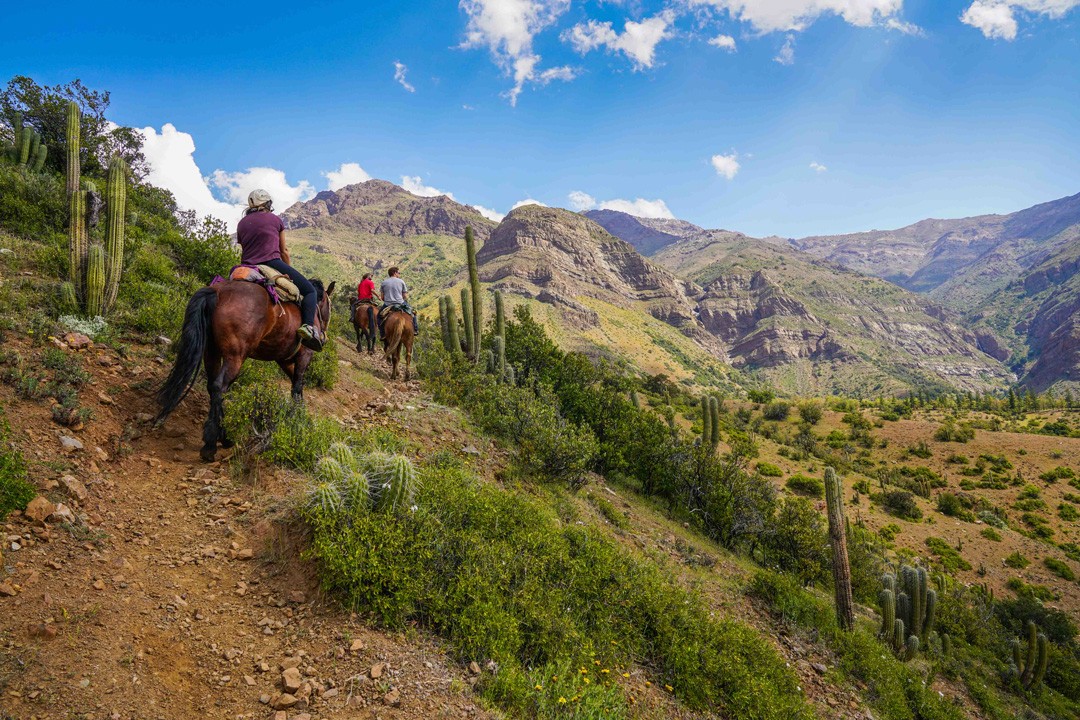 Ride across the Meseta plateau to the Manzanito ravine for breathtaking views of the surrounding valleys and mountains. Finish off the day with a tasty dinner and a glass of Chilean wine before retiring to a cosy bungalow beneath a starry Andean sky.
See Cascada de las Ánimas for more
4. Rafting the Maipo River
Chile is renowned for its whitewater rivers and the Maipo is a favourite among them. The boulders scattered across the narrow riverbed create a challenging obstacle course through the thrilling rapids.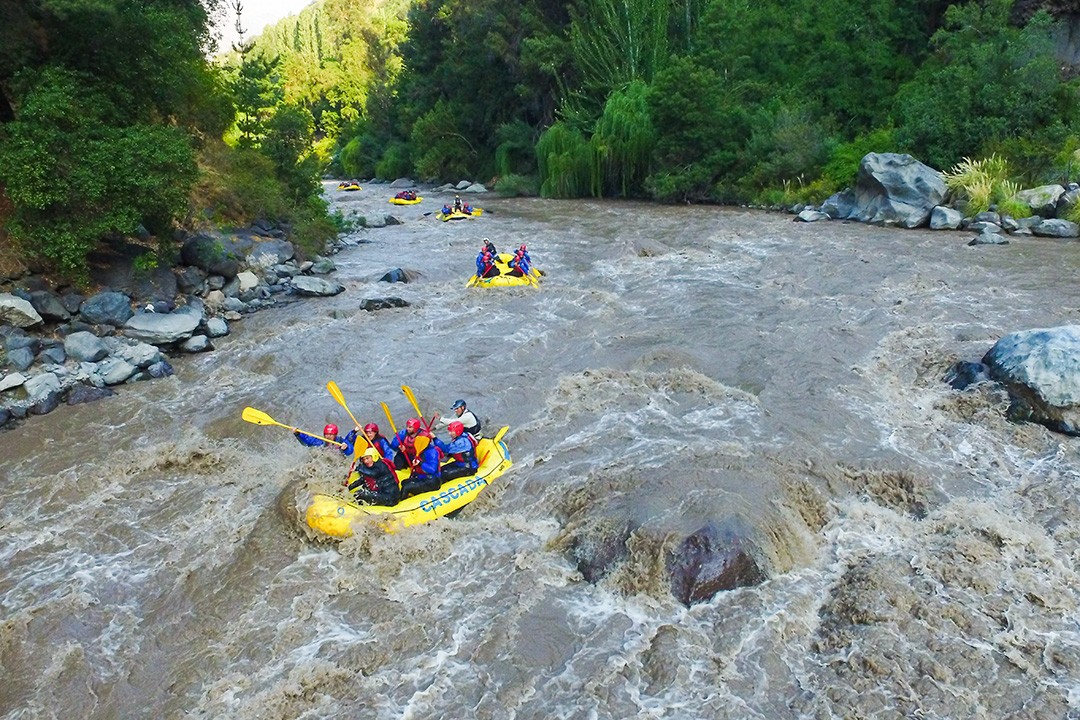 Join a rafting experience on a day tour from Santiago or as a part of a multi-sport adventure tour that includes several thrilling outdoor activities and two nights in a charming suite.
Guests will start at Cascada de las Ánimas and raft 9.5km downriver towards the town of San Jose de Maipo. Visit between November and February for Class IV rapids (for Advanced rafters only) and the rest of the year for lower levels (including novices). Naturally, all rafters should expect to get wet!
See Cascada de las Ánimas for more
5. Kayaking Balmaceda and Serrano Glaciers
For a close look at the breathtaking glaciers of Balmaceda and Serrano, consider a one- or two-day excursion from Toro Pier at the entrance to Bernardo O'Higgins National Park.
This quiet corner of Patagonia is reserved almost exclusively for kayakers with a campsite designated just for them. Excursions take visitors up close to Balmaceda and Serrano and offer unparalleled views of these stunning glaciers.
See Kayak en Patagonia for more
6. Trekking Villarrica Volcano
Volcano Villarrica is one of the most thrilling outdoor activities in Chile. At 3,160m (10,367ft), Villarrica is one of the most active volcanoes in the country. In fact, it last erupted a mere three years ago in March 2015.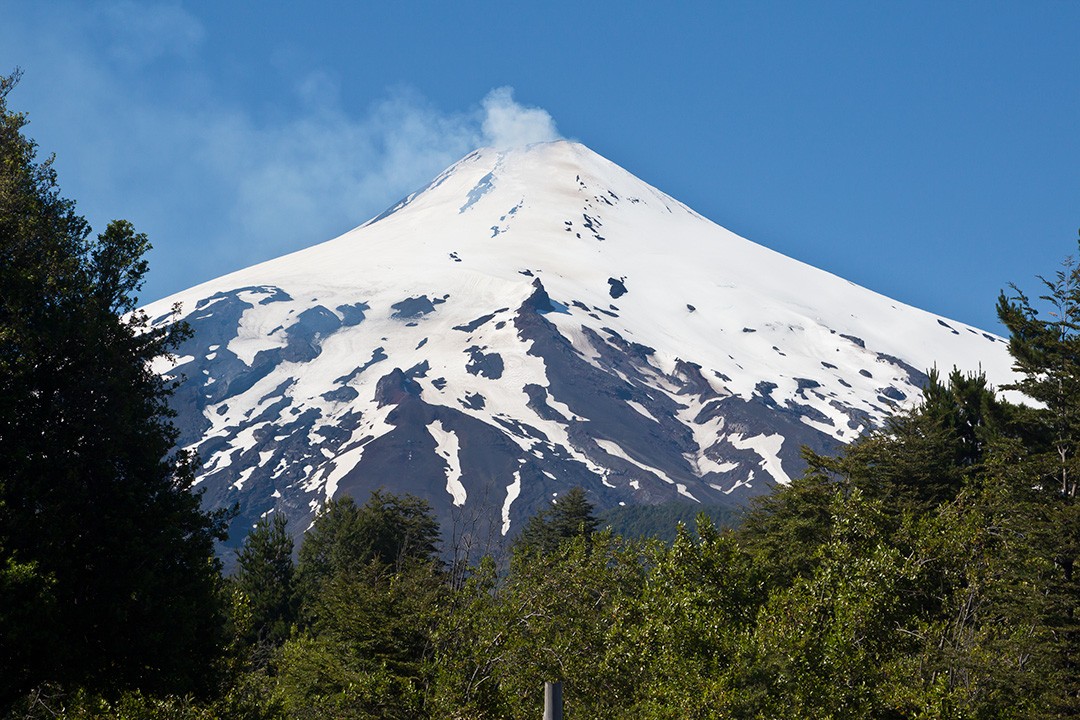 This hint of danger doesn't stop tourists visiting in droves for one of the biggest challenges and best views in the country. Trekkers will be supplied with ice picks and crampons, and a short tutorial for those with no experience.
See Summit Chile for more
7. Skiing in Valle Nevado
The skiing destination of Valle Nevado, 60km east of Santiago, is purpose built and rapidly expanding. The skiing takes place between 2,700m (9,000ft) and 3,600m (12,000ft) and most of the hotels are ski-in ski-out.
Valle Nevado offers an interconnect ticket to two neighbouring resorts for a total of 7,000 acres, making it one the largest ski resorts in the world. It offers an excellent variety of wide open runs and is currently the number one summer training destination for European and US ski teams. Visit Jul-Sep to ski and dine under some of the best skies in the world.
See Valle Nevado for more
8. Exploring the world's southernmost settlement
Ushuaia in Argentina is the world's southernmost major settlement and is famous for being the "end of the world". However, it is the Chilean town of Puerto Williams on the island of Navarino that is the southernmost human settlement overall (Antarctic research stations notwithstanding).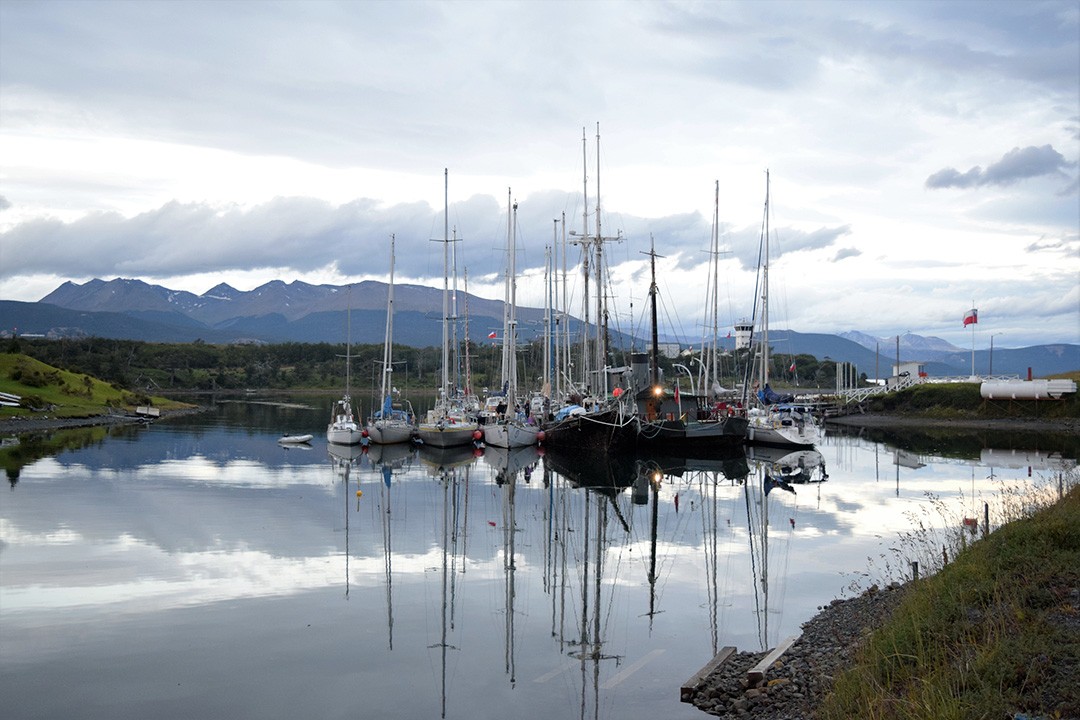 Puerto Williams is a port of entry to Antarctica and a major hub for scientific activity. There are opportunities for trekking and kayaking, but not much happening in the town itself. No matter – it's worth visiting if only for the bragging rights. You can reach the town by flight or ferry.
See Turismo Shila for more
Outdoor activities in Chile: map
---
Enjoyed this post? pin it for later…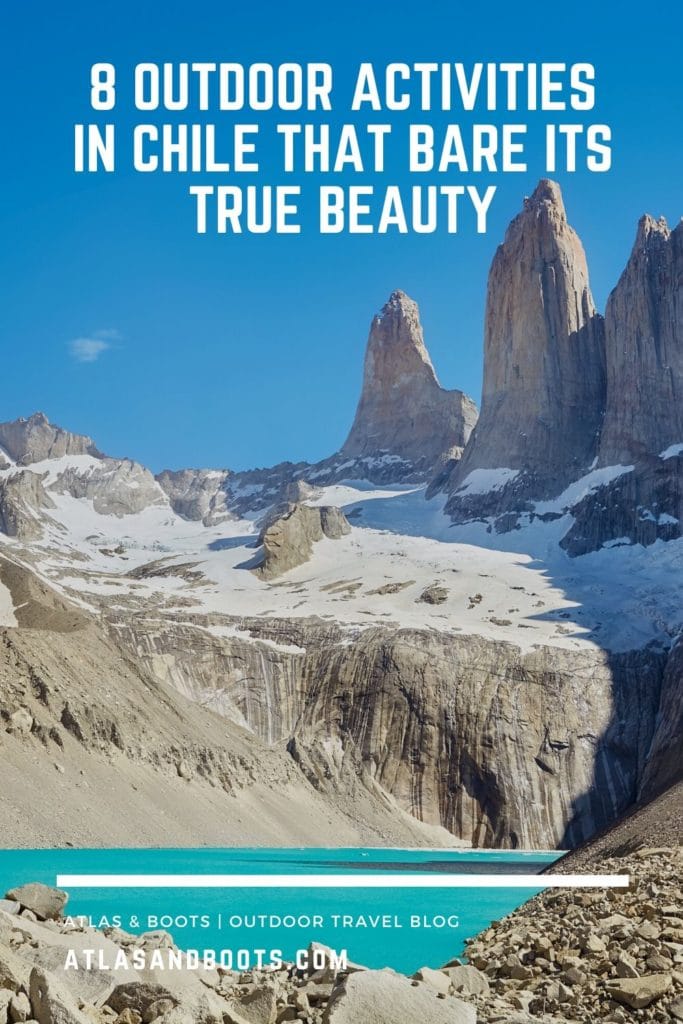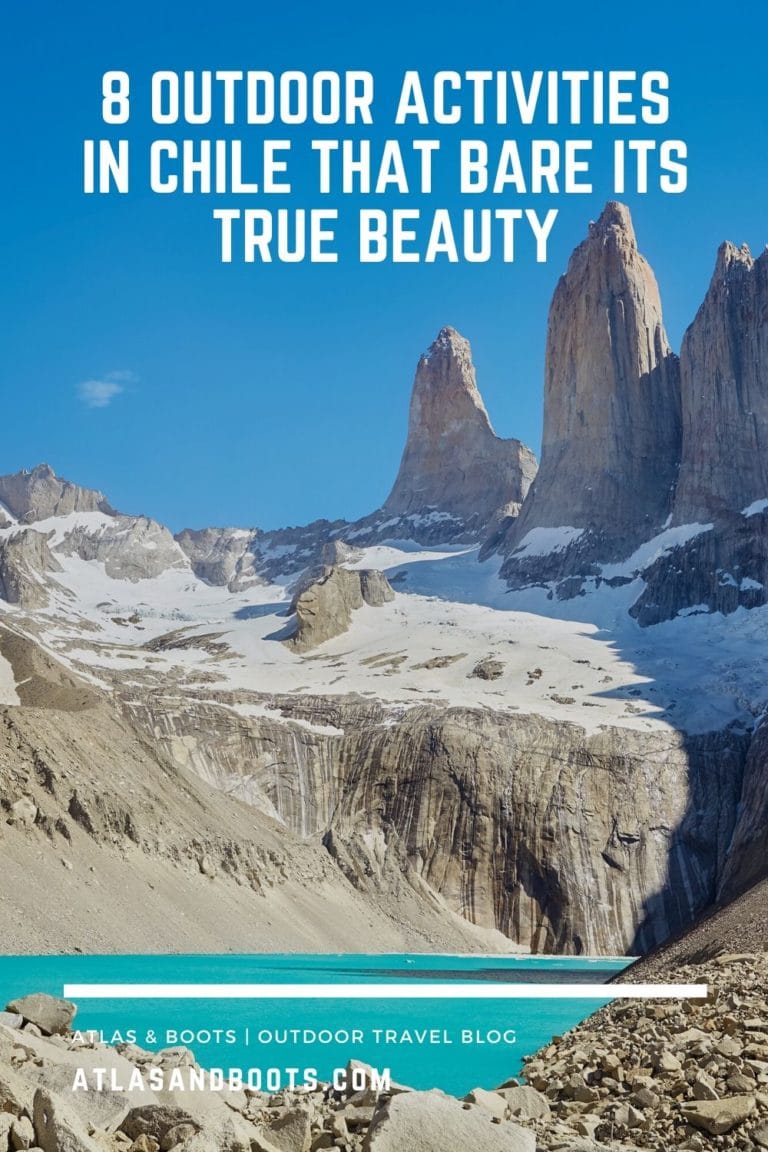 ---
Lonely Planet Chile is a comprehensive guide to the country, ideal for those who want to both explore the top sights and take the road less travelled.