Exploring the Kaymaklı and Derinkuyu underground cities of Cappadocia is perfect for connecting with your inner troglodyte
With so many activities on offer above ground in Cappadocia (hot-air balloon rides, hiking and horse riding to name but a few) it would be easy to overlook the maze of tunnels burrowed deep in subterranean Turkey.
The underground cities of Cappadocia offer something truly unique to the tourist in Anatolia. You won't find any fairy chimneys or ridged valleys here. Instead, a labyrinth of tunnels and chambers await. Claustrophobes, beware!
The soft volcanic rock of iconic Cappadocia is ideal for underground cities as it's relatively easy to carve. As such, Cappadocia is famous in archaeological circles for its large number of subterranean settlements.
We spent half a day exploring the two most famous and accessible underground cities of Cappadocia: Kaymaklı and Derinkuyu.
Kaymaklı underground city
At the entrance to Kaymaklı, we came upon a couple ascending from the depths.
"Oh my god, we made it," the woman cried as she emerged into the light.
Kia looked at me and raised a brow. "Sounds like an experience," she said.
The woman, overhearing Kia, smiled. "That's one way to put it."
Kaymakli is a real maze and if it weren't for the signposts, you could easily get lost in its labyrinth. An interconnecting network of chambers, rooms, tiny caverns and corridors make for the perfect game of hide and seek.
More than once, I ran ahead of Kia to jump out and scare her. Unfortunately, after several years together, she's become desensitised to my silliness and my endeavours were largely unsuccessful.
Kaymaklı consists of nearly 100 tunnels and eight floors below ground. It's worth noting that only four of those floors are open to the public today. In its day, each floor had different functions, ranging from cellars, storage areas and stables to wineries, cooking quarters and even churches.
Derinkuyu underground city
After we emerged from Kaymaklı, we continued on to Derinkuyu. Now, if we thought things were tight in Kamakli then Derinkuyu is even more confined. Derinkuyu has extremely low, narrow and sloping passages with fewer and smaller chambers than Kaymaklı.
The lower we went, the narrower the tunnels and the lower the ceilings became. I was soon scraping my backpack along the roofs of the gangways – better that than my back or head!
Unsurprisingly, Kia – who unlike me is more hobbit than troglodyte – found the going a little easier.
Clambering and crawling along its passageways is as fun as it is claustrophobic. It may feel at times that the aisles are going nowhere and you're going to become wedged in this subterrestrial world forever, then at the last minute there's a twist and a turn and it suddenly opens into a wider chamber or room offering some much-needed vertical relief. It was great fun to visit but I have no idea how a population managed to survive down there!
Derinkuyu is the deepest of the underground cities of Cappadocia. Descending to a depth of approximately 60m (200ft), Derinkuyu was at one time extensive enough to accommodate as many as 20,000 inhabitants as well as their livestock and food provisions. It is the largest and most extensive excavated underground city in Turkey.
It is believed to date to 8th century BC and was inhabited as recently as 1923 by Christians who were expelled during a population exchange with Greece. Today, however, it's only tourists who stoop and scramble along its corridors.
After a morning of subterranean Turkey, I was relieved to emerge back into the daylight and stand up straight again.
All of a sudden our tiny rental car felt much more roomy!
Atlas & BOots
Underground cities of Cappadocia: THE ESSENTIALS
What: Exploring the Kaymaklı and Derinkuyu underground cities of Cappadocia.
Where: We stayed at Esbelli Evi hotel in Ürgüp, which offers 10 spacious suites and four standard cave rooms making use of the original caves along with traditional arched rooms of cut stone. There are several stone terraces with sweeping views of the Cappadocian countryside and the town of Ürgüp – perfect for a late afternoon drink after a day's exploration.
When: The best time for visiting Cappadocia is spring (April to mid June). Summer can be unbearably hot while winter can see snowfall! Autumn (mid September to October) is also a good option, but the days are shorter and there's more chance of rain.
How: Kaymaklı is located about 25km (16mi) from Göreme which is about a 30-minute drive. It makes sense to visit Kaymaklı first before continuing onto Derinkuyu, a further 10km (6mi) down the road. The towns and underground cities are well signposted and parking is included in the admission price.
There are tours available but as we were travelling independently it made sense to hire a car ($35 USD per day) for the duration of our stay as we wanted the freedom to explore all the different sites around Cappadocia.
Our hotel arranged everything for us and car was dropped off to us on our first morning. We returned the car at the local airport (Nevşehir Kapadokya) on departure which was perfect as we were flying back to Istanbul before catching our return flight to the UK. The airport is a 45-minute drive from Ürgüp.
To get to Cappadocia, you can take a high-speed train or a bus. High-speed trains connect Istanbul with Ankara and Konya via Eskişehir. From Konya you can continue to Cappadocia by bus or rental car (232 km/144 miles; 4 hours). For more information and booking options visit the Turkish State Railways website.
A night bus from Istanbul is the cheapest way to get to Cappadocia at around TL 85 (30 USD), but it's a long ride at 730km (454mi) taking 10-12 hours. Several companies run overnight buses including Metro Turizm and Nevşehir Seyahat.
There are domestic flights between Istanbul and Nevşehir Kapadokya Airport (NAV). We paid $50 USD for a one-way flight back to Istanbul. Ataturk Airport in Istanbul is international and has connections to a number of domestic destinations throughout Turkey. Book via Skyscanner for the best prices for international and domestic flights.
---
Enjoyed this post? pin it for later…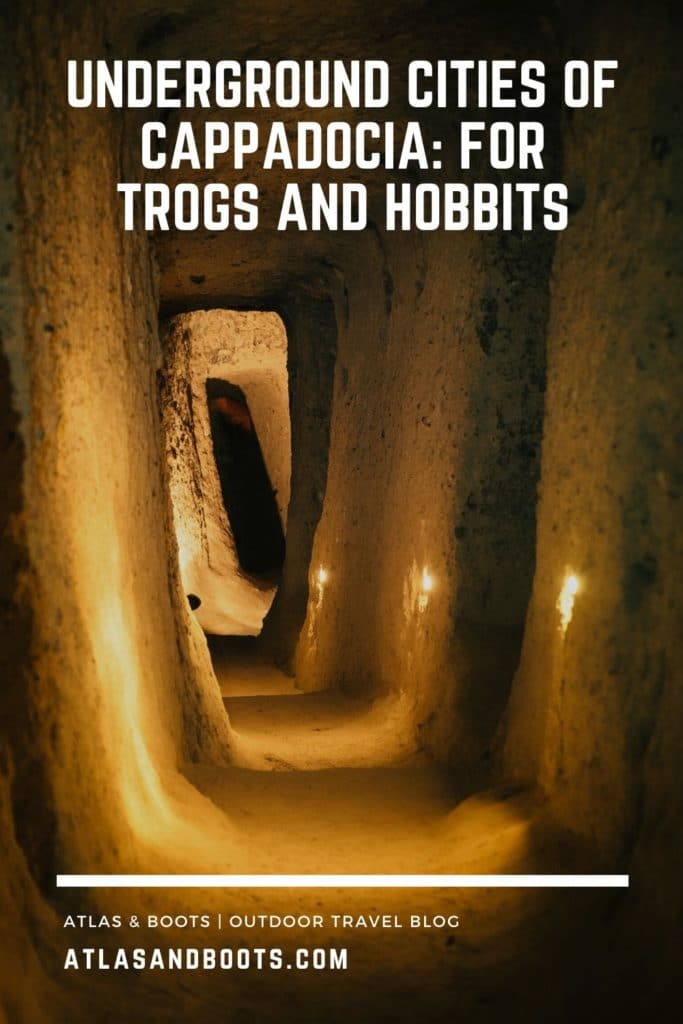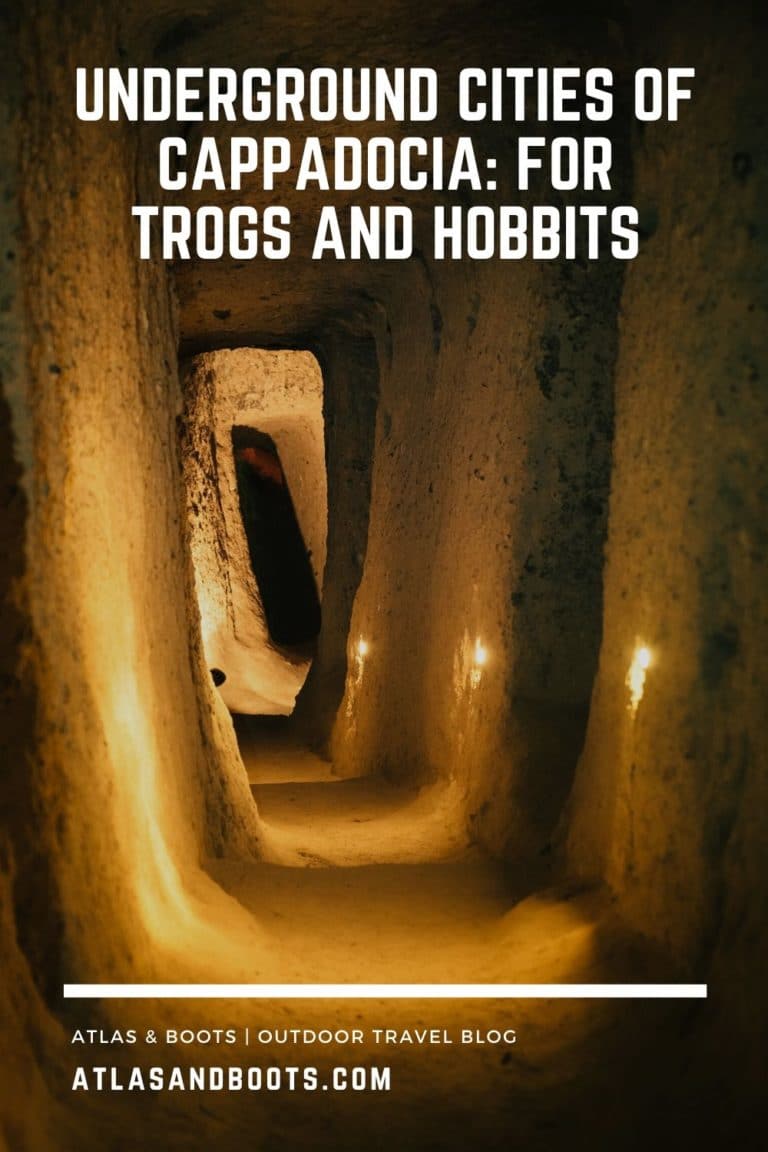 ---
Lonely Planet Turkey is a comprehensive guide to the country, ideal for those who want to both explore the top sights and take the road less travelled.