Talk about being out of our depth. Kia and I depart for Los Angeles today in rather ridiculous fashion considering our financial position: on a Princess luxury cruise!
We've been "stranded" in Tahiti for the past month, unable to afford flights eastwards to the Americas. We were planning to fly from Tahiti to Chile, but the cheapest flight we could find in December was in the thousands as opposed to hundreds. With that in mind, we took a modest room in Tahiti and relaxed for Christmas, hoping prices would drop in the new year.
Prices didn't drop.
We were forced to look into other avenues and astonishingly we found an affordable 16-day cruise from Tahiti to Los Angeles where we could get cheap onward flights to Colombia.
As backpackers (with a backpacker's budget) we never imagined ourselves in this situation. Nevertheless, with a little frugality and careful research we think we can just about make this work.
The maths
As mentioned, direct flights to Chile or South America were out of the question. Flights to LA were our next best bet at around £500 ($800) each. The cheapest cabin on the cruise – an interior without an ocean view – is costing us £640 ($999) per person. For a total of £280 more, we get to sail some of the Pacific, 16 nights' food and accommodation and stops in Hawaii, a part of the world we never expected to visit on this trip.
We mentioned in How to save for a year of travel that our daily budget is £40 ($60) not including flights. So 16 nights x £40 is £640. If we add that to the two flights to LA we'd get £1,640.
The cruise is costing us £1,280 – considerably less than the flying option when you consider food and accommodation.
If we can keep costs down during the trip, this cruise is actually going to save us money. Kind of.
*Edit* One reader emailed us to highlight that we don't account for cost of time. As we're on the road, for us, there is no real cost of time. Plus, given the choice of 16 days sailing across the Pacific or a far more prosaic 8-hour flight, we'd take the sailing! This may be different under other circumstances but luckily we have the freedom to choose on this occasion.
Booking
We booked our cruise via lastminutecruises.com. I was also in touch with several booking agents but it was clear that none of them could really understand (or cared to understand) our predicament. Several times, a zealous salesman tried to explain that I was better off paying $1,300 with him as it would work out cheaper over the entirety of the cruise.
Guess what, it turns out I knew my finances better than he did and I was quite capable of dividing one figure by another figure. We decided to do it ourselves so began to closely monitor the fluctuating prices. Eventually, eight days before departure, I spotted something we could afford and booked it.
I know it's not always possible, but if you find yourself in a similar situation to us, my advice is to hold your nerve and wait for what you can afford.
Other useful sites include cruisesheet.com and cruisedeals.com.
Budgeting
There's no hiding it – we're going be the poorest people on this boat. The only way we can make this work is by watching the purse strings at every turn.
Food and drink: Food is included in the price, but not drinks. A quick online search reveals that tap water on cruise ships is perfectly safe to drink. Tap water it is then. We'll have to sacrifice our soft drink and (my) beer reliance.
Also, the specialty restaurants are off-limits. They sound tempting but the anytime dining and buffet options will have to be good enough. If I'm honest, we've been surviving on super noodles and egg pasta for some time now, so anything tastier will be a bonus.
Excursions: We have stops at Moorea and Bora Bora in Polynesia and Hilo, Honolulu and Maui in Hawaii. Shore excursions provided by the cruise company are expensive but it's free to go ashore. We've seen Bora Bora already so can save some money there. Moorea and Hawaii are once in a lifetime opportunities so we want to see these destinations. There are scooter and car rental places near the wharfs so another DIY visit is on the cards.
Entertainment: There are some things that go without saying. For example, the casino, professional photos, transfers, spa, Pilates classes – I could go on – are all luxuries we cannot afford. They all sound great but expensive. Looking through the cruise website I've noticed that access to the gym and running track is included in the price, as are the swimming pools. There's also a library on board and a TV in our room – both free. Sorted.
Internet: As for internet access, it's just something we'll have to sacrifice as well. This will be tough as we're trying to run a travel blog but we'll just have to rely on the magic of scheduling. We hope to get in touch whenever we get access onshore.
Laundry: We're also frantically washing our clothes so there won't be need for laundry during the cruise. Worse comes to worst, we'll just have to handwash in the cabin basin!
Clothing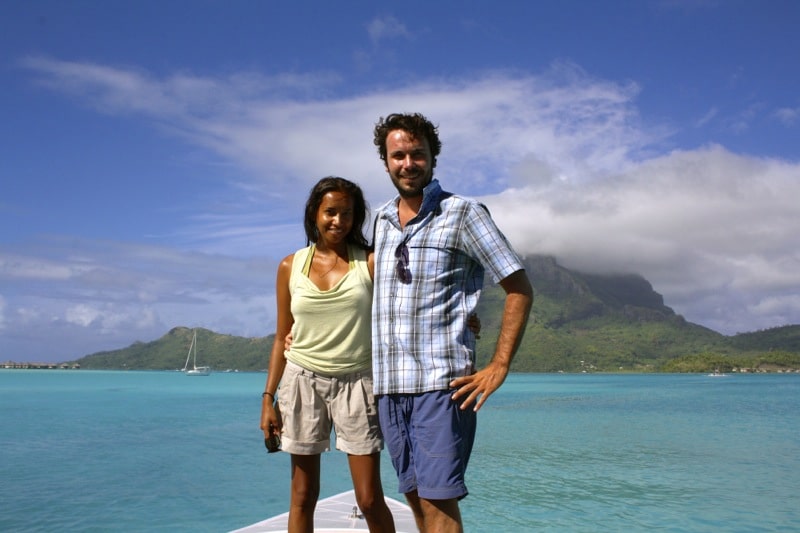 Alas, I didn't pack my tuxedo so we'll just have to forego the formal evenings. I do, however, have two or three lightweight casual shirts and accompanying trousers from Royal Robbins. These have proved very effective at covering all occasions, from hiking the interiors of tropical islands to sipping cocktails at a yacht club and everything in between! With this in mind, I can wander the decks safe in the knowledge that the others customers won't know just how poor we really are.
Tipping
Well, here's a controversial subject. Having never cruised before I had no idea just how controversial. A Google search brought up hundreds of articles and forum threads about the contentious topic. For us Brits, it's confusing to say the least. Tipping's not ingrained in our culture and when we do tip it's usually at the end of a service and reflects a percentage of the cost against the quality for the service. For example, if a meal costs £50 and I'm pleased with the service then 10-15% (£5-£7.50) seems appropriate. Poor service would result in something like 5% or none at all. Likewise, exceptional service may warrant upwards of 20%.
Our cruise company automatically adds a discretionary gratuity to our bill on a daily basis which is unrelated to the cost of the cruise. They calculate this before the cruise – meaning before we've even stepped aboard the ship we have a bill of £260 ($400) – more than 20% of what we paid for the cruise.
Irrelevant of how we feel about paying for services we haven't enjoyed yet, we just can't afford this sum. It's an embarrassing and uncomfortable situation to be in, particularly as this is money meant for those workers we'll actually meet as opposed to the faceless cruise company, but we have no choice. We will have to approach the Purser's Office and arrange to pay a smaller gratuity.
So, that's our situation in a nutshell. We're not quite sure how the staff will react when we rock up with our filthy backpacks but we'll be sure to let you know.
---