Sometimes, my siblings joke that our late father's most lasting legacy will be our unrelenting concern about the gas bill.
In a household of eight children, there were restrictions on how long we could keep the boiler on to heat water, how long our baths could be, how long we could drain rice in the sink without turning off the corresponding hob (about five seconds) and so on.
Not surprisingly, these habits endured into adulthood. Last year, when winter set in on the tiny French village in which we were staying, I was horrified to learn that we would be leaving the heating on overnight. I expected a triple-digit gas bill. (Thankfully, it was all fine in the end…)
It's this inherent frugality that stops me splurging even when I'm in love with a product. However, sometimes something comes along that really tests my resolve. Here are five luxury travel gifts I want for myself.
1. Globe-Trotter trolley case
Details: Goring Ivory 21" Trolley Case
Price: $1,995 / £1,400
This stunning specimen of British craftsmanship is at the top of my wishlist. With a history dating back to 1897, Globe-Trotter is famous today for its luxury cases hand-crafted in its Hertfordshire factory.
The leather corners of the 21" trolley case are moulded on Victorian press machines for five days and the handles are crafted entirely by hand.
At four-figure price tags, they're clearly out of reach for mere mortals but do boast an impressive client list. Captain Scott travelled with Globe-Trotter on the infamous Antarctic expedition in 1912.
Sir Winston Churchill used a Globe-Trotter Dispatch Case while he was Chancellor of the Exchequer. Queen Elizabeth chose Globe-Trotter for her honeymoon luggage in 1947 (and continues to use her cases today) and Sir Edmund Hillary ascended to first base camp with Globe-Trotter during his conquest of Everest in 1953.
If I ever win the lottery, I'm getting one in each colour.
2. Leica M camera
Details: Leica M à la carte
Price: From $6,380 / £4,900
Billed as the world's most compact professional camera, the hand-crafted Leica M is constructed with a depth of less than 42mm and an extremely quiet shutter, perfect for travel photographers and photojournalists.
The customisable à la carte offering is available in both digital and analogue, and comes in a range of colours and materials with varied functionality (e.g. with or without video). You can choose whether or not to keep the Leica logo on the top deck (yes please) as well as a personal engraving.
Clearly, there are more heavyweight cameras available for the professional but for most shutterbugs, this will do perfectly well. What's more, you even get some change for your five grand.
3. Philips portable projector
Details: Philips PicoPix PPX 3414 Pocket Projector
Price: $399 / £280
In the South Pacific, we nearly always had a stunning view. Even the poorest parts of these tiny islands looked out onto stunning water and bright blue skies.
Things changed quickly, however, when we arrived in South America. A budget hostel in a tiny town would usually open up onto a seedy street, a brick wall or, in the case of Uyuni, miles and miles of barren land. It was on these nights we wished we had a portable projector like this tiny PicoPix.
Weighing just 270g, the PicoPix can display images up to 305cm (120in) in size, sort of like a portable cinema. It has a variety of connections (USB, HDMI, VGA, Component, Composite, SD/SDHC) as well as 3.5 mm audio output, perfect for pairing with one of our favourite gadgets, the JBL Charge portable speaker.
The battery life (two hours) isn't as long as would be ideal but it's an acceptable trade-off given the tiny size.
As one of the more affordable gifts on the list, this may just be the one I gift myself.
4. Tiffany compass
Details: Tiffany 1837 Compass
Price: $380 / £265
I might be more inclined to heed Peter's advice on how to use a compass and a map if my compass looked like this.
Set in sterling silver, this gorgeous piece is engraved with the year Tiffany was founded (1837) and can also be engraved with a personal message.
It's available at the New York flagship store and select Tiffany stores around the world.
5. Swarovski binoculars
Details: Swarovski Optik CL Companion lightweight binoculars
Price: $1,210 / £850
Whether on safari in Kenya or watching wildlife in the Galápagos, these binoculars offer the perfect balance between weight and capability.
The 8×30 binoculars come with a 372ft (124m) field of view and 8x magnification for smooth viewing. What's more, they're 119mm (4.7in) long and weigh only 500g, so won't take up too much space in your Globe-Trotter either.
With plans to head to Africa later this year, I'll be lusting after these for a long time yet.
6. Asprey backgammon board
Details: Asprey Backgammon Small
Price: From $6,380 / £2,300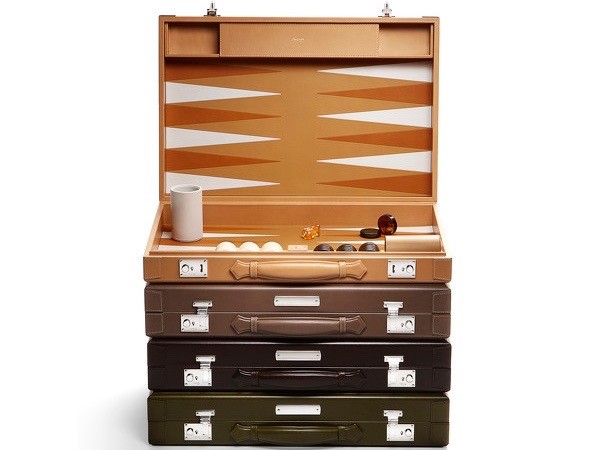 "It is said in certain circles that when a friend acquires a yacht, one should give them a backgammon set," reads the Asprey website. "What better than this, in English saddle leather with palladium locks, opaque precision dice, dice cups and doubling cube?"
Well, indeed. I've always wondered what to buy my friends who acquire yachts. Now I know.
---