To make your visit as easy as possible, we put together the top things to do at the Grand Canyon – one of America's greatest attractions
A trip to the Grand Canyon can be overwhelming, not only because of the incredible vistas on display but the sheer range of activities, hikes, trails and viewpoints to choose from.
To make your visit as easy as possible, we put together the top things to do at the Grand Canyon during your trip. Note that numbers 1-4 can be done in a single day but you will need several days should you wish to do the rest.
Where to go
The first thing to understand is that Grand Canyon National Park is separated into the South Rim and North Rim by a mile-deep canyon. Although the average distance across the canyon is only 10 miles, it takes approximately five hours to drive the 215 miles between the park's South Rim Village and its North Rim Village. As such, if you have limited time, you will need to choose between the two.
North Rim is quieter but it's also higher, colder and closed seven months of the year (from mid-October to mid-May). South Rim is the Grand Canyon you see in the movies and magazines. It is more developed and offers more choice. Hence, for the first time visitor, we recommend the South Rim.
When to go
November to February is the South Rim's quietest time, but note that it is colder so take plenty of layers.
Things to do
1. Mather Point
From the Grand Canyon Visitor Center, walk five minutes to Mather Point for your first glimpse of the Grand Canyon. The views are incredible so take a moment to absorb the glory. Don't spend too long here though. It will likely be crowded with tourists keen to get their first snaps of the canyon.
Instead, keep walking a further five minutes to any of the unofficial viewpoints. There, you can enjoy unobstructed views of the canyon without jostling for space.
2. Yavapai Geology Museum
From Mather Point, keep walking a further 15 minutes to the Yavapai Geology Museum and observation point. There you can learn about the canyon's incredible history and unique geology.
A small model of the canyon allows visitors to orient themselves and work out what they want to see next. The museum offers amazing vistas of the canyon, albeit from behind glass windows.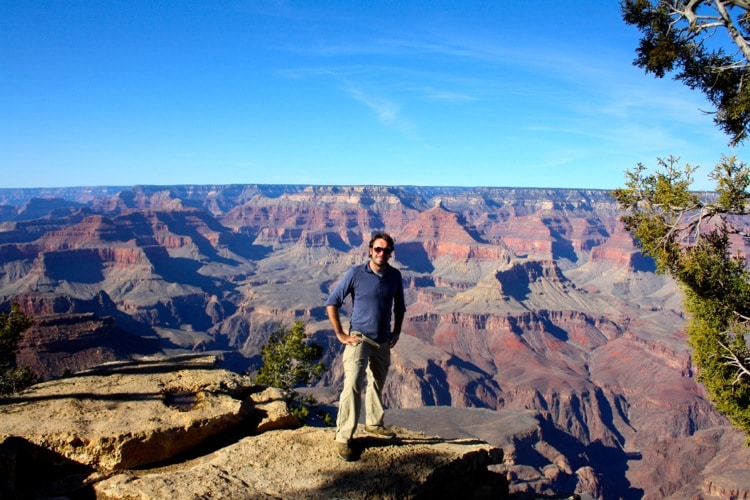 3. Rim Trail
From Yavapai, you can join the Rim Trail which stretches for 13 miles along the canyon's edge, stopping off at lookout points such as Maricopa Point and Hopi Point, finishing at Hermit's Rest.
The trail is mostly flat and at an elevation of 60m is relatively easy but if you tire, you can jump on and off the free shuttle buses that run its length in both directions. Of course, there is no expectation to walk the entire trail and you can turn around at any time.
4. Desert View Drive
Desert View is located 22 miles east of the Grand Canyon Visitor Center and offers stunning views of the canyon, particularly at sunset (lead image). Shuttle buses don't pass through Desert View, so it's best to drive.
The second main attraction after the canyon is the 70-foot Desert View Watchtower, open from 9am to 5pm. Designed in 1932 to resemble ancient pueblo towers, it offers a 360-degree view of the surrounding scenery.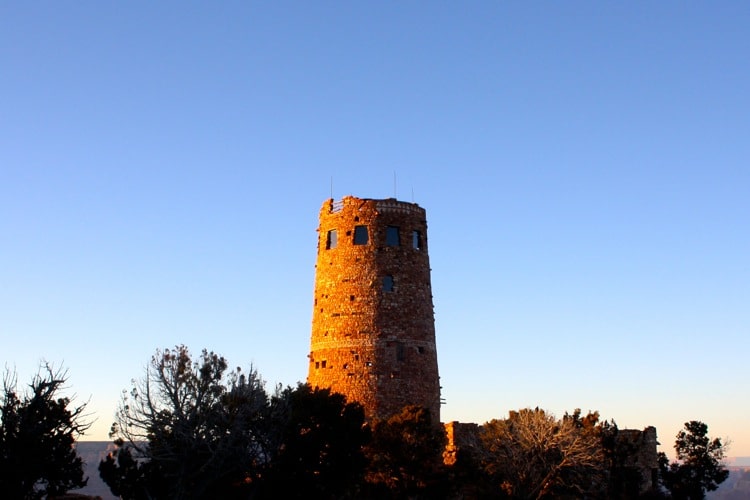 5. Day hike
If you want something a bit more challenging than the Rim Trail, take a day to do the Bright Angel Trail or the South Kaibab Trail.
Bright Angel is a steep trail and has three stops:
1.5 mile resthouse (3-mile round-trip, 2-4 hours, 644m elevation)
3 mile resthouse (6-mile round-trip, 4-6 hours, 644m elevation)
Indian Garden (9.2-mile round-trip, 6-9 hours, 933m elevation)
South Kaibab is slightly shorter, also with three stops. Note that you cannot drive to the trailhead, so take a free shuttle bus instead. Take plenty of water as none is available on this hike.
Ooh Ahh Point (1.8-mile round-trip, 1-2 hours, 180m elevation)
Cedar Ridge (3-mile round-trip, 2-4 hours, 347m elevation)
Skeleton Point (6-mile round-trip, 4-6 hours, 622m elevation)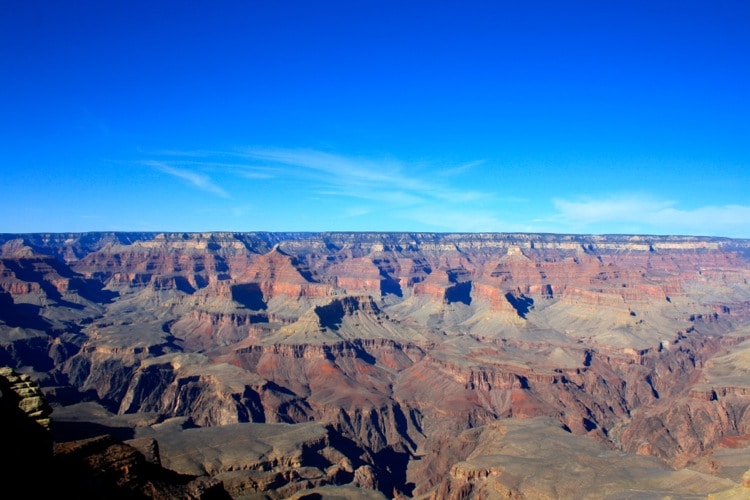 6. Helicopter tour
This is a stunning way to see the canyon (albeit annoying for on-the-ground visitors). If you have the budget, then don't miss an aerial tour of the park. Book with grandcanyonhelicoptersaz.com, maverickhelicopter.com or papillon.com. Note that scenic air tours originate from Grand Canyon Airport in Tusayan, Arizona, outside the South Rim of the park.
7. Havasu Falls
Havasu Falls' vibrant blue water seems like a mirage against its striking red rock. The falls plunge nearly 100ft into a wide pool of blue-green water set next to a sandy beach and plenty of shade. The falls are almost 50 miles west of the Grand Canyon Visitor Center and reachable via a strenuous 8-mile hike, so don't visit if you don't plan to spend the night camping. Also note that the falls are located in tribal lands so you will need a hiking permit: havasupai-nsn.gov.
8. Raft the Colorado River
The Colorado flows through the heart of the canyon. For a unique look at this mighty river, book a rafting day trip and travel 15 river miles from Glen Canyon Dam to Lees Ferry (March to November): raftthecanyon.com.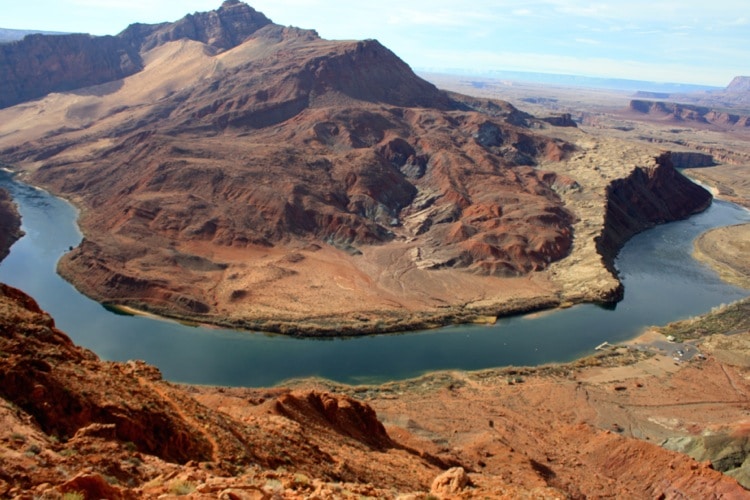 For longer rafting trips (3 to 19 days), one of the following companies should be able to help:
riveradventures.com
azraft.com
raftarizona.com
canyonexplorations.com
canyoneers.com
crateinc.com
grandcanyondiscovery.com
gcex.com
grandcanyonwhitewater.com
hatchriverexpeditions.com
mokimac.com
oars.com
outdoorsunlimited.com
twriver.com
westernriver.com
9. Grand Canyon Railway
For a unique way to see the park, book tickets for the Grand Canyon Railway. Departing daily from Williams Depot in Arizona at 9.30am, the train travels north to the South Rim, arriving at 11.45am. Measuring 65 miles, the journey takes visitors through the forests of Grand Canyon Country where they can spot elk, mountain lions, mule deers, squirrels and skunks as well as a range of bird life and flora. The train leaves the park at 3.30pm, returning to Williams at 5.45pm. Visit thetrain.com for tickets and information.
10. Skywalk
Located west of Grand Canyon National Park, this glass walkway protrudes over the rim of the Hualapai Indian Reservation, offering heart-stopping views of the vistas below. Alas, it is quite a distance from both the North Rim and South Rim (approximately 170 miles) and costs a whopping $75 per person, so may not be do-able for the average visitor. It is administered by the local Hualapai Tribe so reservations must be made with them directly: grandcanyonwest.com or havasupai-nsn.gov. Also note that visitors cannot take in cameras or video equipment, and are instead encouraged to buy from the official Skywalk photographers at $20 a pop.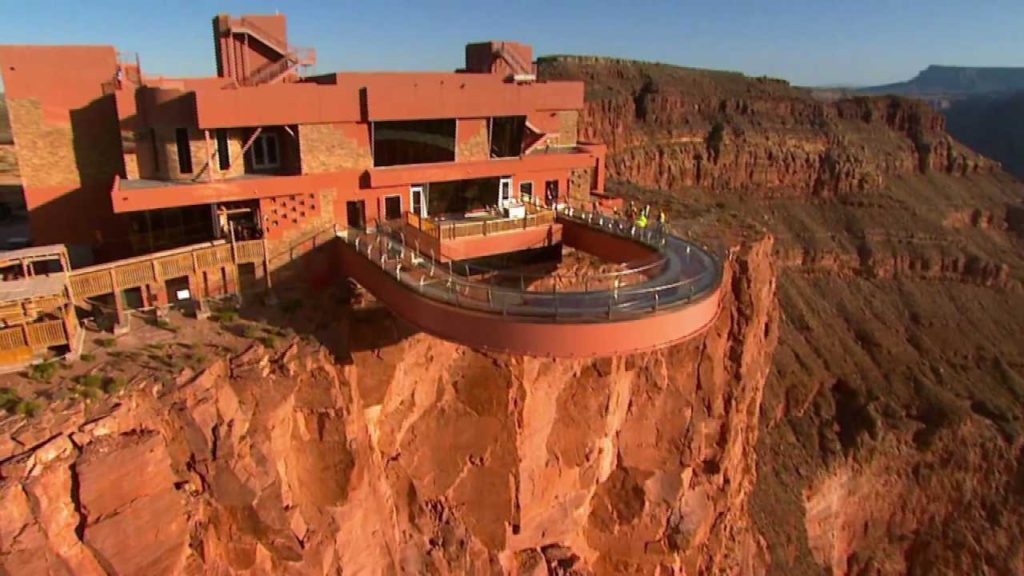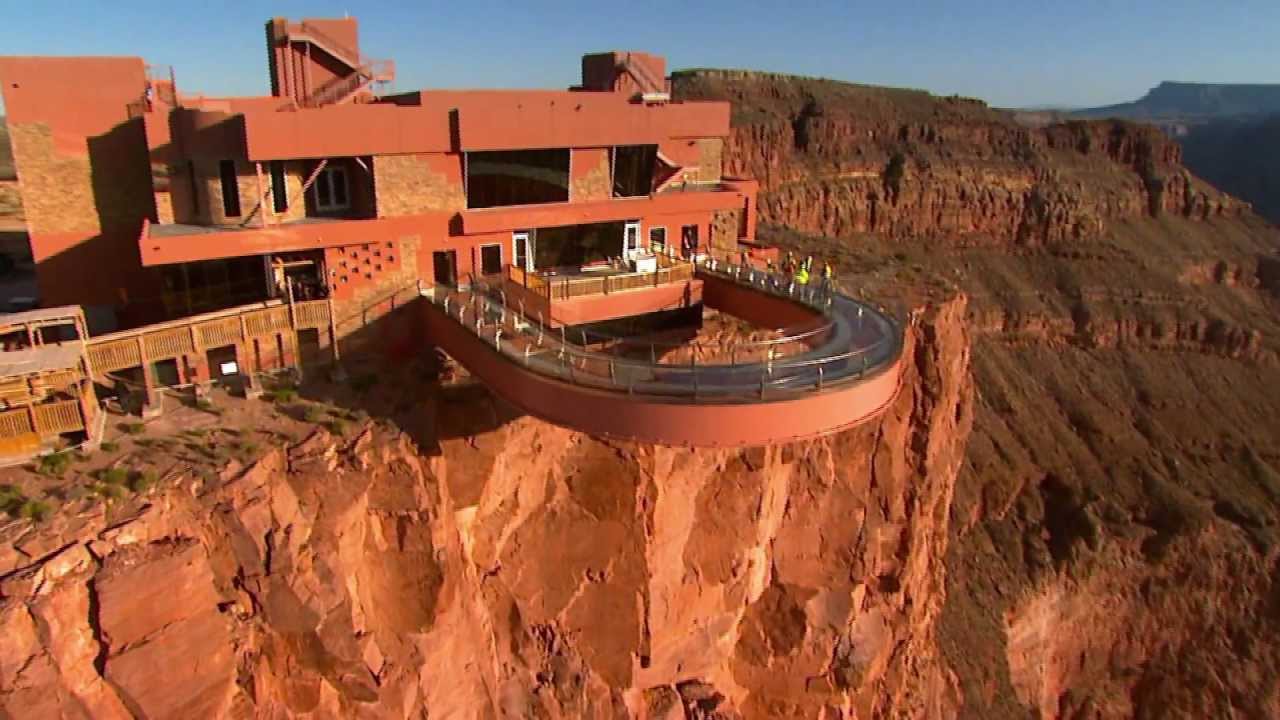 How to get there
For the South Rim: From the south, exit I-40 at Williams, Arizona, and proceed north on Highway 64 or exit on US 180 in Flagstaff and follow it to the intersection with Highway 64; turn north and follow to the South Entrance of the park. From the north, take US Highway 89 or 160 to Highway 64 in Cameron, Arizona. Proceed west on 64 to the East Entrance of the park.
For other modes of transport, or for access to the North Rim, see the National Park Service's directions.
Admission to the park is $25 USD per private vehicle or $12 per pedestrian, motorcyclist or bicyclist. The pass can be used for seven days and includes both rims. Pay fees at park entrance stations.